Twice in the last year I have decided to temporarily put away my Kitchen Aid, pull out my juicer, and reboot my body with a 3 day juice cleanse. For those of you who haven't juiced before, three days might sound like an eternity to live on nothing but juiced fruits and vegetables. For me however, juicing has been part of my regular diet for the last few years and I love the way it makes my body feel. Many of you have asked where I find my juicing recipes, what juicer I use and if I can offer any tips on how to approach a juice cleanse. So here it is...a post all about JUICE!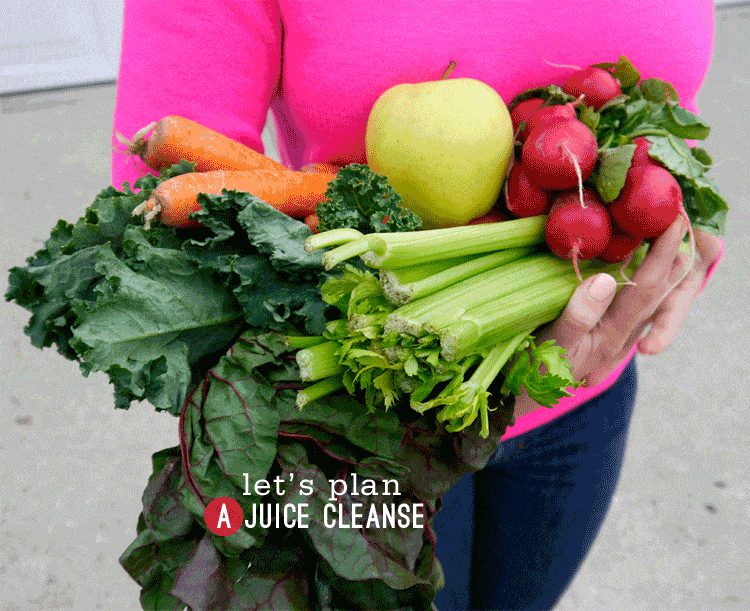 First off: I am not a nutritionist. I understand that everyone's body and health needs are different and can only speak to my own body's reaction to juicing. I find that juicing is right for me but it may not be the answer for everyone. All of the information shared here is based on my own opinion and personal research on the topic. I encourage you to do your own research and even talk to your doctor if you have more questions! Ok, now for the fun stuff...
Why Juice? Have you ever tried to sit down and eat two apples, four carrots, two beets, a couple handfuls of spinach and three stalks of celery in one sitting? It would be nearly impossible to get all of those nutritional fruits and veggies into your system in one day let alone one meal which is why juicing is so magical. It's like a giant boost of vitamins and minerals to your system in one glass.
Why Do A Juice Cleanse? I have lots of reasons and here are a few: It helps me get back on track when my lifestyle and eating habits have been less than healthy. It's a boost to my system, improves my skin, reduces bloat around my stomach, and overall helps me get back to eating healthier foods when I'm finished.
Do You Lose Weight? Yes. I have never cleansed my body for more than three days which is my own personal preference. However in three days I tend to lose about five pounds.
My Tips for a Successful Juice Cleanse: I've got quite a few...

Preperation
1. Get a juicer, not a blender. I use the Jack LaLanne Power Juicer Deluxe.
2. If you've never juiced before, start out slow. Add a veggie juice to your daily routine before jumping into a cleanse.
3. Schedule a good time to go on your cleanse. I chose a Fri-Sun where I had few plans.
4. Print out all of your daily recipes and have them ready.
5. Make a shopping list of the vegetables and fruits you will need.
6. Clean your juicer thoroughly and have it ready. I keep a juicing station on my counter with my juicer, glass, cutting board and knife.
7. Clean out your refrigerator to make room for all of the fruits and vegetables you will be buying. Get rid of that left over mac n' cheese...it will only torture you.
8. Go shopping for all three days of fruits and vegetables in advance. You won't want to shop on your cleanse...trust me!
9. Although it's tempting, don't wash your fruits and veggies ahead of time. This will cause them to decay faster in the refrigerator.
During the cleanse
1.Wash all fruits and veggies well before juicing them.
2. Drink water! Lots and lots of water! Juice does not take the place of water and you will need more than usual on this cleanse.
3. Make sure to start preparing your next juice before you get hungry. Stay on top of the rumbling stomach.
4. If you (like me) get a sensitive stomach, try sipping on a hot cup of decaffeinated herbal tea (no honey or sugar) between juicing. Peppermint is my favorite and helps me tremendously.
5. If the recipe makes a lot of juice and you can't drink it all, don't worry! I rarely drink more than 16 oz.
6. Get lots of rest!
7. Try to walk every day or get some light exercise. Never push yourself too hard on a cleanse.
8. To make a juice more palatable you can add 1 green apple or 1 pear.
9. Lemon, lime, mint and ginger root can be added to any juice for flavor.
10. Have healthy meals planned for after your cleanse. You will want to eat light.
10. Keep a positive mindset! You are stronger than you think and the cleanse gets easier with time.
Recipes
Long Weekend Reboot -via rebootwithjoe.com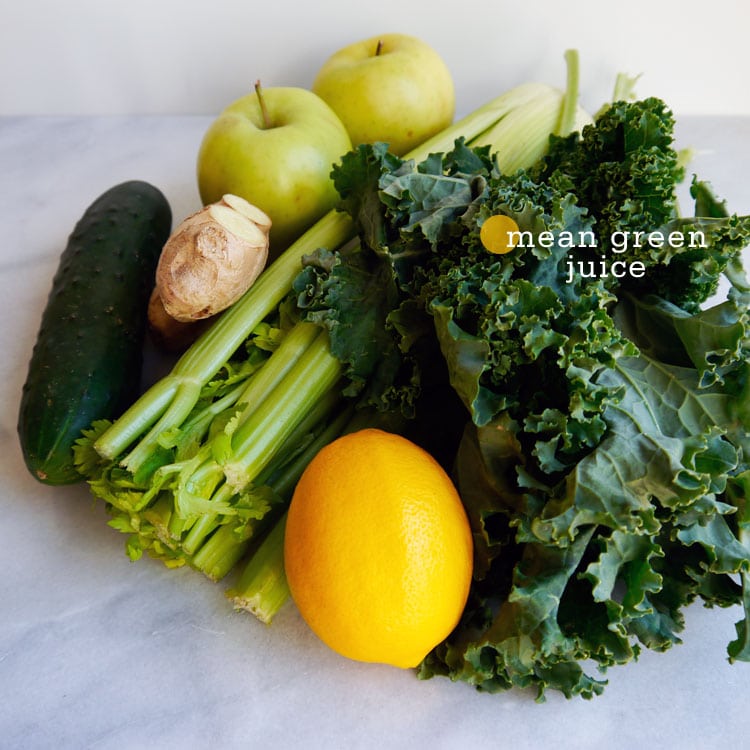 Juice Plan: Day 1
First Thing in the Morning
8-16 ounces of hot water with lemon and ginger or hot herbal tea
16 oz. water
Breakfast
Carrot Apple Ginger Juice
3 organic Carrots
2 organic Apples
1 small piece of Ginger (about 1")
Juice, pour over ice and enjoy!
Mid Morning Juice
Mean Green Juice
1 Cucumber
4 Celery Stalks
2 Apples
6-8 leaves Kale
½ Lemon
1 tbsp. Ginger
Lunch
Gazpacho Juice
4 Plum Tomatoes
1 large Cucumber
2 stalks Celery
1 Red Bell Pepper
¼ small Red Onion
2 cups Parsley, leaves and stems, roughly chopped and packed into the measuring cup
1 Lime
Afternoon Snack
Citrus Inspired Green Juice
6-8 leaves Kale
6-8 leaves Swiss Chard
1 Cucumber
6 Clementines
Juice and enjoy over ice!
Here are a few ideas on how to customize this juice:
1. Substitute any greens, like spinach, as desired.
2. User 2-3 oranges in place of Clementines.
Dinner
Sunset Blend Juice
1 large Sweet Potato peeled
1 medium Carrot
1 Red Bell Pepper
2 large Red Beets
2 Golden Delicious Apples
1 Orange, optional
Before Bed:
Hot Herbal Tea- Stevia optional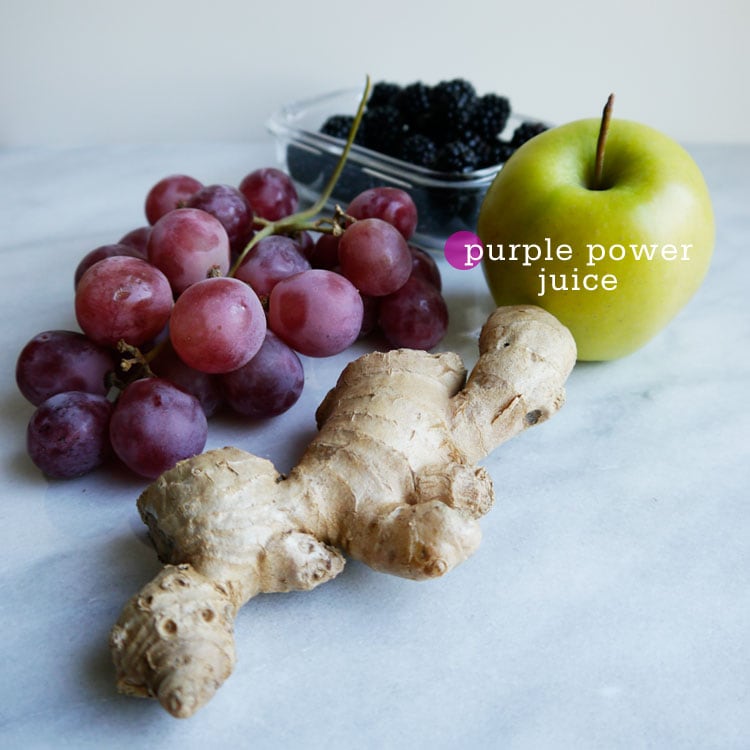 Juice Plan: Day 2

First Thing in the Morning
8-16 ounces of hot water with lemon and ginger or hot herbal tea
16 oz. water
Breakfast
Purple Power Juice
6 cups Concord Grapes
1 Golden Delicious Apple
22x2" pieces Ginger
½ cup Blackberries
Mid Morning Juice
Green Lemonade
1 Green Apple
2 cups Spinach (3 handfuls)
2 cups Kale leaves (6-8 leaves)
½ Cucumber
½ Lemon
Lunch
V28
2 large Red Beets
2 medium Carrots
2 stalks Celery
4 Plum Tomatoes
4 cups Parsley, leaves and stems, roughly chopped and packed into measuring cup
1 Jalapeno, ribs and seeds removed
12 Red Radishes
Afternoon Snack
Spinach-Fennel-Cucumber
1 Fennel Bulb
1 Cucumber
3 Celery Stalks
3 cups Spinach
Dinner
Bountiful Brassica Juice
2 Broccoli stalks (save florets for cooking after cleanse)
½ head or 2 wedges Green Cabbage
2 cups or 6-8 leaves of Kale
1 organic Granny Smith Apple
¼ Lemon (peeled)
1" Ginger root
Before Bed
Hot Herbal Tea- Stevia optional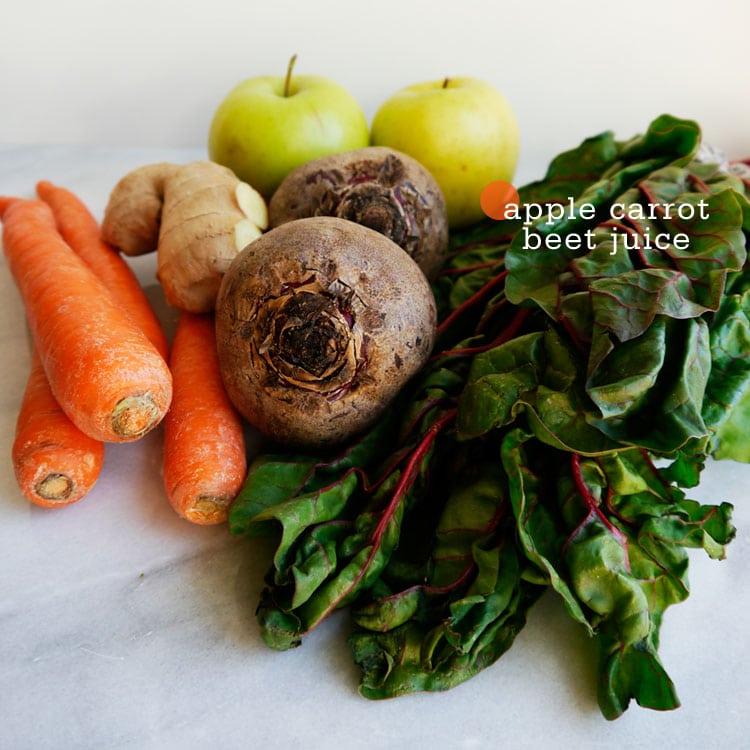 Juice Plan: Day 3
First Thing in the Morning
8-16 ounces of hot water with lemon and ginger or hot herbal tea
16 oz. water
Breakfast
Apple-Carrot-Beet
2 Apples
4 Carrots
2 Beets
6 leaves swiss chard -1.5 cup
1" ginger root (1 tablespoon)
Mid Morning Juice
Great Greens Juice
2 Green Apples
2-3 cups Spinach
6-8 leaves Swiss Chard
1 Cucumber
4 stalks Celery
½ Fennel Bulb
1 bunch Basil
Lunch
Tabbouleh Juice
1 bug bunch Parsley (approx. 4 cups)
1 Tomato
¼ Red Onion
½-1 Lemon (peeled)
½ Cucumber
Dash Sea Salt and Black Pepper
Splash of olive oil
1. Push parsley, tomato red onion, lemon and cucumber through juicer.
2. Add olive oil, salt and pepper into juice, stir to mix.
3. Pour over ice and enjoy.
Afternoon Snack
Bruschetta Juice
2 medium-sized Tomatoes
1-2 cloves Garlic, peeled
20 fresh Basil leaves
Dinner
Green Juice
2 cups Kale
2 cups Spinach
½ Cucumber
4 stalks Celery
2 Green Apples
1" Ginger root
Before Bed
Hot Herbal Tea- Stevia optional
For more juicing resources visit http://www.rebootwithjoe.com/
photos by Leah Bergman, top photo by Jason Bergman