Just when you thought dessert couldn't get any better, we're hitting you with a delicious, rich, luscious treat that even those of you who are vegan, dairy-free and gluten-free can eat! I mean, it's kind of magical Coconut Rice Pudding.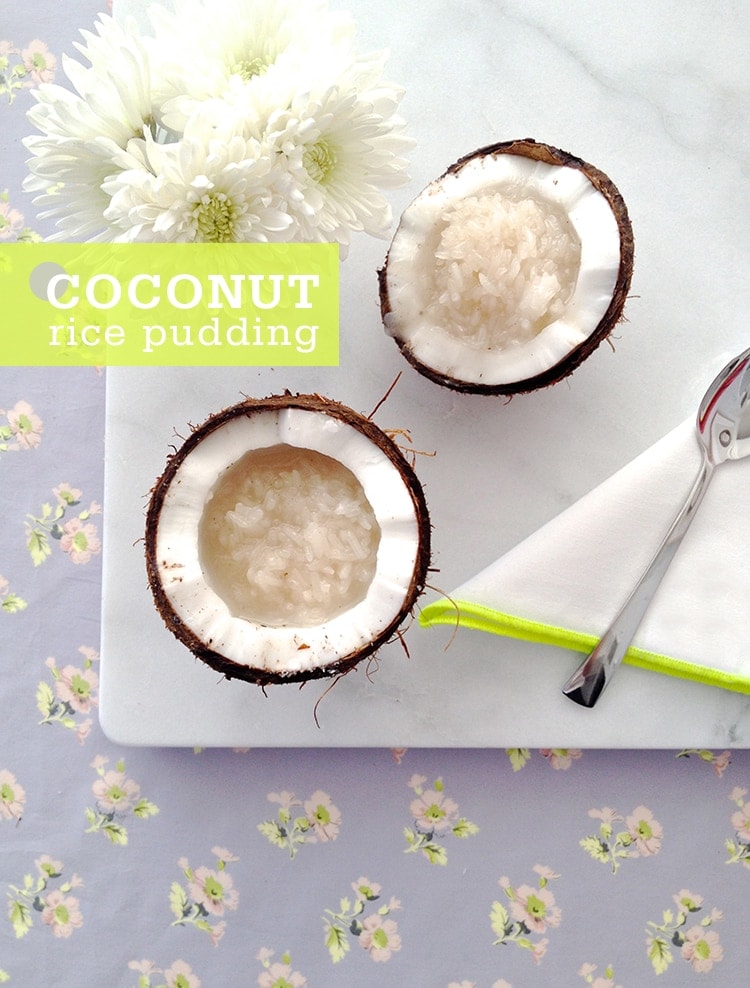 Vegan Coconut Rice Pudding
Let's get into it! There are two things about this sweet coconut rice pudding that make it extra special. First, frozen cooked white rice. Have you used this stuff yet!? It's A-MAZING.
I prefer Whole Foods 365 brand frozen cooked rice. Its seriously changed my rice-eating life—perfectly cooked grains of rice are flash frozen and bagged for your convenience, I mean come on!
If you can't find it, no worries, homemade white rice works just as well. Hint: You could also use leftover from your Chinese takeout order.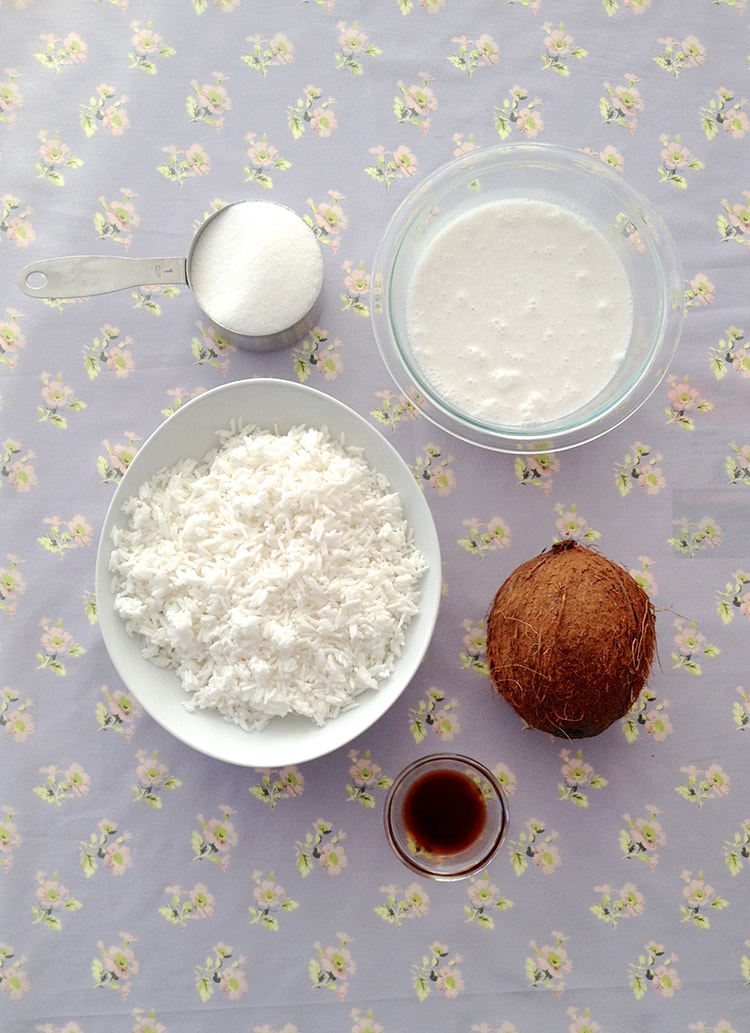 The second thing that makes this dessert so special is the coconut milk. It gives the pudding all of its creaminess and a little hint of exotic sweetness. Look for light coconut milk to slim things down a bit.
You don't really need all of the heaviness of full fat coconut milk here, since the recipe's so simple and subtle.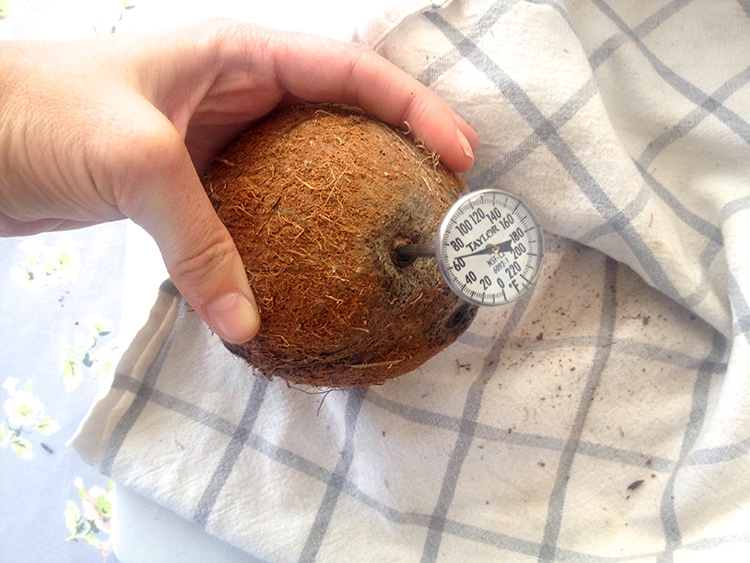 How to Open Fresh Coconuts
If you really want to take this dessert over the top, serve the rice pudding in DIY fresh coconut cups. Here's what you do: Find yourself some coconuts. I was surprised by how many grocery store had 'em!
Take the tip of a meat thermometer or clean screwdriver and punch out the 3 holes at the top of the coconut (FYI usually only 1 or 2 will yield to puncturing! Don't worry if you can't get all three); drain coconut water into a glass—drink that, lady! It's good stuff.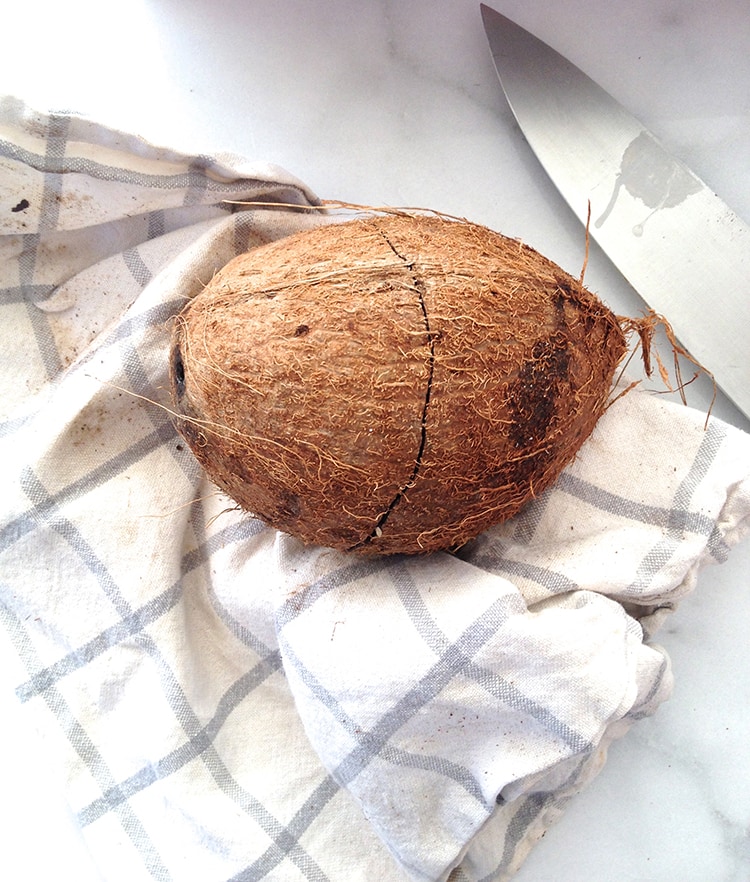 Next, one coconut at a time, hold coconut with a kitchen towel in your hand. Use the dull side of a heavy chefs knife to firmly whack all the way around the coconut's diameter at its widest part (think, like, it's equator).
Keep going around and around until the hard outer shell begins to give way. This might take a few laps, so don't get frustrated. Open the coconut and separate into two halves. Fill with rice pudding!
If this seems totally crazy and excessive, forget it! Scoop your pudding into pretty glass bowls and call it a day. Either way, you'll want to eat a whole tub of this fast and fancy treat—let us know what you think.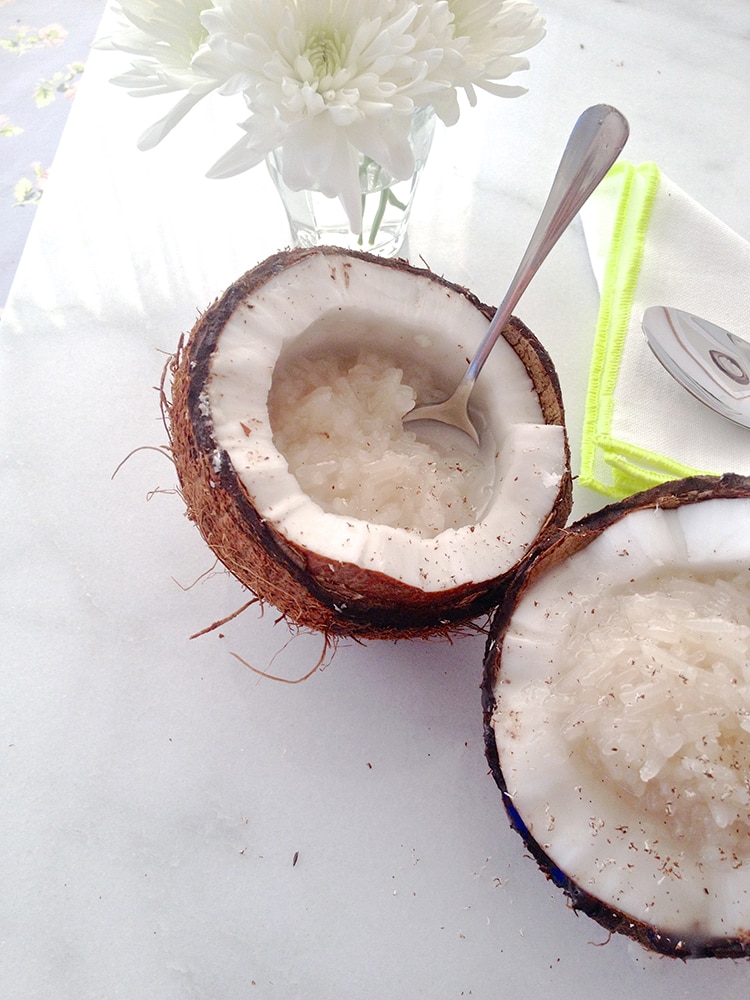 photos by Erin Phraner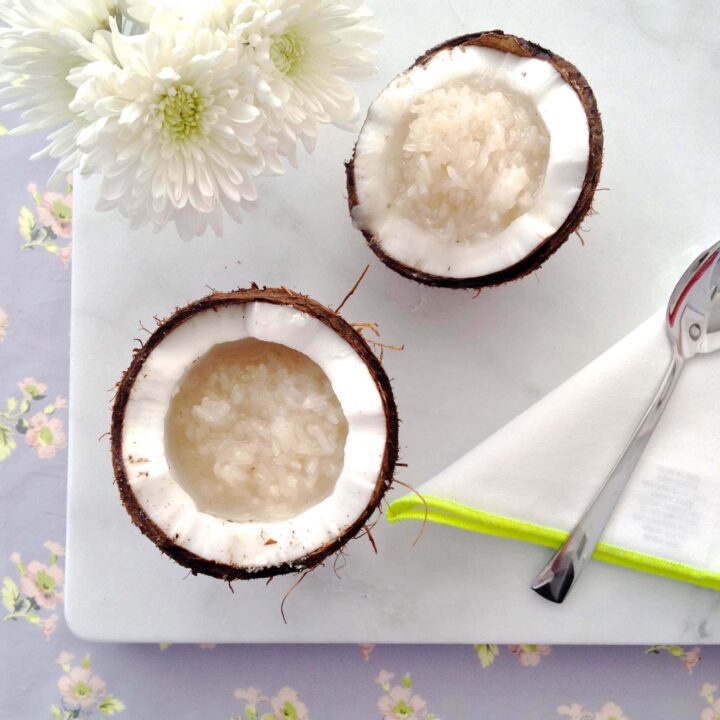 5-Ingredient Coconut Rice Pudding
Total Time:
1 hour
16 minutes
A delicious and creamy vegan coconut rice pudding made with just 5 simple ingredients!
Ingredients
4 cups frozen cooked white rice, thawed
1 (13.5) ounce can light coconut milk
1 1/2 to 2 cups sugar
1 vanilla bean, seeds scraped
2 teaspoons vanilla extract
Optional: Fresh coconuts, for serving
Instructions
Bring the rice, coconut milk, sugar, vanilla bean and vanilla extract to a simmer in a saucepan over medium-low heat. Cook, simmering, 15 minutes or until thickened slightly.
Transfer pudding to a bowl, cover and refrigerate until cold, about 1 hour. Scoop into small glass bowl or serve in fresh coconut cups.
Store leftovers in the fridge for up to 5 days.