This easy 5-ingredient recipe is the natural next-level recipe for hummus lovers: Creamy, spreadable and loaded with flavor. It's a classic Greek treat. I had it for the first time while visiting my family on Ikaria and I've been absolutely hooked ever since. It's thick like a puree but creamy and soft and beautiful—almost like mashed potatoes. They key ingredient: Garlic, and lots of it (if you're from my camp)!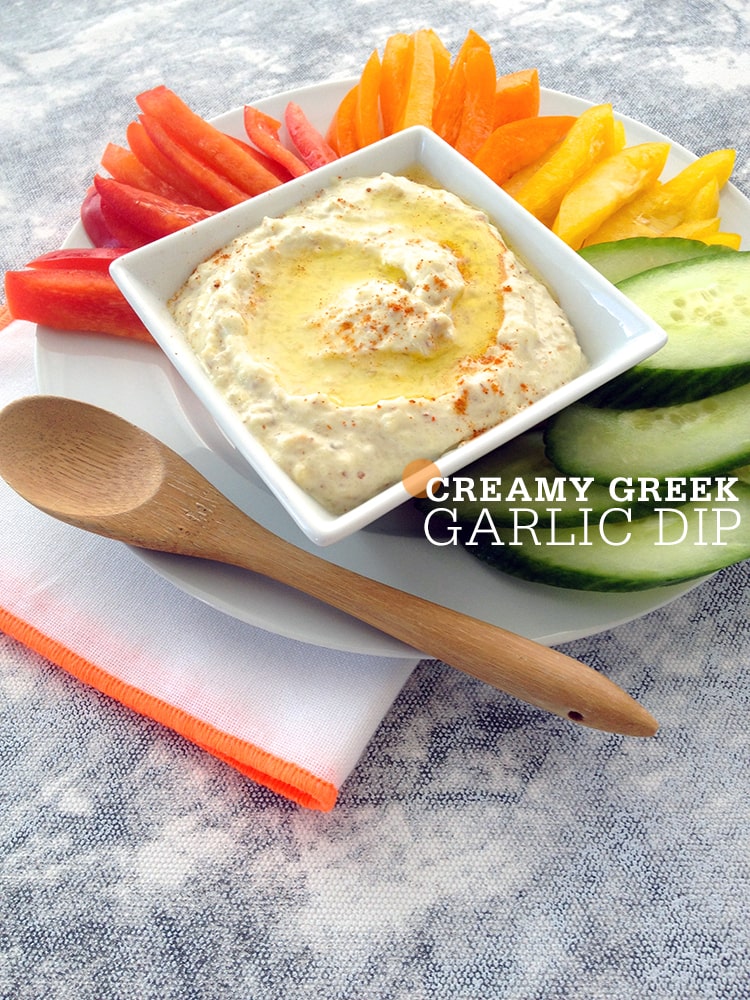 There's two different ways to make this garlic dip, or skordalia if you'd like to be official and fancy. The first: Potatoes. Boil 'em, puree 'em and they give you the bulk for your dip. The second (and my preference): Stale bread. If you soak it in milk and whizz it up in the food processor with garlic, almonds, vinegar and olive oil—it's pure heaven. Only problem is, I'm too much of a bug-a-phobe to let bread sit out and get stale in my Brooklyn apartment. I'm much more cavalier in a giant Greek island kitchen, I guess. So I'll show you how to fake stale bread. You probably know how already, though, right? Just toast it and make it hard. Problem solved.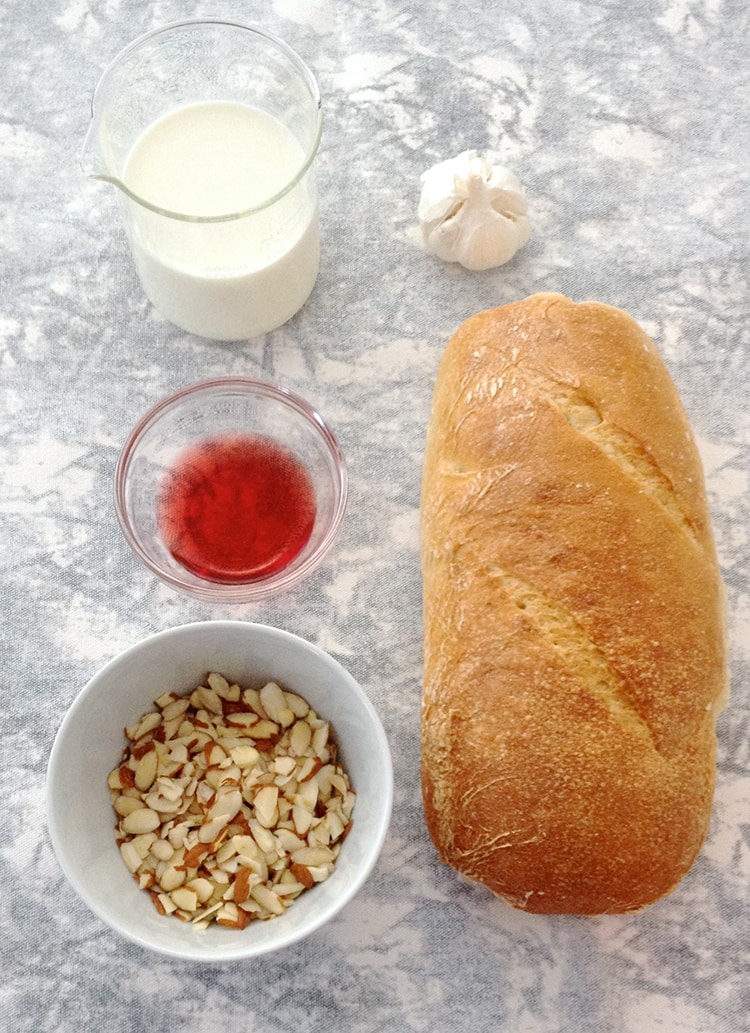 I like to use red wine vinegar in my skordalia. I think it's a little softer and sweeter than lemon juice. Bonus: You don't have to squeeze any lemons—that takes time, man! If you'd like to, though, you can make this recipe with lemon juice in place of vinegar. I won't think any less of you. And by all means, please let me know what you think!
Let's talk about serving. Ideally I like to eat this garlic dip with lots and lots of warm pita bread. Since I'm trying to be a little healthier than usually, I'm sticking to veggies. A classic dipping device is roasted beets. Sounds weird but it's a delicious pairing, just a little messy. I say go with pita. If you want to get a little fancy, drizzle with olive oil and sprinkle with paprika before serving. Everyone loves a little jazz on top of their dip!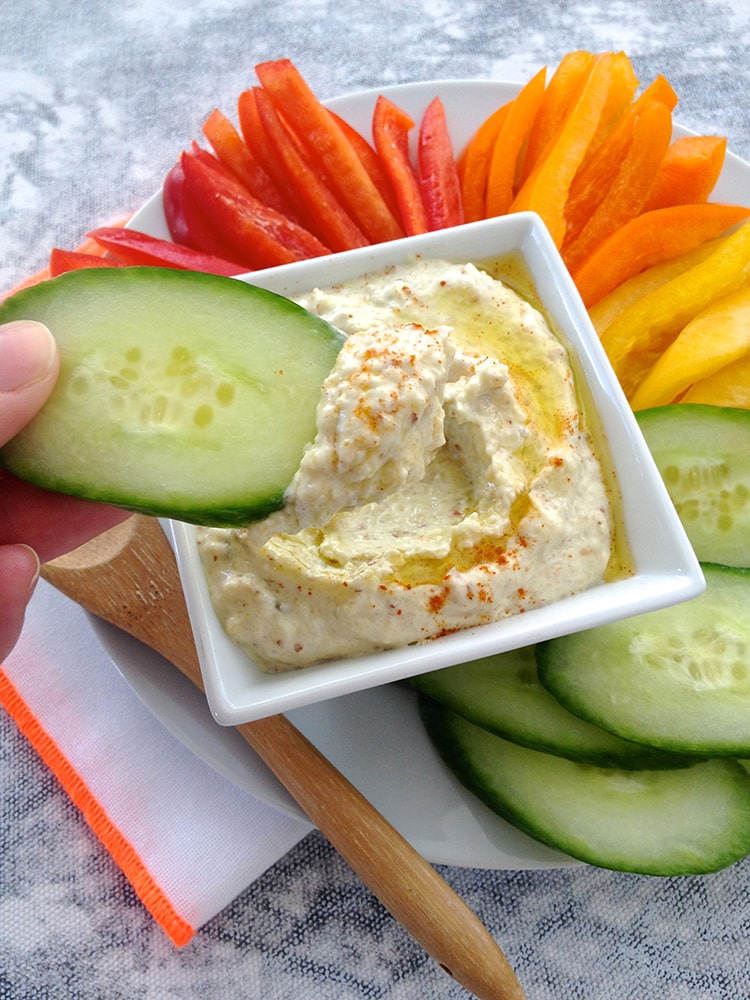 photos by Erin Phraner
Oh! One other things I should mention. Like most things in life, people have different opinions when it comes to their garlic dip. Two variables to keep in mind: Garlicky-ness and consistency. If you HATE garlic…well maybe this isn't the recipe for you. Just kidding! It's mild and not super garlicky. But if you DO like garlic, I say go for it. Add more! Sometimes I add eight, nine, plus cloves if I'm alone. Same goes for the milk. If you want a looser dip, add more milk. If you want something thick and spreadable, go for less. You can't really mess that up. Isn't that nice? If only all recipes were so forgiving. Now get dipping! xox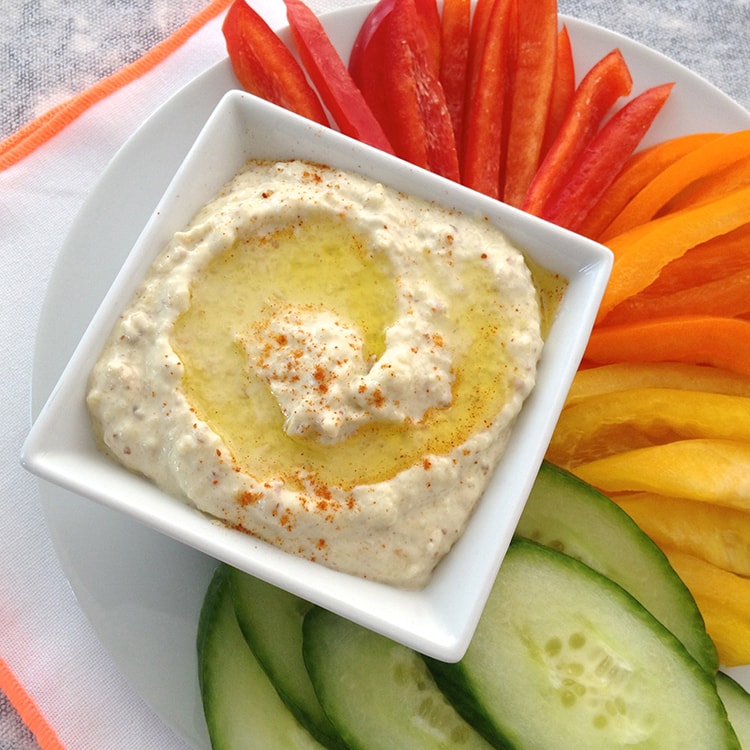 5-Ingredient Creamy Greek Garlic Dip
2014-09-03 20:19:15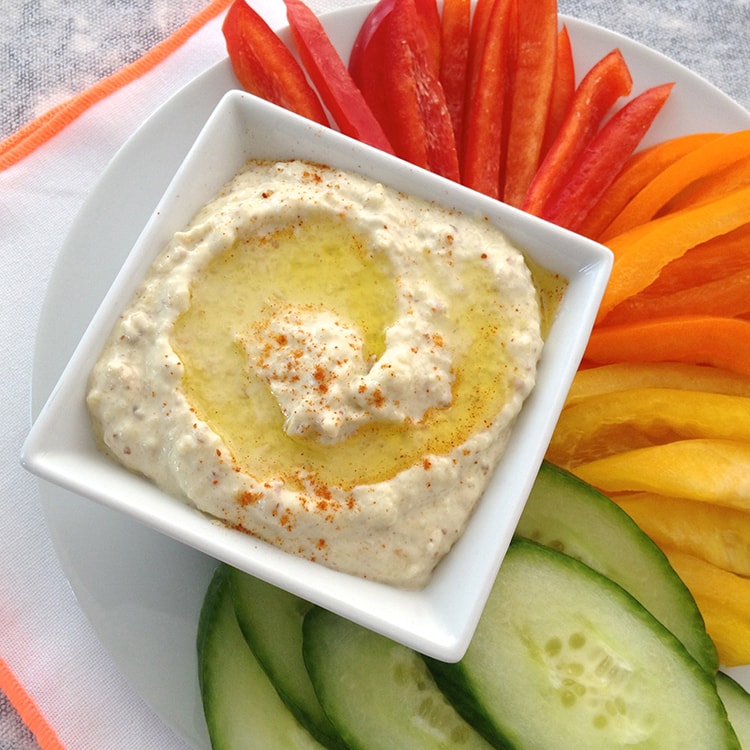 Serves 6
Classic Greek "Skordalia" garlic dip.
Ingredients
1 loaf Italian bread, torn into large pieces (crust removed)
2 cups whole milk, plus more for pulsing if needed
5 to 6 cloves garlic, peeled and smashed
1/2 cup sliced almonds
2 to 3 tablespoons red wine vinegar
PANTRY STAPLES: Extra-virgin olive oil and salt
Instructions
Preheat the oven to 350˚F. Toss the bread pieces, a generous drizzle of olive oil and a pinch of salt on a rimmed baking sheet and bake 5 to 7 minutes or until toasted. Transfer bread to a large bowl. Add the milk and toss until combined; let soak.
Meanwhile, heat a splash of olive oil in a skillet over medium heat. Add the garlic and cook, stirring occasionally, until fragrant and lightly golden, about 3 minutes. Stir in the almonds and cook, stirring occasionally, until toasted, about 3 more minutes.
Transfer the soaked bread to a food processor with a slotted spoon; reserve milk in the bottom of the bowl (you'll need it to make the dip nice and smooth). To the processor, add the almond-garlic mixture, vinegar, a big pinch of salt and 1/3 to 1/2 cup olive oil. Pulse until combined, then puree until smooth, scraping down the bowl as needed. Pulse in the reserved milk (or more, if needed) until you reach your desired consistency. Season with salt to taste. Serve with veggies and/or pita bread.
Freutcake https://www.freutcake.com/