Get your friends together this weekend for a low-key Saint Patrick's Day Party! Ask everyone to bring their favorite craft beer—skip the green food coloring—and set out some snacks as a subtle nod to the luckiest holiday ever!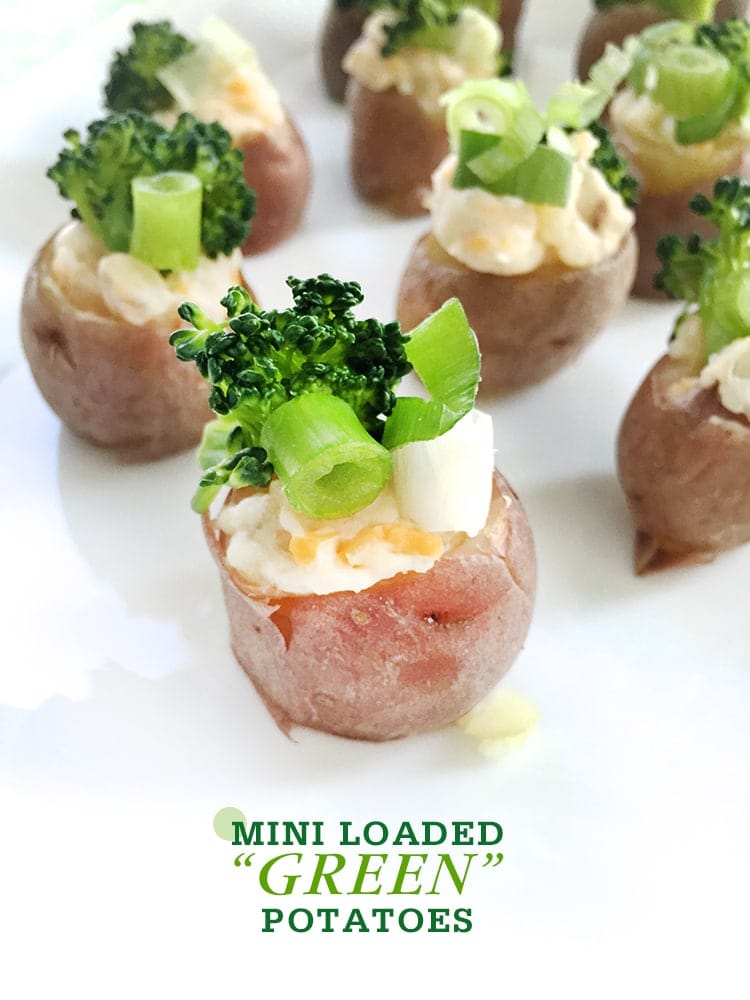 There are about two bazillion potato recipes you could serve on Saint Patty's Day but this cutie is one of my faves. Simply boil up a bag of baby red potatoes, scoop out the insides and fill with cheesy mashed potatoes, scallions and broccoli. Did you hear what I just said? Potatoes stuffed potatoes…with cheese!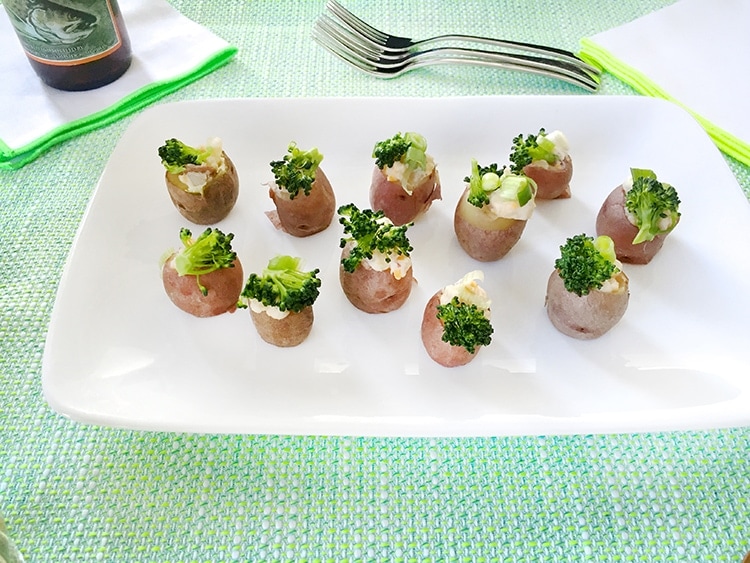 The easiest tool for scooping is probably a melon baller but I made these taters using a tiny spoon, just to prove it can be done!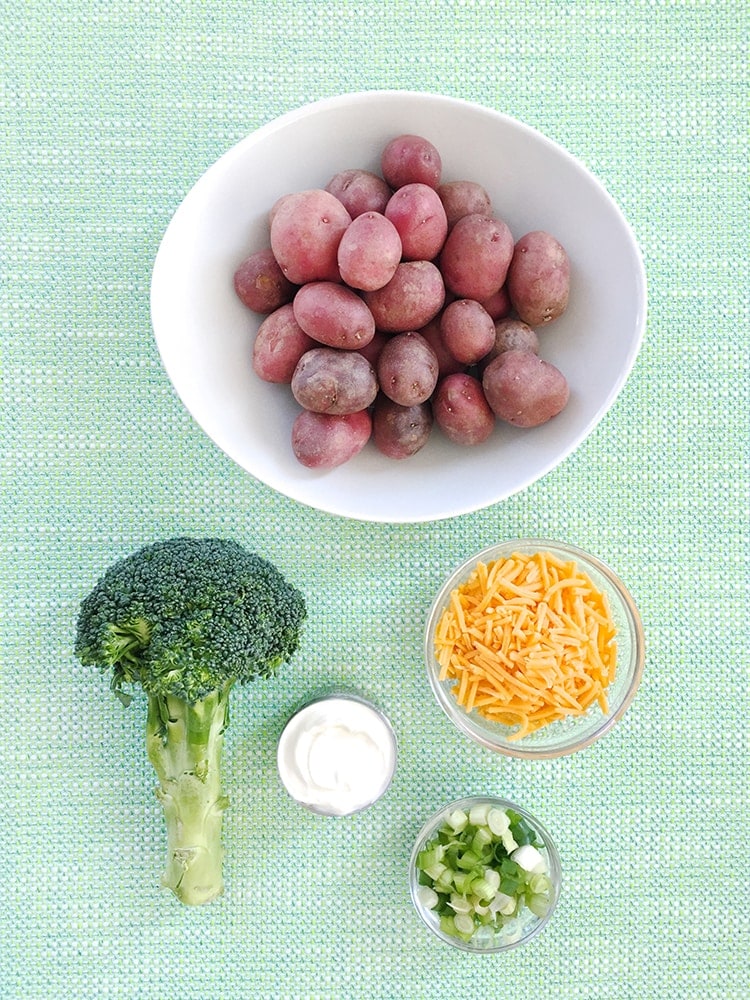 I love the classic combo of cheddar cheese and broccoli, even if it isn't "Irish." Whatever, it tasted great with beer! You'll love my super-quick trick for cooking your broccoli florets. Hint: Prepare to get zap happy!

Anyway. I'm serving this teeny, tiny 5-ingredient recipe to friends with some corn beef sliders and Two-Hearted Ale before the big parade. What are your festive plans?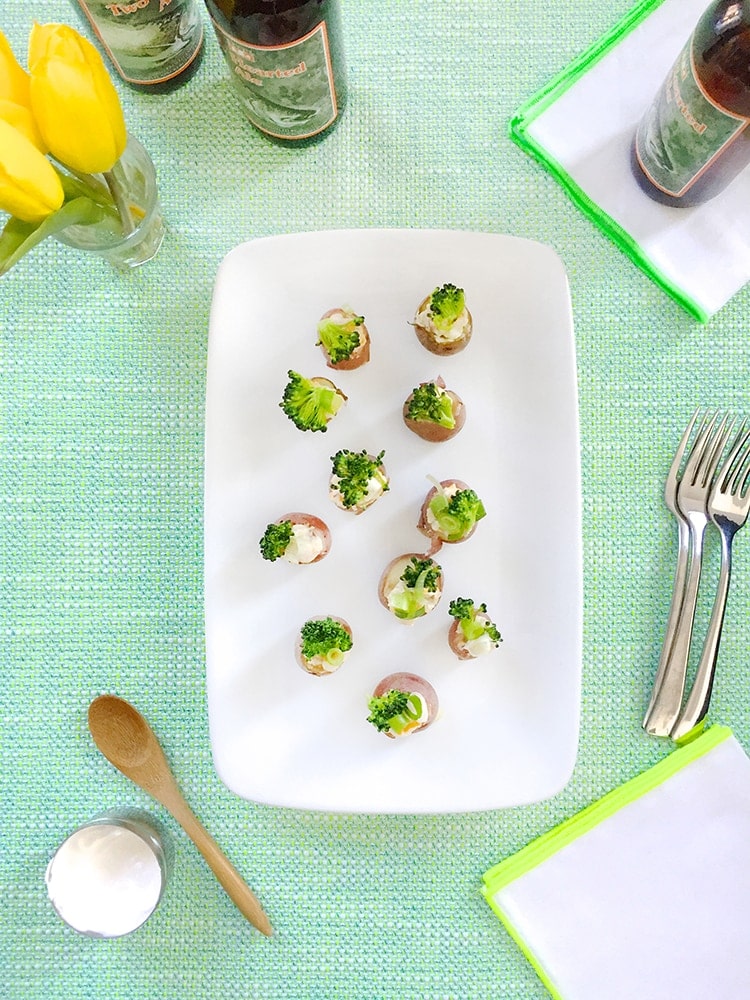 photos by Erin Phraner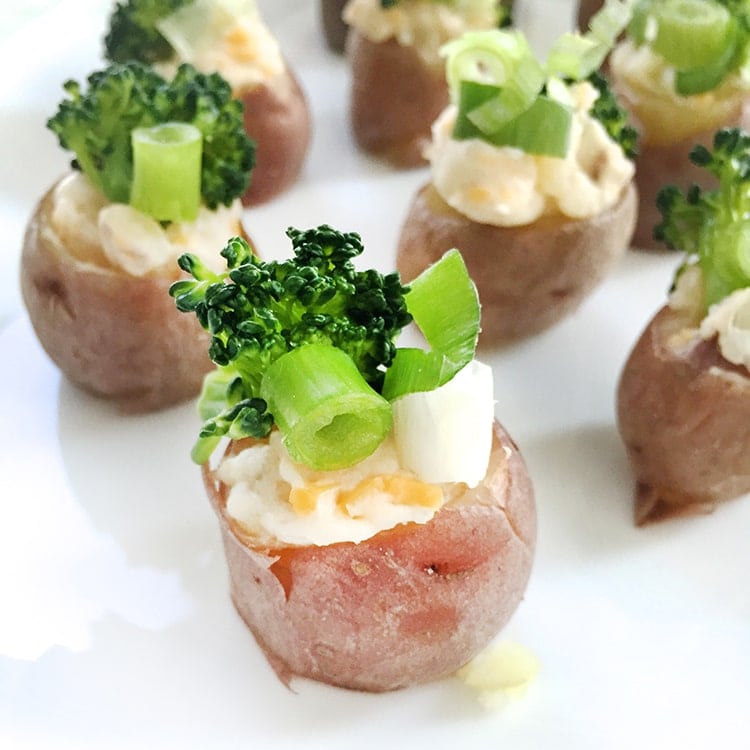 5-Ingredient Mini Loaded "Green" Potatoes
2015-03-10 15:32:53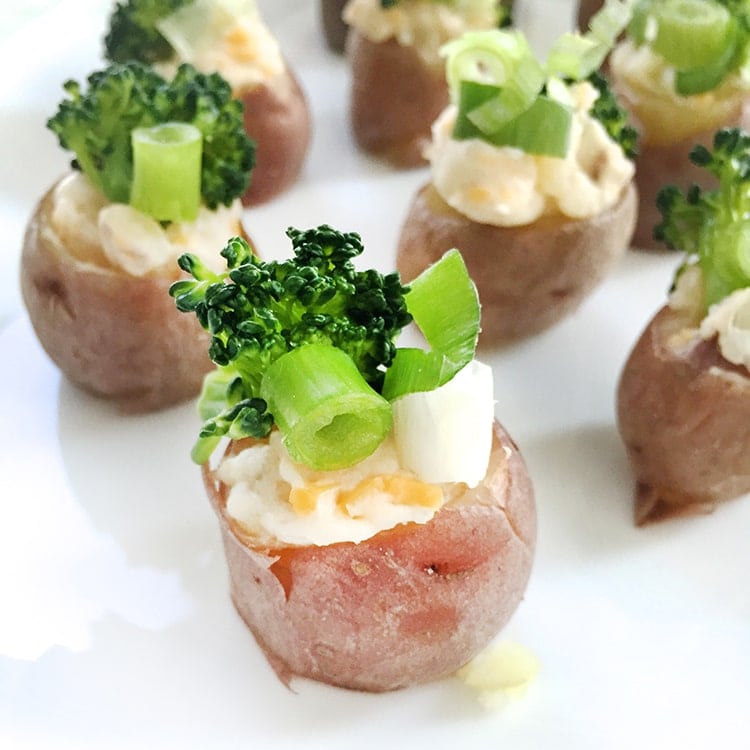 Serves 6
Mini red potatoes loaded with cheese and ready for St. Patrick's Day!
Ingredients
1 (1.5-lb) bag baby red potatoes
1 head broccoli, cut into very small florets
1/2 cup shredded sharp cheddar cheese
1 to 2 tablespoons sour cream
2 green onions, thinly sliced
PANTRY STAPLES: Salt and pepper
Instructions
Put the potatoes in a saucepan of salted water and bring to a boil over medium-high heat. Simmer 15 minutes or until tender when pierced with a fork. Drain and let cool slightly.
Meanwhile, put the broccoli and a splash of water in a microwave-safe bowl. Cover with plastic wrap and microwave on High 1 minute or until bright green and tender.
One potato at a time, slice a small piece from the bottom so the potato sits flat. Cut off the top and scoop out a hole from the center using a melon baller or small spoon; transfer potato insides and tops to a bowl (these will become your filling). Repeat with all potatoes.
To the bowl, add the cheddar cheese, sour cream, salt and pepper to taste. (Add a splash of milk if desired.) Mash and a fork until smooth and combined; transfer potato mixture to a resealable plastic bag. Snip the tip and pipe the potato mixture into the holes. Top with the prepared broccoli and green onion. Top with more salt and pepper if desired.
Freutcake https://www.freutcake.com/