I've got fall fever and the only prescription is MORE PUMPKIN! Halloween is just days away, our Thanksgiving menu is already on my mind; there are dinner party desserts to be made, chilly mornings to fill with something sweet—and no other flavor will do! Once December hits, my thoughts turn to Peppermint Bark everything, but for now, it's gourds or go!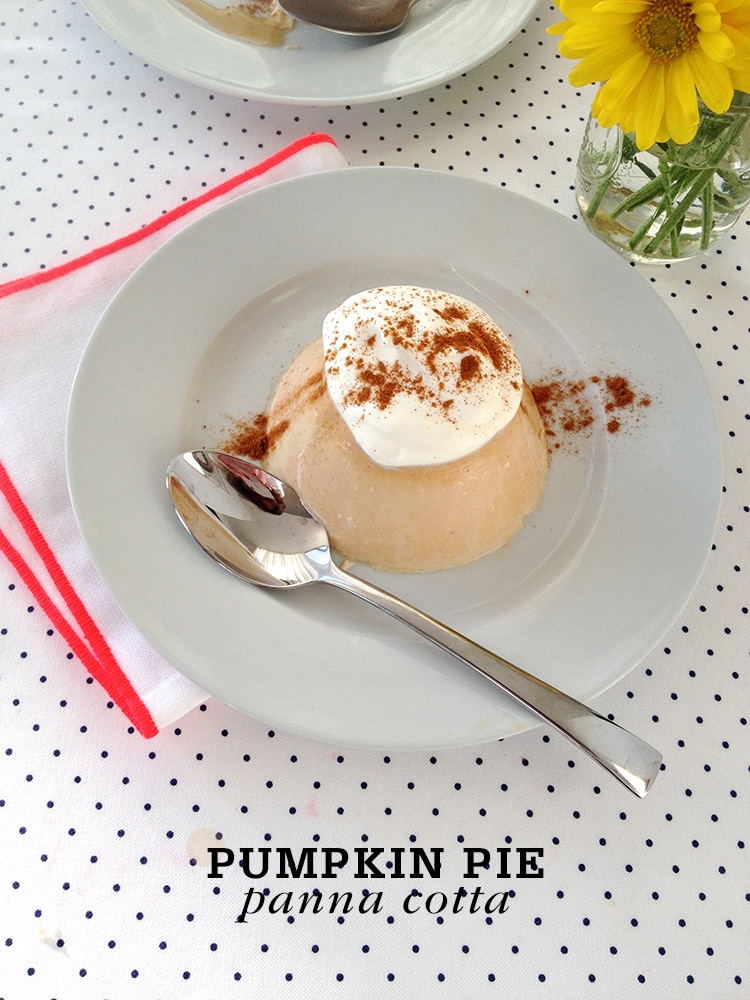 Here's the funny thing about living in Brooklyn this time of year: It's too frickin' lovely! I'd love to tell you that I'm cuddled up at home baking all day long but that would be a total lie. It's the perfect few weeks for brisk jogs in the park, long sunny walks through the Brooklyn Flea or wasting away the afternoon wrapped up in a sweater (and drinking wine, of course) at a sidewalk table at our favorite local cafe. I'm not sitting inside baking!
So how am I getting my pumpkin fix? It's easy: Make-ahead panna cotta. It has all the fabulous flavors of pumpkin pie and none of the annoying prep work. Mix it up, put it in the fridge, and go do your thing girl! Hours later you have a chic treat that's sweet, slightly spiced and ridiculously jiggly.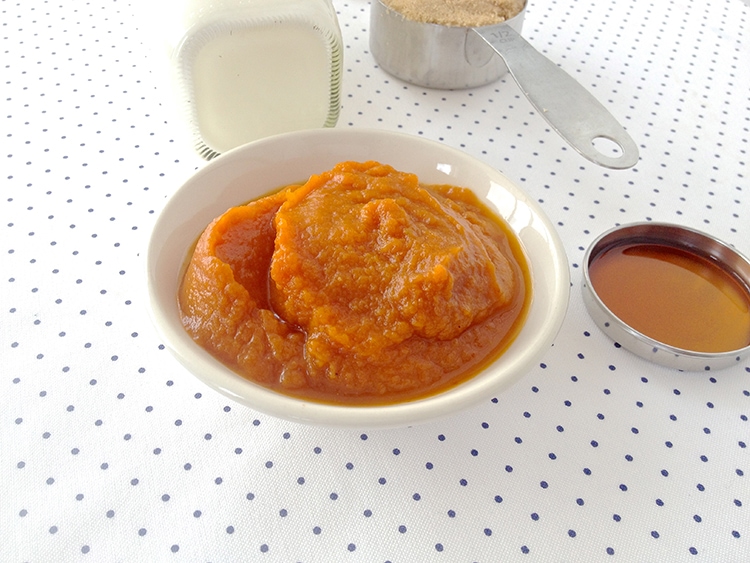 I use a few shortcuts to make these grown-up "Jello" treats extra easy. First, half-and-half. Instead of measuring out different amount of heavy cream and whole milk, just use half-and-half! One ingredient. Done! My advice, though: Go for the good stuff. I love to get the local organic half-and-half from our grocery store. Since this is the base of your super-simple dessert, it's important that you're starting with the best ingredient possible.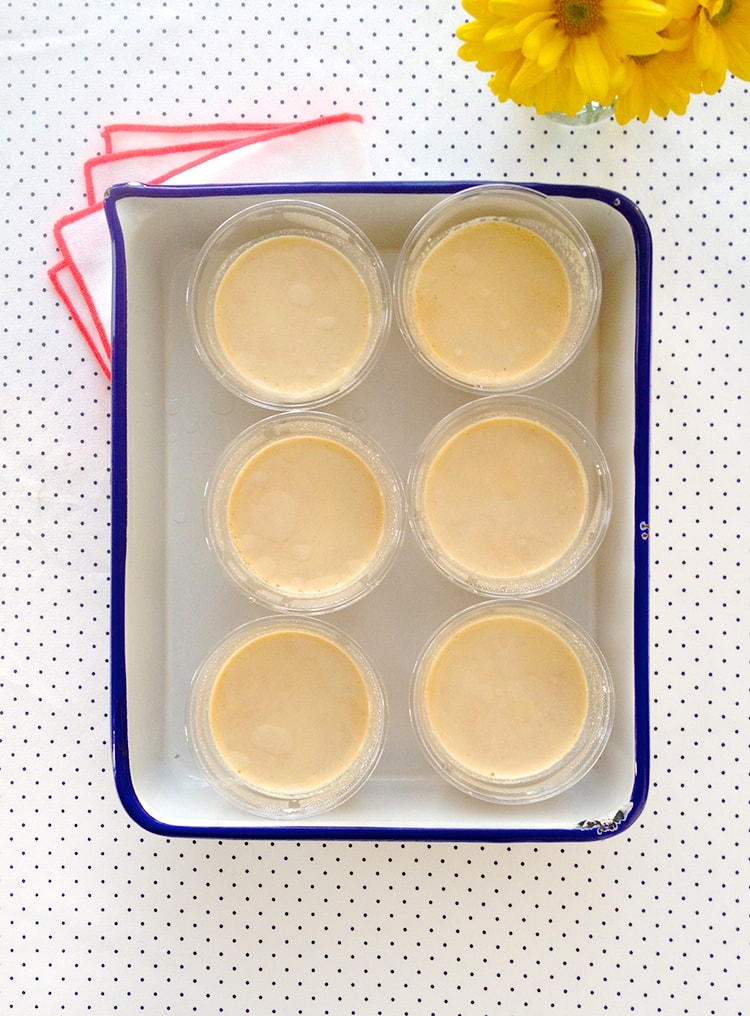 Next up: Pumpkin pie filling. We used it to make our Pumpkin Spice Latte Waffles, remember? It already has sugar and spices in it, saving you a step or two.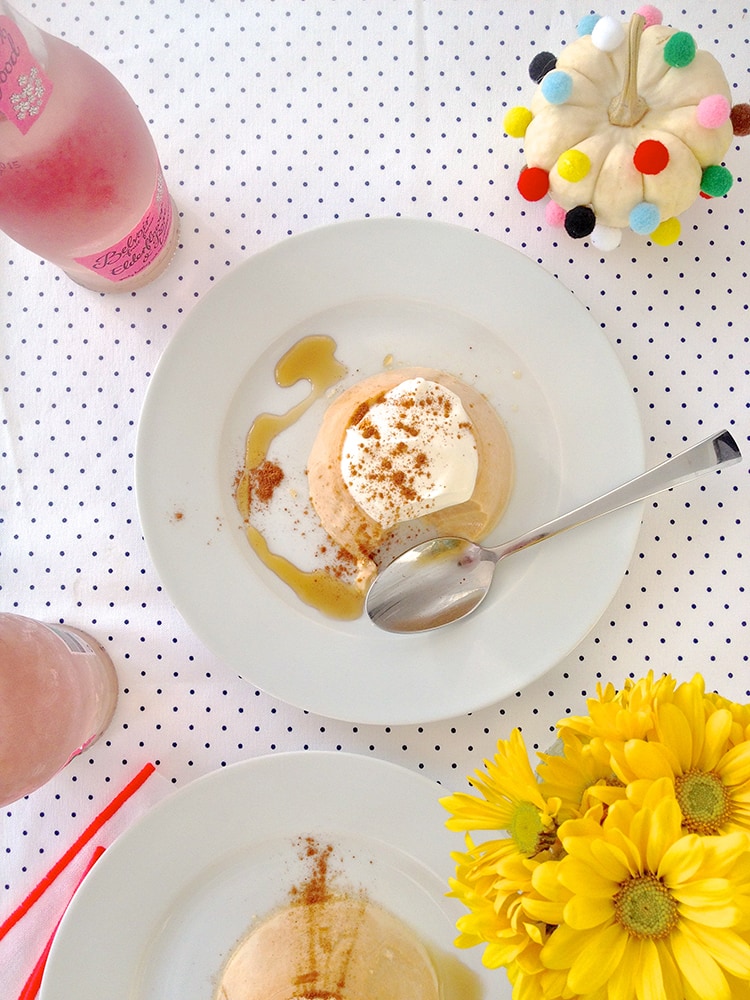 These lovely little panna cottas are a great blank canvas for some topping creativity. If you're willing to splurge on a few extra ingredients, you can serve them with whipped cream, maple syrup, a pumpkin pie spice sprinkle or maybe even some toasted pumpkin seeds. You're a wonderful hostess (and a dessert lover!) so I'm sure you'll come up with something amazing. Let us know what you think!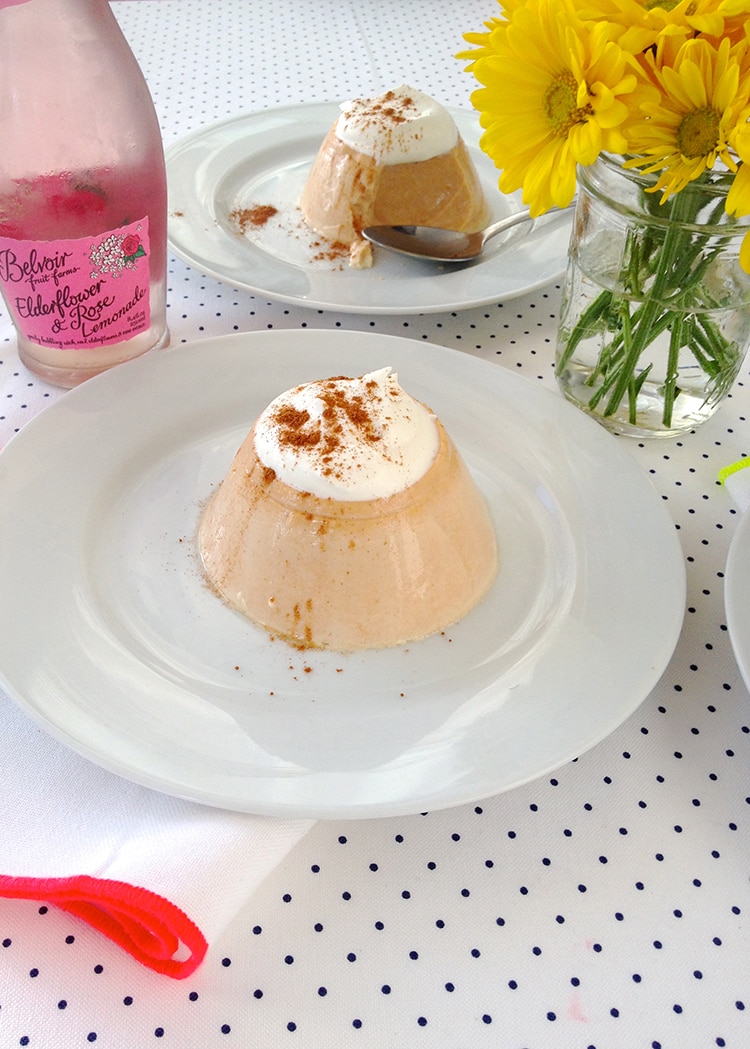 Want to walk through this together step-by-step? I made a quick how-to video for you—the whole recipe live! Watch and learn how to master this classic dessert xo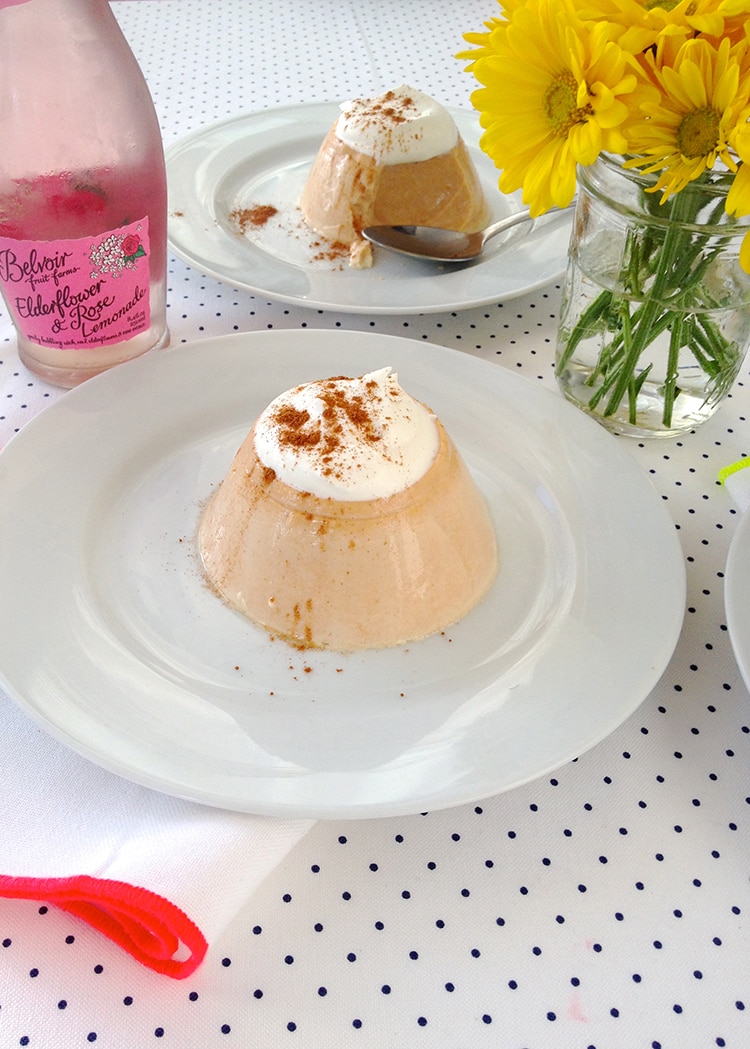 Pumpkin Pie Panna Cotta
2014-10-28 17:20:19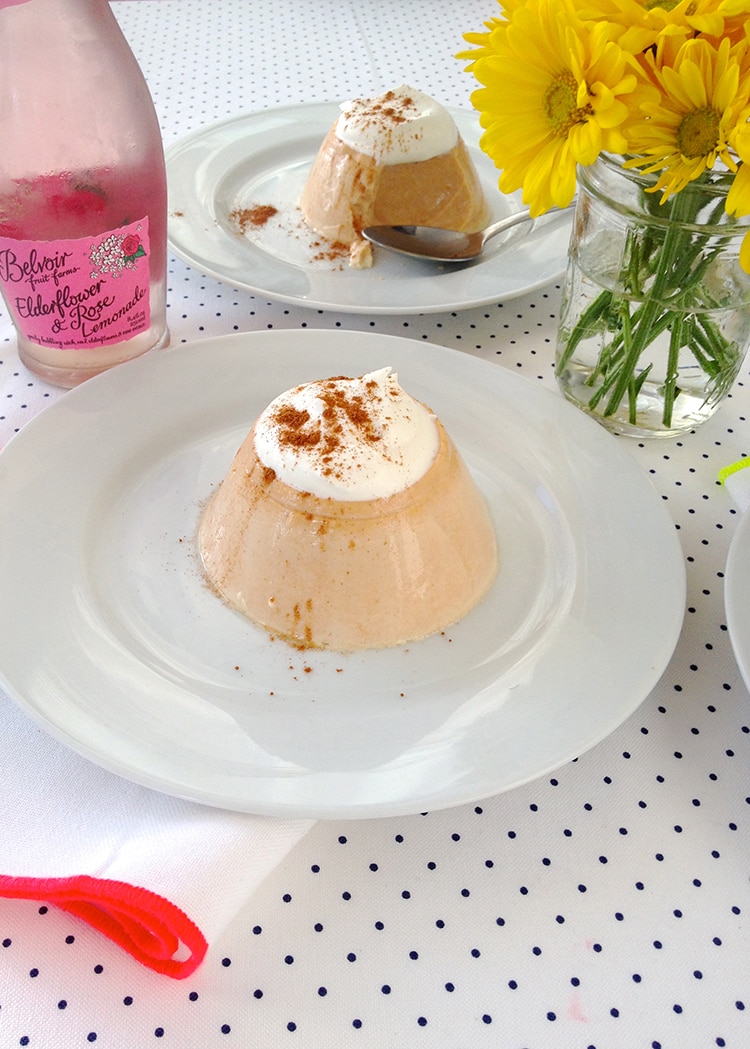 Serves 6
Ingredients
4 cups half-and-half
1 1/2 cups pumpkin pie filling
1/2 cup packed light-brown sugar
2 teaspoons vanilla extract
3 1/2 teaspoons unflavored gelatin
PANTRY STAPLES: Water and a pinch of salt!
Instructions
Heat the half-and-half, pumpkin pie filling, brown sugar, vanilla and a pinch of salt in a saucepan over medium heat, stirring occasionally, until simmering and the sugar dissolves, 4 to 6 minutes.
Strain pumpkin mixture through a fine mesh sieve into a large bowl, stirring and pressing down firmly on the solids to push the mixture through (discard any lumpy solids remaining in the sieve).
Put 1/2 cup ice-cold water in a small bowl. Sprinkle gelatin over the cold water and let sit 2 minutes or until softened. Whisk in 1/2 cup boiling water until the gelatin dissolves.
Gently whisk the gelatin mixture into the pumpkin mixture until combined. Divide among cups or ramekins. Cover with plastic wrap and refrigerate until set, at least 8 hours or overnight.
To serve, unwrap and run a small knife around the inside of the cups to loosen the panna cottas. Invert onto a serving plate and firmly tap it a few times to release (it'll come out eventually, just keep tapping the cup against the plate)! Serve with whipped cream, maple syrup and a sprinkle of pumpkin pie spice if desired.
Freutcake https://www.freutcake.com/