My entertaining style really changes throughout the year, how about yours? During the chilly months here in NYC, I don't mind sitting inside planning dinner or appetizers for a night in with friends. Once spring finally hits though, I'm such a heedless hostess. Blame spring! Blame sunshine! I'll get caught up in a long walk around the neighborhood then—eeks!—realize guests will be over in an hour and I haven't even shopped for ingredients yet. Sound familiar? If so, arm yourself with a super-easy recipe you can shop AND bake in 30 minutes flat, like this 5-Ingredient Spring Veggie Pizza.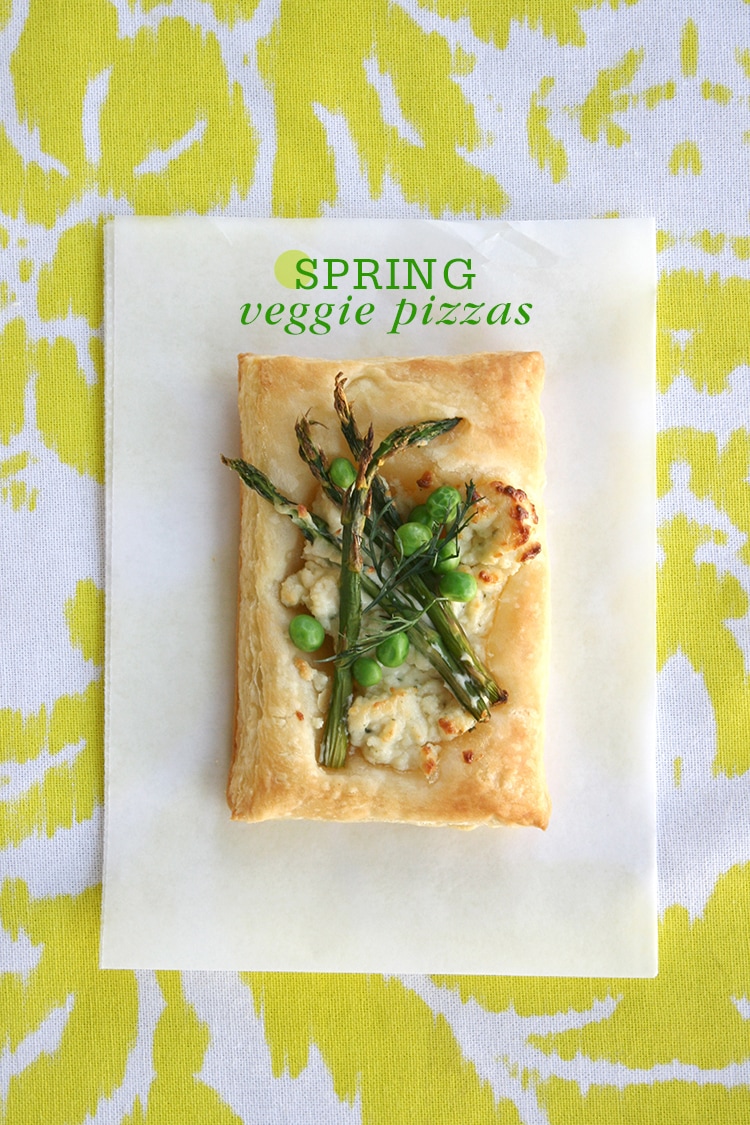 The secret to this faster-than-anything recipe: Soft garlic-and-herb flavored cheese. My favorite brand is Boursin but there are tons of other options out there, like Alouette, Rondele and Pine River. These flavor-packed, cheesy spreads are a great one-step "sauce" that melts and bubbles into pizza perfection!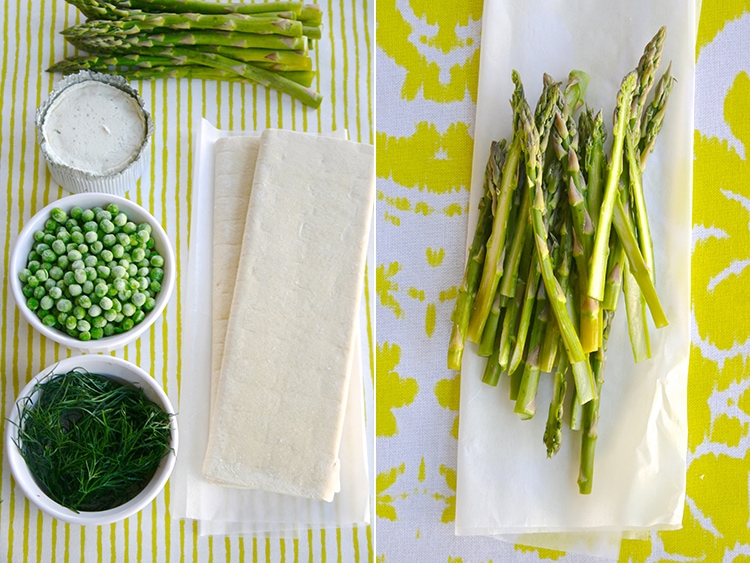 I love super-skinny asparagus spears but often the stalks available at the grocery store are ridiculously thick. If that's all I can find (and I have time), I'll slice each spear in half lengthwise to make two thin halves. Need it speedier? Swap in frozen asparagus spears, thawed and skin the pre-cooking entirely!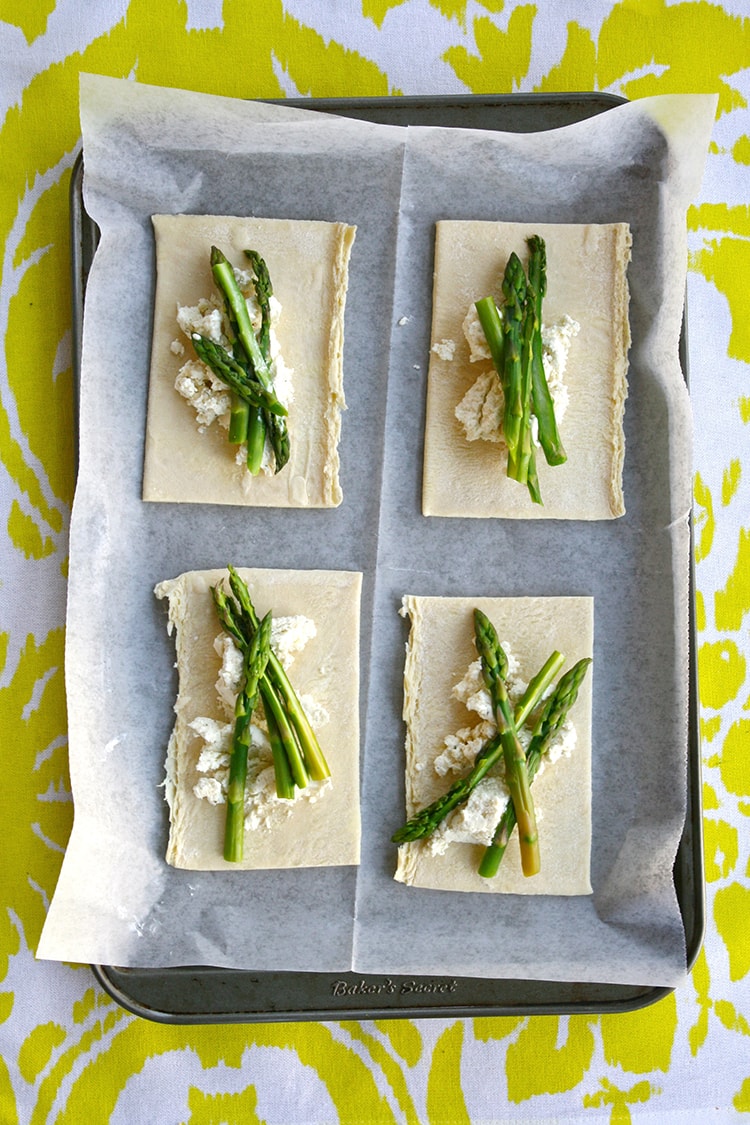 Want to make these pizzas bite-size for a spring cocktail party? Cut each puff pastry rectangle into 4 or 6 pieces before topping (and chop up the asparagus so it'll fit on top) and bake for only 6 or 7 minutes or until puffed and golden. Cheers!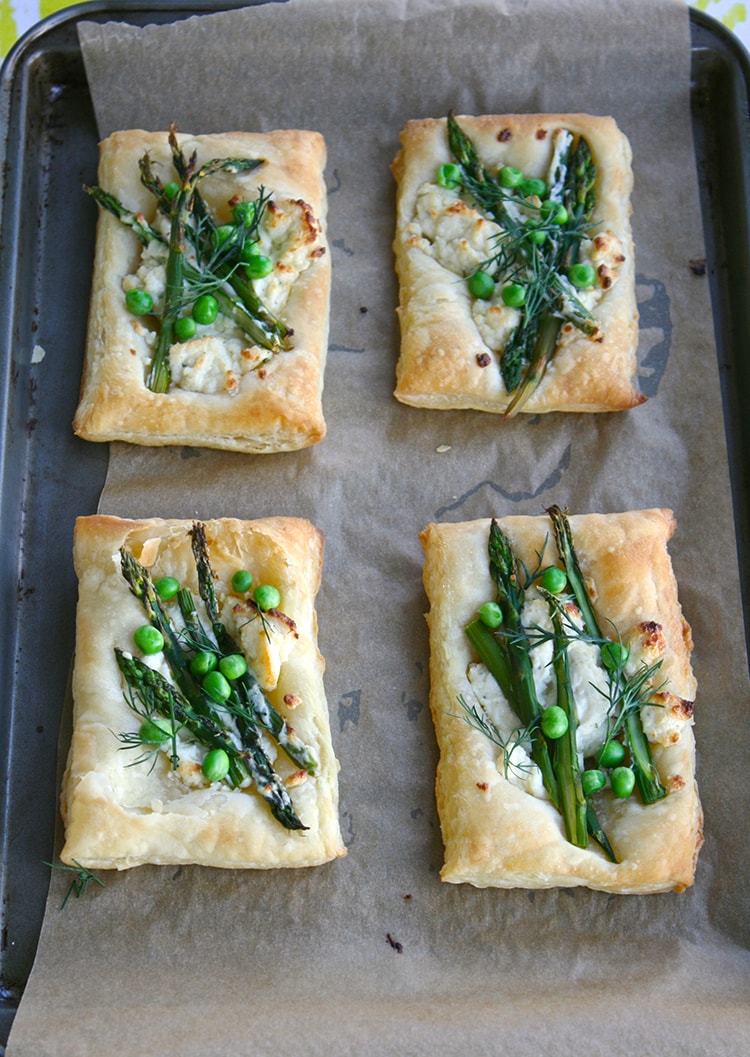 photos by Erin Phraner
5-Ingredient Spring Veggie Pizzas
Serves 6 to 8
1/2 bunch asparagus, trimmed and halved lengthwise (if desired)
1 (17.3-ounce) box puff pastry sheets, thawed slightly
2 (5-ounce) containers soft garlic-and-herb cheese, crumbled
1/2 cup frozen peas, thawed
1/3 cup dill leaves
Directions:
1. Preheat the oven to 400˚F. Line two baking sheets with parchment paper.
2. Put the asparagus and 1 tablespoon water in a microwave-safe bowl. Cover with plastic wrap and microwave on High 1 to 2 minutes or until bright green and barely tender. Drain and pat dry.
3. Meanwhile, starting with one puff pastry sheet, unfold the sheet and cut along the seams to make 3 long rectangles; cut each rectangle in half to make 6 rectangles total. Repeat with remaining puff pastry sheet. Transfer rectangles to prepared baking sheets.
4. Divide the cheese, asparagus and peas among the crusts. Bake 10 to 12 minutes or until puffed and golden. Sprinkle with dill before serving.