So, how many of you celebrated National Ice Cream day yesterday with a scoop, or two? If you did, good for you! And if you're looking for a way to bounce back from your weekend indulgence look no further. Erin is sharing her secret to that oh, so flat stomach of hers! Oh, and it tastes good too.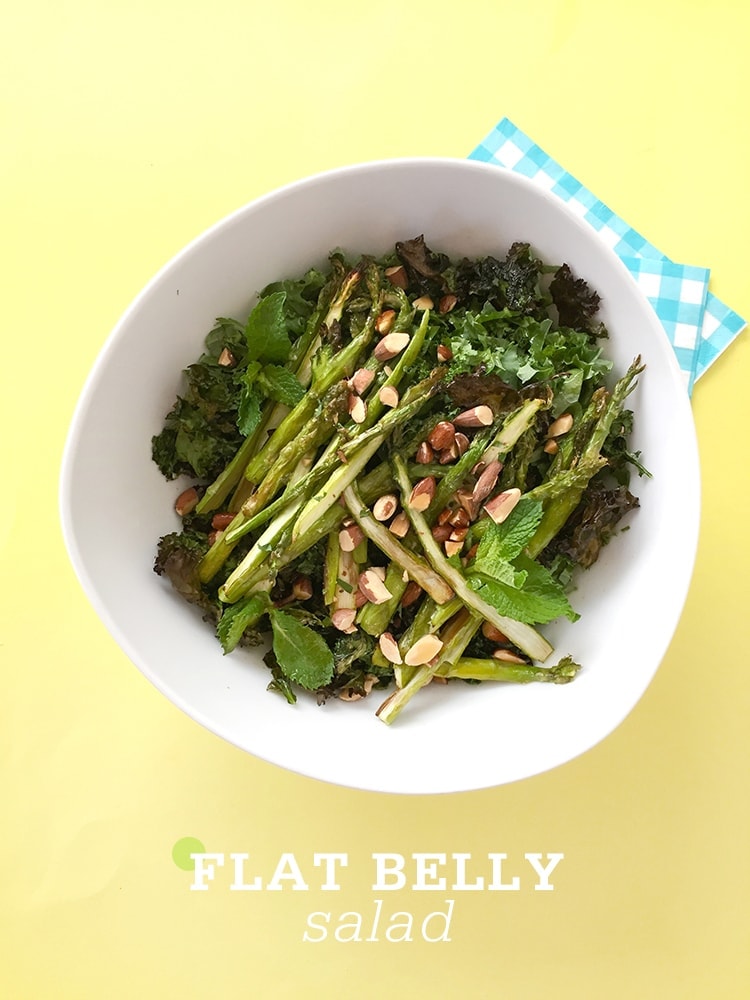 Everyone needs a go-to feel good meal, especially during the summer. You know, something that's amazing for your body, absolutely delicious and easy to make, too!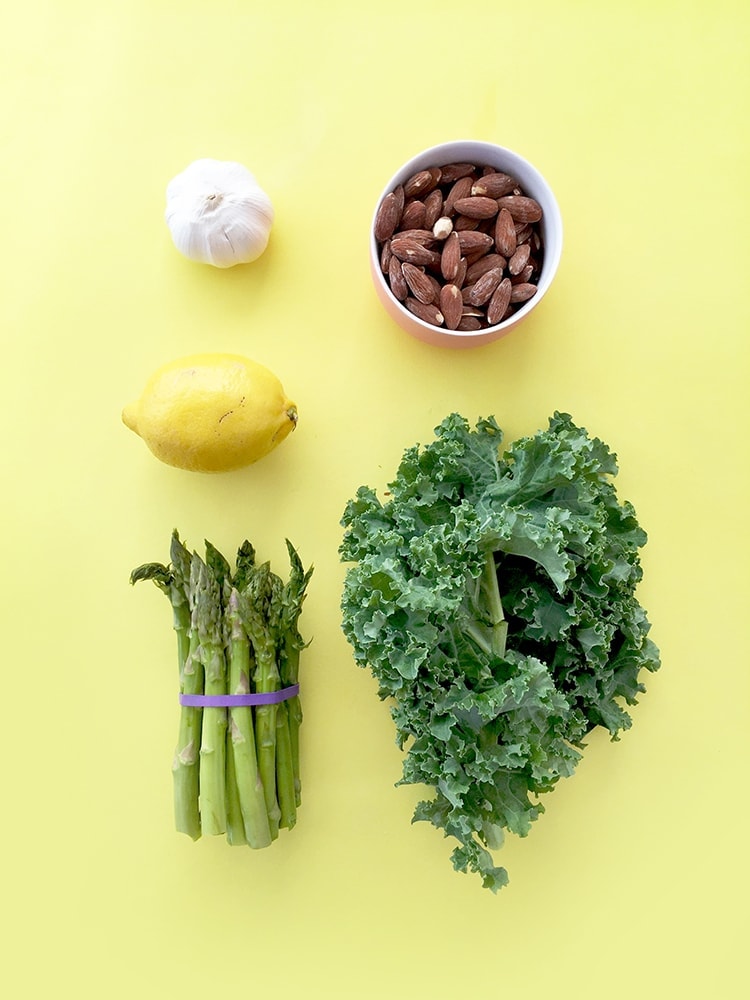 I started making this flat belly salad one year after a long weekend of burger binging. I needed something to refresh and restart my healthy bod without starving myself, since that's definitely no way to get healthy.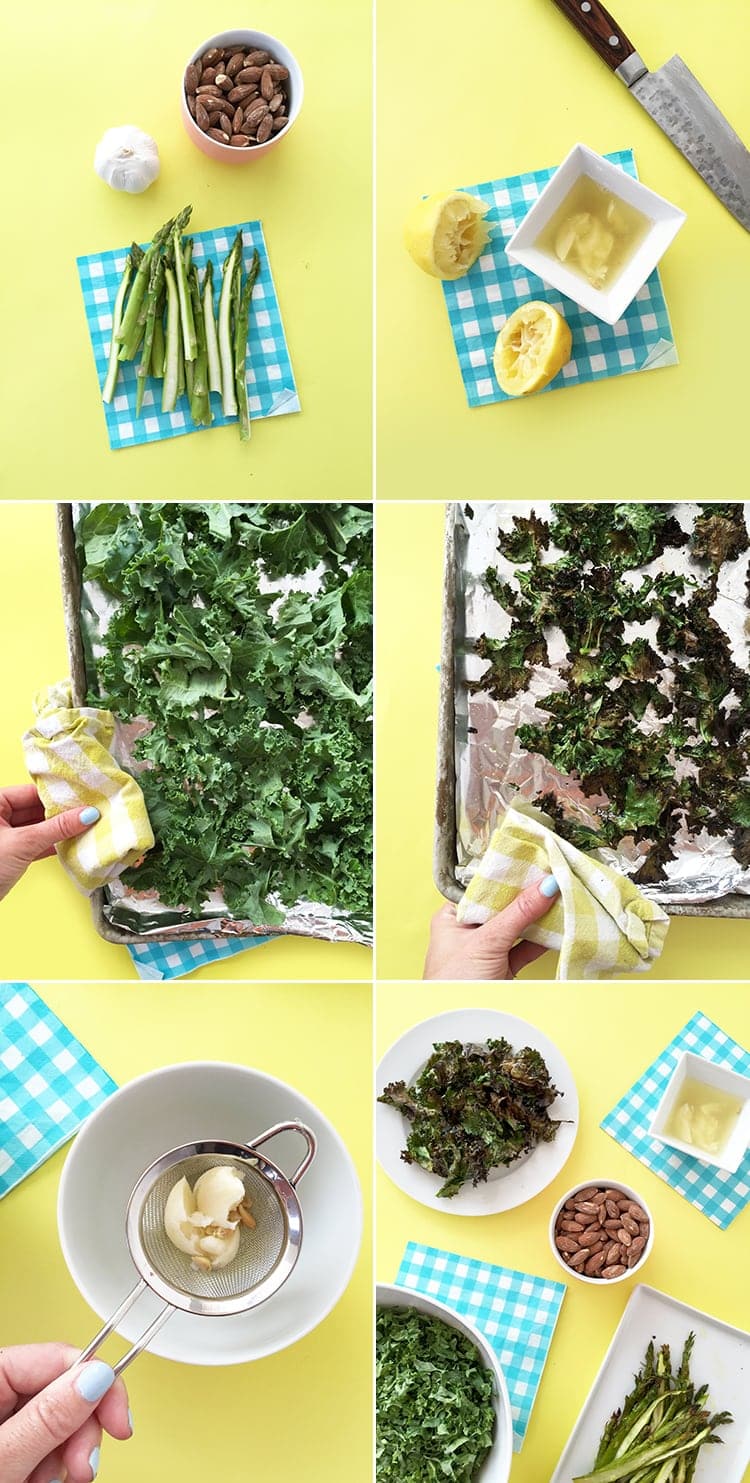 Instead I turned to a nutritionist friend of mine and asked, "What are your favorite ingredients for feeding slim bellies?" Her response: Dark leafy greens, almonds, asparagus, mint, lemon, garlic…the list really went on! So I decided to figure out a way to combine all of those super-slimmers into one epic salad.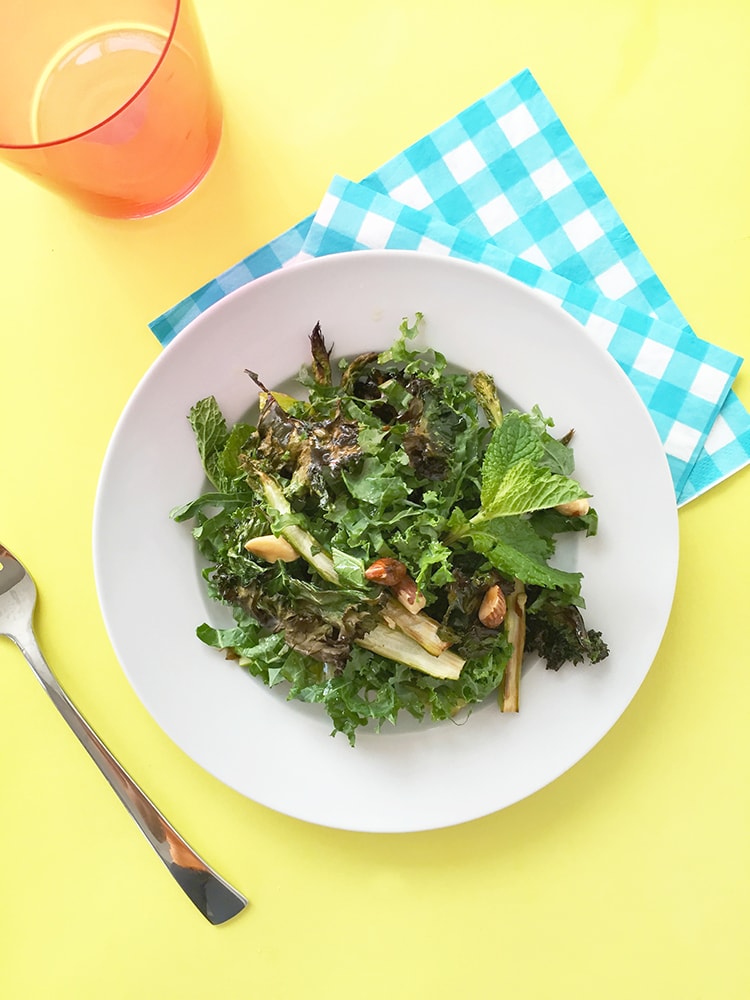 photos by Erin Phraner
To be honest, my first goal wasn't even to make it taste great. The fact that this recipe ended up being my most favorite, most delicious salad ever was just a happy accident.
5-Ingredient Flat Belly Salad
2015-07-19 19:33:04
Serves 2
A healthy and delicious salad to restart your summer body.
Ingredients
1 bunch kale, ribs removed
1 lemon
1 large clove garlic
1 bunch asparagus, trimmed and halved lengthwise
1 handful roasted almonds, roughly choppers
PANTRY STAPLES: Extra-virgin olive oil, salt and freshly ground pepper
Instructions
Preheat the oven to 475˚F. Tear half of the kale into pieces. Roll and chop the other half into this ribbons.
Squeeze the juice of the lemon into a bowl. Smash the garlic so it's all broken up and bruised; add to the lemon juice and set aside.
Toss the asparagus, drizzle olive oil and a pinch of salt on a foil-lined baking sheet. Roast until tender and slightly crisp, about 7 minutes. Transfer to a plate.
On the same baking sheet, toss the torn kale pieces with olive oil and salt and roast until crisp, about 5 minutes.
Strain the lemon juice into a small bowl; discard any seeds and the garlic clove. Slowly whisk about 1/4 cup olive oil into the lemon juice until combined. Whisk in a pinch of salt and pepper.
Toss the raw kale, toasted kale, asparagus, almonds and dressing in a large bowl.
Notes
Bonus Belly Savers: If you're willing to splurge on a few extra ingredients, add 1 pinch cayenne pepper to the dressing + 1 bunch torn mint to the salad.
Freutcake https://www.freutcake.com/