Things are about to get smoochy! Happy (almost) Valentine's Day. If you're hoping for a romantic dinner-for-two on Saturday, look no further than your own kitchen. Staying home feels utterly dreamy when you plan a special menu. This year, we're taking inspiration for our favorite French bistro and serving moules frites (translation: mussels and French fries). Don't know how to make mussels? Don't worry! We'll walk through it together.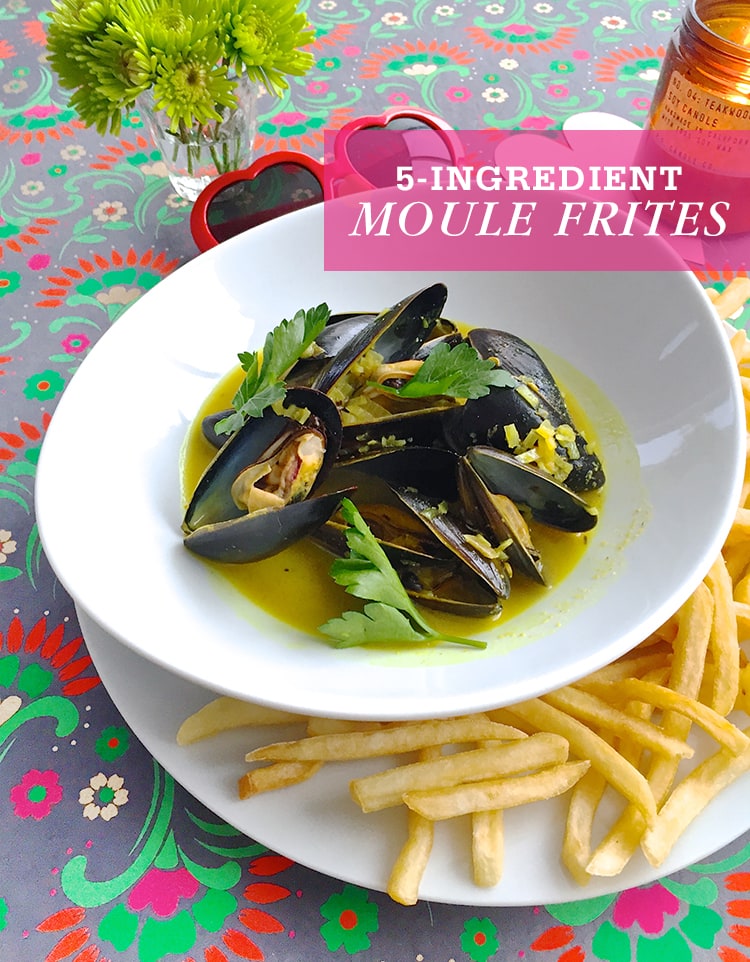 To all of my seafood-haters out there, give mussels a try. They're super mild. They're sweet and just barely briny…they basically taste like whatever you cook 'em with. In this case, that's a delicious white wine sauce spiked with a little curry powder. It's a lovely, traditional flavor combo you'll find on the banks of Paris (or tucked down little streets in the West Village of NYC). Served with a bottle of slate-y white wine—come on! Note: If you are deeply, wildly opposed to curry you can always skip or add a little hot paprika instead.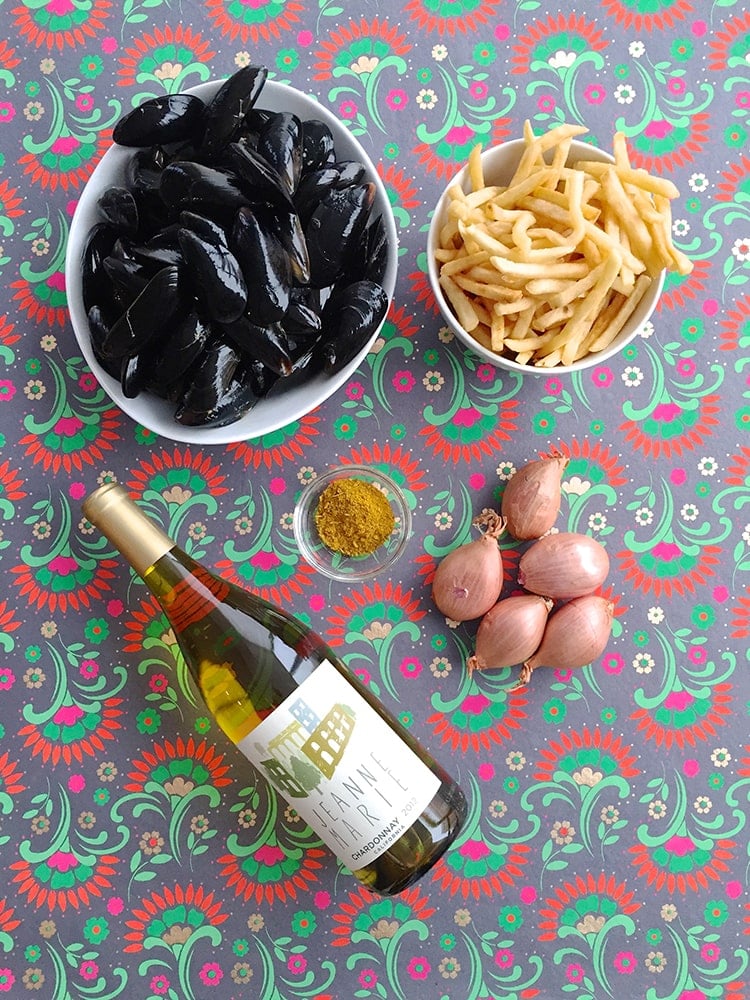 The misconception about mussels is that they're difficult to make. I promise you they're the EASIEST protein to cook. Cross my heart. Leah will give you my email address and you can yell at me if you make this and you think I'm wrong. This is what's going to happen: You're going to bring the shallots, curry and wine to a simmer…you'll add the mussels, cover the pot, uncover the pot in 5 minutes…dinner's served.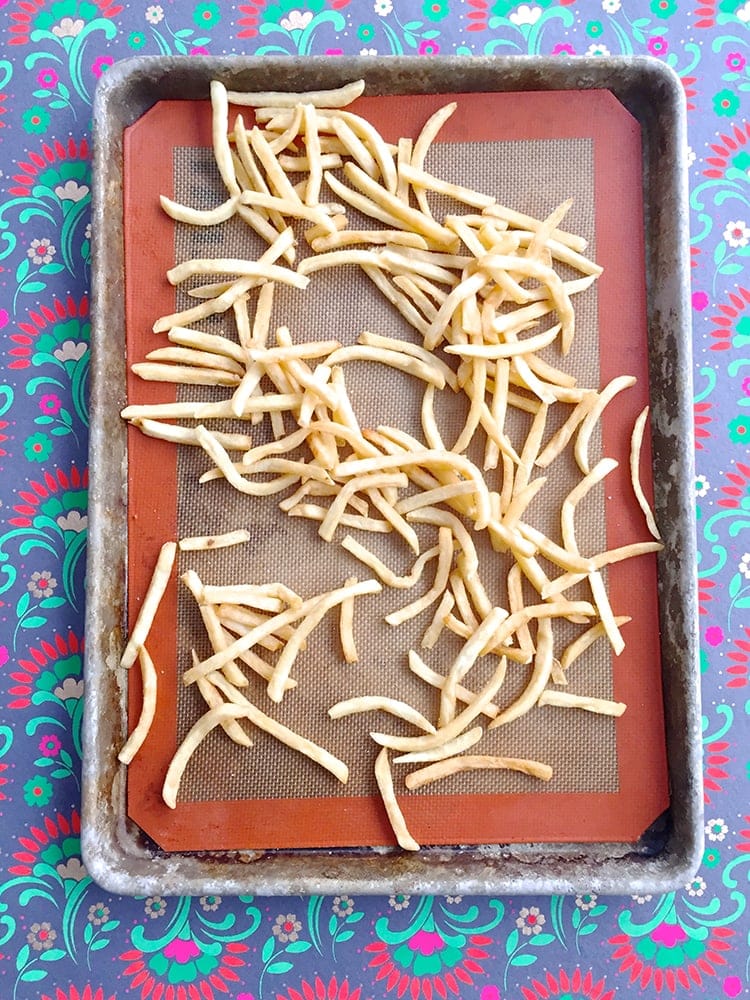 Most grocery stores and fish markets are really good about cleaning mussels these days. You'll get them home and they'll likely need little to no work at all. If you get a bag and they seem gnarly (they look dirty and have stuff hanging off of 'em) here's what you do: Start by rinsing them a few times in fresh water, changing the water and wiping out the bowl in between rinses. Scrub the shells with a brush or a paper towel under running water. And if any of the mussels still have their "beards," or the stringy thing hanging out of the side, go ahead and just pull that out. Of the two pounds of mussels I bought for this post, only one (ONE) still have a beard that I had to remove. Thanks, Whole Foods!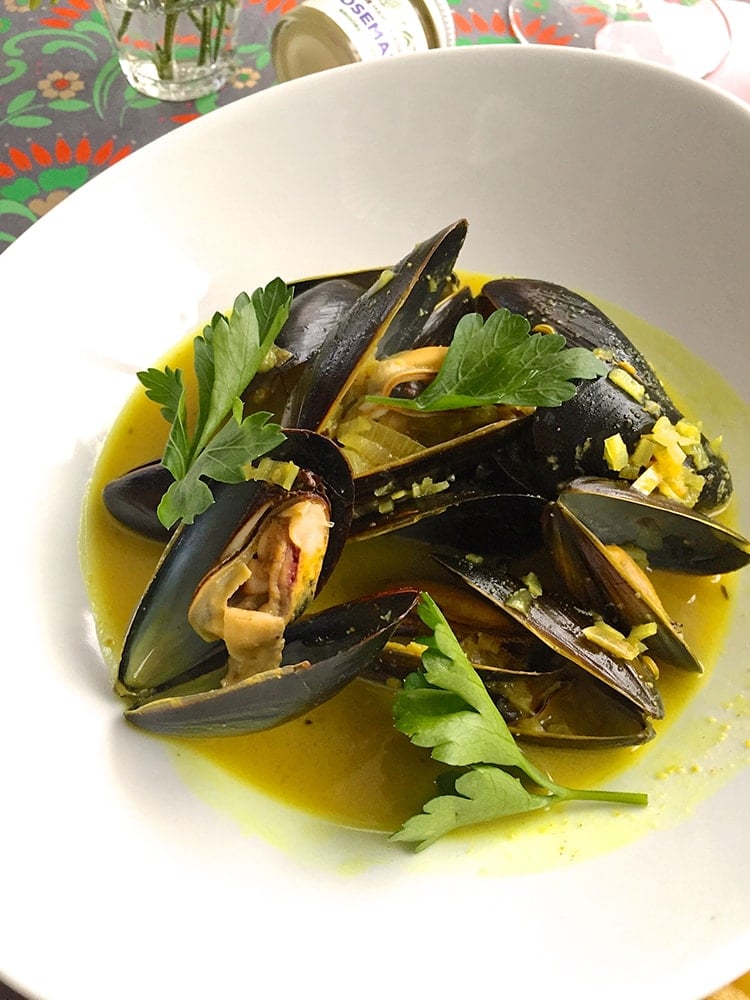 Before we get cooking, one more thing to add: My favorite thing to do for a romantic bistro meal is pick up a big bag of French fries from a fast food restaurant and soup 'em up at home like they're homemade. Depending on how greasy they are, I'll put them on a baking sheet…drizzle them with olive oil (maybe) and add some more salt before popping them in the oven to re-crisp. It works like a charm. Trust me! Steal this idea.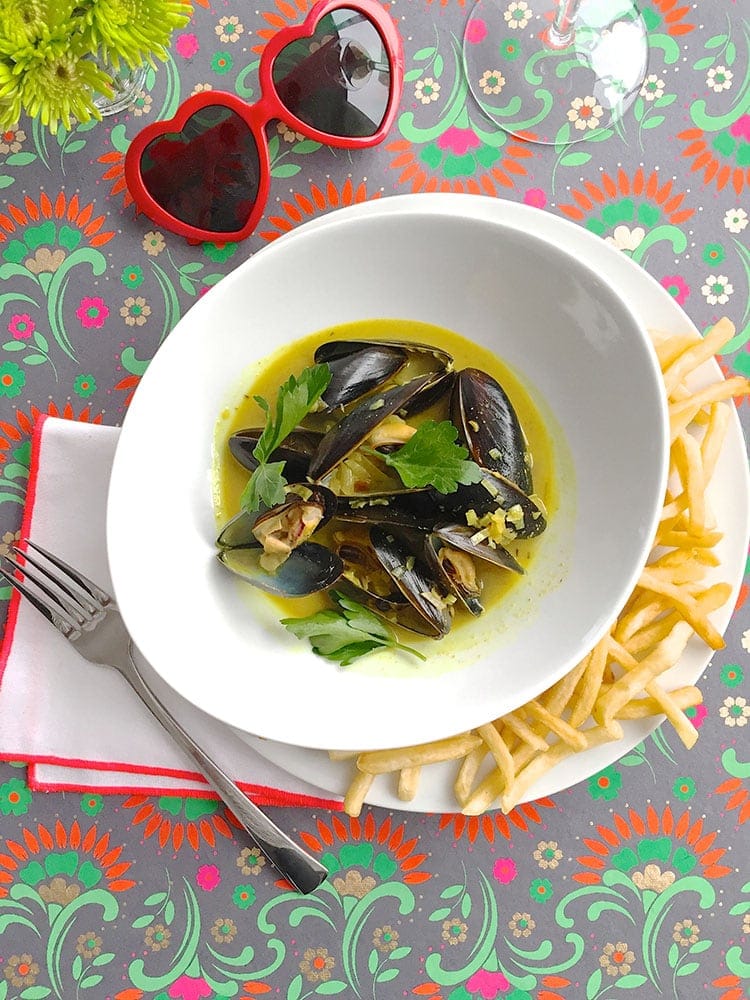 photos by Erin Phraner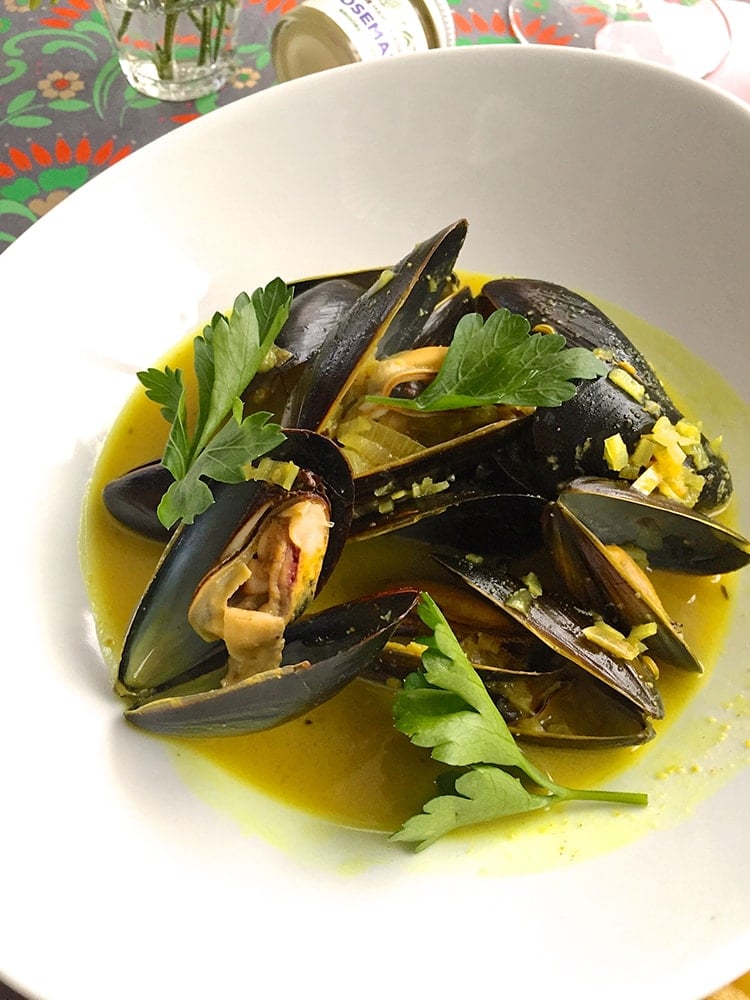 5-Ingredient Bistro Style Moule Frites
2015-02-11 18:50:12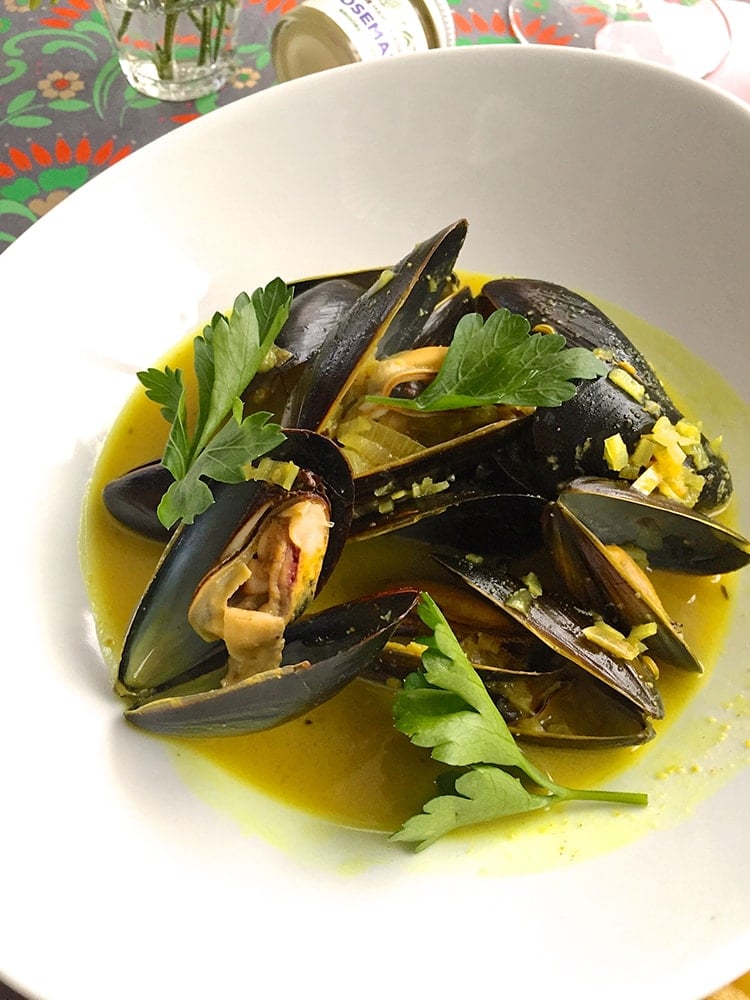 Serves 2
Bistro style mussels with white wine sauce and French fries.
Ingredients
5 shallots, finely chopped
1 tablespoons curry powder
1/2 (750 ML) bottle dry white wine
2 pounds mussels, rinsed, scrubbed and beards removed
Fast food French fries, for serving
PANTRY STAPLES: Olive oil, salt and pepper
Instructions
Preheat the oven to 350˚F. In a large Dutch oven or wide pot, heat a few gulps of olive oil over medium-high heat. Add the shallots and cook, stirring occasionally, until soft, about 4 minutes. Add the curry powder and a big pinch of salt; cook 1 more minute.
Pour the wine into the pot, scraping up any bits at the bottom of the pot, and bring to a simmer. Add the mussels. Cover and cook 4 to 5 minutes or until mussels open. (Discard any mussels that do not open.)
Meanwhile, spread the French fries on a rimmed baking sheet (drizzle with olive oil and sprinkle with salt and pepper if desired). Bake until crisp and warm, about 5 minutes.
Spoon the mussels and broth into bowls. Serve with French fries for dipping!
Freutcake https://www.freutcake.com/