One of my very favorite family holiday traditions is giving and receiving Christmas cookies. I come from a long line of Christmas cookie baking ladies and the cookie gene has definitely made its way down to me! Every year I make a few of Grandma's cookie recipes and a few of my own to give as gifts in little tins or boxes. For the last couple of years I've added nut brittles to my regular cookie mix because they're fast, easy and down right impressive.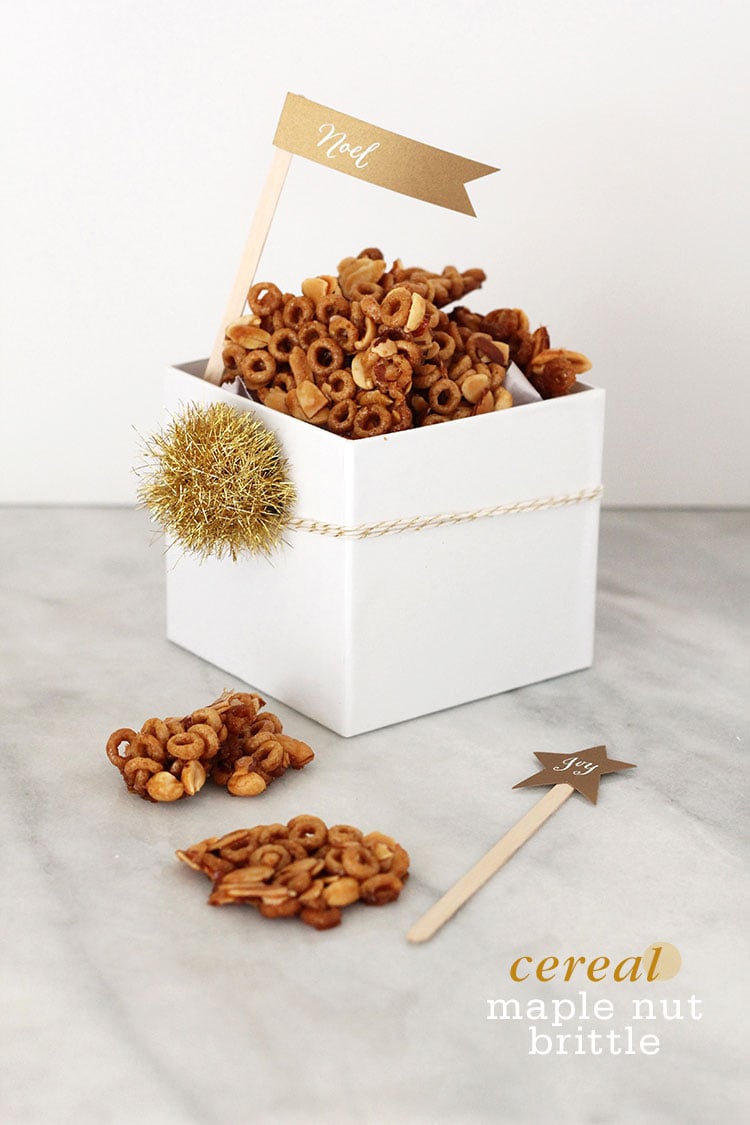 Brittle making is just about as close as I've come to candy making and no one has to know that it's ridiculously simple. This recipe for Cereal Maple Nut Brittle is a delicate and easy version of the classic brittle minus a candy thermometer or fear of burning the sugar.
Just a few simple ingredients like Cascadian Farm's Organic Purely O's to add a crispy delicate crunch, slivered almonds, salted peanuts, browned sugar, butter and maple syrup. The ingredients alone are good enough to eat with a spoon; try your hardest to resist the temptation however.
Whether you're gifting a box of this brittle or serving a bowl on your holiday dessert table, this is one sweet treat guaranteed not to last long! It certainly didn't last long in my kitchen.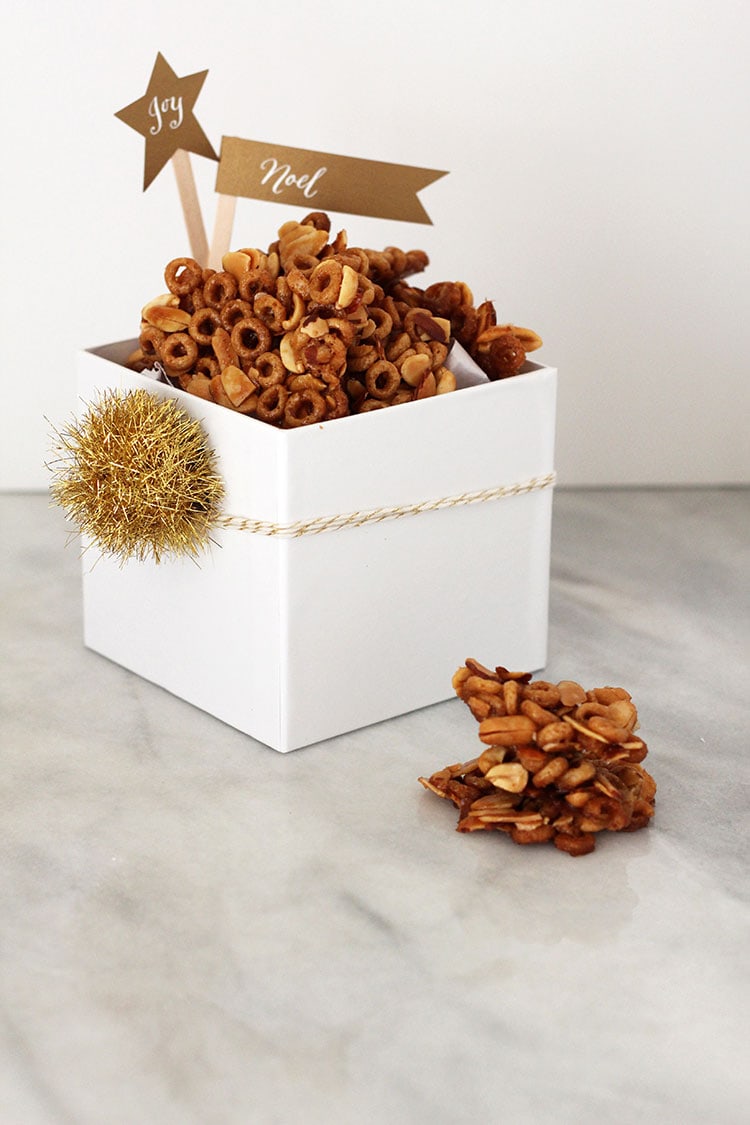 photos by Leah Bergman
Cereal Maple Nut Brittle
2 cups Cascadian Farm Organic Purely O's
½ cup slivered almonds
½ cup salted peanuts
½ cup butter
¼ cup packed brown sugar
⅓ cup real maple syrup
pinch of sea salt
Directions:
1. Preheat oven to 300°F and line a large cookie sheet with foil sprayed with non-stick cooking spray. Or lined with a silicone baking mat.
2. In large bowl, mix Purely O's, almonds and peanuts. Set aside.
3. In 1-quart saucepan, heat butter, brown sugar, maple syrup and sea salt over medium heat, stirring frequently, until butter is melted and mixture boils. Pour over cereal mixture and gently toss with a heat proof spatula until all dry ingredients are well coated.
4. Spread mixture evenly on cookie sheet with rubber spatula until about ½ inch thick.
5. Bake 35 minutes or until almonds and O's are golden brown. Keep an eye on the brittle as it can brown quickly!
6. Cool completely, about 15 minutes before breaking carefully with fingers into pieces. Package and gift away!
Note: Brittle should be stored in an air-tight container.
For more Holiday Baking Recipe ideas using Cascadian Farm cereals check out what these bloggers are baking…it's a virtual Cookie Swap!
Gingerbread Bourbon Balls, Perpetually Chic
Molasses Ginger Maple Granola Cookie, Young Married Chic
Raspberry Coconut Crumb Bars, Waiting on Martha
No-Bake Cranberry Oat Chews, House of Earnest
Salted Honey Nut Butterscotch Blondies, Clara Persis
Cinnamon Crunch Oatmeal and White Chocolate Cookies, Peanut Butter Runner
Disclosure: This post is sponsored by General Mills but all opinions expressed here are my own. Thank you for supporting the sponsors who allow me to continue creating new content for Freutcake!