If I were to tell you that these cookies were a breeze to make, I would be lying. But aren't they pretty? Darn right they are! And after all, what's love without a little work…am I right? So let's talk about Conversation Heart Sugar Cookies.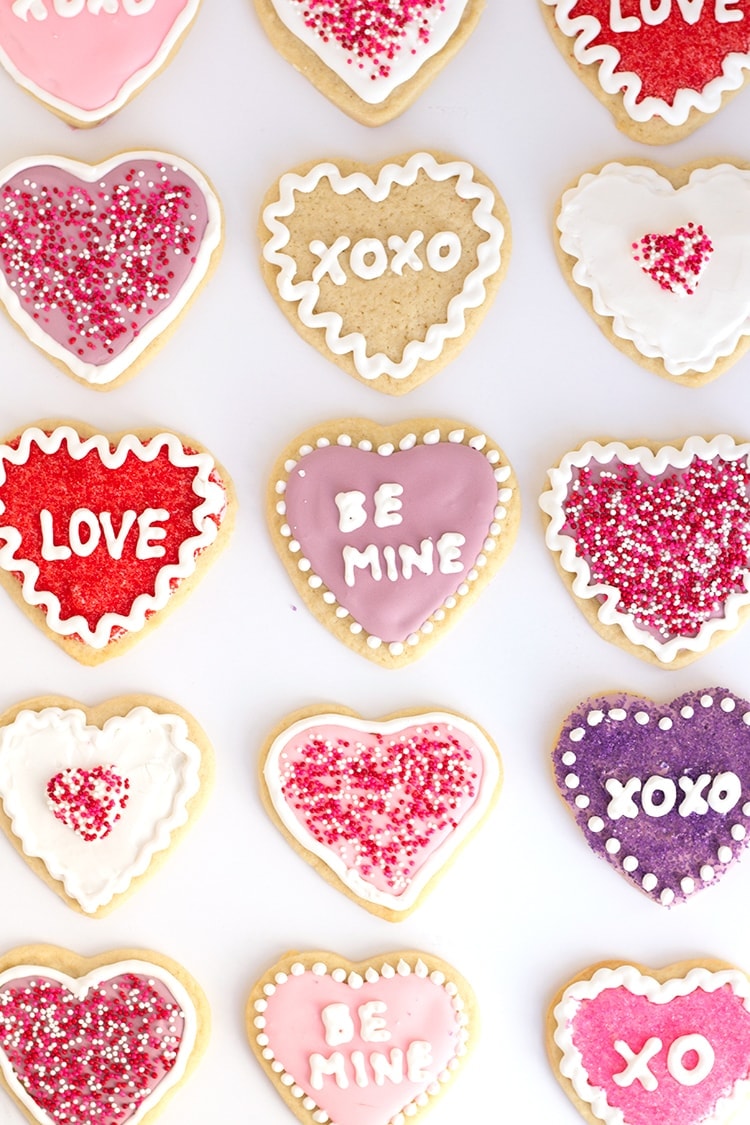 It's my firm believe that Valentine's should all be edible. Big sugar cookies covered in icing and sprinkles, sort of edible. So set aside an afternoon, have a couple of girlfriends over, pop a bottle of bubbly and get your cookie decorating on! Here's how to do it: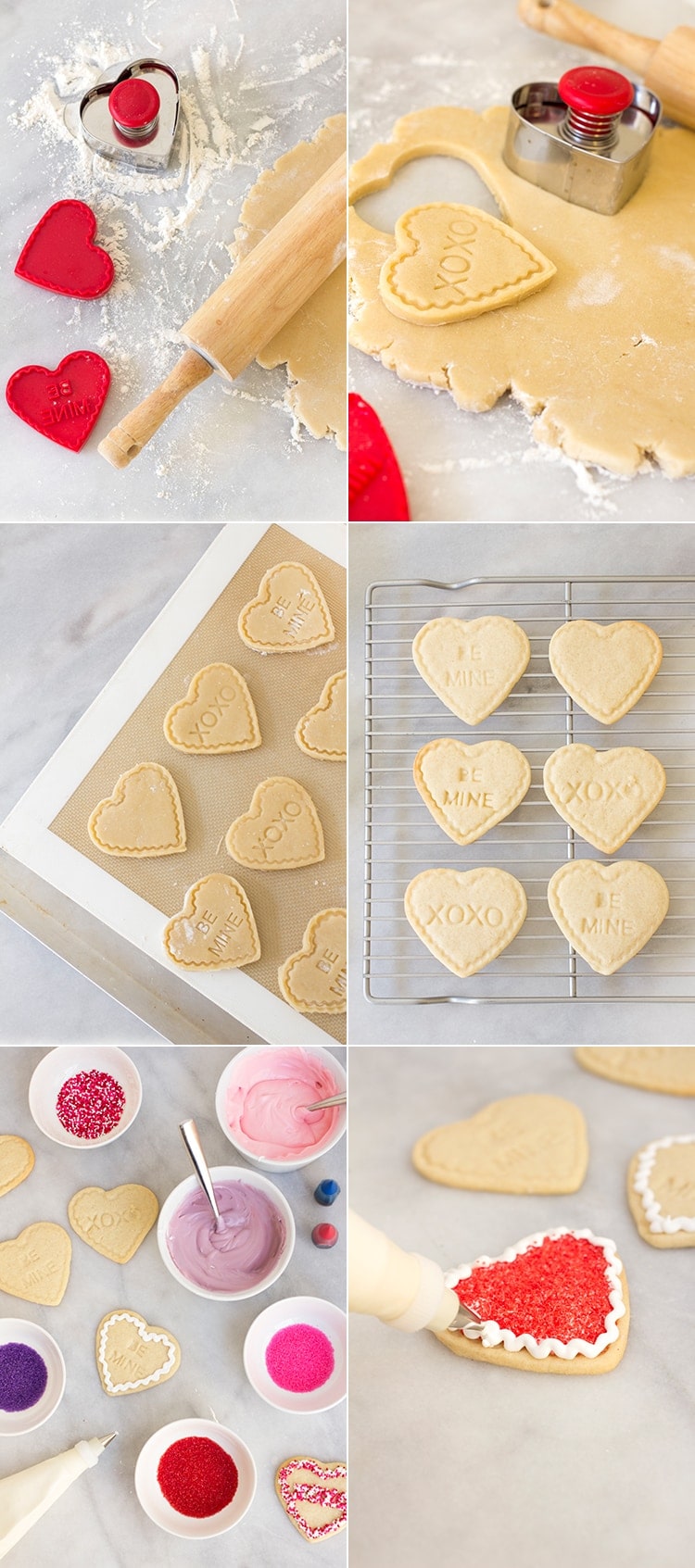 Start by making your favorite cut-out sugar cookie dough recipe or my favorite (down below) and pop it in the refrigerator to chill. The hardest part of working with sugar cookies is the temperature of the dough. The trick, always keep your dough as cold as possible so that it rolls out smoothly and doesn't stick to the board or cookie cutters. I used this conversation heart cookie cutter from Williams Sonoma with changeable stamps to create my cookies but you could always use a standard heart cookie cutter.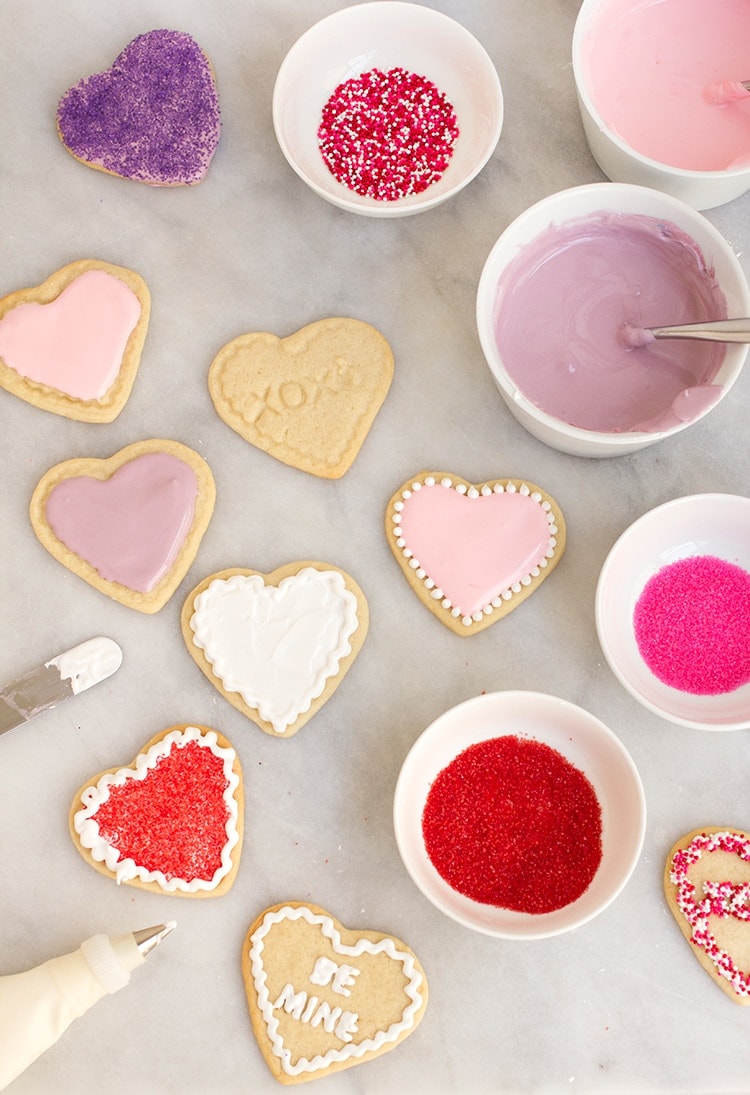 Once your cookies are baked and cooled, store them in an airtight container until it's time to decorate. If you do decided to host a little girls night decorating party (which I highly recommend you do), make sure you have the cookies baked and cooled ahead of time! Make one large batch of white royal icing (recipe follows) and divide it into multiple bowls. Mix in your favorite colors, I made a light lavender and pink leaving one bowl white. Spoon the white royal icing into a piping bag fitted with a small pastry tip (either a 2 or 4) for detail work. Now you're ready to decorate!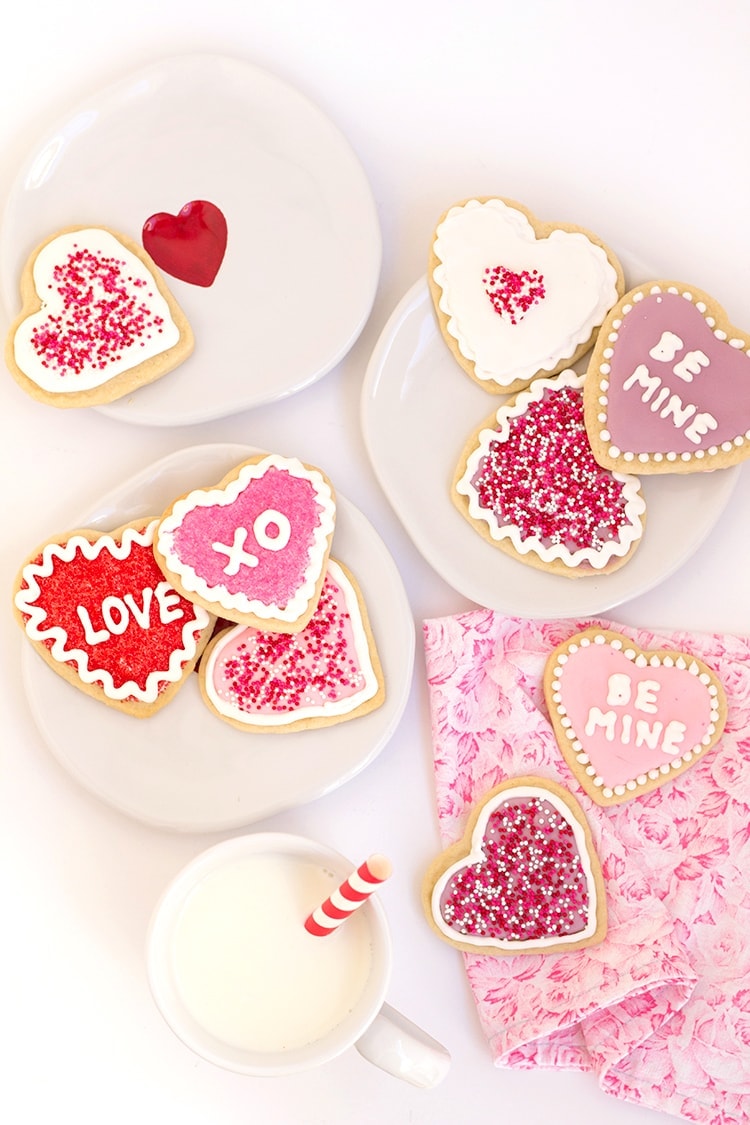 Have fun with it! Set out bowls filled with colored sanding sugars, sprinkles and nonpareils. Use small spoons or a butter knife to ice cookies in colored royal icing. Once the first layer of icing is set, you can go back and pipe on details like "LOVE", "XOXO" or lacy edges.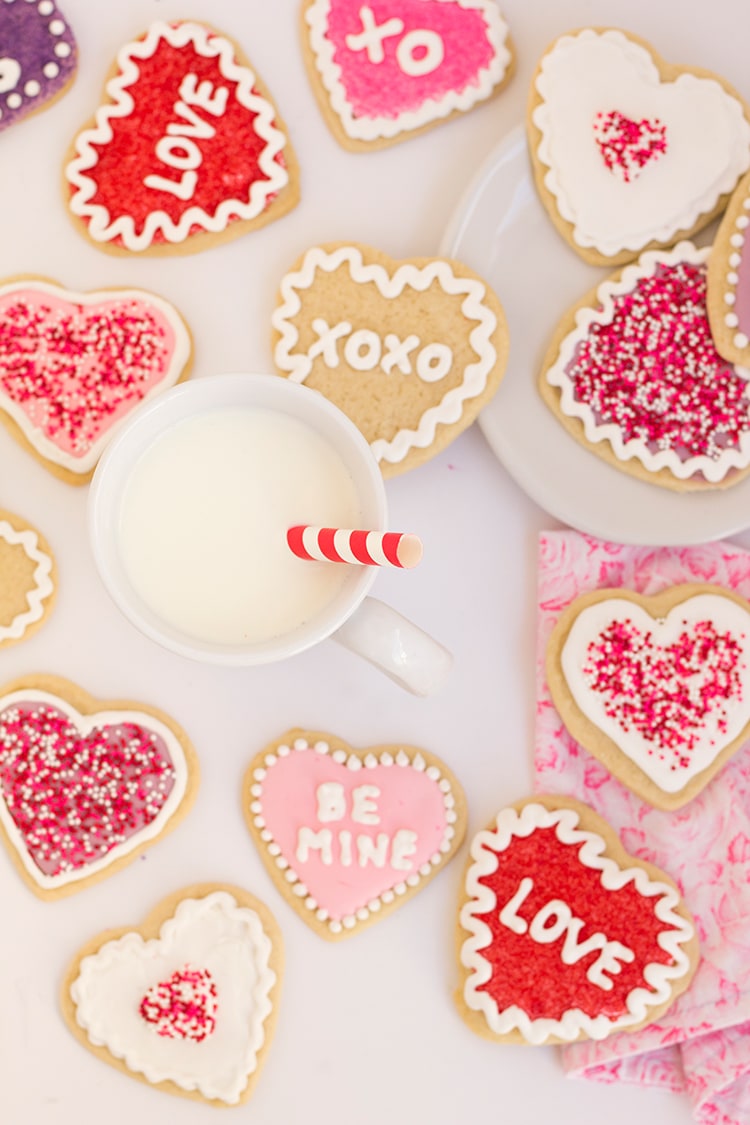 Any way you decorate, these cookies are sweet and delicious with a hot cup of tea or cold glass of milk. I'm sure your Valentine will agree!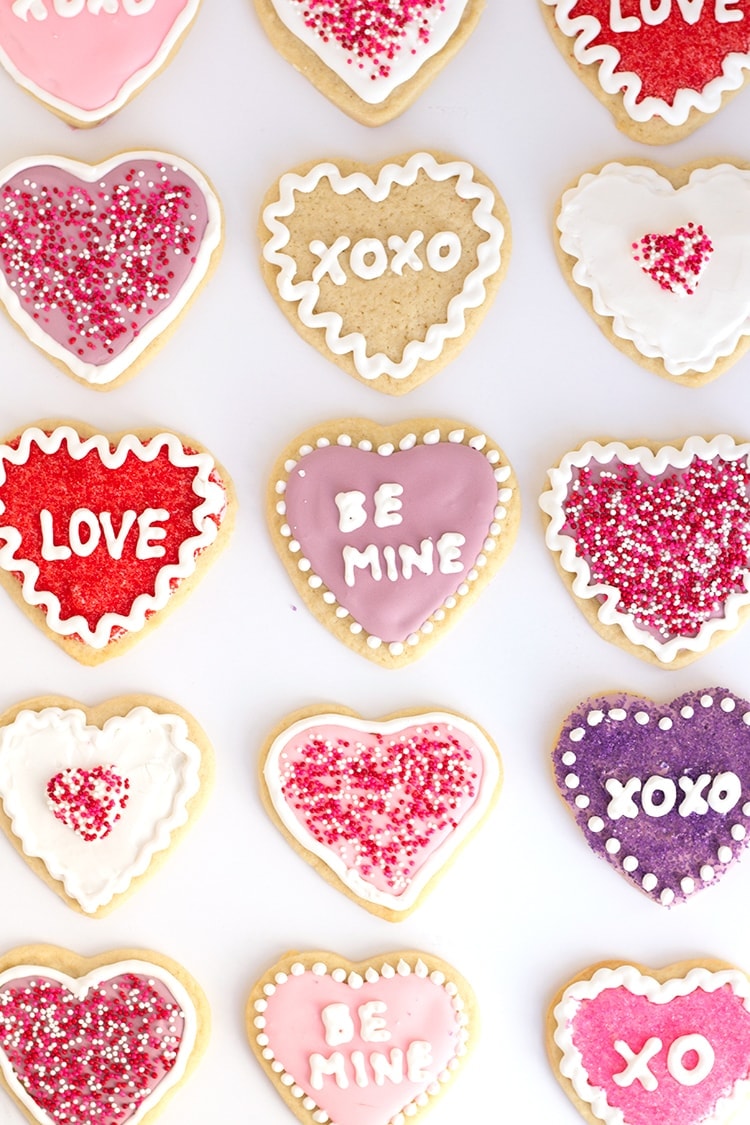 Conversation Heart Sugar Cookies
2015-02-05 00:02:00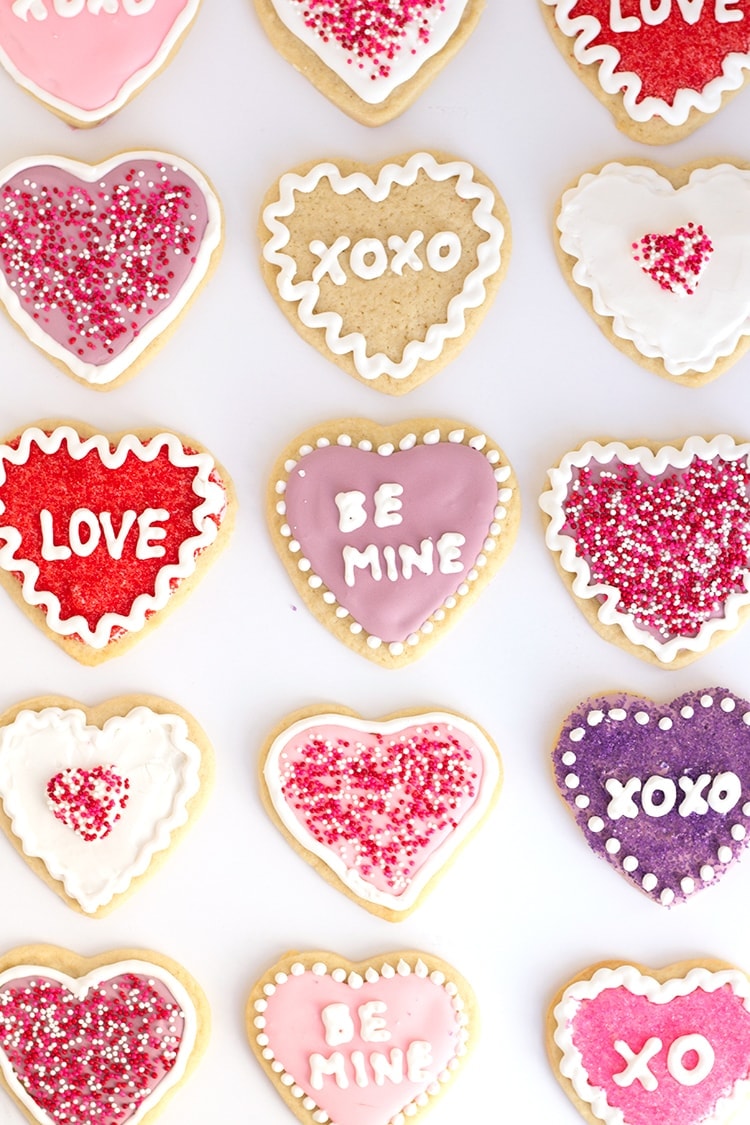 Ingredients
2/3 cup butter, softened
3/4 cup sugar
1 teaspoon baking powder
1/4 teaspoon salt
1 egg
1 tablespoon milk
1 teaspoon vanilla
2 cups all-purpose flour
Royal Icing (optional, recipe follows)
sprinkles & sanding sugar for decorating
Royal Icing
4 cups powdered sugar
3 tablespoons meringue powder
1/2 teaspoon cream of tartar
1/2 cup water
1 teaspoon vanilla
2 tablespoons water
Assorted colors paste food coloring (optional)
Instructions
In a large bowl beat butter on medium to high speed for 30 seconds. Add sugar, baking powder, and salt. Beat until combined, scraping sides of bowl occasionally. Beat in egg, milk, and vanilla until combined. Beat in as much of the flour as you can with the mixer. Using a wooden spoon, stir in any remaining flour. Divide dough in half. Cover; chill in the freezer about 30 minutes or until dough is firm and easy to handle.
Preheat oven to 375 degrees F. On a lightly floured surface, roll dough, half at a time, until 1/8 to 1/4 inch thick. Work quickly to prevent dough from getting warm and sticking.
Using heart shaped cookie cutters, cut dough hearts. Place cutouts 1 inch apart on ungreased, or silicone baking mat covered cookie sheets.
Bake for 7 to 10 minutes or until edges are very light brown. Transfer to wire racks; cool. If desired, frost with Royal icing and/or decorate with decorative candies.
Royal Icing
In a large bowl, combine powdered sugar, meringue powder, and cream of tartar. Add the 1/2 cup water and the vanilla. Beat with an electric mixer on low speed until combined, then on high speed for 7 to 10 minutes or until very stiff. Add the 2 to 4 tablespoons water, 1 teaspoon at a time, to make an icing of spreading consistency. If desired, divide icing into individual bowls and tint with paste food coloring.
Dough
This dough can be a bit sticky so make sure to chill until firm, 30 minutes in the freezer or a couple of hours-overnight in the refrigerator.
Tip
Meringue powder is a mixture of pasteurized dried egg whites, sugar, and edible gums. Look for it in the baking aisle of your supermarket or at a specialty food store.
To Store
Layer uniced cookies between sheets of waxed paper in an airtight container; cover. Store at room temperature for up to 2 days or freeze for up to 3 months. If desired, ice and decorate before serving.
Freutcake https://www.freutcake.com/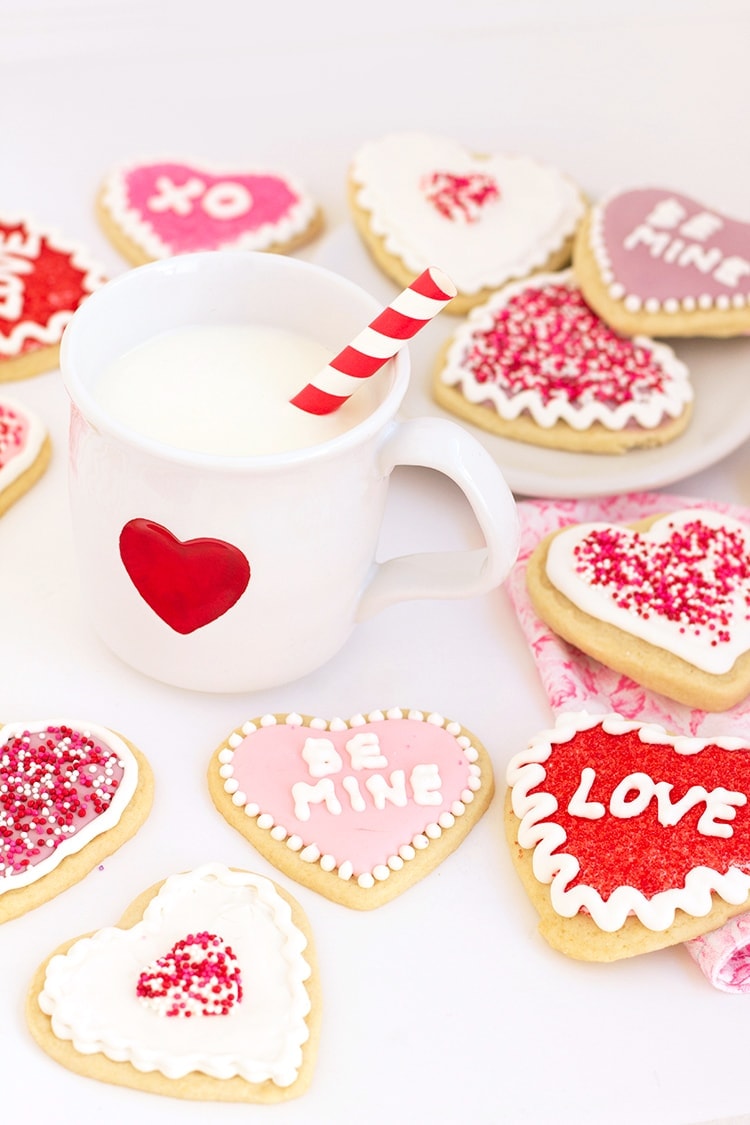 photos by Leah Bergman