I've decided that Mother Nature and I should be friends. After all, she created the Concord grape with its jam-like flavor, beautiful deep purple skin, and sweet aroma. She's a genius and I want to hang out with her, share a cocktail or two and discuss the Concord grape. So it's only fitting that I take this beautiful berry (yes, grapes are technically berries, who knew) and turn them into a luscious weekend cocktail to enjoy!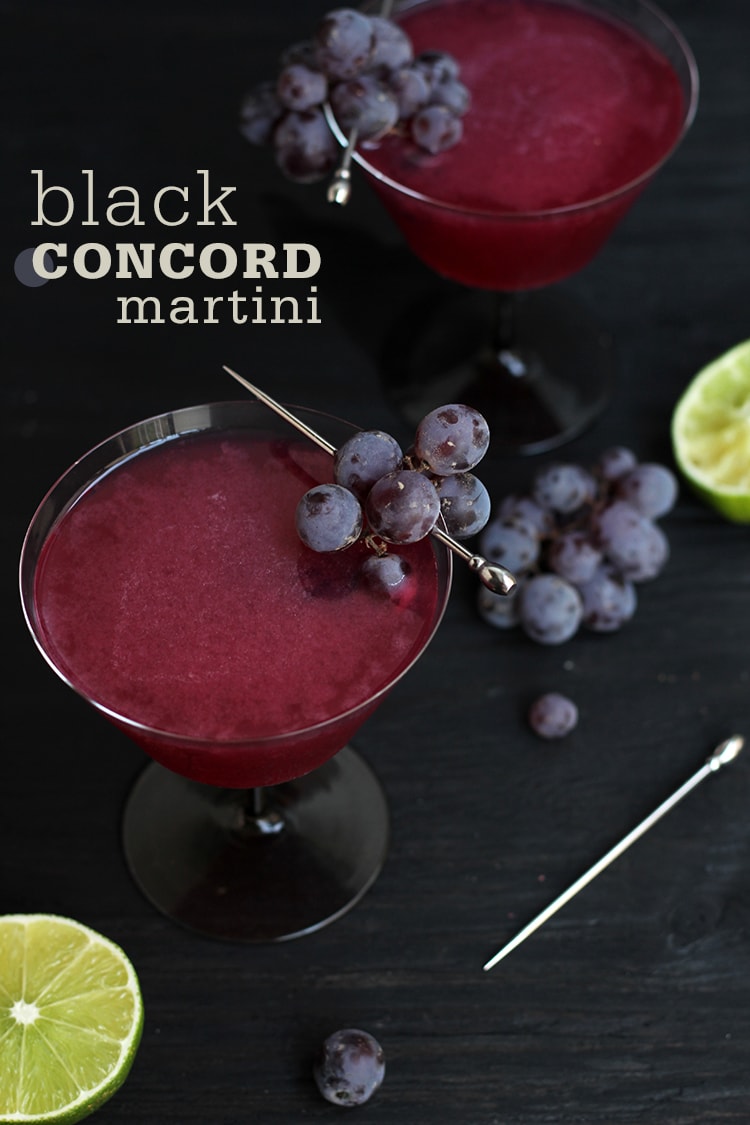 Black Concord Martinis are my ode to this beautiful fruit, a jubilee of grape goodness with a little help from black currant, vodka and lime, all the best party companions. This martini starts by cooking down fresh concord grapes with water and sugar to make the base. A thinner version of quick homemade grape jelly, that when cooled and strained, gives this drink it's vibrant fuchsia color and sweet grape flavor.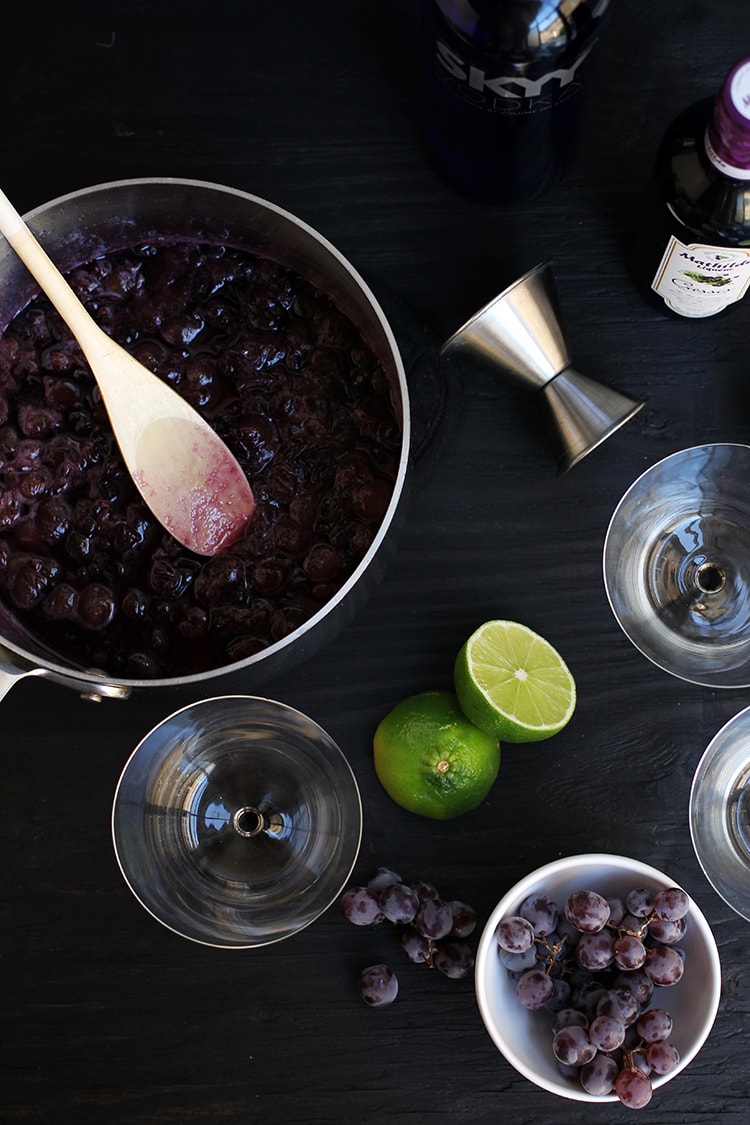 Just a splash of black currant liqueur and a hit of fresh lime make the grape flavors sing. It's just that simple. No complicated ingredients, processes, or supplies needed. Pure sweet grape goodness just as Mother Nature intended had she liked a having a cocktail or two.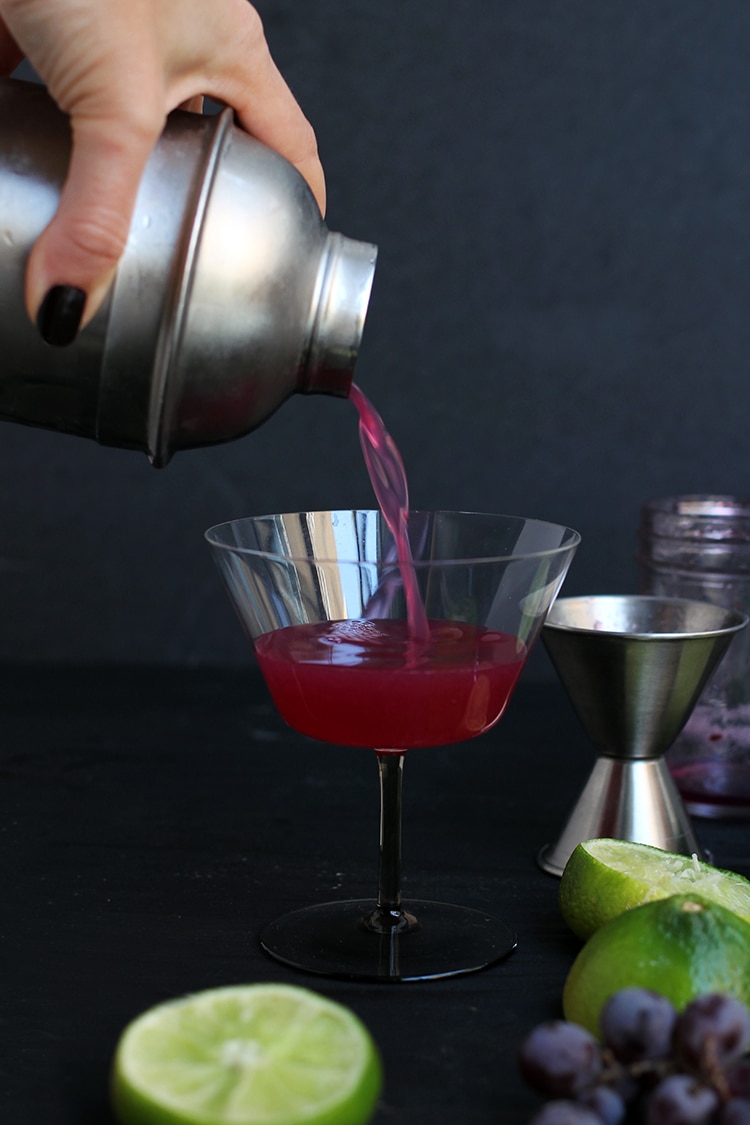 To compliment this cocktail, serve alongside a simple cheese platter. You'll be hard pressed to find a more fitting companion for cheese than grapes and this Black Concord Martini does just the trick! Enjoy your weekend and happy sipping my friends.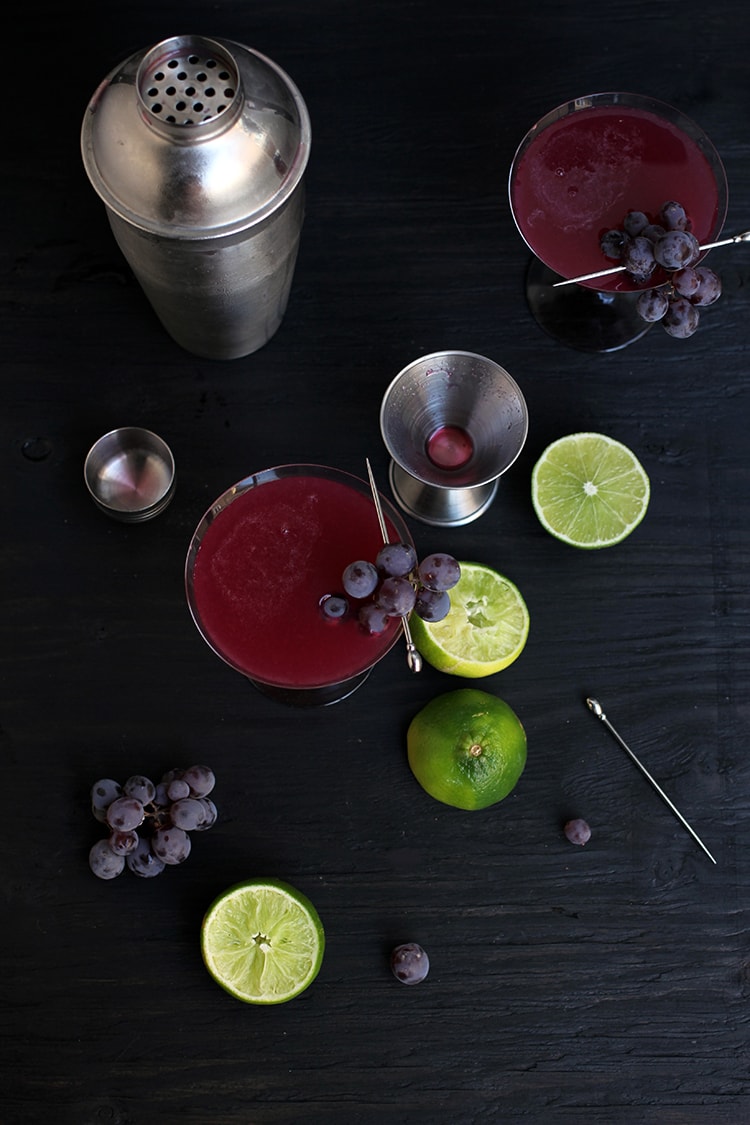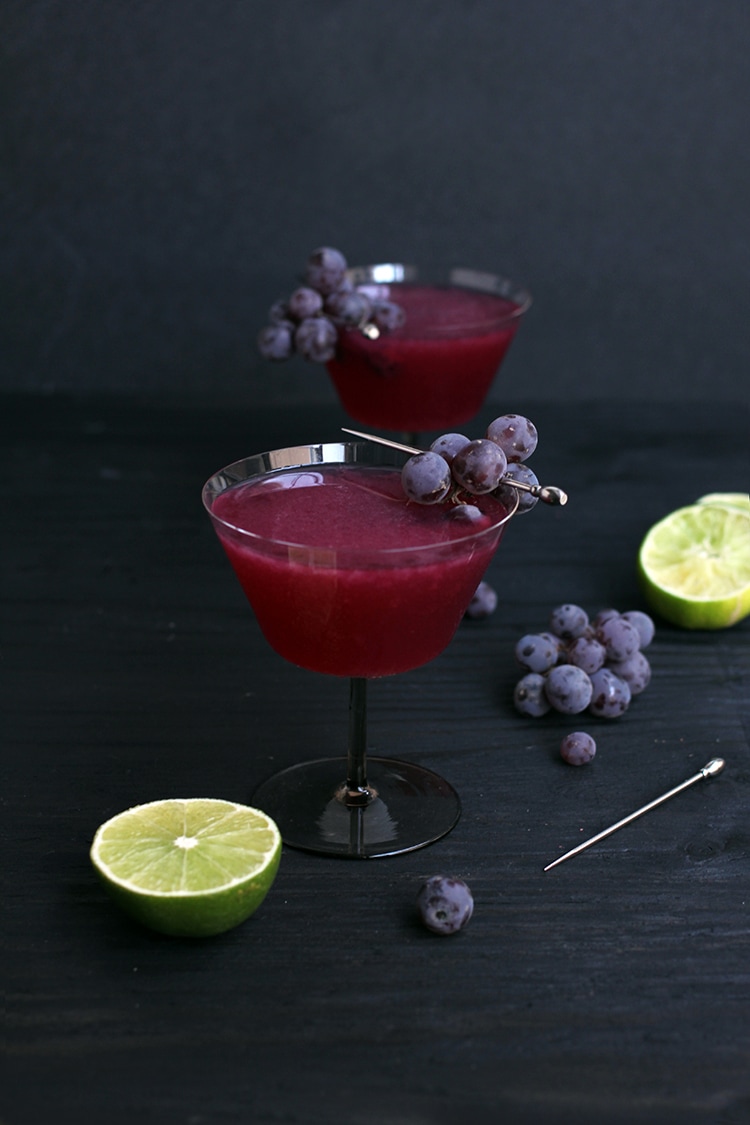 photos by Leah Bergman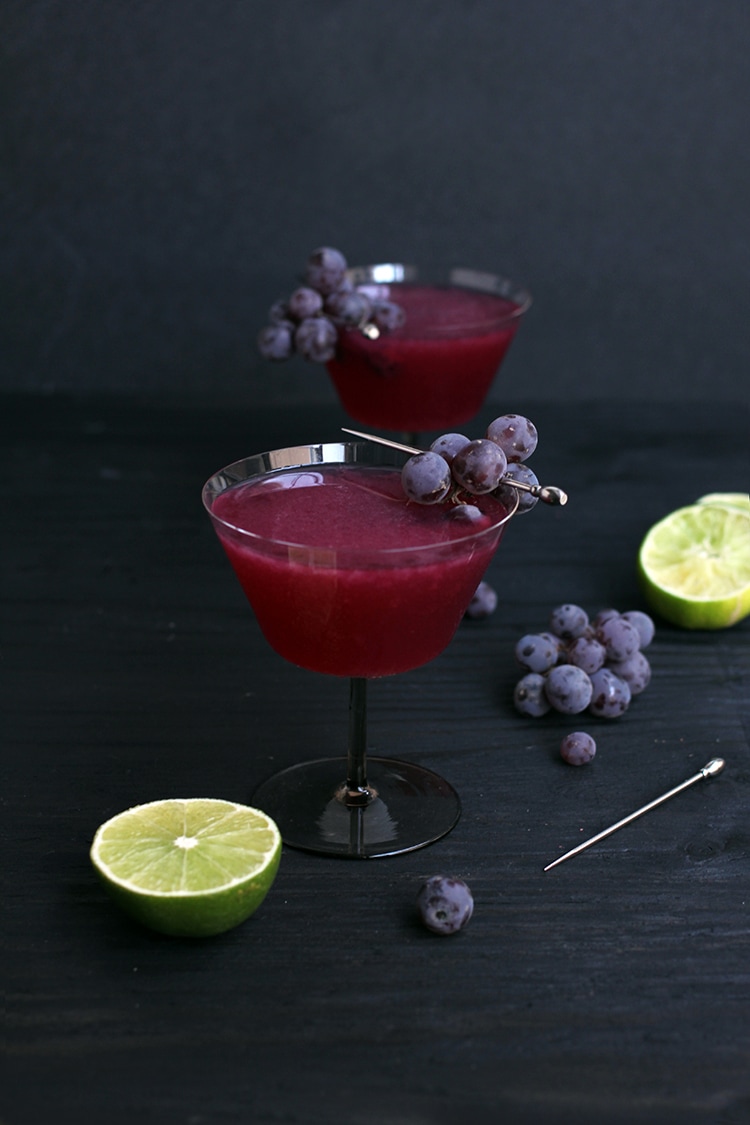 Black Concord Martini
2014-10-09 23:15:32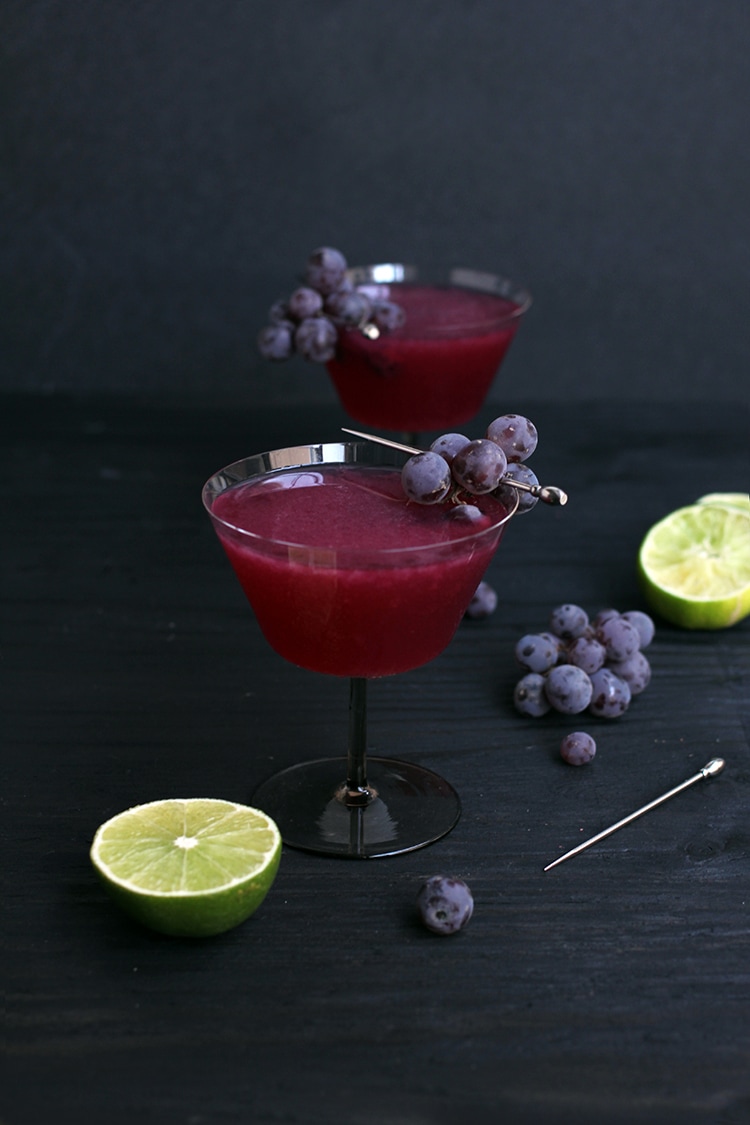 Serves 2
Ingredients
CONCORD GRAPE SYRUP
3 cups concord grapes
1/2 cup sugar
1 cup water
MARTINI
5 oz vodka
4 oz concord grape syrup (recipe above)
1 oz cassis liqueur (black currant)
juice of one lime
small clusters of concord grapes for garnish
Instructions
MAKE THE GRAPE SYRUP: In a sauce pan, combine grapes, sugar and water. Cook over medium-high heat for 10-15 minutes stirring frequently until grapes have burst and syrup has become thick and bubbly.
Remove from heat and press syrup through a fine mess sieve. Discard pulp and refrigerate syrup until cool or ready to use.
MAKE THE MARTINI: In a cocktail shaker filled with ice, combine vodka, 4 oz concord syrup, cassis liqueur, and lime juice.
Shake until well chilled and pour into two glasses.
Garnish with a small cluster of concord grapes.
Notes
Note: This cocktail tends to be on the sweeter side where cocktails are concerned. You can always adjust the sweetness by lessening the amount of sugar in your Concord Grape Syrup if you prefer.
Freutcake https://www.freutcake.com/