If it's October, it's time for Hot Toddies! For extra Autumn flavor, today I'm turning to persimmons. I confess I only became familiar with these golden orange gems when we started getting a CSA basket. Thankfully, they appeared in the basket with instructions (this may seem a bit silly, but I wouldn't have even known what fruit to search for on the internet!). Since then I've used them in all manner of cooking and baking projects, but not for cocktails. Let's change that!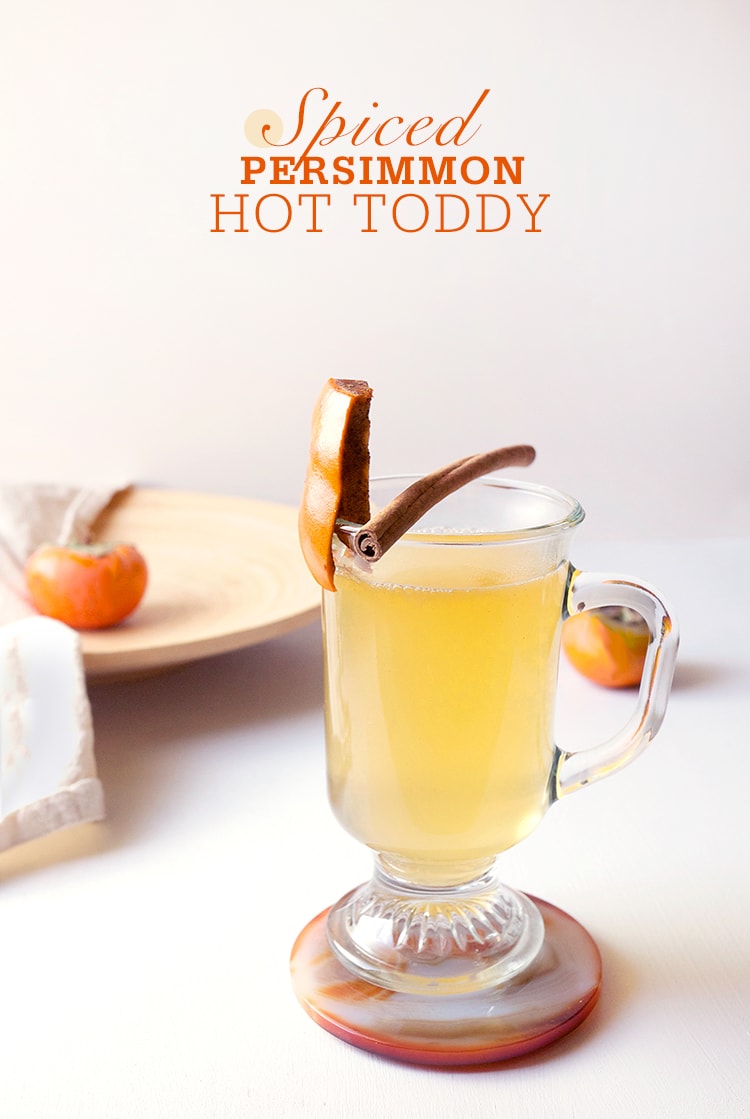 Exotic hybrids and crossbreeds aside, persimmons generally come in one of two shapes, and the shape dictates when it's ripe and ready to eat. For example, today I'm using what is known as a Nishimura Wase persimmon. It has a round shape, similar to that of a tomato, and you should eat these little guys when they're firm like an apple. You may very well find the more popular Fuyu type at you store– again, it has a tomato-shaped body: eat it firm. On the other hand, if you have a Hachiya, the shape is more conical, like a giant strawberry. Those conical persimmons should be eaten when they're super squishy. Are we good on this? Cool, let's continue.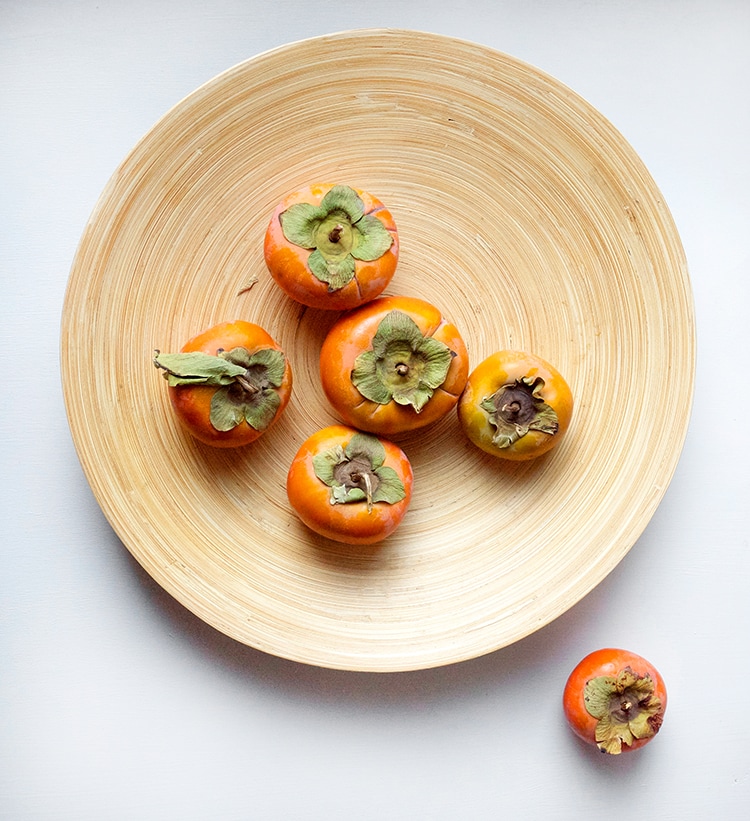 Persimmons have a mildly sweet flavor that varies on the type you're using. With my Nishimura Wase, also known as the "coffeecake persimmon" (um, yum!), the flavor has hints of chocolate, spice, and cinnamon that go deliciously with Fall flavors. For the cocktail, I turned this fruit, along with a few added spices, into a flavorful syrup that's just as good poured on some warm waffles as it is in this drink. Paired with bourbon and a splash of tart lemon juice, this warming cocktail is just what you need in your rotation this Fall!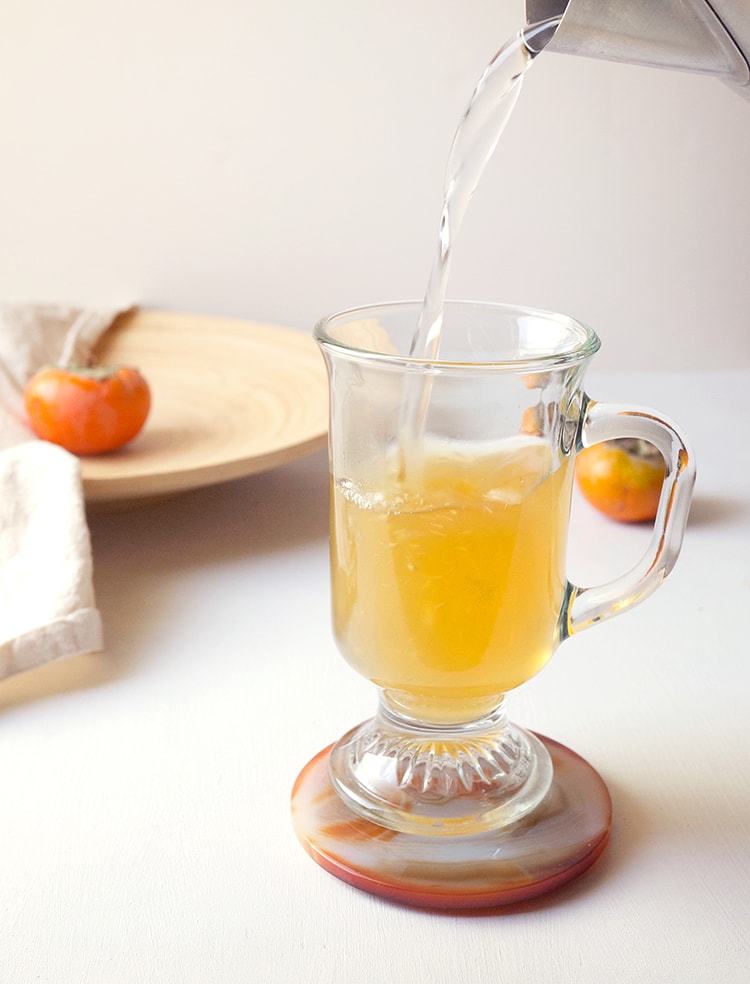 Do you have a cold weather cocktail that's your go-to fav of the season? Let us know in this comments section below! Enjoy!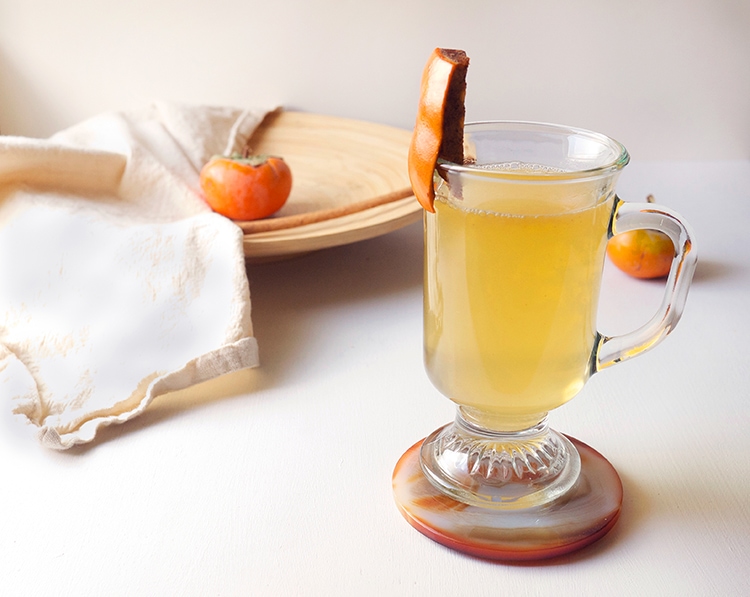 Spiced Persimmon Hot Toddy
2014-10-02 14:02:46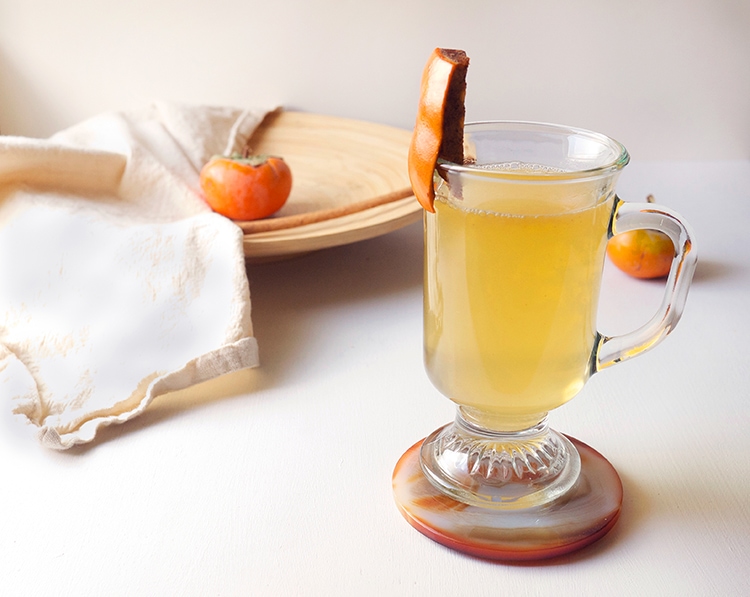 Spiced Persimmon Syrup
½ cup sugar
½ cup water
1 cup persimmon, cubed and seeded
2 cinnamon sticks
4 allspice berries, whole
Spiced Persimmon Hot Toddy
1-½ ounce bourbon
1 ounce persimmon syrup (see recipe above)
½ ounce freshly squeezed lemon juice
4 ounces hot water
persimmon slice for garnish
Make the syrup
In a medium saucepan over high heat, combine all the ingredients, stir and bring to a boil. As soon as a boil is reached, lower heat and simmer for 15 minutes.
Remove from heat, cover, and let stand about an hour.
Strain and store in an airtight container.
Make the Hot Toddy
In a heatproof mug, combine bourbon, syrup and lemon juice.
Pour hot water over the mixture.
Garnish with a persimmon slice.
Freutcake https://www.freutcake.com/