Have you ever thrown a party and wished you could relive it over and over again? Well, our Pickle Making workshop with Anthropologie was definitely one of those nights.
When Anthropologie asked me to host a workshop focused on preserving summer, I knew right away that I wanted to teach a class on How to Make Pickles...the simple version!
The entire Freutcake team was there, Prosecco was popped, and of course mini cupcakes were a-plenty. All the makings of a good party if you ask me.
Anthropologie went above and beyond to set up a mini kitchen right in the center of their store for our workshop fully equip with mini stove. So, surrounded by the most gorgeous of Anthropologie home goods, we set to work making pickles!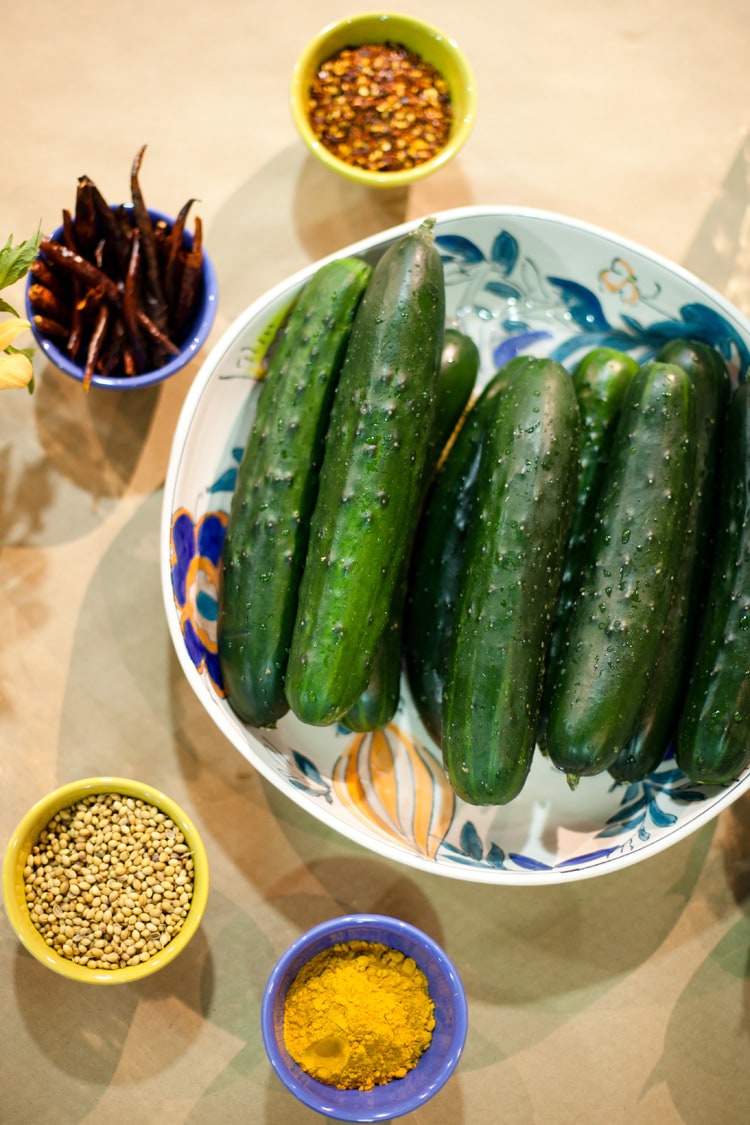 The tables were set with fresh bouquets of dill, hot chilies, dried spices and of course plenty of cucumbers all prepared to fulfill their pickle destiny. Ball graciously supplied mason jars for our class so that each person could go home with their very own jar of pickles.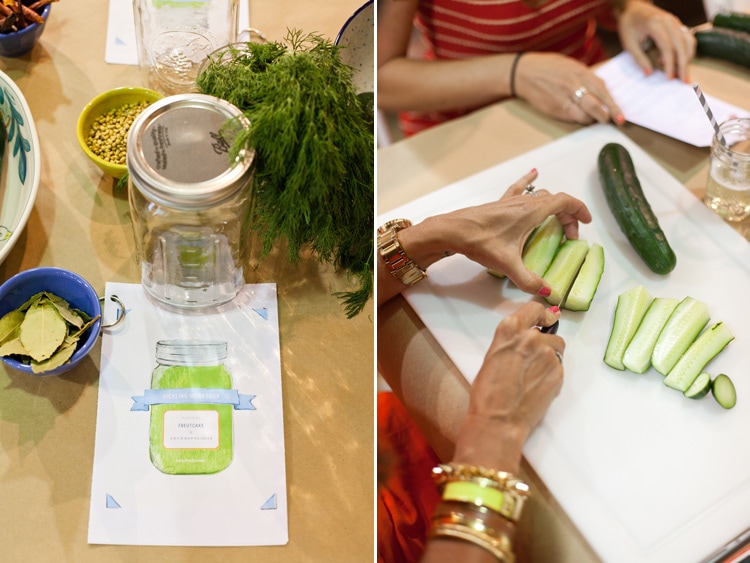 My instructions were simple: get creative, pick what seasonings and spices you like best and have fun with it! Pickle making shouldn't be taken too seriously after all.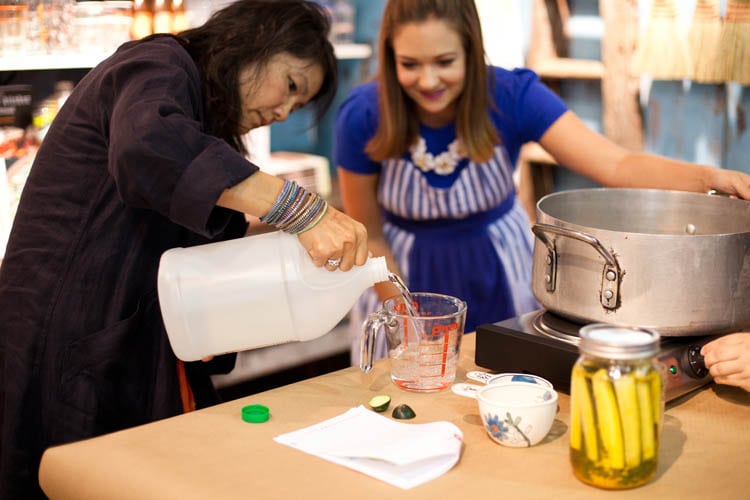 We made one giant batch of pickle brine for the class and one by one each person filled up their jars.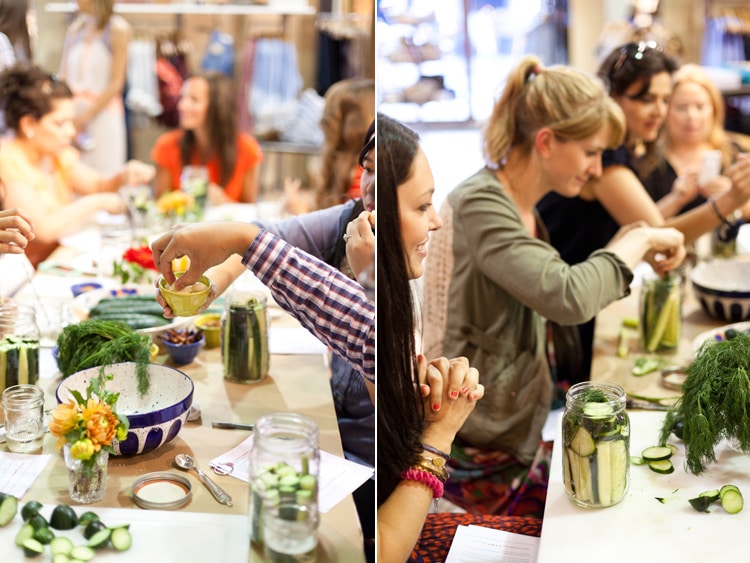 From Garlicky-Garlic pickles to Everything Pickles that literally used every spice on the table, I loved seeing all of the crazy flavor combinations that were created!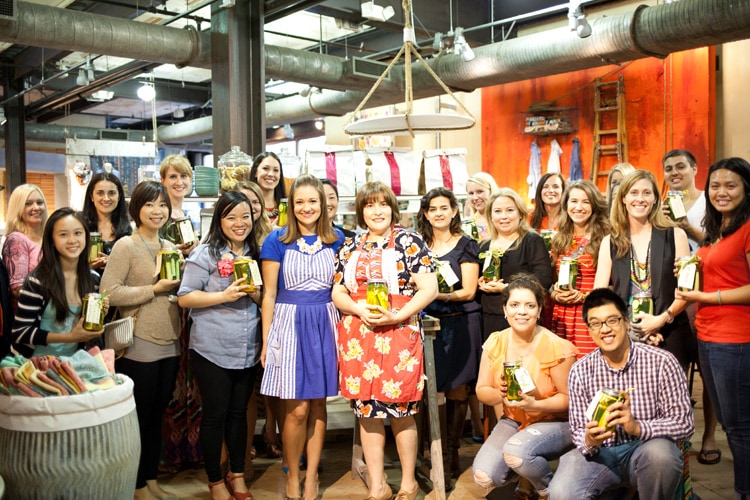 We had such a fabulous group of Freutcake readers, pickle enthusiasts, and Anthropologie fans all ready to roll up their sleeves and make pickles with us. It was a deliciously fun night and the perfect summer celebration! I just wish we could do it all over again.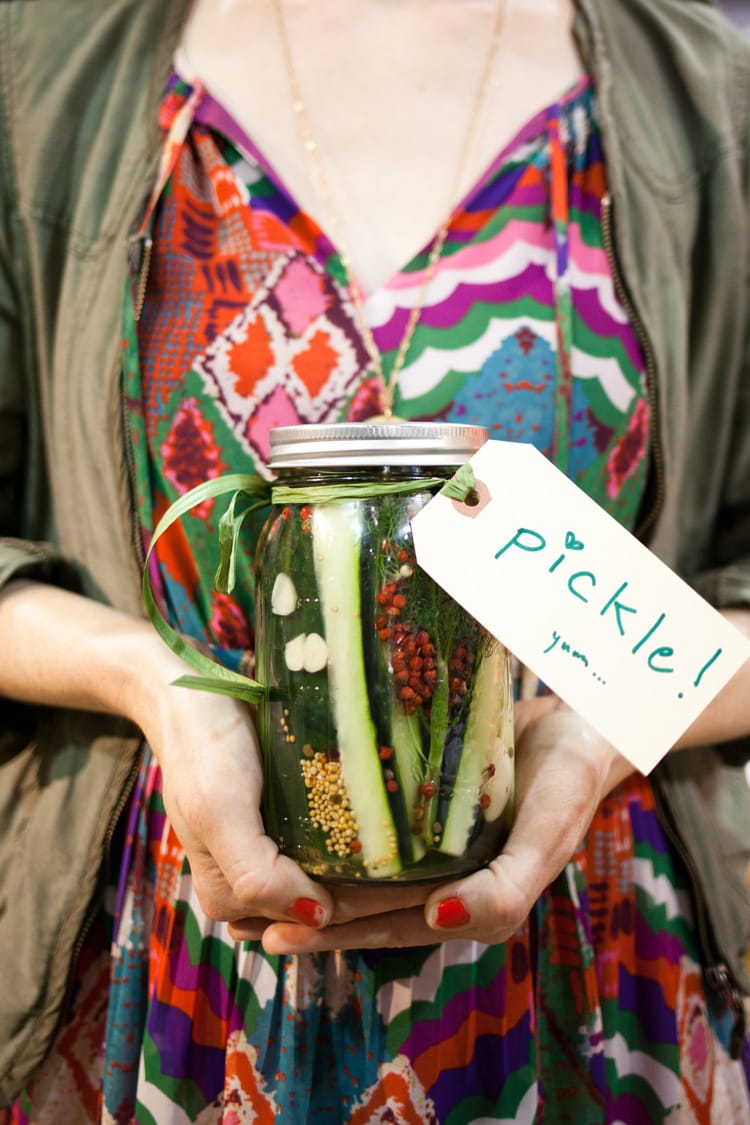 My talented friend Mark filmed our little party for Anthropologie and created this sweet video that I simply adore! Make sure to give it a watch and then follow Freutcake's new YouTube channel. Also, I will be loading all of the photos from the party on Facebook so head over to check them out.
Video shot & edited by Mark Samuels
Photography by Joanne Pio
*Thank you to Ball for supplying the beautiful jars and the Anthropologie for being such a gracious host.
Quick Dill Pickles
makes 1 quart
1 ½ cups distilled white vinegar
¼ cup sugar
4 tsp kosher salt
1 tsp mustard seeds
1 tsp coriander seeds
2 cups water
2 pounds kirby cucumbers cut into spears
6-8 sprigs of fresh dill
3 garlic cloves sliced
other optional ingredients...
3-4 small red chilies
½ tsp chili flakes
½ tsp turmeric
Directions:
1. In a saucepan combine the vinegar, water, sugar, salt, mustard seeds and coriander seeds. Heat on low stirring until the sugar and salt are dissolved. Let the brine cool.
2. In a clean 1 quart Ball Jar add cucumber spears, sprigs of dill, garlic slices and any optional spices. Pour brine over cucumbers filling jar within ½" of the top. Make sure all cucumbers are completely covered with liquid.
3. Seal tightly and refrigerate overnight. Pickles will keep in the refrigerator for up to 3 weeks.