Happy Wednesday friends! Fall has arrived, the kids are back in school…well not MY kids but you know what I mean…and it's time to think about easy dinners once again. Isn't that the worst? WHAT'S FOR DINNER? Eek! I dread not having meals planned on busy week nights. Solution, One Pot Chicken Coconut Curry!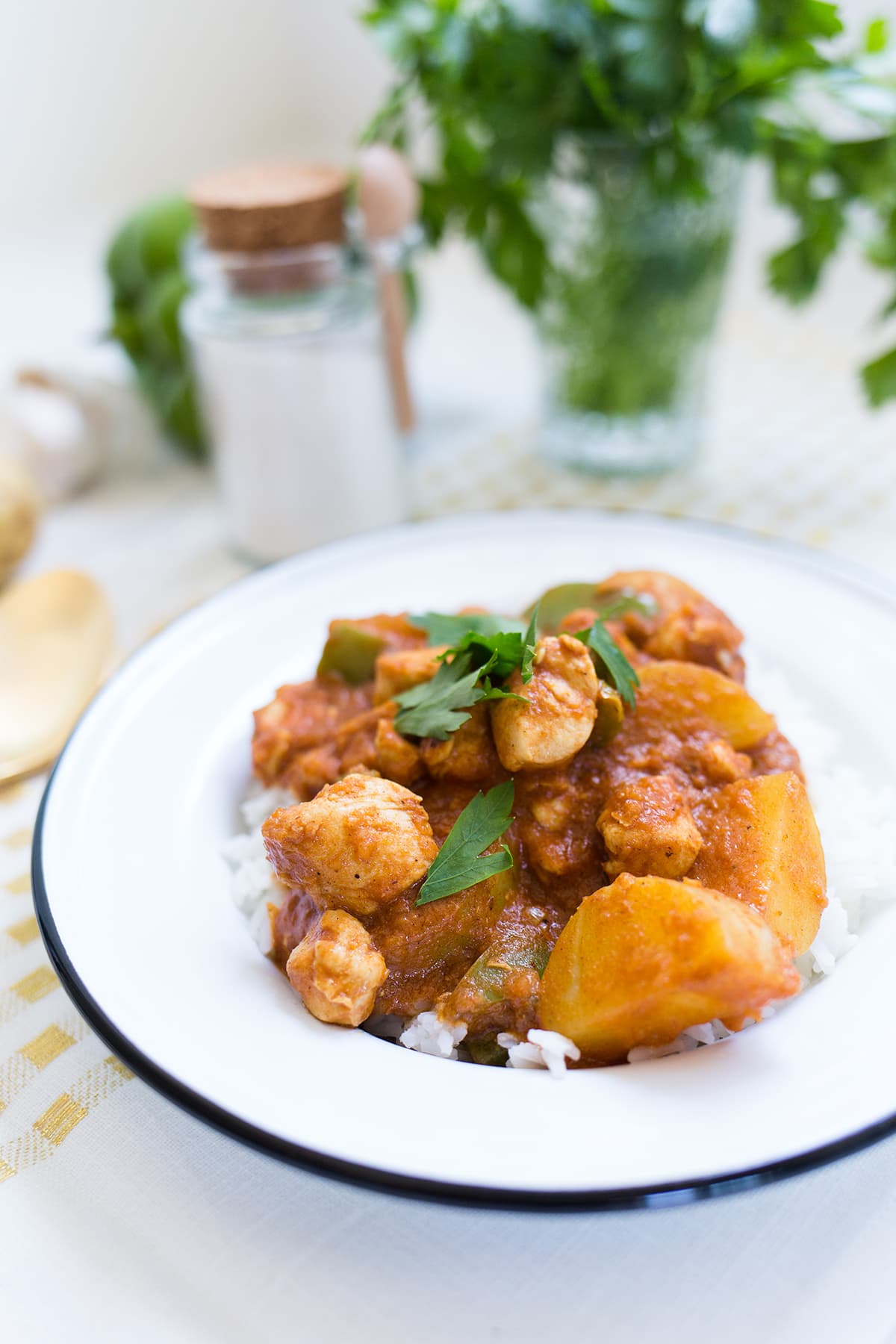 Today I am guest posting over on Maurice's Blog and sharing the step by step tutorial for making this recipe. It really is one of my favorite dishes and the perfect warm and satisfying meal for a week night. In fact, I might just make it again. So, what's for dinner?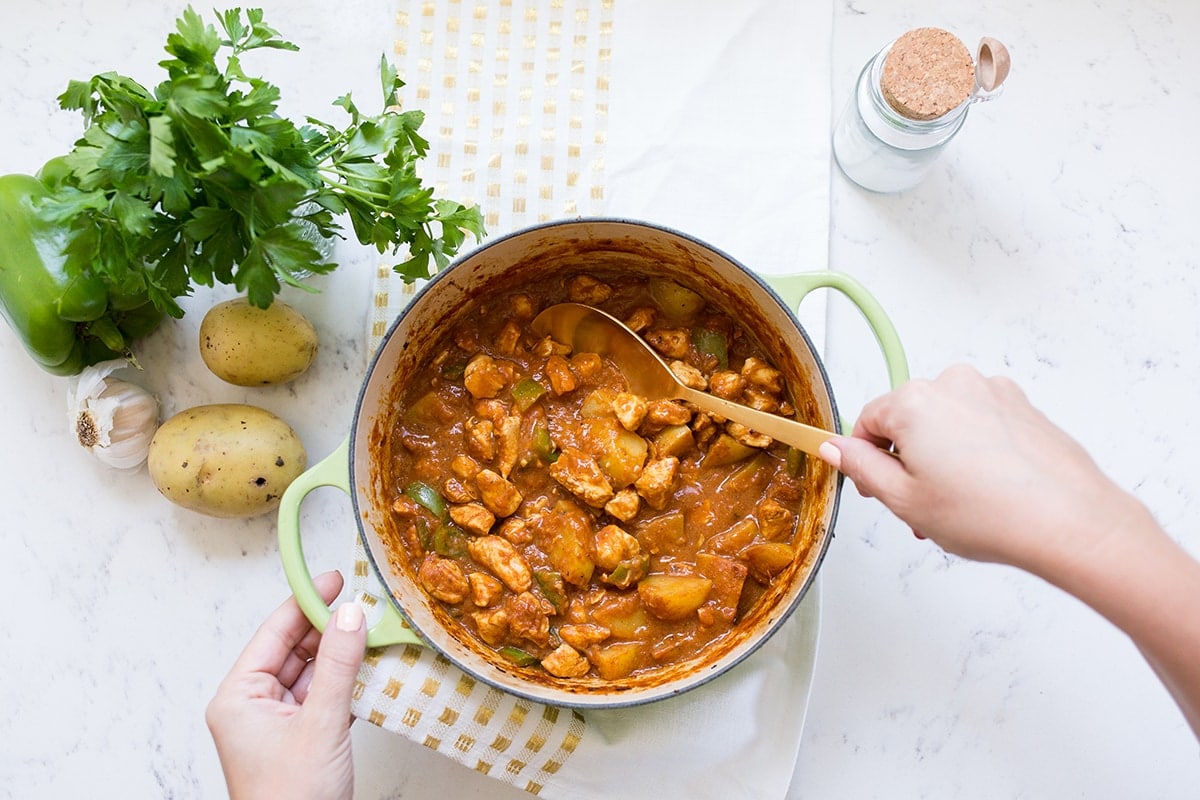 Head over to Maurice's Blog for more about this recipe and a look at what I am wearing…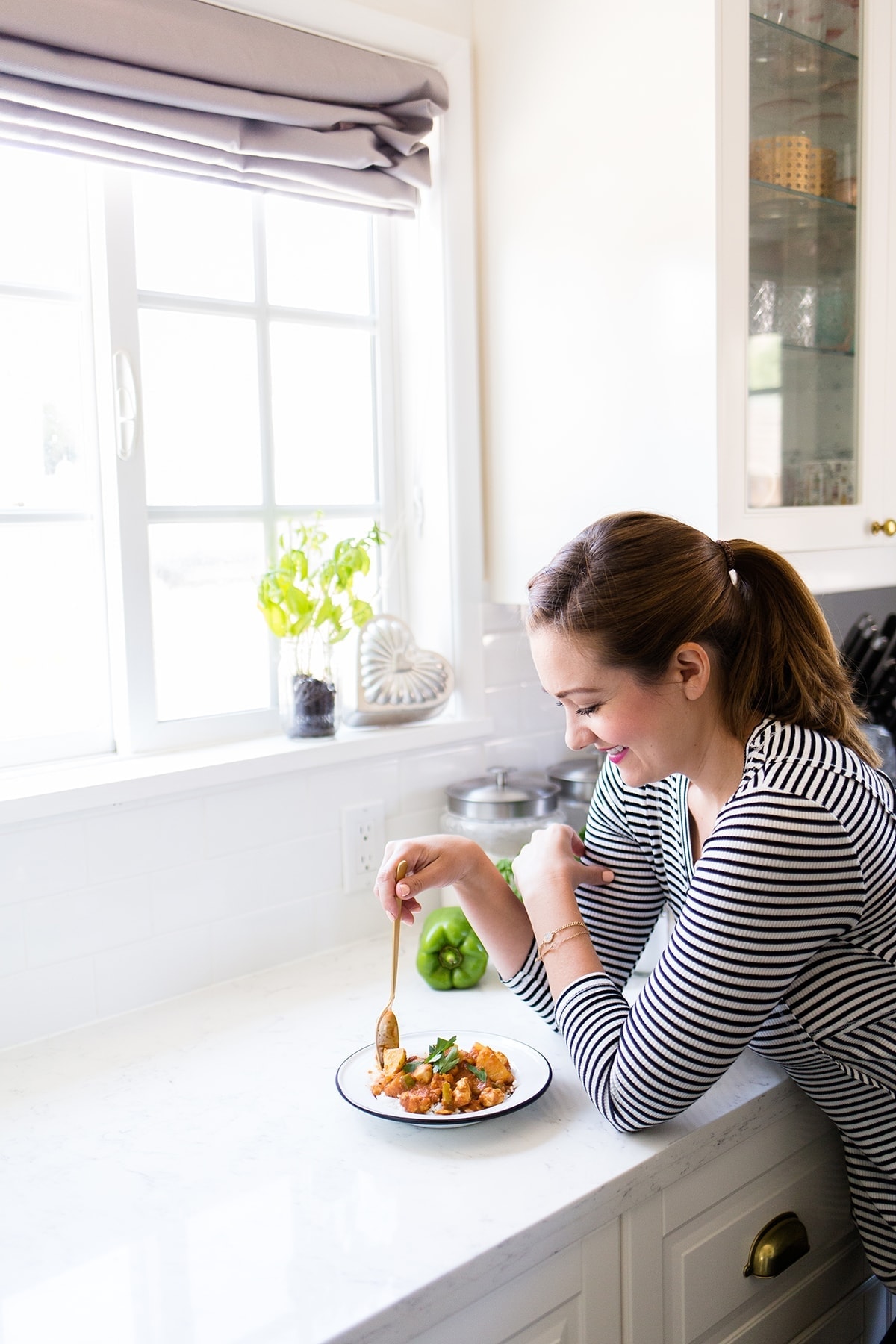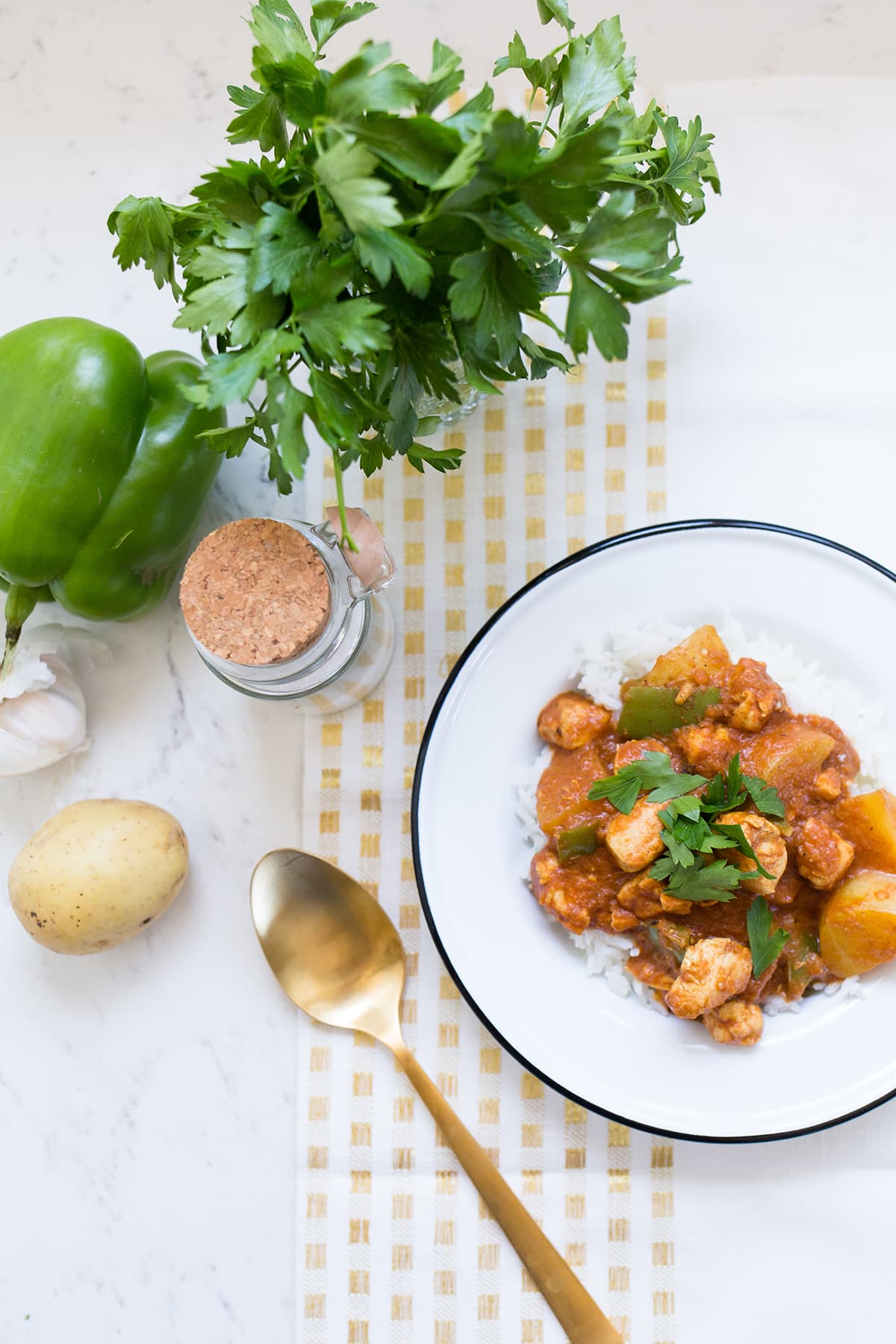 photos by Joanne Pio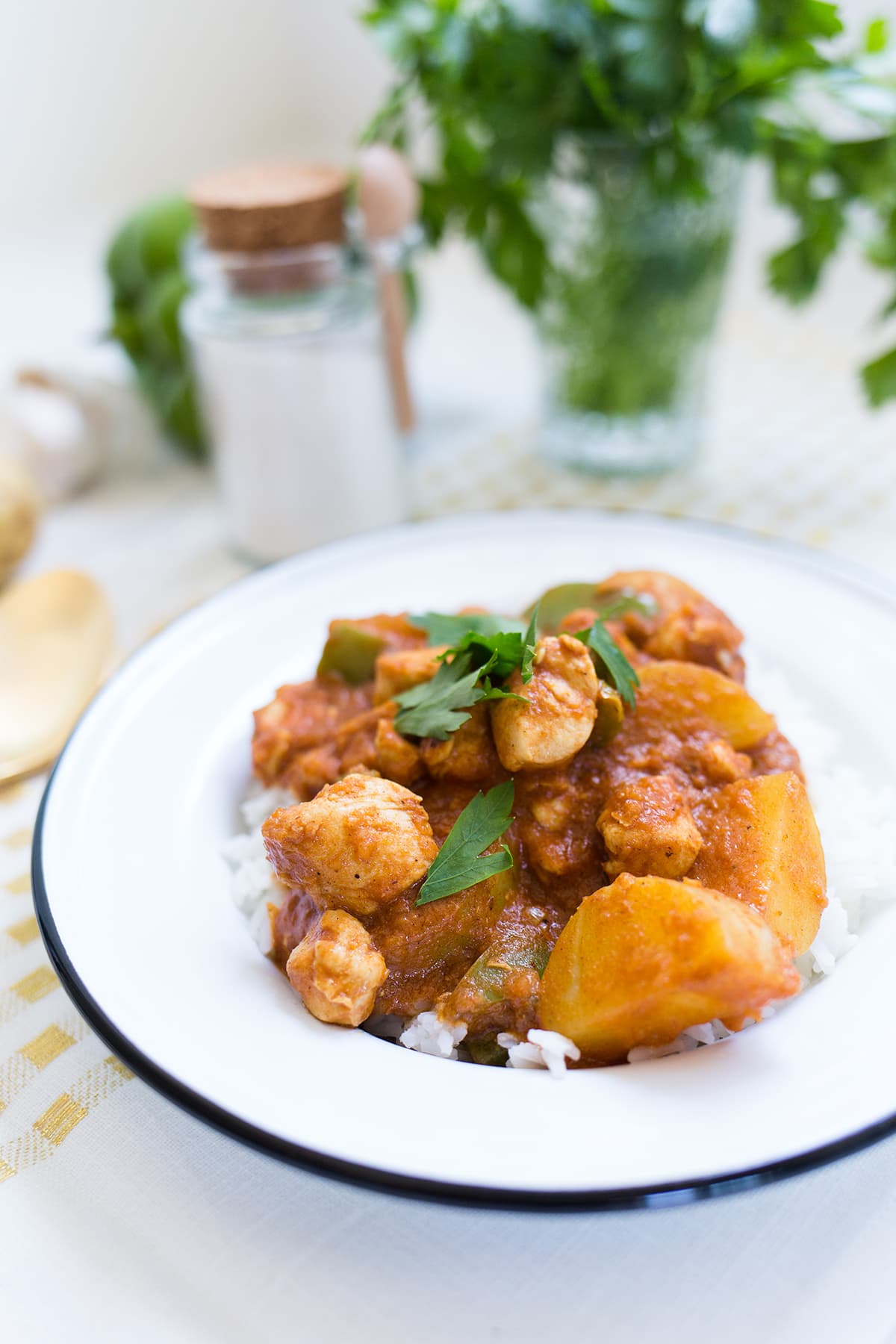 One-Pot Chicken Coconut Curry
2016-09-11 14:08:33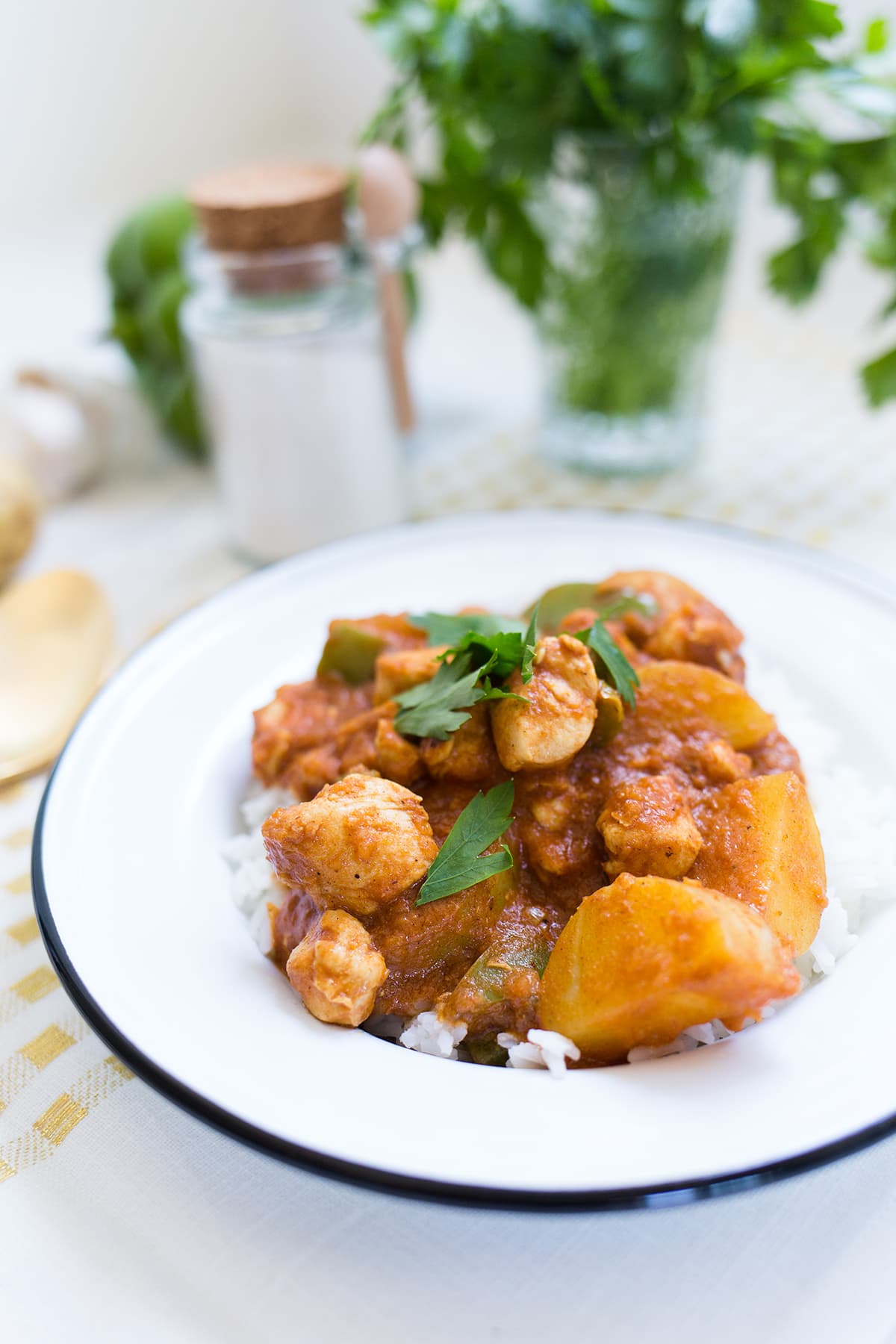 Serves 4
Ingredients
2 pounds, Boneless Skinless Chicken Breast, cut into large cubes
1 whole Onion, peeled and quartered
2 cloves Garlic, peeled
1 whole Small Green Bell Pepper, seeded and cut into large cubes
4-5 small yellow potatoes cut into cubes
1 (5oz) can Tomato Paste
1 (13.5oz) can Coconut Milk
1-½ teaspoon Salt
1 Tablespoon Curry Powder
1 Tablespoon Garam Masala
coconut oil
flat leaf parsley for garnish
Instructions
Cube chicken, potatoes and bell pepper. Set aside.
In a food processor, combine onion and garlic. Blend until you have an almost smooth consistency.
Add a couple of tablespoons of coconut oil to a large pot and over medium heat, begin to cook the chicken cubes until lightly browned. Remove from pot and set aside.
Add in another tablespoon of coconut oil and cook potatoes and bell pepper until lightly browned and slightly softened.
Add chicken back into the pot along with the pureed onion mixture.
Add in remaining ingredients; tomato paste, coconut milk, salt, curry powder and garam masala.
Return pot to medium heat and cook stirring until all of the ingredients are combined. Cover and cook 30 minute or until chicken is cooked through and potatoes are soft. During the cooking process if the curry becomes too thick you can add in just a few tablespoons of water.
Serve hot over cooked jasmine rice and garnished with fresh parsley.
Freutcake https://www.freutcake.com/
Disclosure: This post is sponsored by Maurices however the recipe and all opinions expressed are my own. Thank you for supporting the brands who keep Freutcake delicious!
Save
Save