Will you be watching the Oscars this Sunday? If so, snacks are definitely in order, a bottle of bubbly is highly recommended, and of course something sweet like Oscar Party Chocolate Cupcakes are a must!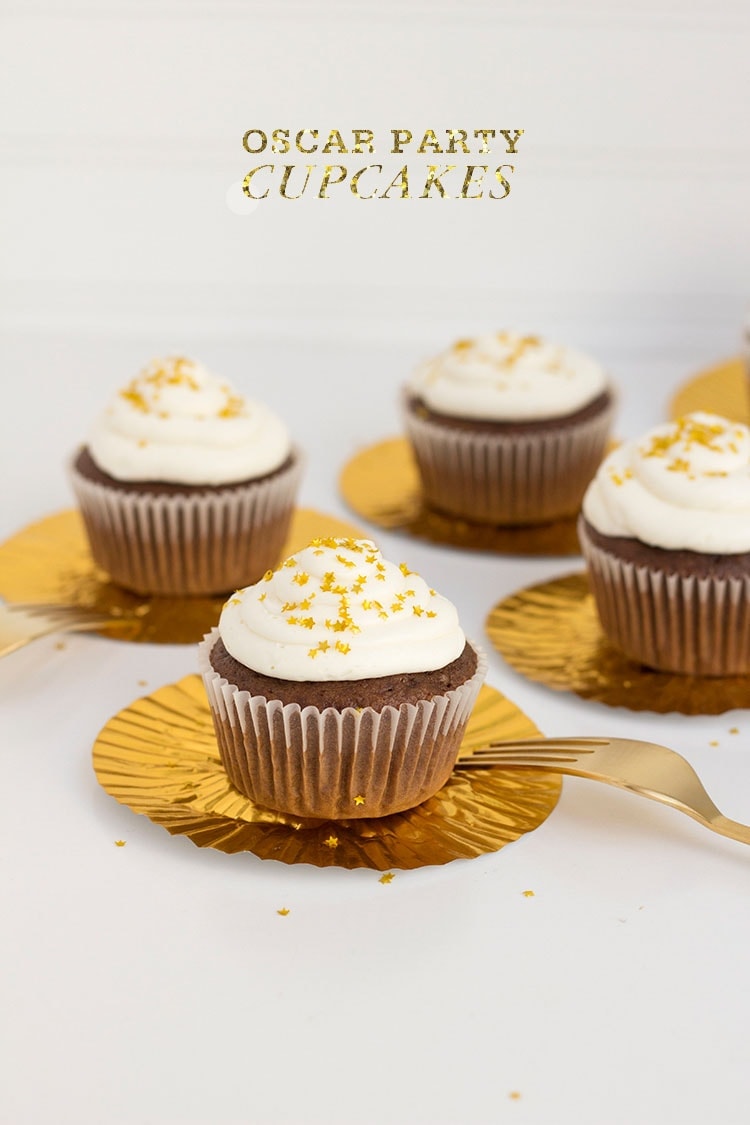 This recipe is nothing complicated, just a delicious and chocolatey devil's food cake topped with classic buttercream frosting and edible gold star sprinkles…a true classic just like our favorite Hollywood starlets.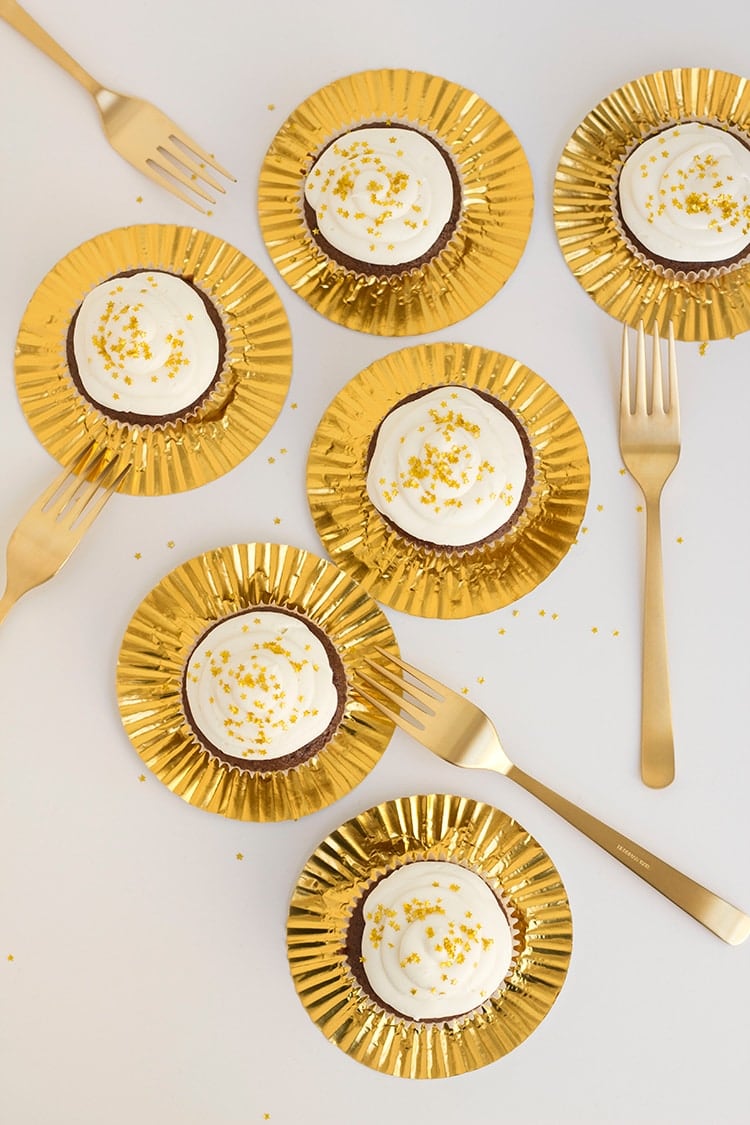 Serve cakes on upside-down gold foil cupcake wrappers flattened out to make easy DIY coasters. All that gold is sure to bring some red-carpet glam to your Oscar festivities!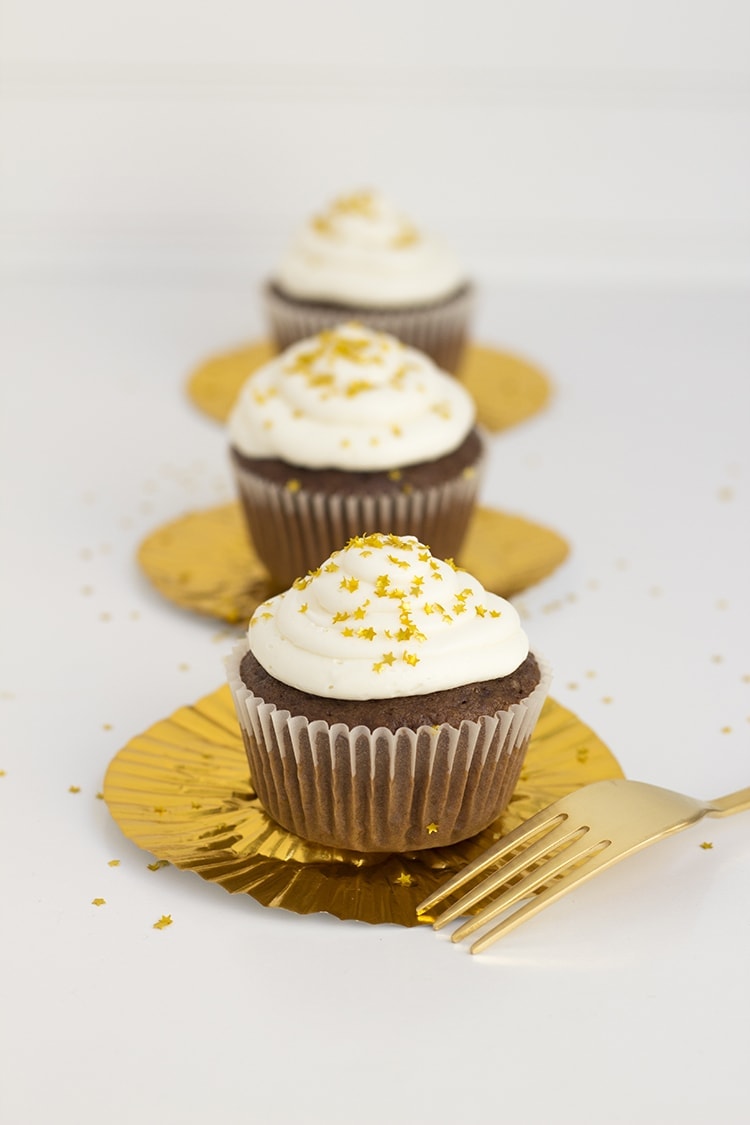 Tip: Looking for edible gold star sprinkles and gold foil cupcake liners? I found both at Michael's Craft Store!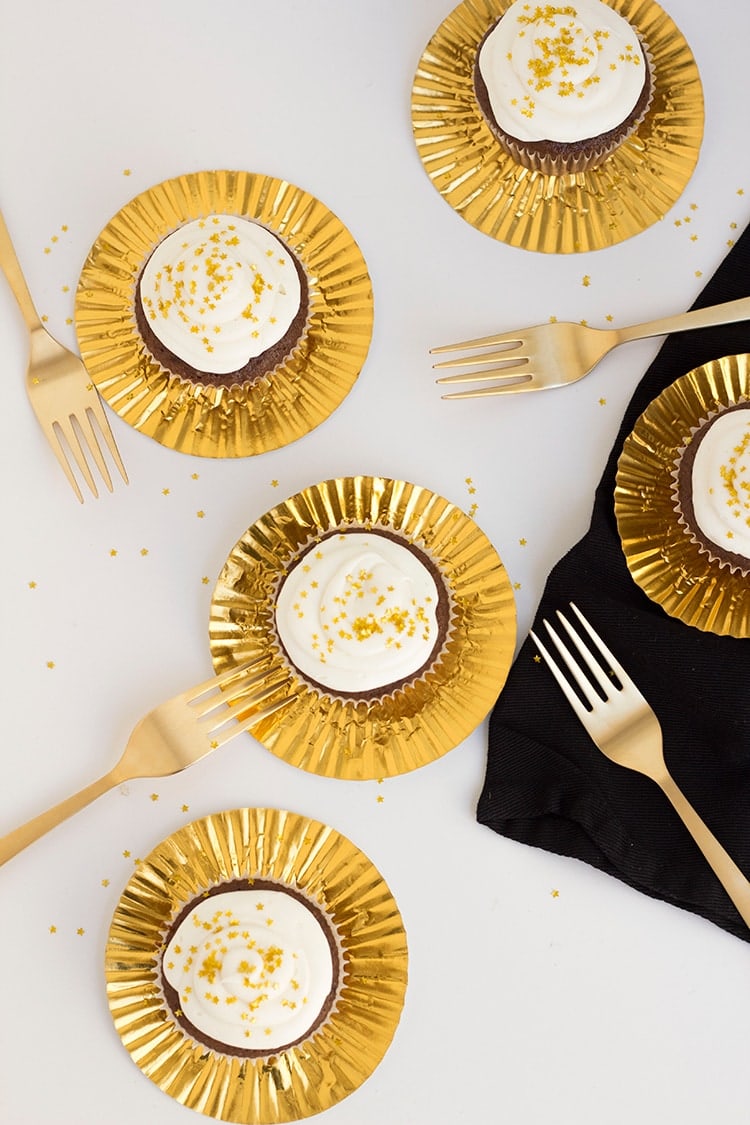 photos by Leah Bergman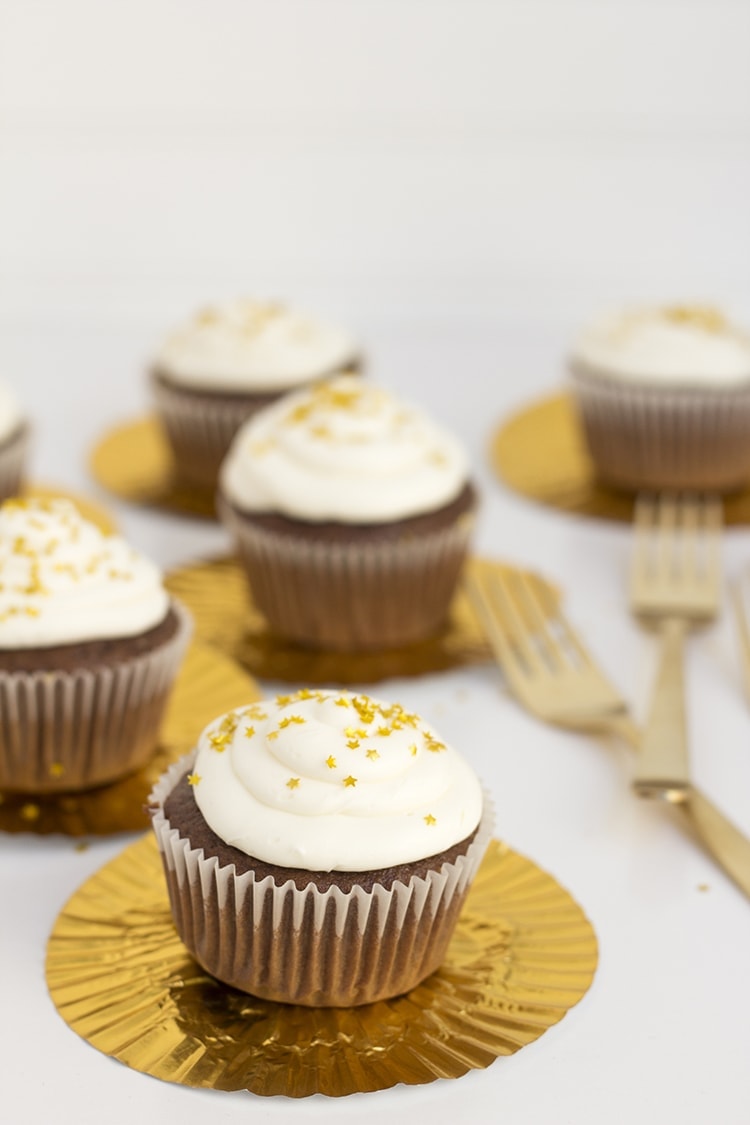 Oscar Chocolate Cupcakes
2015-02-18 22:37:47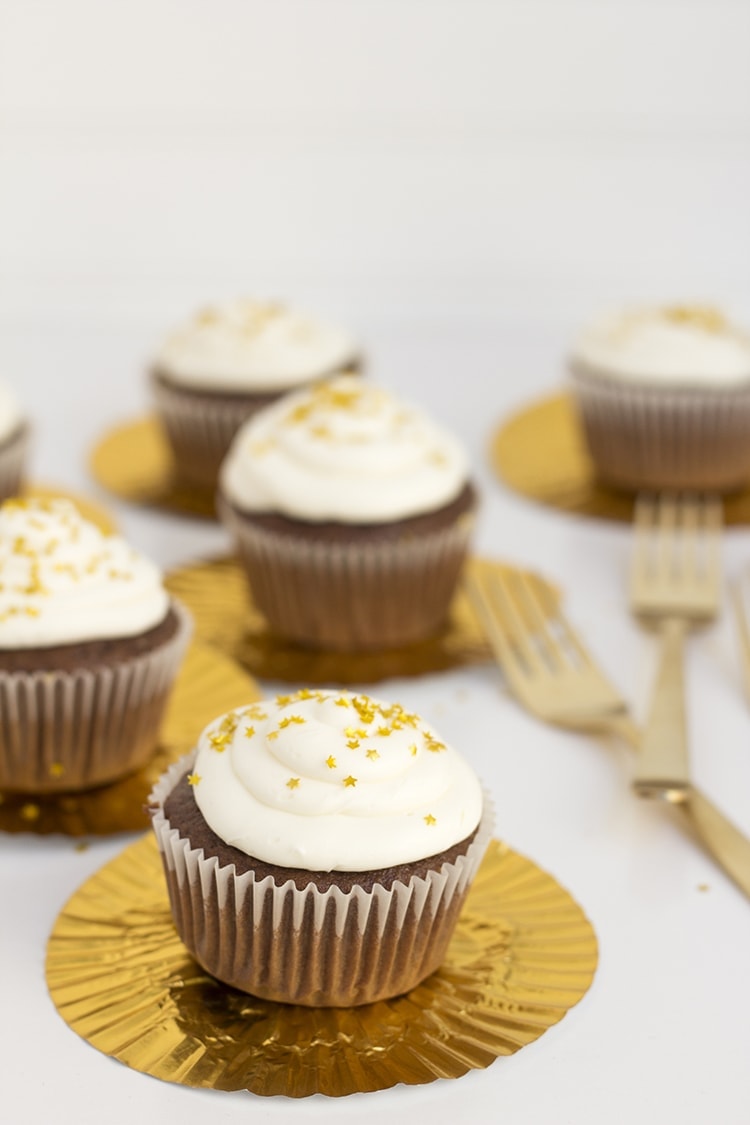 Chocolate devil's food cupcakes with butter cream frosting and edible gold stars.
Ingredients
3/4 cup unsweetened Dutch-process cocoa powder
3/4 cup hot water
3 cups all-purpose flour
1 teaspoon baking soda
1 teaspoon baking powder
1 1/4 teaspoons coarse salt
1 1/2 cups (3 sticks) unsalted butter
2 1/4 cups sugar
4 large eggs, room temperature
1 tablespoon + 1 teaspoon pure vanilla extract
1 cup sour cream
Buttercream Frosting
2 cups-4 sticks unsalted butter, softened
pinch of sea salt
1 Tbsp vanilla extract
2 pounds confectioners sugar
4-6 Tbsp heavy cream or milk
Instructions
Preheat oven to 350 degrees. Line mini muffin tins with paper liners.
Whisk together cocoa and hot water until smooth.
In another bowl, whisk together flour, baking soda, baking powder, and salt.
Melt butter with sugar in a saucepan over medium-low heat, stirring to combine. Remove from heat, and pour into a mixing bowl.
With an electric mixer on medium-low speed, beat until mixture is cooled, 4 to 5 minutes. Add eggs, one at a time, beating until each is incorporated, scraping down sides of bowl as needed. Add vanilla, then cocoa mixture, and beat until combined. Reduce speed to low.
Add flour mixture in two batches, alternating with the sour cream, and beating until just combined after each.
Divide batter evenly among lined cups, filling each three- quarters full.
Bake, rotating tins halfway through, until a cake tester inserted in centers comes out clean, about 10-12 minutes. Transfer tins to wire racks to cool 15 minutes; turn out cupcakes onto racks and let cool completely.
Make the frosting
In the bowl of an electric mixer fitted with a paddle attachment, cream butter until light and fluffy. Slowly add in confectioners sugar and continue creaming until well blended. Add salt, vanilla and 3 Tbsp cream or milk.
Add an additional 1-3 Tbsp of cream or milk until you reach the desired consistency. Beat at high speed until frosting is smooth and fluffy.
To finish, use round tip fitted into a piping bag to pipe on buttercream frosting. Sprinkle with edible gold stars.
Notes
Cupcakes can be stored overnight at room temperature, or frozen up to 2 months (un-frosted), in airtight containers.
Adapted from Martha Stewart
Adapted from Martha Stewart
Freutcake https://www.freutcake.com/