One of the things I most looked forward to about having children was getting in the kitchen and baking with them. Cooking with kids is always crazy and messy and fun! My twins are still too young to do much more than chew on a spatula, so I invited my friend Celeste and her daughter Isla over to help me make and eat a batch of Oatmeal Cookie Sandwiches this past weekend.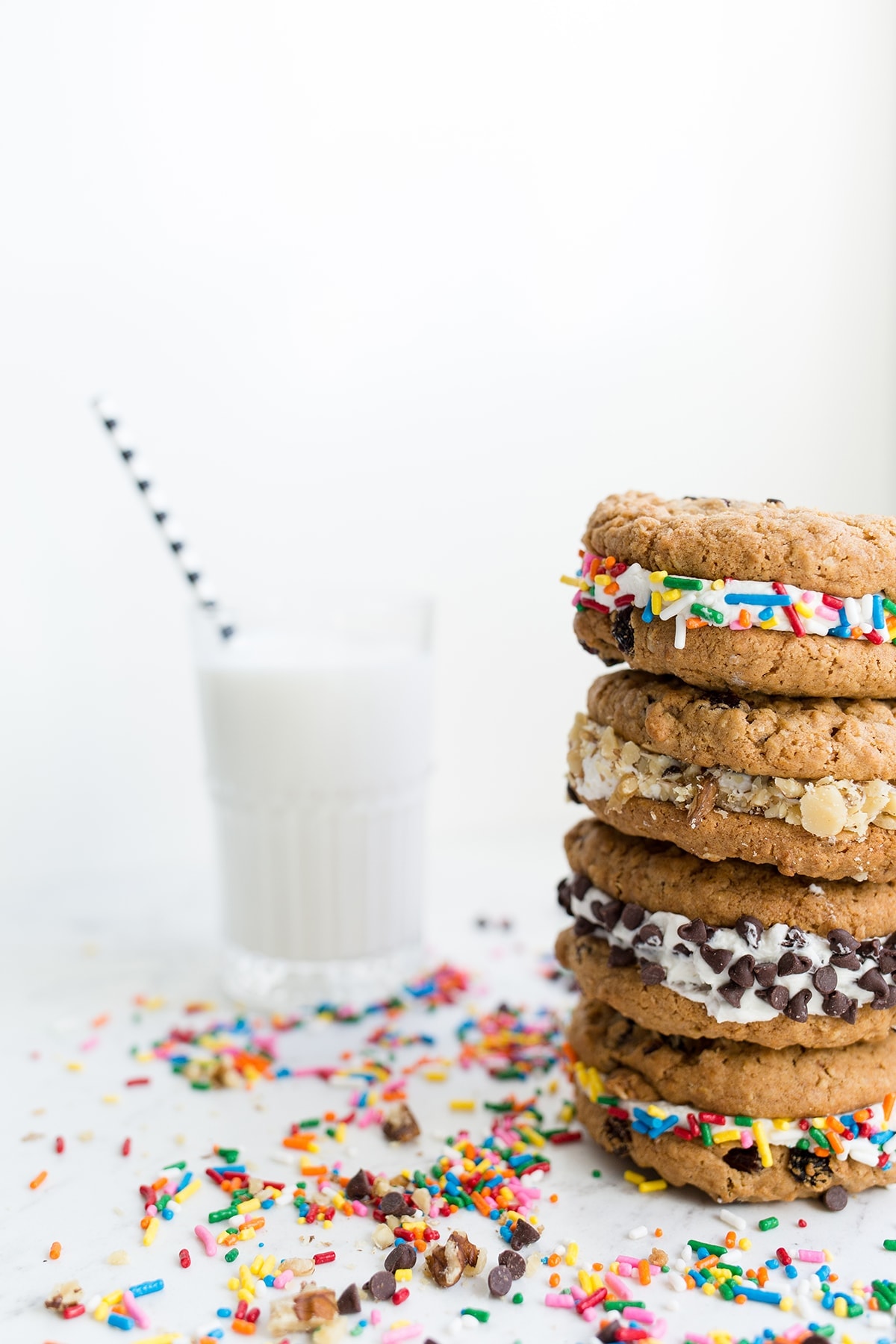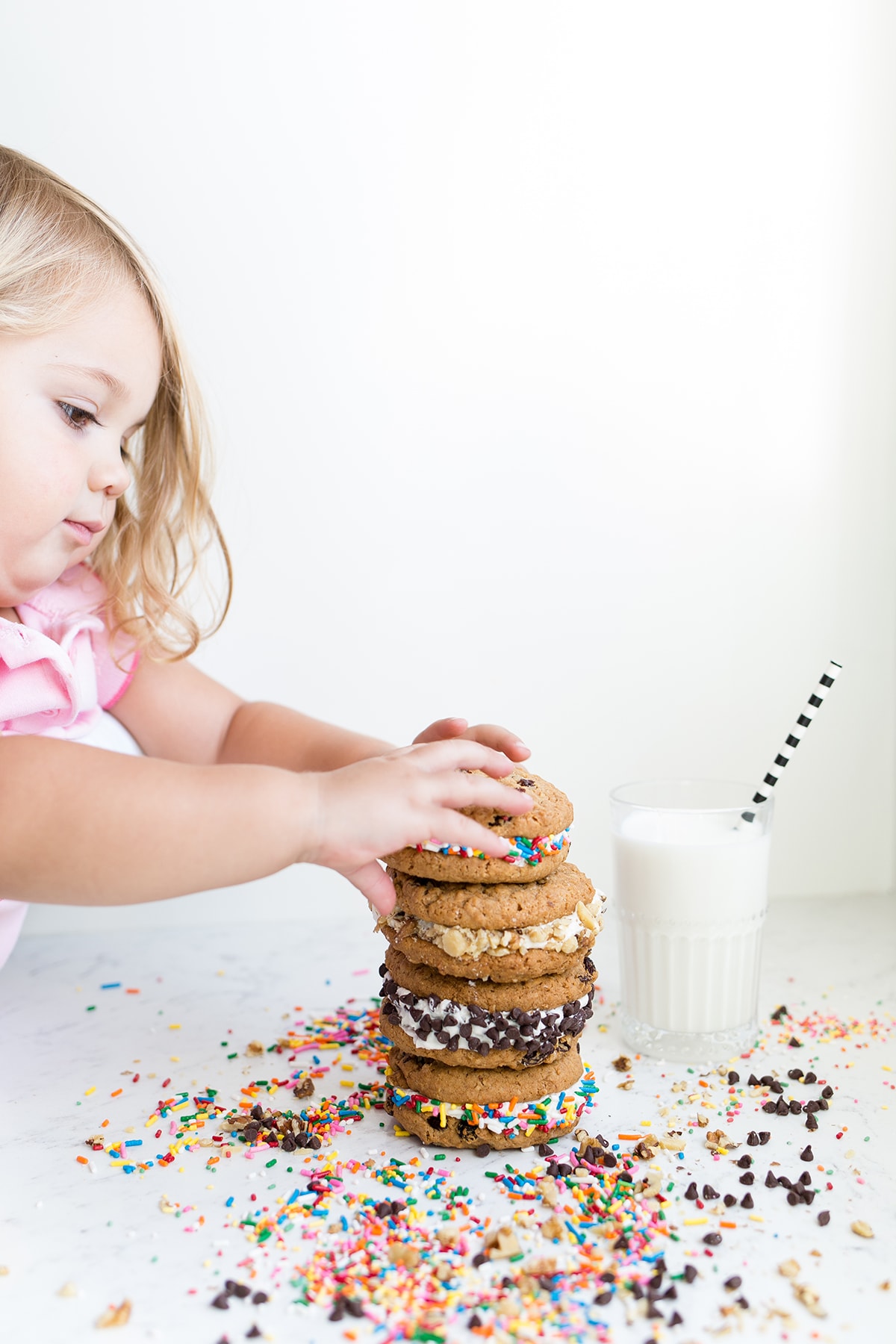 There is something so comforting about old fashioned oatmeal cookie sandwiches with a creamy frosting center. Soft and chewy with lots of spice and little sweet bursts of raisins. Oh my gosh, I love a good oatmeal raisin cookie, don't you? So when Otis Spunkmeyer asked me to come up with a fun dessert hack for one of their new sweet treats, I grabbed the oatmeal raisin cookies and whipped up some homemade buttercream frosting.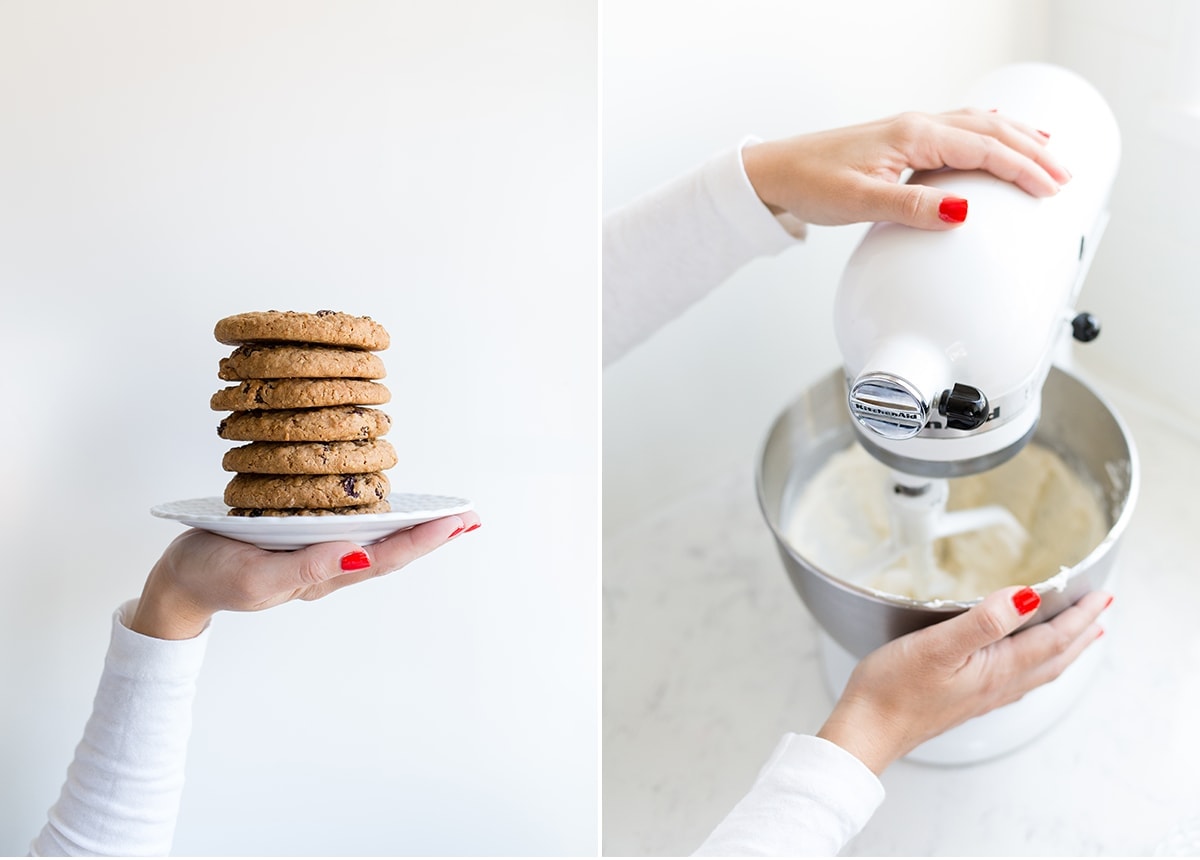 Don't get me wrong, I LOVE to make homemade cookies but these Otis Spunkmeyer cookies are actually really delicious and have no funky stuff in the ingredients, so they're pretty darn close to the homemade kind.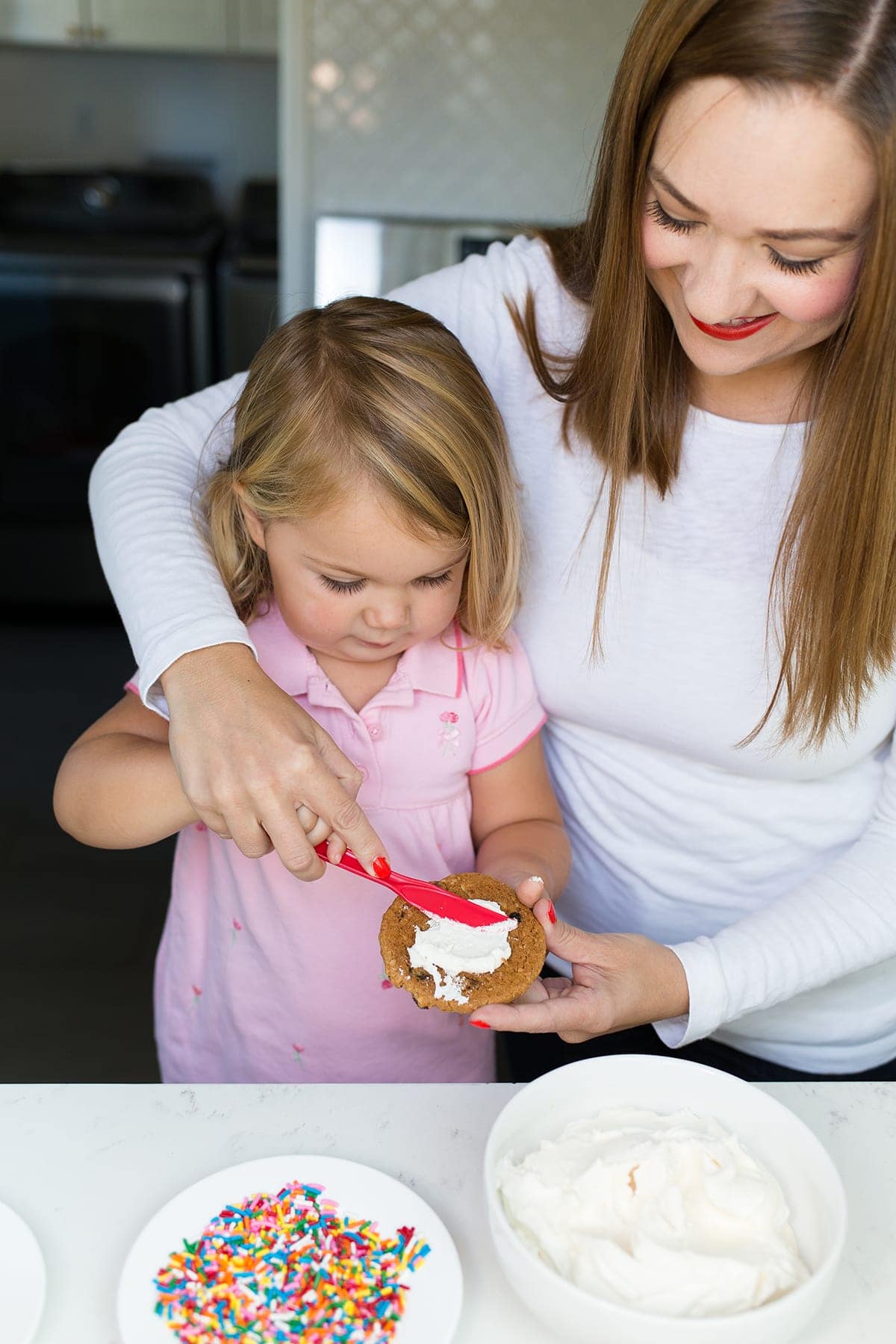 I prepped the buttercream frosting ahead of time and when Isla got here I had the frosting, cookies, and toppings all ready for her to play with! I'm honestly not sure if she was more interested in making the sandwiches or just snacking on the mini chocolate chips but either way she took the sandwich making verrrry seriously. Celeste and I were cracking up at her "techniques."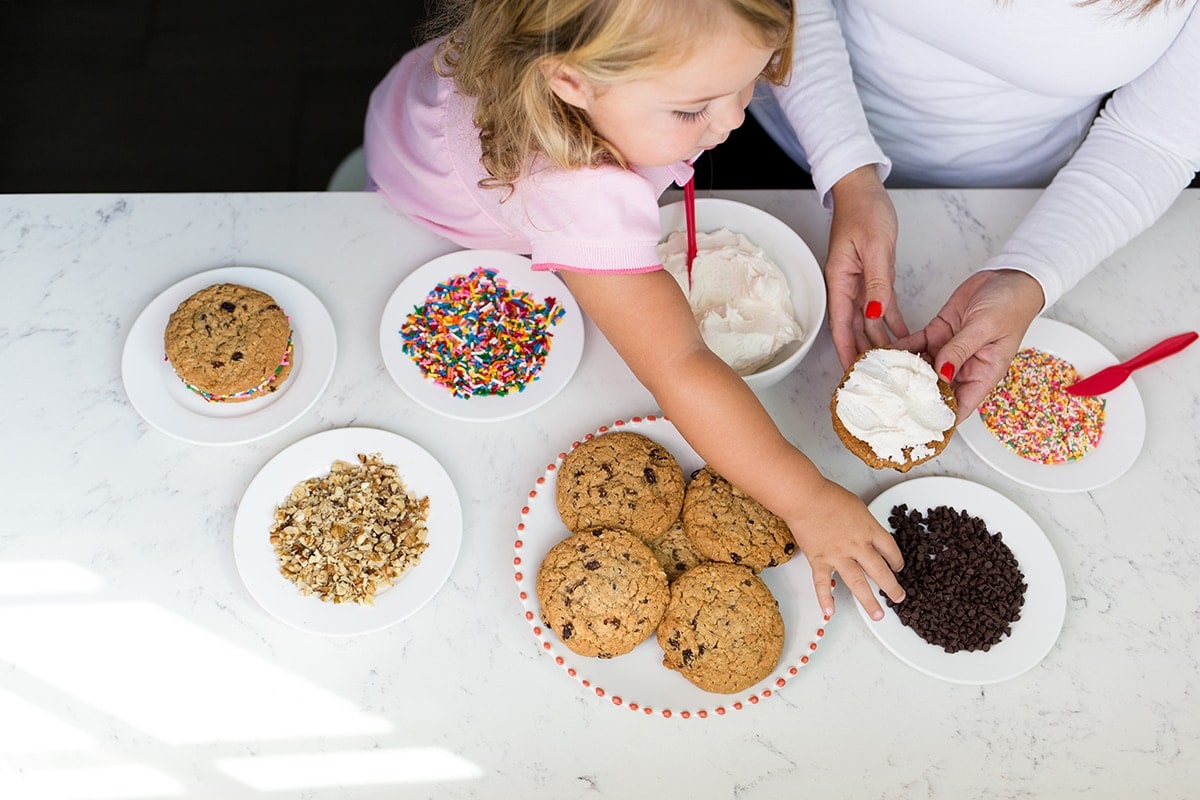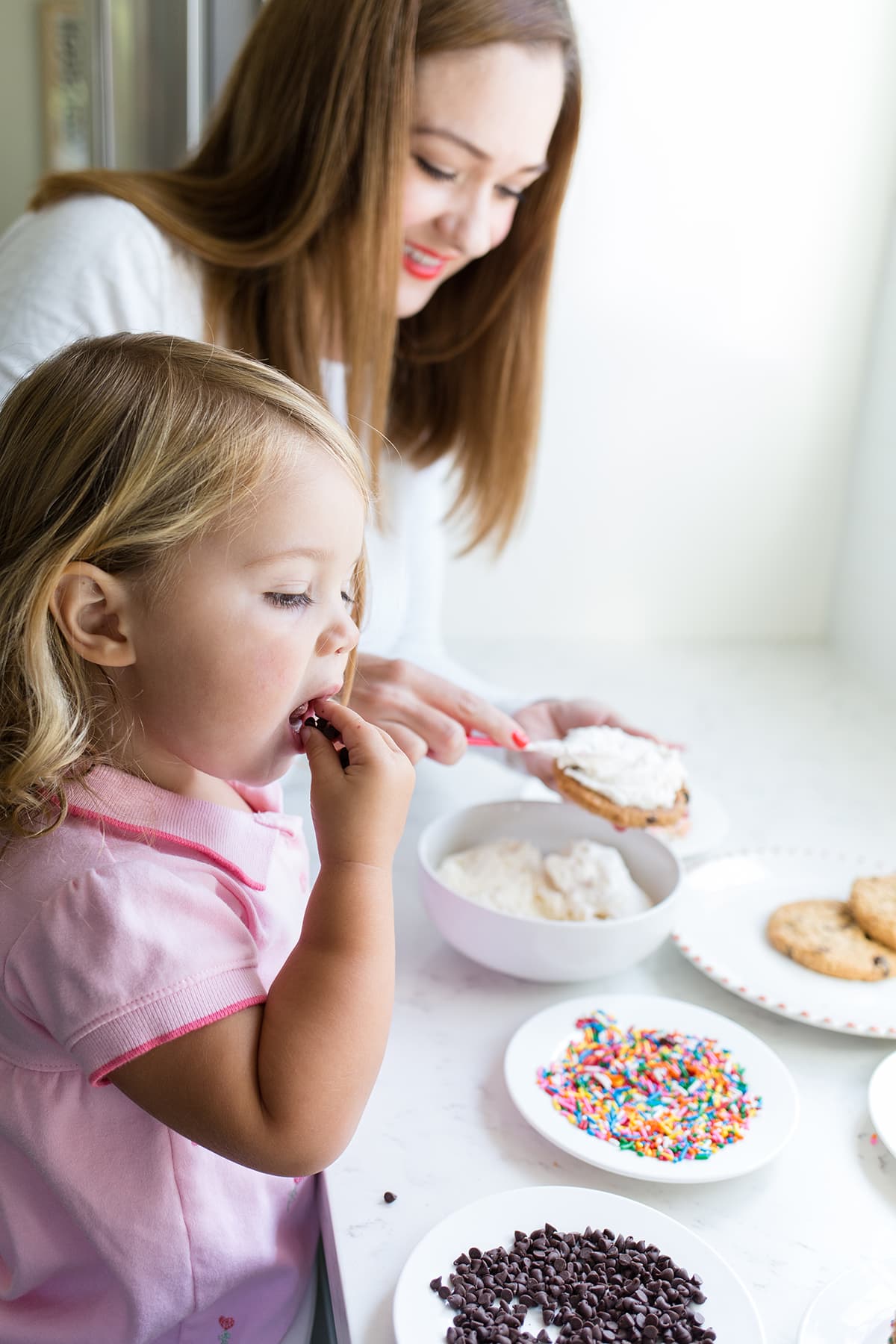 This "recipe" (or hack) is the perfect indulgent sweet treat for after school and makes for a fun weekend activity too! You could easily prep the ingredients and let your little ones and even their friends go to town spreading the frosting, sandwiching the cookies, and rolling them in the toppings of their choosing.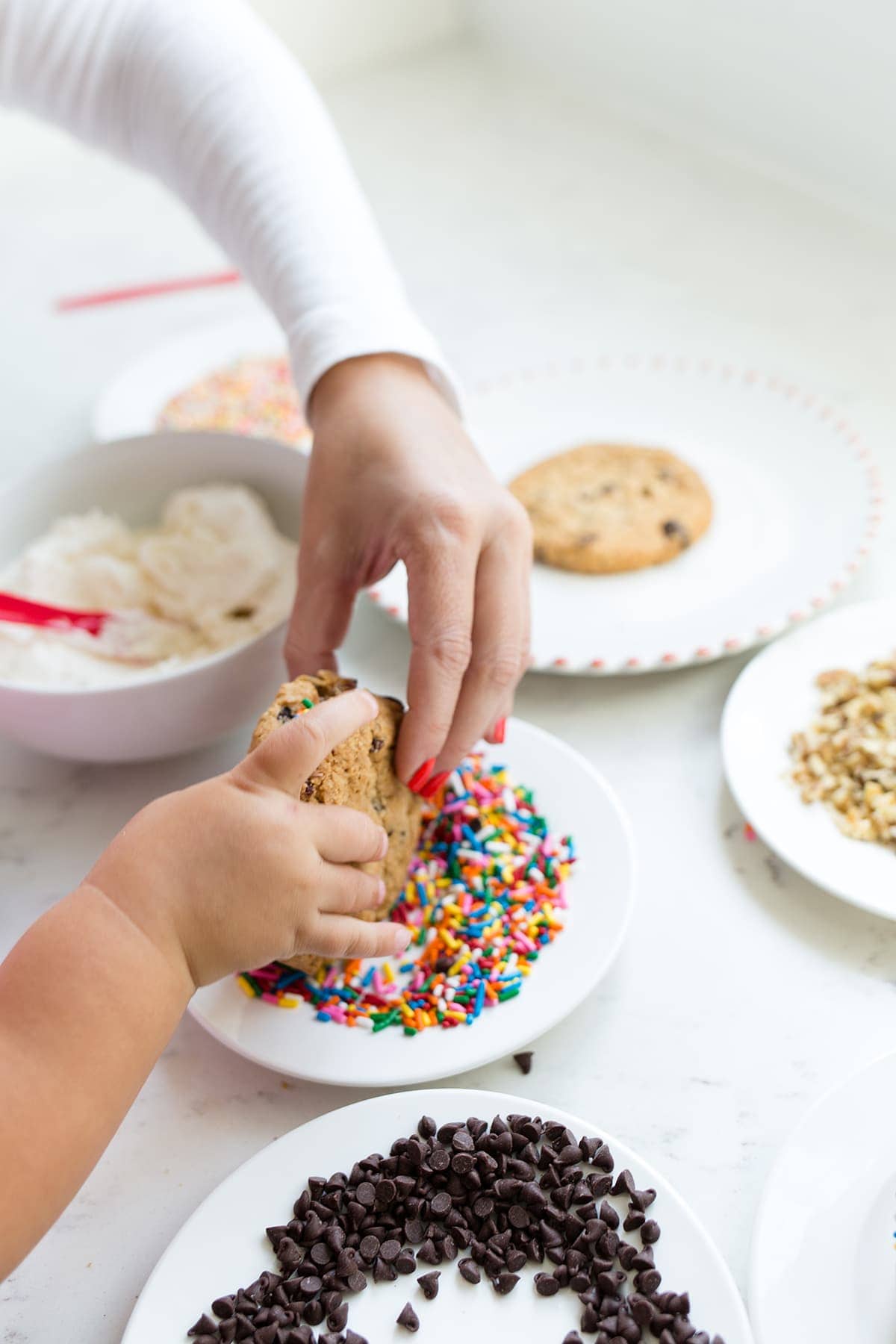 Before we began, Isla requested we make a Minnie Mouse cookie…I'm pretty sure that was what she was up to here, see the ears?…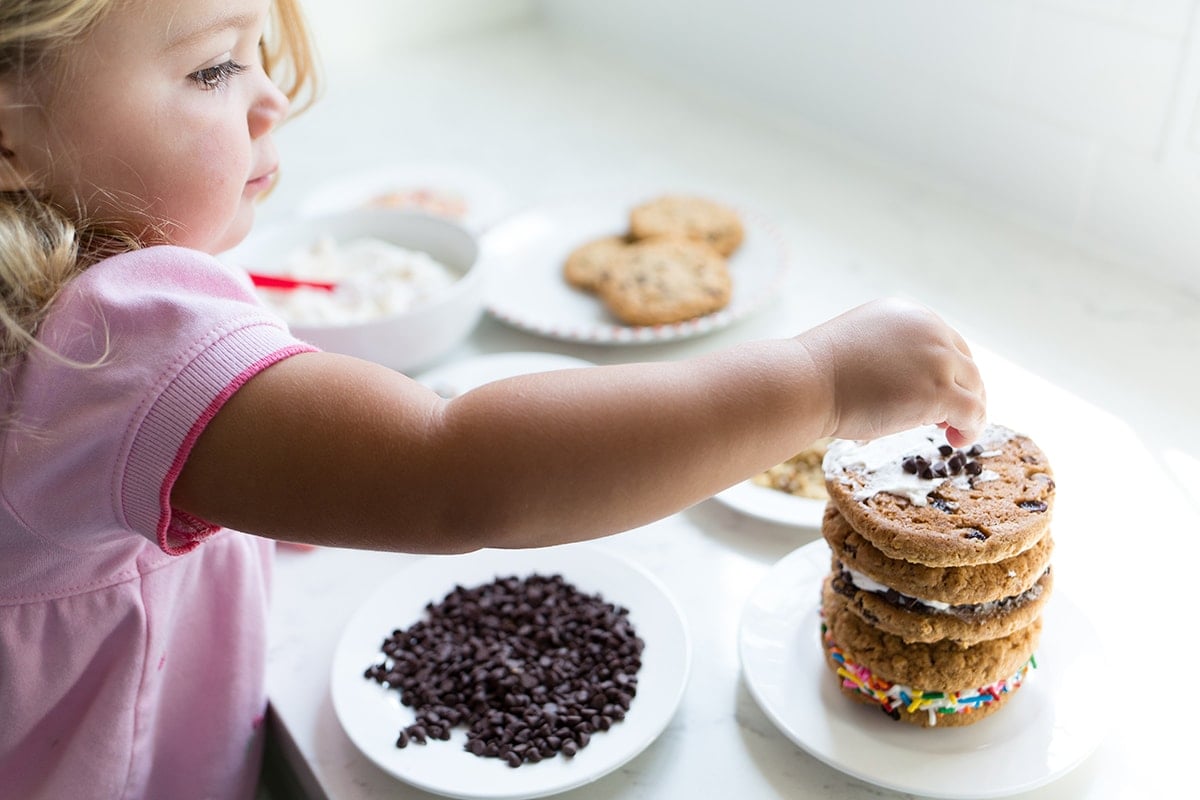 Isla really was the sweetest little assistant and it made me even more excited to get into the kitchen with the twins one day. Which probably means they will be more interested in making mud pies than real pies, am I right? Well even if that IS the case, I've never met a kid who would pass up cookies, or mini chocolate chips for that matter, so I think I can persuade them.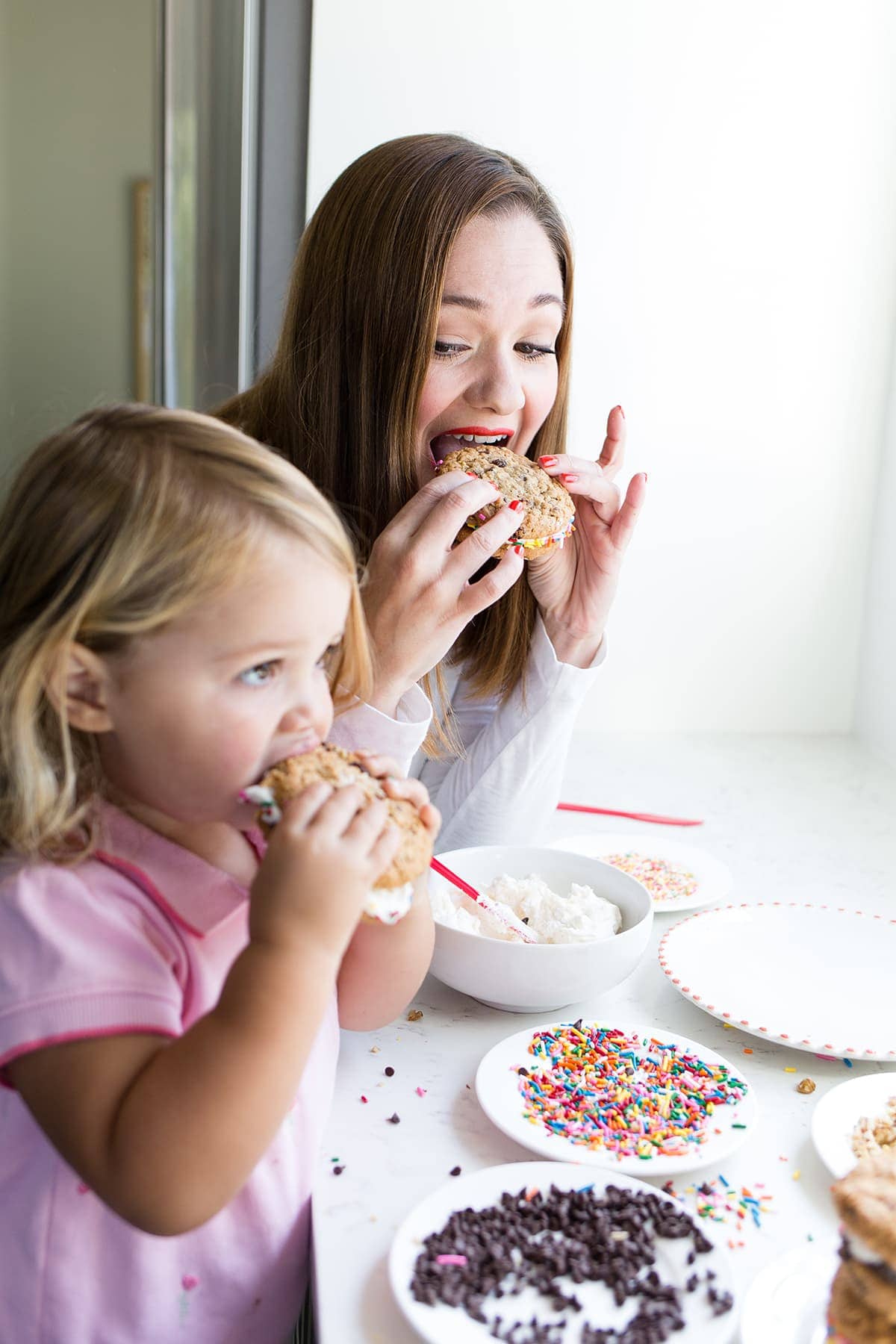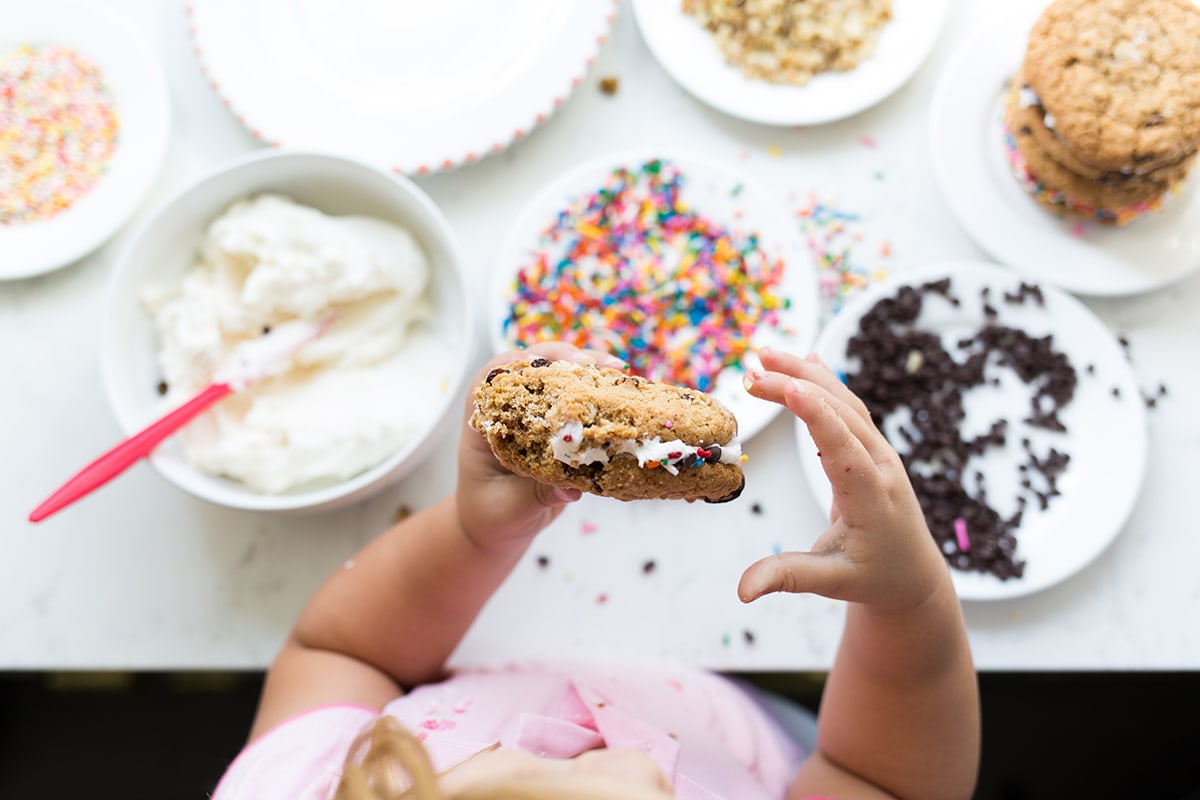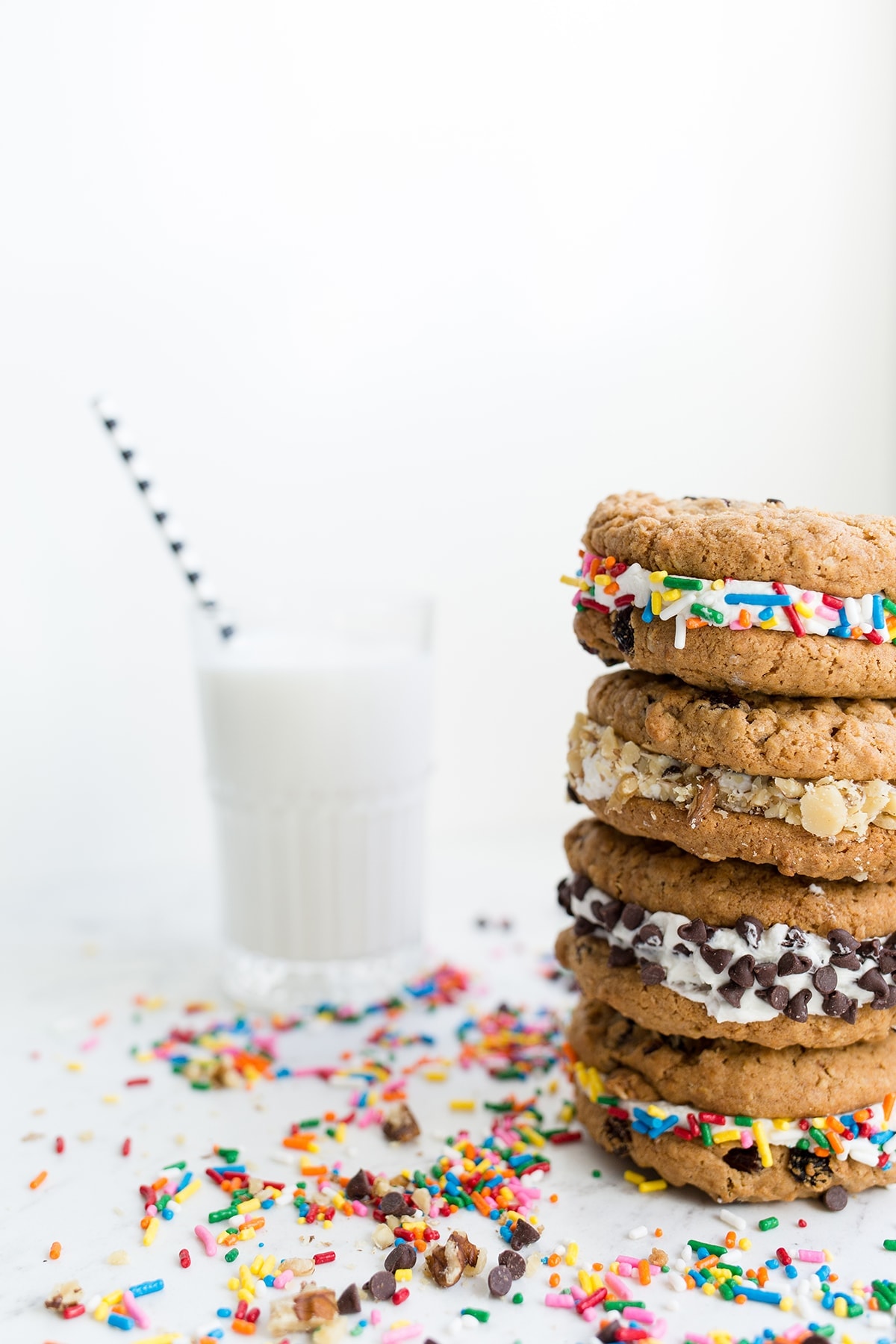 Oatmeal Cookie Sandwiches
2016-09-07 18:32:44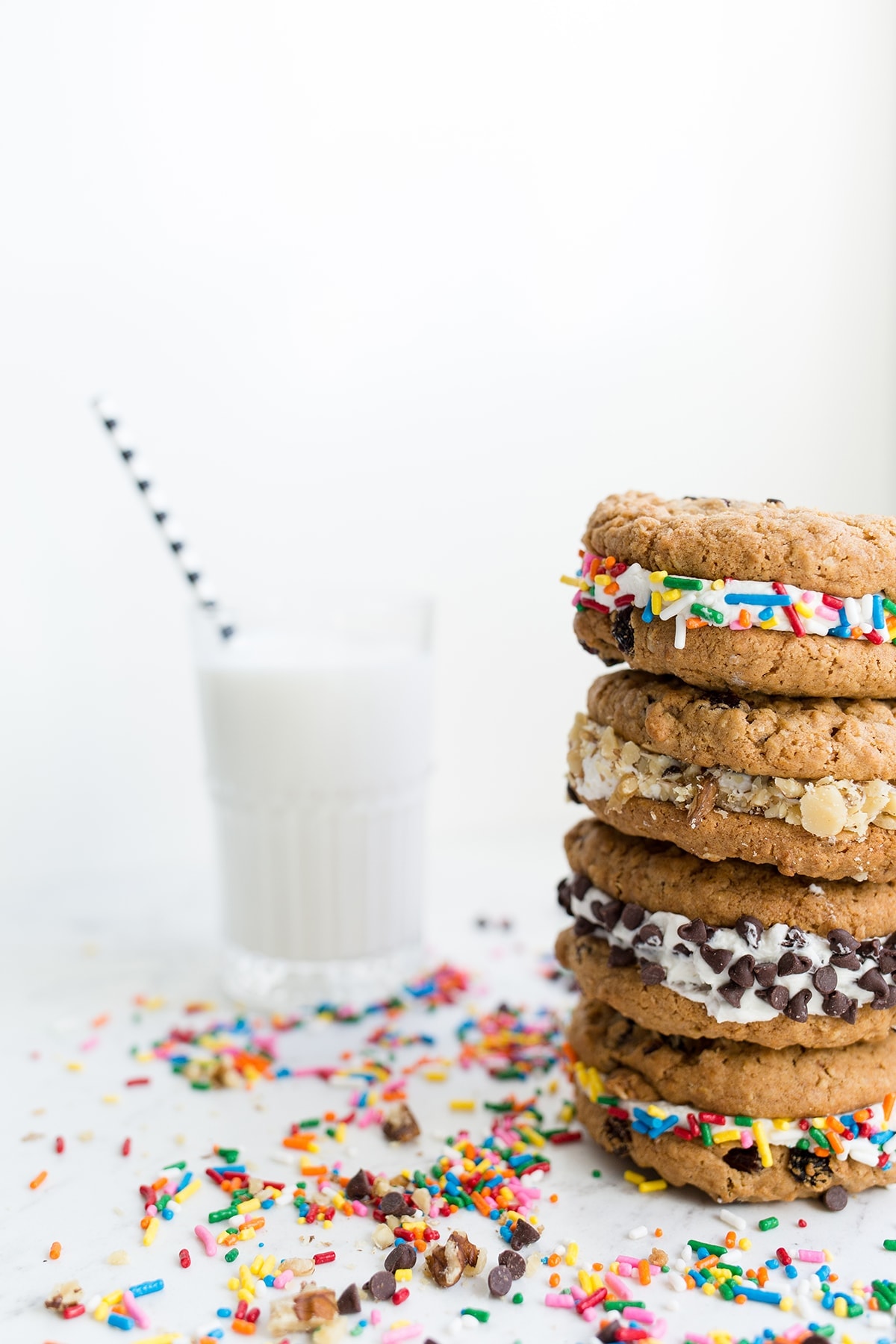 Ingredients
Otis Spunkmeyer Oatmeal Raisin Cookies
Buttercream frosting
Rainbow sprinkles
Mini chocolate chips
Chopped walnuts
Buttercream Frosting
3/4 cup (1 1/2 sticks) cup salted butter, softened
2 1/2 cups confectioners' sugar
1 teaspoon pure vanilla extract
1 tablespoon whole milk or half and half
Instructions
In a mixer fitted with the paddle attachment, beat butter until light and fluffy.
Slowly add in powdered sugar and beat until smooth.
Mix in vanilla extract and milk.
Add in more milk if you like a thinner frosting, however I made mine nice and thick to hold the cookies and toppings in place.
Assembly
Spread a generous amount of frosting onto half of your cookies. Top with the remaining halves and roll in desired toppings.
Refrigerate to firm up the frosting a bit or simply eat and enjoy!
Freutcake https://www.freutcake.com/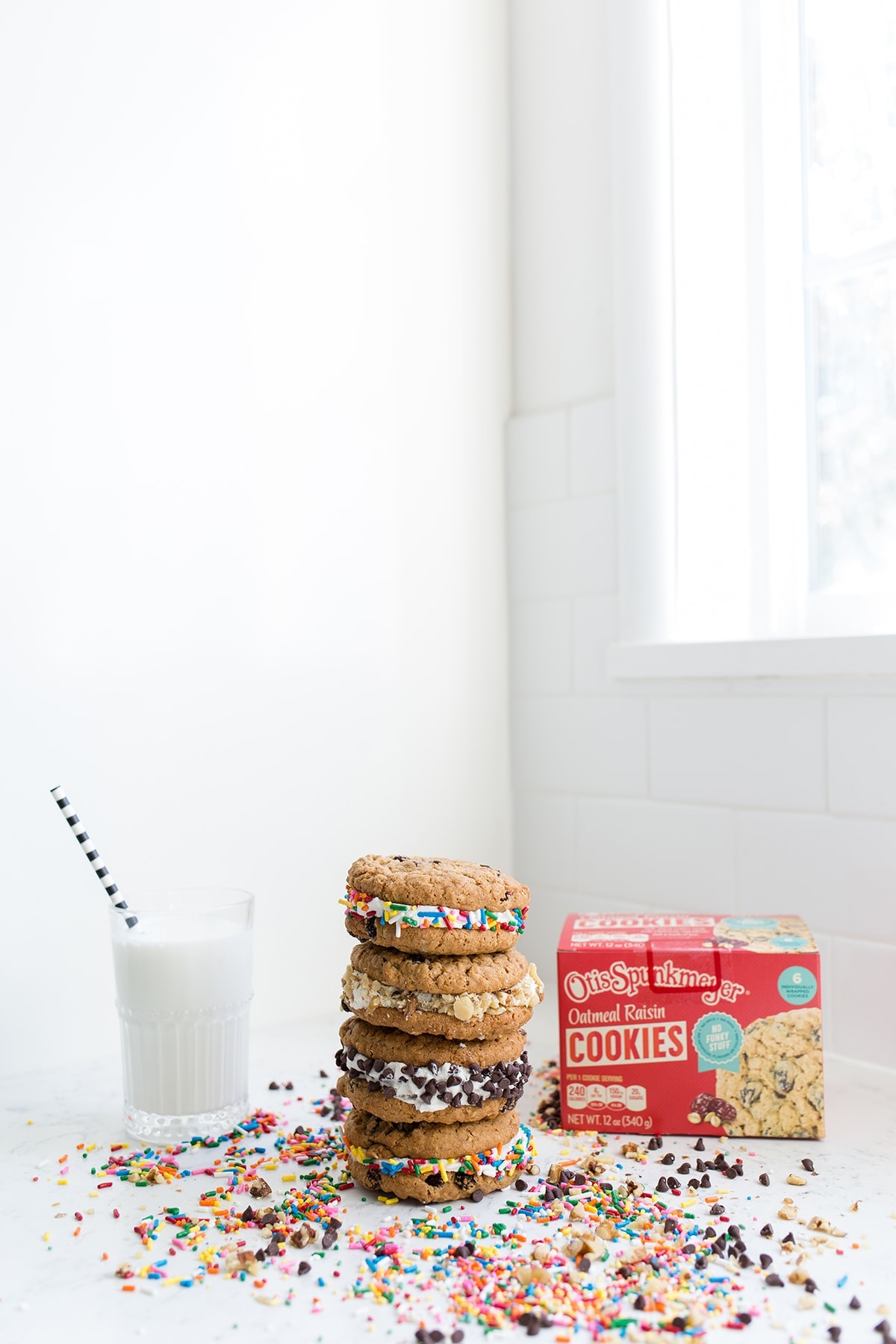 Disclosure: This post is sponsored by Otis Spunkmeyer however all opinions are my own. Thank you for supporting the sponsors support Freutcake.
Giveaway time! Otis and I want to know what you would create with the new Otis Spunkmeyer sweet treats. Tag @otisspunkmeyer and @freutcake, as well as #OtisSnackHack on social, and we will pick the best of the best to win the grand prize! The prize is a chance to win a $250 Visa gift card.
You can find Otis Spunkmeyer sweets in in your local area right here. Happy snacking!
Save
Save
Save