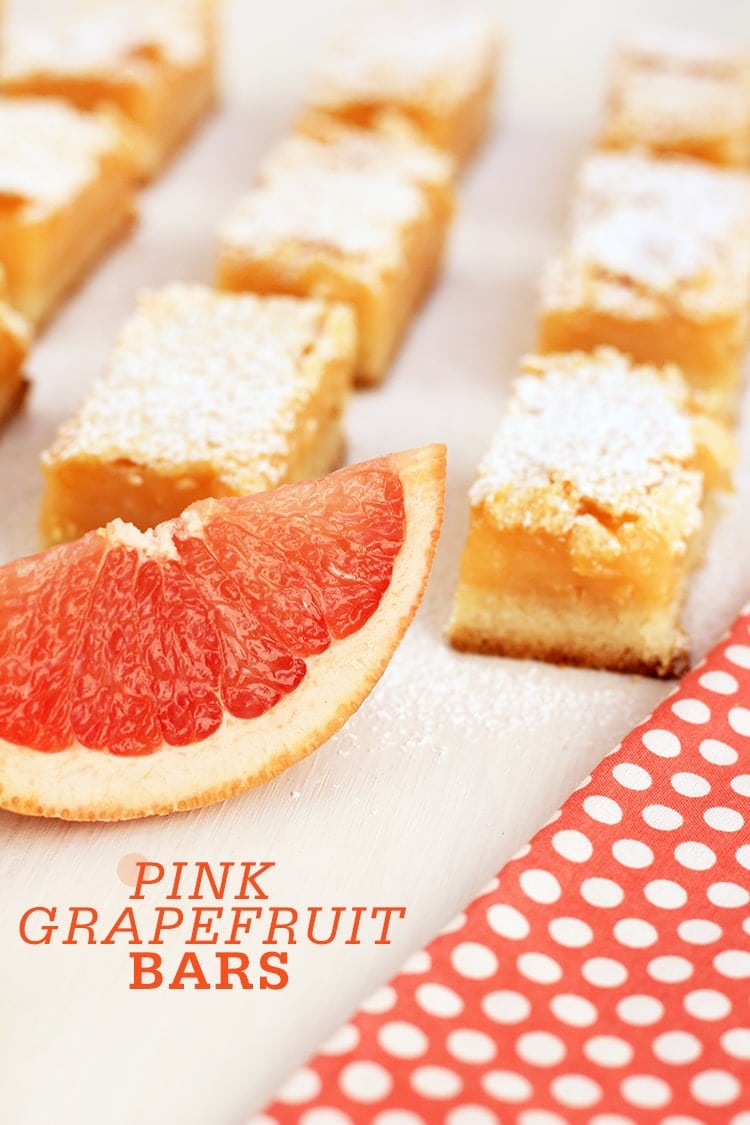 Meet the lemon bar's sweeter (and pink) cousin the Pink Grapefruit Bar. As most of you know, lemon bars are my weakness and one of the first recipes I ever shared here on Freutcake. Which is why I try not to make them too often as it usually results in me eating nearly the whole pan! Oh, lemon bars you tasty little devils.
Well, when my lemon bar craving hit over the weekend, I rushed to the store in search of lemons. What I came home with were Pink Grapefruit. You know when you walk by berries, or citrus in the produce section and the smell is so beautifully strong you simply have to buy them? Well, at the moment pink grapefruit is the perfume of my grocery store and I figured, if lemons could work in these bars, why not grapefruit? I was right…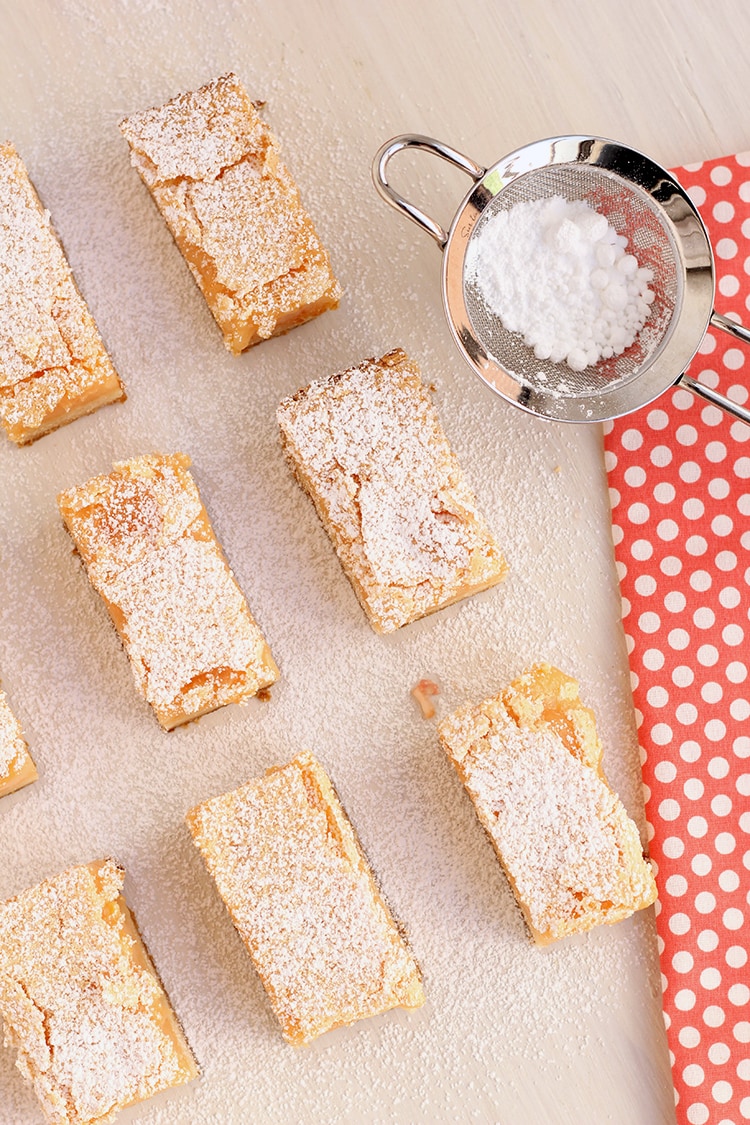 First, let's talk about the shortbread crust for a moment as it deserves a good long moment in the spotlight. Nothing beats a perfect buttery and flaky shortbread, and this recipe delivers. Plus it makes plenty of dough so that you can work your way up the edges of your pan insuring a much easier removal of the super sticky bars. Crust and edge lovers, it's time to celebrate!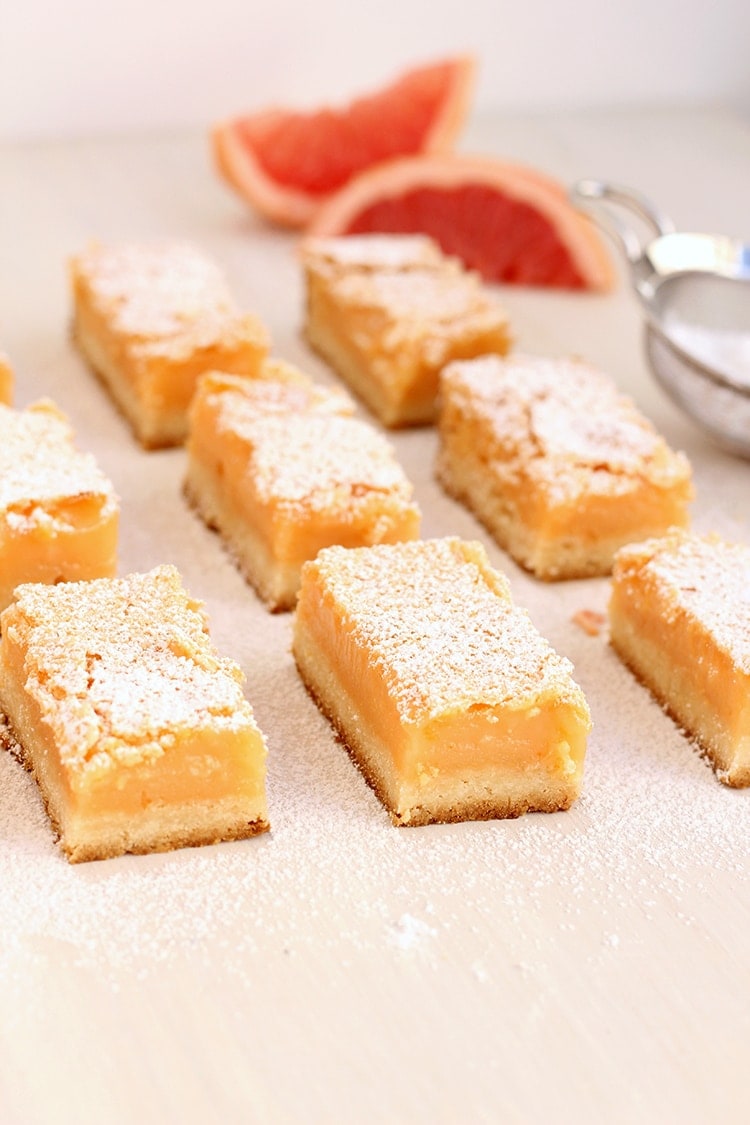 As for the filling, it's sweeter than the tart lemon curd I am used to but no less delicious. With a floral hint and pretty light pink color, these bars are definitely easy on the eyes and the taste buds. Plus the egg whites rise to the top and form this beautiful flaky crust that makes the perfect base for a heavy dusting of powdered sugar. Perfection!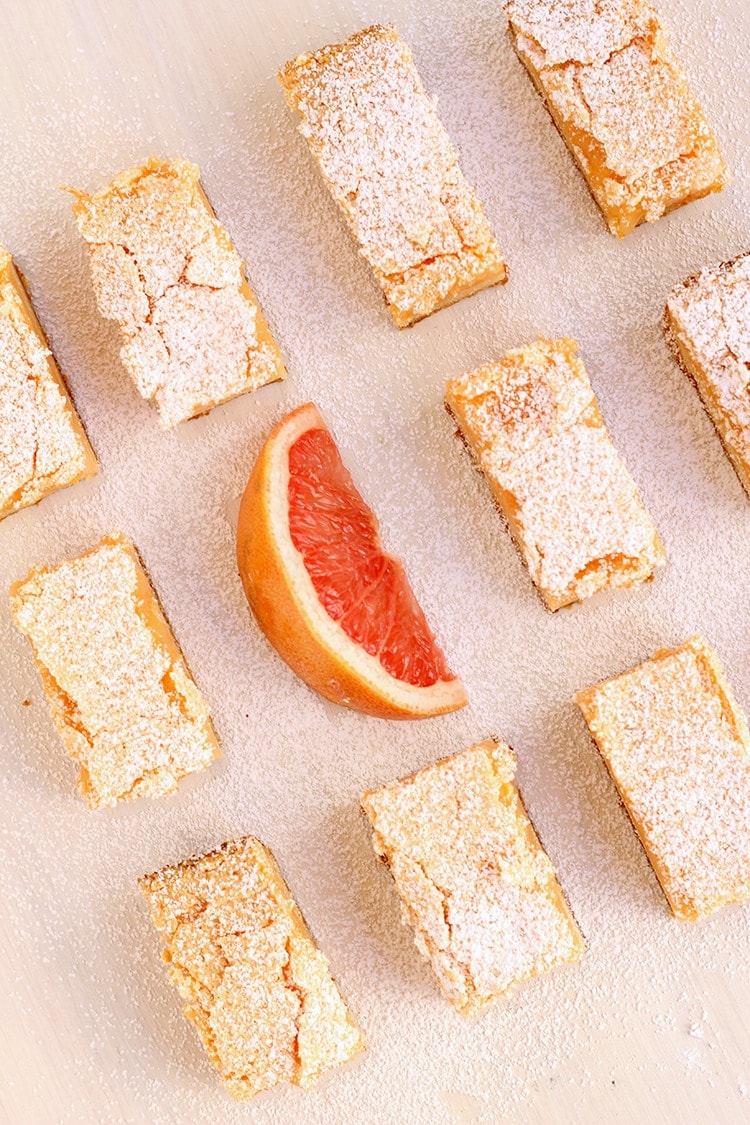 photos by Leah Bergman
Recipe Update: I made a slight correction to the amount of juice required for the filling. These bars are a bit sweet with only 1 cup of grapefruit juice so adjusted it to 3/4 cup grapefruit and 1/4 cup lemon juice. Enjoy!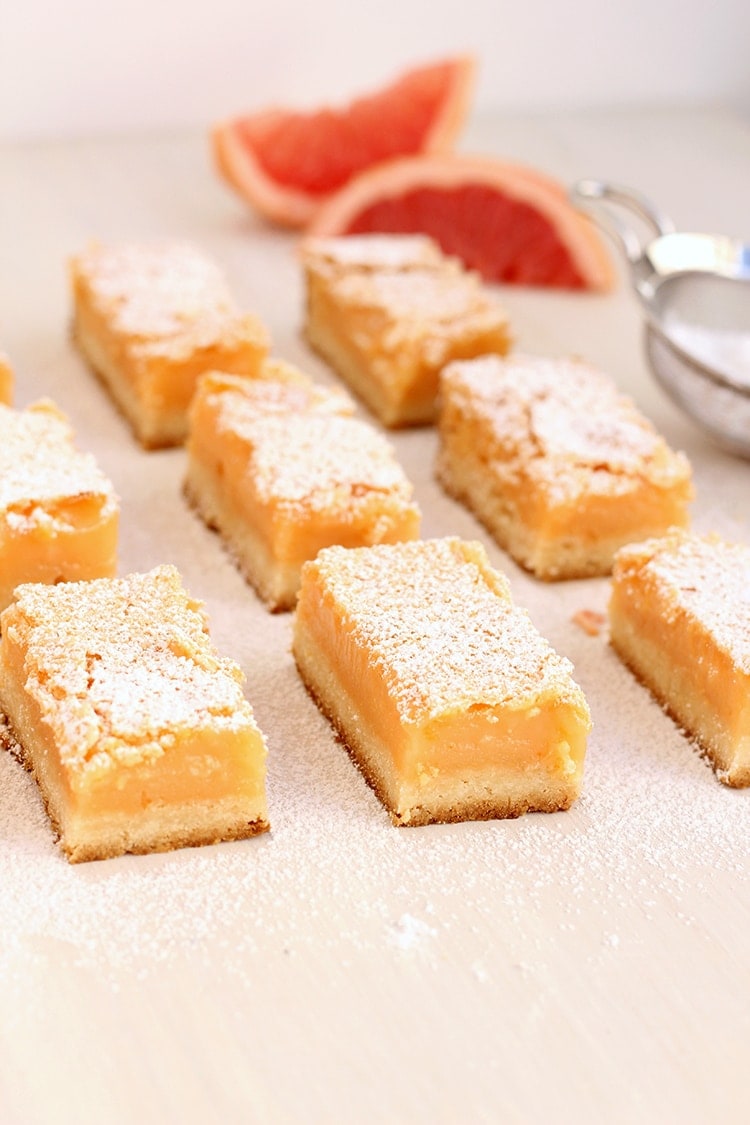 Pink Grapefruit Bars
2015-01-19 20:59:12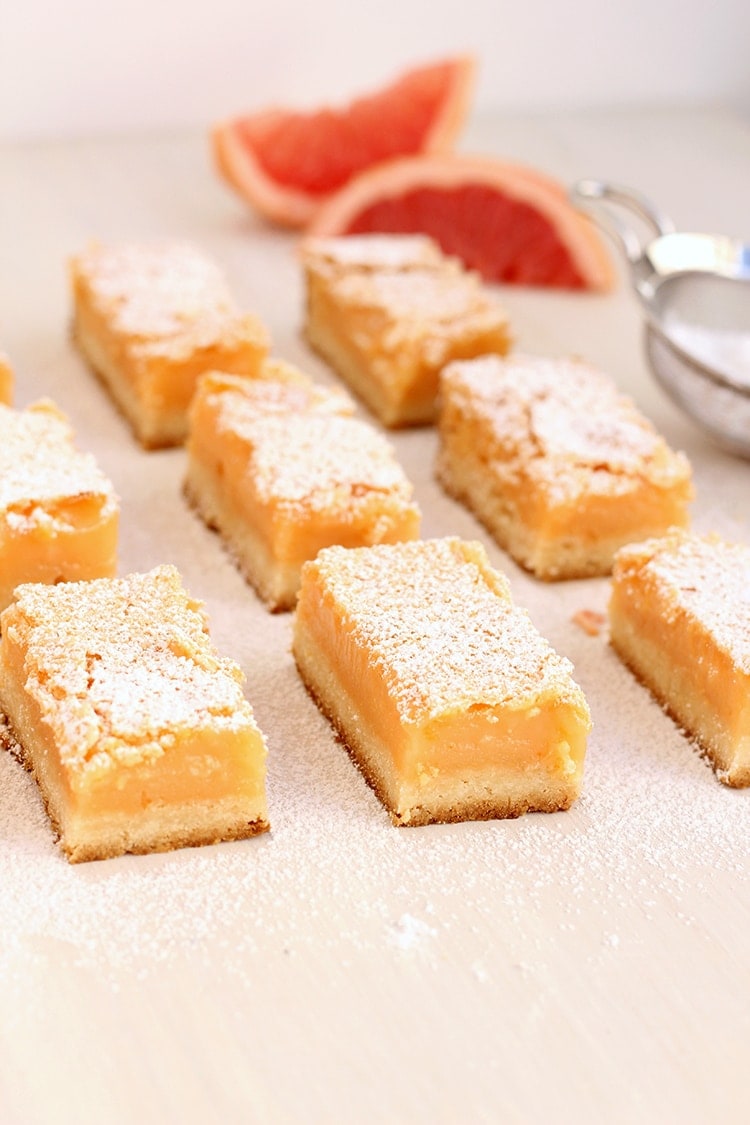 Serves 12
Pink Grapefruit Bars are the classic lemon bar's sweeter cousin!
For the crust
1/2 pound unsalted butter, at room temperature
1/2 cup granulated sugar
2 cups flour
1/8 teaspoon kosher salt
For the filling
6 extra-large eggs at room temperature
3 cups granulated sugar
2 tablespoons grated pink (ruby red) grapefruit zest
3/4 cup freshly squeezed pink (ruby red) grapefruit juice
1/4 cup freshly squeezed lemon juice
1 cup flour
Confectioners' sugar, for dusting
Instructions
Preheat the oven to 350 degrees F.
Grease a 9 by 13 by 2-inch baking pan and set aside.
For the crust, cream the butter and sugar until light in the bowl of an electric mixer fitted with the paddle attachment. Combine the flour and salt and, with the mixer on low, add to the butter until just mixed. Dump the dough into prepared pan and flatten the dough with floured hands building up a 1/2-inch edge on all sides. Chill for 15 minutes.
Bake the crust for 15 to 20 minutes, until very lightly browned. Let cool on a wire rack. Leave the oven on.
For the filling, whisk together the eggs, sugar, grapefruit zest, grapefruit juice, and flour. Pour over the crust and bake for 35-45 minutes, or until the filling is set and no longer jiggles when you lightly shake the pan. Let cool to room temperature.
Cut into bars and dust with confectioners' sugar.
Notes
These bars are much sweeter than lemon bars. If you want a bit of tang, you can add in lemon zest instead of grapefruit zest.
A few drops of red food coloring will give you a rich pink filling color if desired.
Adapted from Barefoot Contessa
Freutcake https://www.freutcake.com/