Disclosure: This post is sponsored by Country Crock® and their Make It Yours™ Cookie Recipe however all of the opinions expressed here are my own. Thanks for supporting the sponsors who keep Freutcake delicious!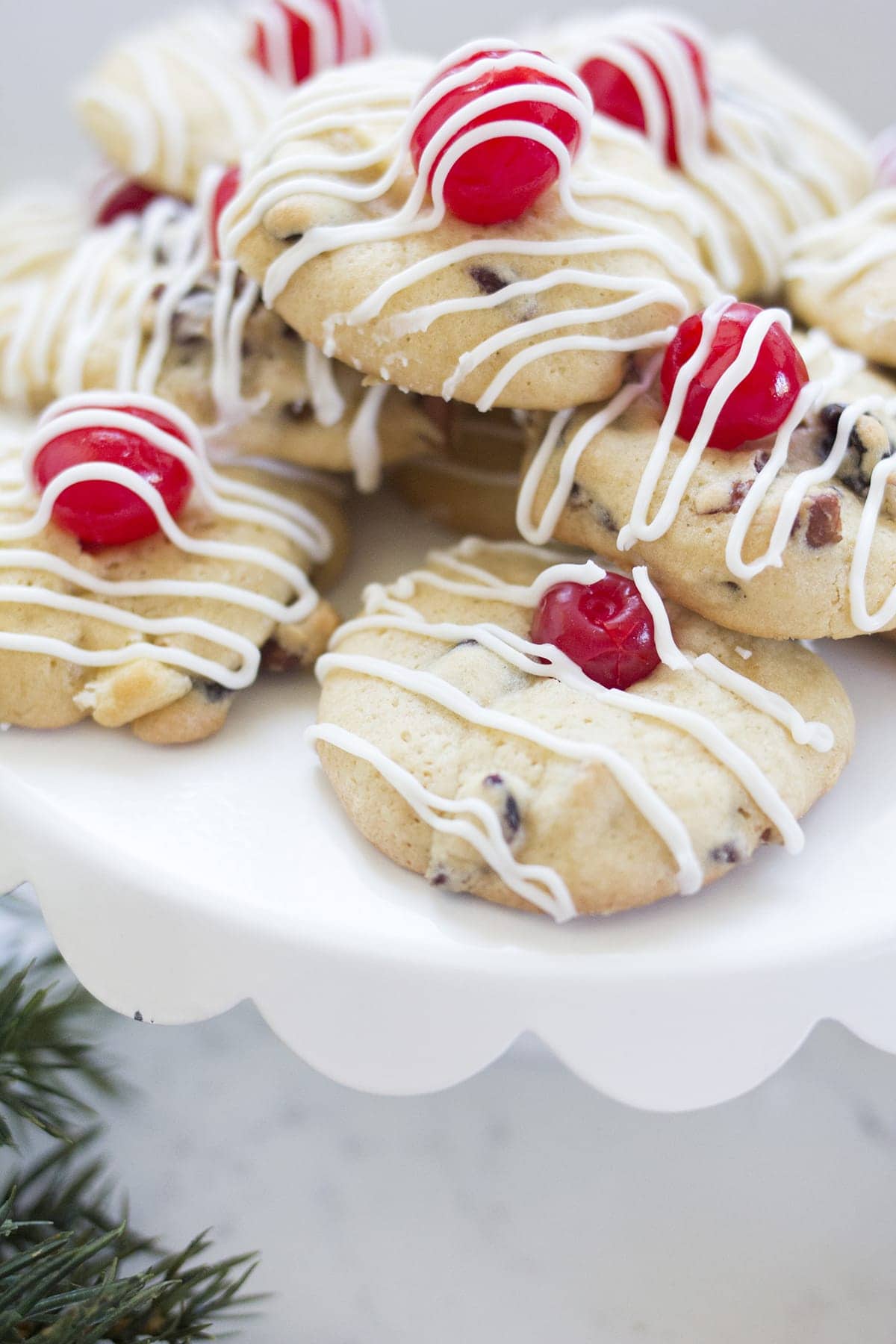 Everyone knows the best part of cookies are all the goodies mixed inside, right? Well, maybe with the exception of gingersnaps…those should just be left well enough alone in all of their glory, but that's another post entirely! So, when Country Crock® asked me to try their Make It Yours™ Cookie Recipe for the holidays but put my own spin on it with some of my favorite mix-ins, I was game. I have to admit, I have only EVER baked my Christmas cookies with butter so I was interested to see just how Country Crock® would work in a cookie dough.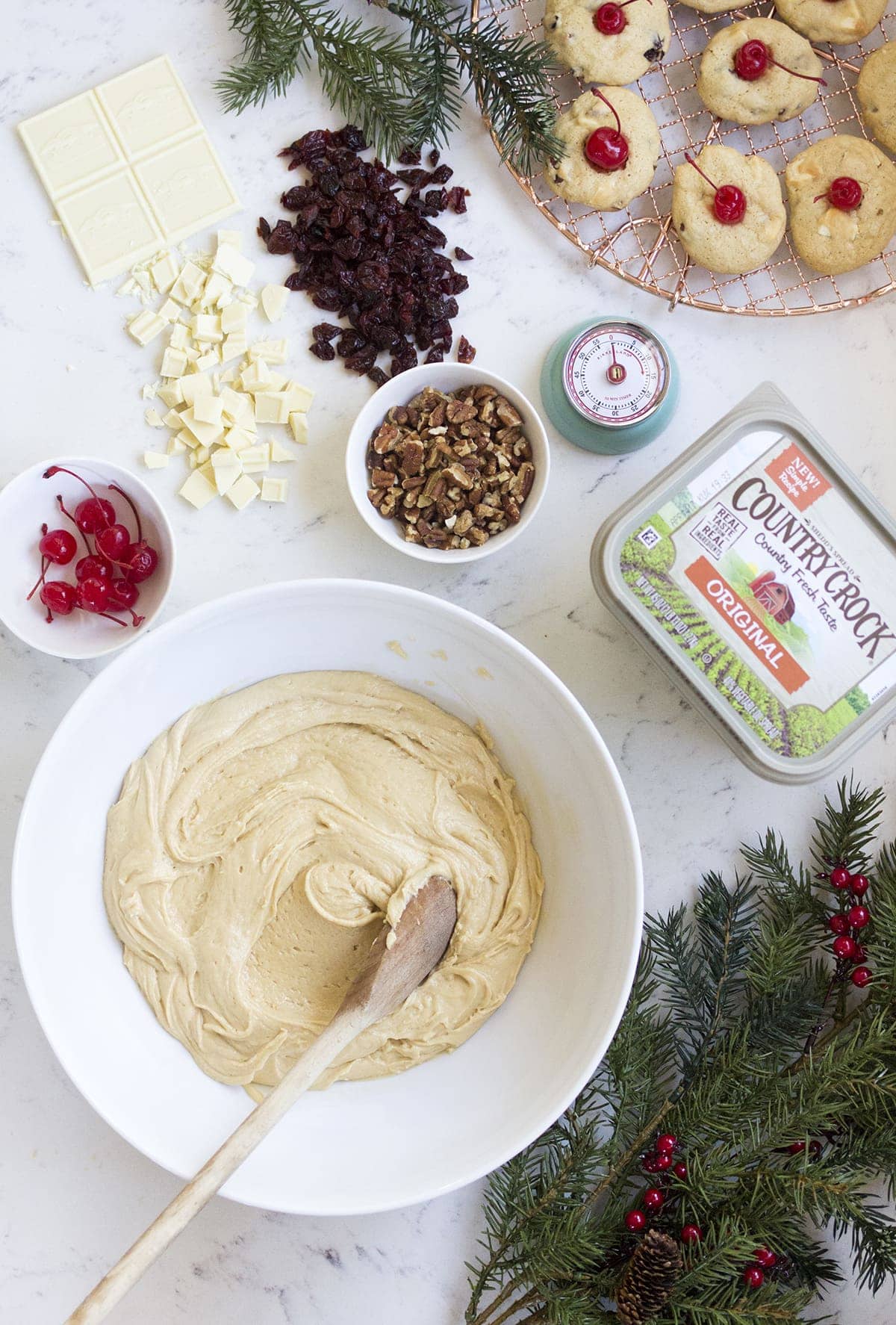 Well, if you are curious…leeeeet me tell you. This dough y'aaaaall (did I sound Southern there?) is SO creamy and smooth and buttery and delicious. There is no bringing cold butter to room temperature here folks, just scoop the Country Crock® straight out of the fridge and get a creamin'. By creamin' I mean creaming the butter or in this case Country Crock® with sugar like any proper cookie dough base should start before you mix in all of the vanilla and eggs and dry ingredients. Oh, how I love cookie dough.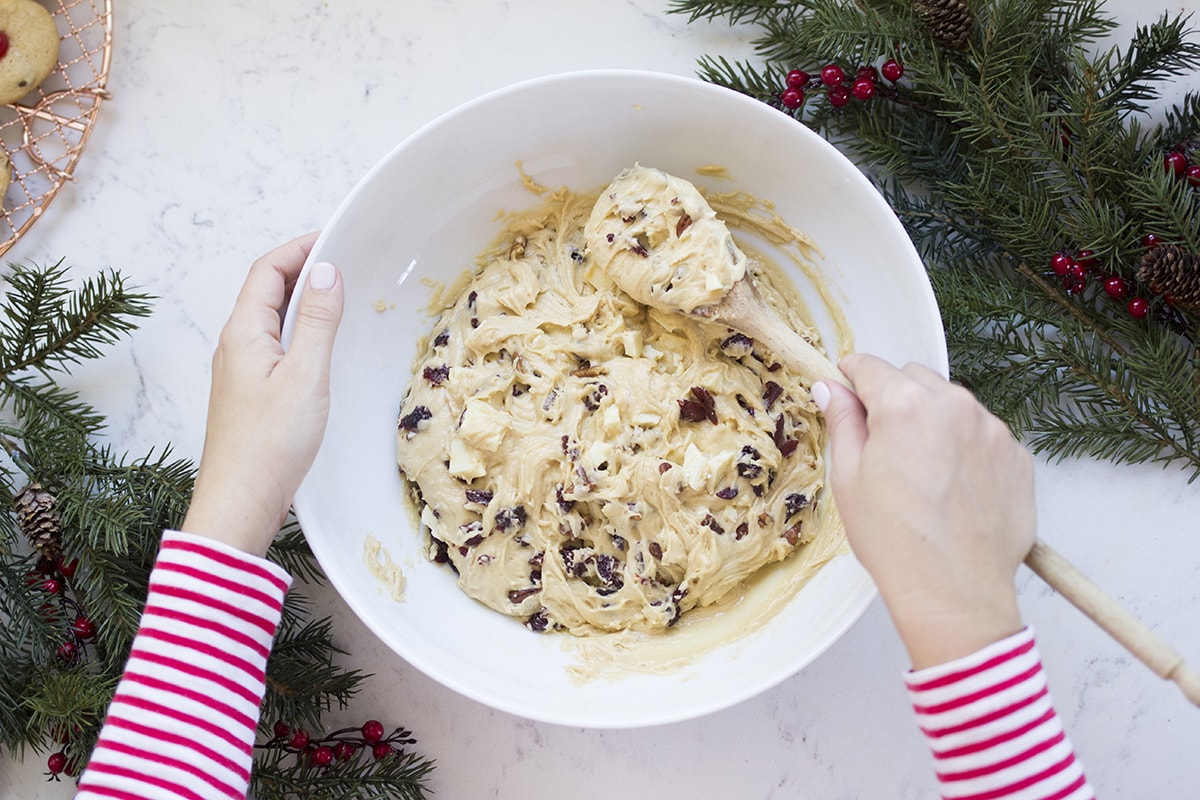 For my cookies, which I have appropriately named Rudolf Cookies due to their adorable red "noses," I mixed in dried cherries, chunks of white chocolate, and pecans. The tartness of the dried cherries and the super sweet white chocolate is like heaven. I mean, I could literally eat these three mix-ins together by the handful like a festive holiday trail mix…but that would be bad, ok maybe just a few pieces.
Anyway, if you are looking for one easy and delicious holiday cookie dough to try this season, this will be the only one you'll need! The mix-in possibilities are truly endless. If white chocolate doesn't make your cookie crumble (har! har!), then try dark chocolate! Dried cranberries, orange zest, and pecans would also be lovely. I mean I could go on and on but there are Rudolf noses to talk about so let's get to it.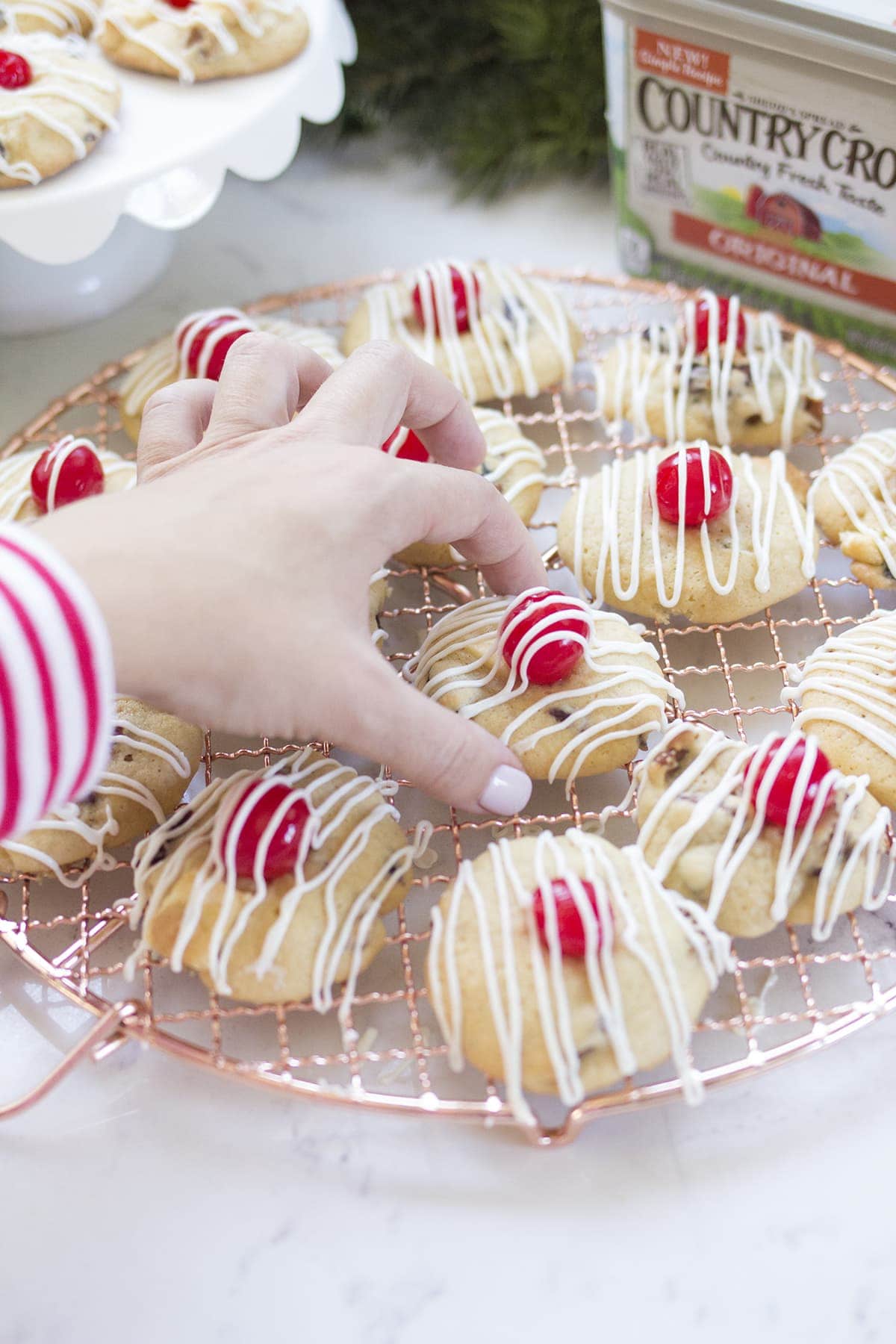 When you've baked your cookies just until golden and perfect and the house smells like heaven on earth, take those babies out and let them cool. But while they cool, poke em'! Yes, I am actually telling you to poke little indents into the top of your cookies while they are still warm so that you can nestle in the maraschino cherries that will become the reindeer noses. For the final festive holiday flair, drizzle all of the cookies with melted white chocolate. Just get crazy with it! Have fun and drizzle your little heart out. Ta, da! It's a party, a big-old holiday cookie party and a delicious one at that.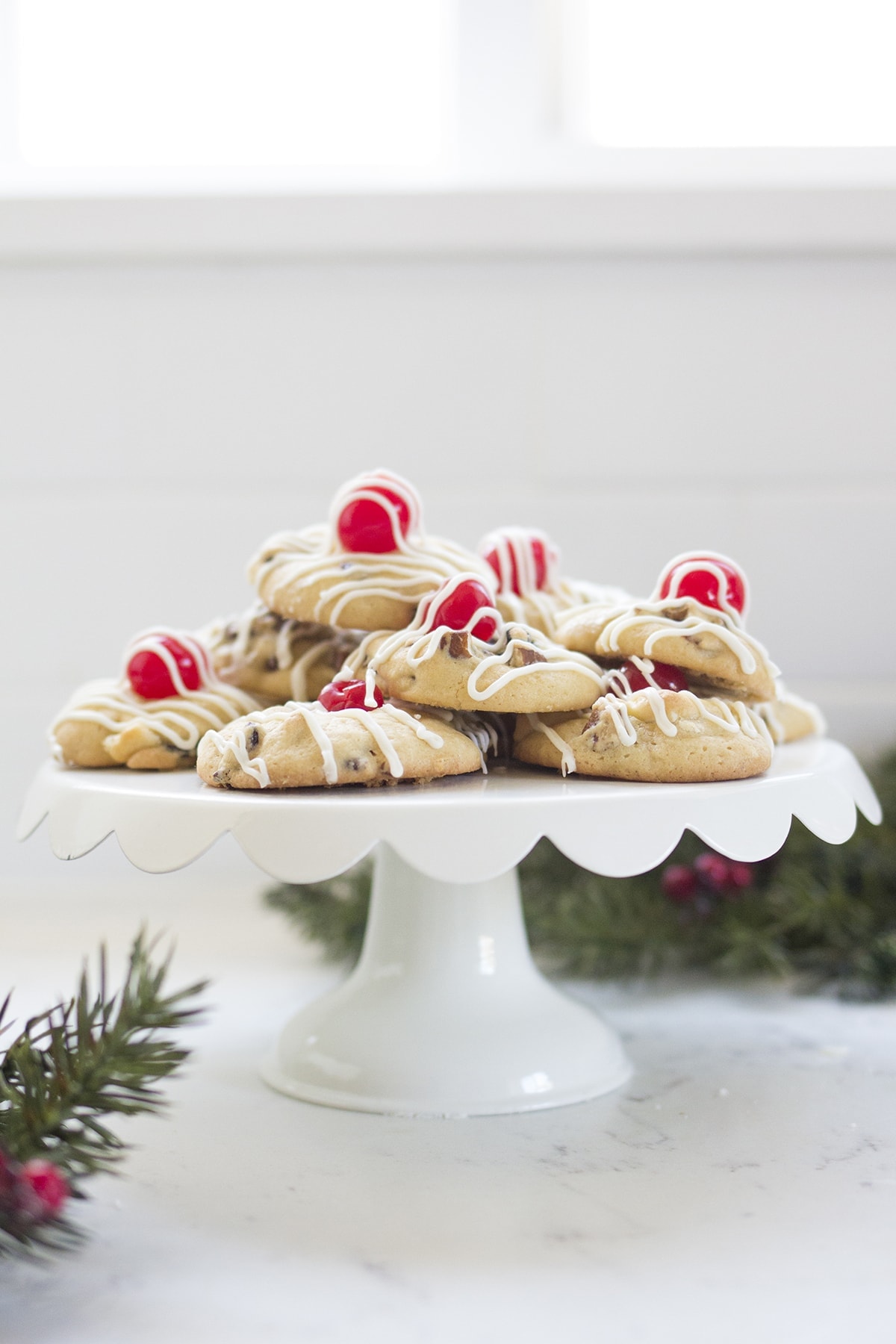 And I'm not the only one who's whipping up fun holiday cookie creations with this Make It Yours™ Cookie Recipe either. My friend and fellow blogger Melissa from Best Friends for Frosting created this mix in cookie creation so make sure to check it out.
So, what is your favorite combination of mix-ins? Any crazy delicious ideas I should try? Leave me a comment on this post with your suggestions, I'm in the mood for baking cookies!
White Chocolate Cherry Chunk Rudolph Make It Yours™ Cookie Recipe
2016-12-01 22:10:10
Delicious white chocolate cherry pecan cookies topped with maraschino cherry "Rudolf noses" and a drizzle of white chocolate.
Ingredients
1 cup Country Crock®
¾ cup packed brown sugar
¾ cup granulated sugar
1 large egg
1 large egg yolk
2 tsp. vanilla extract
3 cups all-purpose flour
1 tsp. baking powder
¾ tsp. salt
¼ tsp. baking soda
1 cup white chocolate chunks
½ cup chopped dried cherries
½ cup chopped pecans
white chocolate chips, for melting
maraschino cherries for topping
Instructions
Preheat oven to 375°. Mix brown sugar, granulated sugar, Country Crock® spread, egg, egg yolk and vanilla into a large bowl until well mixed. Stir in flour, baking powder, salt and baking soda until blended (dough will be soft and creamy).
Stir in white chocolate, cherries and pecans. Drop dough by rounded tablespoonfuls onto ungreased baking sheets 3-inches apart. Bake 10 to 12 minutes until edges are lightly golden. Cool 1 minute on wire rack; remove from baking sheets and cool completely.
Once cookies are cooling, carefully press indents into the top of each cookie using your finger. This will be for the cherries. Once the cookies are cooled completely, top each with a maraschino cherry that has been patted dry with a paper towel.
In a heat proof glass bowl over a pot of gently simmering water, melt one bag of white chocolate chips on low heat. Stir frequently until chips are completely melted. Transfer white chocolate to a large piping bag or plastic Ziploc bag and cut off the tip with scissors. Drizzle cookies with white chocolate. Allow chocolate to cool and harden before serving or stacking. Enjoy!
Freutcake https://www.freutcake.com/