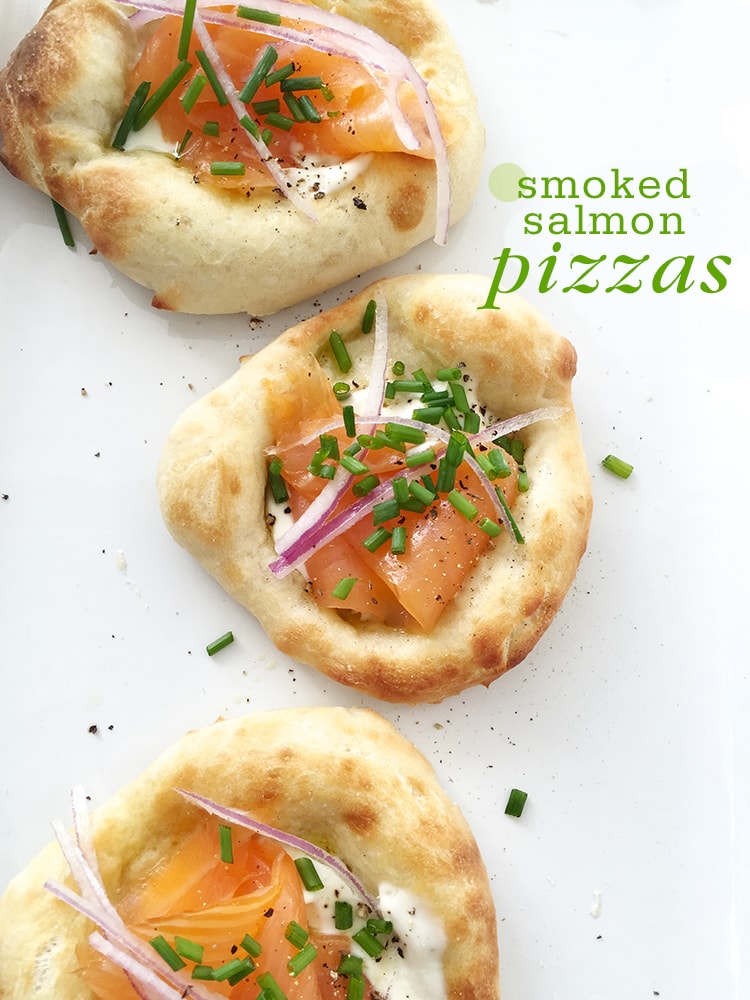 No plans but suddenly feel like doing something festive tonight for New Year's Eve? We've got you covered, girl! These fast and easy 5-Ingredient Smoked Salmon Pizzas are all class and no fuss.
You've probably seen partygoers getting all shmancy in movies eating caviar and bellinis to ring in the New Year. Boring! This recipe is WAY more delicious, ridiculously satisfying and perfect for last-minute celebrations.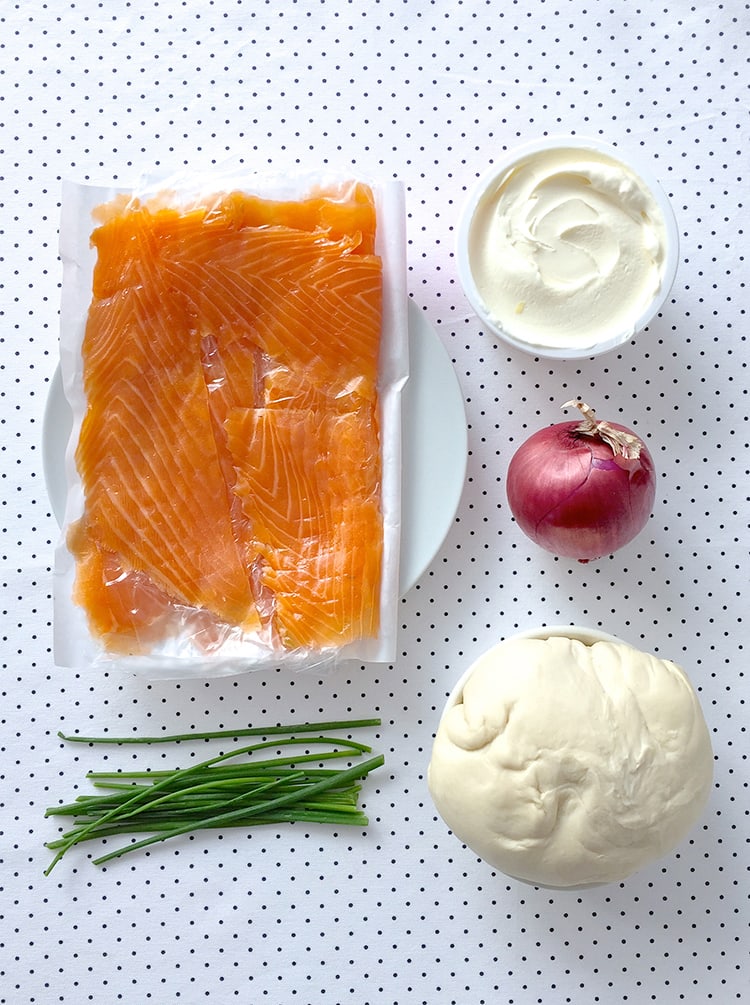 Your key ingredient: Store-bought pizza dough. My favorite kind comes straight from the pizza parlor. Walk on in and ask for a pound—they'll sell it to you, promise (and you might as well get a slice to snack on while you're at it)! Many grocery stores sell fresh pizza dough now, too! You'll find it wrapped up in a little plastic bag in the refrigerator section. Just ask!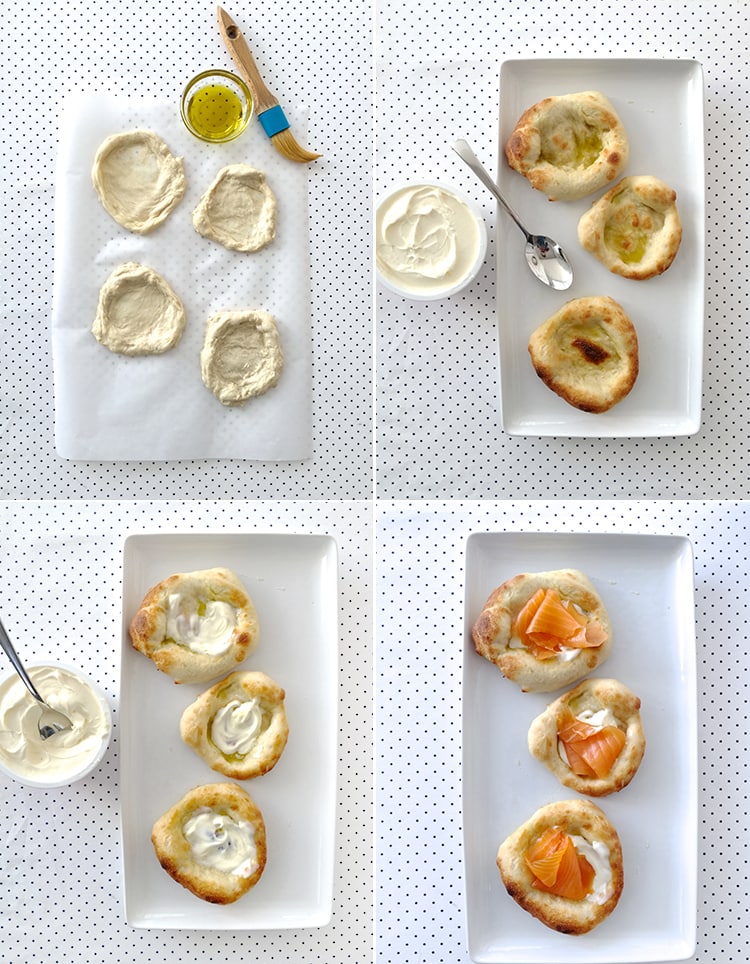 Now let's talk toppings. You'll need smoked salmon or lox—duh!—and luckily these have become a bit of a grocery-store staple, as well. You'll either find them packaged in those flat vacuum-sealed containers or you can have it sliced at the deli or fish counter…at least that's how I get it from our grocery store in Brooklyn. Don't like fish? Try the same recipe topped with thinly sliced cooked beets instead. Either way, these pizzas are perfect with all-you-can-drink champagne and a bunch of good friends.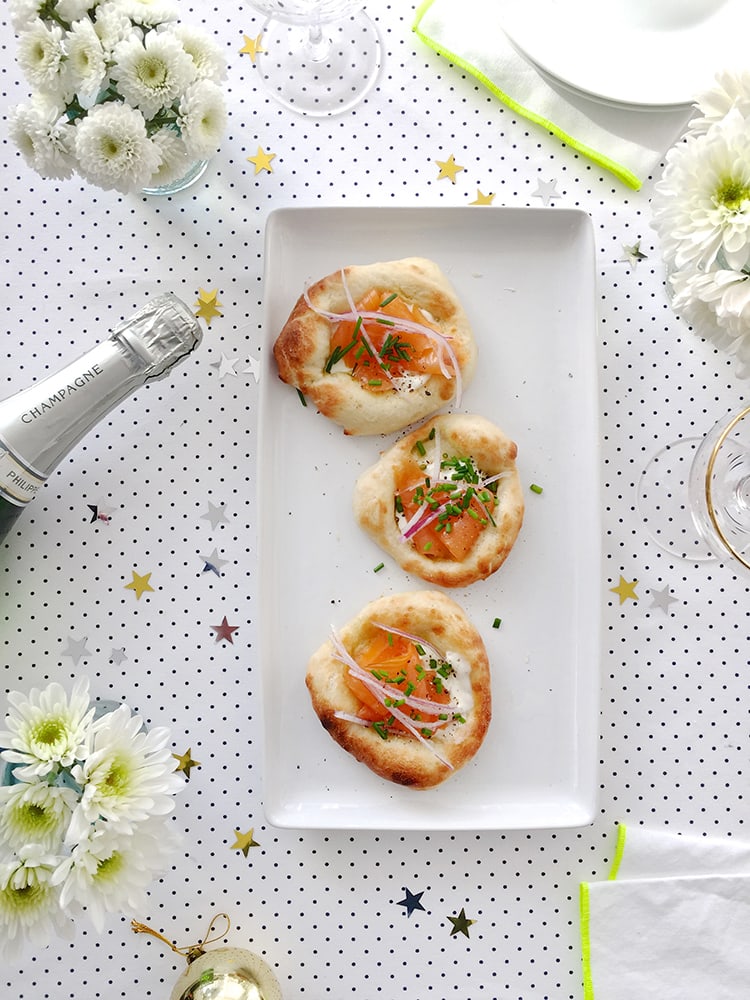 One last thing: Red onions! Since you're going to be getting a smooch at midnight, soak them in cold water for at least 10 minutes before using. You'll get the same sweet red onion flavor without the kiss-killing sharpness. Smooch on ladies! Smooch on.
More Pizza Recipes You'll Love!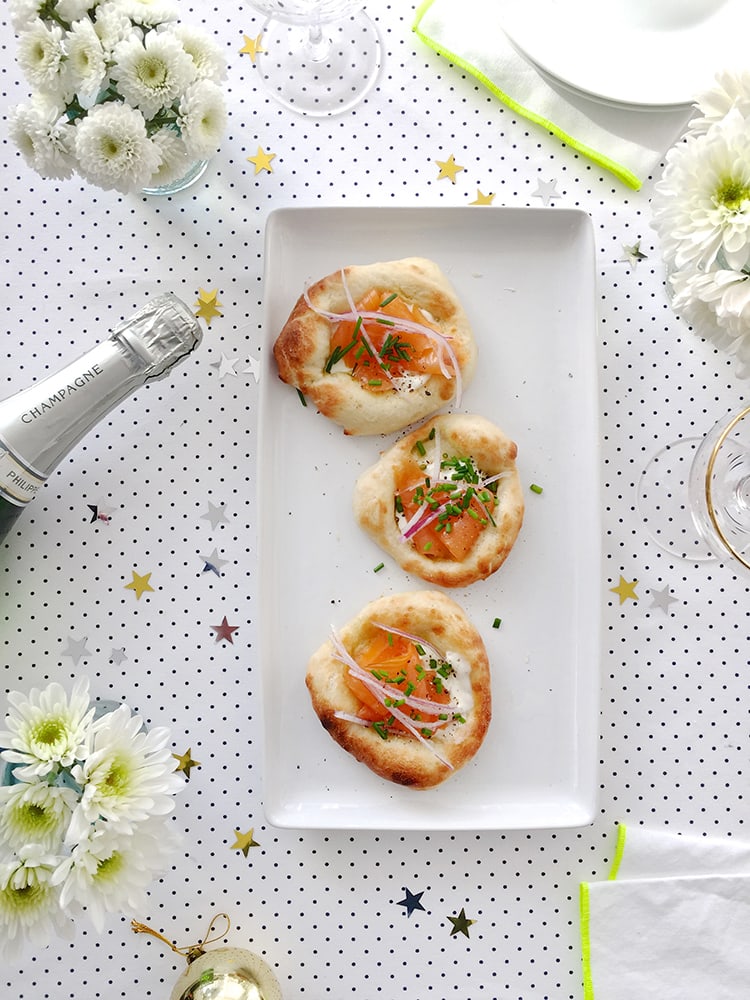 5-Ingredient Smoked Salmon Pizzas
2014-12-29 23:18:07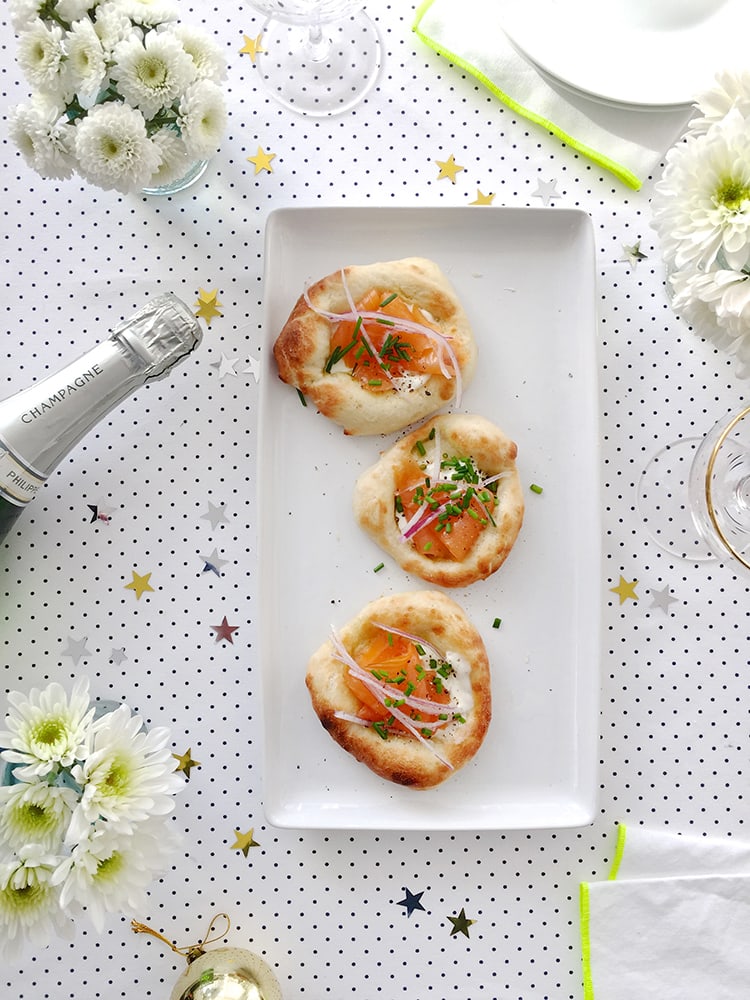 Serves 4
Ingredients
1 pound pizza dough
1 small red onion, very thinly sliced
1/2 pound thinly sliced smoked salmon, torn into pieces
Crème fraîche or sour cream
Snipped chives, for topping
PANTRY STAPLES: Olive oil, salt and pepper
Instructions
Put an upside down rimmed baking sheet in the oven and preheat to 500˚F—yeah that's right!
Pinch off a small handful of pizza dough, then roll and stretch into 4-to-5-inch circle with the edges slightly thicker than the center; transfer to one large sheet parchment paper. Repeat with remaining dough (you may need to work in batches). Put the red onion in a bowl of cold water.
Brush pizzas with olive oil and sprinkle with salt. Carefully remove the preheated upside-down baking sheet from the oven. Slide the pizzas on the parchment paper onto the baking sheet; return to the oven and bake 5 minutes or until puffed and golden brown.
Top warm crusts with a few dollops of crème fraîche—let it get all melty and yummy! Top with smoked salmon, chives, few pieces of red onion and lots of freshly ground pepper.
Freutcake https://www.freutcake.com/