This year, in honor of St. Patrick's day, dress up your favorite cupcakes with lucky little rainbow made of sour ribbon accompanied by frosting clouds. The pot of gold at the end of the rainbow is the yellow cupcake of course!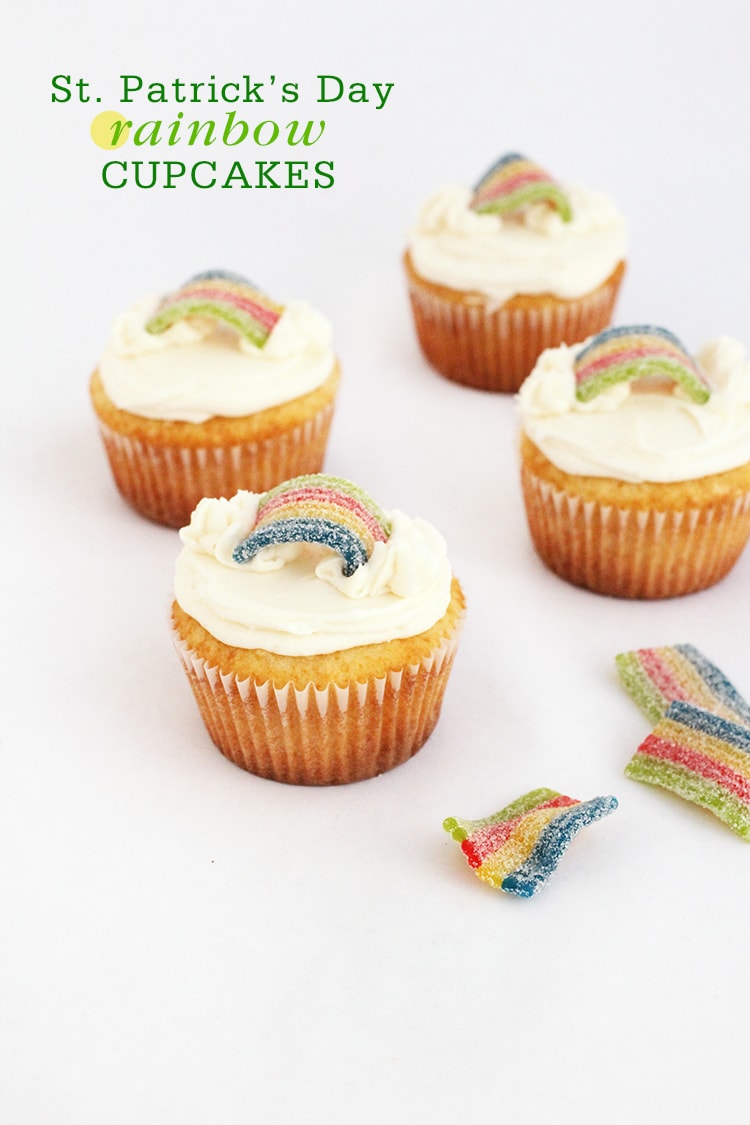 Here's what you need to decorate St. Patrick's Day Rainbow Cupcakes:
yellow cupcakes – recipe follows
fluffy white frosting – recipe follows
sour rainbow ribbon cut into 1- 1 1/2″ strips
piping bag
round tip
star tip
small flat spatula
To decorate:
1. Fit a large piping bag with a round tip and fill with white frosting. Pipe frosting onto cupcake in a flat spiral.
2. Using a small spatula or butter knife, smooth frosting out to make a flat surface.
3. Attach a small star tip to your piping bag. Pipe two clusters of three little clouds about 1″ apart. This will be the base that holds the mini rainbows.
4. Bend a 1-1 1/2″ piece of sour rainbow ribbon into an arch and nestle it down into the cloud clusters to secure.
Note: You may need to bend the sour candy a few times or even roll it first in order for it to hold it's rainbow shape.

Don't have time to make cupcakes and frosting from scratch? Buy a boxed-mix or a dozen premade store-bought cupcakes and simply decorate them. This would be the perfect treat for little leprechans to take to school on St. Patrick's day or an fun way to celebrate the holiday with family and friends at home.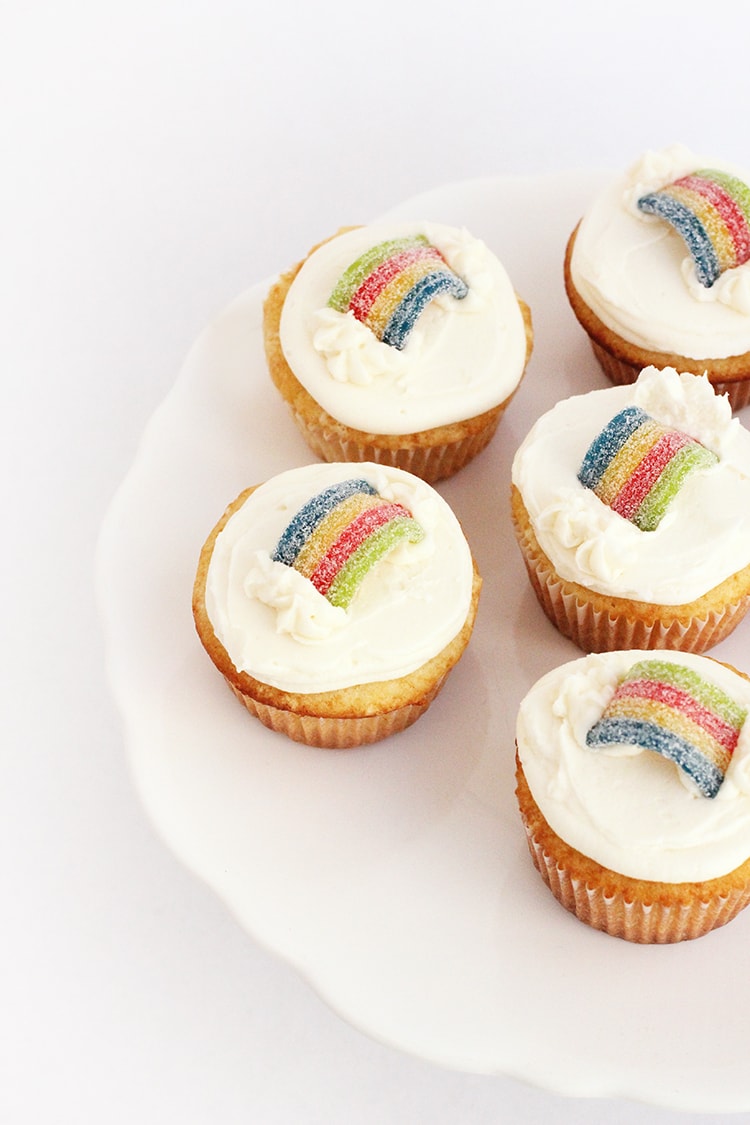 photos by Leah Bergman
Yellow Cupcakes – Martha Stewart
12 cupcakes
1 1/2 cups all-purpose flour (spooned and leveled)
1 1/2 teaspoons baking powder
1/2 teaspoon salt
1/2 cup milk
1 teaspoon pure vanilla extract
1/2 cup (1 stick) unsalted butter, room temperature
3/4 cup sugar
2 large eggs
Fluffy White Frosting
1/2 cup (1 stick) unsalted butter, room temperature
1/2 cup Crisco, vegetable shortening
3-4 cups confectioners' sugar
1/4 cup milk
1 teaspoon vanilla extract
rainbow sour candy ribbon- decoration
Directions:
1. Preheat oven to 350 degrees; line the cups of a standard (12-cup) muffin tin with paper or foil liners. In a small bowl, whisk together flour, baking powder, and salt; set aside. In a liquid-measuring cup, mix milk and vanilla; set aside.
2. In a large bowl, with an electric mixer, beat butter and sugar until light and fluffy, 3 to 4 minutes. Add eggs one at a time, beating well after each addition. With mixer on low speed, add half of dry ingredients, followed by milk-vanilla mixture, then remaining dry ingredients. Do not overmix.
3. Divide batter evenly among prepared muffin cups (a 2-ounce or 1/4-cup ice-cream scoop is good for this).
4. Place tin on a rimmed baking sheet; bake until a toothpick inserted in center of a cupcake comes out clean, 20 to 25 minutes. Cool cupcakes 5 minutes in tin, then remove and cool completely on a rack before frosting.
5. Prepare frosting: In a medium bowl, with an electric mixer, beat butter, Crisco, confectioners' sugar, milk, and vanilla extract until smooth. Mix in up to 1/2 cup more sugar or a few more teaspoons of milk as necessary to achieve a spreadable consistency.
6. Decorate cupcakes (see above) and enjoy!