The Best Chocolate Chip Pumpkin Bread requires two things: a super moist and tender texture and tons of chocolate chips! This pumpkin bread is an old favorite of mine that I've been baking up since I started this blog back in 2010 and even today, it remains one of my favorite recipes. Never mess with a tried and true classic.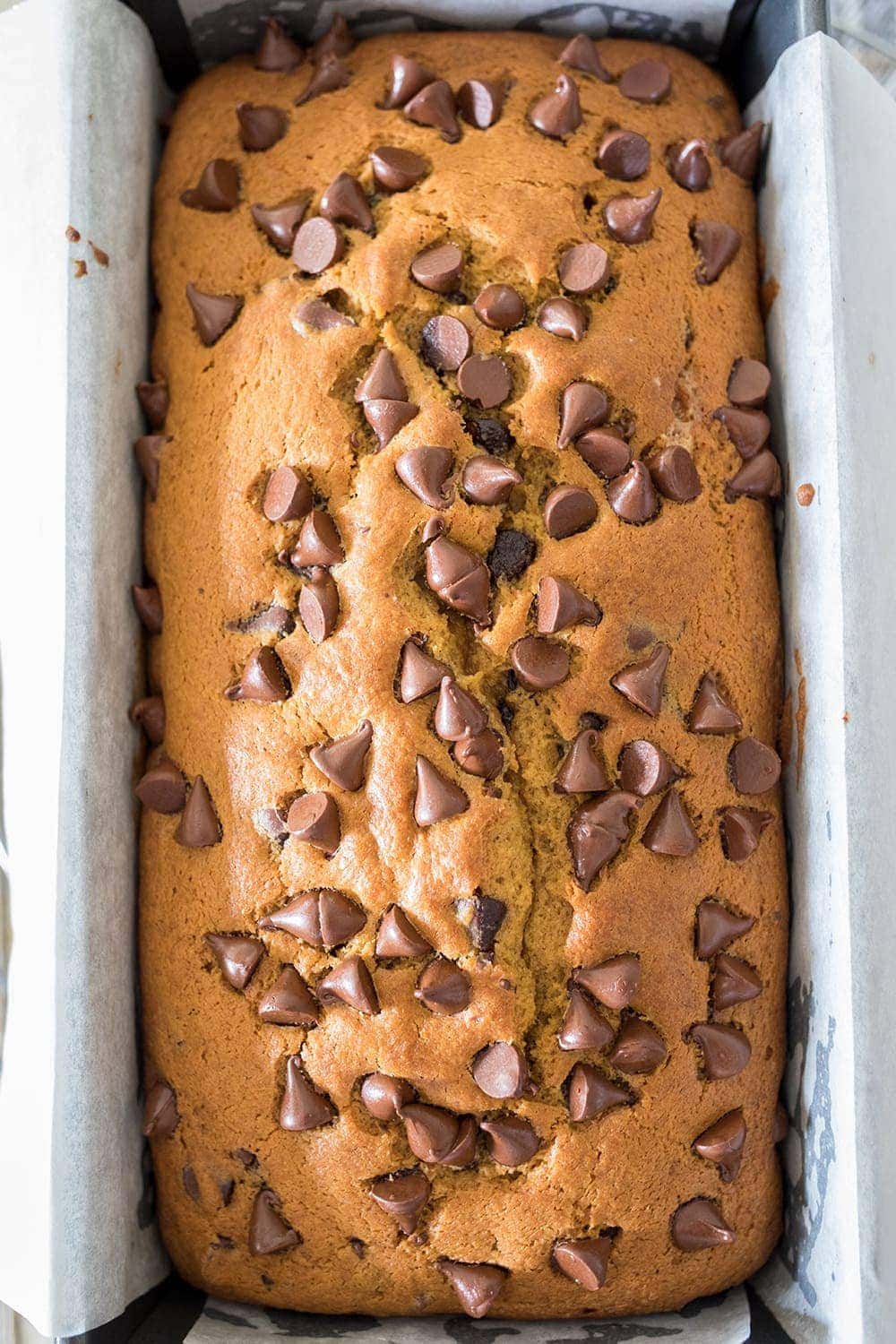 The Best Chocolate Chip Pumpkin Bread
When do you start stocking up on canned pumpkin? I usually find myself slowly squirreling away cans of organic pumpkin puree in September. One can in the cart every time I grocery stock until my cabinet is stocked through Thanksgiving.
Not that I necessarily worry about a canned pumpkin shortage, although it's entirely possible, however I make this recipe for The Best Chocolate Chip Pumpkin Bread for pretty much any occasion from September through November. Friend coming to visit, I make this recipe. Need something to bring to dinner? Pumpkin bread! It's always a crowd pleaser.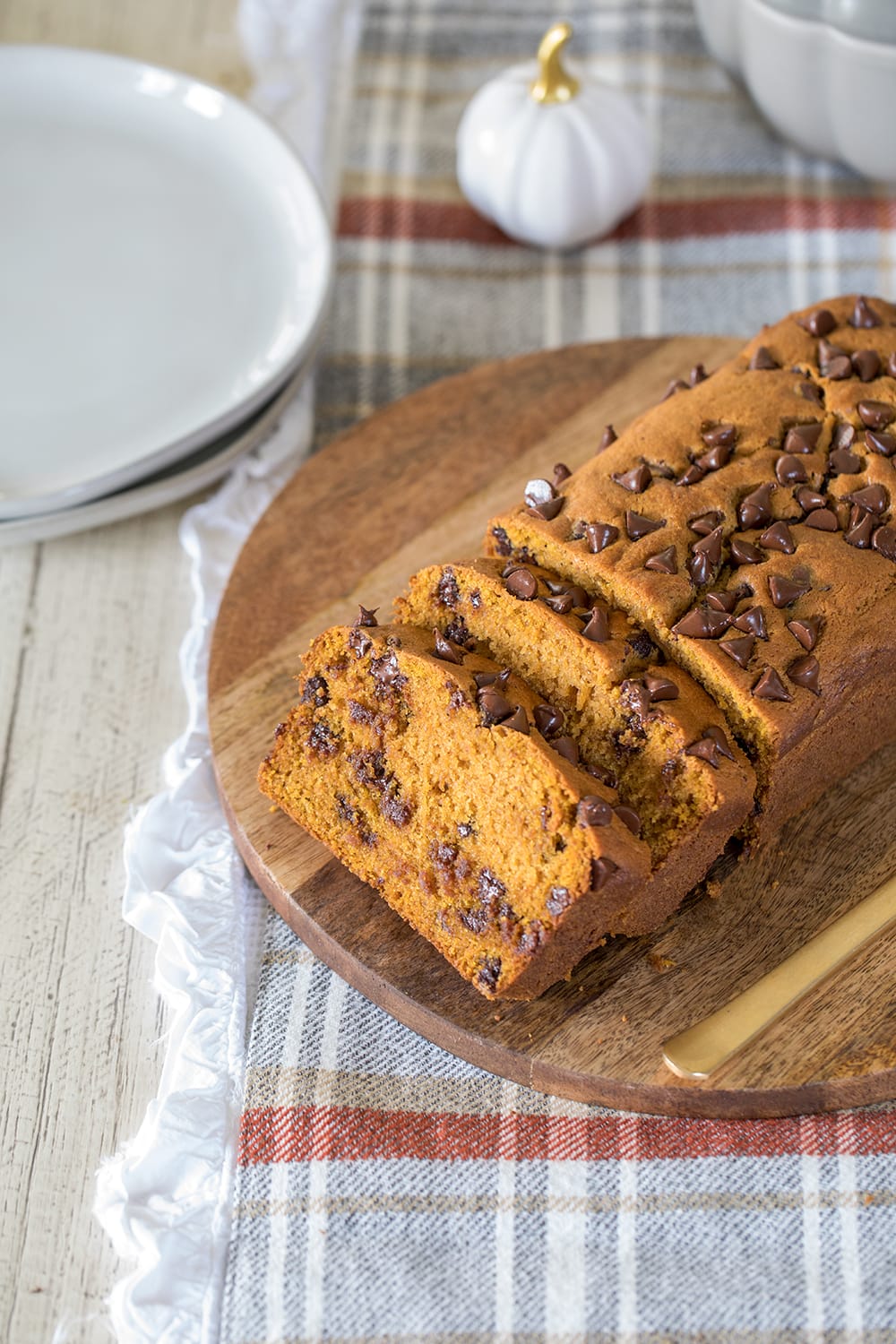 Sour Cream Pumpkin Bread
Looking back on my baking, quick breads were one of the first things I made that helped me gain confidence in the kitchen. They are simple to make and very consistent. I found through baking a lot of banana bread, that sour cream was the secret ingredient to moist quick breads so I added it to my pumpkin bread and never looked back! It adds a rich flavor, tons of moisture and ensures a tender loaf. What could be better than that?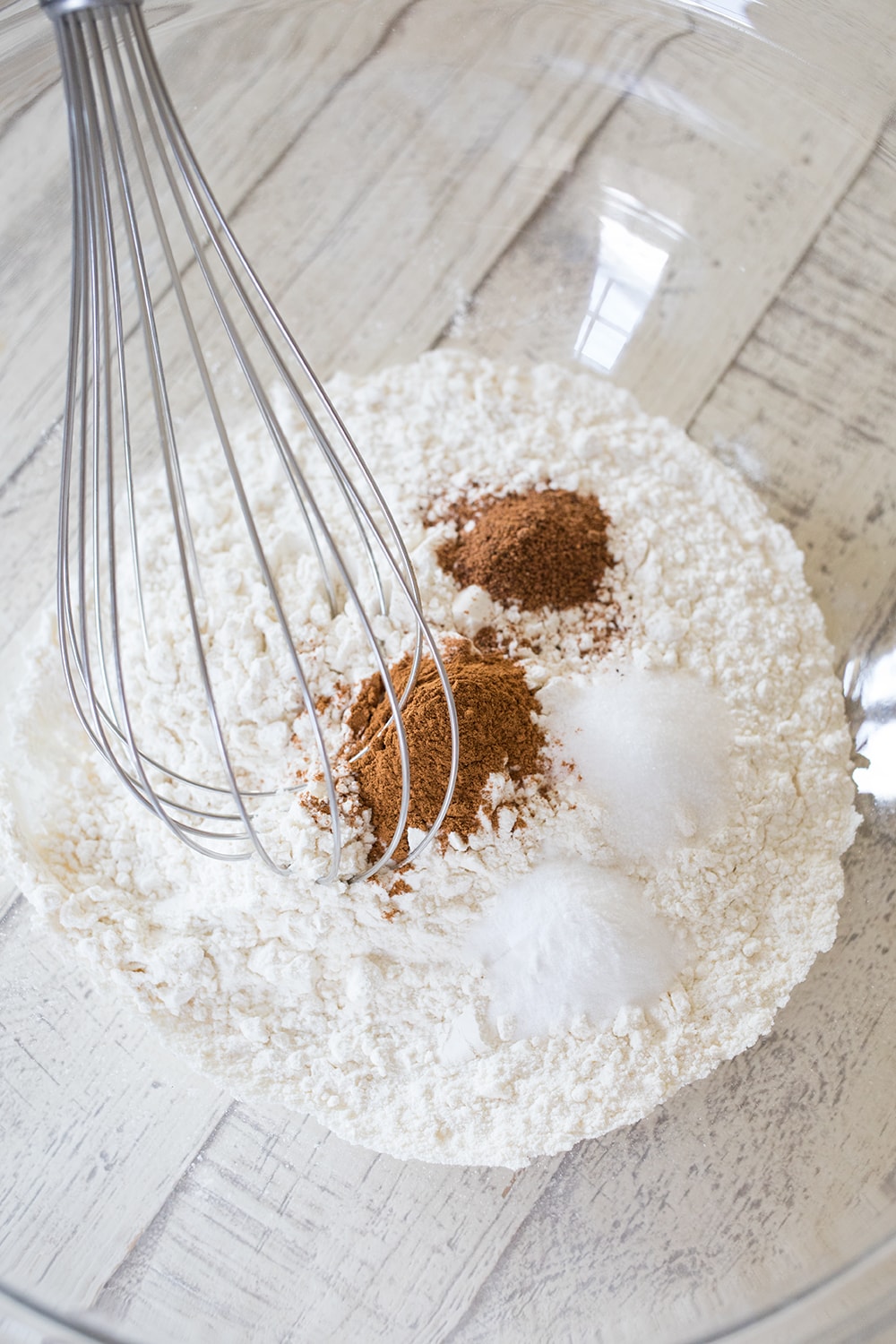 Homemade Pumpkin Spice for Baking
When it comes to pumpkin spice, you either love it or hate it. Cinnamon, nutmeg and clove are the classic three spices in this blend and create that well known and loved flavor. Personally, I leave out clove in this recipe and bump up the nutmeg just slightly. The combination of cinnamon and nutmeg create a sweet fall flavor that doesn't overpower the pumpkin or the richness from the sour cream. If you are a clove lover you could absolutely add a ¼ teaspoon to this recipe but I don't think it's necessary.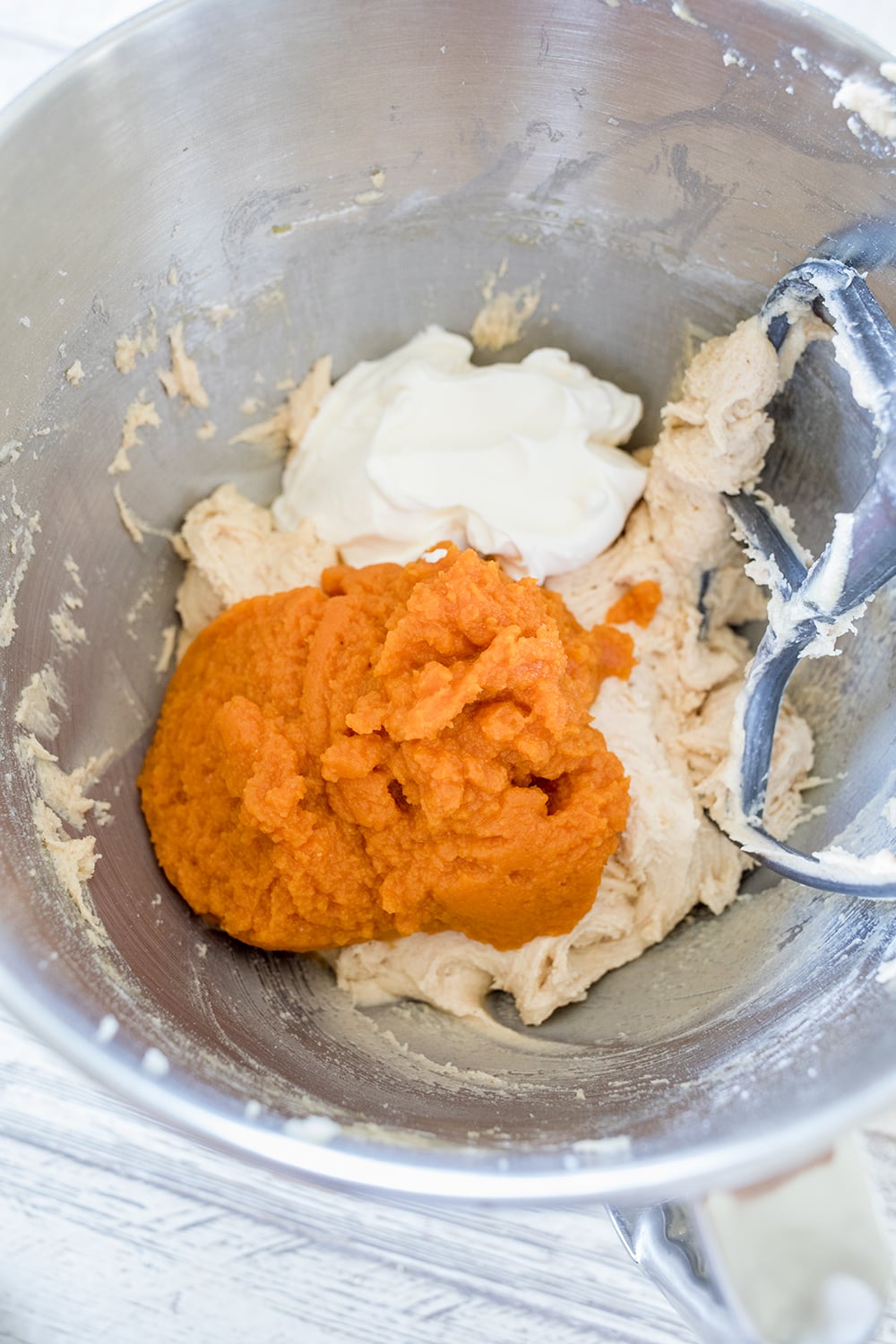 Sour cream and pumpkin puree both add so much moisture to the batter which is why this pumpkin bread stays moist for so long. Keep your bread wrapped tightly in plastic wrap or in a large ziplock bag and your chocolate chip pumpkin bread will be fresh and moist for days! I keep mine in the refrigerator and but it's fine at room temperature for a couple days as well...if it lasts that long.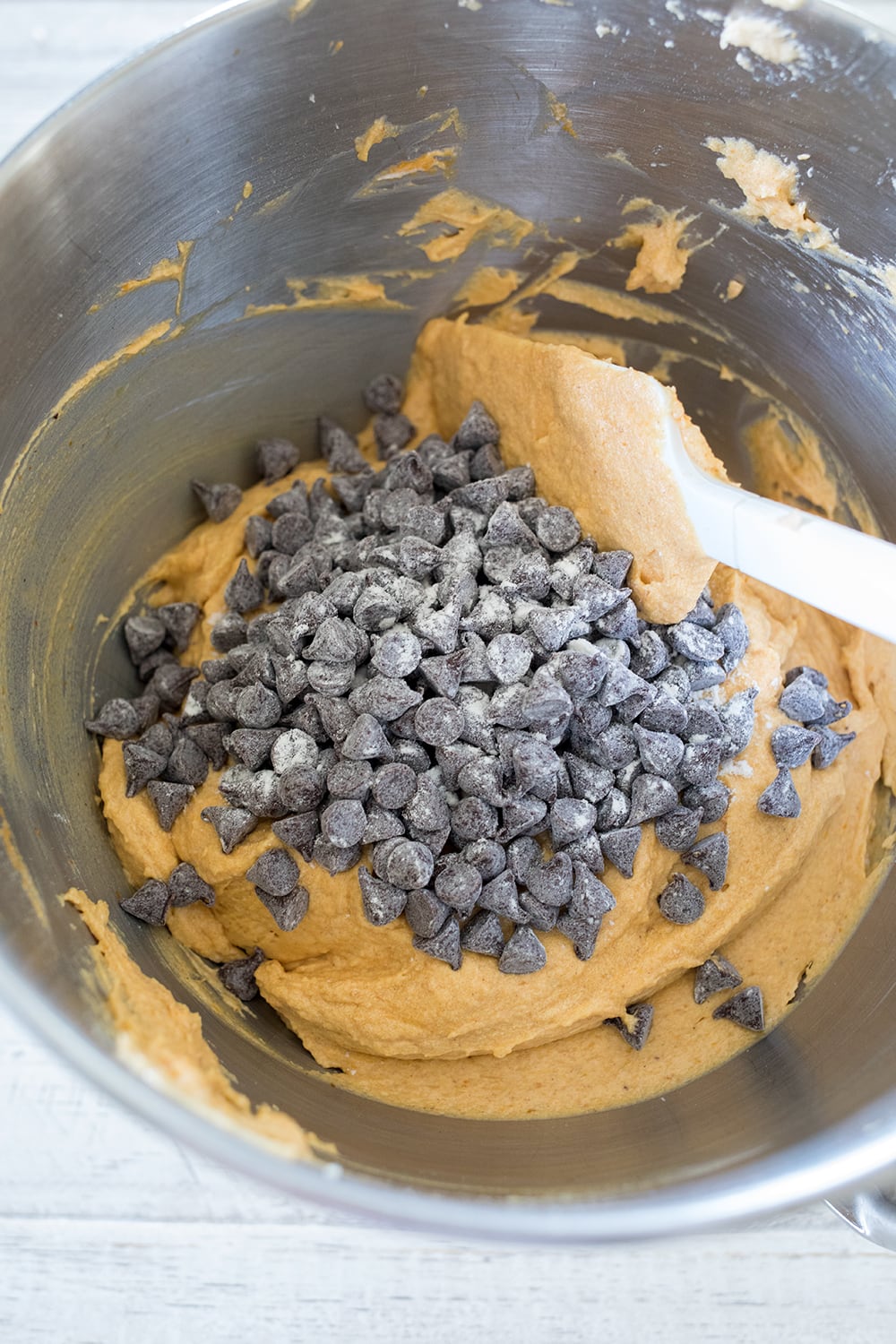 How to Keep Chocolate Chips from Sinking
How to keep chocolate chips from sinking during baking is actually pretty easy! First of all, this technique does not work on extra large chocolate chips, I've tried, but it works well on standard chocolate chips. First toss the chips in a small dusting of all purpose flour, about 1 teaspoon will do for this recipe, and then fold them into your pumpkin bread batter gently. The flour helps the chips remain suspended in the bread while it bakes.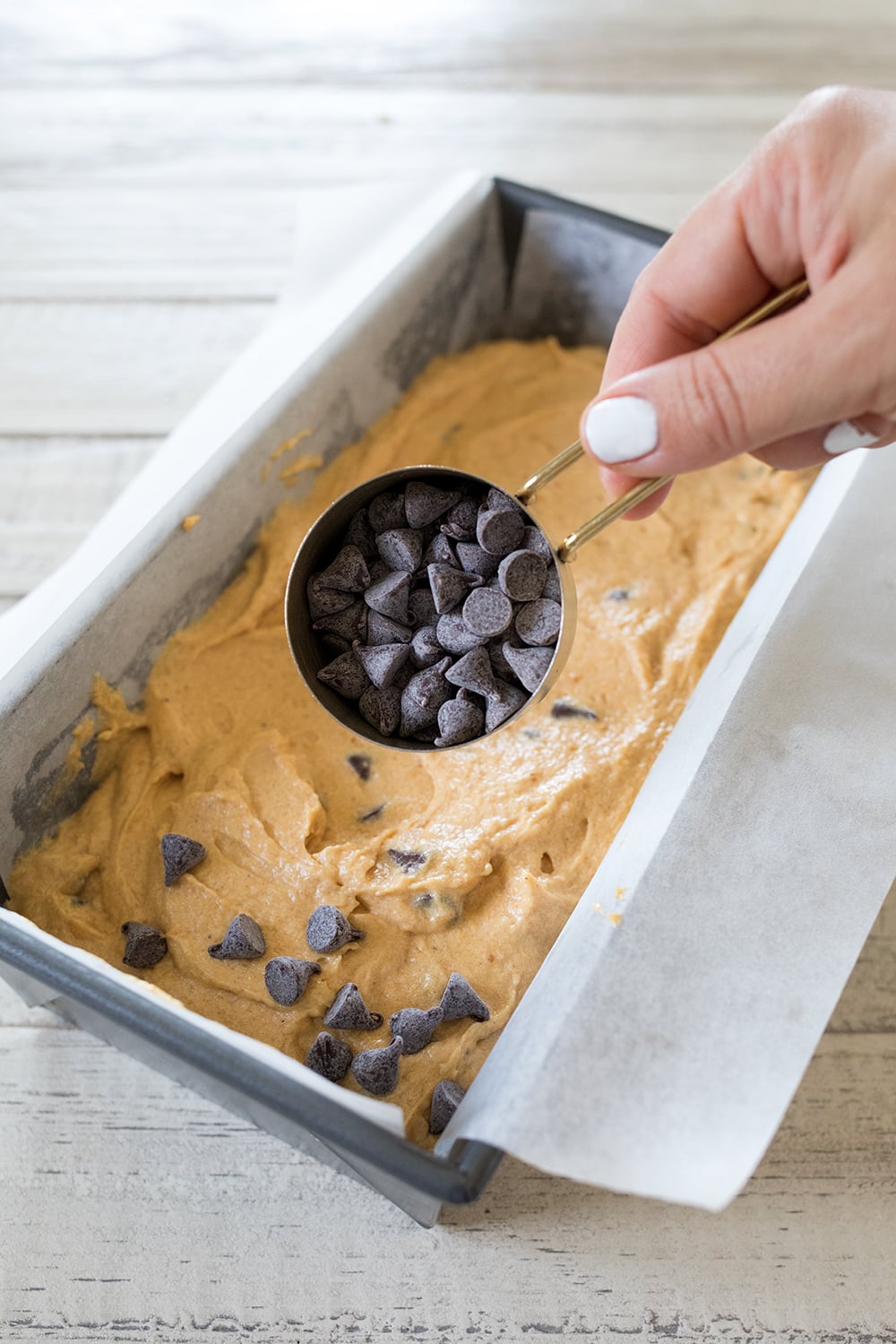 To really take this chocolate chip pumpkin bread over the top, I finish it with another sprinkling of chocolate chips over the batter before baking. The chips make the loaf extra pretty and add even more chocolate flavor. Double chocolate chip pumpkin bread might have been a better name for this recipe!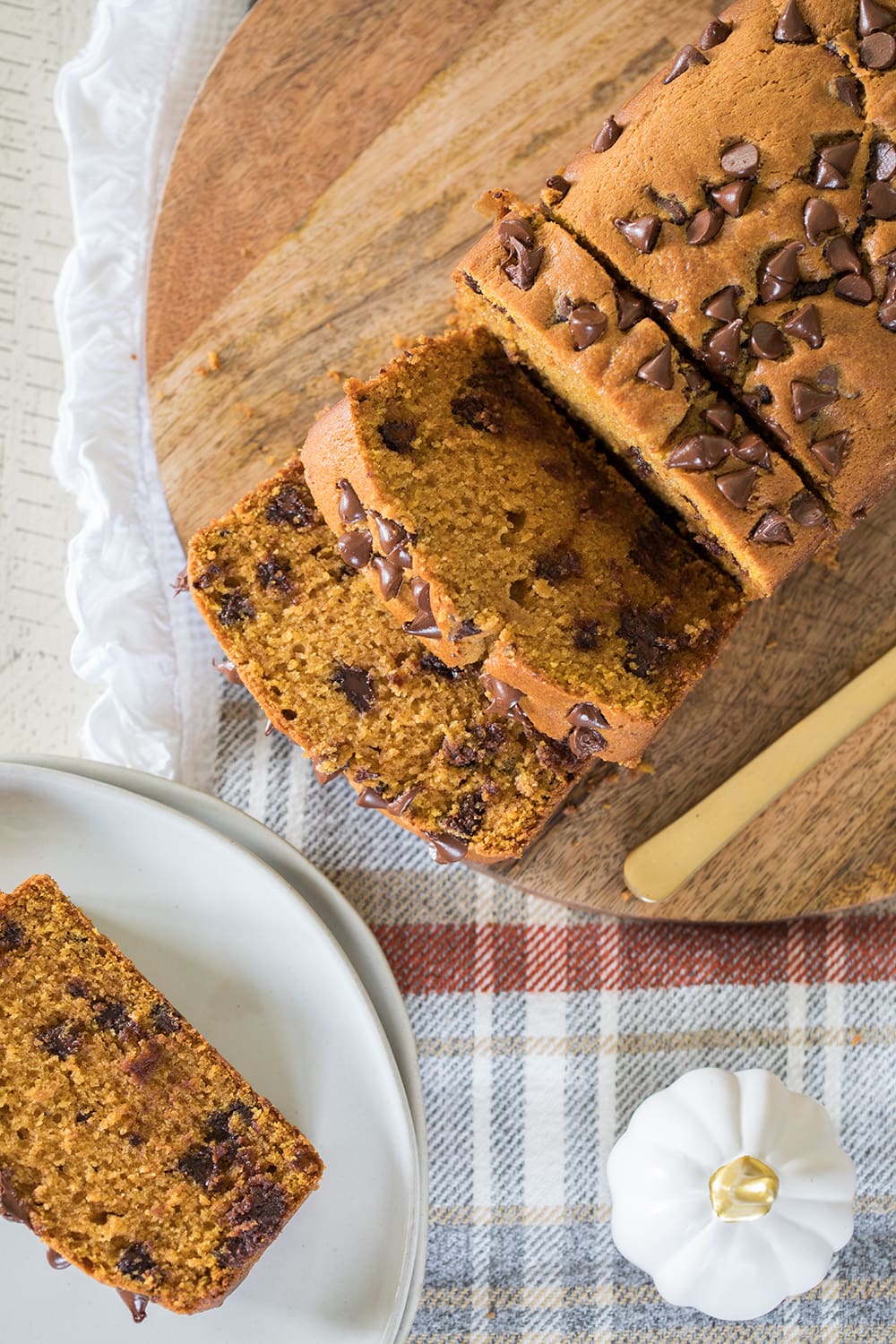 Favorite Pumpkin Recipes
What is your favorite pumpkin recipe to make this time of year? If you are looking for more pumpkin recipes you might like to try these: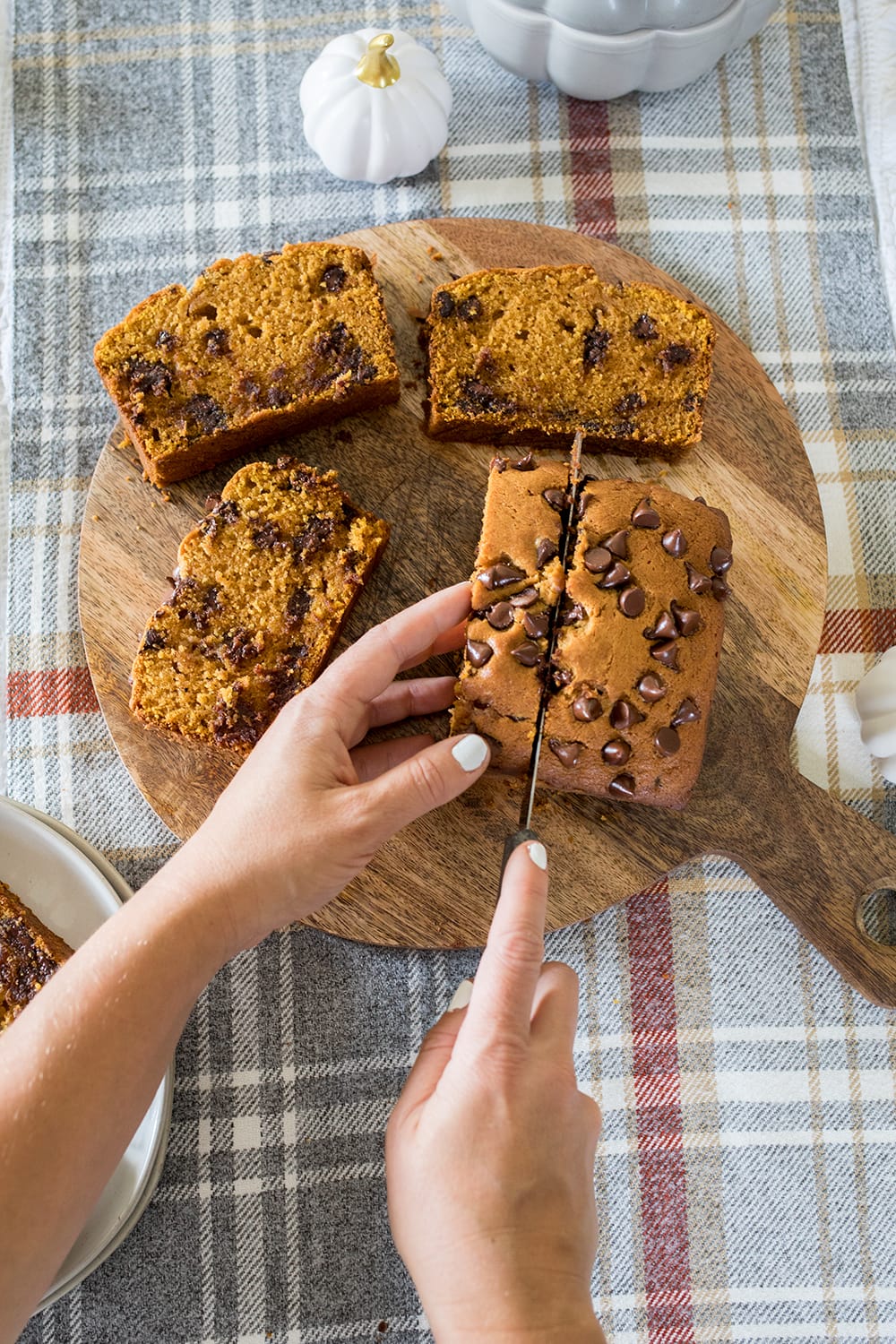 After your bread is completely cooled, it's best to cut it with a sharp serrated knife to keep the bread from being crushed. Serve for a sweet snack, dessert, or even breakfast if you want a real treat. I hope you will try my favorite chocolate chip pumpkin bread recipe and let me know what you think. Happy pumpkin season!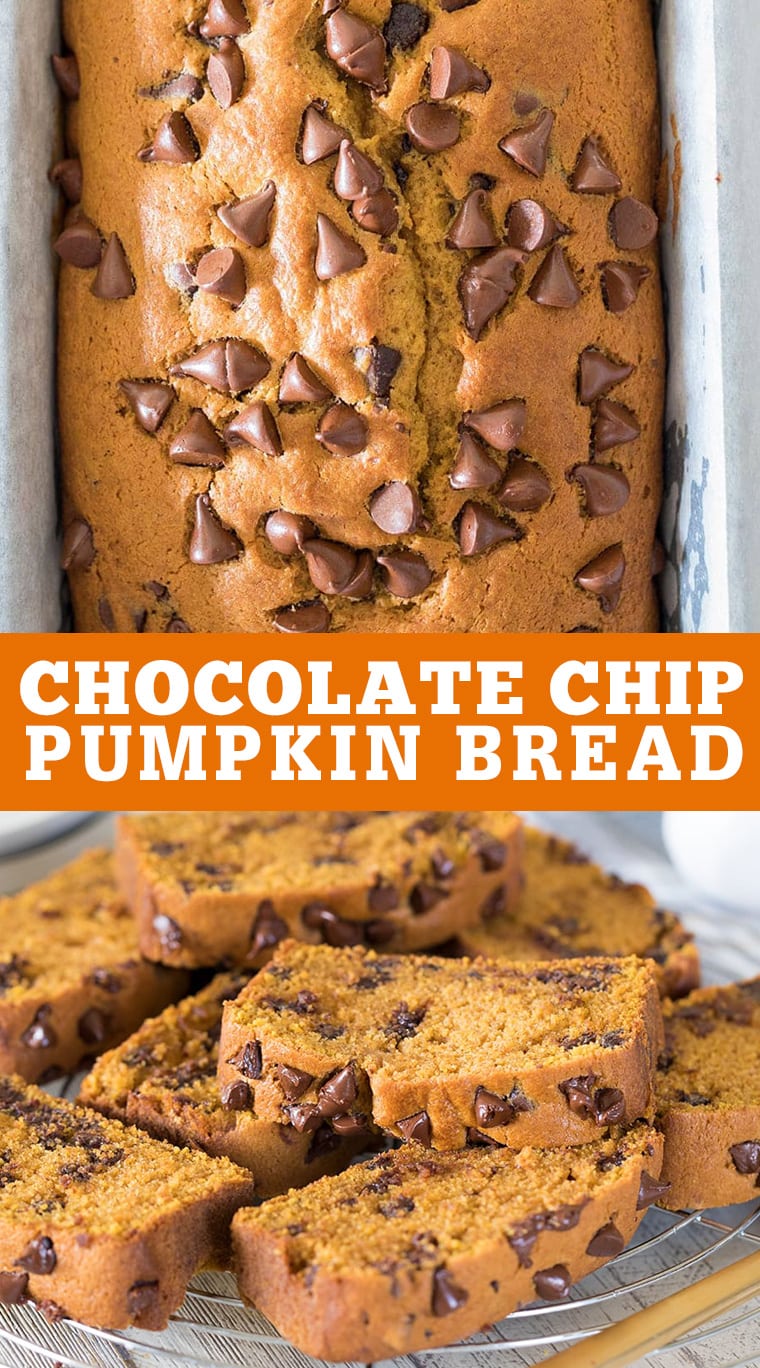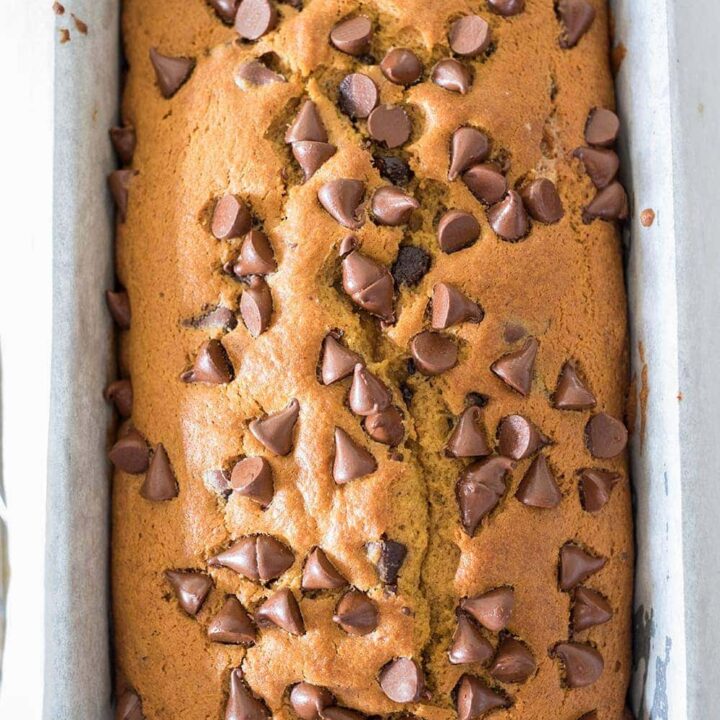 The Best Chocolate Chip Pumpkin Bread
Total Time:
1 hour
20 minutes
The best moist pumpkin bread made with sour cream and lots of chocolate chips!
Ingredients
½ cup (1 stick) butter, at room temperature, plus more for pan
1 cup granulated sugar
2 large eggs
1 ½ cups all purpose flour + 1 teaspoon reserved for chocolate chips
1 teaspoon baking soda
1 teaspoon salt
1 cup pumpkin puree
½ cup sour cream
1 teaspoon vanilla
1 teaspoon cinnamon
½ teaspoon nutmeg
1 cup semi sweet chocolate chips + ¼ cup reserved for the top
Instructions
Preheat oven to 350 degrees. Butter and line a loaf pan with parchment; set aside.
In an electric mixer fitted with the paddle attachment, cream butter and sugar until light and fluffy.
Add eggs, and beat to incorporate.
In a medium bowl, whisk together flour, baking soda, cinnamon, nutmeg and salt. Add to the butter mixture, and mix until just combined.
Add pumpkin, sour cream, and vanilla; mix to combine.
Toss chocolate chips in 1 teaspoon flour and fold into the batter using a spatula or wooden spoon.
Pour batter into prepared pan and top with remaining ¼ cup reserved chocolate chips.
Bake 55-60 minutes (depending on your oven) or until a cake tester inserted into the center of the cake comes out clean. Let cool completely in the pan before removing and slicing. Bread should remove easily from the pan if pulled up and out using the parchment paper.
Nutrition Information:
Yield:

6
Serving Size:

1
Amount Per Serving:
Calories:

360
Total Fat:

8g
Saturated Fat:

4g
Trans Fat:

0g
Unsaturated Fat:

3g
Cholesterol:

73mg
Sodium:

596mg
Carbohydrates:

67g
Fiber:

3g
Sugar:

40g
Protein:

7g