I'm not head over heals in love with cinnamon but even I can't resist the deliciousness of a freshly fried, rolled in cinnamon-sugar, and dipped in chocolate, crispy hot churro. Is your mouth watering? The good news is, these Mexican fried fritters are easy to make at home. Look who just stepped up their Cinco de Mayo party!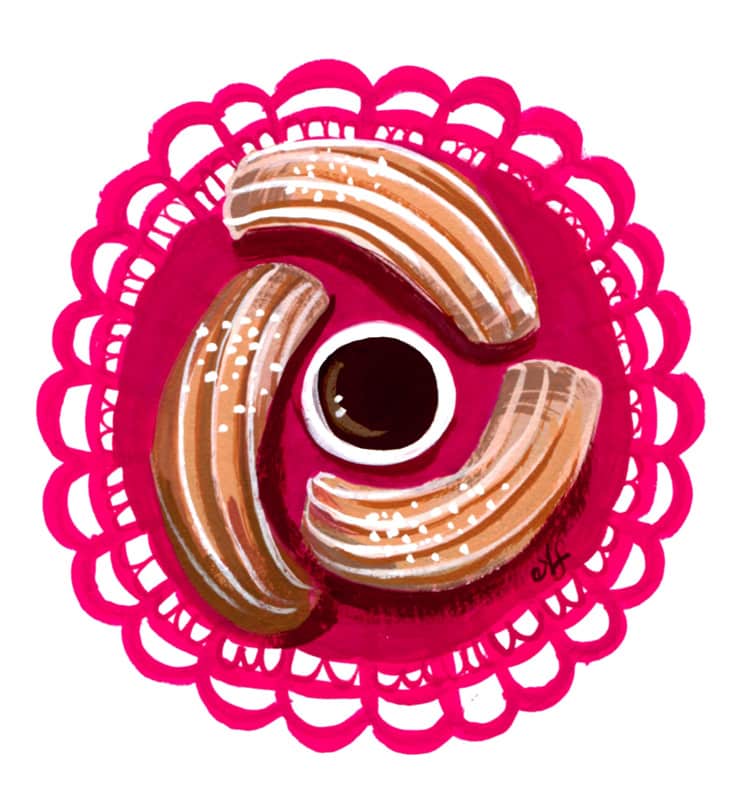 Illustration by Ann Shen for Freutcake
Easy Homemade Churros - via All Recipes
1 cup water
2 ½ tablespoons white sugar
½ teaspoon salt
2 tablespoons vegetable oil
1 cup all-purpose flour
2 quarts oil for frying
½ cup white sugar, or to taste
1 teaspoon ground cinnamon
Directions:
1. In a small saucepan over medium heat, combine water, 2 ½ tablespoons sugar, salt and 2 tablespoons vegetable oil. Bring to a boil and remove from heat. Stir in flour until mixture forms a ball.
2. Heat oil for frying in deep-fryer or deep skillet to 375 degrees F (190 degrees C). Pipe strips of dough into hot oil using a pastry bag. Fry until golden; drain on paper towels.
3. Combine ½ cup sugar and cinnamon. Roll drained churros in cinnamon and sugar mixture.
* Instructional video here.
Chocolate Dipping Sauce
3 ½ ounces dark chocolate, chopped
½ cup heavy cream
Directions:
1. Heat cream in a small sauce pan until small bubbles begin to form around edges of the pan. Do not boil.
2. In a bowl add chopped chocolate and pour hot cream over it to melt. Allow to sit a few minutes before stirring to combine.