Crisp and buttery, this homemade peanut brittle is easier to make that you might expect! You will love how quick this homemade candy comes together with just a few ingredients and no candy thermometer. Peanut Brittle makes a delicious handmade holiday gift for candy, or nut lovers.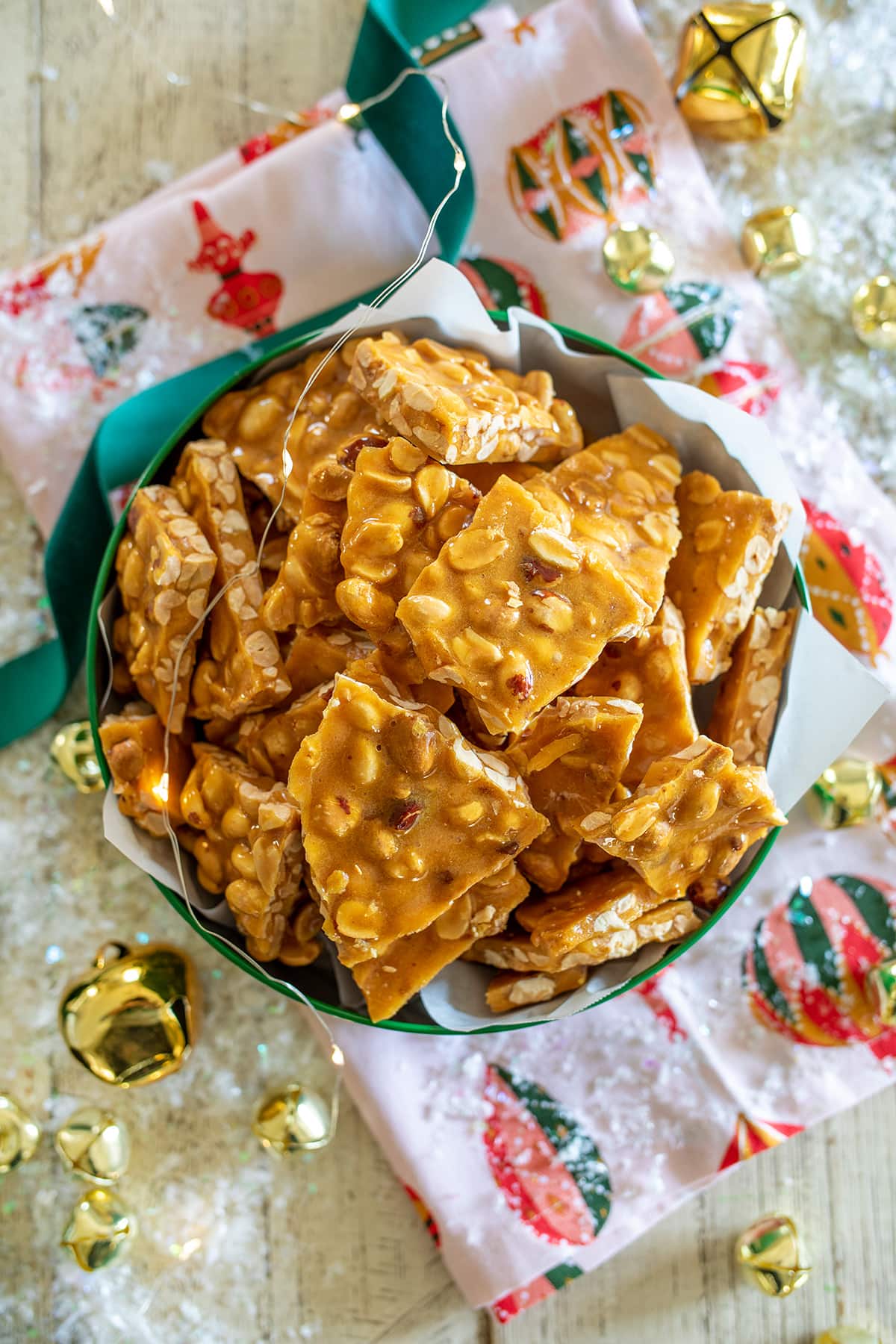 Easy Homemade Peanut Brittle Recipe
I started making homemade peanut brittle for friends and family over ten years ago and it's still one of my favorite Christmas Candy Recipes of all time. Perfect for adding to holiday cookie plates and tins along with other Christmas favorites like Old Fashioned Bourbon Balls and Chewy Ginger Molasses Cookies.
If you love making homemade Christmas treats for gifting, make sure to keep reading to the end of the post where I'll be sharing five more recipes from my Tastes of the Season friends!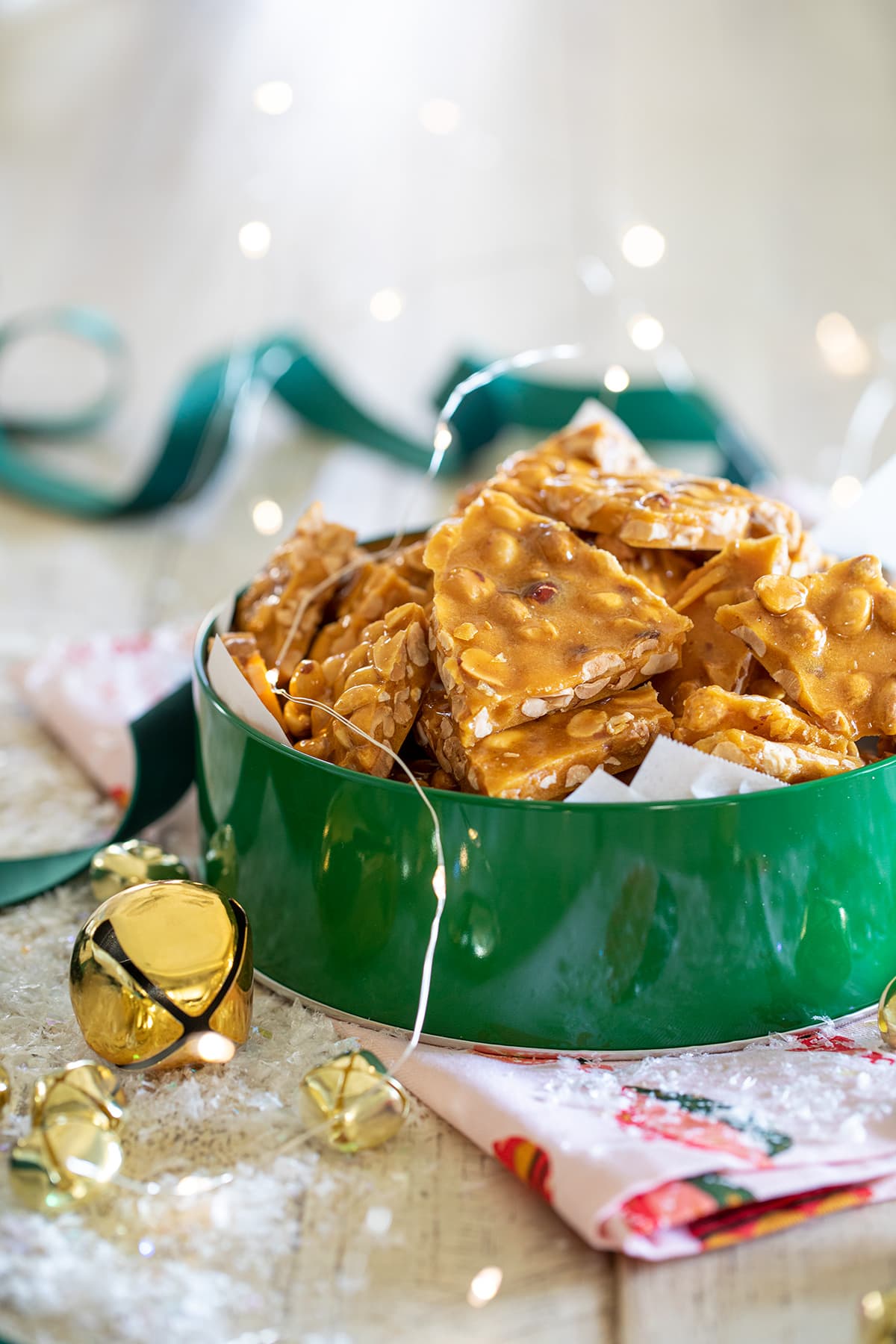 You are going to love how easy this brittle is to make, even for the unexperienced candy maker...I can say that because I am precisely that! My style of candy making is Easy Fudge and this brittle.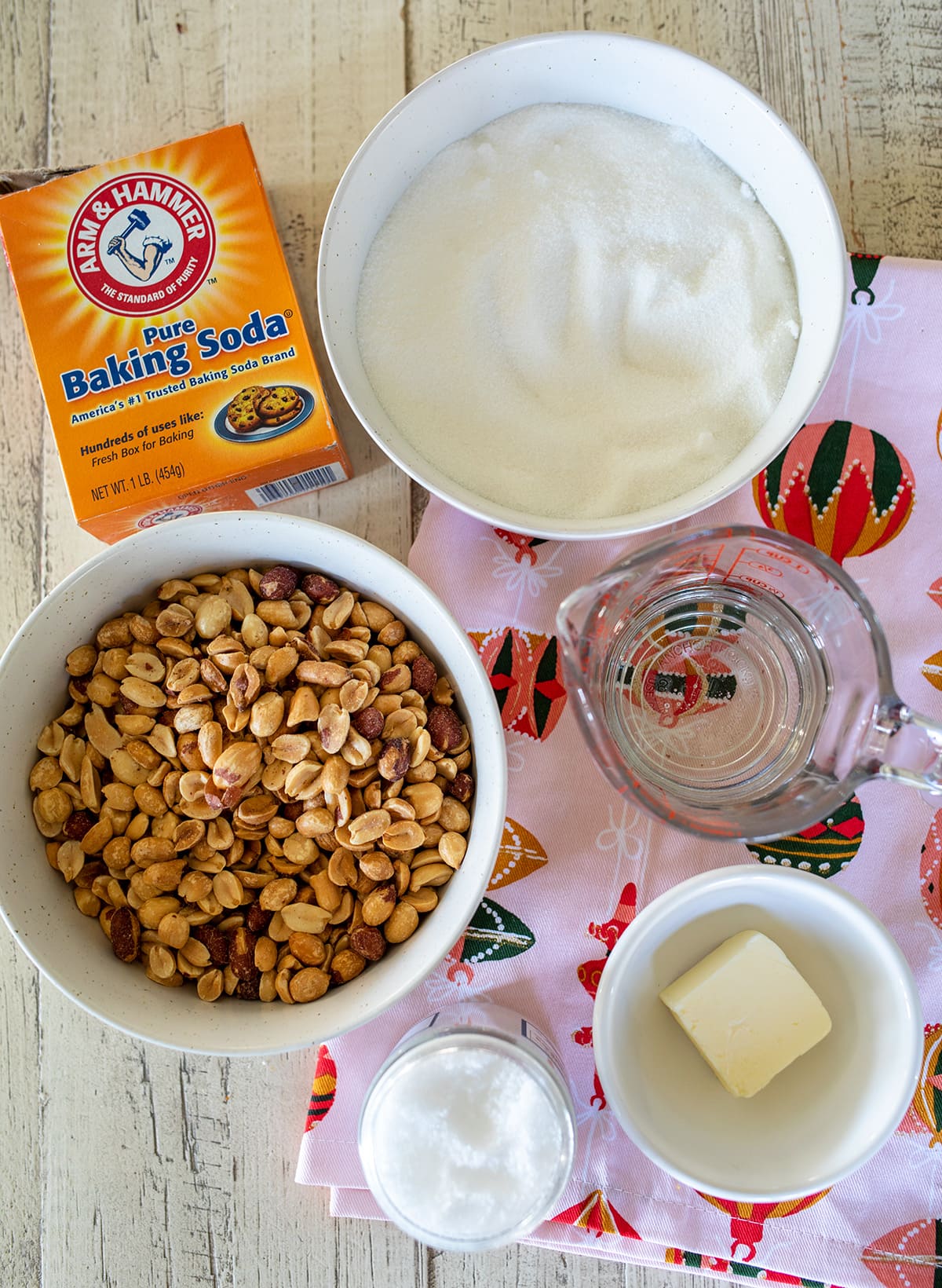 Ingredients in Homemade Peanut Brittle
Sugar - white sugar is the base for this brittle and makes the caramel.
light corn syrup - I use light Karo Corn Syrup for this recipe.
Kosher salt - this will enhance the flavor and balance the sweetness.
Butter - I use unsalted butter as we will be adding in our own salt and because salted butter usually has a higher water content.
Baking Soda - this is essential if you are making peanut brittle and not hard candy. This gives the brittle it's signature crispy texture.
Peanuts - salted dry-roasted peanuts. If you can find peanuts without the skin or remove them yourself, even better.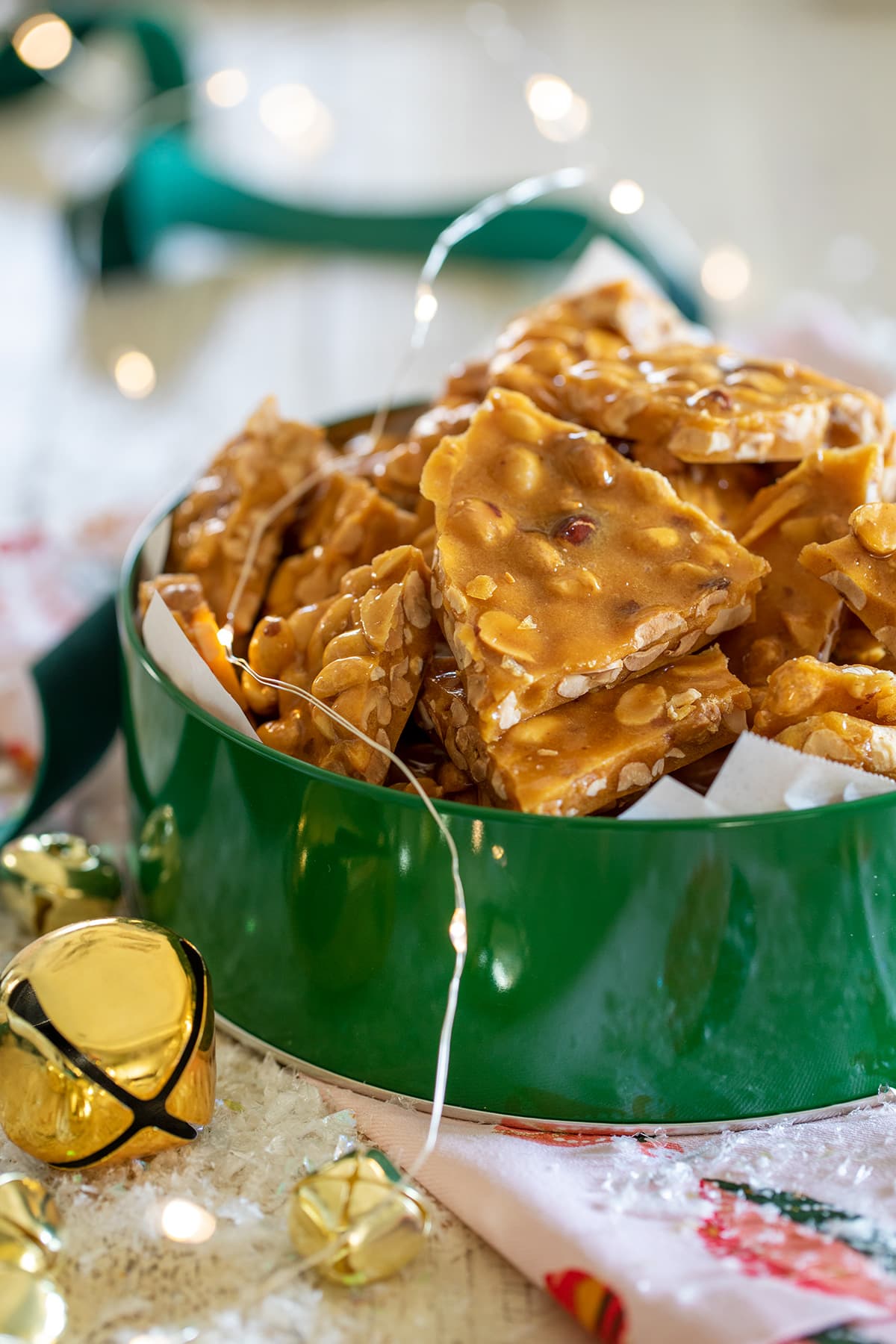 Lots of articles and recipes will tell you that you should not attempt to make peanut brittle or candy without a thermometer. While it does make the process more precise, I am here to tell you that I've been making it this way for years and it's really all about watching the sugar.
Let me walk you through the process! I will say, this is not a "walk away" recipe. For success, you need to watch your sugar cook the entire time. Let's make peanut brittle....
How to Make Homemade Peanut Brittle
TIP: Measure all of your ingredients and set them within reach of the stove. You will also want to have your pan ready, cooking spray and a heat proof spatula. This recipe moves quickly and having these tools at the ready will make it so that your brittle is a success every time.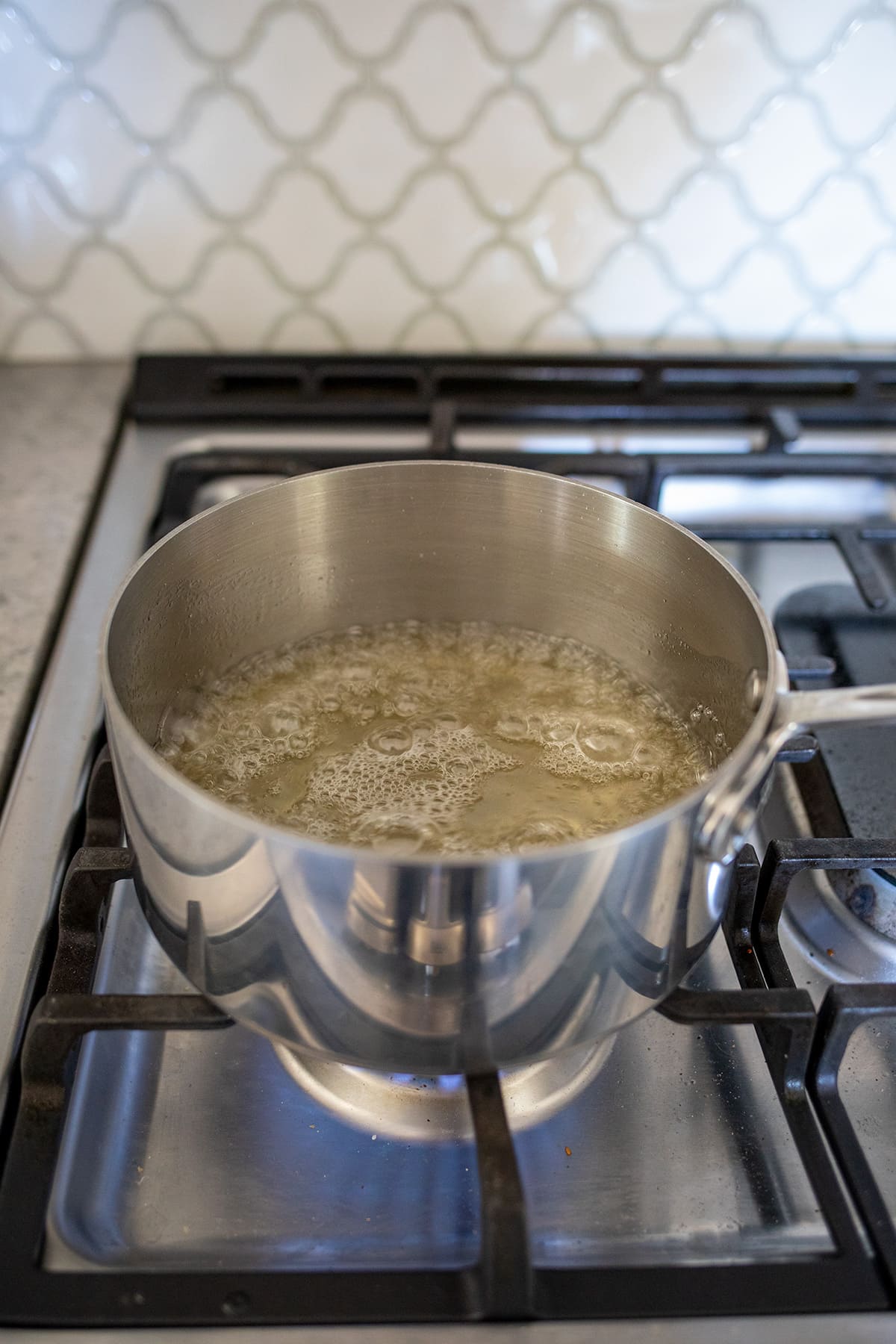 Step 1: In a medium saucepan, combine sugar, corn syrup, salt and 1 cup water and stir once to combine. Bring to a simmer over medium-high heat and leave it alone. During the cooking process, you will not stir the sugar mixture but watch it carefully as the color darkens.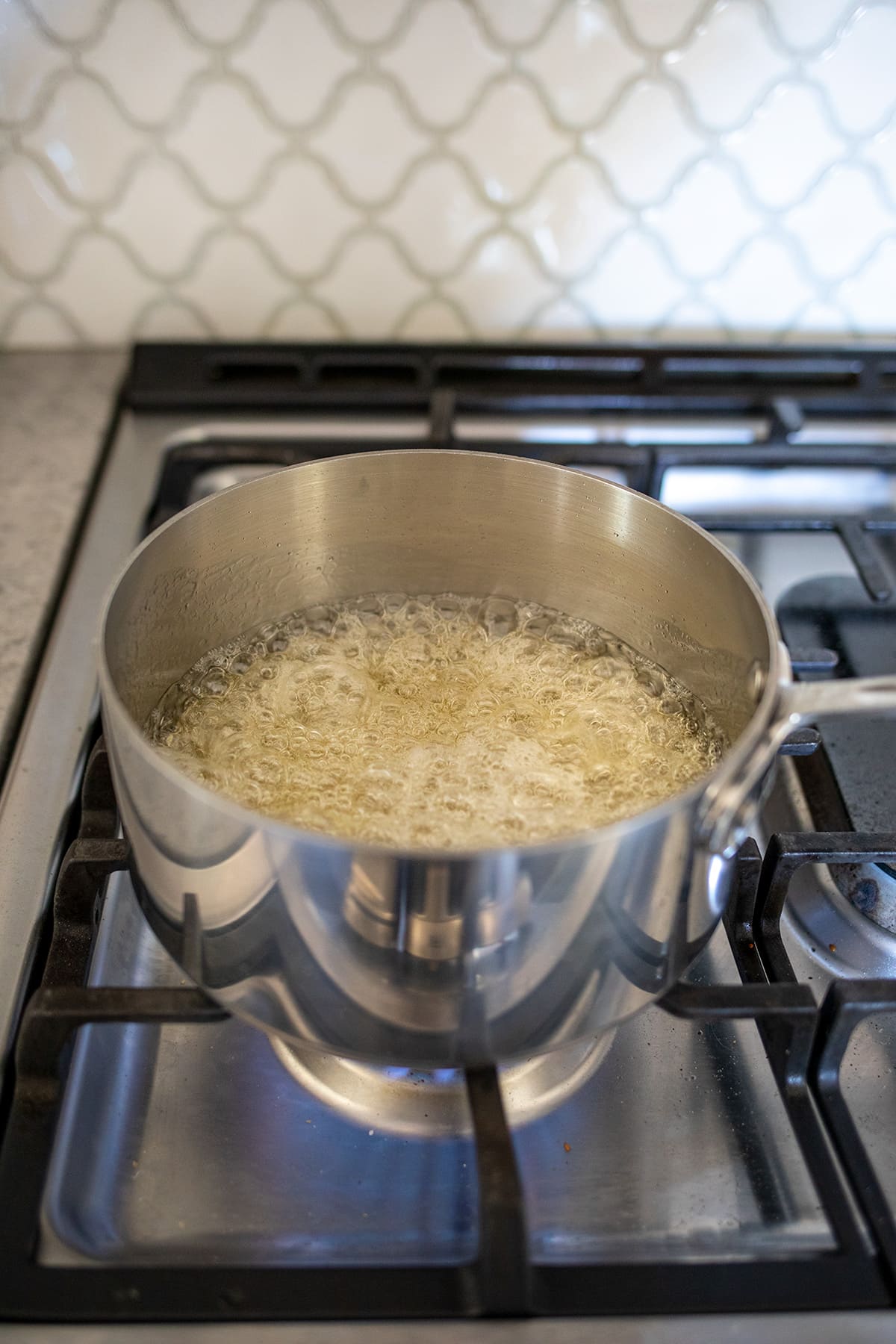 Step 2: You can see here that the sugar is boiling and just starting to become lightly golden. It should take about 15 minutes total to reach the perfect amber color so just wait patiently.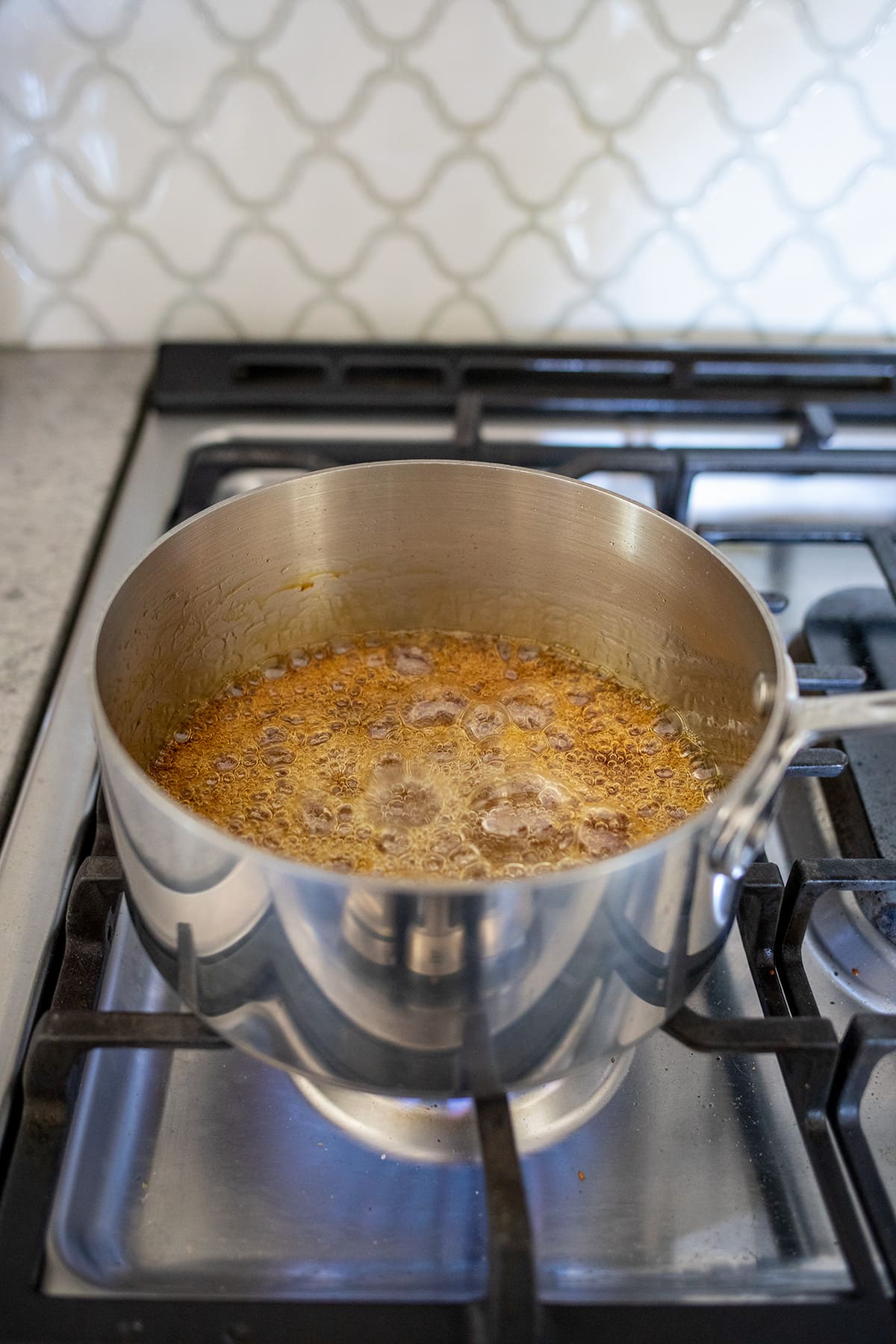 Step 3: After about 20 minutes, you will reach this deep amber, caramel color which will begin at the sides of the pot. You can swirl the pot gently but do not stir.
This is what your sugar should look like when it's ready to remove from the heat. Do not let the sugar cook further or it can burn.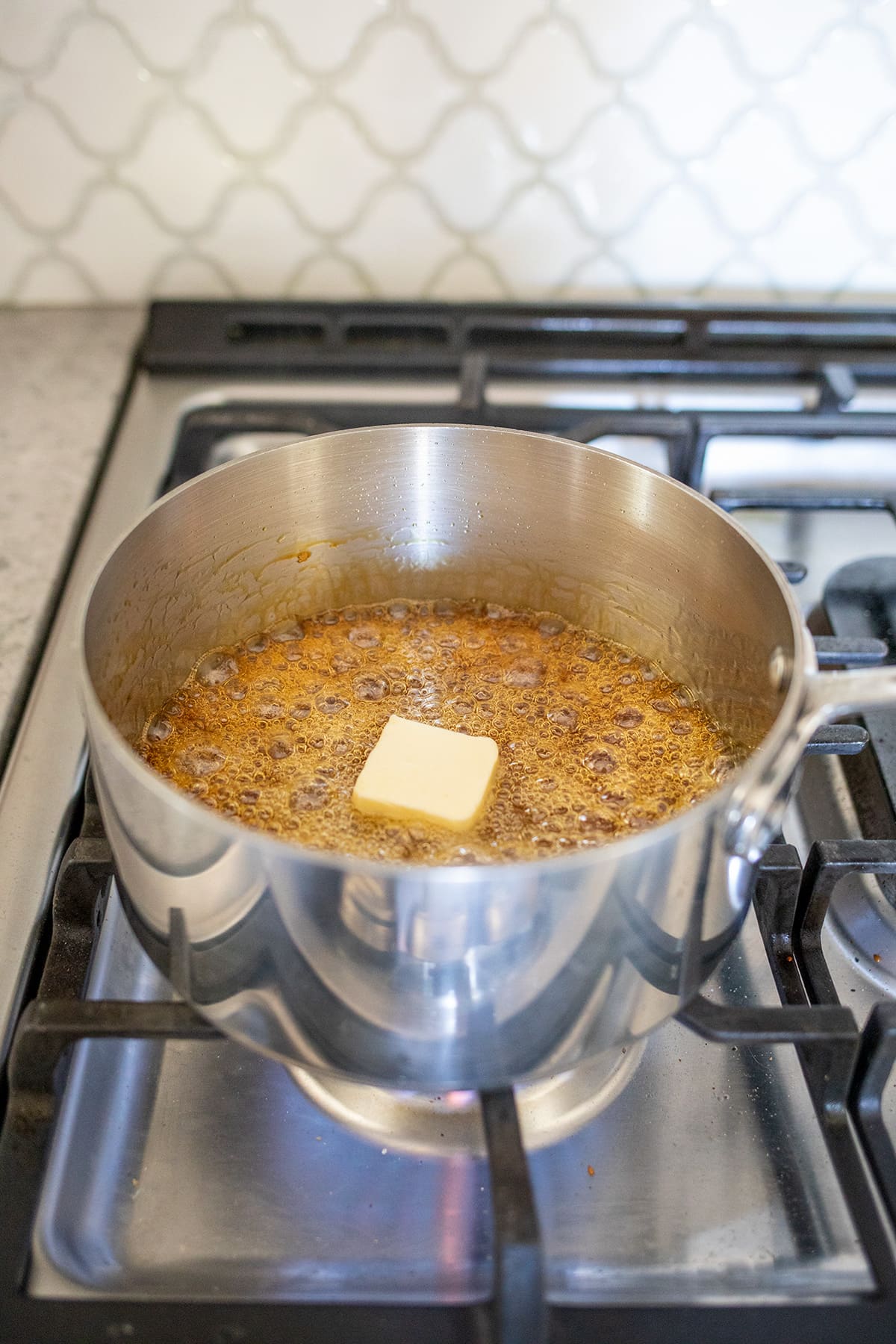 Step 4: Remove from heat (you can see in the photo that I forgot to turn off the flame at this point, don't be like me) and immediately add in butter and baking soda as well as your peanuts.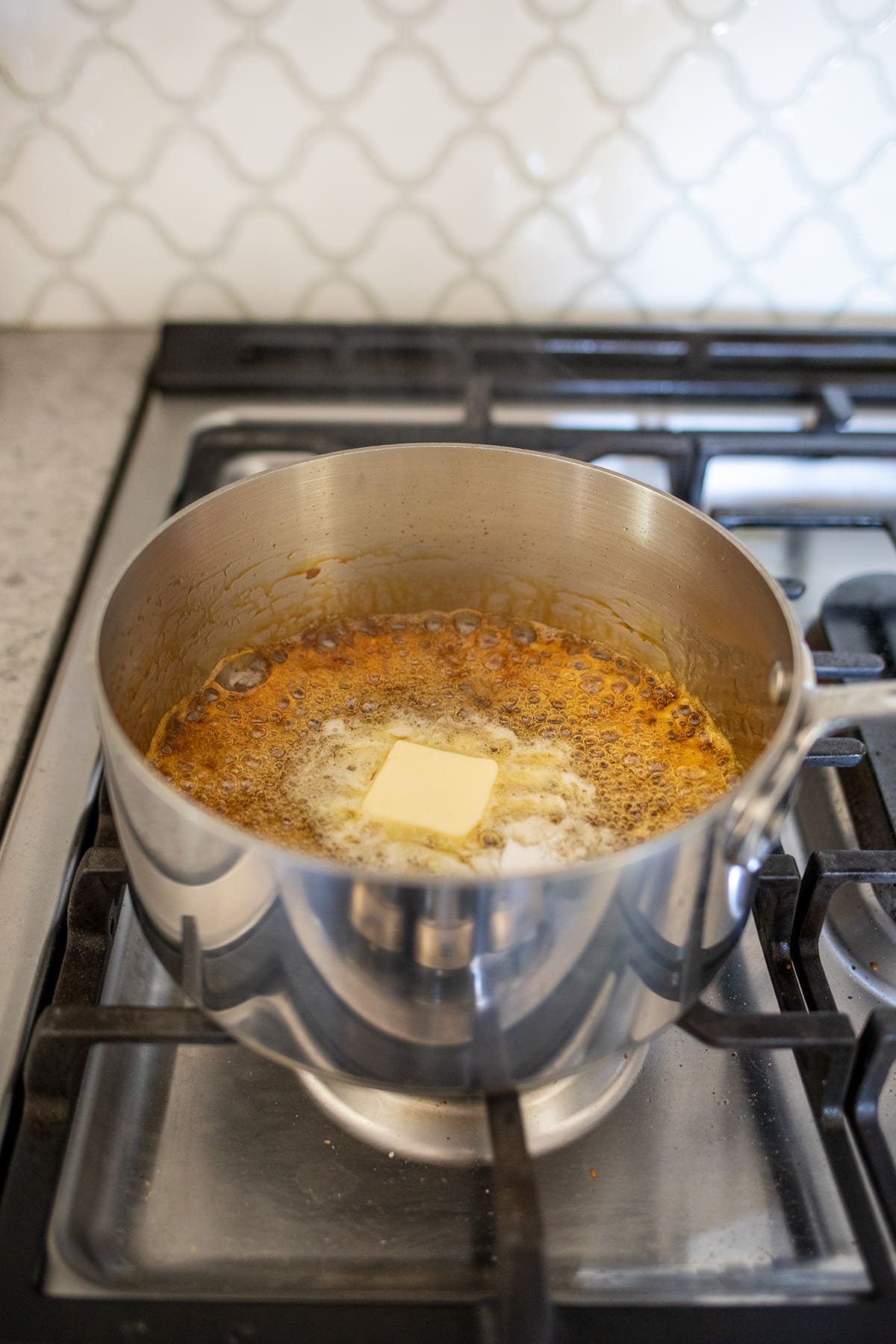 When you add in the baking soda, the sugar mixture will foam quite a lot, which is a good thing! The baking soda is the science behind why brittle is easily broken and crispy when you bite it.
The baking soda in peanut brittle aerates the sugar and turns it from a clear candy to opaque. Without the baking soda, you would be left with hard candy.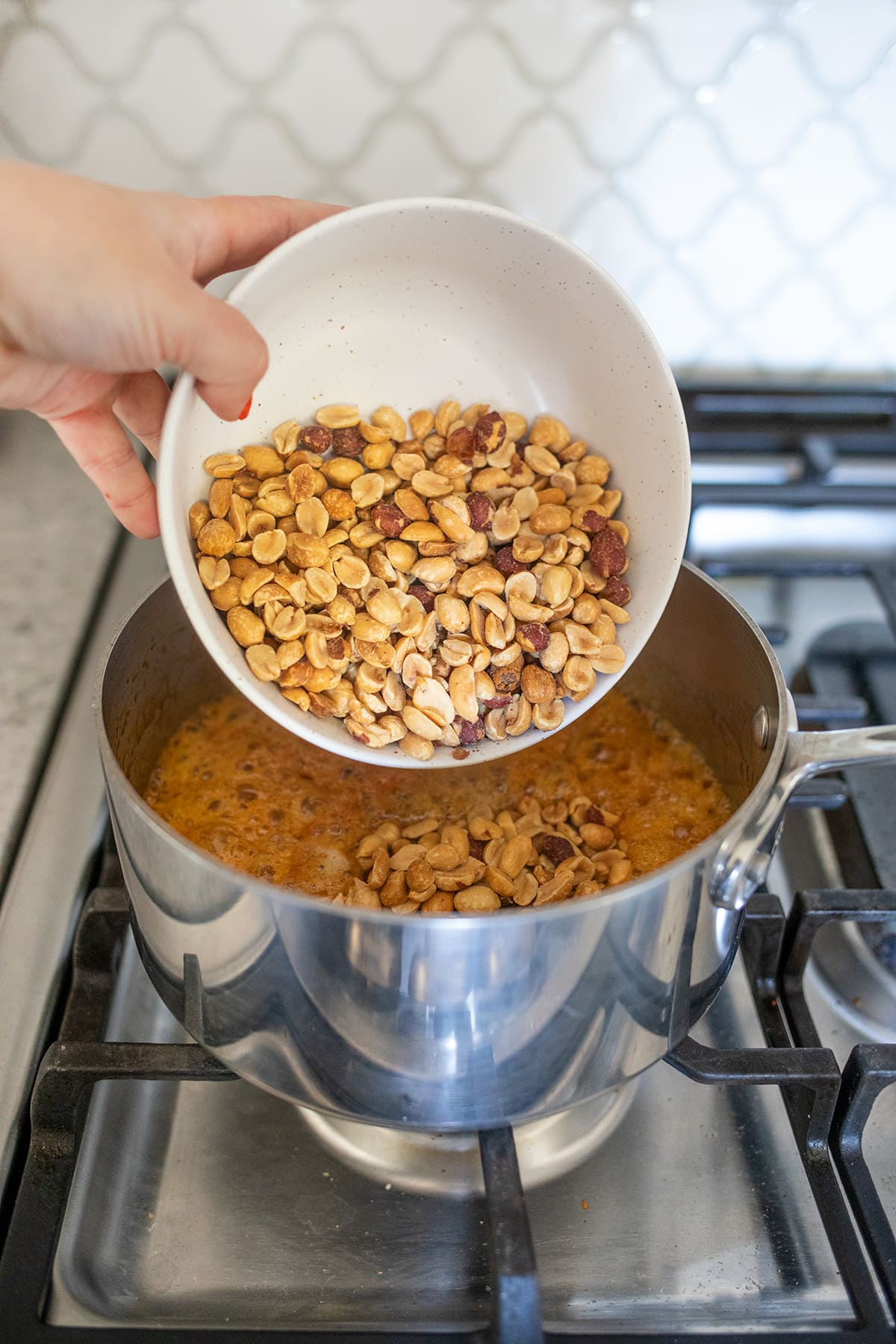 Even though I am braking these steps up to show you the process, you will actually be adding the butter, baking soda and peanuts all rather quickly before giving it all a stir to combine.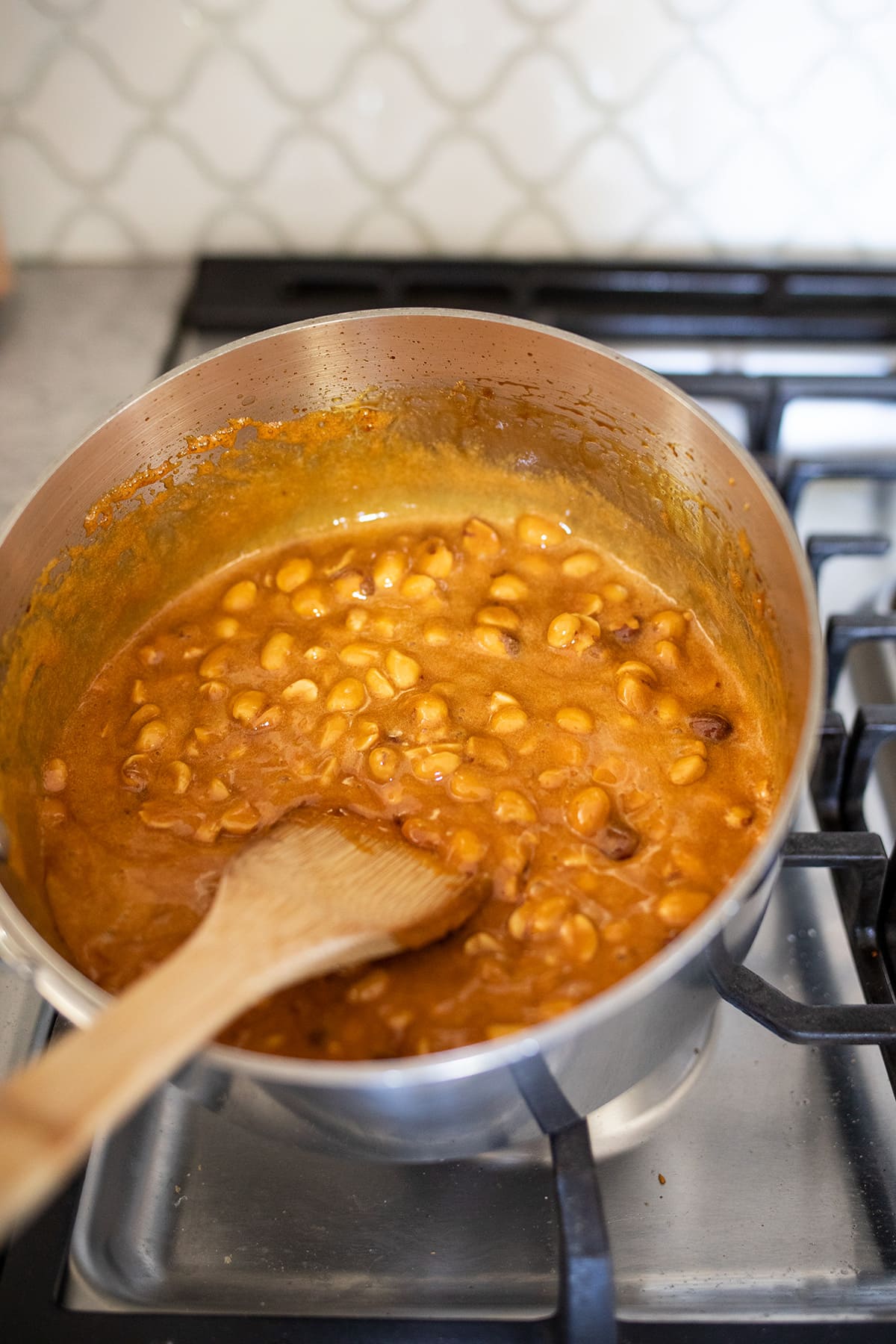 Step 5: Stir the mixture with a wooden spoon or a heat-proof rubber spatula until the foaming stops.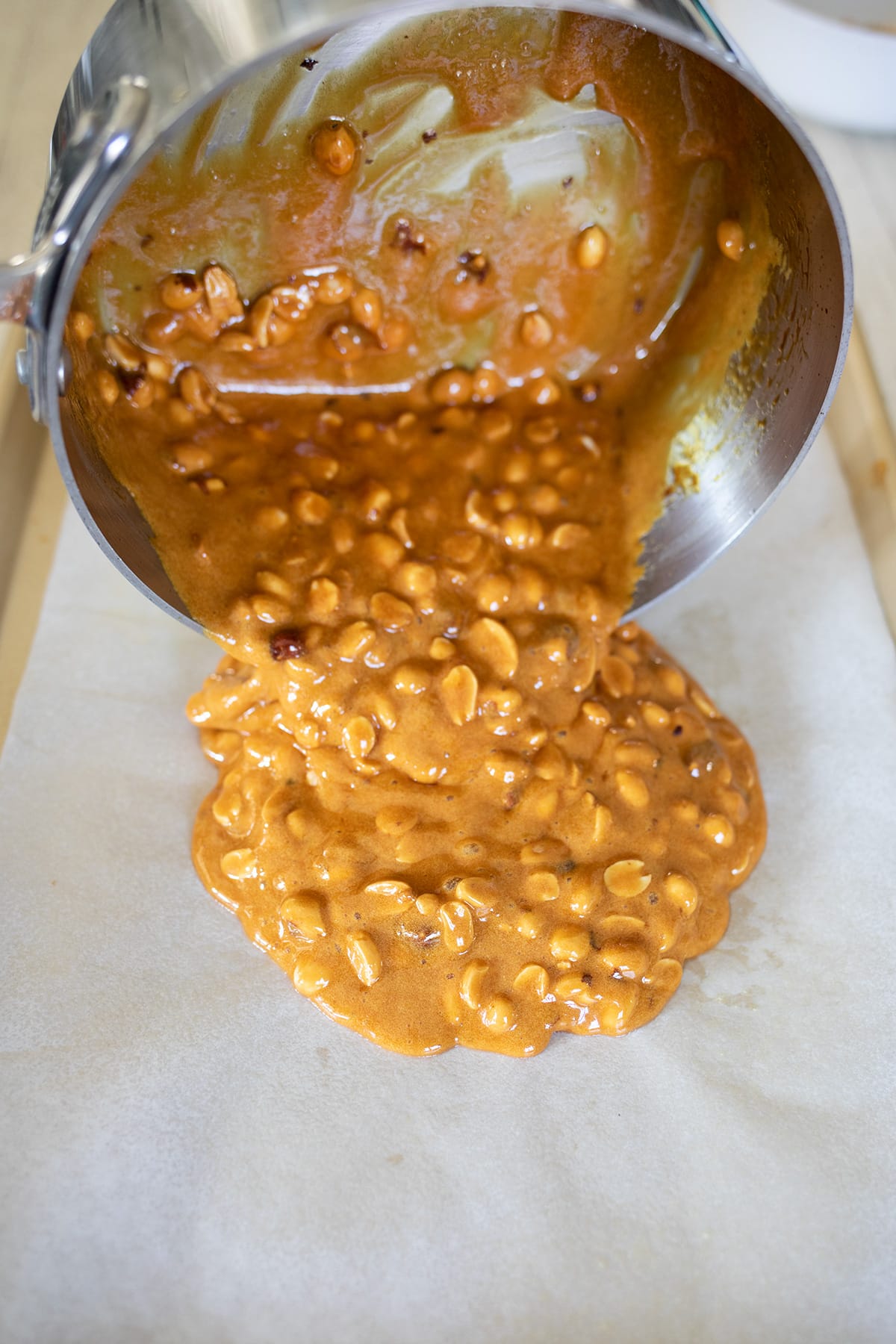 Step 6: Immediately, pour brittle out onto your prepared and sprayed cookie sheet. At this point you will want to work quickly and spread it out as thin as possible with a rubber spatula that has also been sprayed with non-stick spray.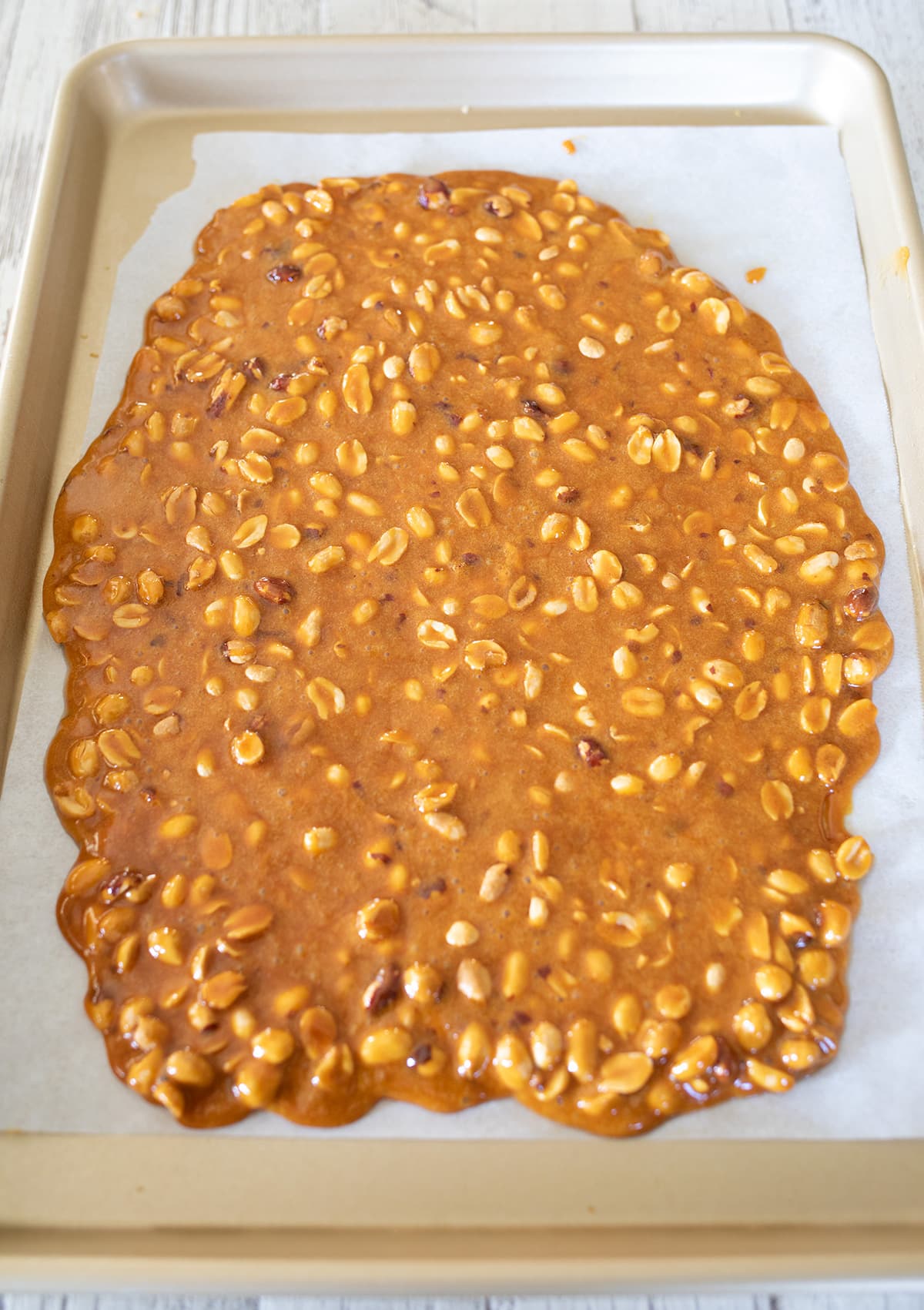 Allow brittle to cool completely and be careful to use oven mitts when handling the pan as it will be very hot! Once the brittle is completely cool you can easily peel it off of the parchment paper and break into pieces.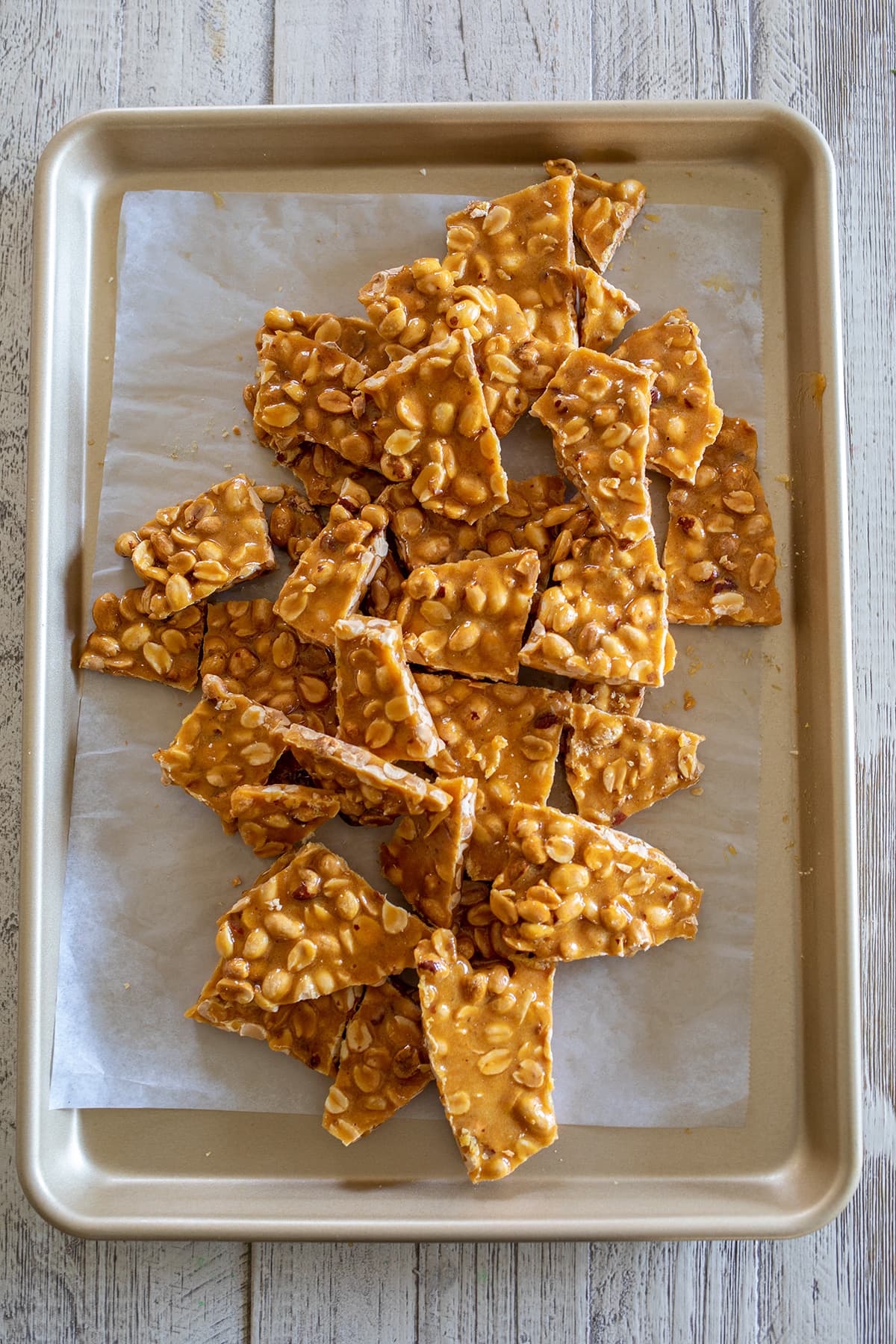 Cashew Brittle and other Substitutes:
Other Nuts: I've also made this brittle with cashews and even pumpkin seeds! You can get creative as to the nuts you include in this recipe. Try macadamia nuts if those are your favorite.
Less Nuts: If you like less nuts in your brittle, you can also reduce the amount. I like 2 cups of nuts but you can reduce down to 1 cup if you prefer less.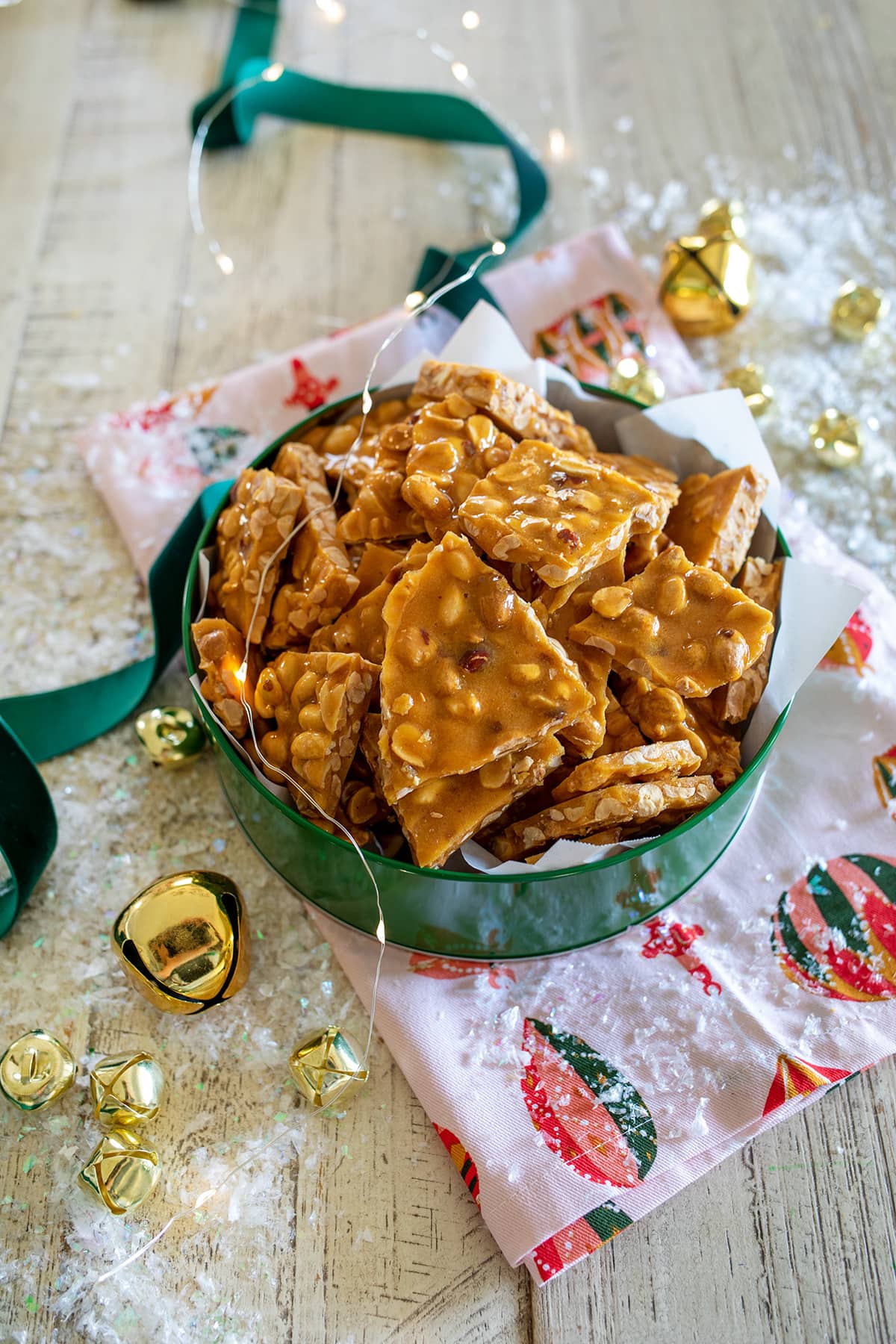 How to Package Peanut Brittle
To package and gift peanut brittle, cut two squares of parchment paper just larger than a cookie tin. Overlap and lay them both inside the tin, filling it with completely cooled and broken brittle pieces. Cover and gift away!
How Long Does Peanut Brittle Last?
Peanut Brittle will last up to 3 weeks if stored in a closed container.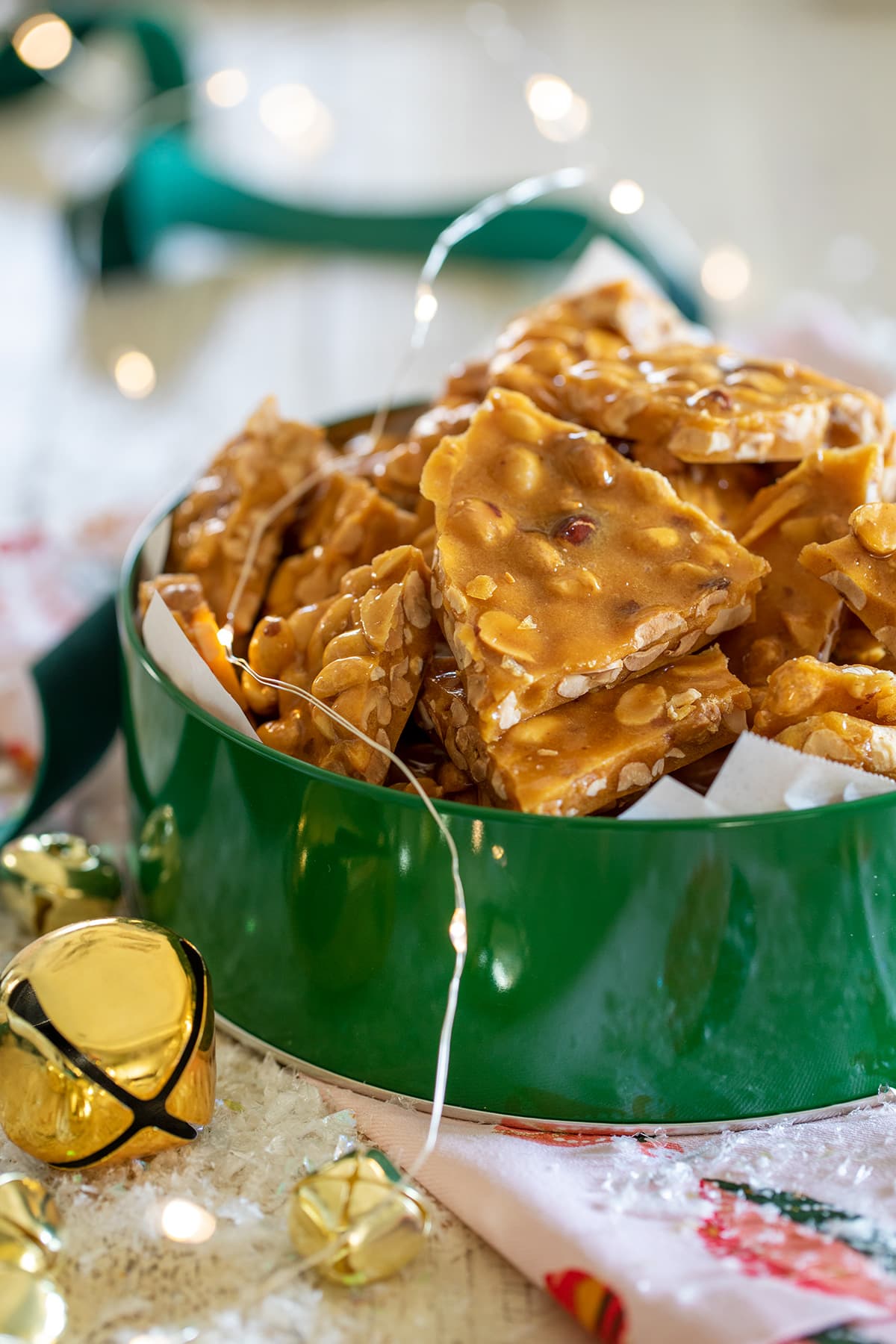 You can't go wrong gifting this delicious and easy homemade candy recipe to loved ones and friends this holiday season! I know you will love the flavor of this easy peanut brittle.
Looking for more holiday recipes? Keep reading for my Tastes of the Season Blogger friend's Christmas Treats as well as a few more of my own favorites.
More Christmas Treat Recipes:
Tastes of the Season Christmas Treats:
Peppermint Bark Pretzels by Ella Claire & Co. | Pecan Fudge Christmas Cookies by French Country Cottage | Dairy-Free Gingerbread Fudge by Zevy Joy
Peanut Brittle by Freutcake | Almond Swiss Roll by Inspired by Charm | 6 Minute Sea Salted Caramels by Handmade Farmhouse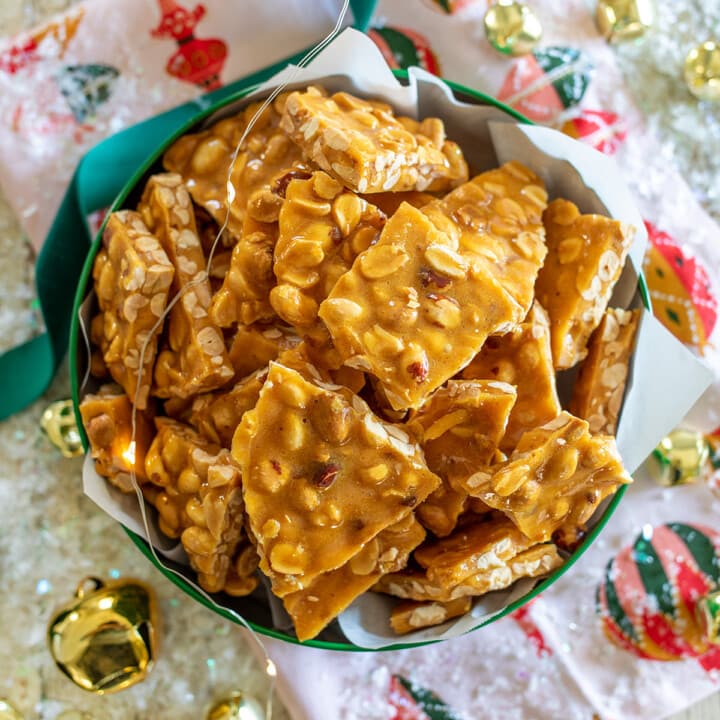 Easy Homemade Peanut Brittle
Additional Time:
15 minutes
Crispy, buttery and delicious homemade peanut brittle is perfect for gifting during the holidays.
Ingredients
2 cups sugar
1 cup water
½ cup light corn syrup
½ teaspoon Kosher salt
2 tablespoon unsalted butter
½ teaspoon baking soda
2 cups salted dry-roasted peanuts
Instructions
Line a rimmed baking sheet with parchment paper or a silicone baking mat and lightly coat with non-stick cooking spray.
Measure all of your ingredients and have them set within reach of the stove.
In a medium saucepan, combine sugar, corn syrup, salt and 1 cup water. Stir once to combine. You will not stir again during the cooking process.
Bring to a rapid simmer over medium-high and cook until deep golden, about 20 minutes.
Remove pan from heat. Quickly stir in butter, baking soda and peanuts (mixture with foam). Using a wooden spoon, stir until mixture is no longer bubbling and caramel is smooth, this will take 30-45 seconds.
Pour peanut brittle immediately over the prepared cookie sheet and spread as thinly as possible with a lightly greased spatula. Let cool until firm, 15 minutes or longer until it's comfortable to handle.
Break into pieces and package in cookie tins lined with parchment paper for gifting or store brittle in an airtight container at room temp for up to 3 weeks.
Notes
Before making this recipe, please read my blog post for a step by step guide including photos of what each step of the candy making process looks like and tips along the way!
Nutrition Information:
Yield:

20
Serving Size:

1
Amount Per Serving:
Calories:

155
Total Fat:

5g
Saturated Fat:

1g
Trans Fat:

0g
Unsaturated Fat:

3g
Cholesterol:

3mg
Sodium:

69mg
Carbohydrates:

28g
Fiber:

1g
Sugar:

27g
Protein:

2g