If you are one of those people who "likes their cake and eat it too," then Brunch is the meal for you! It's a little bit sweet, a little bit savory, and just late enough in the day that you can go all-out preparing something really special while still sleeping in. Last week I threw a ladies brunch with Blue Diamond Almonds for my girlfriends. My friend Christina has a lovely rose garden in her backyard so we spent the day sipping on Honey-Almond Champagne cocktails, eating delicious bites, and enjoying the flowers.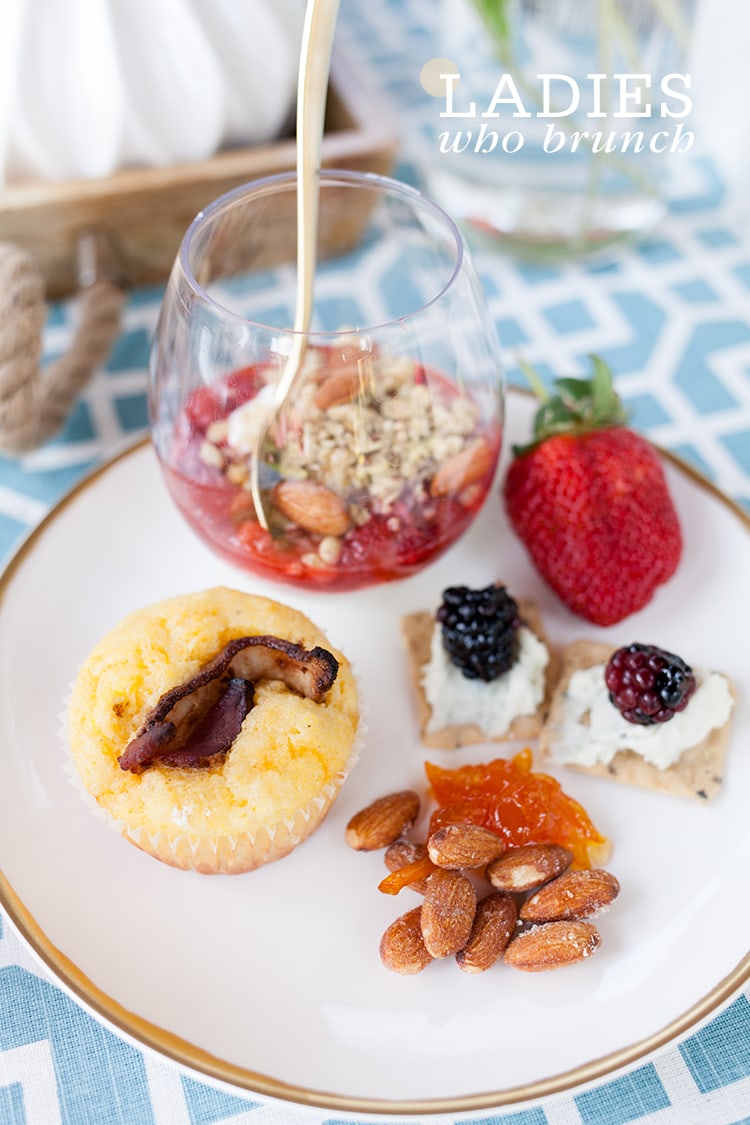 On the menu: Honey Almond Champagne Cocktails, Bacon and Egg muffins served with Maple Syrup, Blackberry & Lavender Honey Nut Thins, Roasted Strawberry Parfaits, and a cheese board straight from heaven.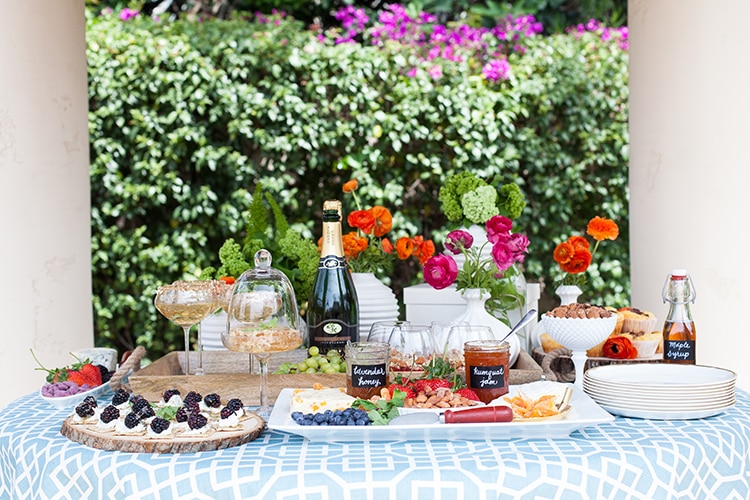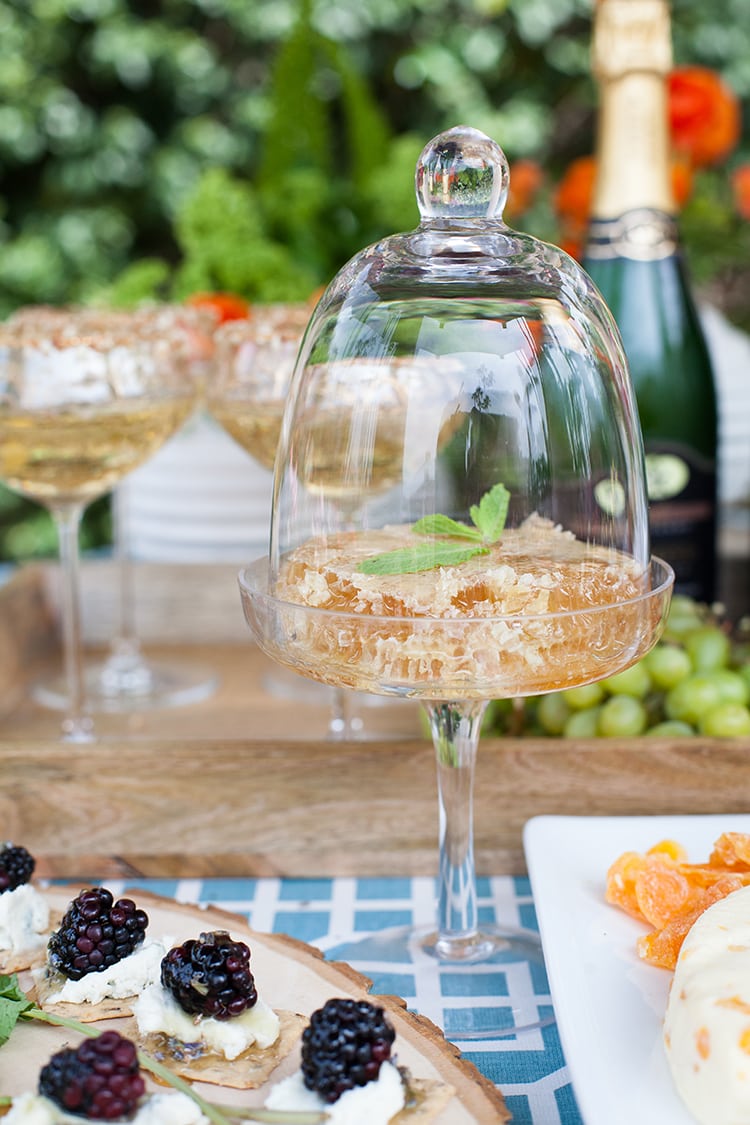 This menu sounds down right fancy but believe me, brunch doesn't have to be a complicated meal to prepare! I stuck to one warm dish (the bacon and egg muffins) and accompanied that with lots of cold & room temperature bites like fruit, yogurt, cheese and almonds.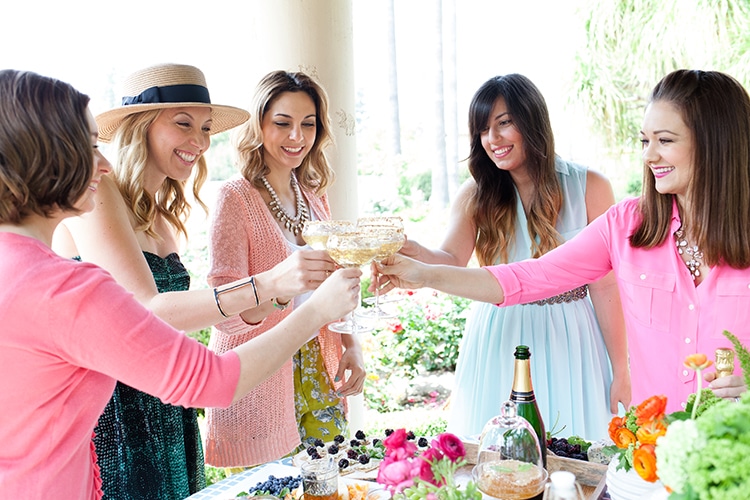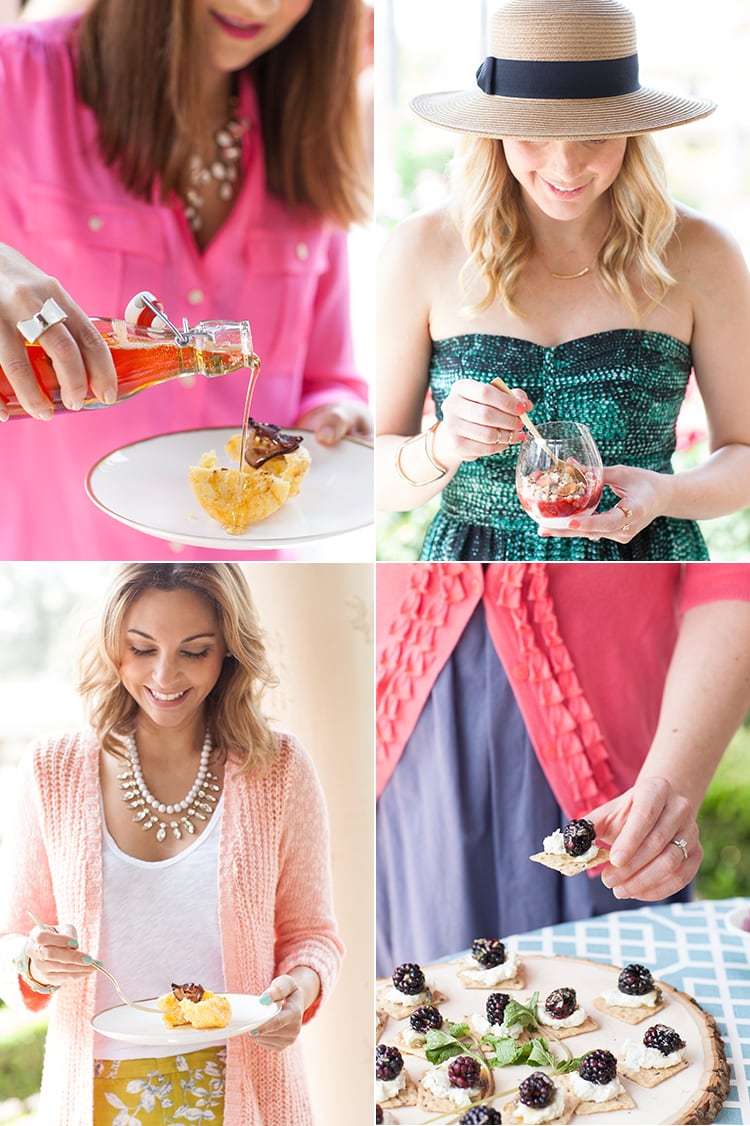 Of course it's hard to not have a great time when there is a lovable, and very hungry, schnauzer named Professor Dog in attendance. If only we could be Ladies who Brunch every week!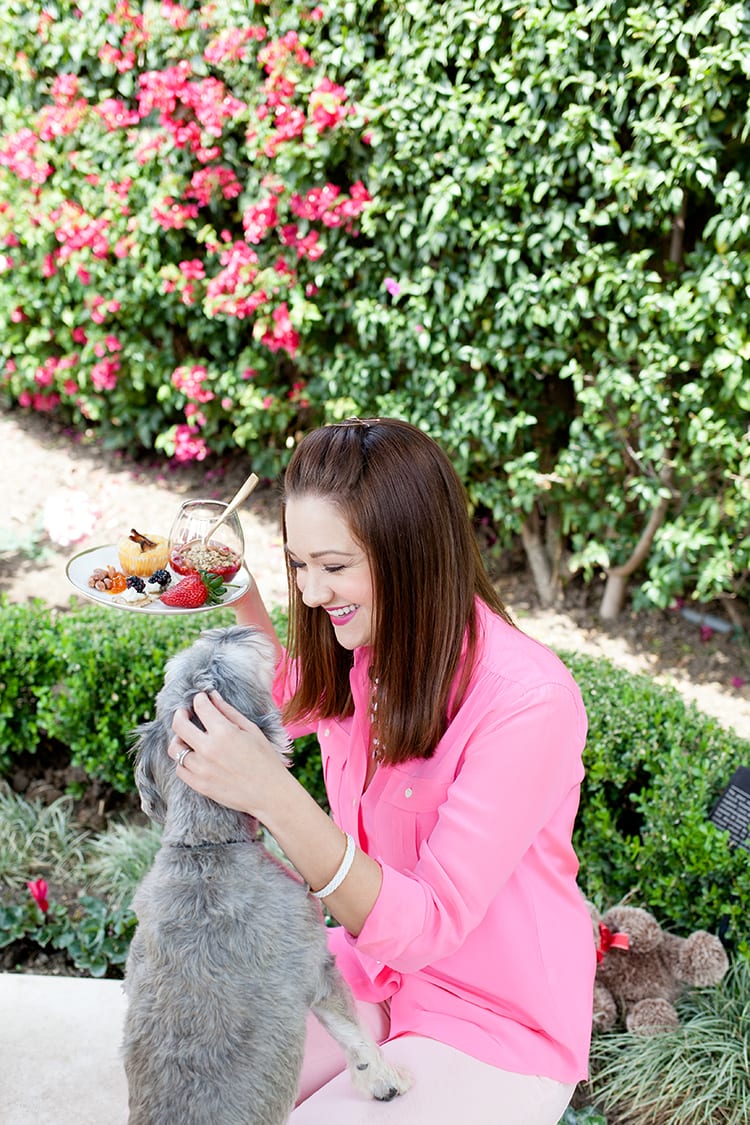 So, what's your favorite thing about brunch? I hope you will try these recipes and treat your girlfriends or family to a little brunch party!
Brunch Menu Recipes: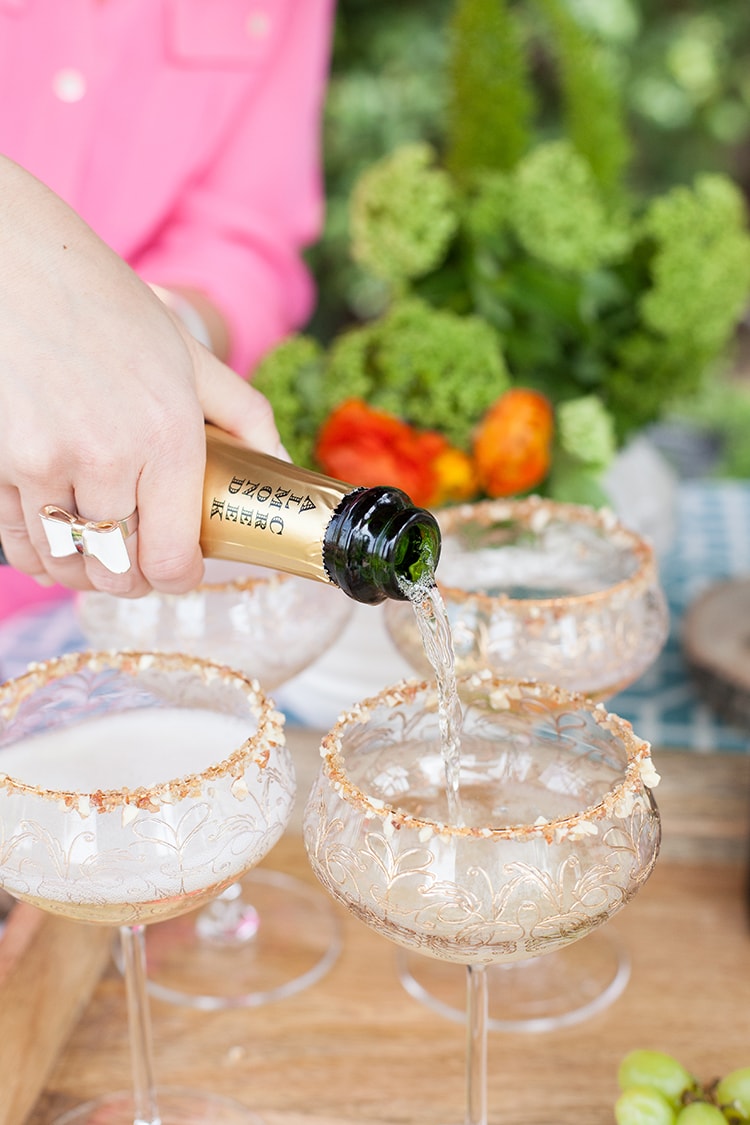 Honey-Almond Champagne Cocktail
Almond Champagne, chilled
Honey
1-cup Blue Diamond Oven Roasted Honey Almonds
Directions:
1. On a cutting board, chop almonds finely.
2. Rim champagne glasses dipping them in a plate of honey then in the chopped almonds.
3. Fill glasses with almond champagne and serve.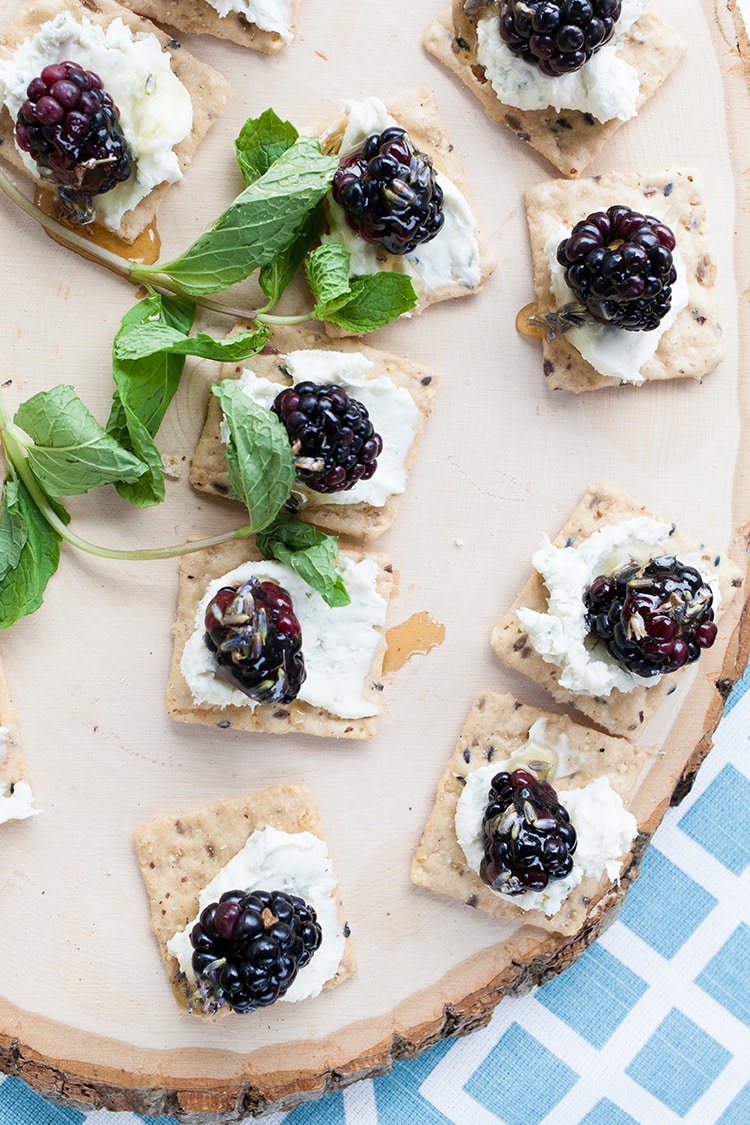 Blackberry & Lavender Honey Nut Thins
1 tbsp. lavender
1 cup honey
¼ lb. gorgonzola
8 oz. mascarpone
blackberries
fresh mint
Blue Diamond Artisanal Multi-Seed Nut Thins
Directions:
1. Infuse 1 tbsp. lavender in 1 cup of honey in a small sauce pan over low heat for 30 minutes to 2 hours.
2. Let ¼ lb. gorgonzola come to room temperature. Mix gorgonzola with 8 oz. mascarpone.
3. Wash blackberries, dry with a paper towel and set aside
4. Arrange Blue Diamond Nut Thins on a serving board.
5. Top each Nut Thin with cheese, one blackberry, a drizzle with lavender honey and a sprig of fresh mint.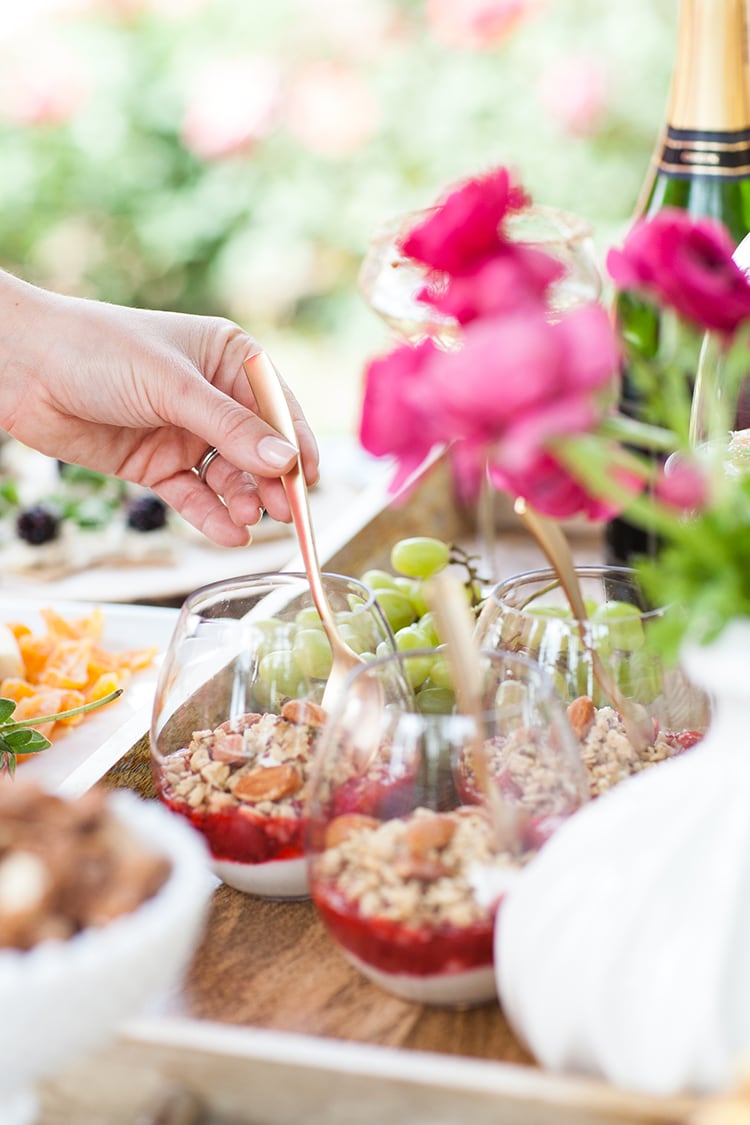 Roasted Strawberry Parfaits
serves 4
1-16oz carton strawberries
2-tbs sugar
17.6 oz plain Greek yogurt
granola
Blue Diamond Oven Roasted Sea Salt Almonds
Directions:
1. Pre-heat oven to 400 degrees. Wash and slice strawberries and arrange on a foil lined baking sheet
2. Sprinkle strawberries with sugar and bake for 15-20 minutes or until strawberries are roasted, bubbly and the juices have released.
3. Once cooled, remove roasted strawberries and their juices to a storage container and refrigerate until ready to assemble parfaits.
To assemble:
Layer yogurt, strawberries and granola. Top with a few Blue Diamond Oven Roasted Sea Salt Almonds and serve.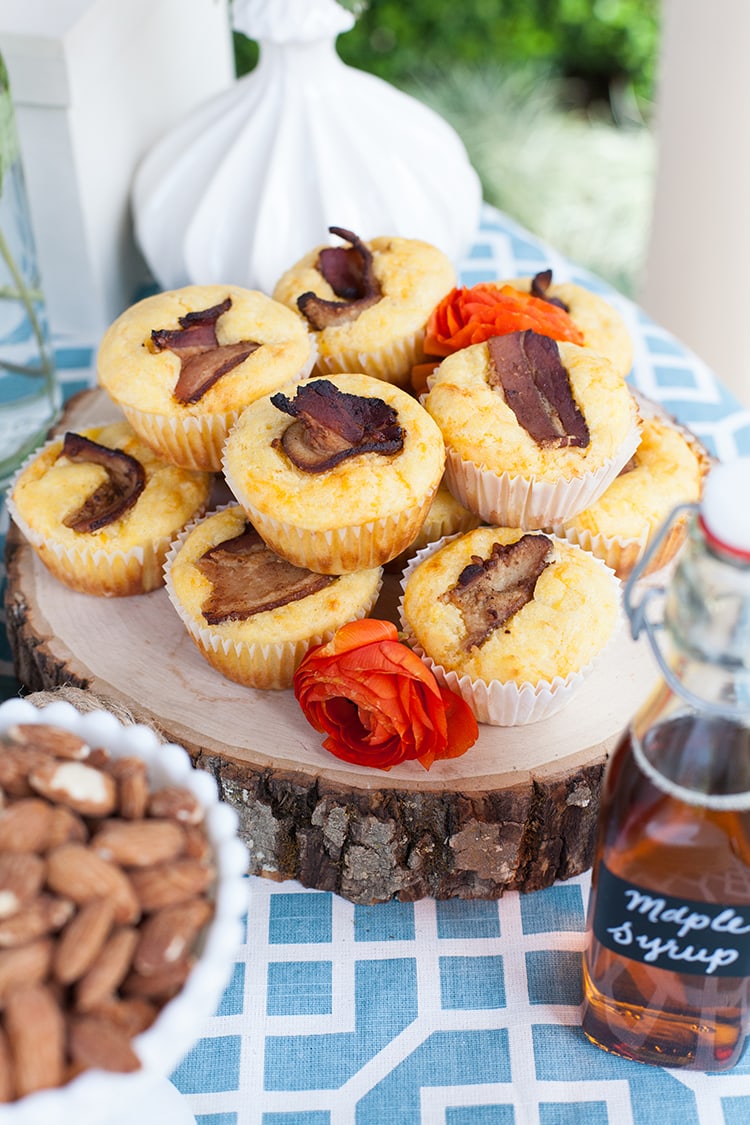 Bacon and Egg Muffins- recipe via Better Homes and Gardens
4 slices bacon, cut in thirds
5 eggs
Salt and ground black pepper
1 cup all-purpose flour
½ cup yellow cornmeal
2 tablespoons sugar
2 ½ teaspoons baking powder
½ teaspoon salt
1 cup milk
¼ cup vegetable oil or butter, melted
½ cup shredded cheddar cheese
Maple or cane syrup (optional)
Directions:
1. Preheat oven to 400 degrees F. In a large skillet cook bacon just until it begins to crisp. Drain and reserve drippings. Return 2 tsp. drippings to skillet. For scrambled eggs, in a small bowl beat 3 of the eggs, 2 Tbsp. water, and a dash each of salt and pepper. Cook eggs in hot skillet over medium heat without stirring until eggs begin to set on bottom and around edges. With a large spatula, lift and fold for uncooked portion to flow underneath. Cook until set yet still moist. Transfer to bowl; set aside.
2. Brush twelve 2-½-inch muffin cups with some of the remaining bacon drippings. Set muffin cups aside. In a medium bowl stir together flour, cornmeal, sugar, baking powder, and ½ tsp. salt. In a separate bowl combine milk, oil, and remaining 2 eggs; stir into flour mixture. Fold in scrambled eggs and cheese. Spoon into muffin cups (cups will be full).
3. Place one bacon piece on each muffin. Bake 15 to 17 minutes, until light brown and a toothpick inserted in center comes out clean. Cool in cups on a wire rack for 5 minutes. To loosen muffins from pan, run a small metal spatula or table knife around edges of muffins; remove from pans. Serve warm with maple syrup.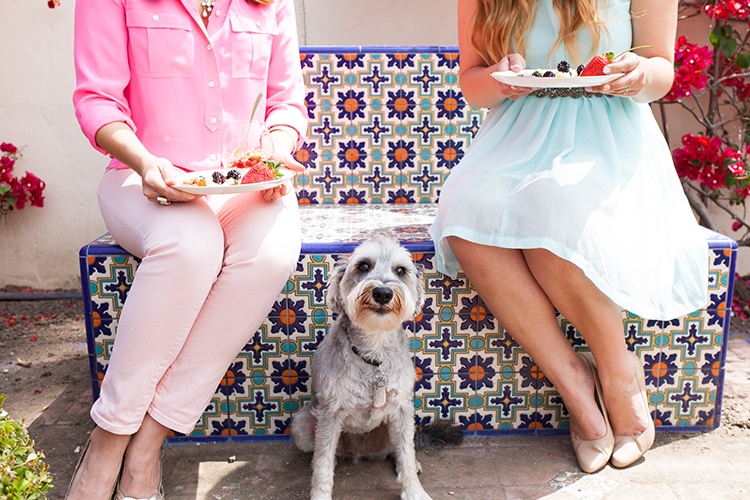 Disclosure: This post is sponsored by Blue Diamond Almonds but all opinions expressed here are my own. Thank you for supporting the sponsors who allow me to continue creating new content for Freutcake!