Creamy herbed deviled egg dip with Boursin Cheese and fresh dill is an addictive and easy appetizer for any deviled egg lover.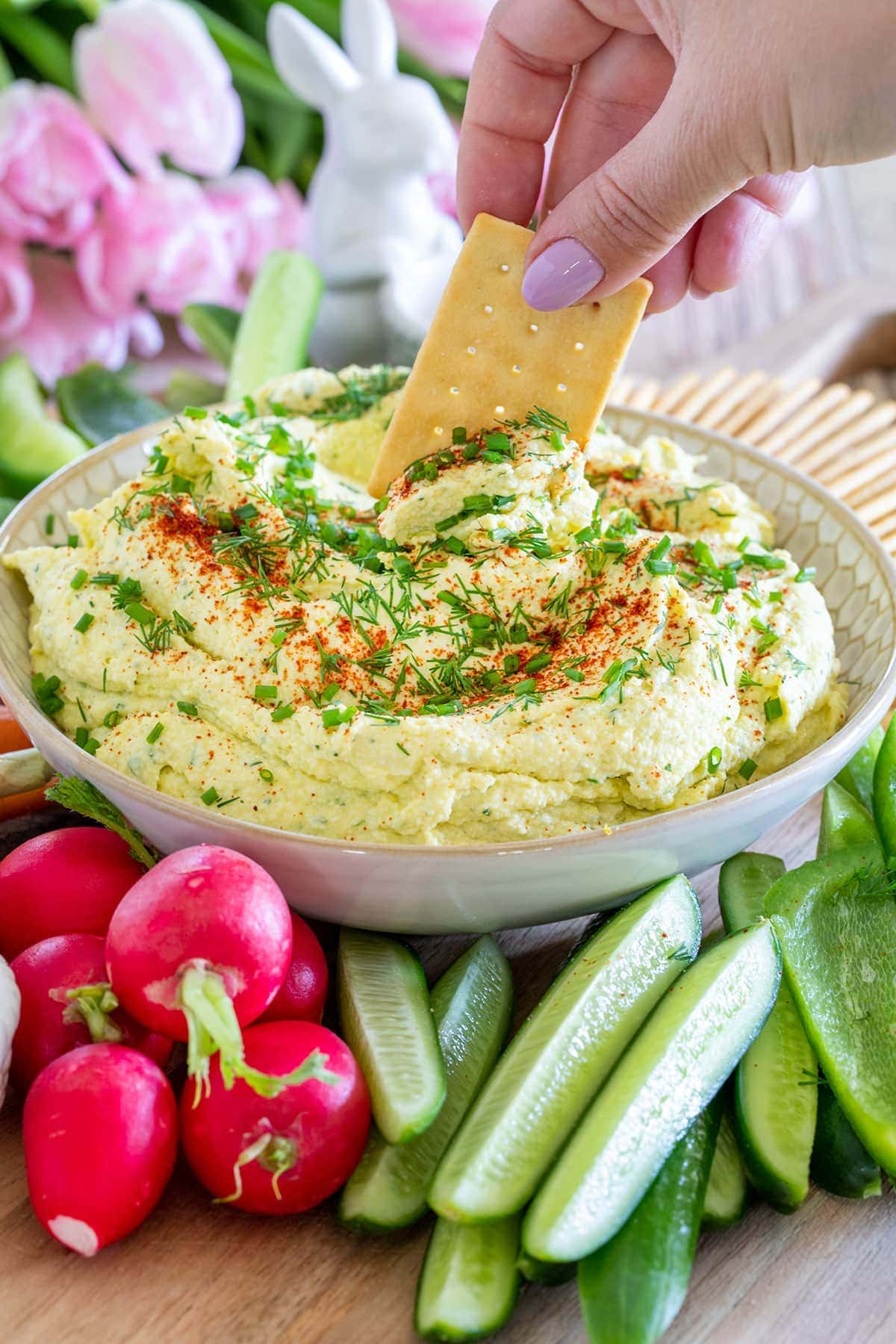 Deviled Egg Dip Recipe
Deviled eggs are by far one of my family's favorite appetizers! If I make my Italian Deviled Eggs, they will be devoured in seconds and two dozen is always necessary. Deviled Eggs really are the perfect creamy, salty and delicious bite!
While we will happily eat hard cooked eggs anytime, we usually only make them for Easter because they are a bit of a process. This dip brings ALL of the deviled egg flavor but comes together so much faster.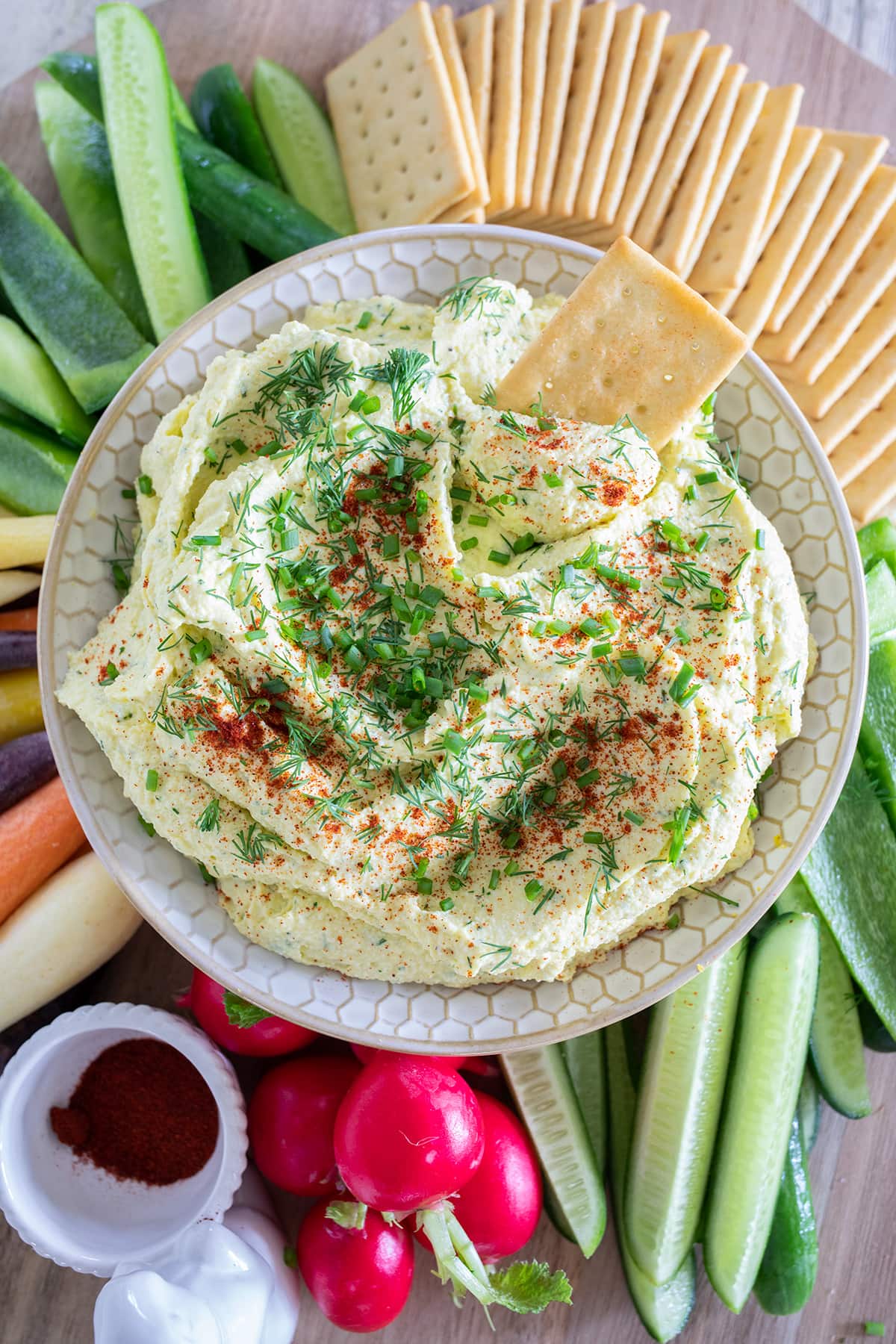 Ingredients in Deviled Egg Dip
The ingredients in deviled egg dip are generally the same as a classic deviled egg. I add Boursin cheese for an extra creamy texture as well as fresh dill and chives for flavor and freshness.
hard boiled eggs - boil them yourself or buy them already hard boiled from the grocery store.
mayonnaise- essential for that creamy deviled egg filling!
dijon mustard- you can use dijon or your favorite grainy mustard.
Boursin cheese- garlic and herb Boursin cheese adds a creamy consistency and so much flavor to this dip!
fresh herbs - dill weed and chives give this dip so much delicious herb flavor!
salt & pepper - for seasoning.
garlic - just one clove of fresh garlic.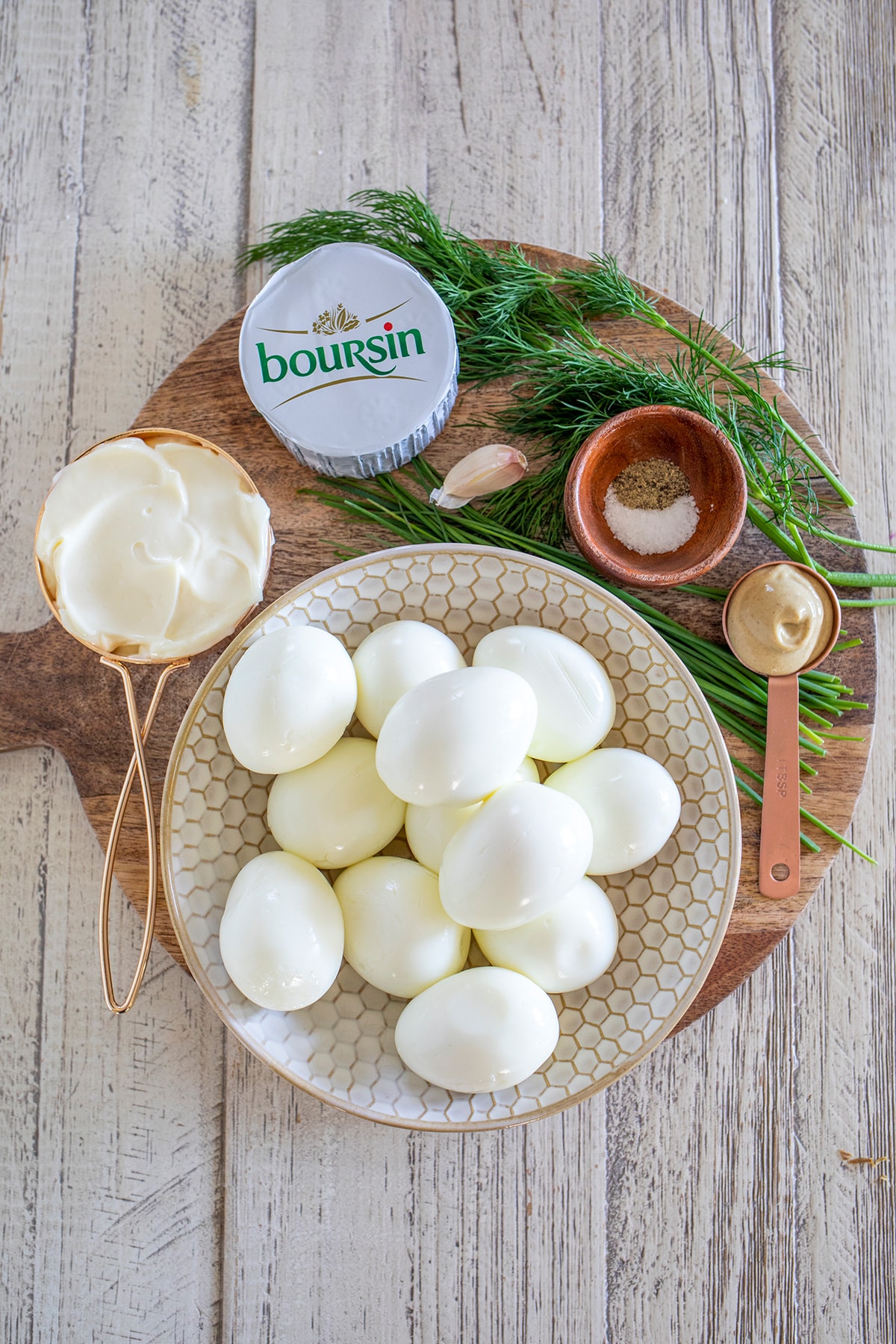 How to Make Deviled Egg Dip
I absolutely love this deviled egg dip recipe because, unlike traditional deviled eggs, all of the ingredients in this dip combine in the food processor to create one creamy blend. No need to separate the yolks from the whites. Here's how to make it:
Add hard boiled eggs to a food processor. Pulse until the eggs are chopped small.
Add the rest of the ingredients and process until smooth.
Transfer dip to a bowl and garnish with more chopped dill, chives and paprika.
Serve with crackers and veggies for dipping.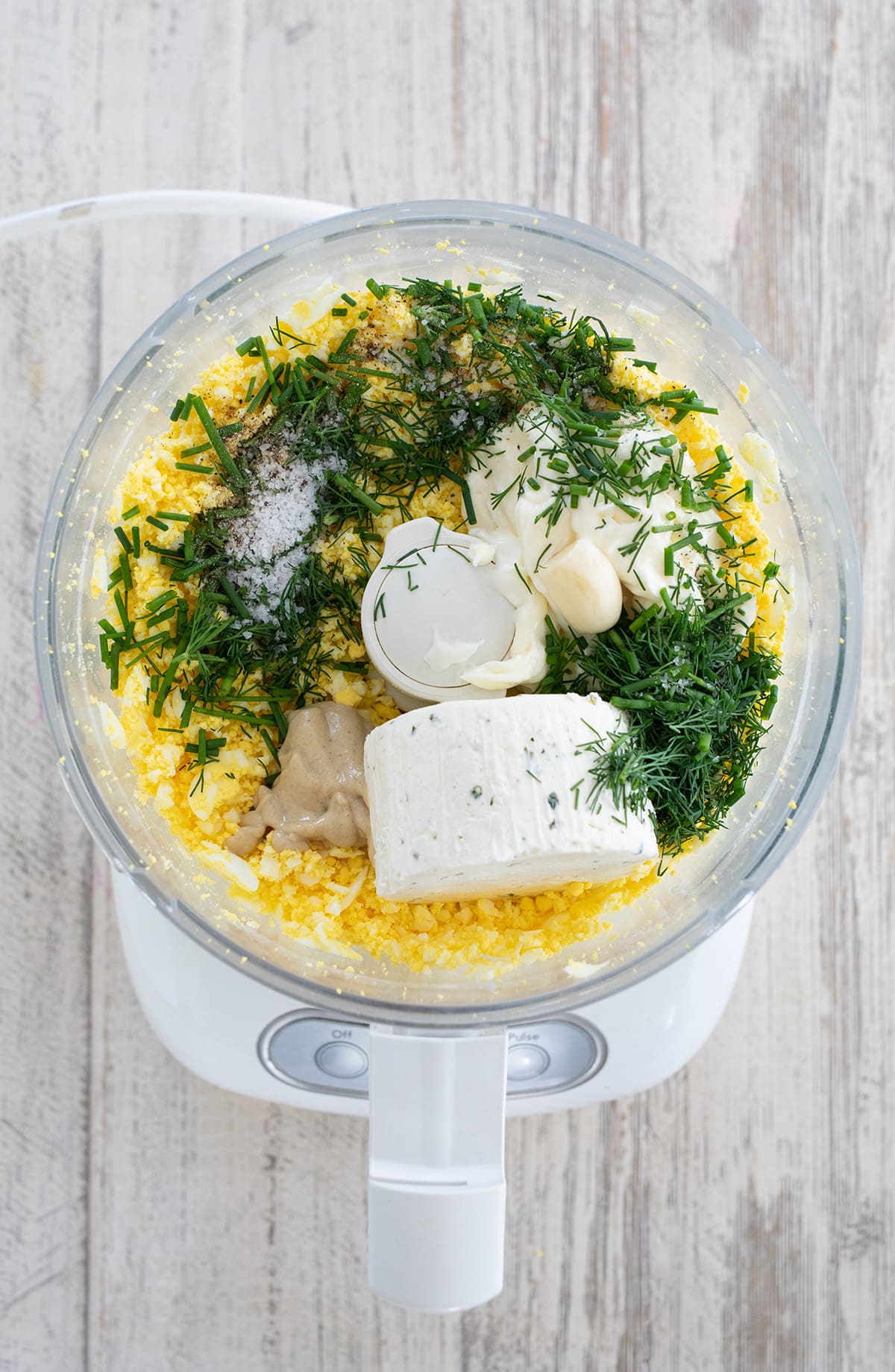 Hard Boiled Egg Dip
Most deviled egg dip recipes call for cream cheese but honestly I prefer Boursin cheese! The creamy, garlic and herb flavor of the Boursin cheese adds so much flavor to this dip and makes it the perfect companion for cucumber, crackers, crackers and carrots. This dip would be a great addition to an Easter Cheese and Crudites Board!
Possible Variations of Egg Dip
Hard boiled egg dip is easy to customize to any flavor you like! Similar to my Wasabi Deviled Eggs, you can add many different ingredients to your own preference. Here are a few deviled egg variations you might want to try:
Cream Cheese - many deviled egg dips call for cream cheese for an even creamier consistency.
Cheese - parmesan cheese, Romano, or even feta cheese add so much much flavor to this dip!
Hot Sauce - make this dip spicy with your favorite hot sauce Tabasco, Cholula or Franks Red Hot Sauce.
Fresh Herbs - if dill isn't your favorite herb, add whatever you like from thyme to rosemary or even tarragon.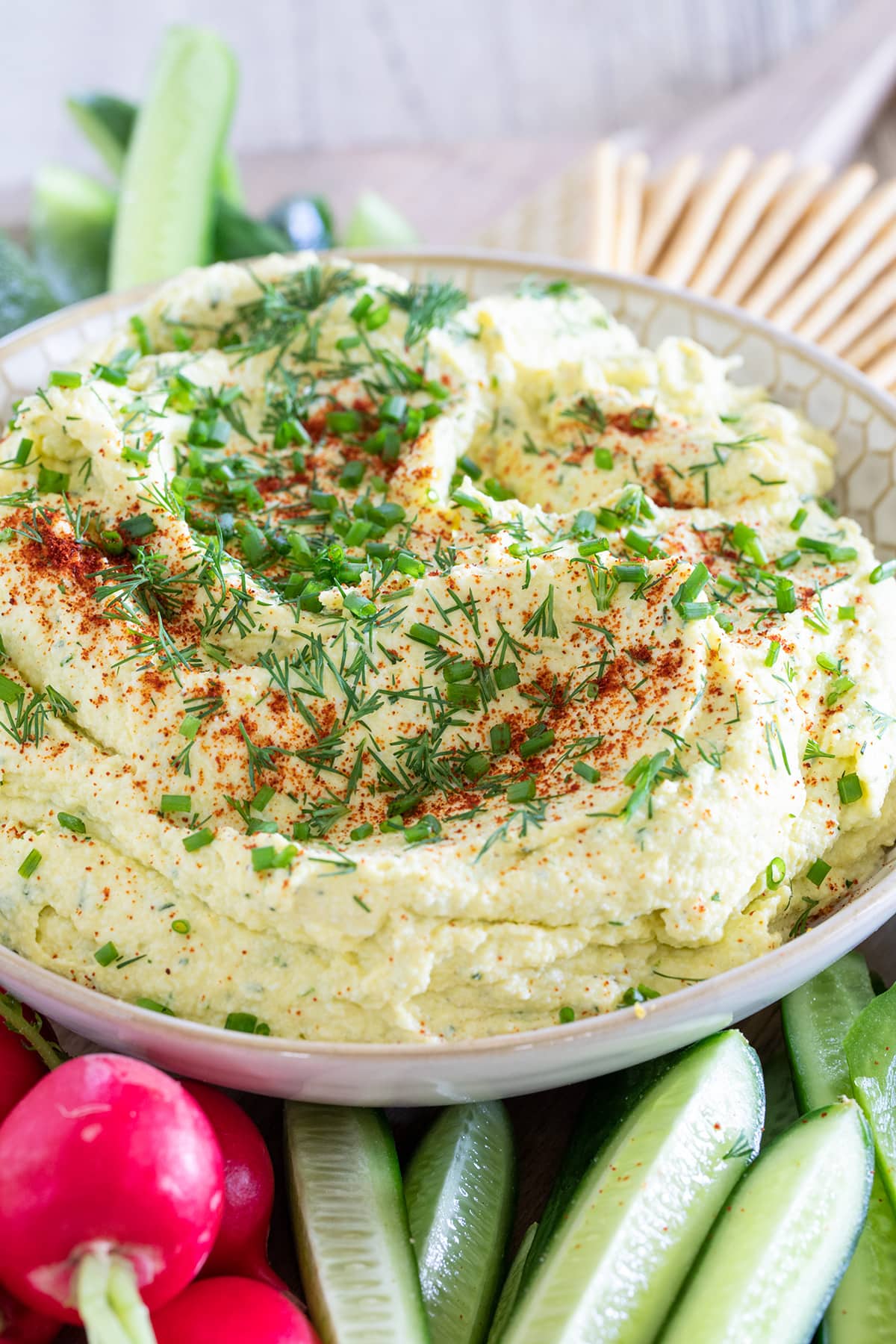 What to serve with deviled egg dip:
I like serving this dip as the centerpiece for a board filled with fresh veggies for dipping. Here are a few of my favorite accoutrements:
cucumbers
radishes
bell pepper slices
crackers
carrots
or any fresh other veggies you enjoy dipping!
More Delicious Dip Recipes: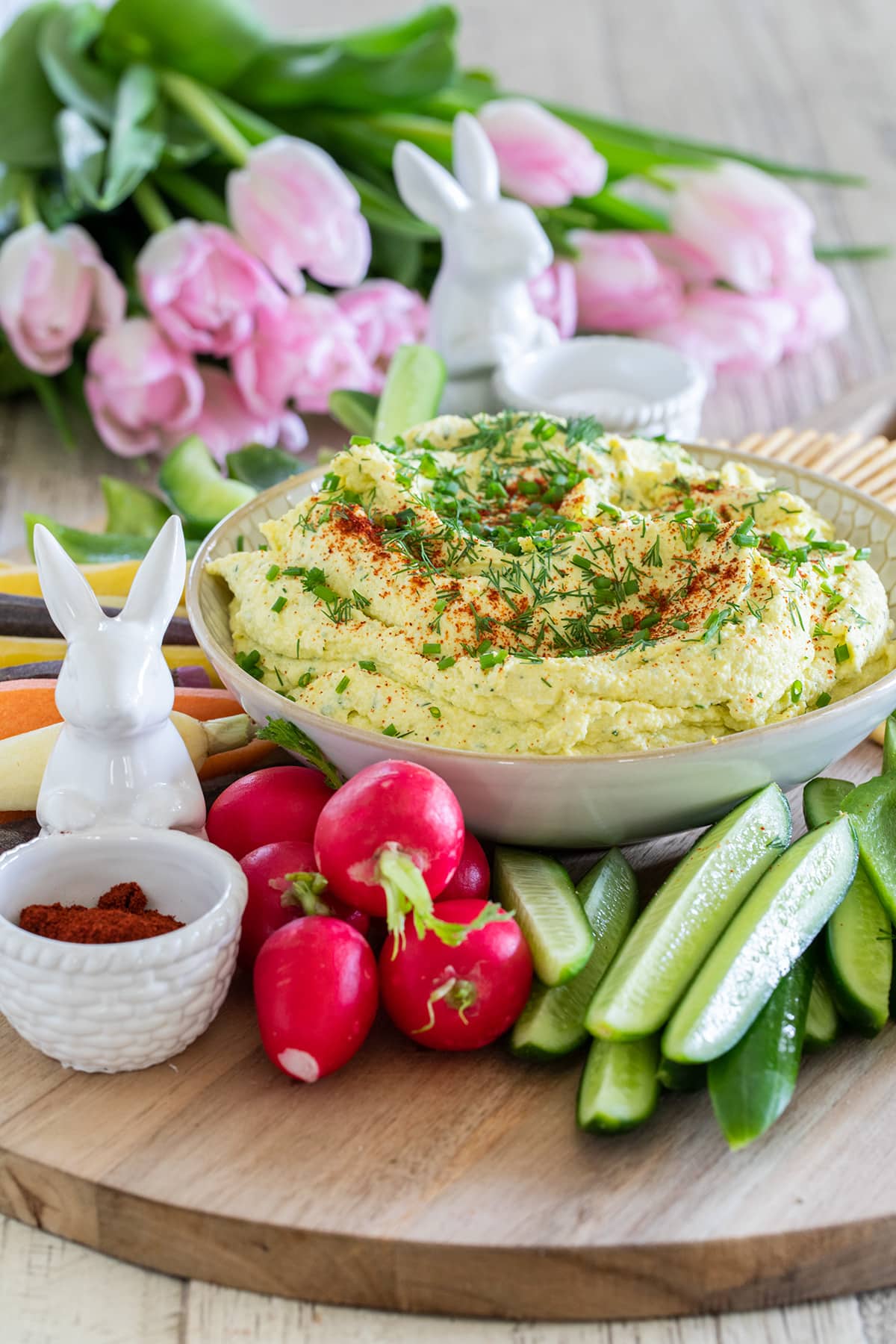 I know you will love how easily this deviled egg dip comes together! Everything goes right into the food processor and there is no need to fill individual egg white shells. This is a great appetizer to serve for Easter dinner, a barbecue or anytime the deviled egg craving strikes.
More Delicious Egg Recipes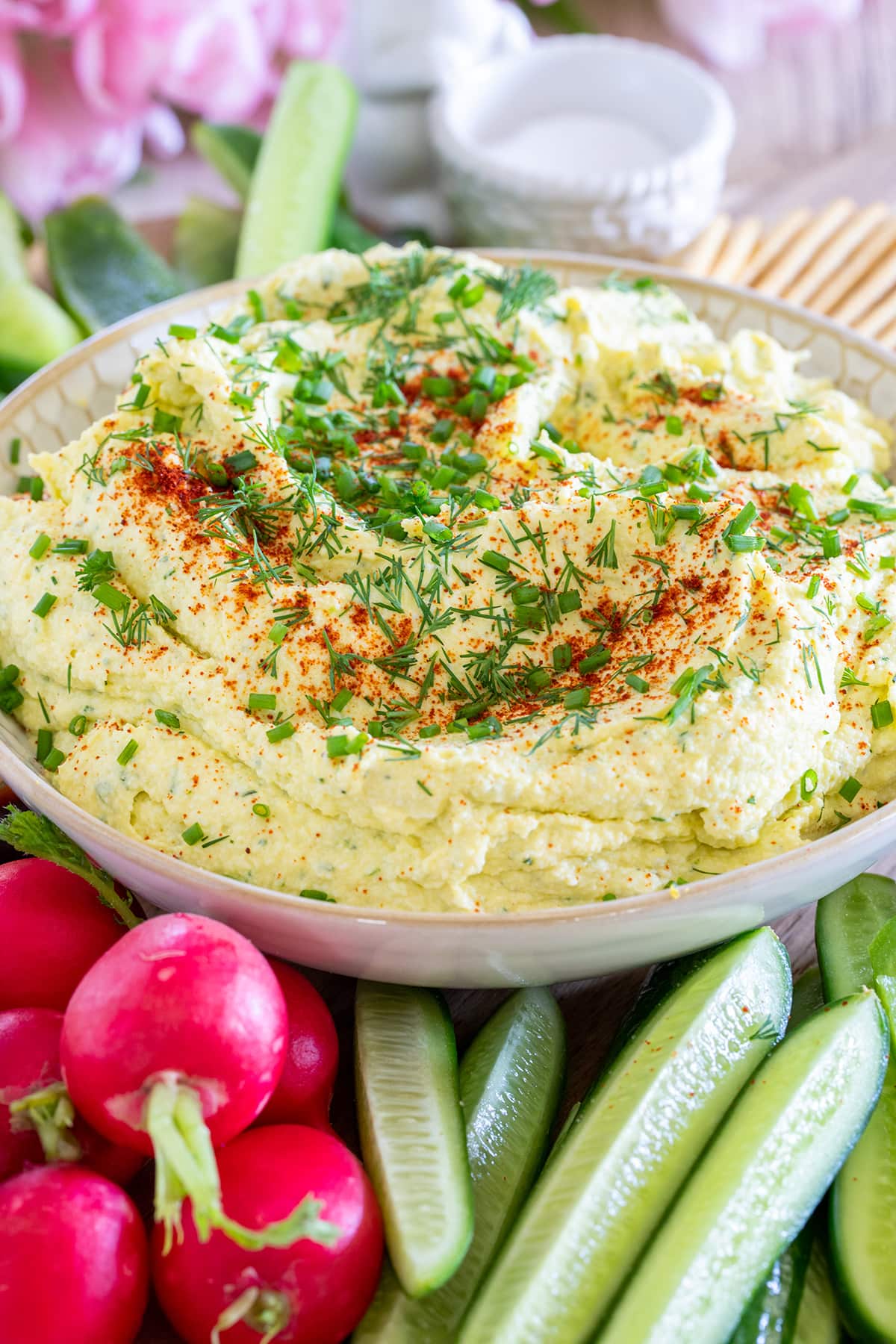 Favorite Easter Recipes: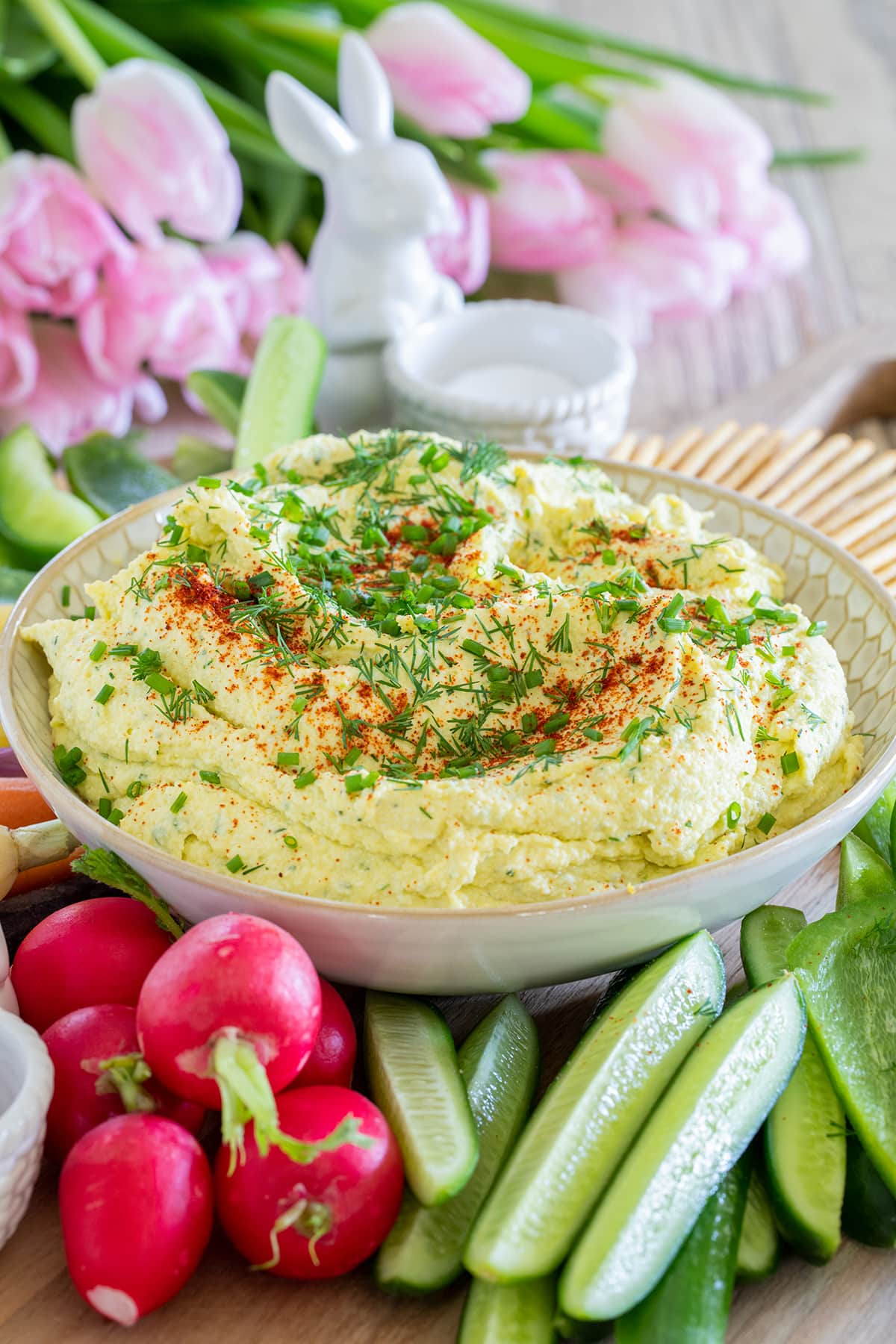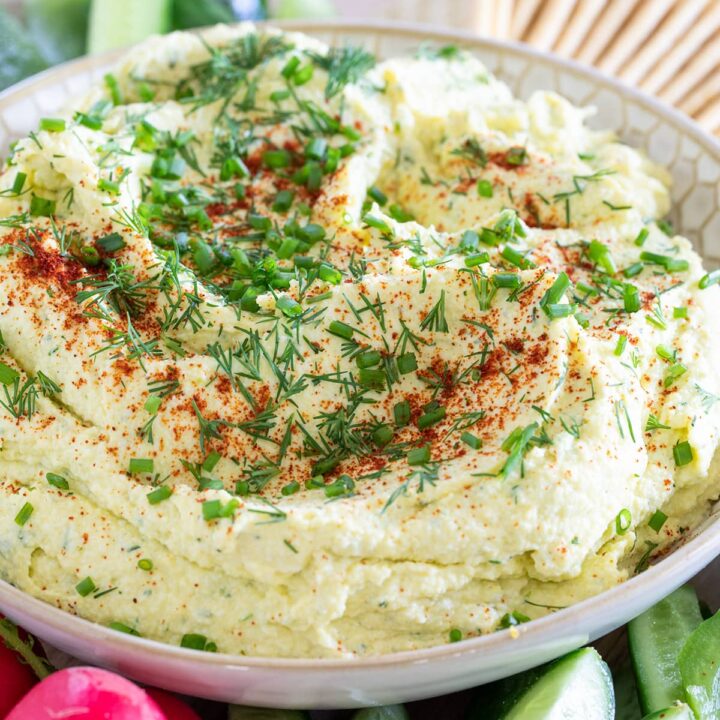 Deviled Egg Dip
A creamy herb and cheese deviled egg dip appetizer.
Ingredients
12 hard cooked eggs
5.2 oz Boursin garlic and herb cheese
½ cup mayonnaise
1 clove fresh garlic
1 tablespoon dijon mustard
¼ teaspoon black pepper
½ teaspoon kosher salt
1 Tablespoon chopped fresh dill, plus more for garnish
1 Tablespoon chopped chives, plus more for garnish
paprika, for garnish
crackers and veggies for dipping
Instructions
Add hard cooked eggs to a food processor and pulse until chopped small.
Add Boursin cheese, mayonnaise, garlic, mustard, pepper, salt and fresh dill and chives. Blend until smooth scraping down the sides,
Transfer to a bowl and garnish with more dill, chives, and paprika.
Serve with fresh veggies and crackers, for dipping.
Nutrition Information:
Yield:

6
Serving Size:

1
Amount Per Serving:
Calories:

340
Total Fat:

25g
Saturated Fat:

6g
Trans Fat:

0g
Unsaturated Fat:

18g
Cholesterol:

384mg
Sodium:

551mg
Carbohydrates:

12g
Fiber:

2g
Sugar:

2g
Protein:

16g