For years I was opposed to the flavor of lavender in food. To my senses the taste of lavender evoked the smell of bath oils and scented candles…relaxing but not appetizing. I'm not sure when it all changed but in recent years I absolutely love the flavor of floral lavender in sweets. Honey lavender ice cream from Carmela's, Lavender Scones from Little Flower or Chocolate Lavender Truffles. Chocolate and lavender being one of the best combinations of course! If you haven't tried it, you really must. Are you a fan of food seasoned with lavender?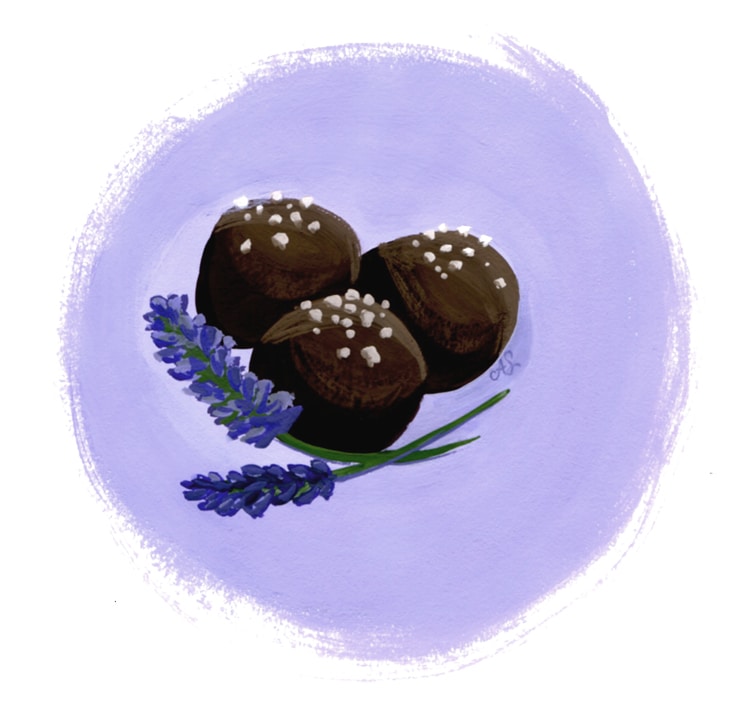 illustration by Ann Shen for Freutcake
Lavender Truffles– adapted slightly from All Recipes.com
12 fresh lavender flower heads (3 Tbs dried lavender)
1/3 cup heavy cream
6 ounces bittersweet chocolate, chopped
4 ounces semisweet chocolate, chopped
2 tablespoons unsalted butter
sea salt
Directions:
1. Place the flower heads and cream into a small sauce pan. Cook over a low flame about 10 minutes stirring with a wooden spoon. Remove from heat and set aside to continue steeping until the cream is strongly flavored with lavender.
2. Combine the bittersweet chocolate with the semisweet chocolate in a microwave safe glass bowl. Divide the chocolate into equal portions, and set one portion aside. Cook the remaining chocolate in the microwave on High in 20 to 30 second increments until melted, stirring between each heating. Using a fine-mesh strainer, strain the cream into the melted chocolate; discard the flower heads and bits of lavender. Stir the cream and chocolate together until smooth. Chill in the refrigerator until somewhat firm, but not hard, about 1 hour.
3. After the lavender chocolate mixture has chilled, place the remaining chocolate and butter into a microwave safe glass bowl. Cook in the microwave on High in 20 to 30 second increments until just melted, stirring between each heating; set aside.
4. Line a baking sheet with a piece of waxed paper. Roll the lavender mixture into 1 tablespoon-sized balls, and dip into the melted chocolate mixture using a skewer or toothpick. Place onto the prepared baking sheet, and chill in the refrigerator at least 2 hours to harden.
5. Sprinkle with sea salt if desired.