Every year for Mother's Day my sister and I put our heads together and think up a fun way to celebrate our Mom. It's usually something girly like a high tea at home or a picnic in the park which means skipping the crowds and un-intimate settings and creating something really memorable.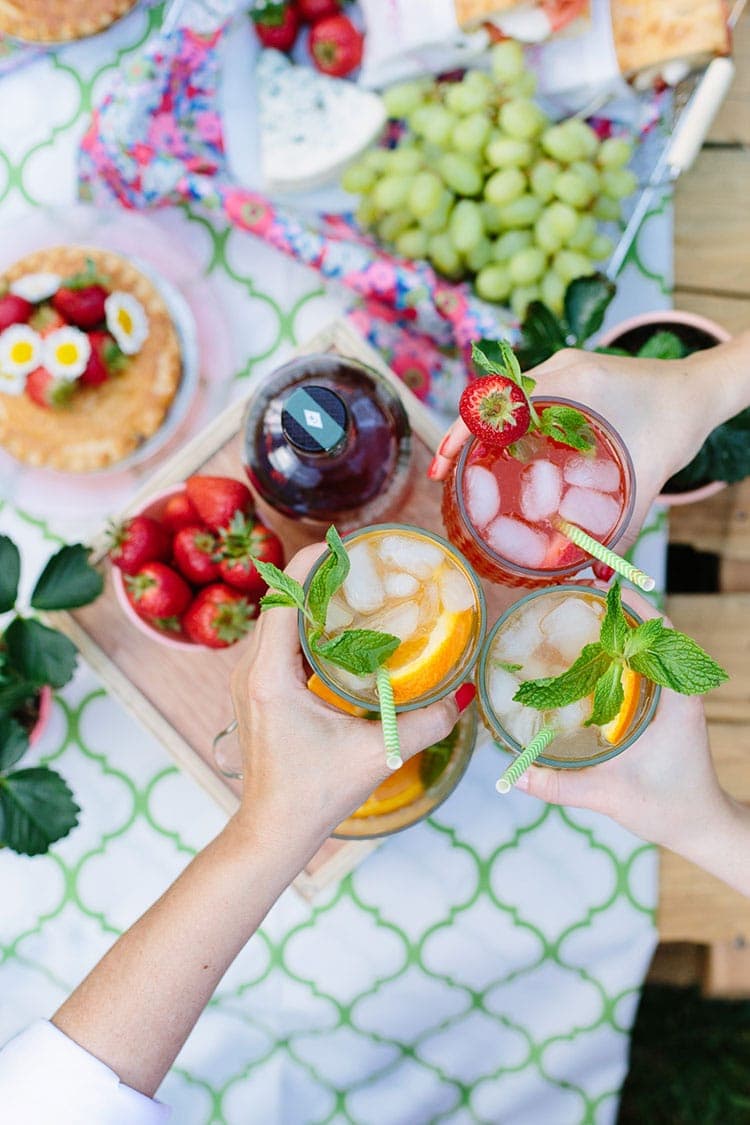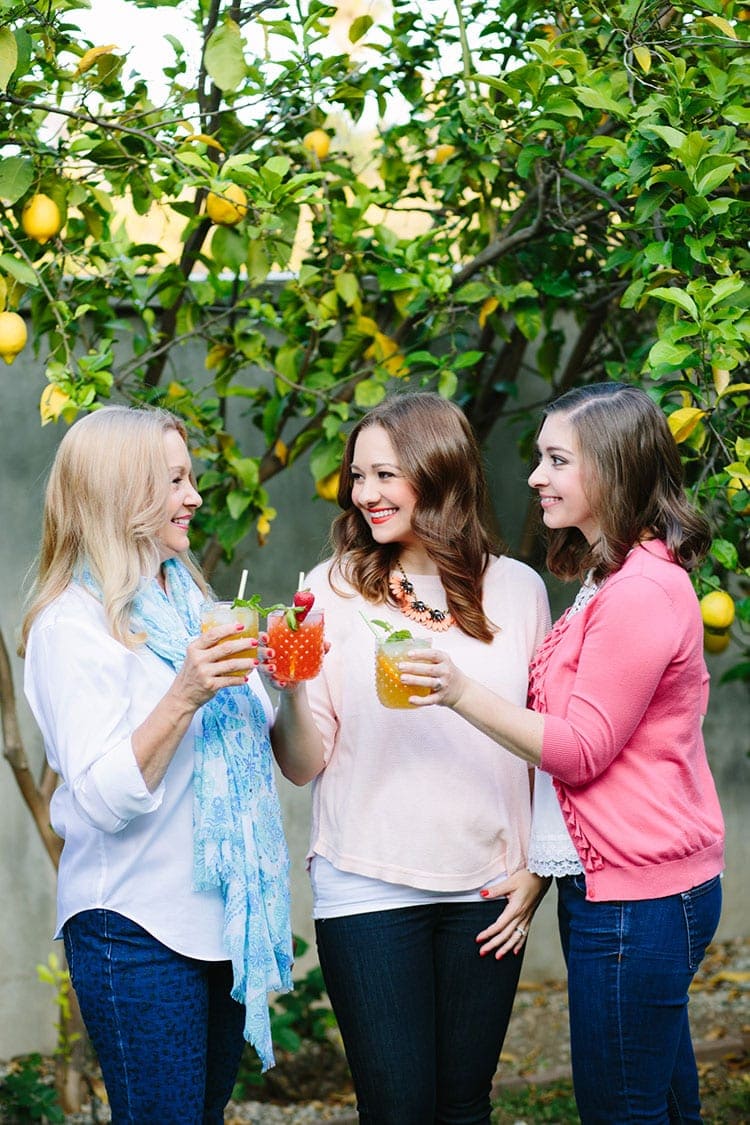 This year in honor of Mother's Day, and keeping with our sisterly tradition, I'm sharing an easy idea, and recipes, for celebrating Mom in the comfort of your own casa! All of you last minute planners out there, you are so welcome.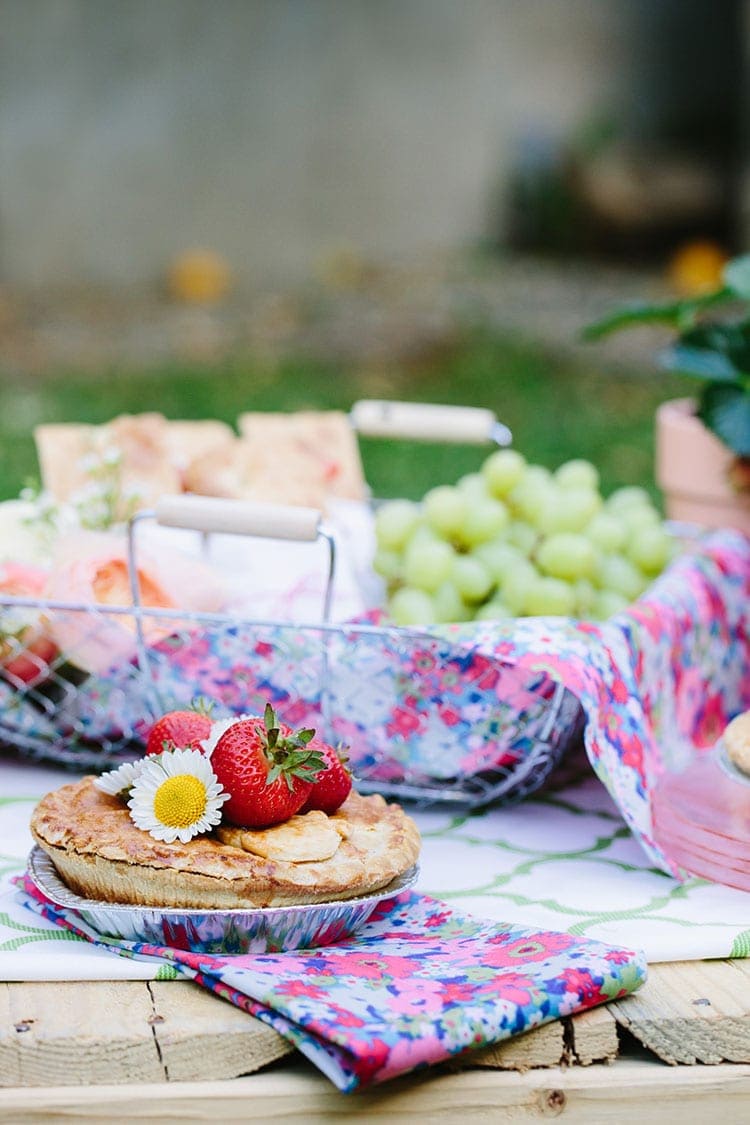 Backyard picnics are easy to plan, relaxing to enjoy, and you don't have to lug a heavy basket to the park! Set up a small makeshift table like we did with an old crate covered in fabric, or lay down a picnic blanket in your backyard.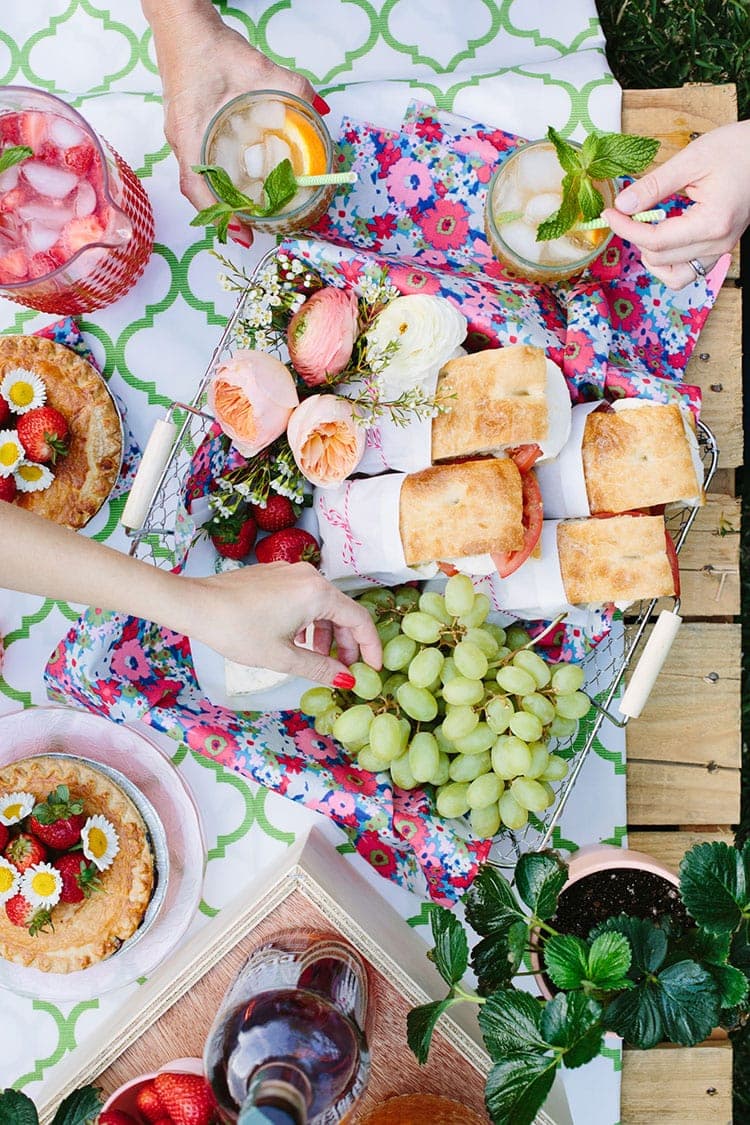 Arrange a spread of simple sandwiches, store bought pies, cheese & grapes and of course a couple of pitchers of Boozy Backyard Punch.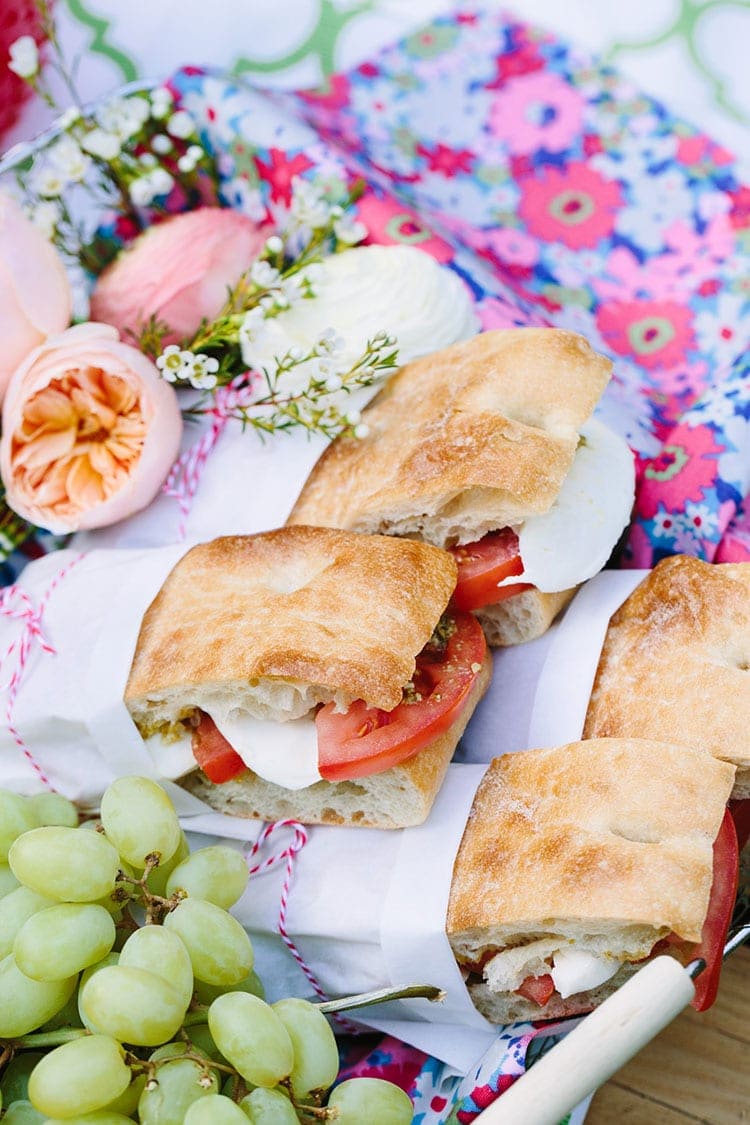 If you have any Mommies-to-be in the bunch (like me) make a special virgin pitcher of punch just for them!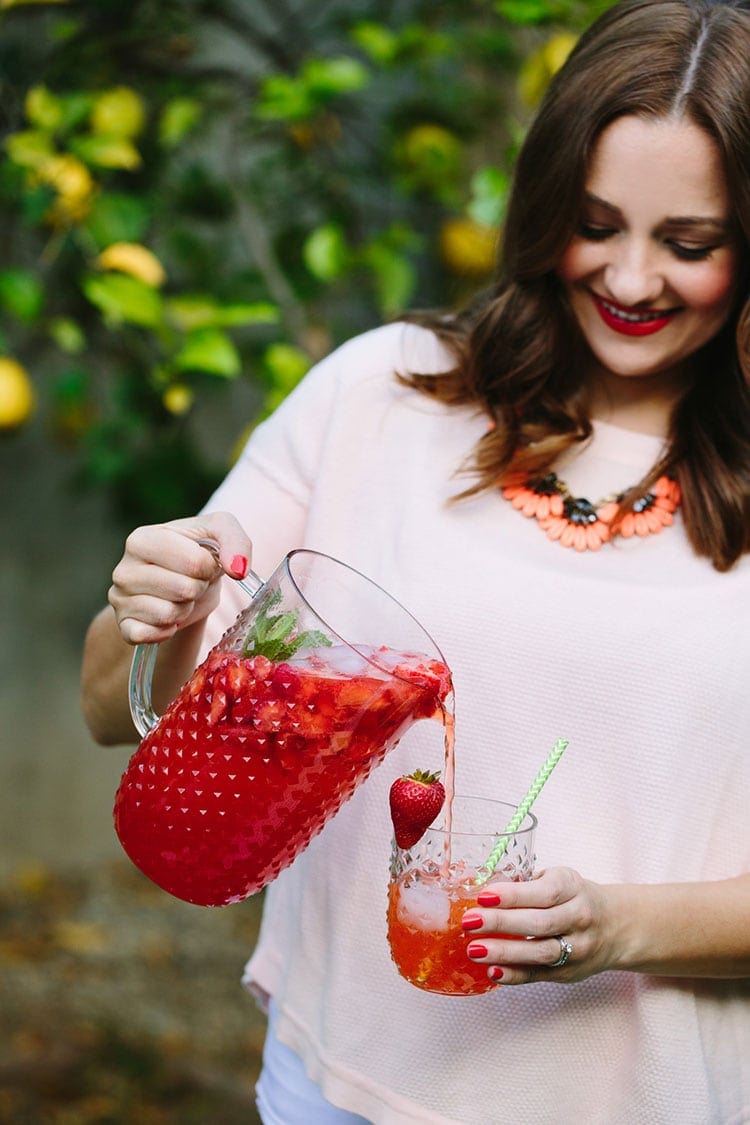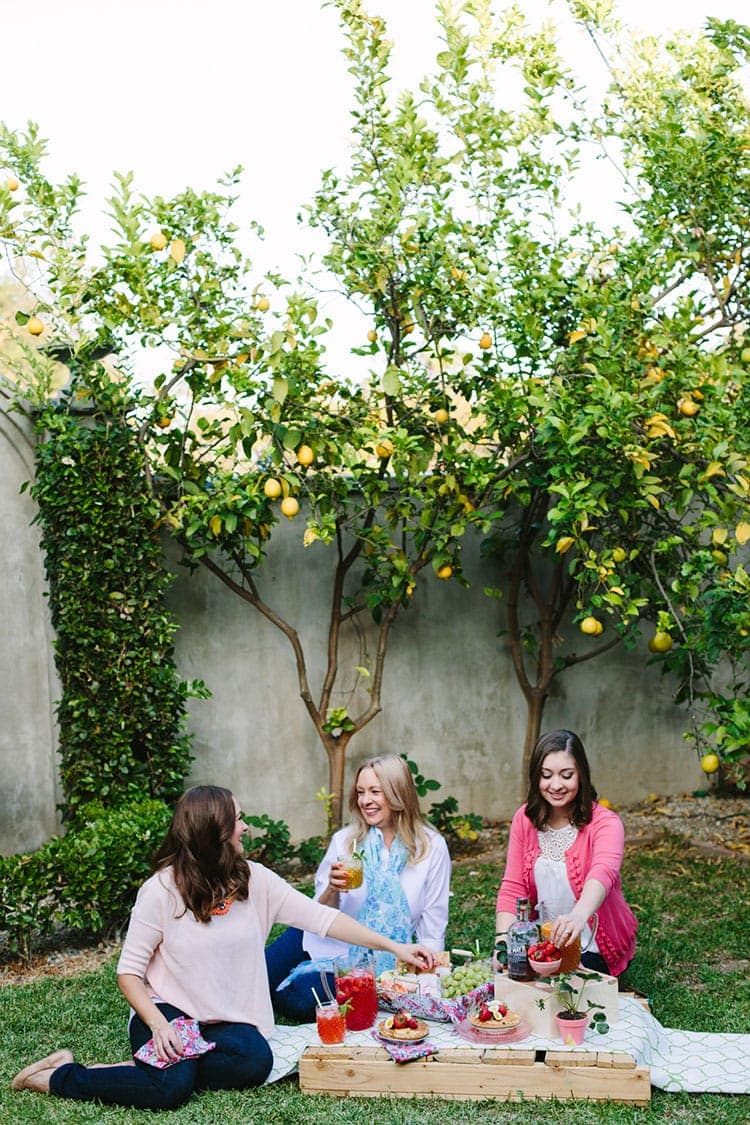 Shoo—Fly punch as my Mom, sister and I, like to call it is a refresh ginger punch made with whiskey, simple syrup, lemon juice and lots of spicy ginger beer. Your Mom is going to LOVE this punch. (I know my Mom sure does.)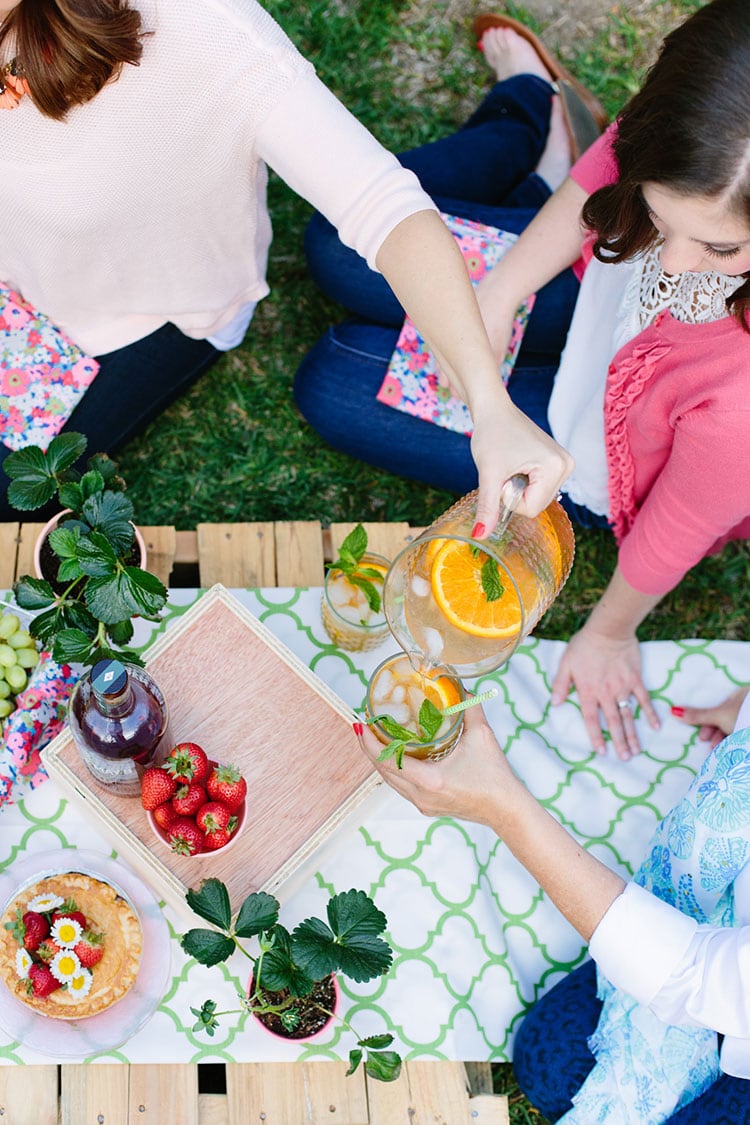 Garnished with a slice or orange and sprig of mint, this punch cools you right off on a hot day and is perfect for an afternoon spent lounging in the backyard.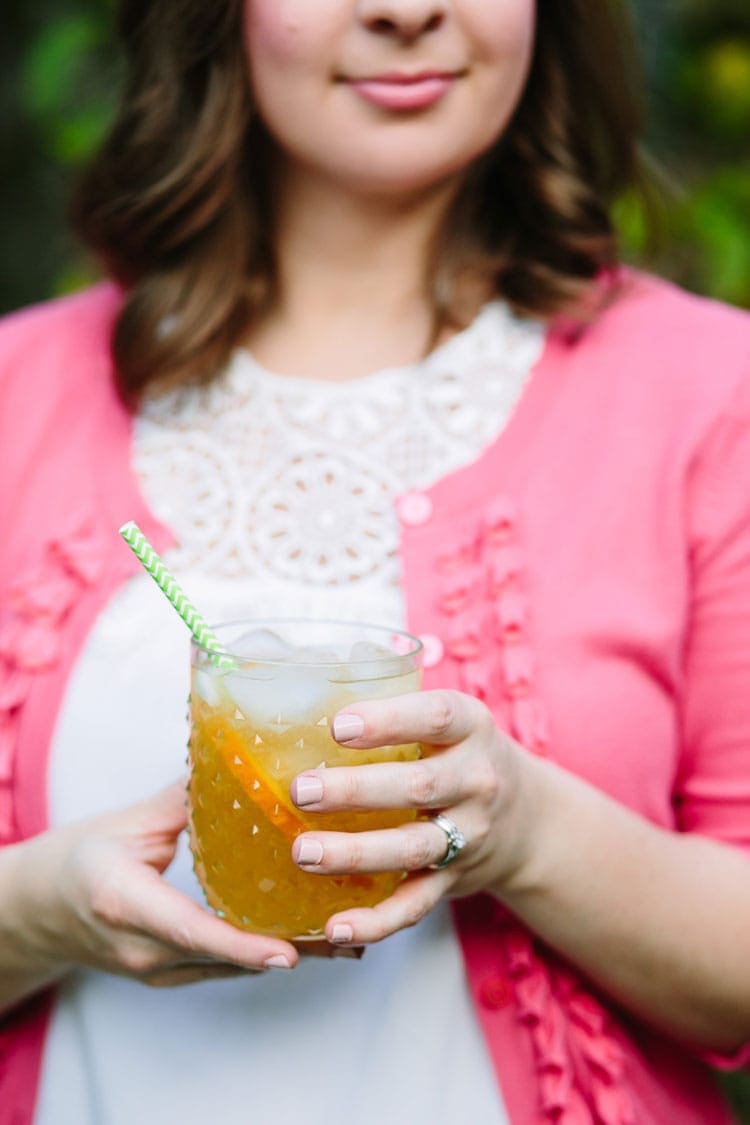 My Sparkling Strawberry Punch can be made with or without the whiskey, I (obviously) drank mine without. The recipe calls for homemade strawberry syrup mixed with fresh squeezed lemon juice, muddled strawberries, whiskey and sparkling seltzer water. With or without the booze, this punch is fruity and fun!
Sparkling Strawberry Punch
2 cups Whiskey
1 cup freshly squeezed lemon juice
2 cups homemade strawberry syrup (recipe follows)
1 cup fresh strawberries plus more for garnish
seltzer water
mint
Directions:
Make the strawberry syrup: In a small sauce pan combine 2 cups diced fresh strawberries, 2 cups sugar and 2 cups water. Bring to a simmer and cook until sugar is dissolved and strawberries begin to break down, about 5 minutes. Use a potato masher or fork to smash berries as they cook. Remove from heat and allow to cool completely. Once completely cool, strain syrup through a fine mesh sieve discarding fruit.
In a large pitcher combine Whiskey, lemon juice, strawberry syrup and one cup fresh chopped strawberries. Chill until ready to serve.
Just before serving top with seltzer water.
Serve in glasses filled with ice and garnished with mint sprigs.
Note: To make this cocktail virgin, follow the recipe leaving out the whiskey.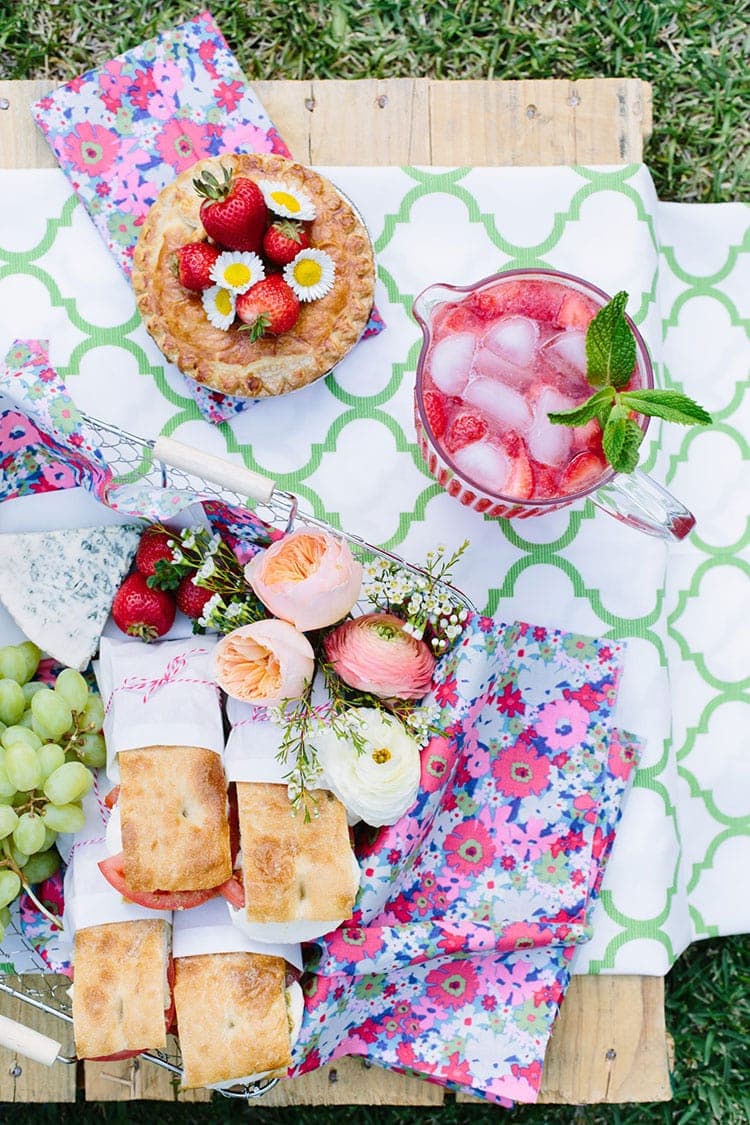 I say, you really can't beat celebrating at home. It means you can kick off your shoes, have a few fun cocktails, and spend some good quality time with Mom. On the menu: tomato, pesto and tomato sandwiches, store-bought strawberry pies dressed up with a few fresh flowers, and plenty of cheese and fruit for snacking. It doesn't have to be complicated, just delicious!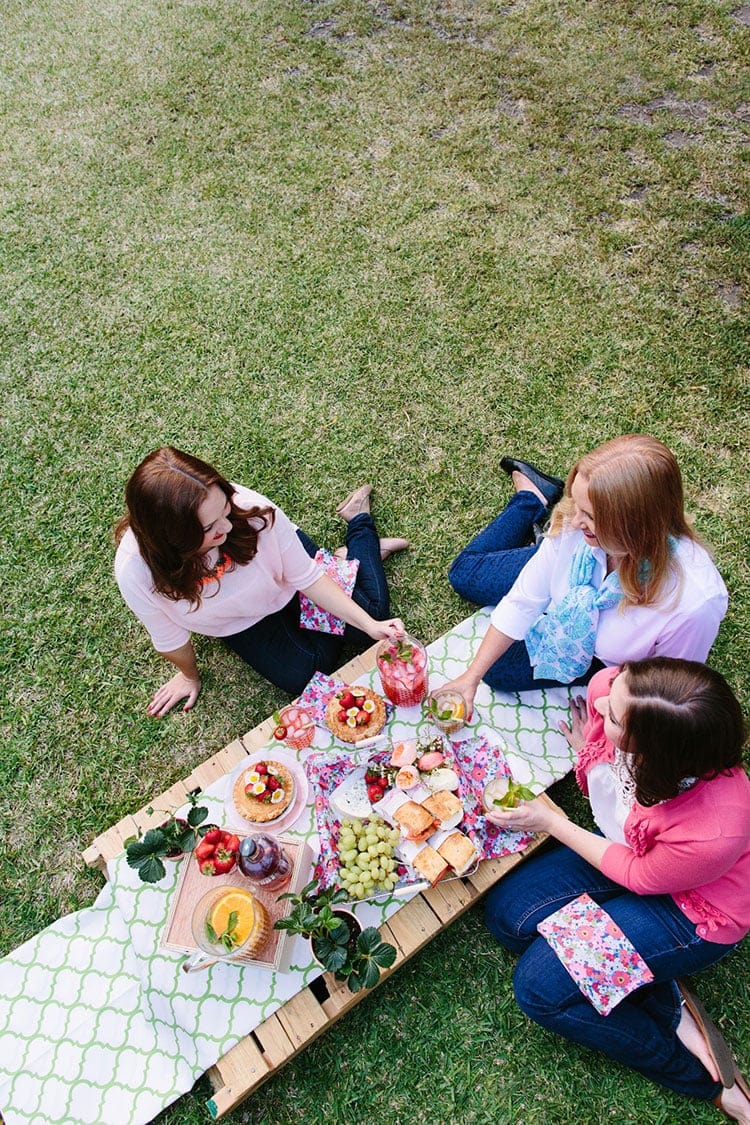 And while I still have an entire year before I will be celebrating Mother's Day as a first time Mom, this year still feels awfully special to me. It's my first Mother's day as a Mommy-to-be which is magical and surreal at the same time.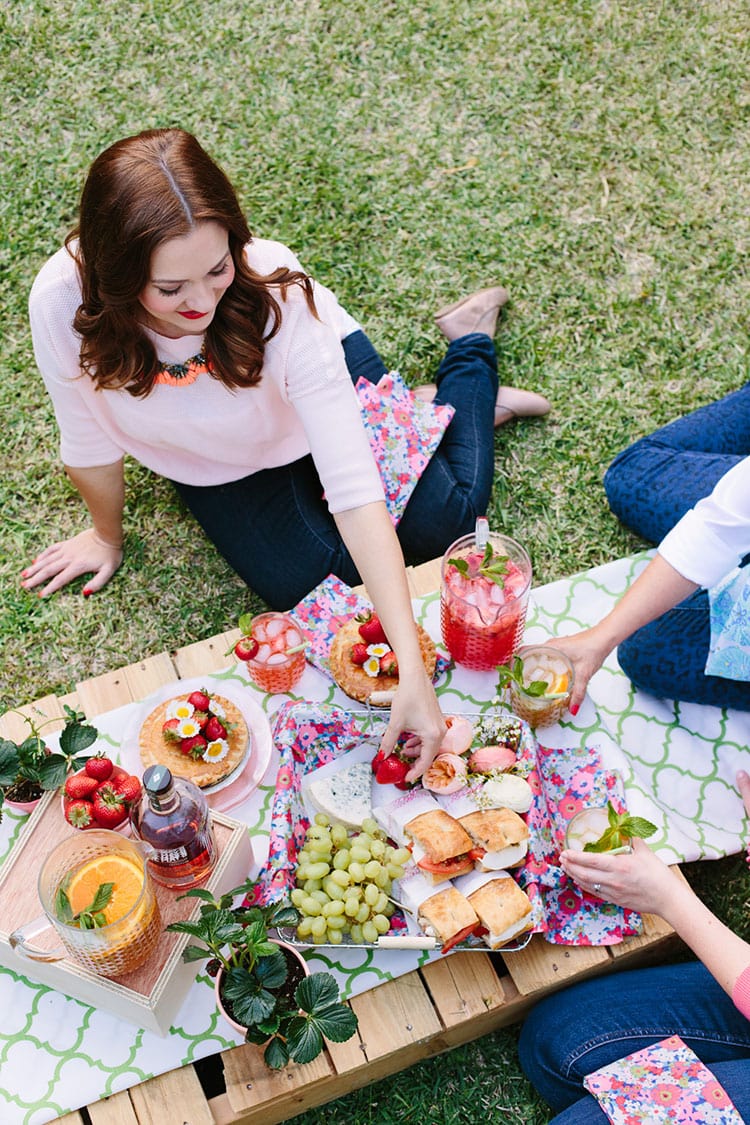 There is no denying that this Sunday feels just a little bit more special because of this baby bump. Happy Mother's Day and cheers to all of you Moms & Mommies-to-be!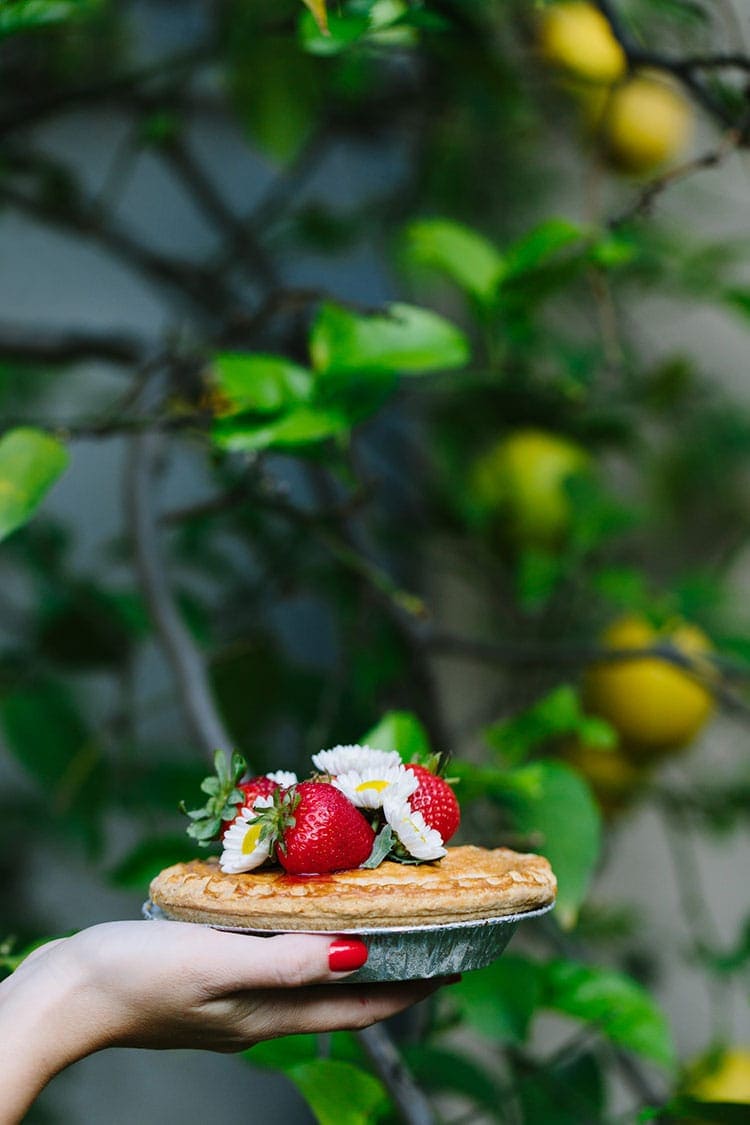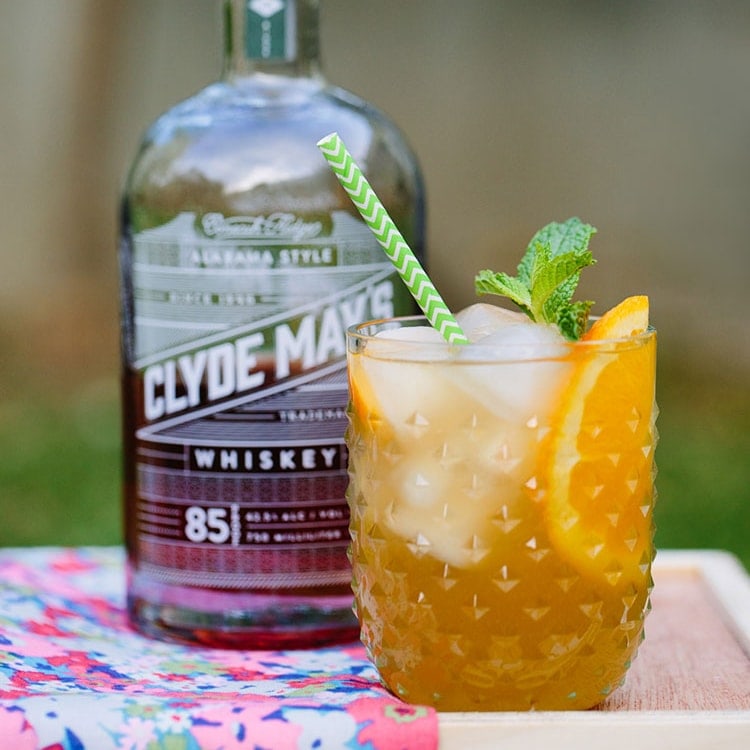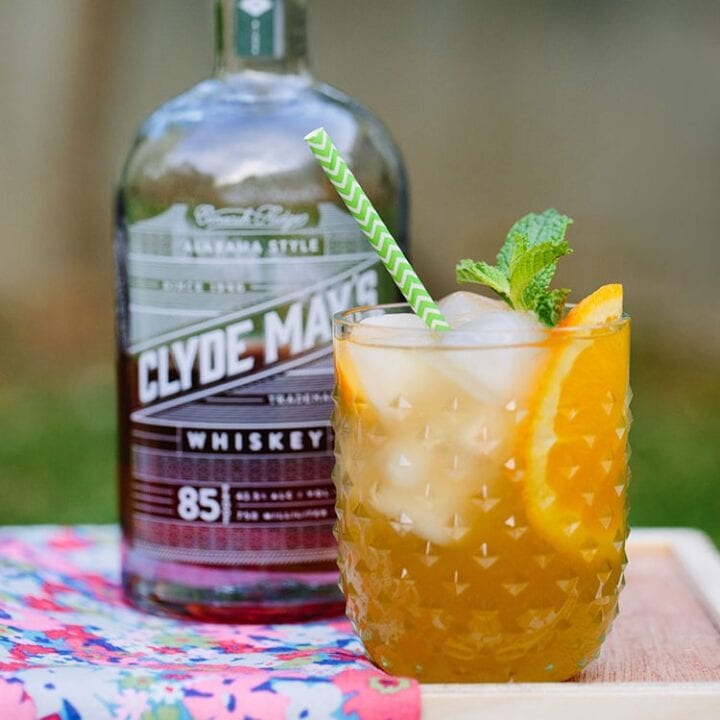 Shoo Fly Punch
Additional Time:
10 minutes
A delicious and refreshing whiskey punch perfect for outdoor summer sipping.
Ingredients
2 cups Whiskey
1 cup freshly squeezed lemon juice
1 cup simple syrup
2-3 bottles of ginger beer to taste (about 24-36oz)
garnish: slices of orange & fresh mint
Instructions
Make the simple syrup: In a small sauce pan combine 1 cup
water and 1 cup sugar. Bring to a simmer and stir until sugar is dissolved. Remove from heat and cool completely.
In a large pitcher combine Whiskey, lemon juice, simple
syrup, and orange slices. Chill until ready to serve.
Just before serving stir in ginger beer.
Serve in glasses filled with ice and garnished with fresh
orange slices and mint sprigs.


Nutrition Information:
Yield:

6
Serving Size:

1
Amount Per Serving:
Calories:

333
Total Fat:

0g
Saturated Fat:

0g
Trans Fat:

0g
Unsaturated Fat:

0g
Cholesterol:

0mg
Sodium:

24mg
Carbohydrates:

52g
Fiber:

0g
Sugar:

50g
Protein:

0g