Happy Friday friends! Today is my birthday and I'm heading off to the desert for a relaxing weekend getaway mixed with lots of pool time. Before I go, I am thrilled to say that Elana of Stir & Strain is here today sharing one of her delicious cocktail concoctions to celebrate all of us with June birthdays. Afterall, a lady should never have to mix her own birthday cocktail, don't you agree? Elana, take it away...
Those of us with a June birthday (and I'm including myself) can feel doubly blessed in that, not only do we share our birthday with the welcoming of summer, we also enjoy a beautiful, fragrant, and, surprisingly, edible birth flower: the rose.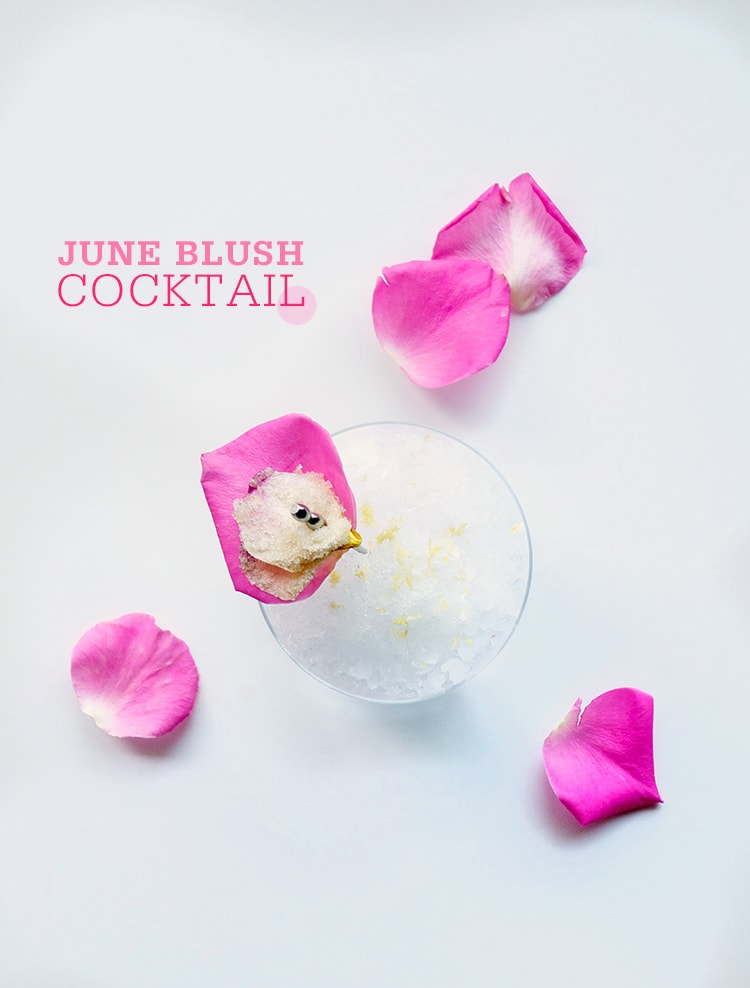 While there are many culinary uses for roses, my favorite is in cocktails. To celebrate summer, I've put together this gin-based cocktail featuring a double dose of the flower in both rose water and a sugared rose petal garnish.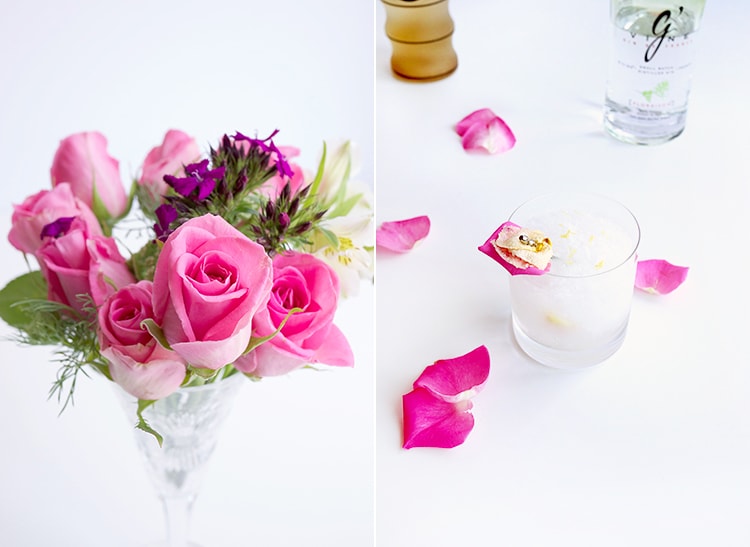 This delicate cocktail is the perfect sipper for a summer afternoon. Not too boozy, featuring lots of cooling ice and a lovely kick from a touch of ginger. The sugared petals are a simple and fun DIY project, and if you make a whole batch of petals, they'll keep for up to a year in an air-tight container. Then you can garnish to your heart's content and continue to impress your cocktail guests for the rest of the year.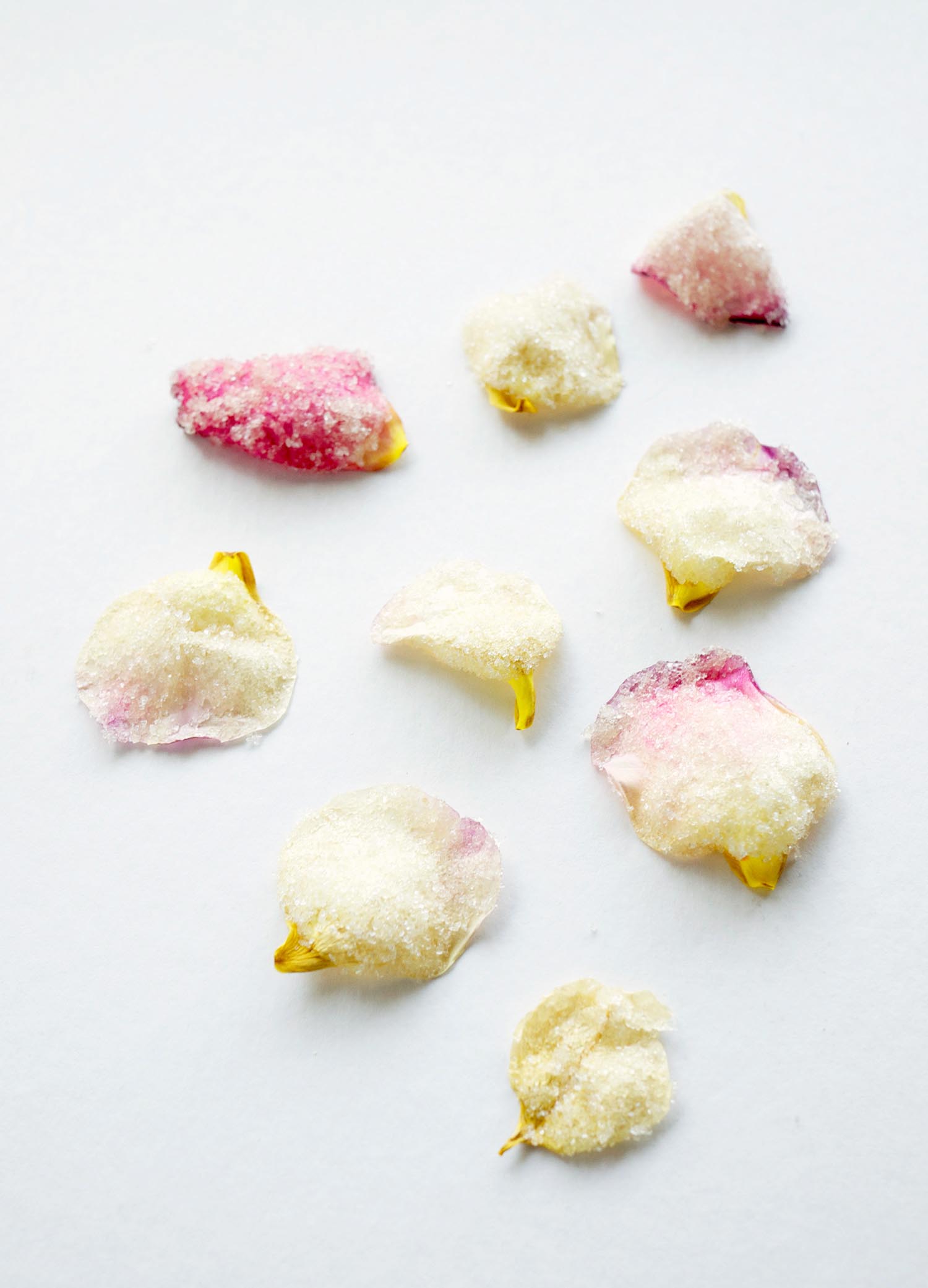 Pair this cocktail with an elegant garden party or high tea. Throw on an amazing straw hat too and you have the perfect afternoon.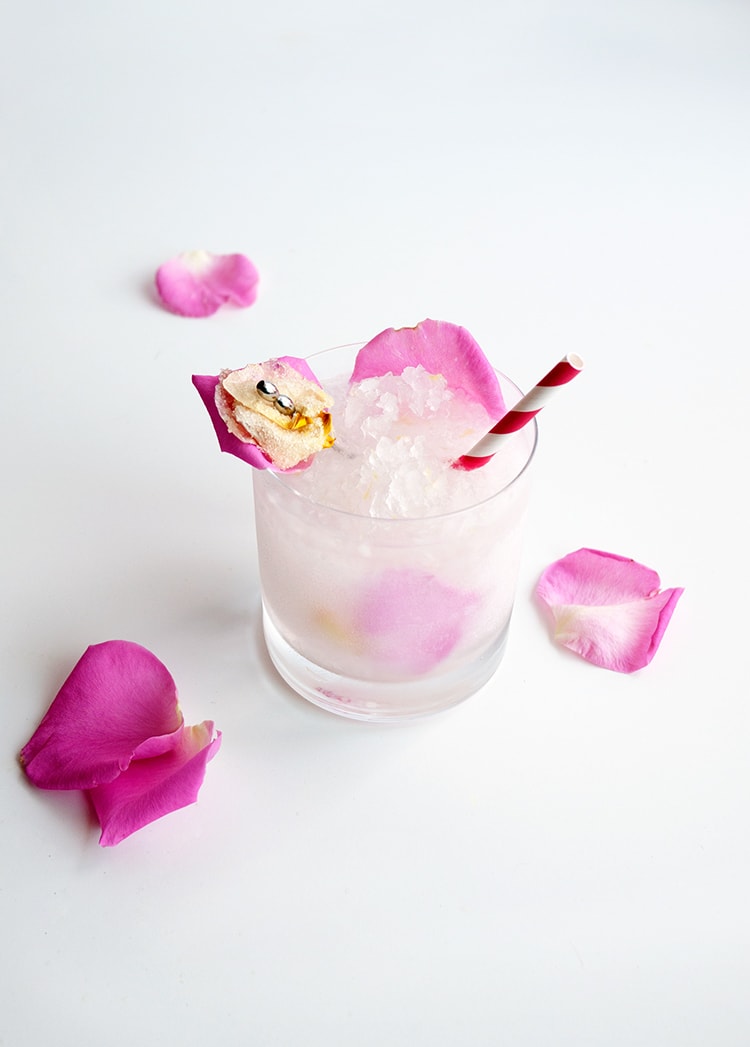 photos by Elana, Stir and Strain
June Blush Cocktail
makes 1
2 ounces of a floral gin (G'Vine is my preferred brand for this)
1 ounce Canton Ginger Liqueur
½ ounce rose water
½ ounce freshly squeezed lemon juice
1-½ cups crushed ice
lemon zest.
Directions:
1. In the bottom of a double rocks glass or goblet, add the gin, Canton, rose water and lemon juice. Add crushed ice, stir, and garnish with rose petals and fresh lemon zest.
To make the sugared petals:
1 egg white
¼ cup granulated sugar
small handful of rose petals, cleaned and dried
1. Whip the egg white until frothy. Take a single petal, dip into the egg white and then dredge through the sugar on both sides. Set aside on parchment and repeat. Let the petals air dry for at least 3-4 hours and then transfer to an air-tight container for storage if not using right away.