Valentine's Day is just a few short days away and I couldn't be more excited! Any guesses as to why? Well for starters it's an excuse to shake up pretty pink Cupid's Kiss cocktails, craft my heart out making giftable bottles of Conversation Heart Vodka and demonstrate it all live on air today at 11:30 PST with Good Housekeeping Magazine's food editors on Google+. I sure hope you will join me. My heart is all a flutter!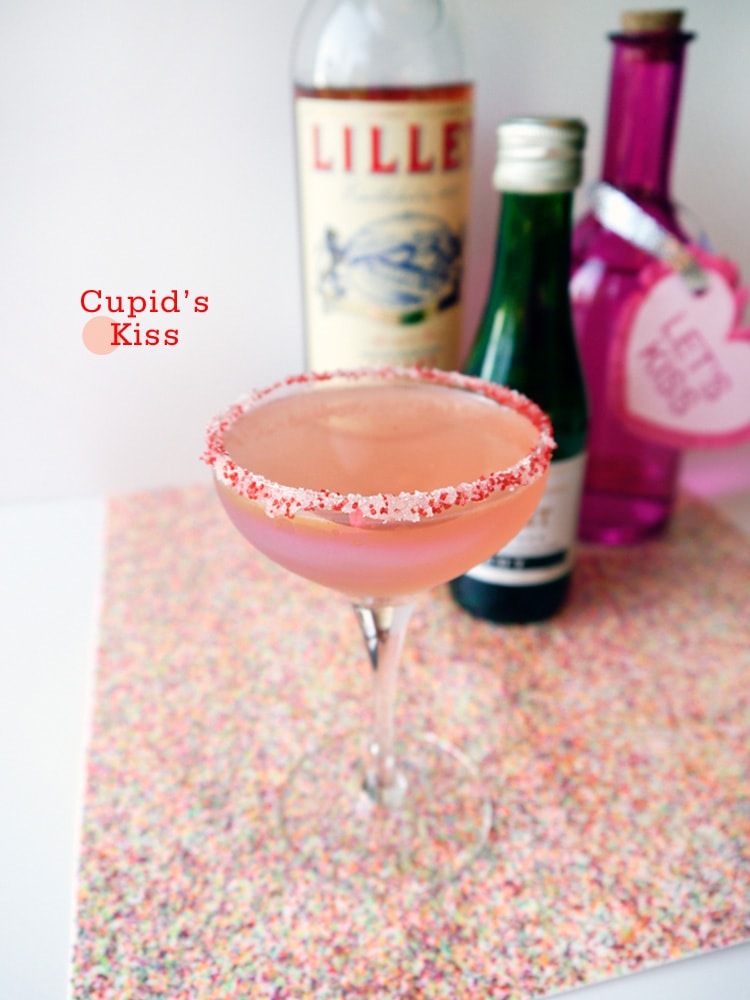 Miss the live airing? Not to worry, you will be able to watch my entire demonstration on Good Housekeeping's You-Tube channel after it airs. Or, simply keep reading for the tutorials and recipes right here on Freutcake. I've got you covered!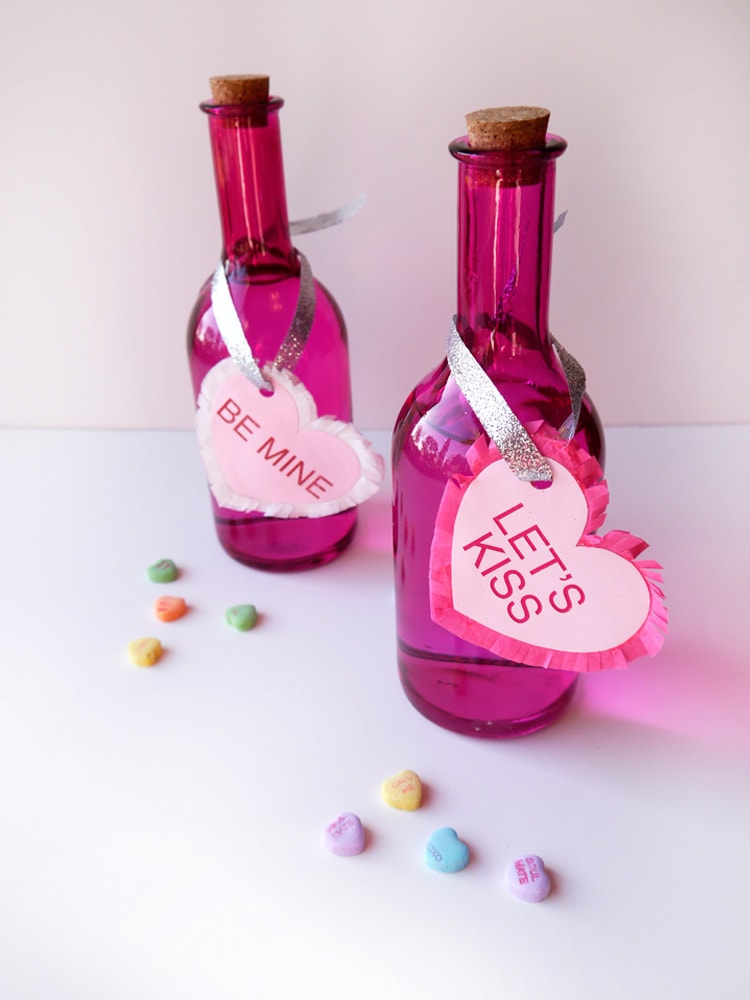 Step 1: Make Conversation Heart Vodka - recipe via Food & Feminity
1. Start with 1 bag conversation hearts (about 160) and 3 to 4 cups or your favorite vodka.
2. Separate the conversation hearts by color. For each color, put hearts and vodka (about ½ cup for every 20 hearts) in a clean water bottle or other resealable plastic container. Let soak 15 minutes, shaking vigorously every few minutes, until the hearts are mostly dissolves and the vodka is flavored/colored.
3. Strain into jars or bottles.

*Freutcake note: Each color heart is a different flavor! I made one big batch of vodka using all pink conversation hearts. Depending on the brand of conversation hearts this flavor will be either strawberry or cherry.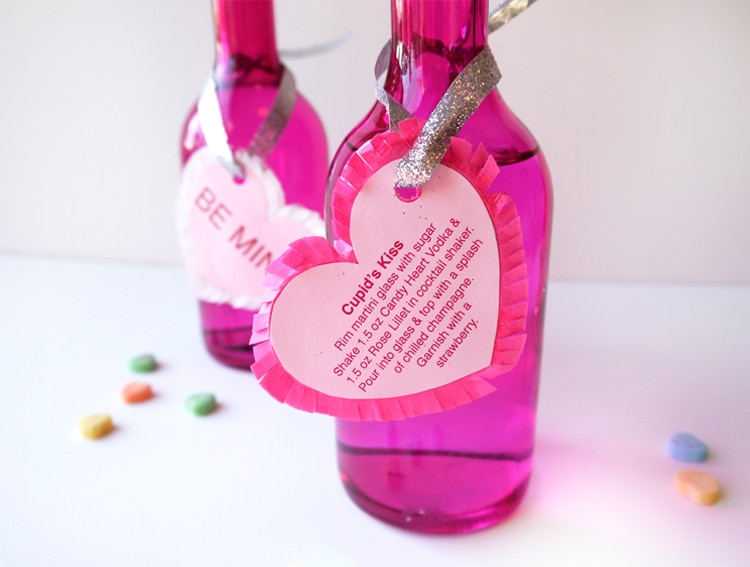 Step 2: Packaging Conversation Heart Vodka to Gift
1. Fill a clean bottles with Conversation Heart Vodka.
2. Downloading the heart tag template here: Heart Tag Template
3.  Print tags on colored card stock. I chose a light pink but you could use any light color.
4. Cut out front heart, back recipe heart and tissue paper template heart with scissors.
5. Using the tissue paper heart as a guide, cut heart shape out of tissue paper.
6. Glue all three heart layers together with tissue paper in the middle.
7. Hole punch the corner of the heart tag and attach to bottle with ribbon.
8. Gift away!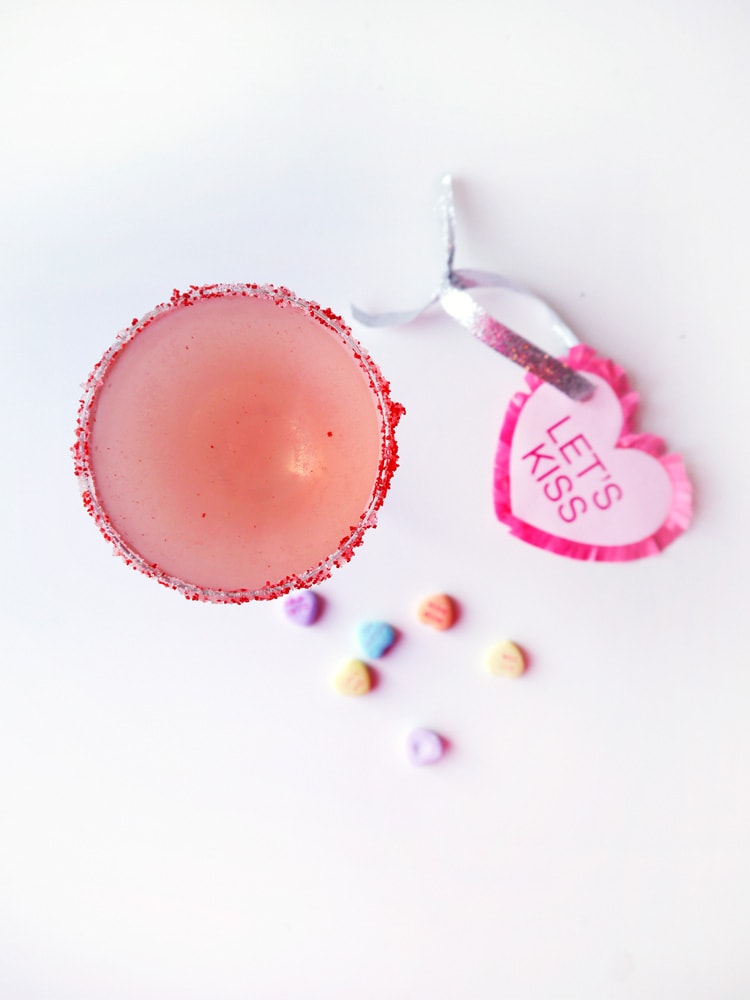 photos, tutorial & template by Leah Bergman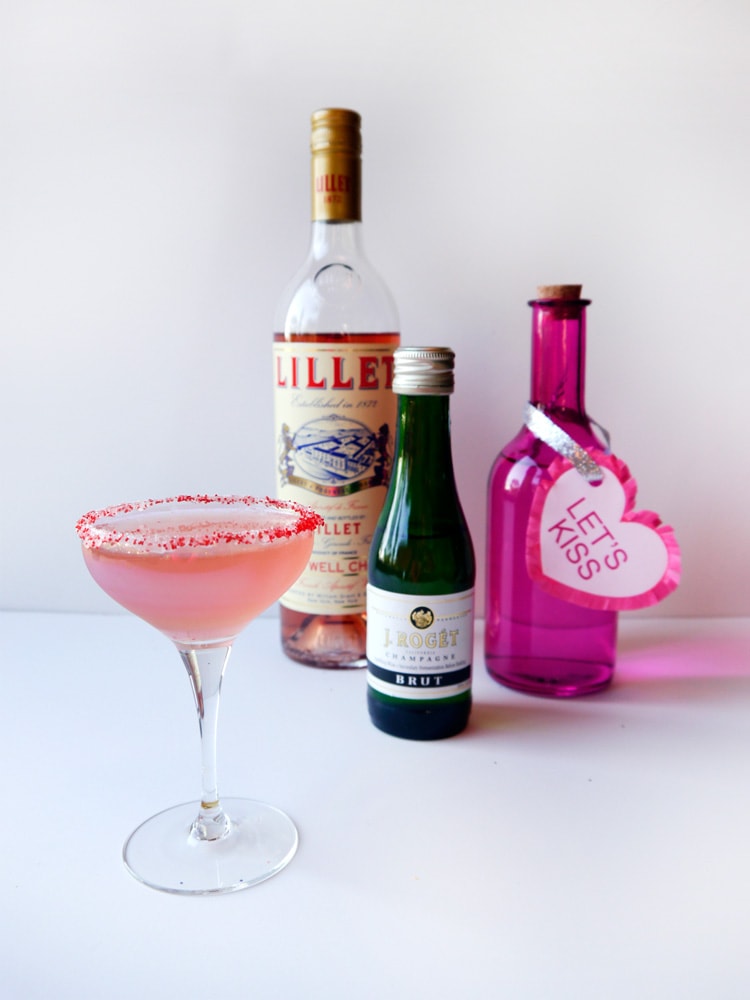 Step 3: Make a Cupid's Kiss Cocktail
makes 1 drink
1.5 oz Conversation Heart Vodka chilled
1.5 oz Rose Lillet chilled
champagne

1. Rim a martini glass with red and white sugar and set aside.
2. In a cocktail shaker filled with ice, combine Vodka and Lillet. Shake until well chilled.
3. Strain into prepared glass and top with champagne.
4. Enjoy!