Mother's Day is this Sunday and if there is one thing I know for sure, it's that MOM NEEDS COFFEE. I am speaking from personal experience here. For years I've wanted a Nespresso machine so when William Sonoma gifted me one for Mother's Day along with their new Coffee Capsule Collection, I was so excited! I am an espresso lover through and through and my regular order at any coffee shop is an Americano (Espresso shots with hot water) or if I'm spoiling myself, a Lavender Honey Latte.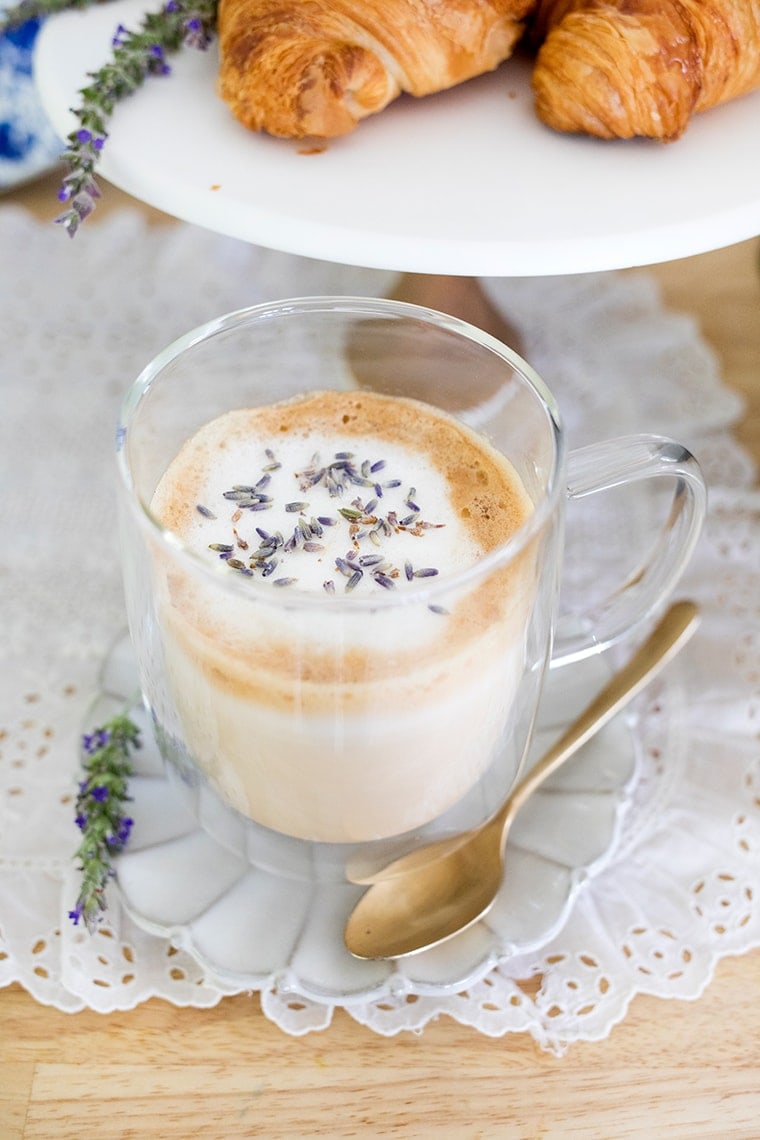 Lavender Honey Latte Recipe
Like everything that William Sonoma creates, these coffee capsules are premium quality and incredibly delicious. Made from 100% Fair Trade Certified™ coffee beans and completely recyclable, they created 6 flavors to chose from. For my lavender honey latte, I used the William Sonoma vanilla coffee capsule to give an added sweet note. Here's how I make it.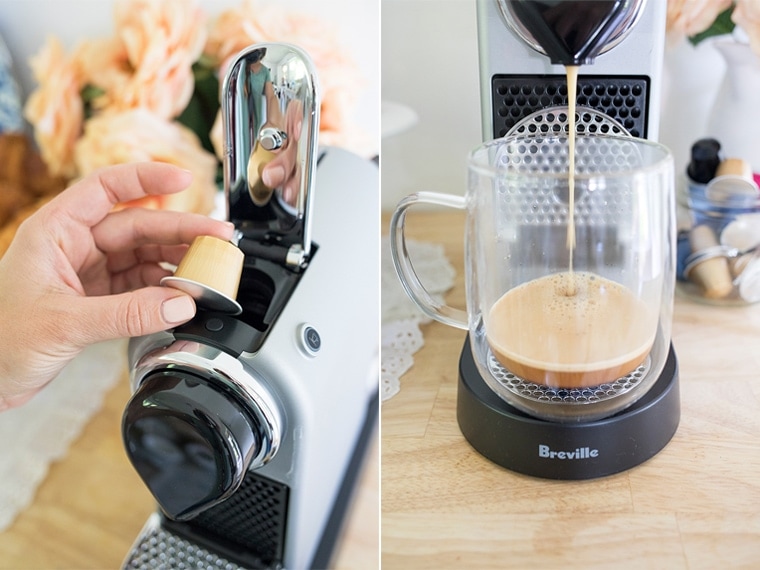 Start by making a lavender honey simple syrup. Equal parts sugar and water go into a sauce pan with good quality honey and culinary lavender. Once it comes to a simmer and the sugar dissolves, remove it from the heat and allow the lavender to steep until cooled. Once you've made a batch you can keep the syrup stored in the fridge for at home flavored coffee drinks anytime!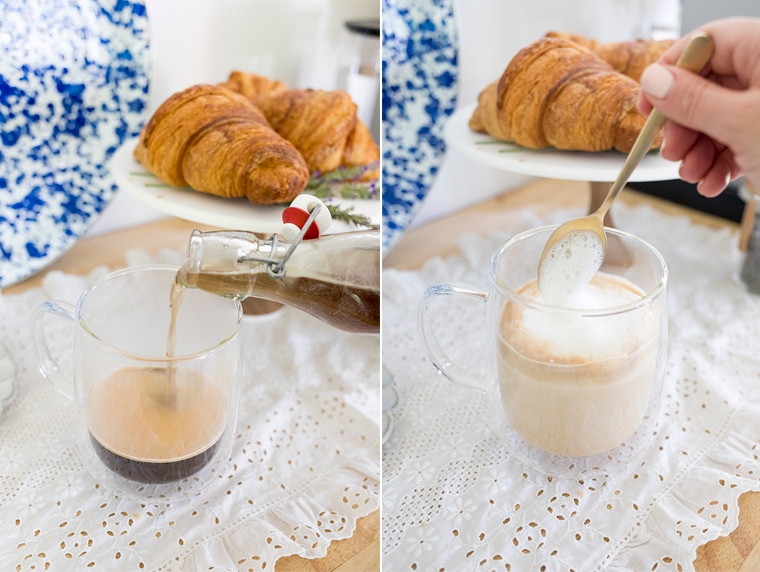 To your coffee mug or glass add a shot of espresso (hello, Nespresso machine!), a splash of lavender honey syrup and top with warm frothed milk. William Sonoma also carries Nespresso milk frothers if you really want to spoil Mom, which I recommend you do. Says the Mom of three-year-old twins. If you don't have a frother you can shake warmed milk until frothy in a glass mason jar with a tight fitting lid. Spoon foam over the top and you have a delicious Mother's Day coffee drink at home.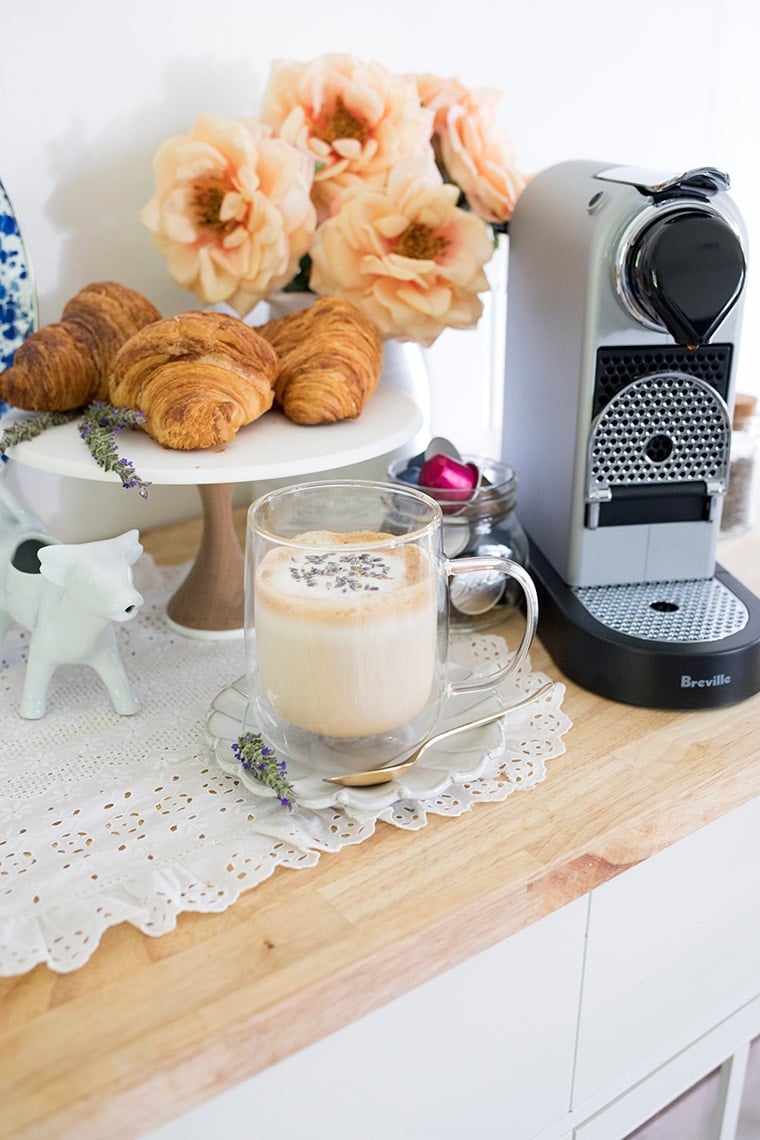 Mom is going to absolutely love this latte, and her Nespresso machine! Visit William Sonoma in-store or online to shop their new Coffee Capsule collection and all of their Nespresso machines. Happy Mother's Day!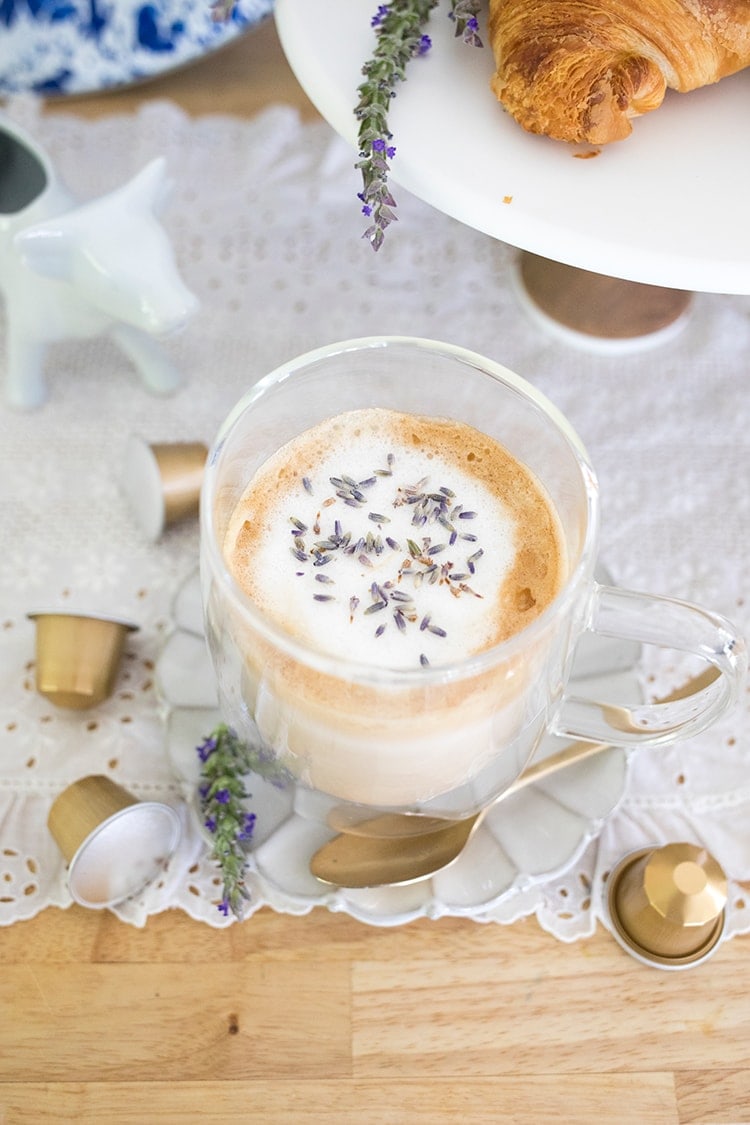 DISCLOSURE: This post was created in partnership with William Sonoma, a brand I love! Thank you for supporting the sponsors that keep Freutcake delicious.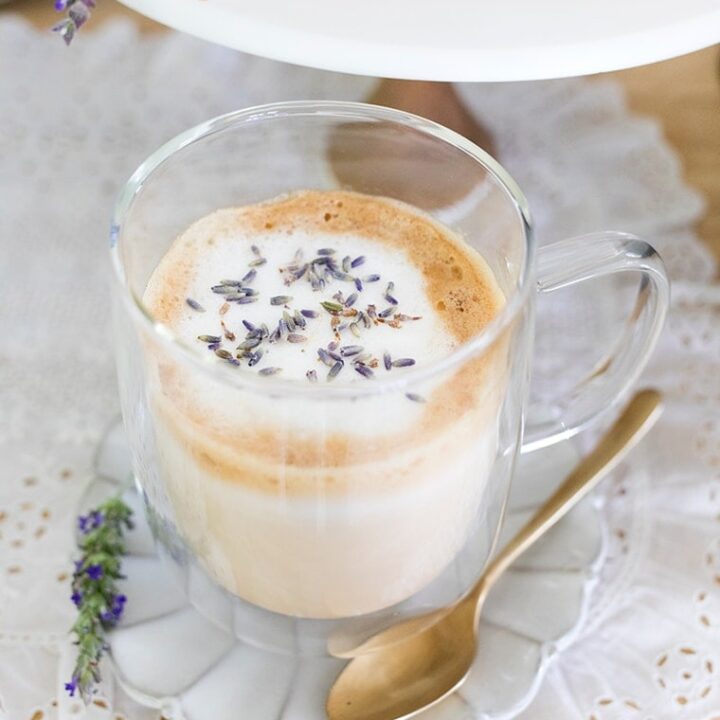 Lavender Honey Latte Recipe + A Mother's Day Gift Idea
Lavender Honey Latte Recipe
Ingredients
1-2 shots espresso using the Williams Sonoma Vanilla Coffee Capsules
1 cup whole milk
1 Tablespoon lavender honey syrup
Lavender honey syrup:
1 cup granulated sugar
1 cup water
¼ cup honey
¼ cup dried culinary lavender
Instructions
In a sauce pan combine sugar, water, and honey. Bring to a simmer over medium low heat stirring frequently. Once the mixture begins to simmer and the sugar is dissolved, stir in the lavender and remove from heat. Let steep until mixture is completely cooled. Strain through a fine mesh strainer into a glass bottle and refrigerate until ready to use.
In a latte glass or mug, add one or two shots of espresso. Stir in lavender honey syrup. Top with steamed, frothed milk and foam. Garnish with more dried lavender if desired.
Mother's Day Gift Ideas: