Happy Friday! Is this crazy cold front nuts or what? Although we have little to complain about here in So. Cal, I am shocked at the snow fall across the rest of the states. It seems that winter is already here, and after waiting so long for fall, I'm not sure how I feel about that. But to bring a little warmth to this chilly Friday I offer Spiced Pear & Bourbon Cocktails!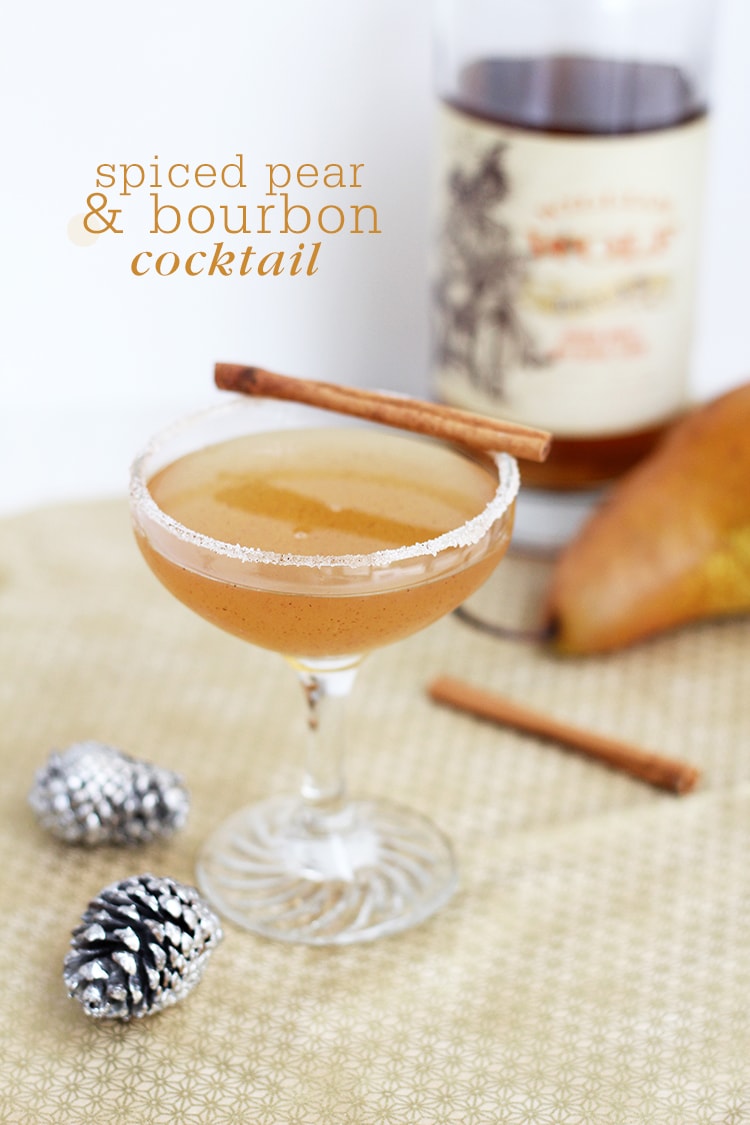 This drink is sugar, spice, really good bourbon, and everything nice all wrapped up in a pretty fall cocktail package. It starts with a sweet pear simple syrup cooked down with cinnamon until it tastes like pie, mixed with nutty William Wolf Pecan Bourbon* and a hearty squeeze of lemon. I was sent a bottle of William Wolf Pecan Bourbon a couple months back and have been savoring it ever since! With it's pecan-pie flavor and smooth quality, this is one of my favorite bourbons to date! Of course if you can't find William Wolf, another good quality bourbon will do just fine.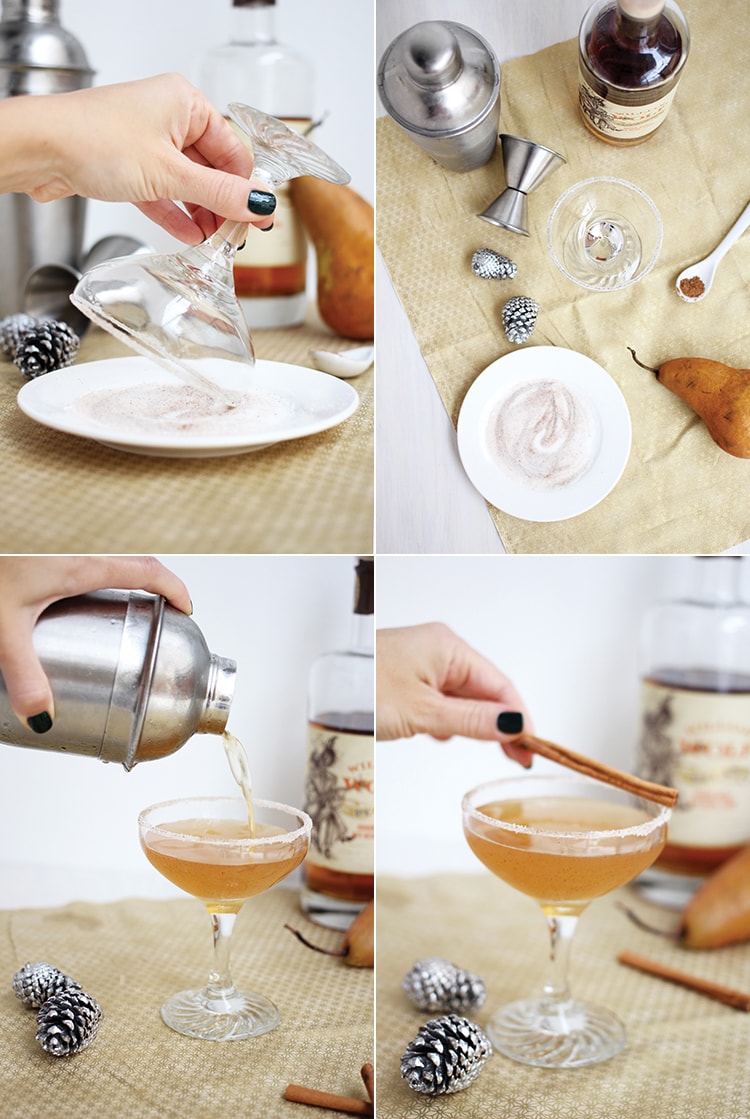 Because I like my bourbon cocktails on the sweet side, I rimmed my glasses with a bit of pumpkin pie spice and sugar. What's not to love about that? Garnish with a fresh cinnamon stick and serve alongside any savory fall meal. This cocktail will pair perfectly with Thanksgiving dinner, of course. So, stay warm this weekend my friends and make a round of these drinks for extra comfort. Cheers!
photos by Leah Bergman
* William Wolf Pecan Bourbon was gifted to be by the company. All opinions about this bourbon are my own however…it's just that good.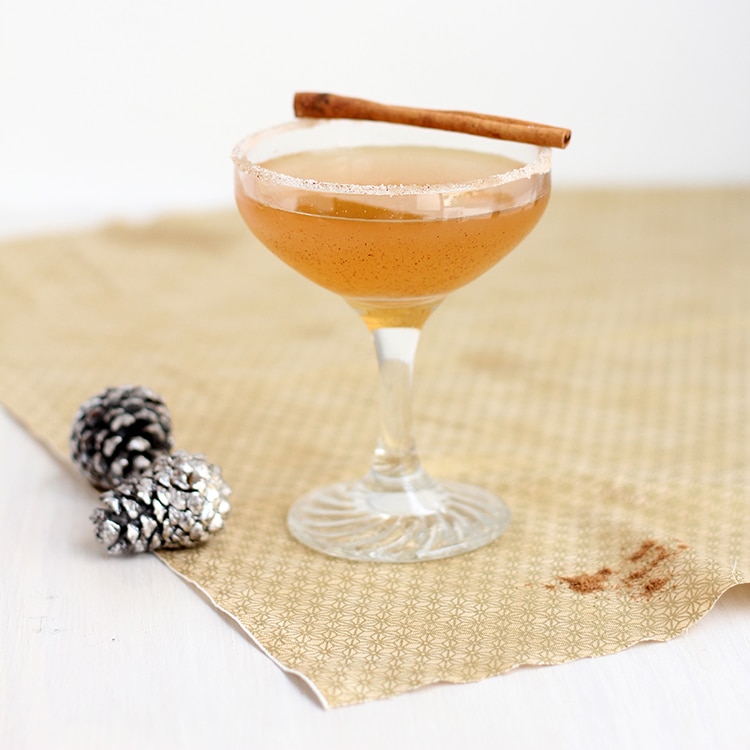 Spiced Pear Bourbon Cocktail
2014-11-13 16:46:01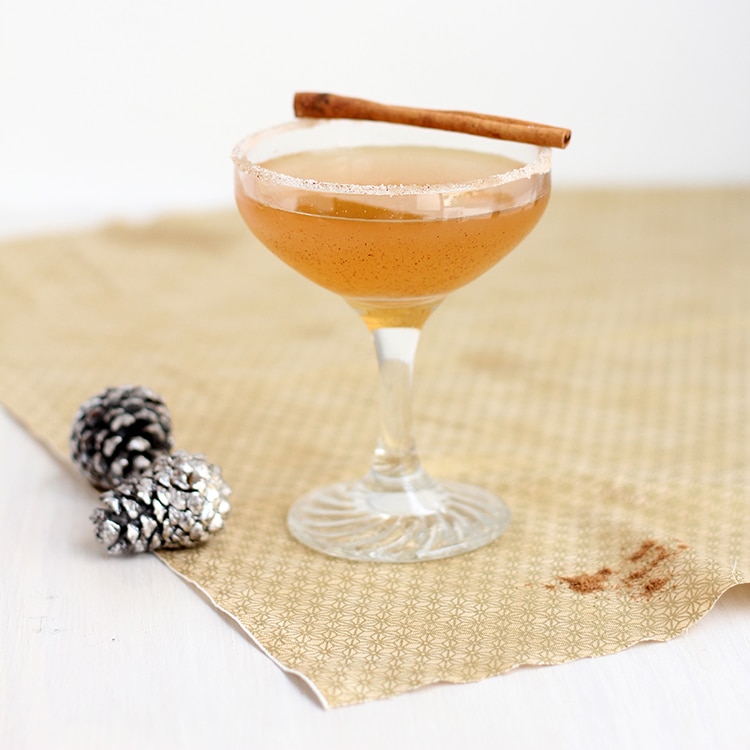 Serves 2
Sugar, spice, and everything nice wrapped up in a pretty fall cocktail!
For the Cocktail
4 oz William Wolf Pecan Bourbon
4 oz Spiced Pear Syrup (if you like your cocktails less sweet, reduce to 2 oz)
juice of 1 lemon
1/4 tsp pumpkin pie spice
plenty of ice
For the Spiced Pear Syrup
1 Bosc pear, washed and chopped
1 1/2 cup water
1 cup sugar
1 cinnamon stick
Instructions
Make the syrup: In a small sauce pan combine chopped pear, water, sugar and cinnamon stick. Bring to a boil over medium-high heat then reduce to a simmer and cook 30 minutes. Break down the pear with the back of a wooden spoon as the mixture reduces.
Remove from heat and strain through a fine mesh sieve reserving the syrup. Discard the solids and chill syrup until ready to use.
Make the cocktail: In a cocktail shaker filled with ice, combine bourbon, lemon juice, spiced pear syrup and pumpkin pie spice. Shake very well to allow ice to slightly melt into the drink.
Strain into cocktail glasses rimmed with pumpkin pie spice and sugar if desired. Garnish with cinnamon stick and enjoy!
Notes
To make the pie spice spice and sugar rim mixture, combine 2 Tbs granulated sugar and 1 tsp pumpkin pie spice. Rim glasses with lemon and dip in the sugar-spice mixture.
Freutcake https://www.freutcake.com/