Creating a cocktail always involves a little magic. There's an obvious element of potion-making, mixing the contents of all these bottles together; a bit of this, a bit of that. But also, every element brings change and is changed by the others. In the end, you wind up with something wholly different than its parts. That's the real magic of cocktails: the magic of transformation. And the magical, transformational effect I've come to love most this summer is so simple that I'm sure you'll love it too: drink-changing ice cubes!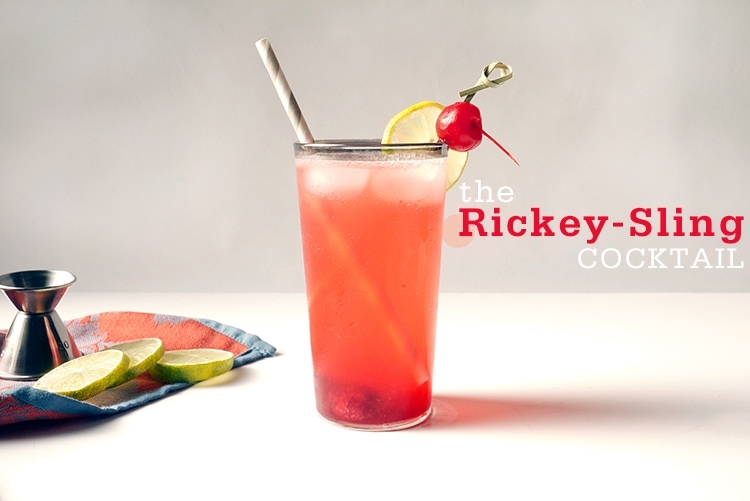 Picture it if you will: serving your guests that refreshing classic cocktail, the Gin Rickey. A simple glass of gin, lime juice, and club soda. A palatable summer afternoon drink, light and breezy for porch sipping. But the minutes go by, and, with each sip, your guest's demure cocktail slowly transform into a very different classic: the fruity, flirty Singapore Sling! Et voilà!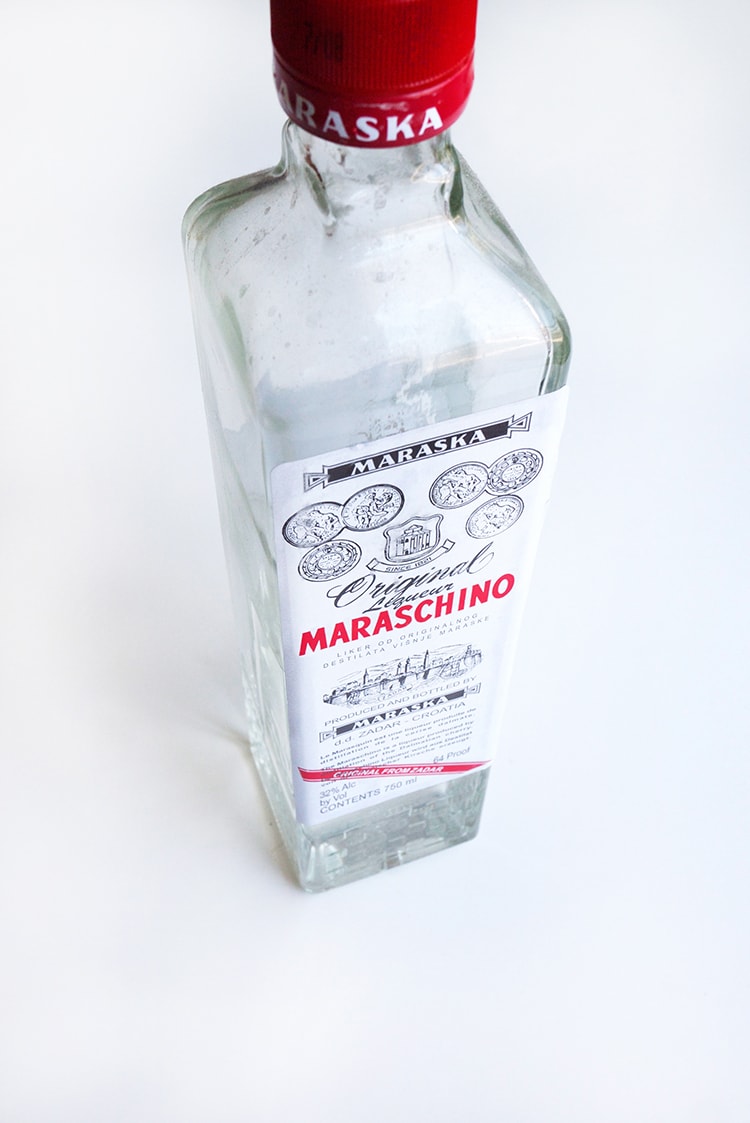 They say the method of a trick should never be revealed, but I'm quite happy to lay it all out-- and it's really not that difficult. The secret lies in creating ice cubes made of a super concentrated, fruity syrup. Believe me, very minor work for something that will make your guests go AHHH! And you only need to add one or two "loaded" cubes to your drink alongside regular ice cubes, so the base cherry syrup recipe will actually stretch for multiple rounds of cocktails.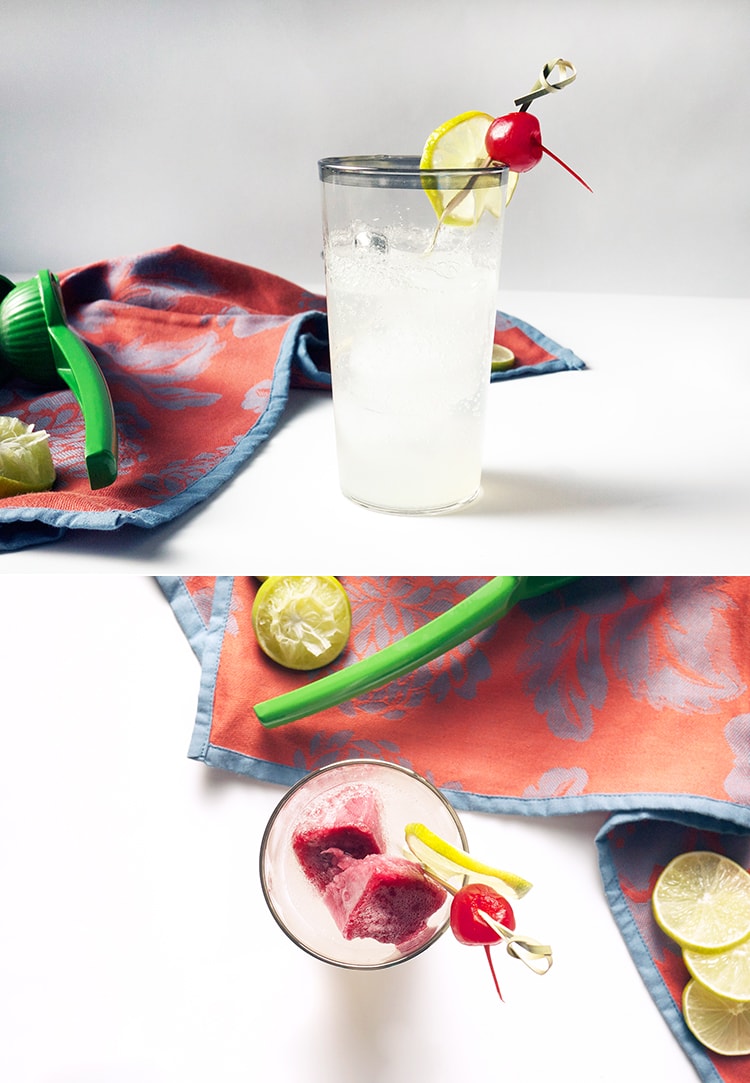 Not super into cherries? Mix up some watermelon, or roasted plums! Anything that goes with limes and a large splash of gin. Do you have an interesting combo of summer fruit? Let us know in the comments section below. We'd love to hear what you're mixing up!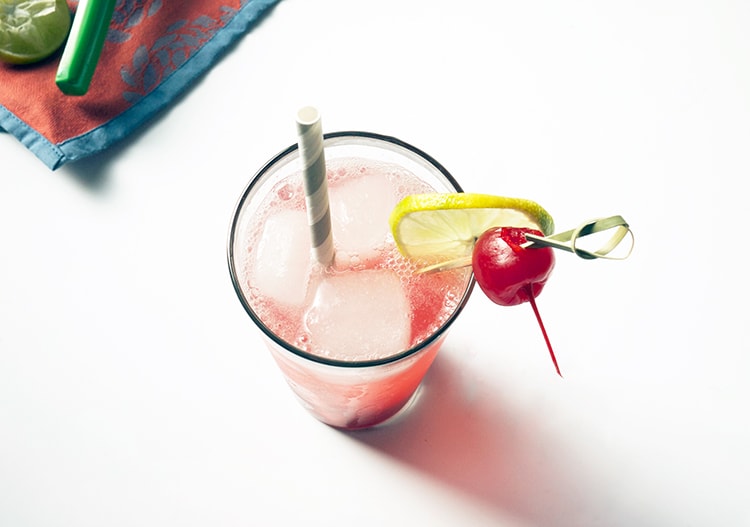 photos by Elana Lepkowski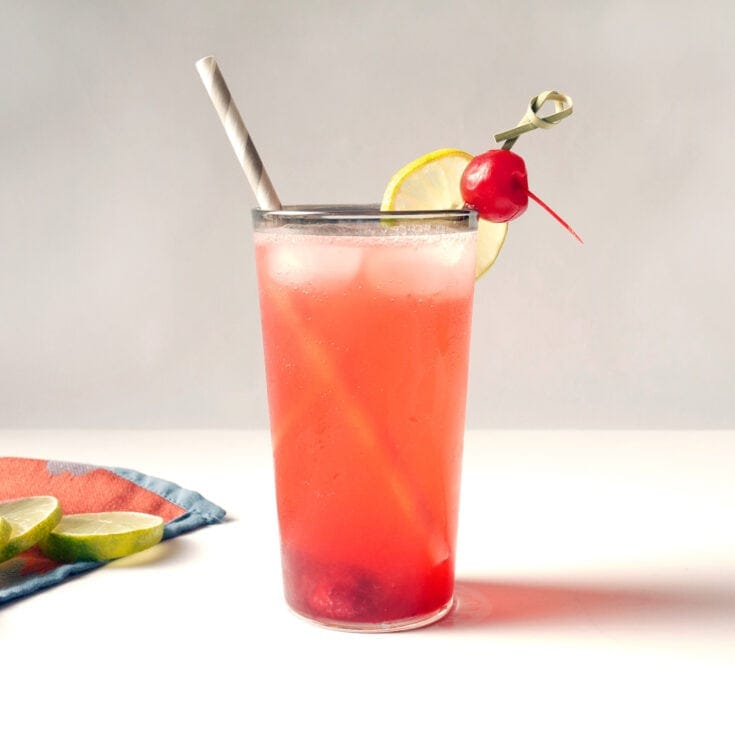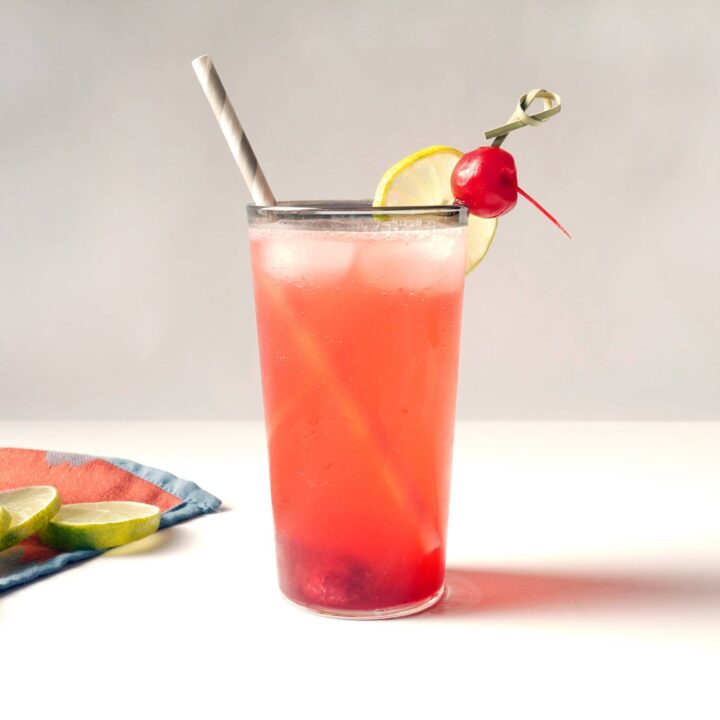 The Rickey Sling Cocktail
Singapore Sling cherry ice cubes change a traditional Gin Rickey cocktail into this magical Rickey Sling!
Ingredients
½ ounce freshly squeezed lime juice
2 ounces Gin
4-6 ounces club soda
1-2 Singapore Sling Ice Cubes, plus non-flavored ice cubes for the glass
Singapore Sling Ice Cubes:
1 cup diced cherries
1 cup sugar
½ cup water
½ ounce Maraschino Cherry Liqueur
2 dashes of Angostura Bitters
Instructions
For the Ice Cubes: In a medium sauce pan over medium-high heat, combine all of the ingredients. Bring to a boil, turn heat to low and then simmer for 10 minutes.
Remove from the heat and cover for an additional 30 minutes. Strain mixture through a fine sieve, pushing down on the cherries to release all of their juices.
Set liquid aside and store in an airtight container.
For the Cocktail: In a highball glass filled with regular ice cubes, combine lime juice, gin and club soda.
Add in Singapore Sling ice cubes and top with a splash more soda. Stir gently to combine.