Happy 4th of July! Nothing says 4th of July fare like a good old-fashioned hot dog with all the fixings. Here are a few last-minute tips for cooking & topping the perfect holiday hot dog this Independence Day.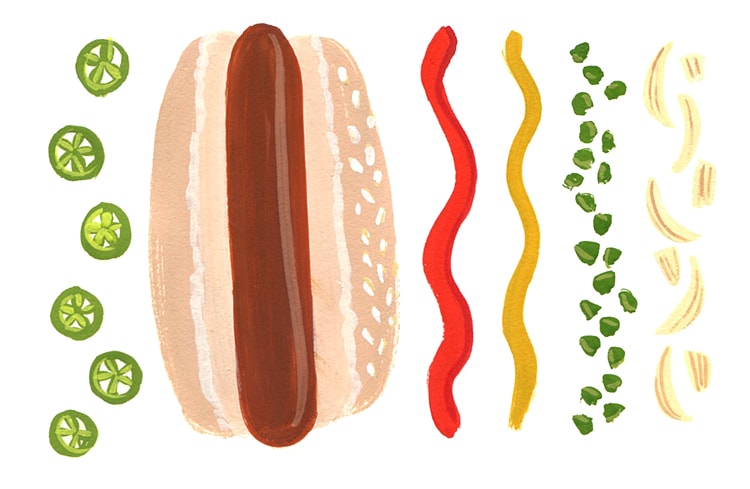 Illustration by Ann Shen
Tip #1: Buying Hot Dogs
Buy the Kosher All-Beef (no filler) variety! You will appreciate the better taste and quality of these dogs and so will your guests.
Tip #2: Grilling the Perfect Hot Dog

1. Pre-cook your hot dogs in gently boiling water for about 4 minutes before grilling.
2. Grill them over a low heat (flames) just long enough to get nice grill marks and crisp outside.
3. Turn the dog over and cook for an additional minute on the other side – no more!
4. Serve immediately.
Tip #3: Topping Choices

This 4th of July, break away from the usual ketchup and mustard and dress up your dogs with a few of these tasty flavor combinations.
1. The Ball Game Hot Dog
Yellow mustard, ketchup, chopped onions and relish.
2. The Mexican Hot Dog
Bacon wrapped hotdog topped with grilled onions, grilled tomatoes, guacamole and a grilled jalapeno pepper.
3. The Reuben Hot Dog
Sauerkraut, Swiss cheese, thousand island dressing
4. The Coney Island Hot Dog
Chili, diced onion, grated cheddar cheese
5. The Southern Hot Dog
Sweet cole slaw & barbecue sauce.
6. The Chicago Hot Dog
Grainy mustard, onion, cucumber, tomato slices, celery leaves, pepperoncini, dill pickle spear, relish.
Tip #4: Buns
Choose a high quality hotdog bun that fits the size of your dogs. There is nothing worse than taking a bite of nothing but hot dog bun. Or if you have the time, try making your own.
I hope you have a festive and delicious holiday weekend!