Happy Friday! It's another week's worth of toddler meals and this week I'm partnering with Munchkin to show you what I fed the twins. I've been using Munchkin products for the twins since they first started on solids. Let's just say I can't LIVE without their spill-proof sippy cups and snack holders. This week we tried a few new things and fell back on old classics. Turkey breakfast sausage was a brand new hit and the twins have been loving the new addition to our breakfast rotation. Arugula was popular, who knew? Sometimes I think the best way to get a toddler to try something new is simply just to put it on your own plate! I can't tell you how many times Millie has dug right into a big kale salad when it's what I am eating. So, here's a look at what I fed the twins this week…
Breakfast: Strawberry cream cheese toast hearts, turkey breakfast sausage, mixed berries.
Notes: I held out a good long time before giving the babies any sort of sausage. Now that they are a bit older, I'm happy to have another guaranteed hit I can serve for breakfast. For the cream cheese hearts, simply cut toasted whole wheat bread into heart shapes with a cookie cutter and spread with strawberry cream cheese. I used these Munchkin divided plates.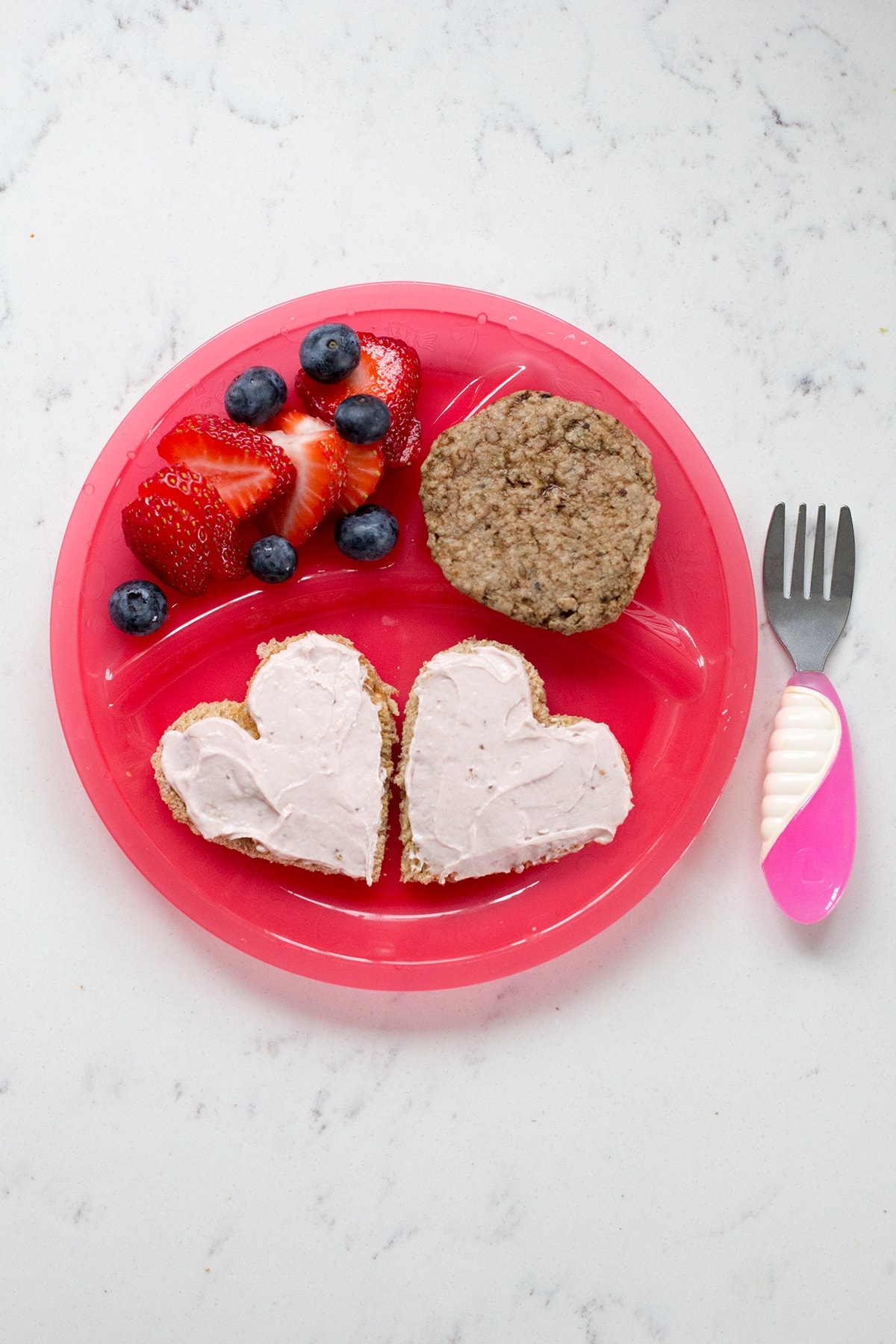 Smoothie: Peanut butter & "jelly" green smoothies.
Notes: The twins love peanut butter in their smoothies and I love that it fills them up. So I add frozen banana, frozen berries, spinach, peanut butter and either whole milk or almond milk to a blender and blend until smooth. I also add in chia, bee pollen and hemp seeds if I have them! These no-tip cups are great for the twins to practice using because they have such a wide base.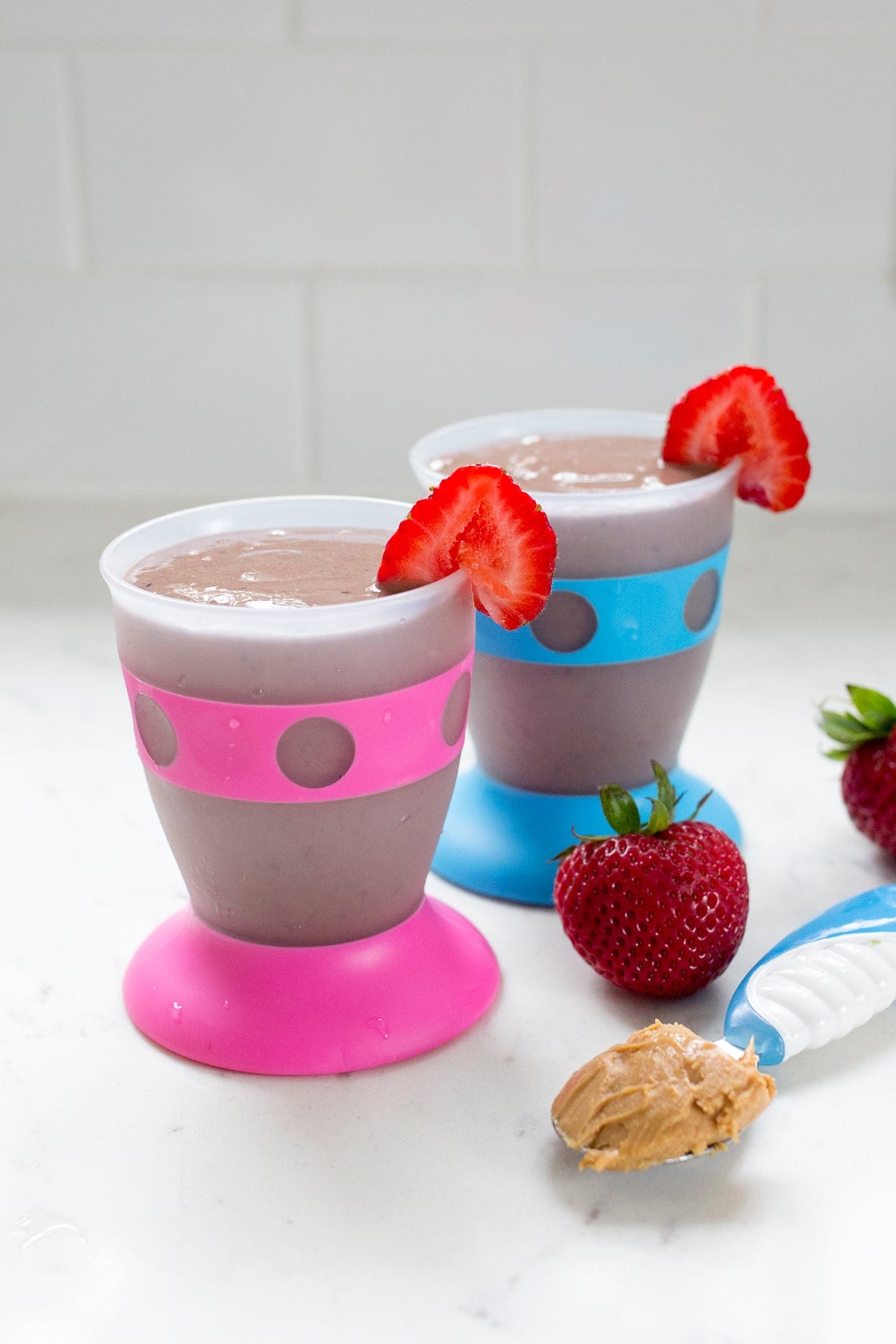 Lunch: Peanut butter & jelly rounds, cucumbers with hummus for dipping and pea crisps.
Notes: I use small Persian cucumbers to serve the twins because they are the perfect size for little hands and have a very soft skin. Hummus is always a hit and so are snap pea chips. These snack bowls from Munchkin are a favorite of mine because they pop open and collapse for easy traveling. I throw these in my diaper bag and use them at restaurants as well!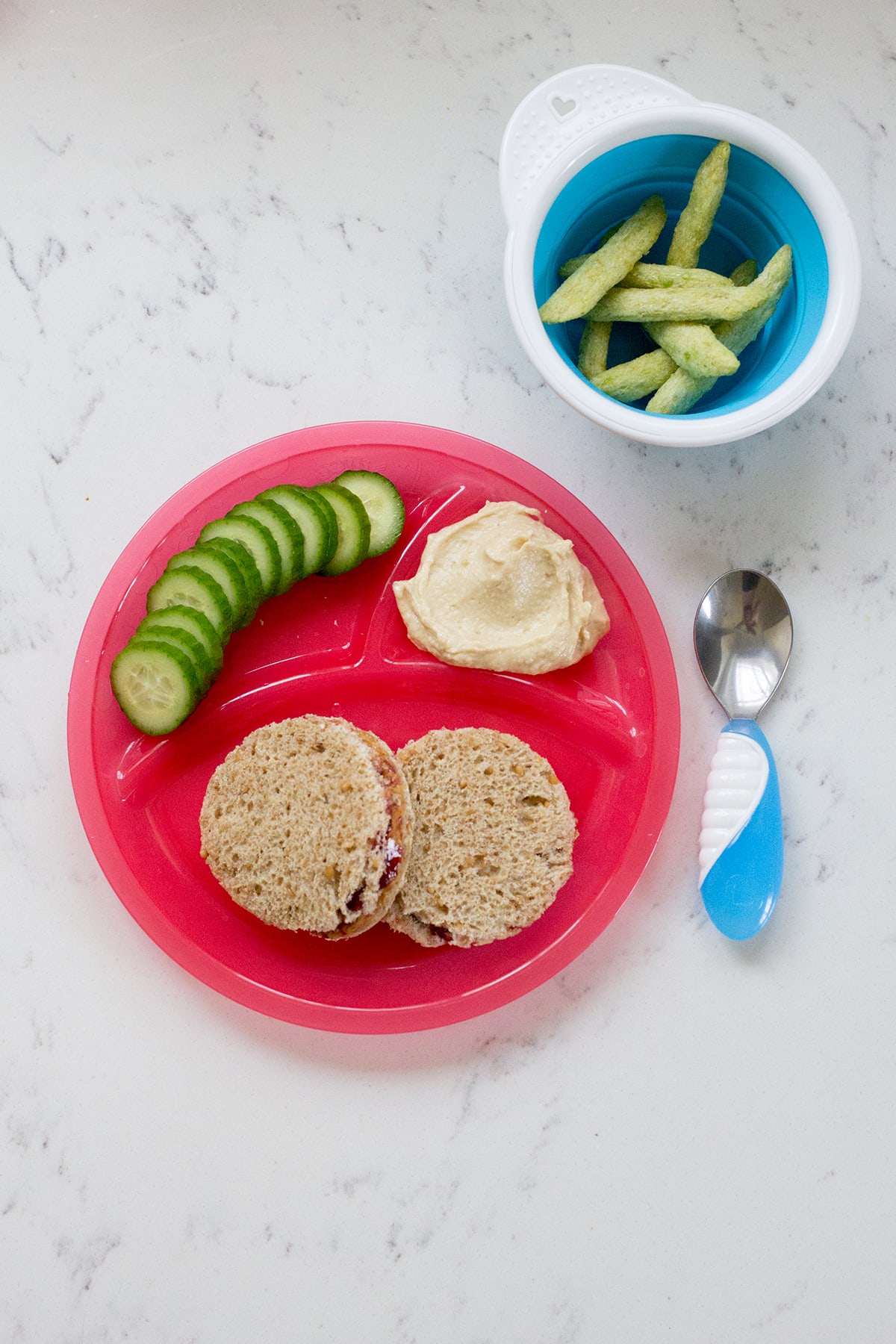 Lunch: Turkey pesto and avocado pinwheels, cheddar bunnies and watermelon.
Notes: To make the pinwheels, roll out pieces of bread with a rolling pin until flat and thin. Spread with mashed avocado and pesto and top with turkey or chicken lunchmeat. Roll tight and slice.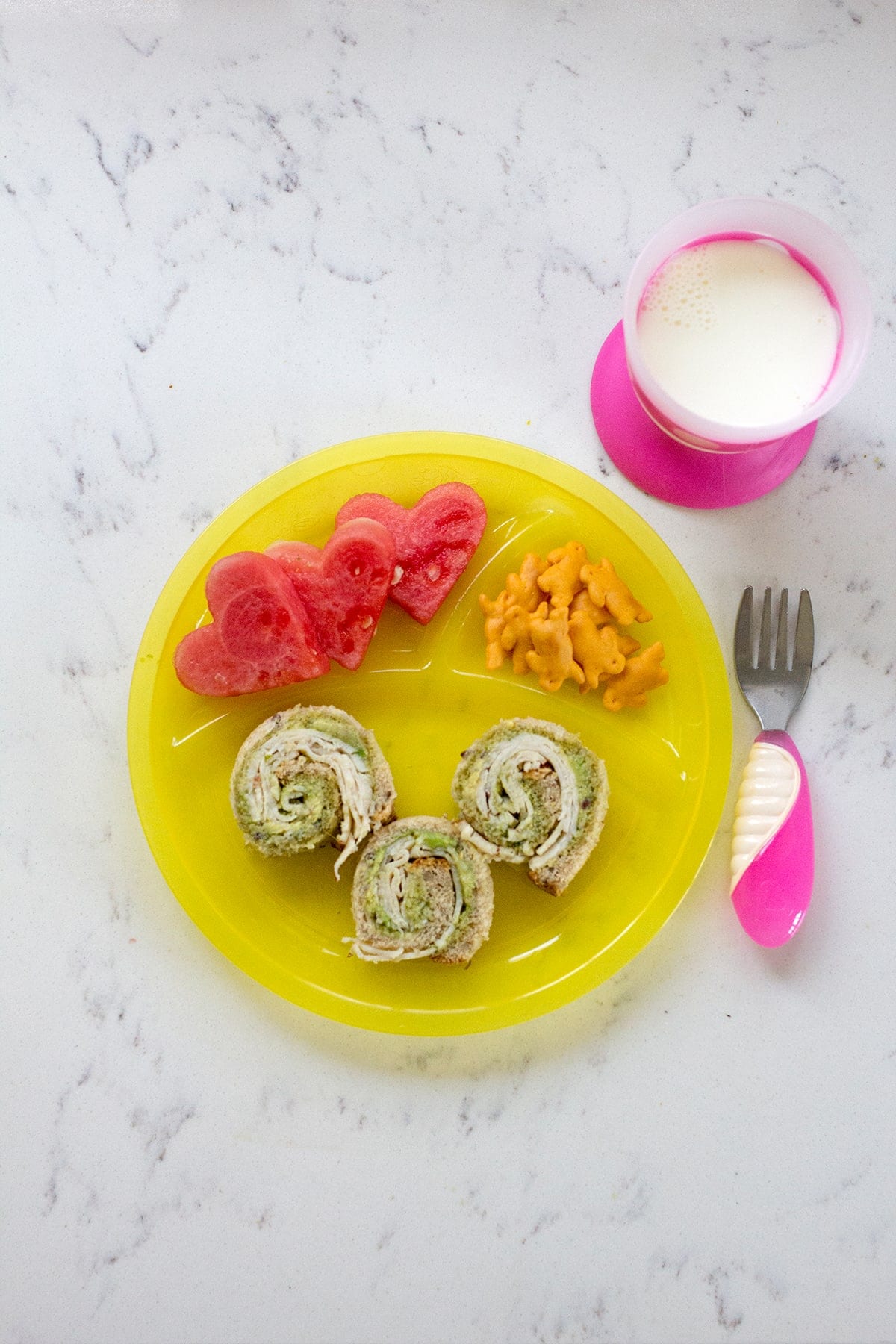 Dinner: Rigatoni with chicken apple sausage and mushrooms. Mozzarella cheese and arugula salad.
Notes: I'm big on trying to get the twins to eat the same dinner as we are eating! I cut the rigatoni in half for easier bites. The twins actually really liked having a little salad of their own since they always eat mine! These Munchkin forks are amazing because they have a handle that's easy to grip but toddlers can easily stab food (like sausage) with the metal tines.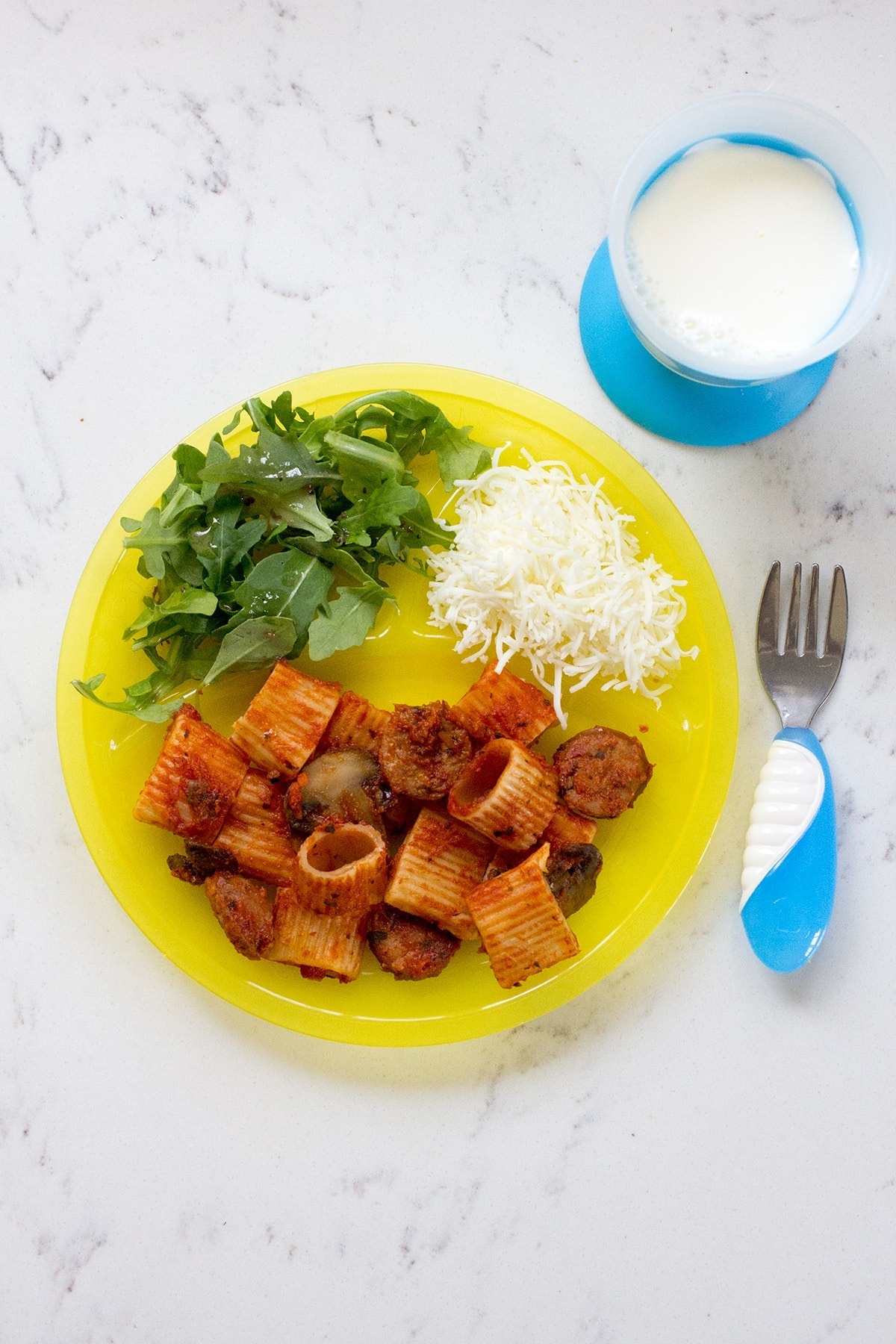 So, what did you feed your kids this week? Any meals I should try? I love hearing what you feed your little ones so leave a comment below.
Disclosure: This post was sponsored by Munchkin however all opinions, tips and recipes are my own. Thank you for supporting the sponsors who make Freutcake possible!