Easy Pepperoni Rolls may be a regional classic in West Virginia but they are delicious everywhere!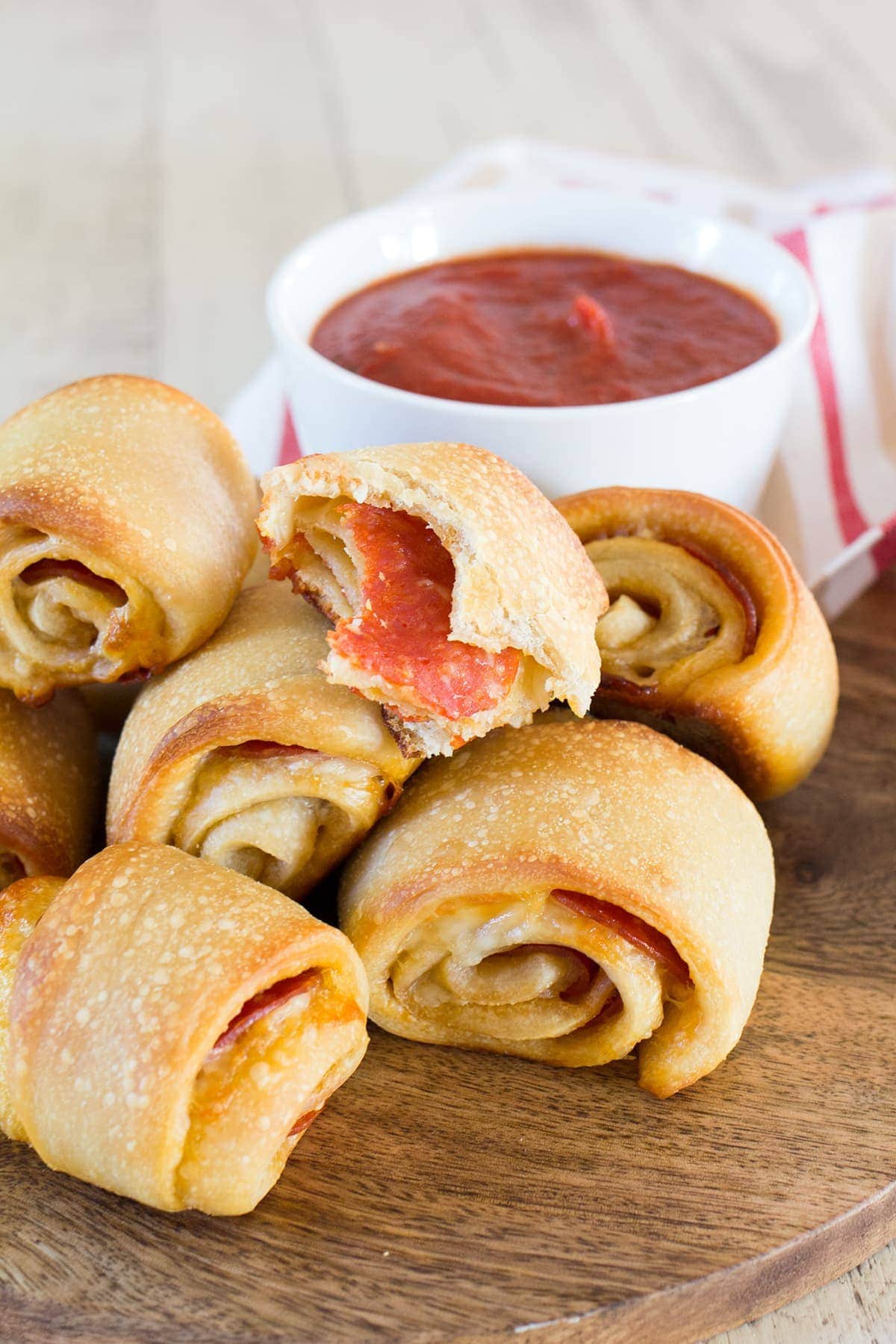 West Virginia Pepperoni Rolls
Summers visiting my grandparents in West Virginia were some of my best childhood memories. My Grandma would take us to the local swimming pool and give all of us grandkids enough money to buy a couple Pepperoni Rolls from the concession stand. These Easy Pepperoni Rolls are my homage to those long summer days at the pool.
The strong smell of chlorine, coconut scented tanning lotion, and pepperoni rolls will forever be sealed together in my memory as the smells of summer. In fact West Virginia Pepperoni Rolls are so iconic, there is an entire book written about them.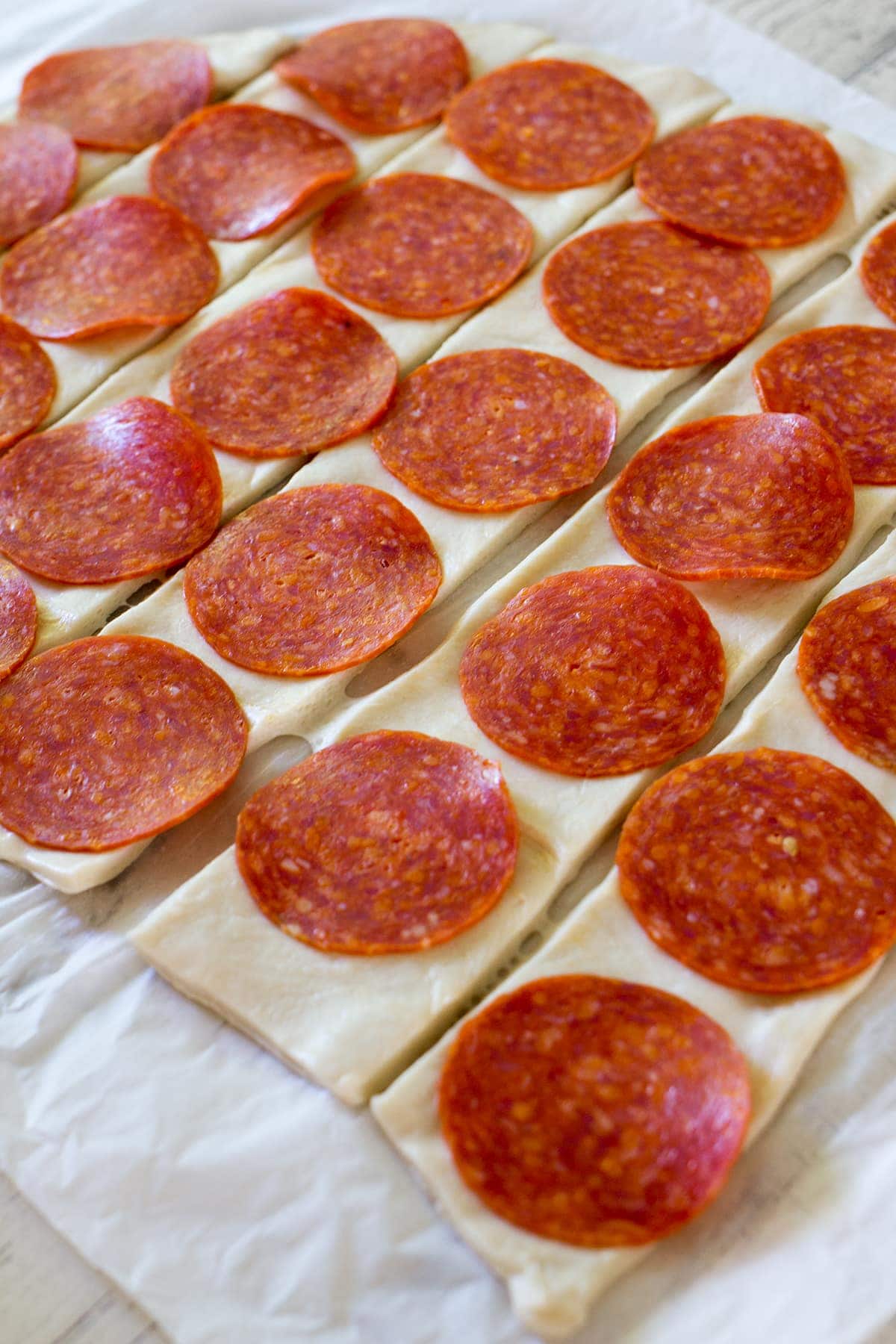 Ingredients Needed for Pepperoni Rolls
These Easy Pepperoni Rolls only require three ingredients:
Pizza Dough – of course you can make your own but it's easy enough to just buy the pre-made dough from the grocery store. You can usually find it in the refrigerated section by the crescent rolls.
Pepperoni – it wouldn't be a classic pepperoni roll without it!
Cheese – I like to use sliced provolone but you could also use mozzarella.
You can make these rolls quick in under 30 minutes and they are the perfect easy lunch for kids with marinara sauce for dipping, or easy hand held pool-side snacks for the whole family.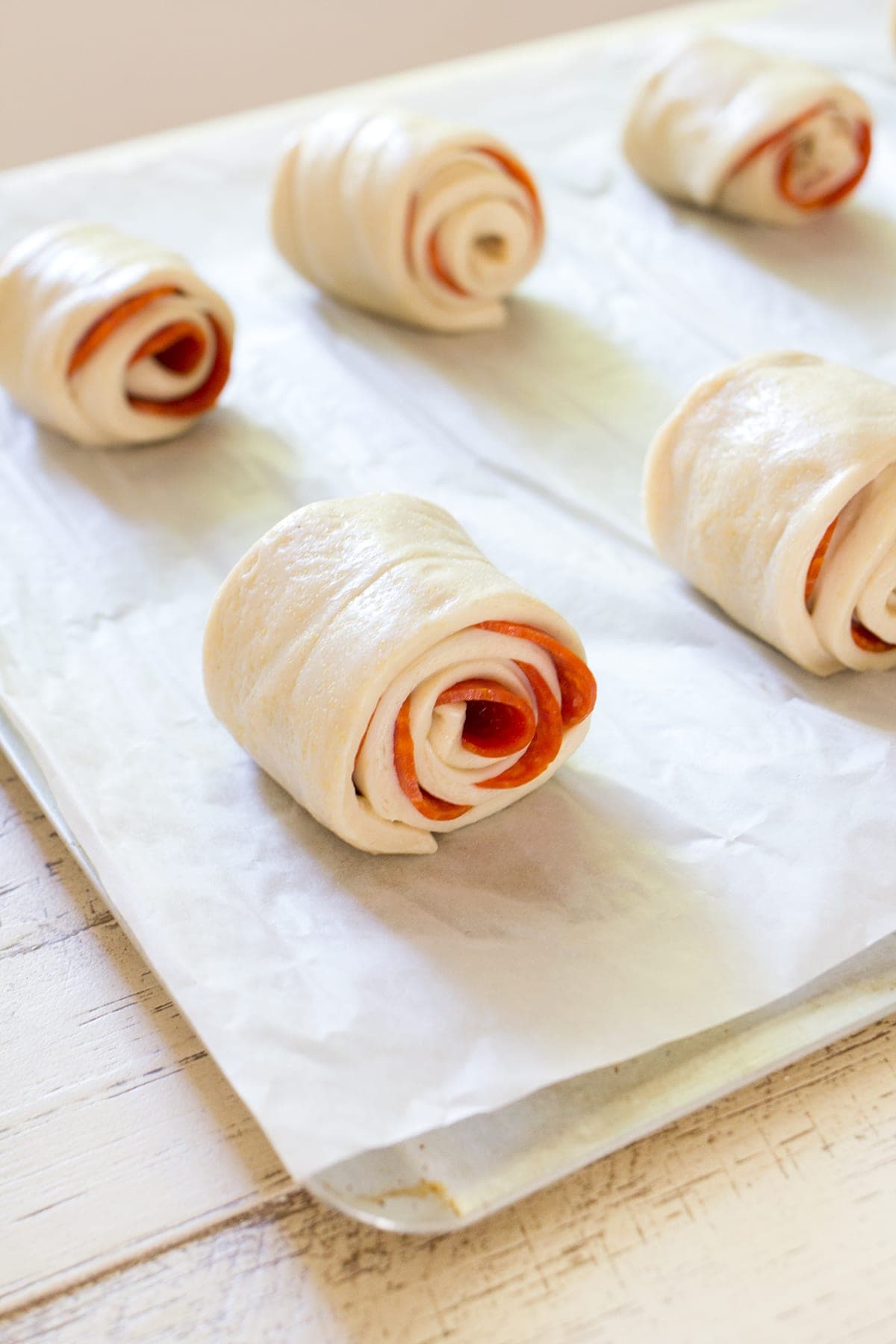 How to Make Pepperoni Rolls
To start, roll out pizza dough and cut into long strips. There is no real science to this or specific size requirements. You can make as many or as few as you desire based on how much dough and pepperoni you buy. I only made 8 rolls this time around because I was feeding the twins and myself.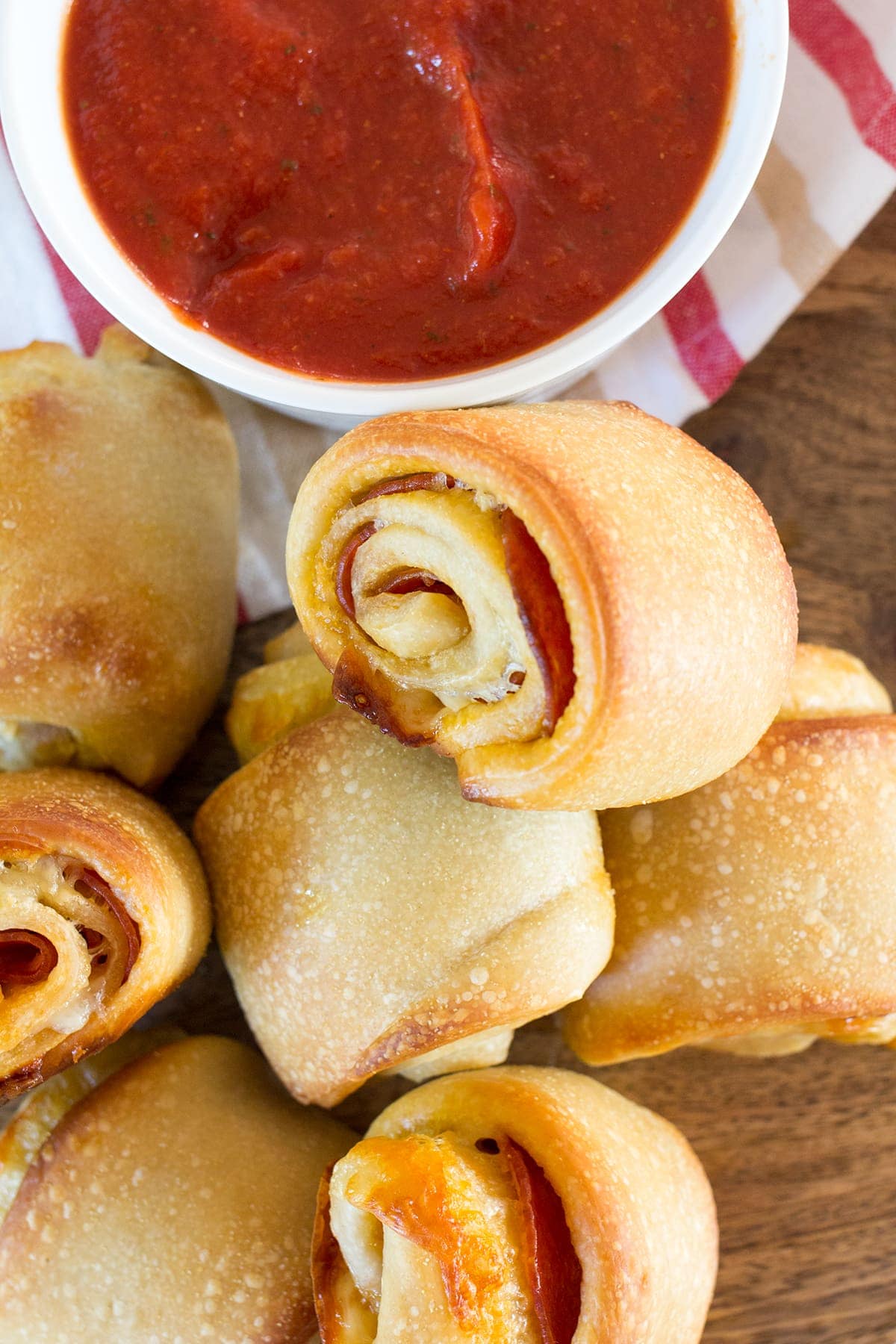 To each strip of dough add pepperoni and cheese. Roll up and place on a parchment paper lined baking sheet to prevent any sticking. Bake at 400 degrees for 20 minutes or until the rolls are golden and the dough is cooked all the way through.
Serve warm or at room temperature with marinara sauce for dipping. Summer never tasted so good!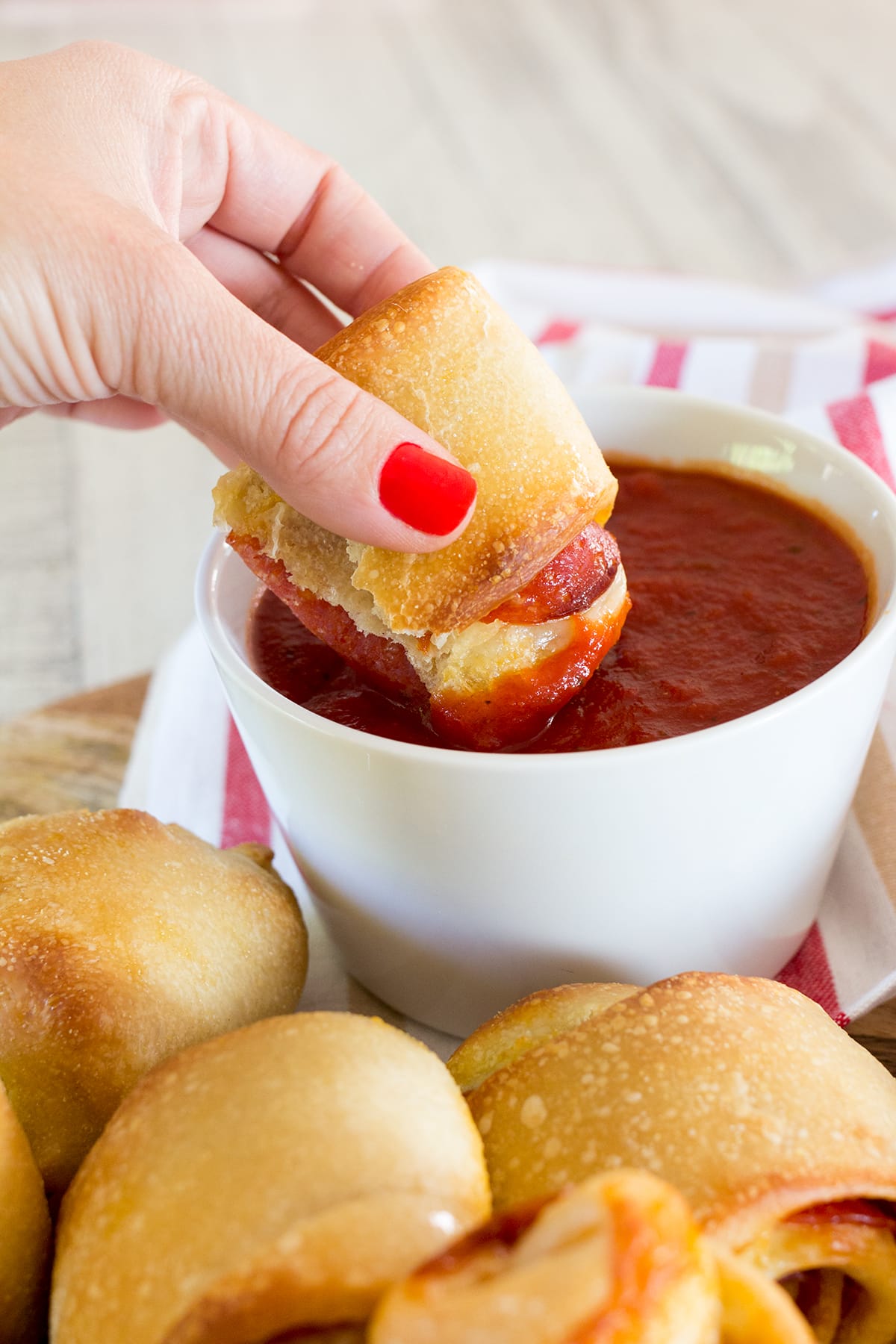 Tips For Making Pepperoni Rolls
Can you freeze them? Yes, you sure can! Spreading them out on a baking sheet and popping them in the freezer until firm. They you can store them all in a large ziplock bag. Reheat in the toaster oven or microwave.
Can you prep them ahead of time? I wouldn't recommend doing this too far ahead of time as store bought pizza dough should be baked right away.
Are there any substitutions for the pepperoni? They wouldn't be pepperoni rolls without pepperoni however you can definitely make these with sliced ham lunch meat or even crumbled (cooked) sausage. They will be another type of roll but still delicious.
Dip options? We love dipping these in marinara sauce but kids also enjoy these dipped in ranch dressing.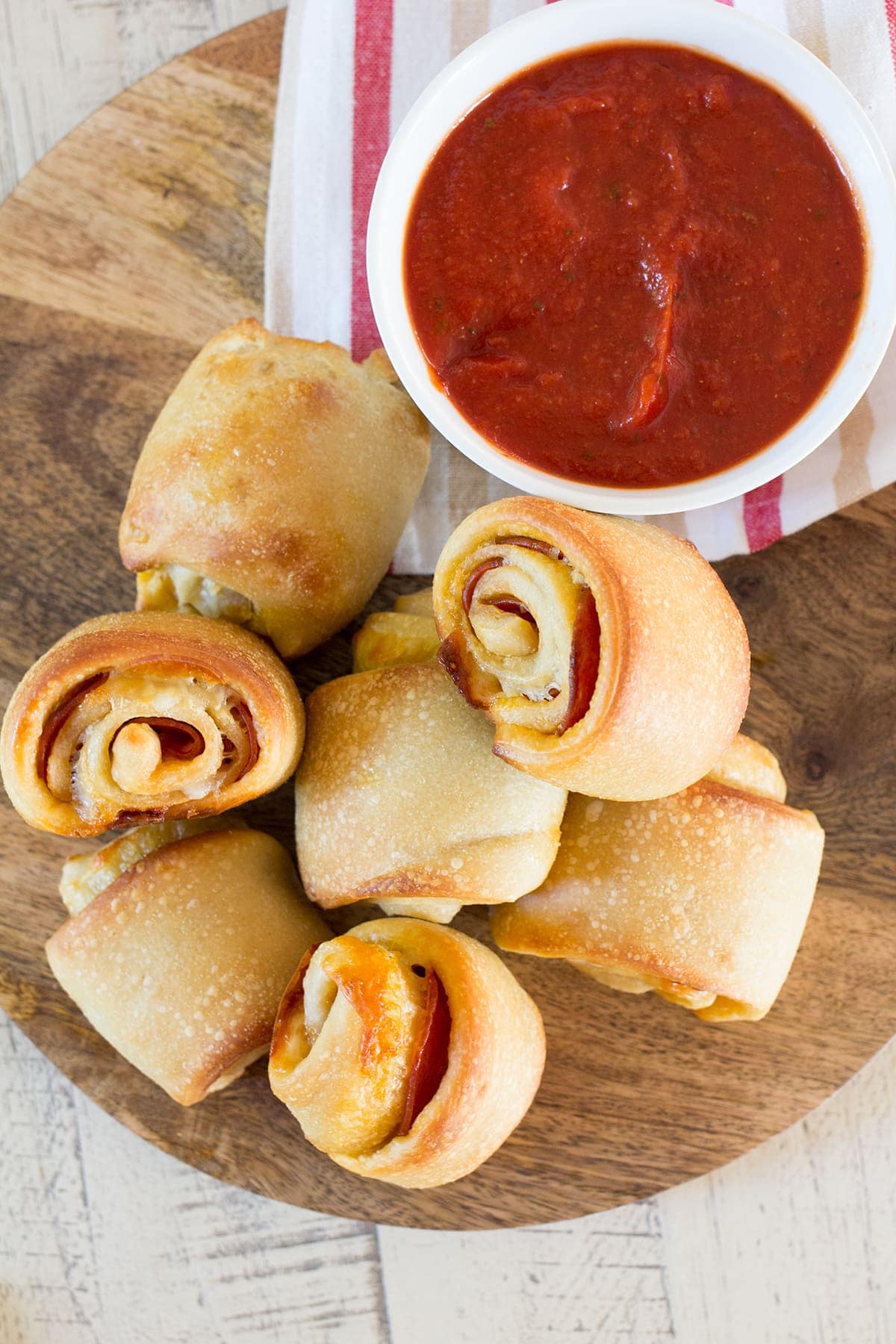 Looking for More Easy Recipes?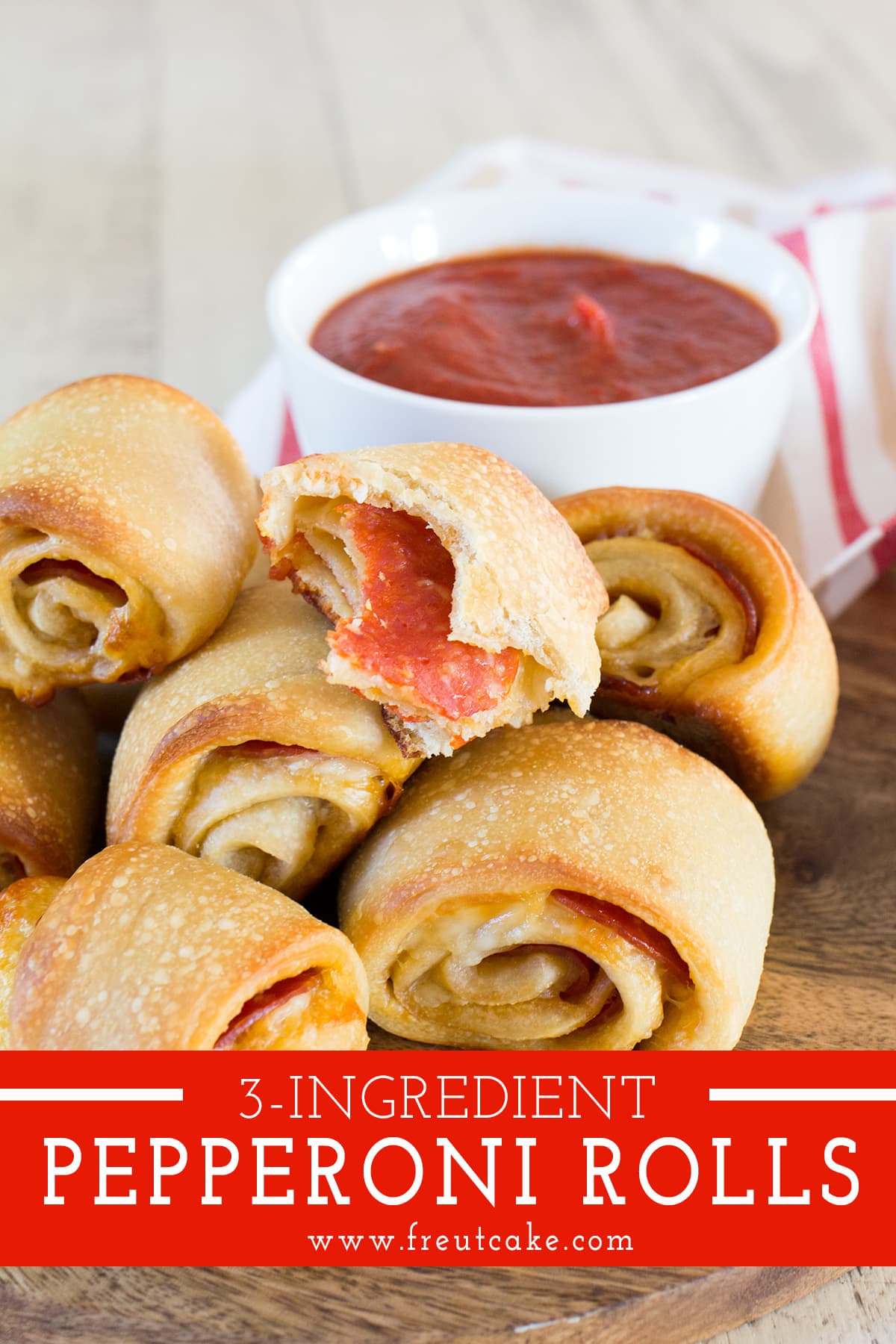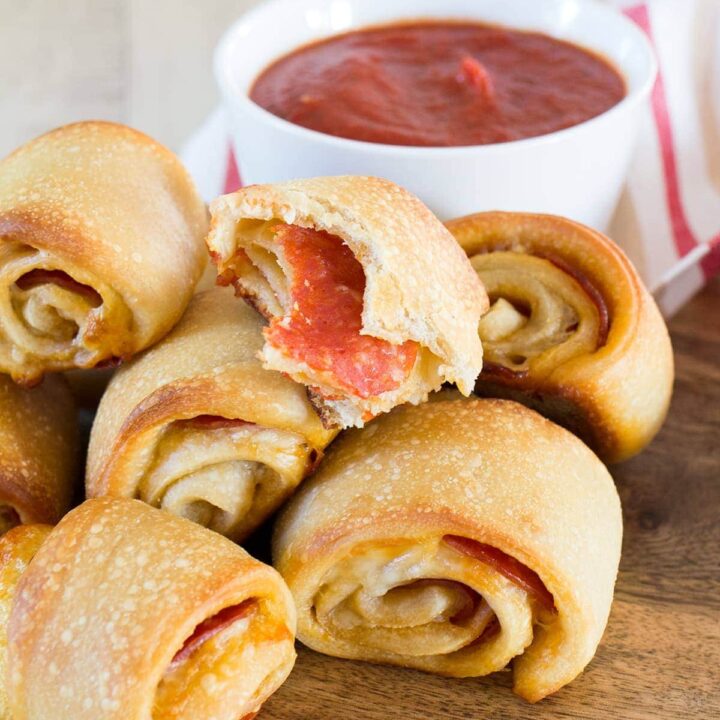 Easy Pepperoni Rolls
Easy 3-Ingredient Pepperoni Rolls that taste like pizza when dipped in marinara sauce.
Ingredients
prepared pizza dough
pepperoni
sliced provolone cheese
marinara sauce
Instructions
Preheat oven to 400 degrees.
Roll out pizza dough to a large rectangle and cut into 2" strips. The number and length doesn't really matter however the longer you make the strips the larger the rolls will turn out. I usually cut them into 2" x 8" strips.
Layer a row of pepperoni and a layer of cheese over each dough strip and roll up tight.
Place rolls on a parchment paper lined baking sheet.
Bake 20 minutes or until dough is cooked through and golden on top.
Serve with warm marinara sauce for dipping.