It's another week of Toddler Meals! We are in the throws of potty training which has proven to be much more of a marathon than a sprint in our house. I'm not one of those stay home for a week and do it kind of Moms and let's just say, What I Fed the Twins This Week has consisted of more bribery treats than anything else. It's a jelly bean for pee-pee and a small chocolate for poo-poo. Millie has successfully earned her chocolate (praise the Lord) and I'm pretty much jumping for joy at an imminent future with no diapers. Through the accidents and jelly beans, the big girl undies and running to public rest rooms, there were also a few good toddler meals cooked and enjoyed. We still have a long ways to go before both twins have completed the potty journey but for now we're doing just fine. Any recommendations for a good carpet cleaner?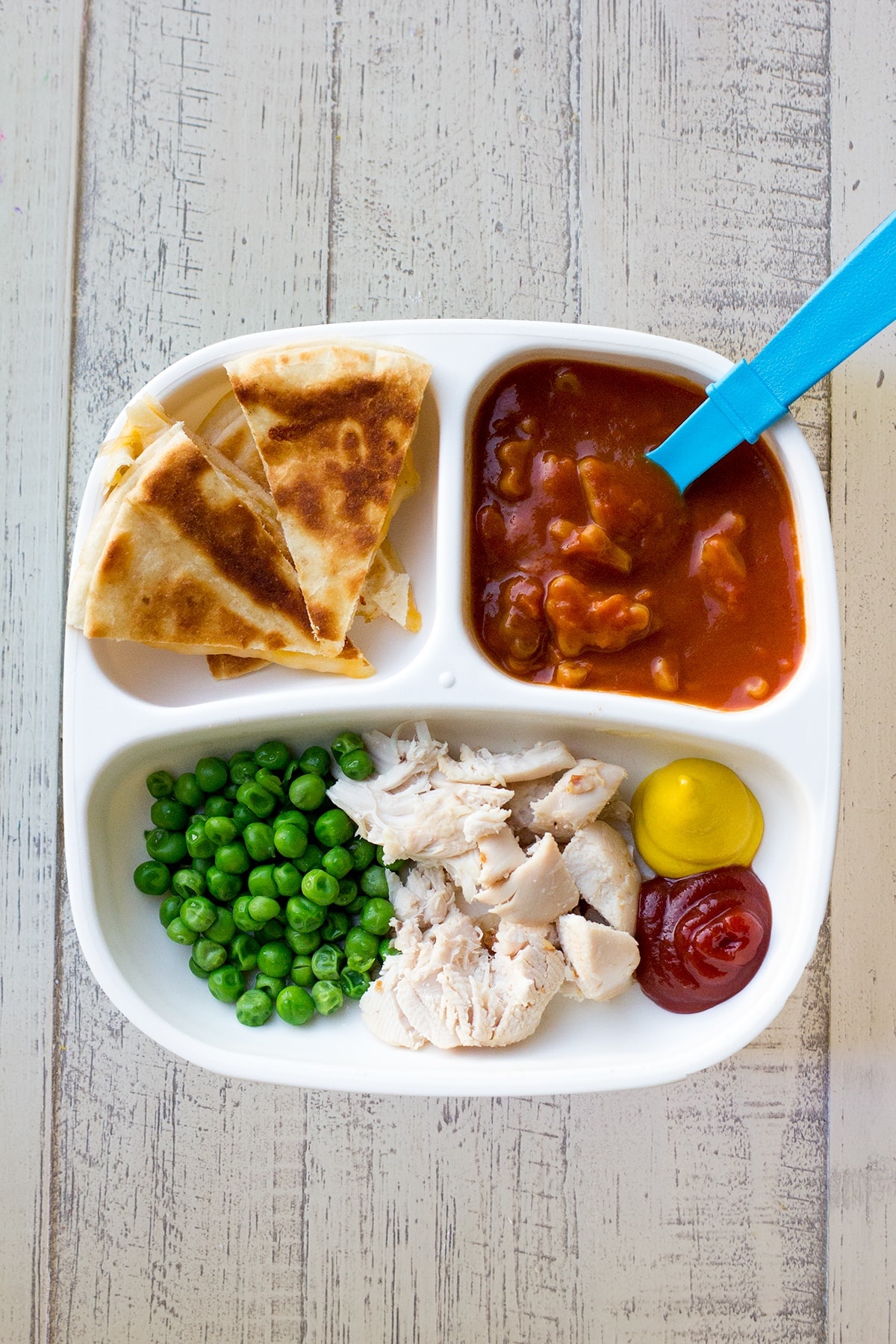 Lunch: Creamy Tomato & Pasta Soup, cheese quesadilla, leftover chicken with dipping sauce, green peas with butter.
Notes: I absolutely love Annie's Organic soups because the twins always eat them. Quesadillas are great for dipping in soup, especially tomato and I beefed up the meal with some leftover chicken and peas from a previous night's dinner.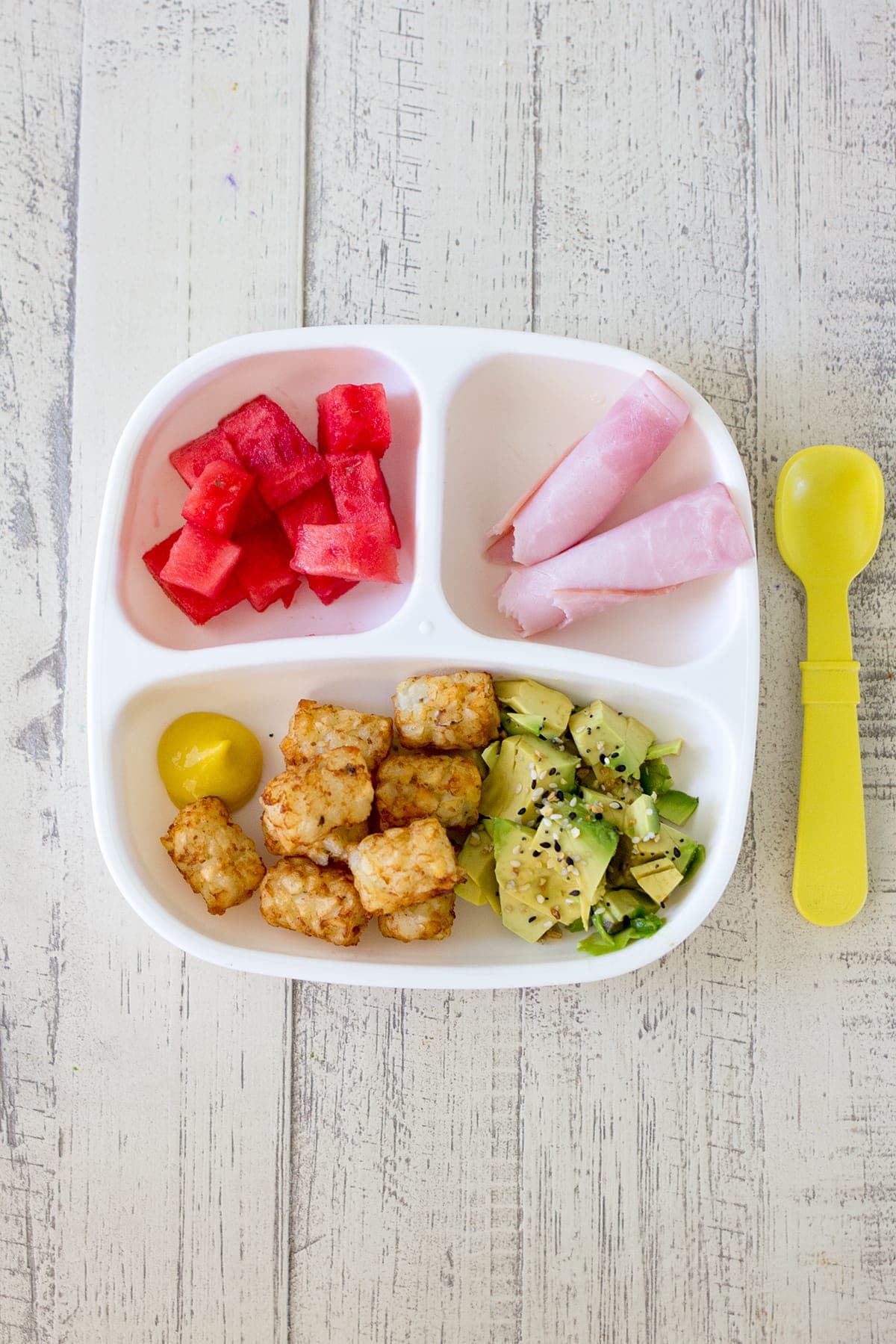 Lunch: Tater Tots with mustard, avocado with Everything But the Bagel Seasoning, Ham and watermelon.
Notes: If you thought I was above giving my kids tater tots, think again! I love the frozen tots from Trader Joes and so do the twins. These are definitely not an everyday item for us but they make a fun treat or side dish. I'm all about balance so if I serve the kids tater tots, I try to pair them with other healthy options.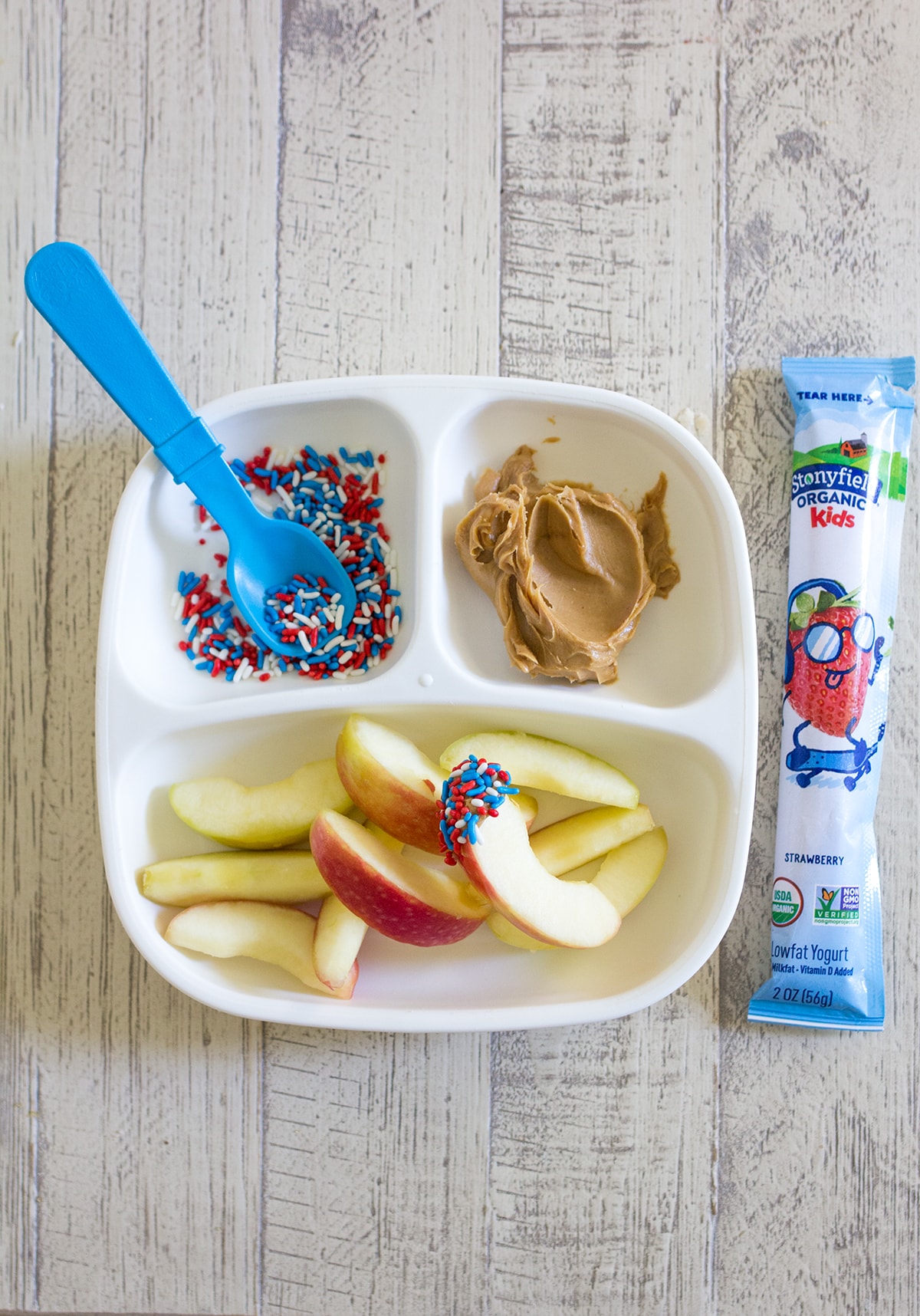 Snack: Apple slices with peanut butter and sprinkles for dipping, yogurt on the side.
Notes: I rarely share snack ideas in this column, but this was a fun one! I served this apple treat to the kids for the 4th of July and they loved it. The peanut butter works as the glue to pick up sprinkles.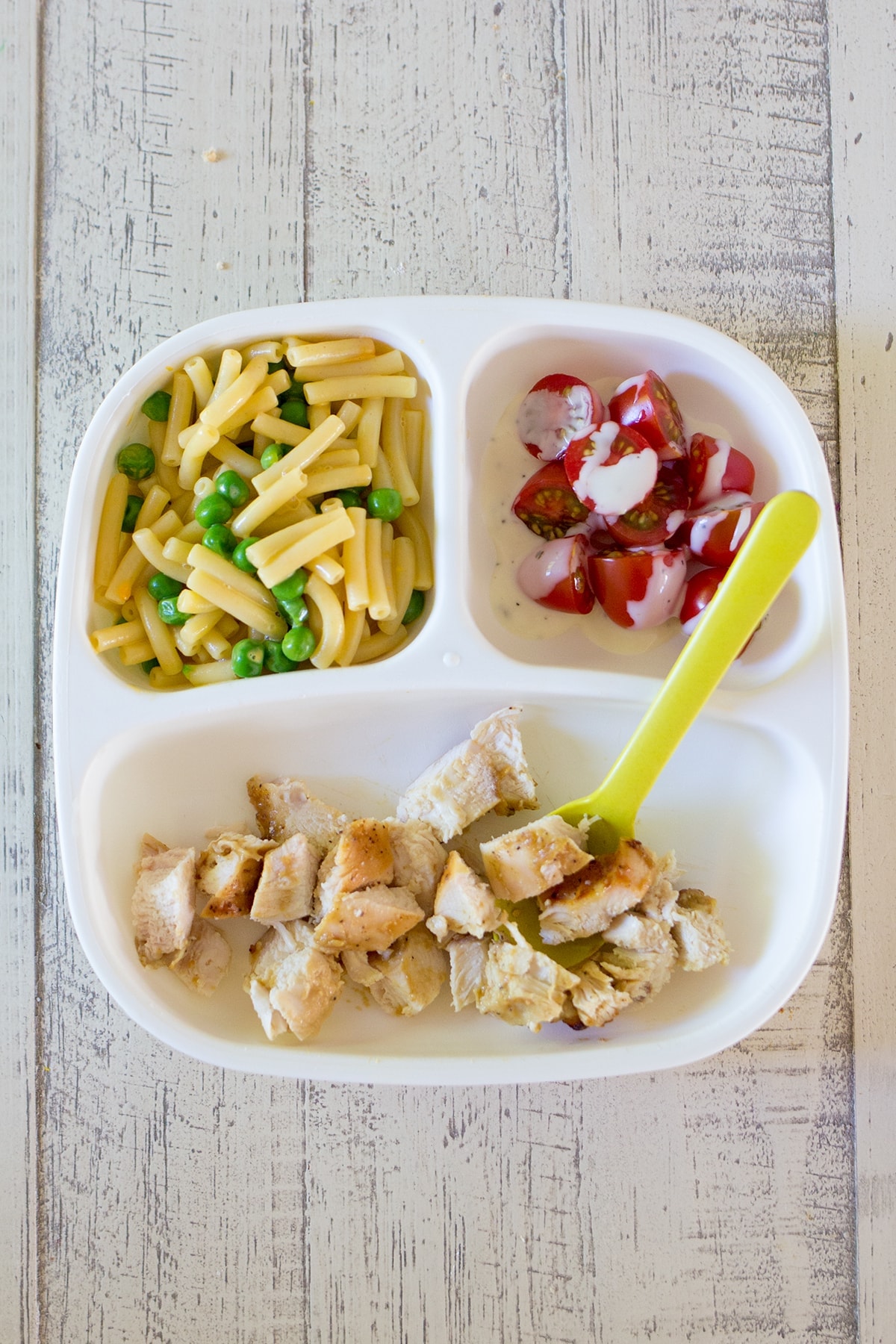 Dinner: Grilled chicken, cherry tomatoes with ranch dressing, macaroni and cheese with peas.
Notes: If you're not already throwing a handful of frozen peas into your boiling macaroni noodles and water just before draining, start doing it! It's the easiest way to get some veggies in there and the peas cook quickly with the noodles and get coated in all of the creamy cheese sauce. As for ranch on veggies, well that's a no brainer!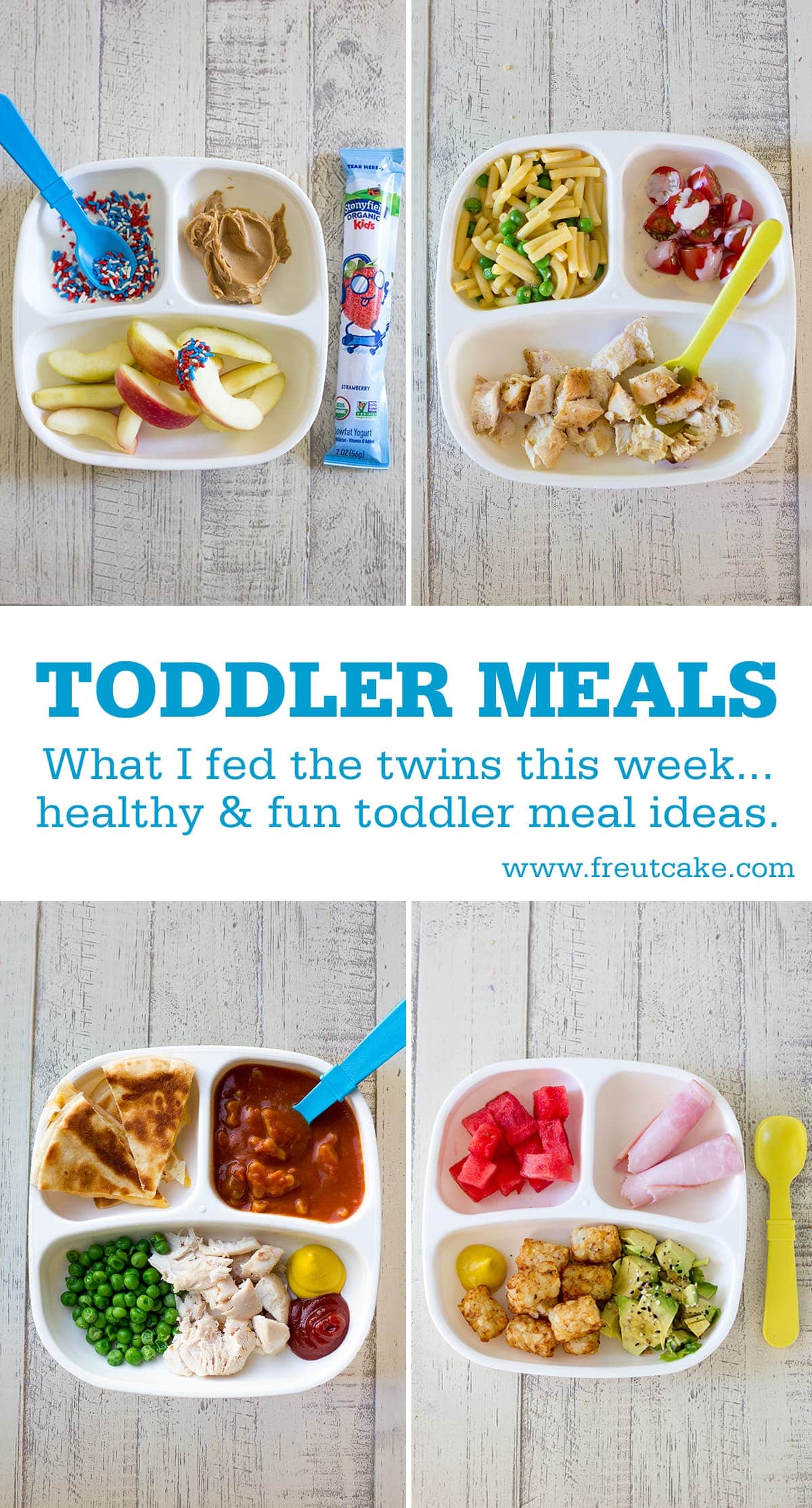 Until next time, I hope you get your kids to eat something new this week or find inspiration from these posts. Leave me all of your favorite toddler meal ideas in the comments section below or your potty training tips. Lord knows I need it!