Halloween has always been one of my favorite holidays. It's imaginative, fun and now with twin toddlers, it's taken on a whole new level of cuteness. What other holiday warrants dressing your children up as skunks and feeding them mummy dogs in the backyard?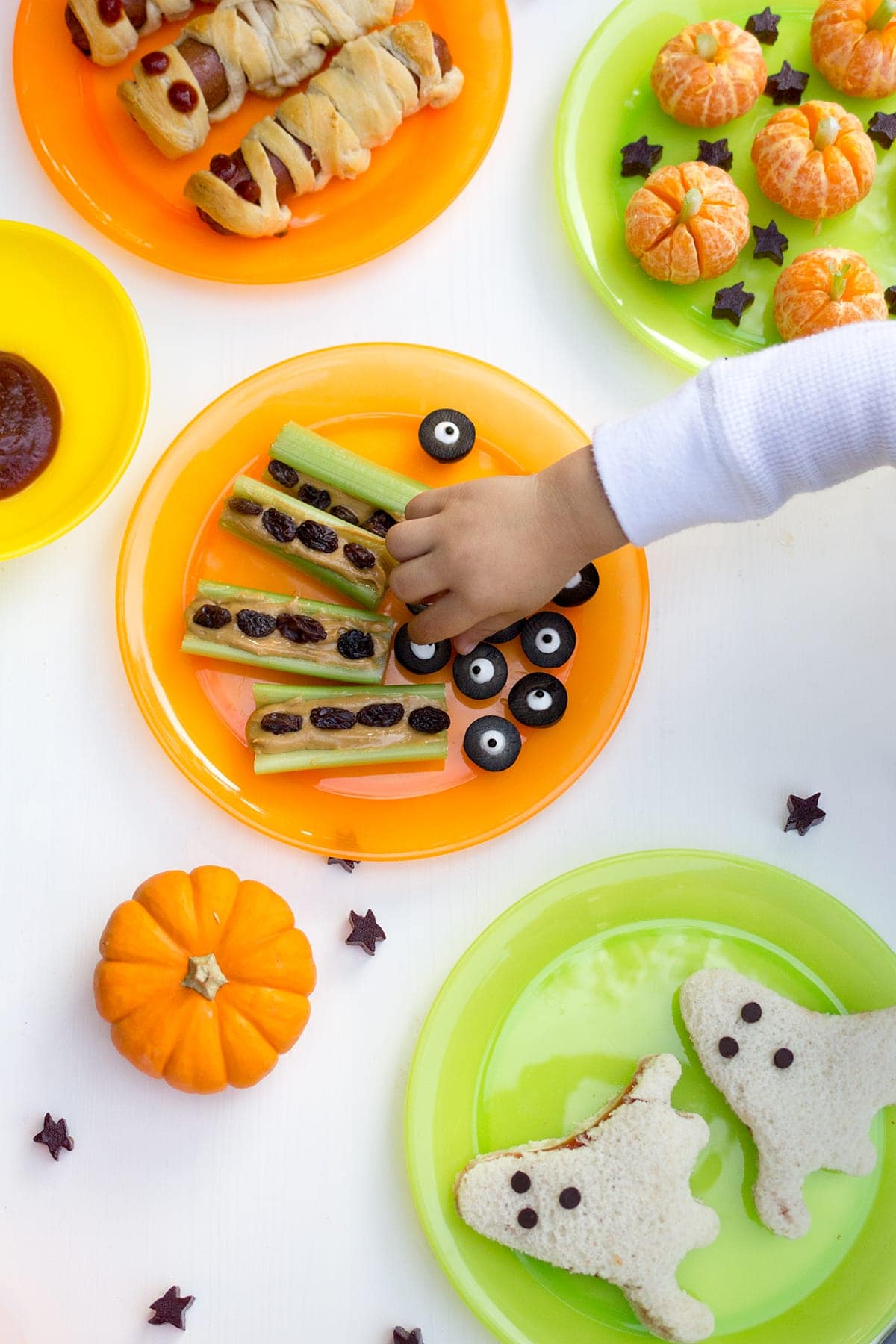 I'm partnering with Munchkin today to share some adorable ways to turn your toddler's Halloween lunch into a frightfully fun and festive meal. It's a post all about Kid-Friendly Halloween Recipes and I had way too much fun creating it...Buahahaha!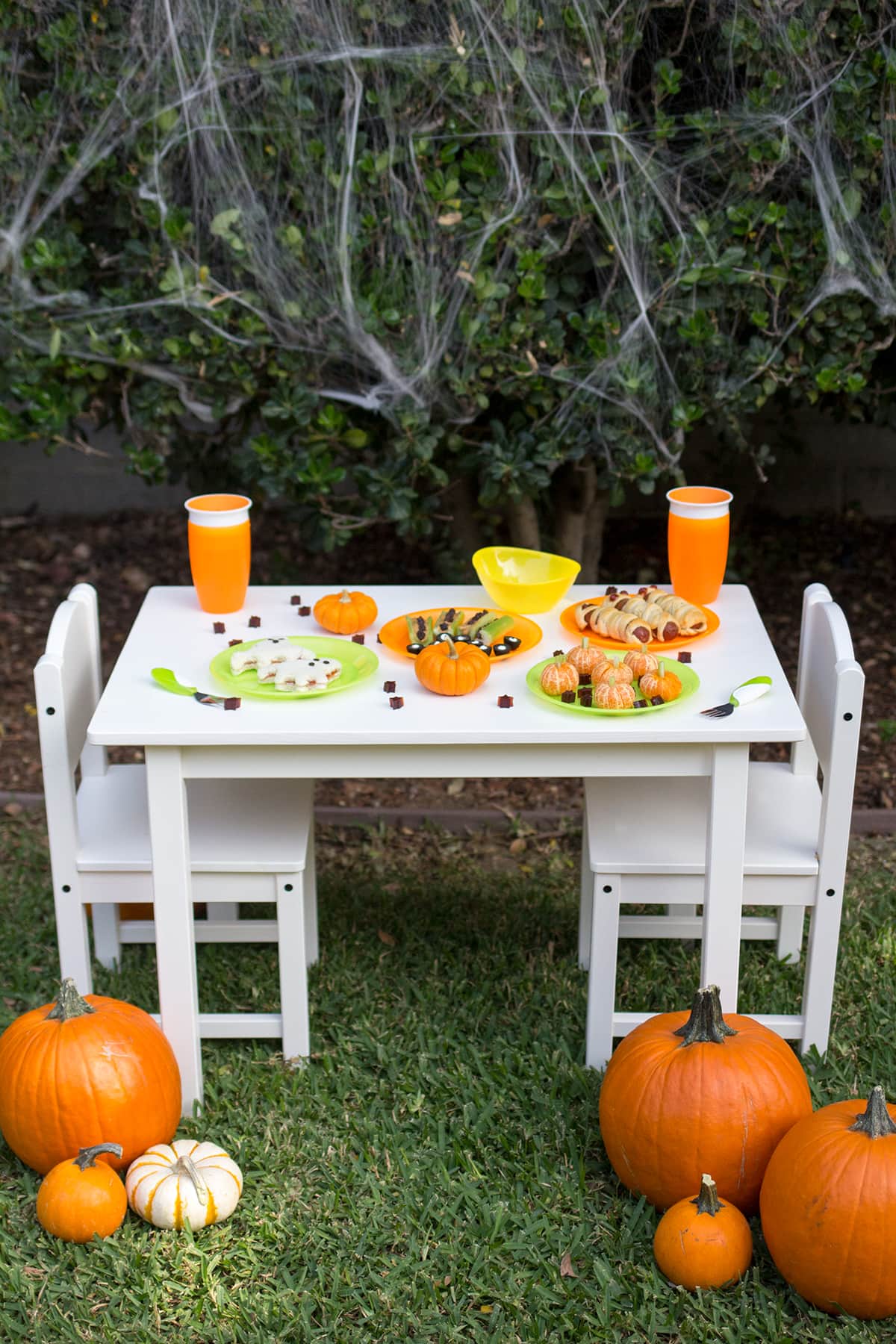 I used Munchkin's plates in orange and green as well as their grip forks and Miracle 360 cups. I also used these bowls for ketchup dipping along side the mummy dogs. I love the bright orange and green to bring Halloween spirit to the table. Here's what's on the menu…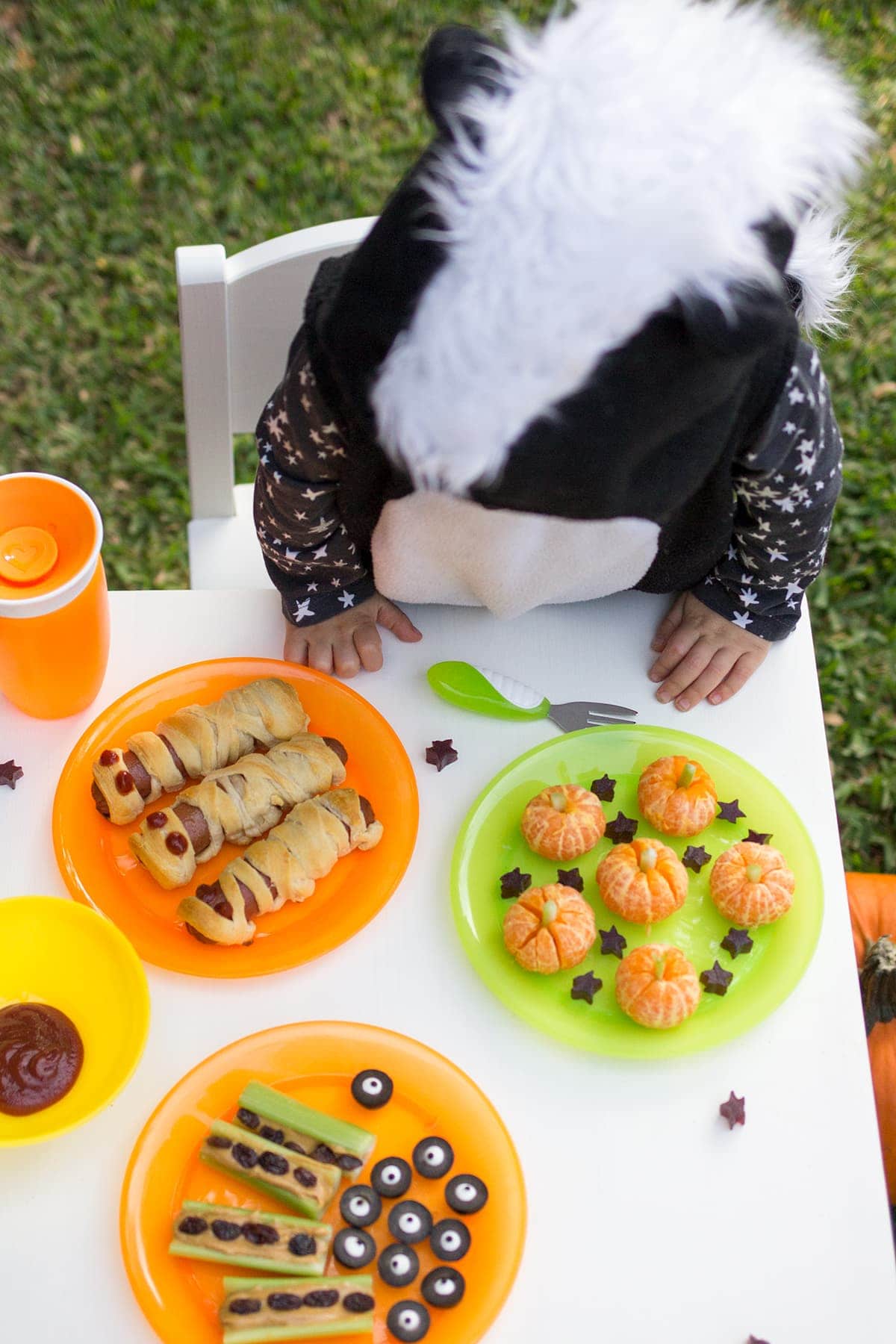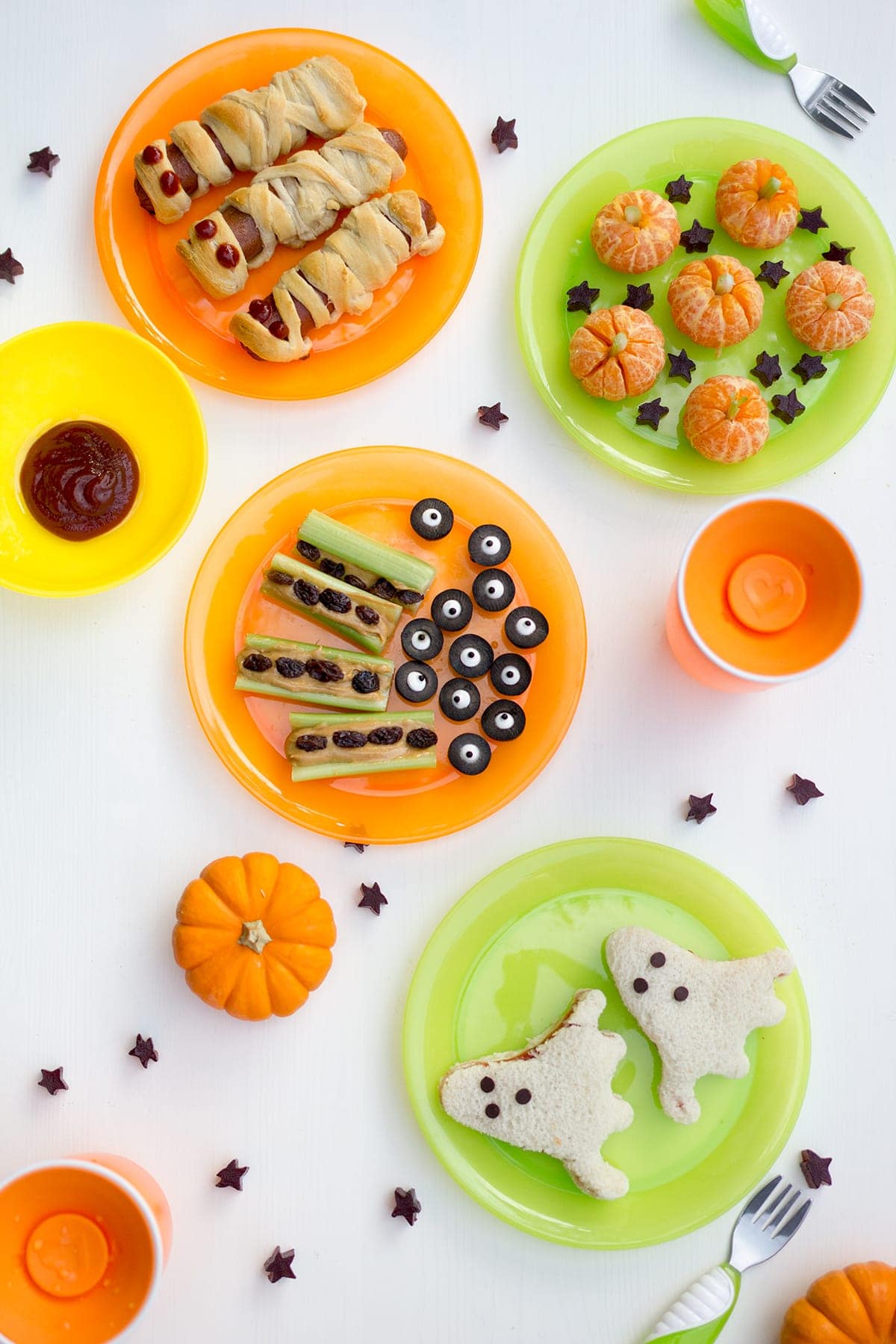 Mummy Dogs with ketchup: What kid doesn't love a good old fashioned hot dog wrapped in a crescent roll? It's quintessential kid-food and perfect for bringing the creepy factor to your Halloween table.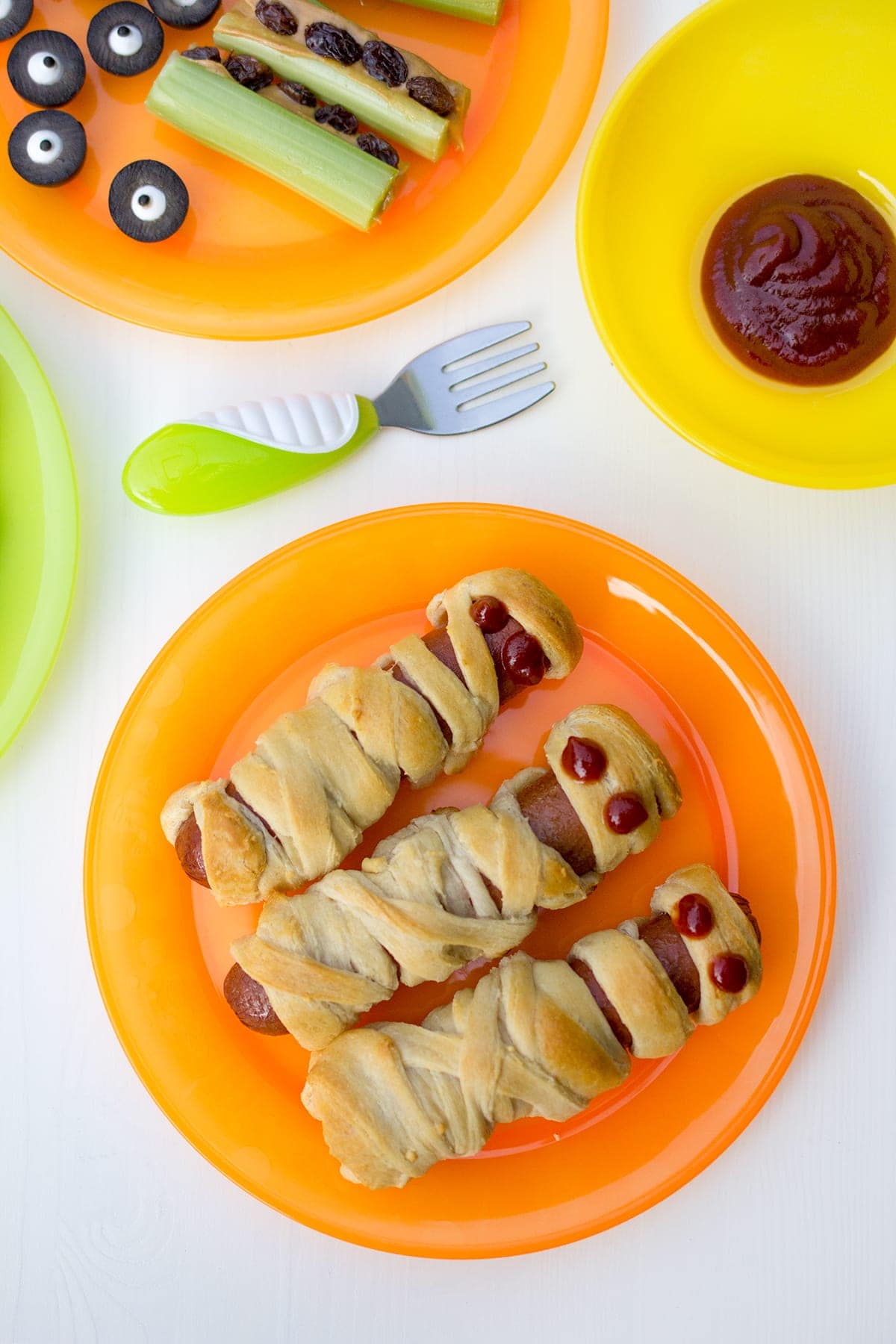 How-to: Simply cut long strips of crescent roll dough and wrap hot dogs. To make them look more "mummy-like" cross the wrappings back and forth. Place dogs on a lightly sprayed sheet pan and bake at 375 degrees for 13-17 minutes or until the dough is lightly browned and the hot dogs are heated through. Allow to cool slightly before dotting on ketchup "eyes." Serve with an additional bowl of ketchup for dipping.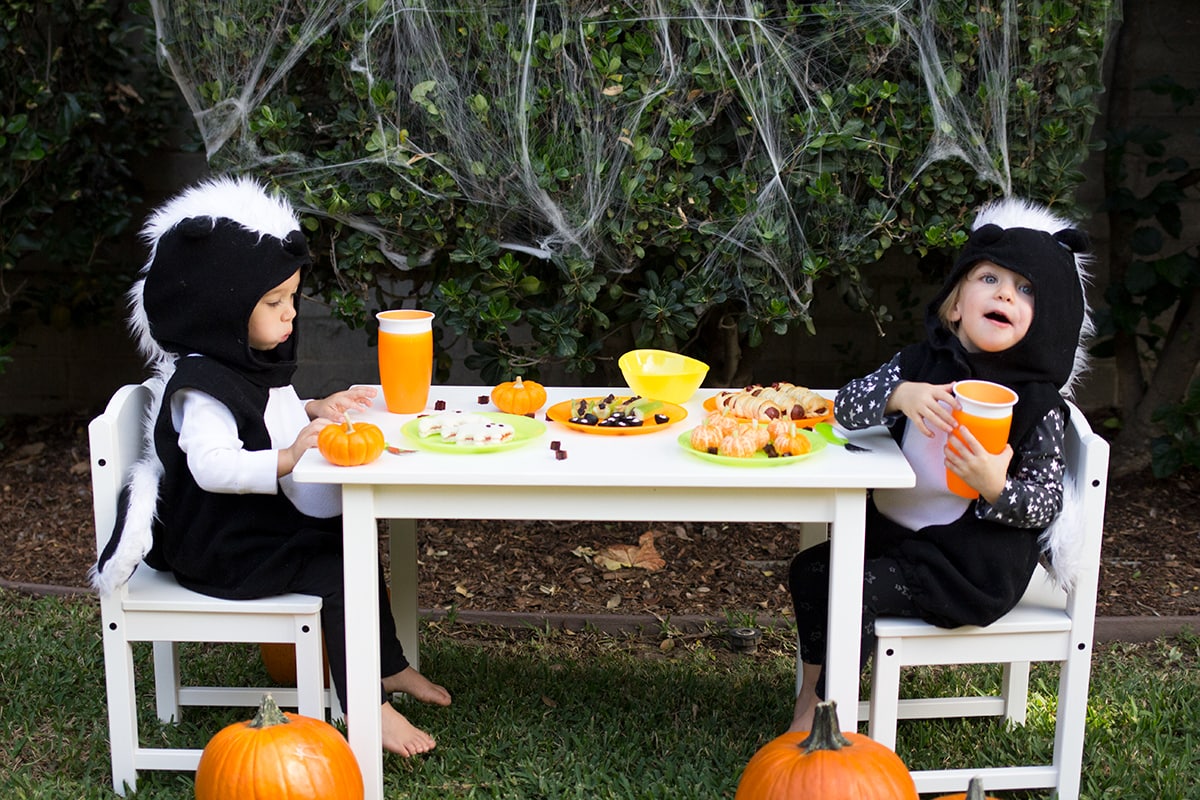 Safety note: Depending on the age of your child, you will want to cut the mummy dogs before serving. My twins are two years old and I still cut the dogs into pieces that were easier for them to chew. For young children, hot dogs can be a choking hazard so please be careful!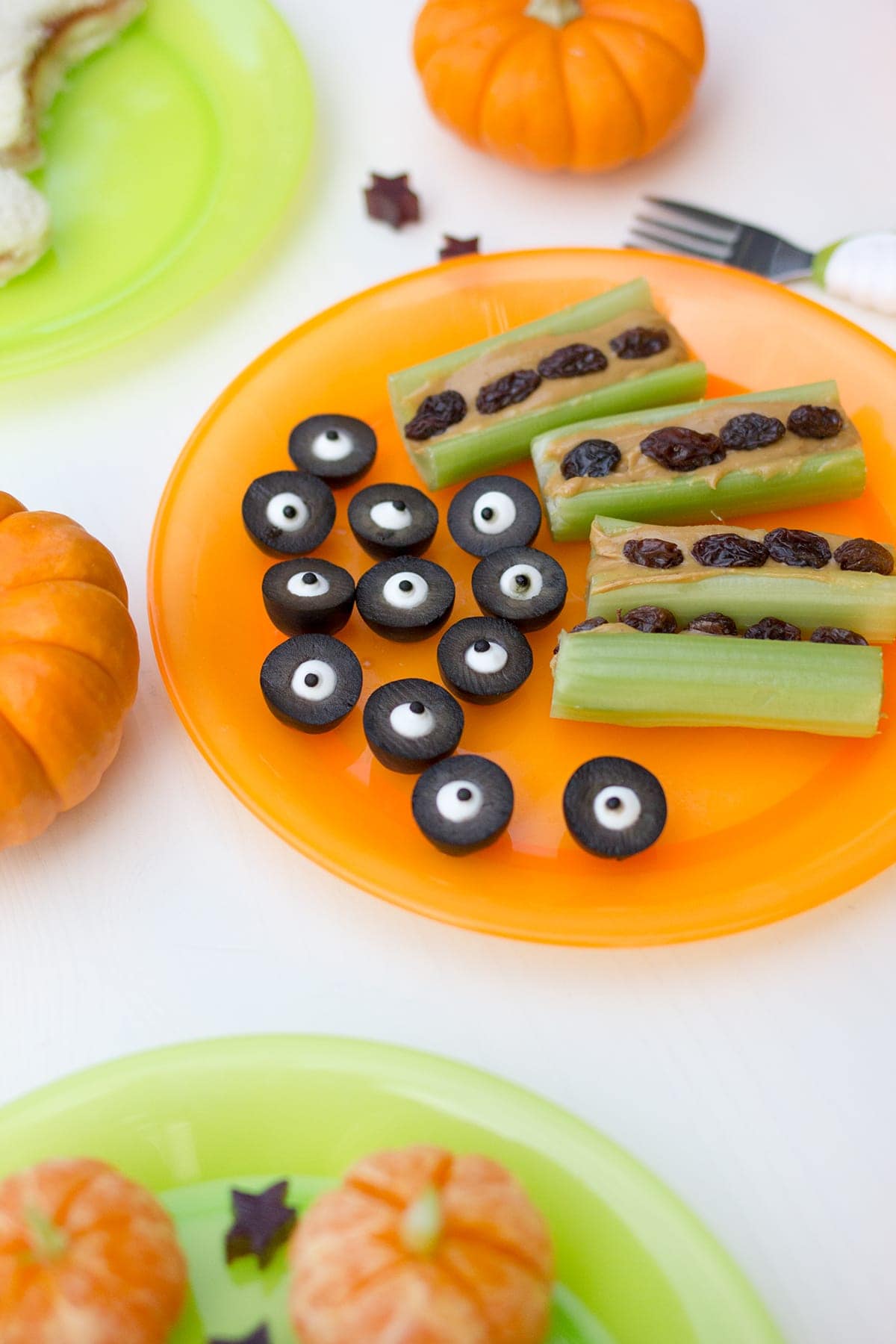 Olive Eyeballs: Creepy but fascinating! My twins went straight for the eyeballs gobbling these up.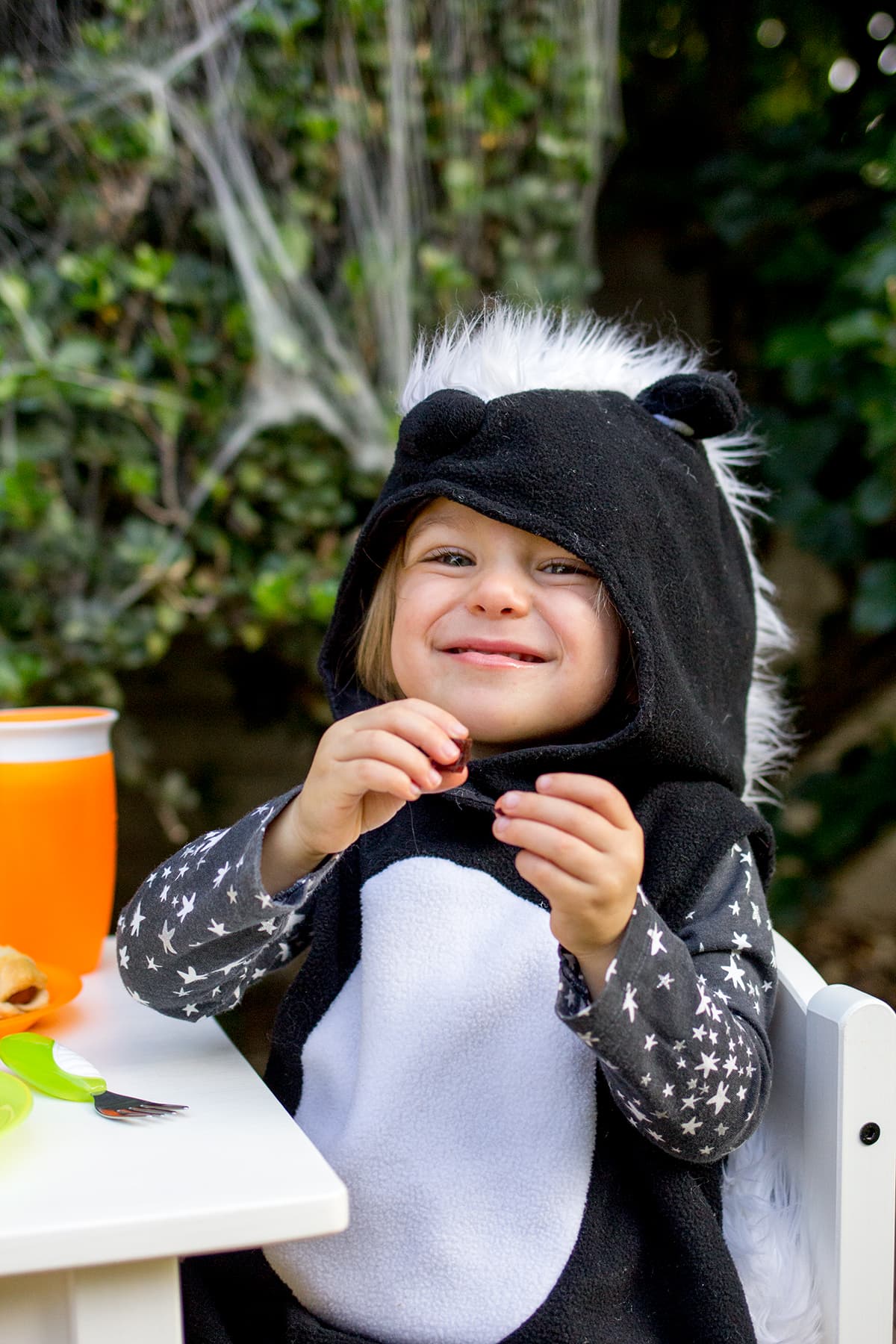 How-to: They eyeballs couldn't be easier to make and only require two ingredients, one can of whole black olives and candy eyes. You can usually find the candy eyes in the baking section of most grocery stores! Cut olives in half crosswise and insert a candy eyeball into the center.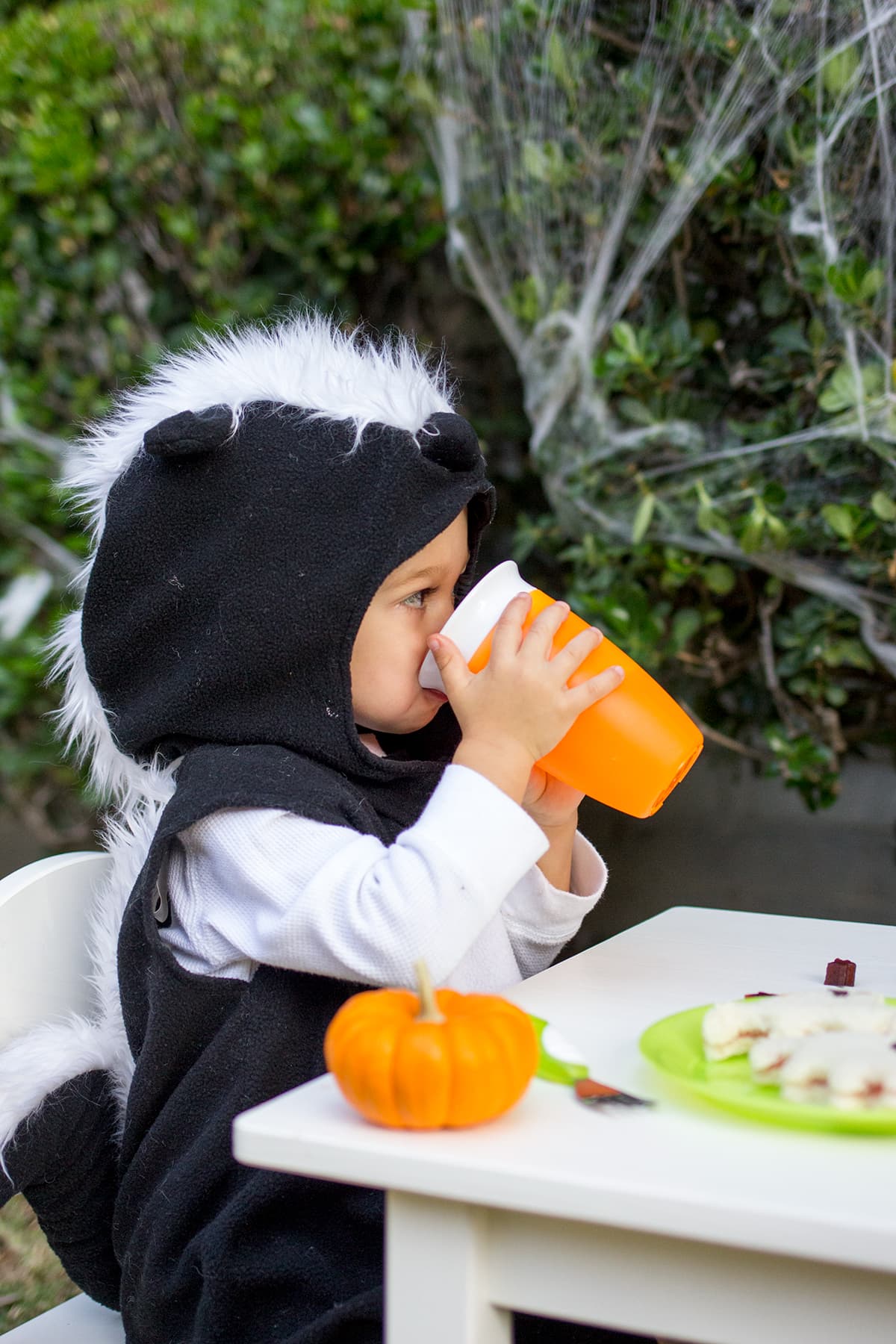 Ants on a Log: Yet another childhood classic that works well for this creepy holiday.
How-to: Cut celery into 3" long "logs" and spread with your favorite nut butter. Top with raisin "ants" and serve. Tip: to keep these logs from rolling around on the plate, slice a thin layer off of the bottom of your celery sticks to create a flat surface before stuffing with nut butter.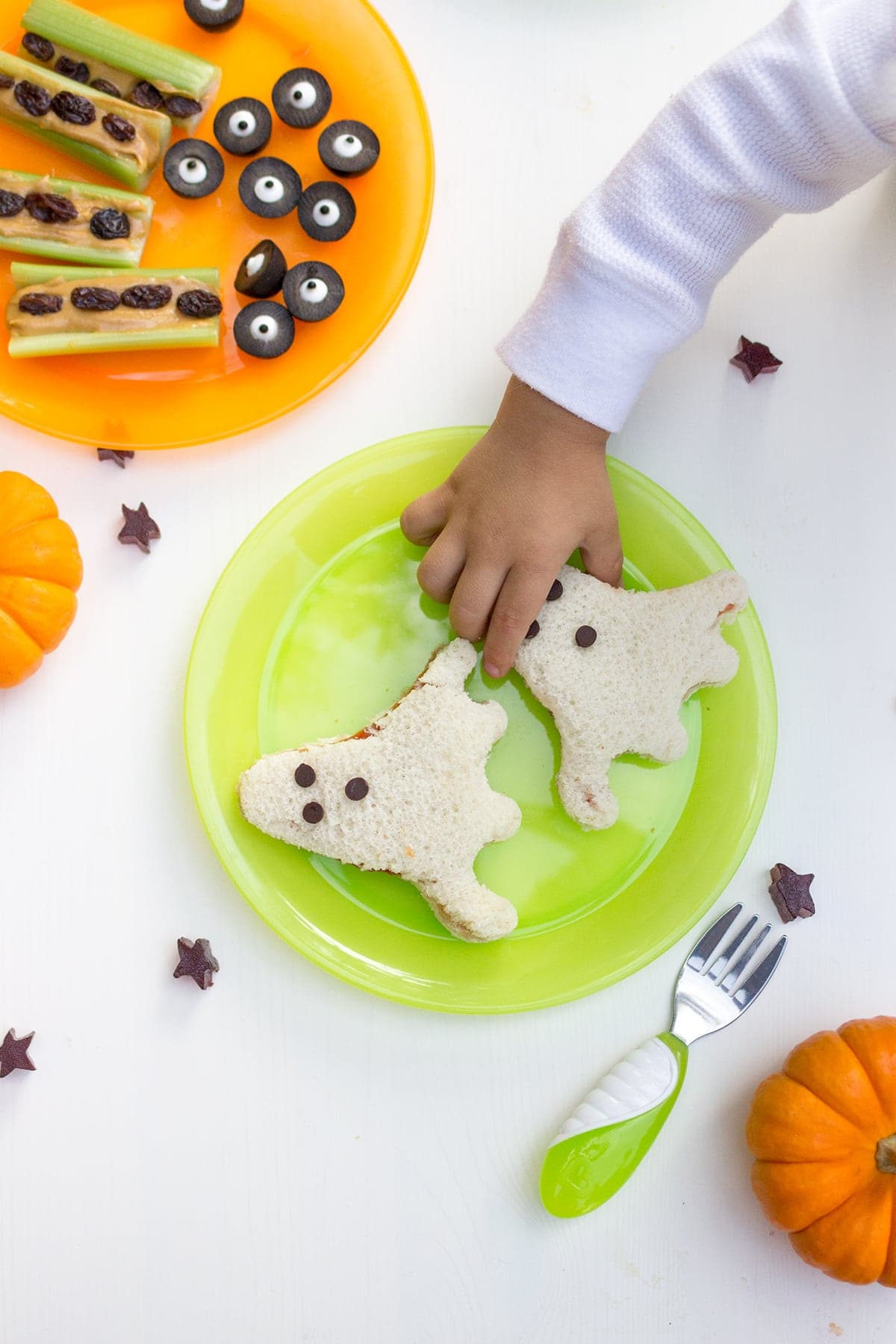 Ghost Sandwiches: Boo! Your kids will love these cream cheese and jelly ghost sandwiches and you will love how easy they are to make.
How-to: Spread white bread with soft cream cheese on one side and strawberry jelly on the other. Sandwich together and with a ghost shaped cookie cutter cut out desired shape. Press mini chocolate chips in for eyes and a mouth.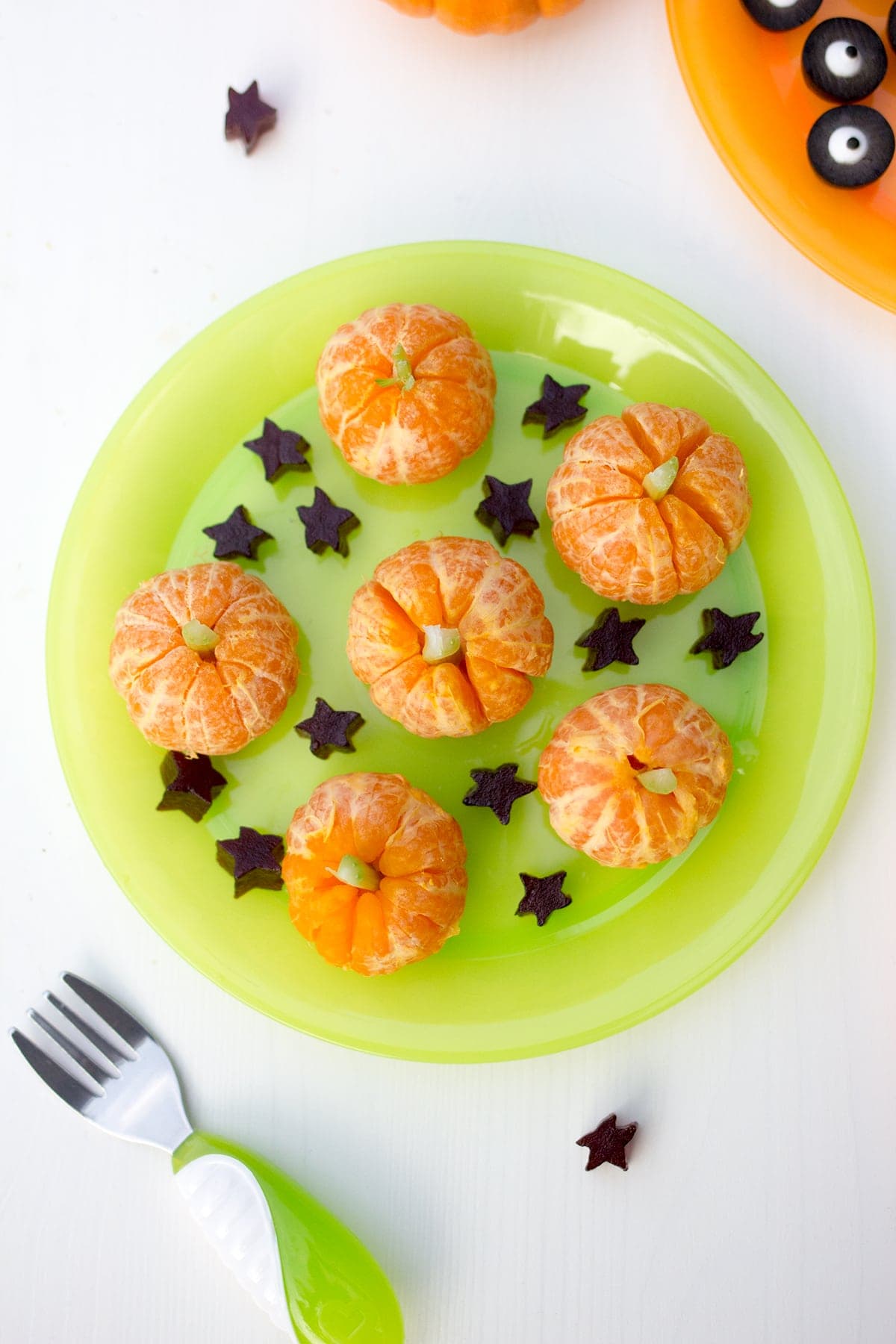 Tangerine Pumpkins: Turn everyone's favorite snack into adorable little pumpkins! Millie when right for the plate of tangerine pumpkins. The best part of this snack, you won't be asked to peel tangerines over and over again!
How-to: Peel tangerines carefully so that the fruit stays intact. Slice a small stick of celery and insert into the top of each "pumpkin" for a stem.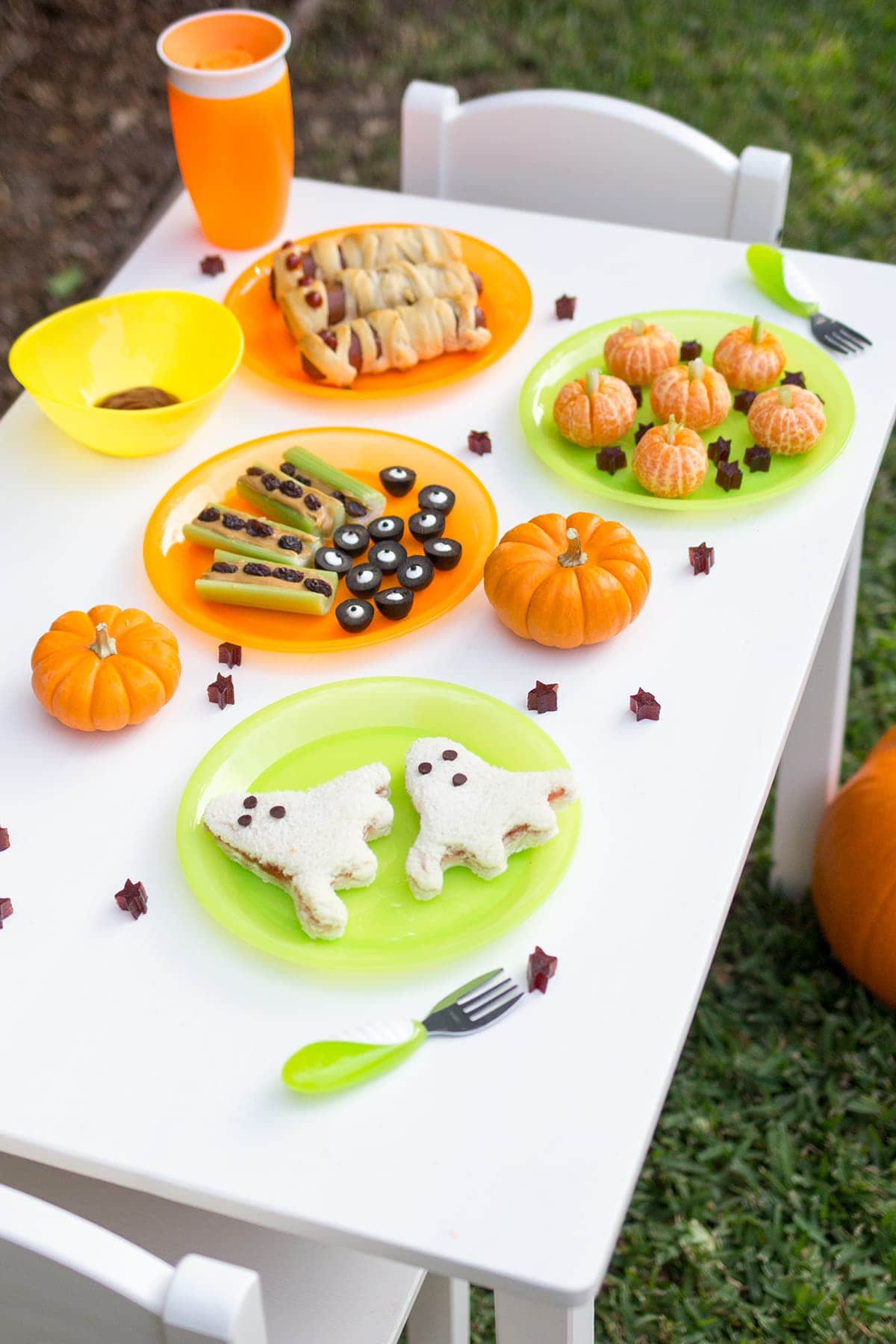 It was so much fun to see the twin's faces as they ate this lunch. Even picky eaters might be tempted to try a ghost shaped sandwich or olive eyeball…you never know when the mood might strike! Happy Halloween!
Disclosure: This post was sponsored by Munchkin however all opinions, tips and recipes are my own. Thank you for supporting the sponsors who make Freutcake possible!