Happy Friday fellow parents...or anyone else who needs some fun and creative meal ideas! Who am I kidding, you don't have to be a toddler to want to eat these meals. Here's a look at What I Fed the Twins This Week...
Lunch: Crackers topped with avocado and (Trader Joe's) "Everything But the Bagel" seasoning. Cherry tomatoes and whole olives, deli turkey meat.
Notes: Millie likes her avocado whole with chips on the side for scooping while Jackson prefers his served on a cracker with seasoning. Either way, it's a GREAT lunch!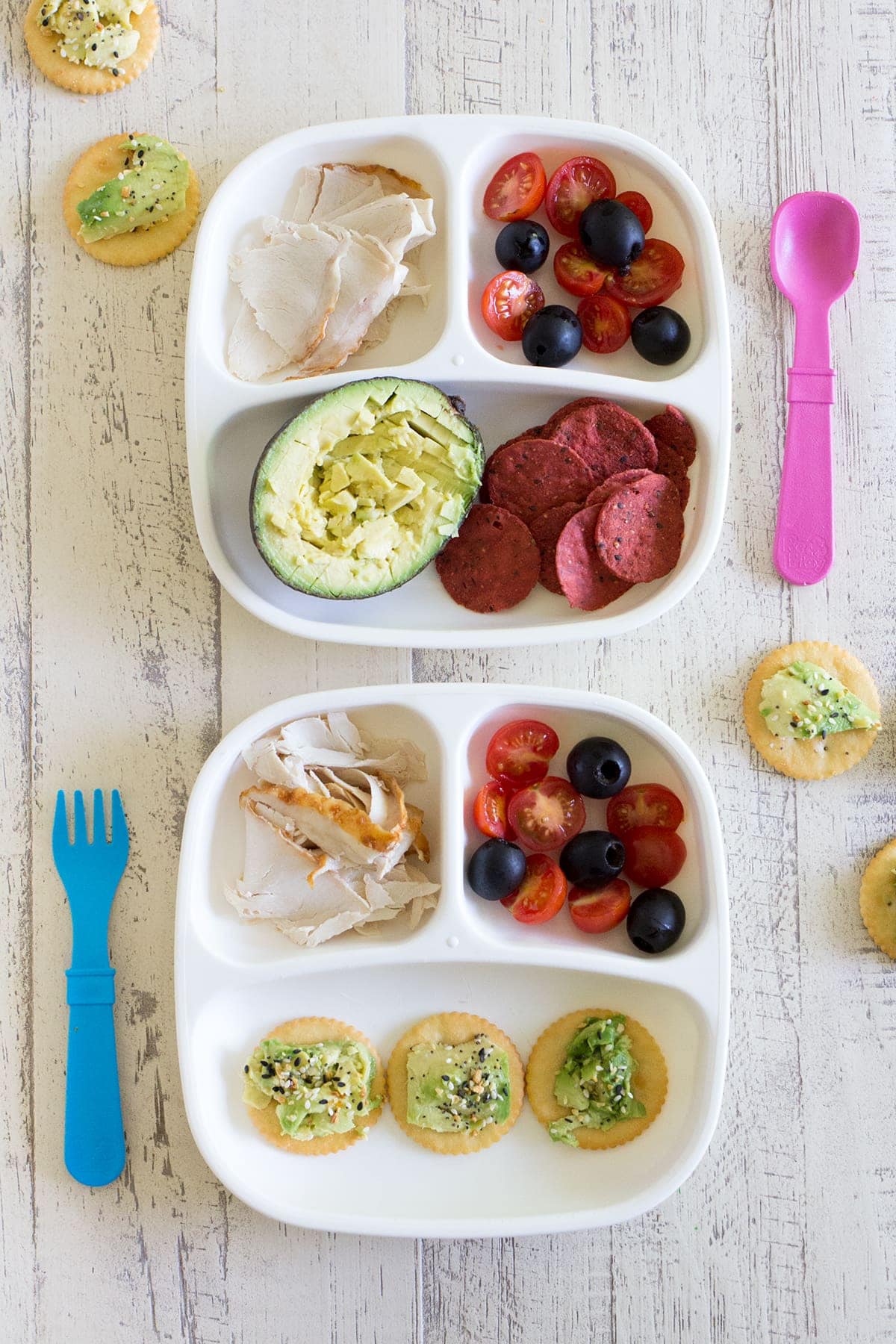 Breakfast: Oatmeal with a little bit of whole milk, almond butter, and honey mixed in. Mixed berries and blueberry yogurt.
Notes: My twins have loved oatmeal since they were little babies. I alternate what mix-ins I add but there is always whole milk to make it creamy and either coconut butter (healthy fat) or regular butter and either a drizzle of maple syrup or honey for sweetness.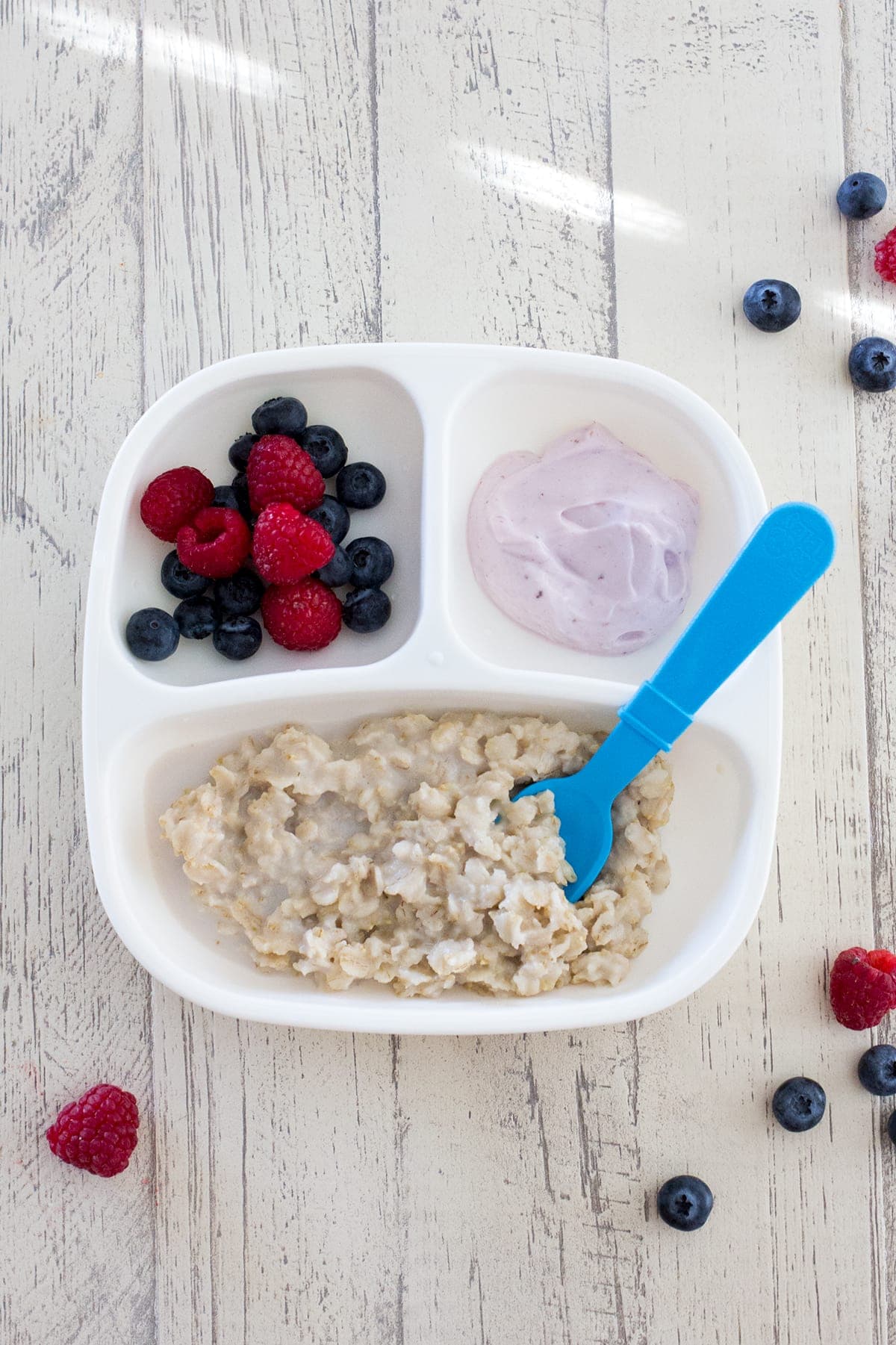 Lunch: Butterfly shaped ham sandwiches, cheese cubes, beet chips (from Trader Joes), and frozen peas.
Notes: Don't be surprised if your toddlers become completely obsessed with frozen peas. They are one of our most requested "treats" around here!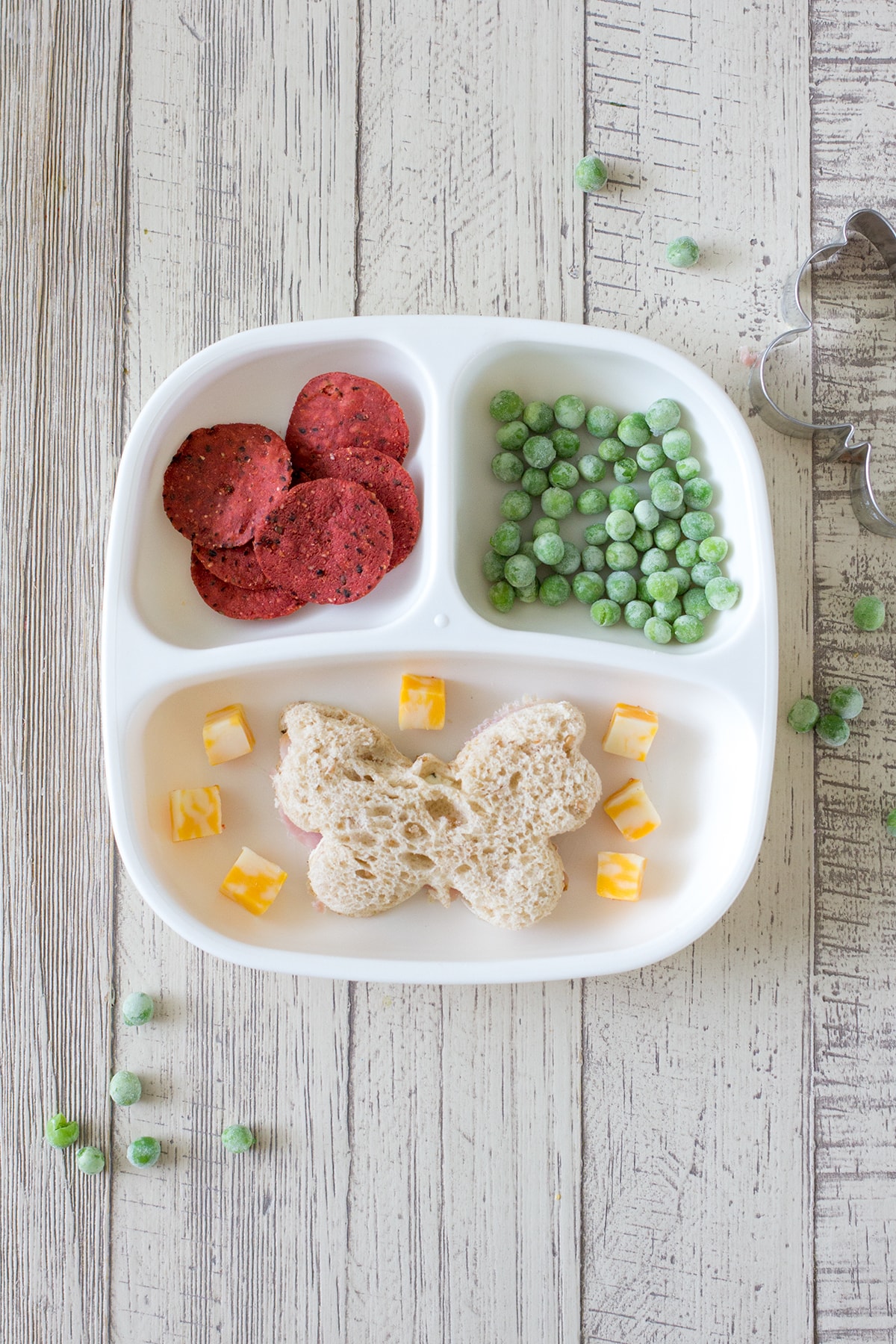 Lunch: Spinach and cheese tortellini, tangerine segments and crackers topped with beet hummus and cheddar cheese stars.
Notes: I thought this lunch would be much more popular with the twins than it turned out to be! Individually the twins like all of the components of this lunch but they are used to dipping pea snaps or pretzels in their hummus, not having it atop a cracker with a cheese star on top! Millie ended up eating the cheese stars on their own. I would serve this same lunch again but with hummus for dipping.This lunch might be good for an older child who can appreciate "pretty food." Ha!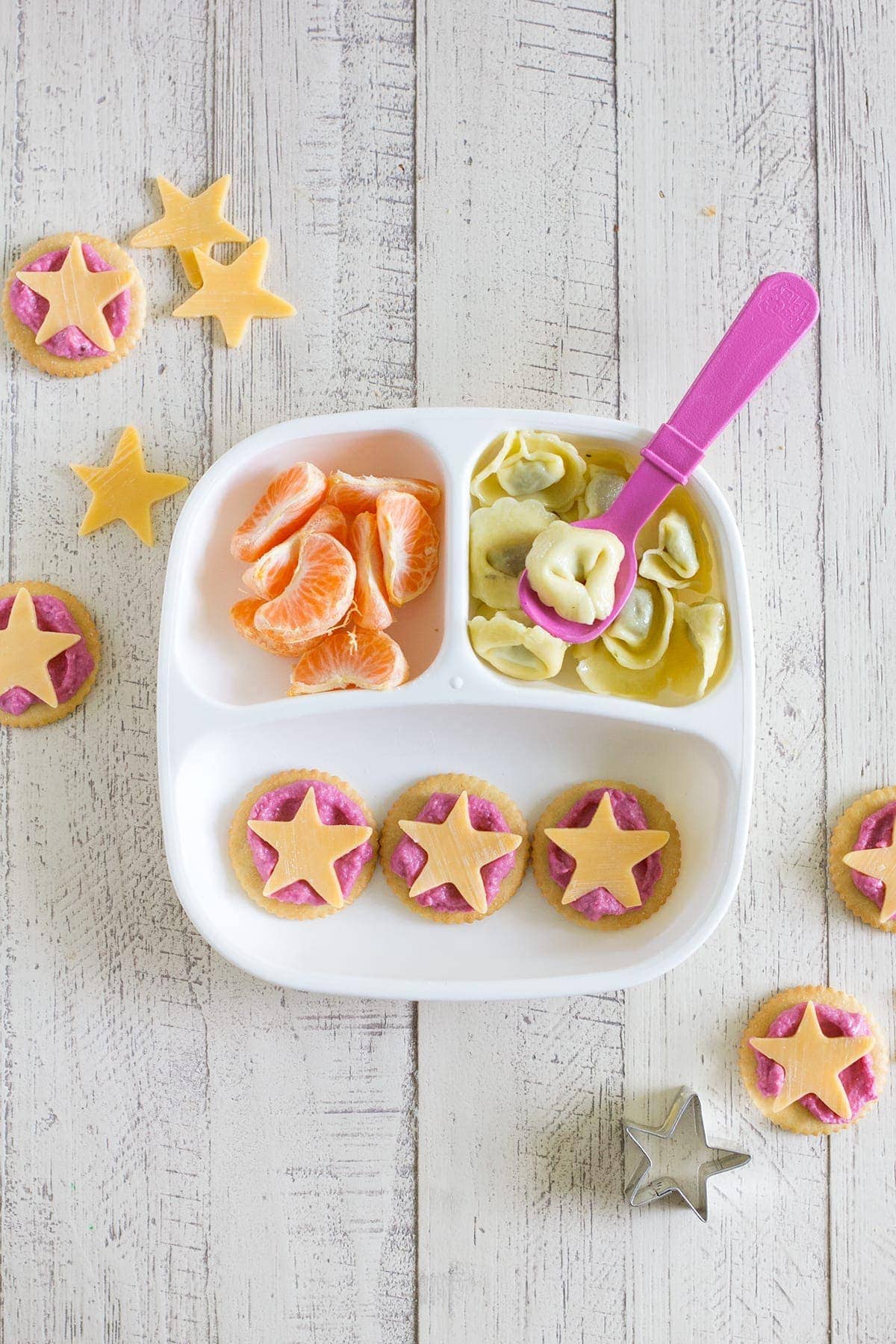 Lunch: Peanut Butter and Jelly "People," honey wheat pretzel sticks (Trader Joe's) and an apple.
Notes: The twins are in a stage where they like all of their fruit whole! Also, I've never seen them inhale pb&j quite as quickly as they did when their sandwiches were shaped as little people...should I be concerned?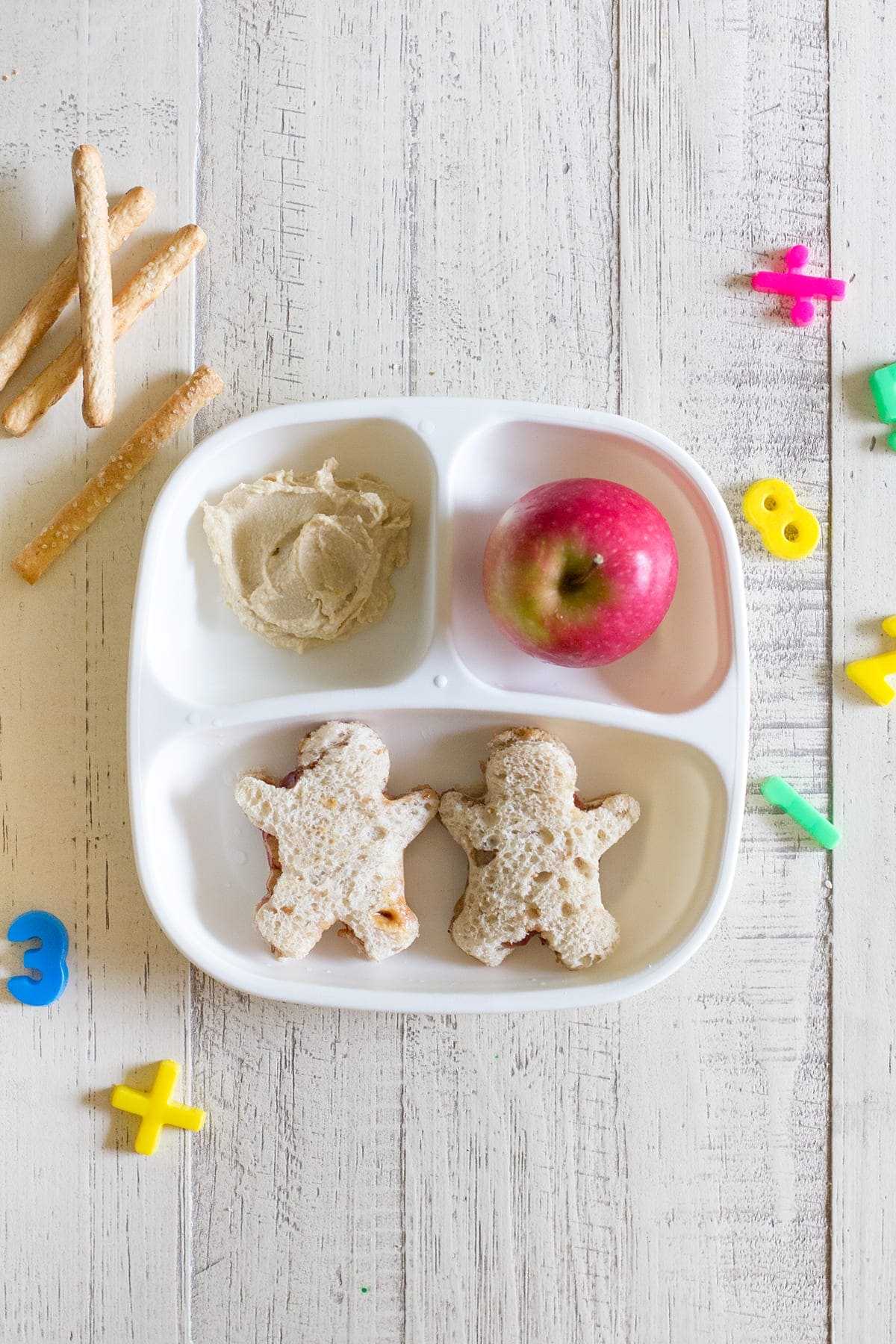 So, what did you feed your kids this week? Any complete failures like my beet hummus and star crackers?