Mini Apple Cheddar Muffins are savory little muffins sweetened just slightly by applesauce and perfect for kids to help make!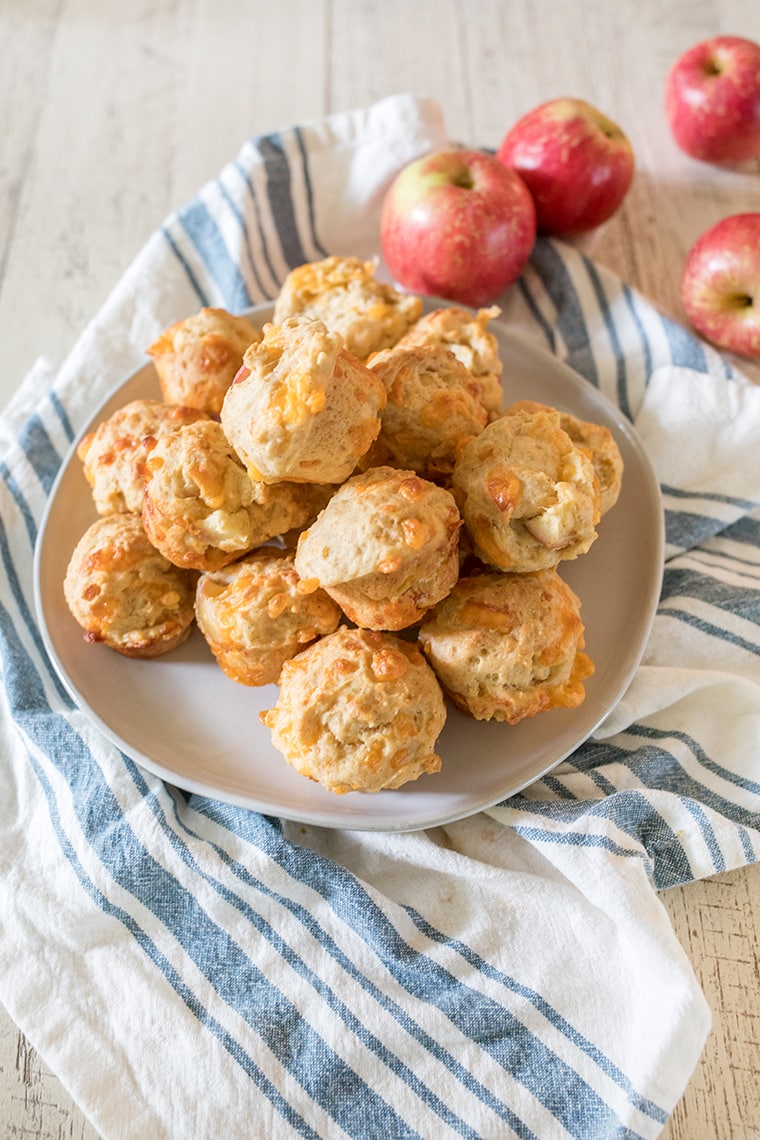 Mini Apple Cheddar Muffins
One of the things that really "sold me" on the twin's preschool was the cooking curriculum. The class gets the chance to help cook their snack and participate in everything from chopping and grating to measuring and mixing. As a parent helper in the class last week, I was put in charge of making the Mini Apple Cheddar Muffins with the kids.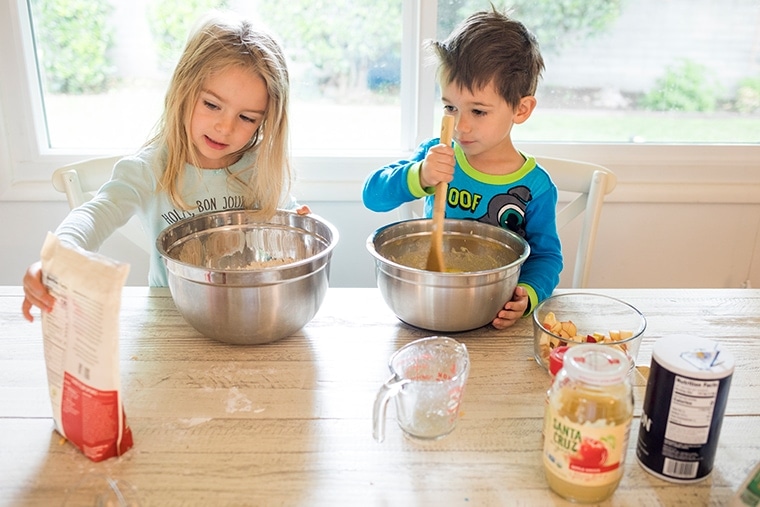 I chose NOT to have them help with cheese grating as my nerves really couldn't handle the though of three year old knuckles and fingers participating in that portion. However the kids helped me chop apples using kid save knives like these and had a blast measuring and mixing.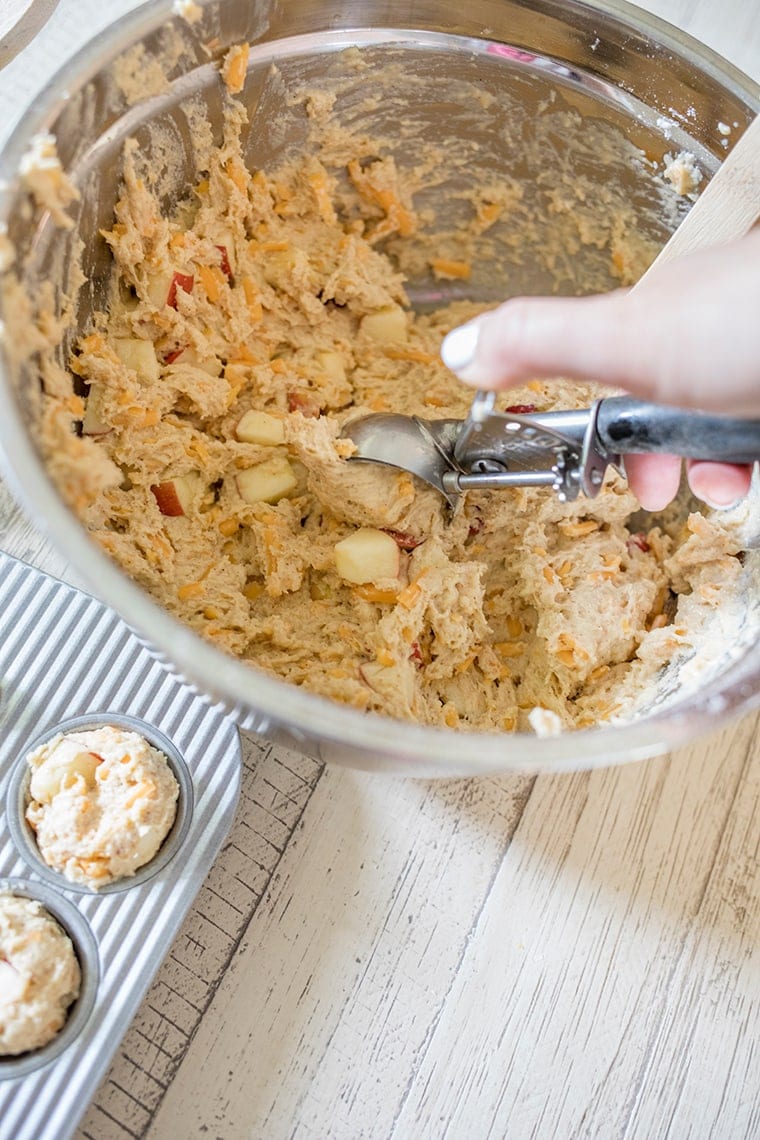 Applesauce Sweetened Muffins
The original recipe for these muffins was completely delicious but it calls for a good amount of white sugar. While I don't mind giving the twins a treat once in a while, I felt it wasn't necessary for a savory muffin with cheese and apples so I sweetened this batch with applesauce and honey instead. I'll share both versions of the recipe below and you can decide which you prefer! Both are delicious.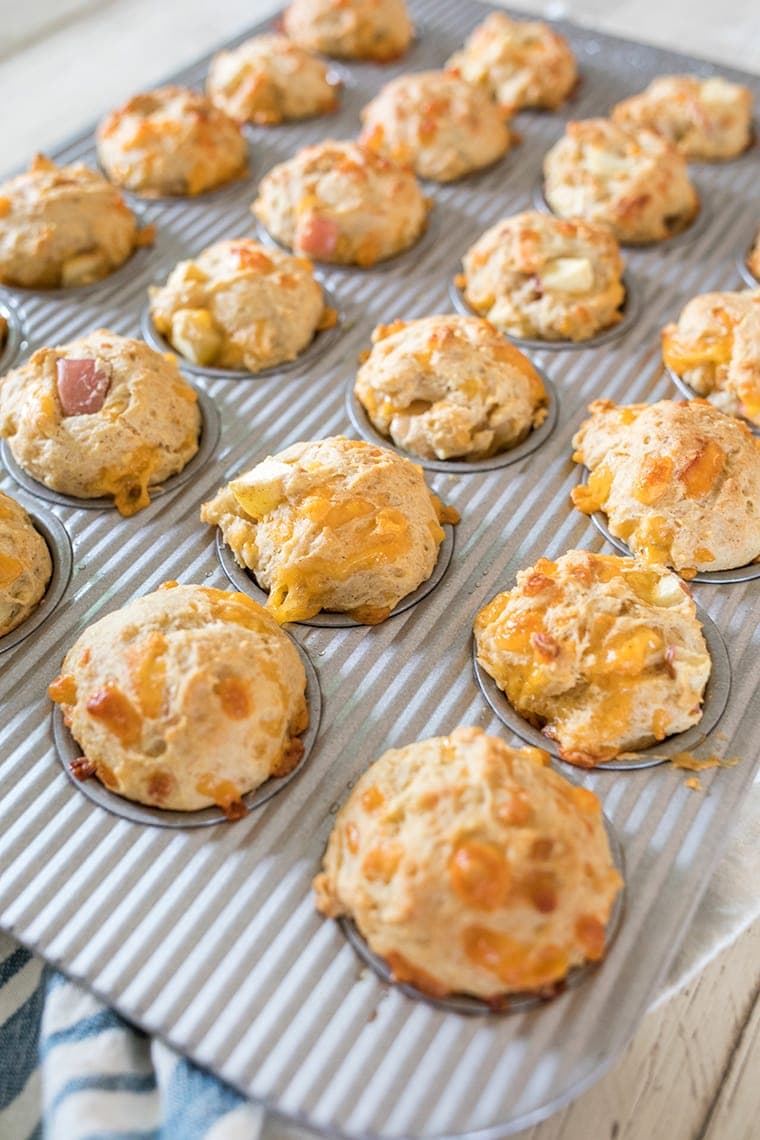 How to Prevent Muffins from Sticking
The trick to preventing muffins from sticking is all in the pan...and in the greasing! We use this non-stick quick release mini muffin pan and brush it really well with melted butter. The muffins came out effortlessly which is saying something considering there is cheese involved.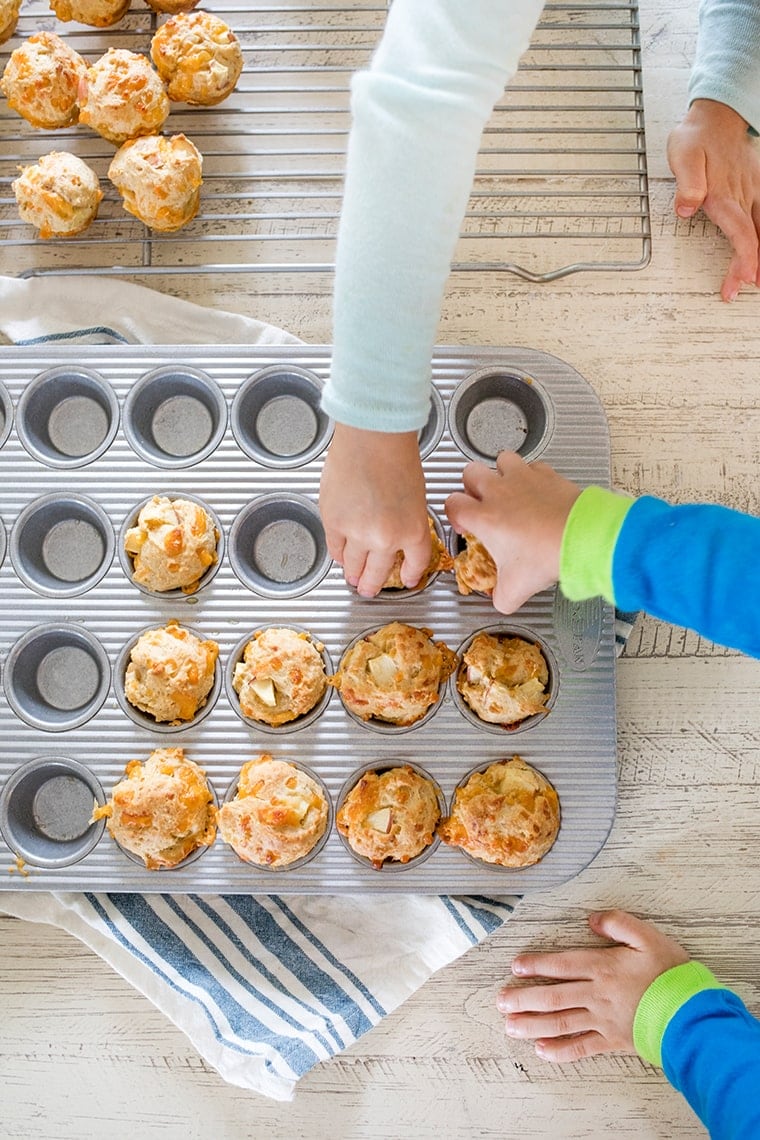 Muffin Recipe For Kids
This really is the perfect muffin recipe for kids to help make. The ingredients are simple, the steps are few and the resulting muffins are just their size. Shredded cheese and diced apples both make great snacking ingredients so be sure you have a bit extra to set aside for kiddos to eat. Once the muffins are cool enough to handle, the twins moved them from the pan to the cooling racks. They absolutely loved this part!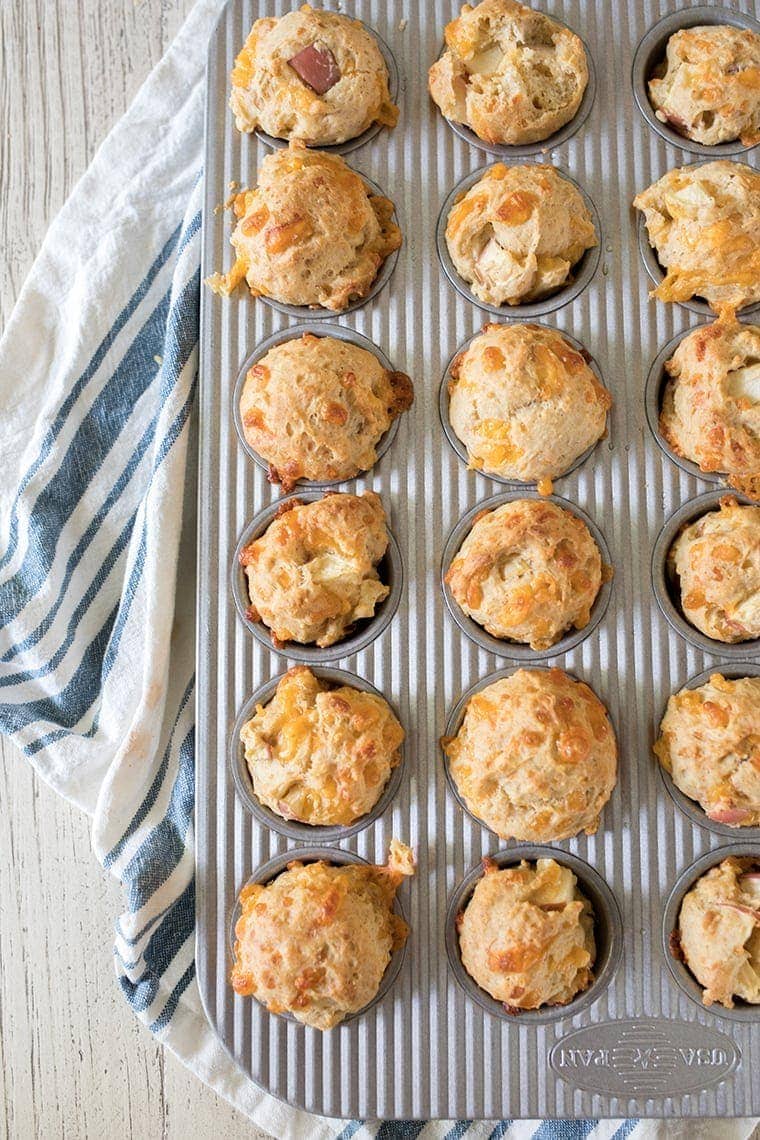 Serve these muffins warm while the cheese is still soft for a delicious snack! Jackson ate two and Millie ate three and both asked for seconds later in the day. This recipe was also a huge hit with their preschool class so I guarantee your kids will love them too. I mean, it doesn't get much more delicious than the combination of cheddar cheese and apples!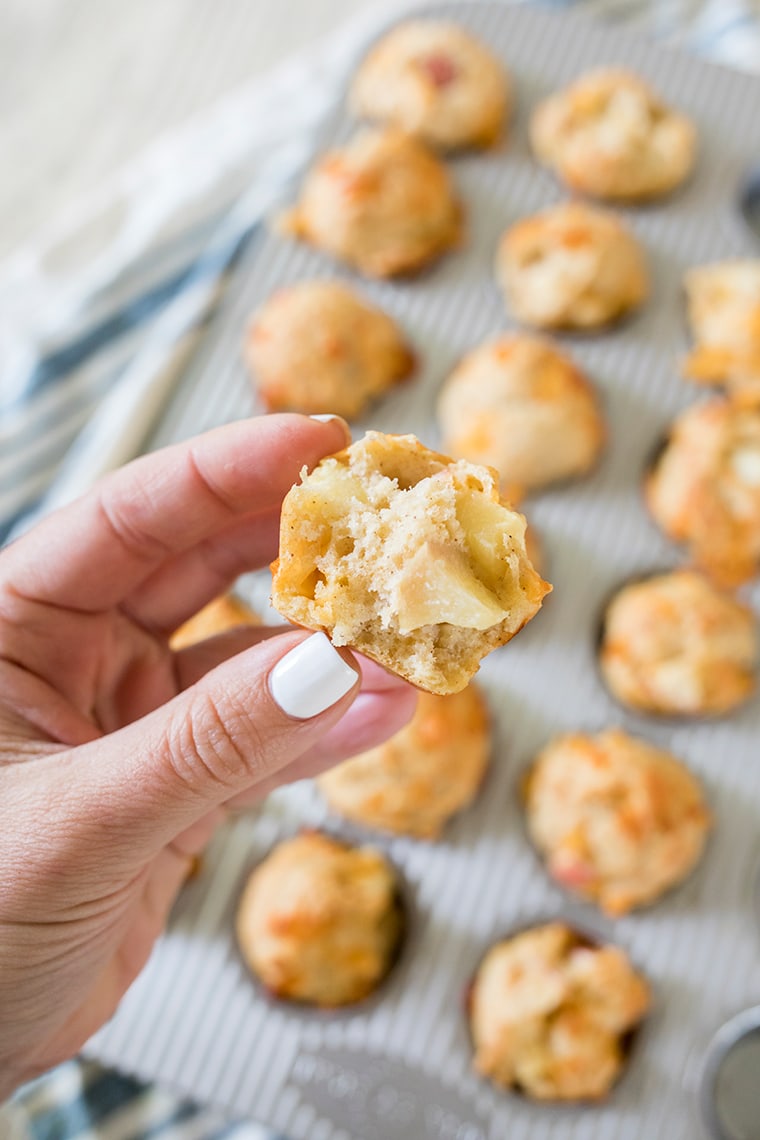 Removing the sugar from this recipe makes these little bites much more savory but we loved them. They would also make a great addition to a cheese board in place of crackers if you want to get fancy. For adults, you might consider adding in some fresh herbs like rosemary to really drive home that savory muffin flavor. Or don't mess with them at all. They are pretty darn tasty just as they are. Happy baking!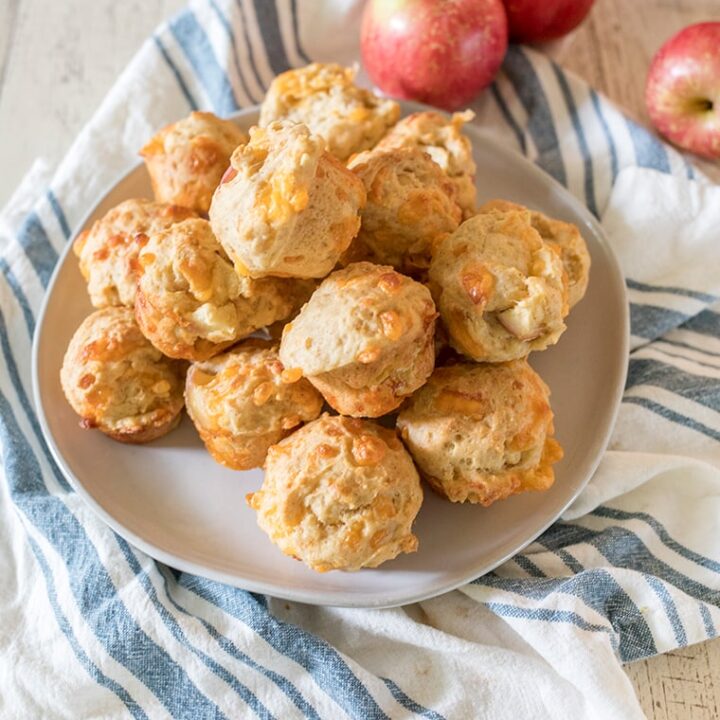 Mini Apple Cheddar Muffins
Savory mini muffins made with chopped apples and shredded cheddar cheese.
Ingredients
3 cups all-purpose flour
4 teaspoons baking powder
1 teaspoon salt
1 teaspoon cinnamon
2 cups freshly grated cheddar cheese
2 eggs
1 cup apple sauce
¼ cup honey
½ cup butter, melted
2 cups chopped apples
Instructions
Preheat oven to 375 degrees.
Combine flour, baking powder, salt and cinnamon in a large bowl.
Mix in cheese.
Beat eggs in a medium bowl and add apple sauce and honey; stir in melted butter slowly. Mix in apples.
Add wet mixture to dry and stir just until combined. Don't over mix.
Grease muffin tin with melted butter and fill muffin cups to the top with batter.
Bake 15-18 minutes or until a toothpick comes out clean.
Remove to cooling rack. Enjoy these muffins while still warm!
Note: The original recipe calls for ⅔ cup sugar and 1 cup apple juice. You can substitute these ingredients in place of the applesauce and honey.