Look at those sweet little Oatmeal Butterscotch Cookies sitting there on their pretty pink napkin looking unassumingly normal. But wait; don't underestimate this cookie's ability to blow your mind with just a few small bites. What you don't see are the chunks of butterscotch chips and sweet bits of coconut nestled beneath the surface of this chewy oatmeal cookie.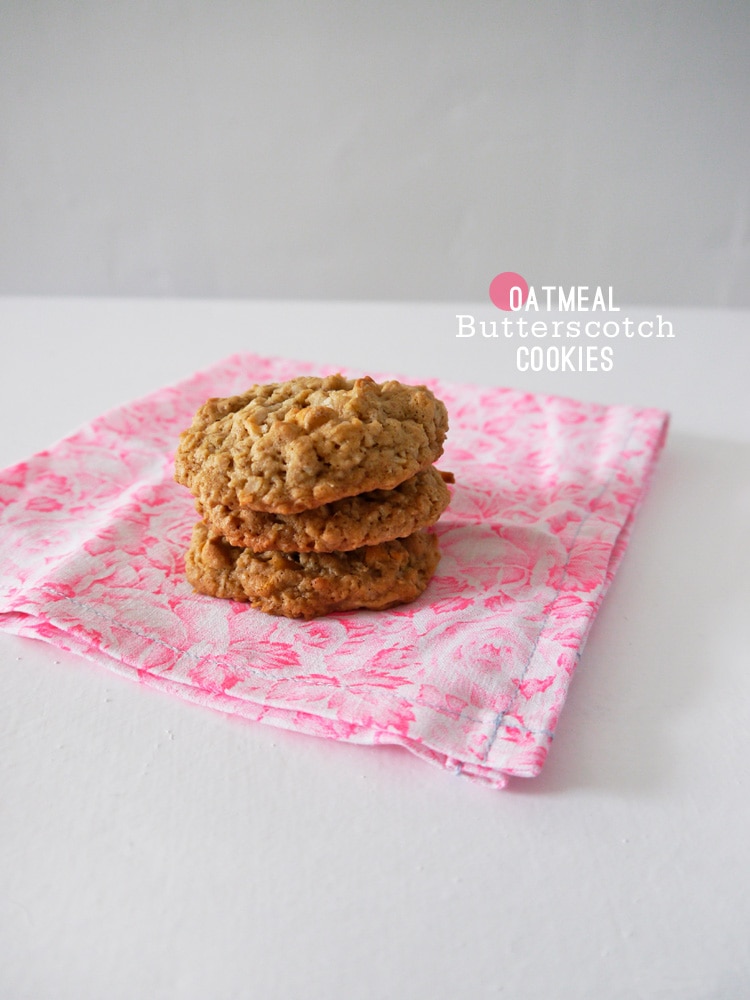 In fact, there's really no convincing you of its deliciousness with a mere blog post alone. You'll just have to make them for yourself and let me know what you decide. Now off you go...preheat those ovens and grab a bag of butterscotch chips. You won't want to keep your taste buds waiting.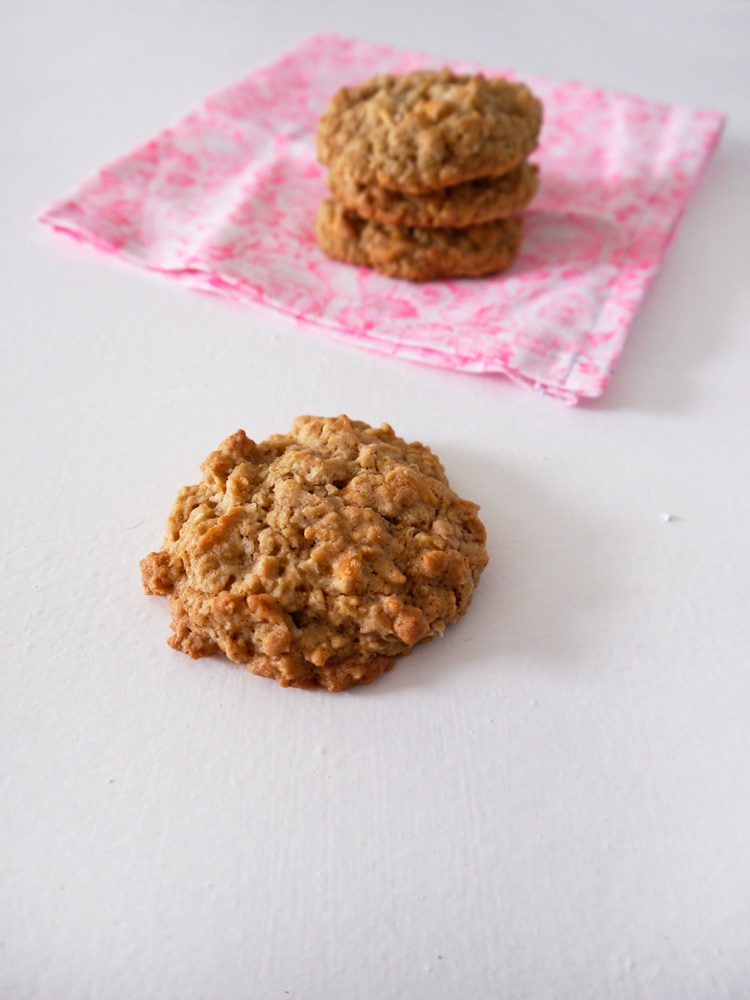 photos by Leah Bergman // Napkins from Cute Bright Things

Oatmeal Butterscotch Cookies
makes 30 cookies
¾ cup butter- I used salted for this recipe, if you use unsalted butter add a pinch of salt
1 cup packed brown sugar
½ cup granulated sugar
1 tsp. baking powder
¼ baking soda
½ tsp. cinnamon
⅛ tsp. ground clove
2 eggs
1 tsp. vanilla extract
1 ¾ cups all purpose flour
2 cups rolled oats
1 cup butterscotch chips
¾ cup sweetened shredded coconut
Directions:
1. Preheat oven to 375 degrees and line cookie sheets with silicone mats or parchment paper.
2. In an electric mixer cream butter until soft with the paddle attachment.
3. Add both sugars, baking powder, baking soda, cinnamon and clove; mix.
4. Beat in eggs and vanilla; scrape down sides of the bowl.
5. Reduce speed and add flour and oats.
6. Remove bowl from mixer and by hand with a wooden spoon; mix in coconut and butterscotch chips.
7. Drop rounded Tablespoons full of cookie dough onto prepared cookie sheets about 2 inches apart.
8. Bake 10-12 minutes until just golden brown.
9. Remove cookies immediately to a wire rack to cool.
*Recipe adapted from Better Homes & Gardens Cookbook & inspired by my favorite Oatmeal Butterscotch cookie at The Market on Holly