It's Monday. What the heck are you making for dinner this week? I'll tell you what, Sesame Beef Tacos with quick pickled cucumber-radish salad. Yum!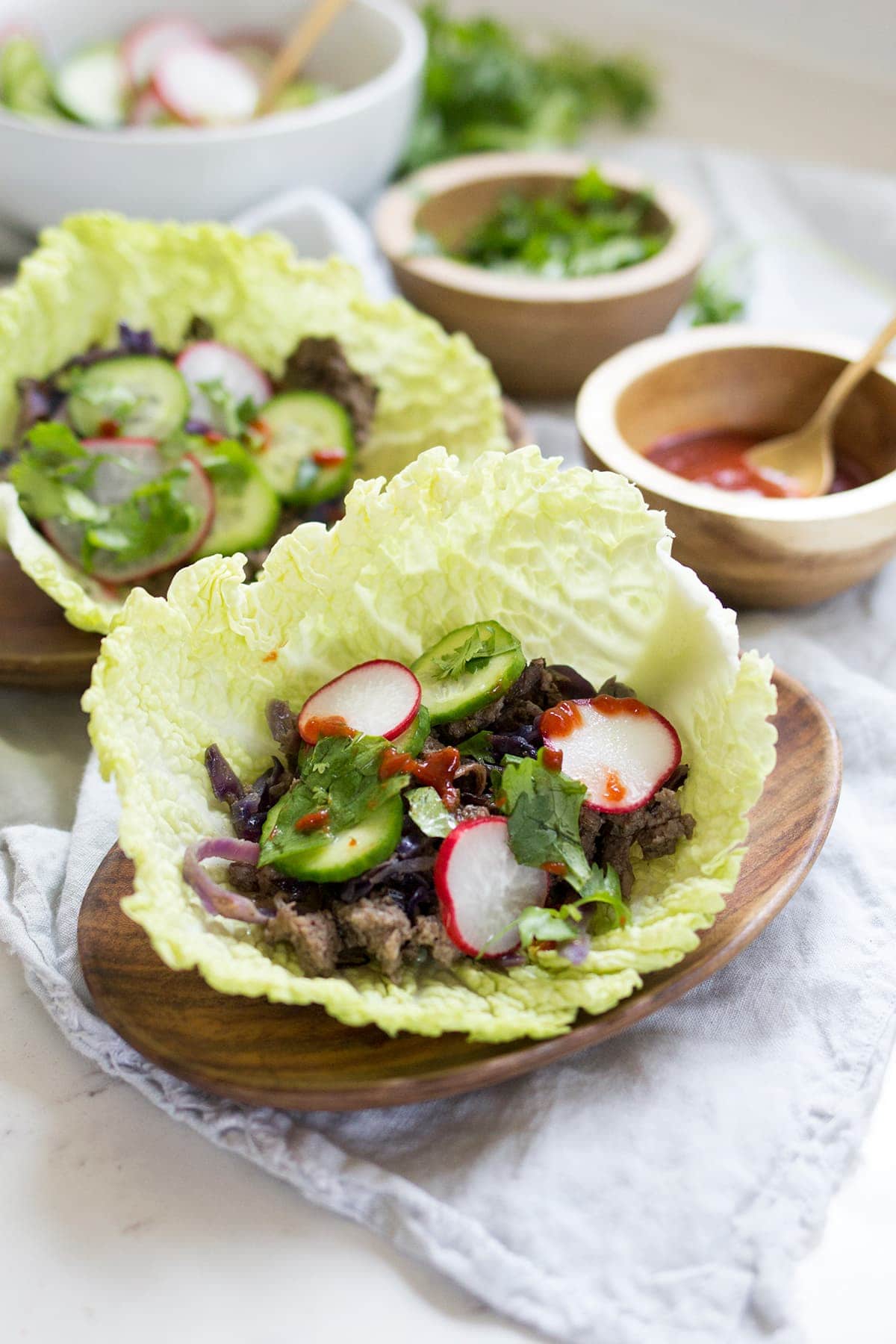 This is one of my new favorite (somewhat light) dinner recipes to make because it comes together in just about 30 minutes and is so, so flavorful and delicious. This recipe is heavily inspired by a Hello Fresh meal I tried and loved so I made it again and again.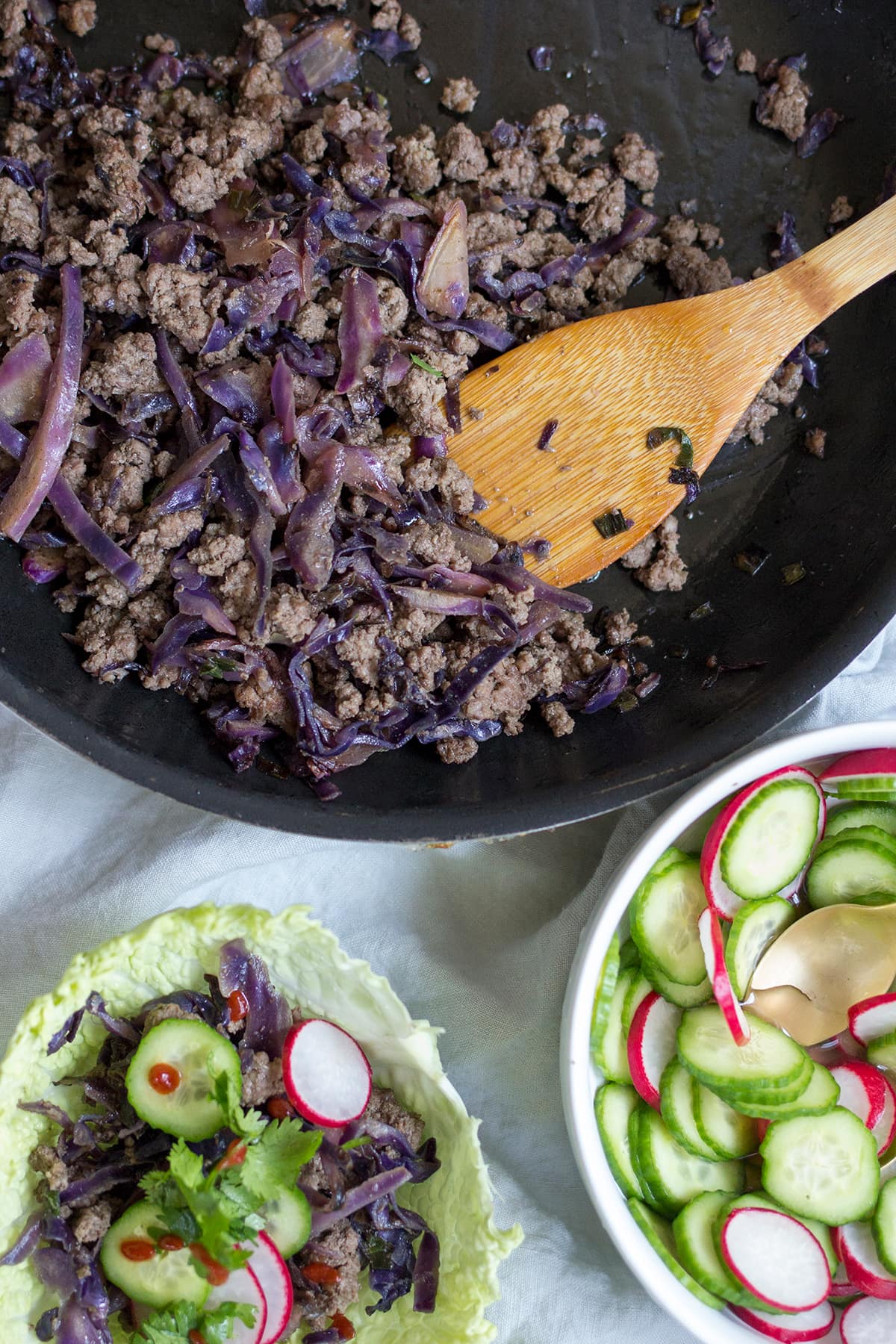 I substituted tortillas for savoy cabbage because I like the extra crunch and fresh Asian flavor that the cabbage brings to these tacos. Also, a heavy drizzle of chili sauce at the end makes these tacos fiery hot, just how I like them, but if you aren't a fan of heat, they are plenty flavorful without. The secret to all of the flavor is sesame oil.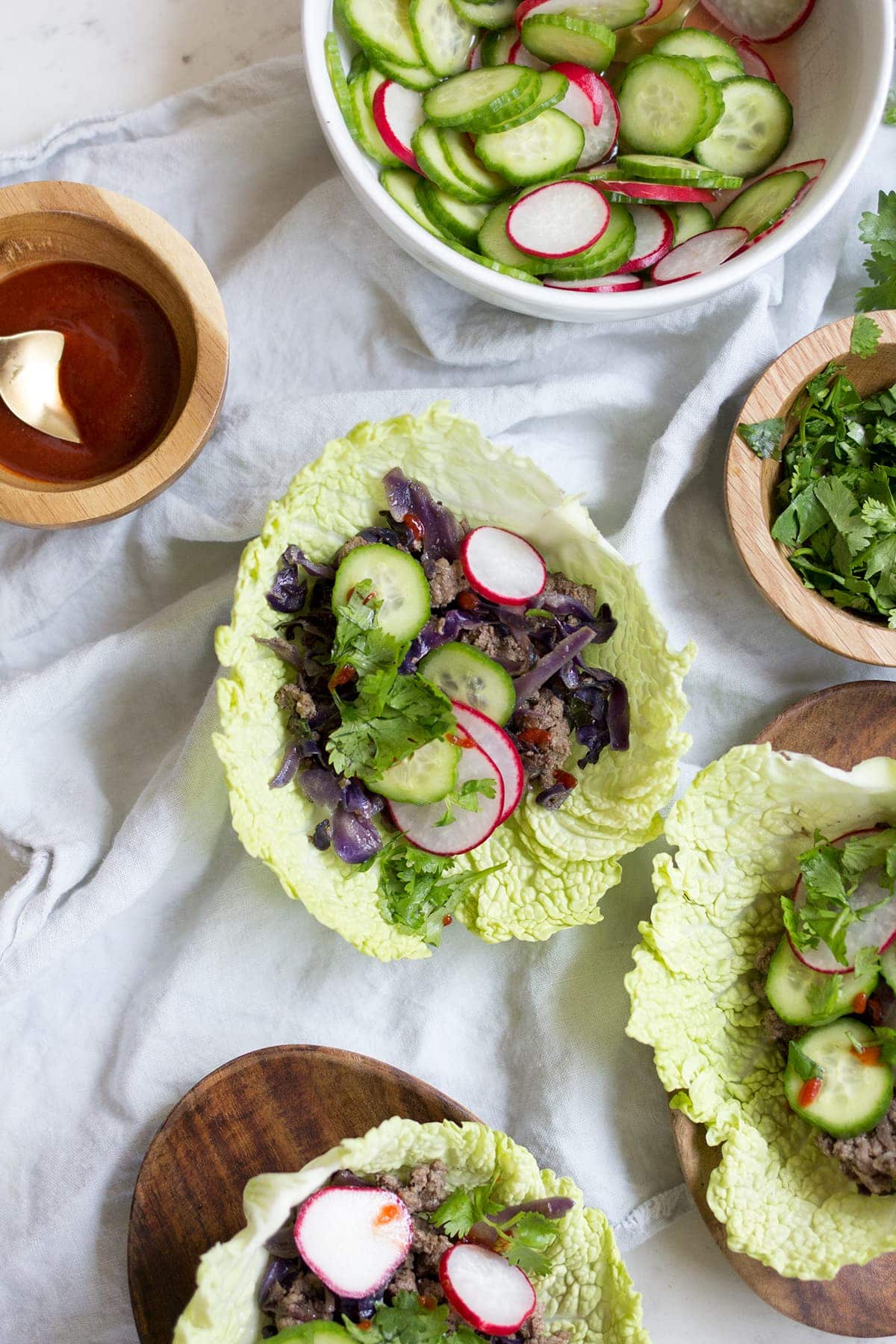 Sautée your beef and cabbage in a drizzle of sesame oil and then finish it with a bit more for extra seasoning. Fresh garlic, scallions, and red cabbage all go into the beef and it makes the most unique taco filling.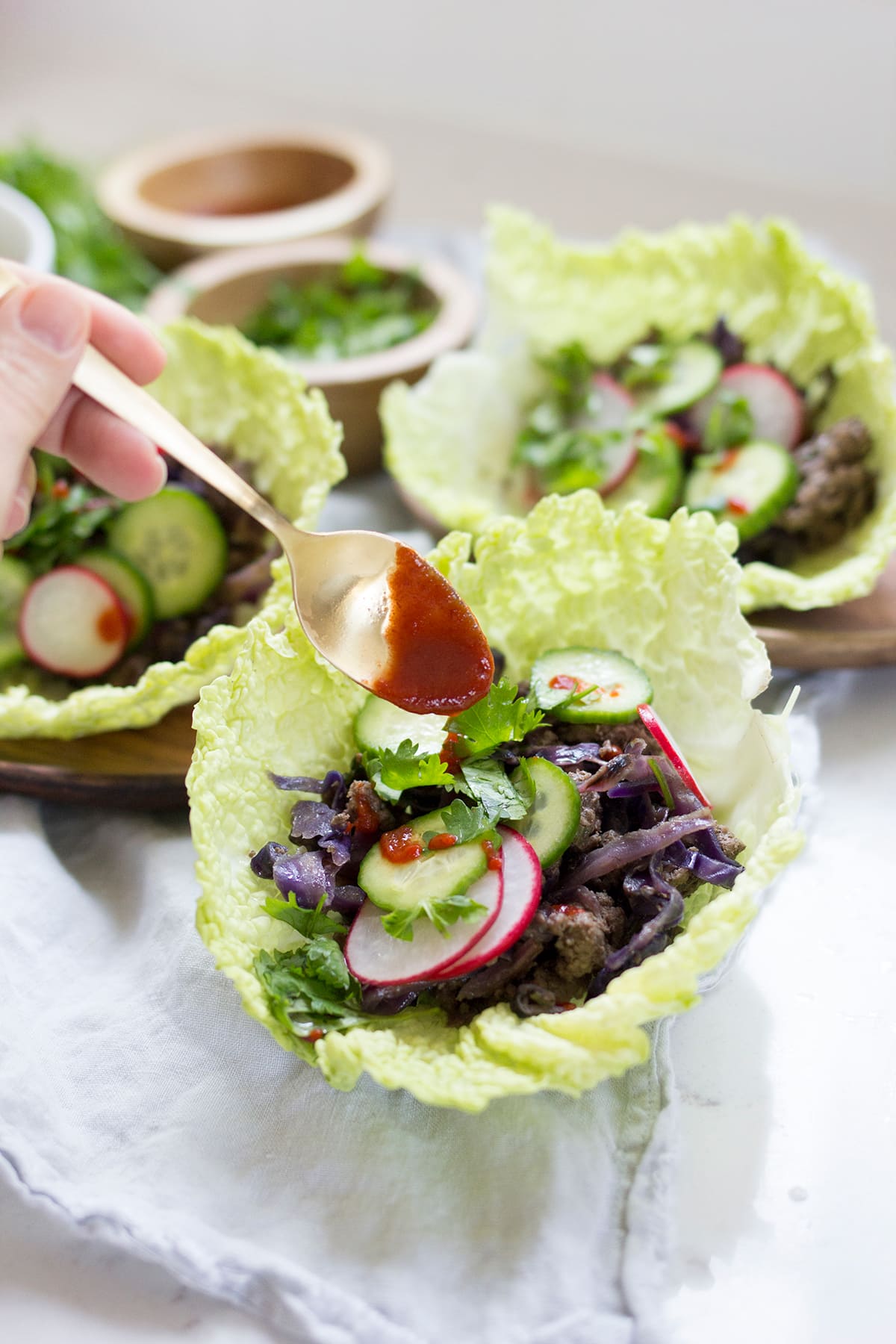 Because I make this dish mild up until the assembly, these tacos can also be made kid-friendly if served in mini flour tortillas. My twins actually love the pickled cucumbers and radishes!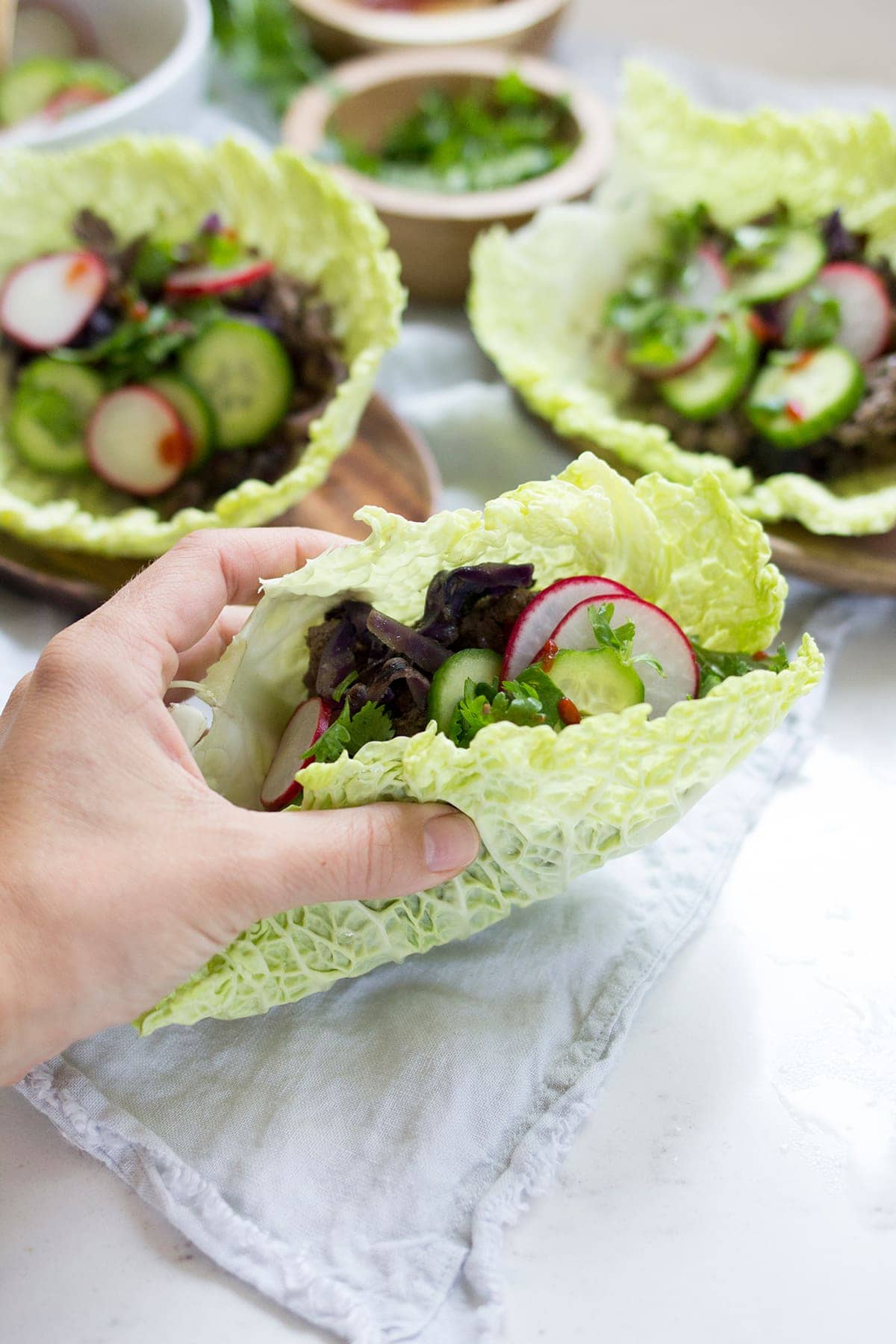 As for those quick pickles, I make them first and pop them in the fridge while I cook the meat and prep the cabbage wraps however you could make them up to one day ahead if you want to get a real-good pickle on them. A few thinly sliced red onions would also be super tasty in this pickled mix! I might actually try that next time. Here's to easy week night dinners.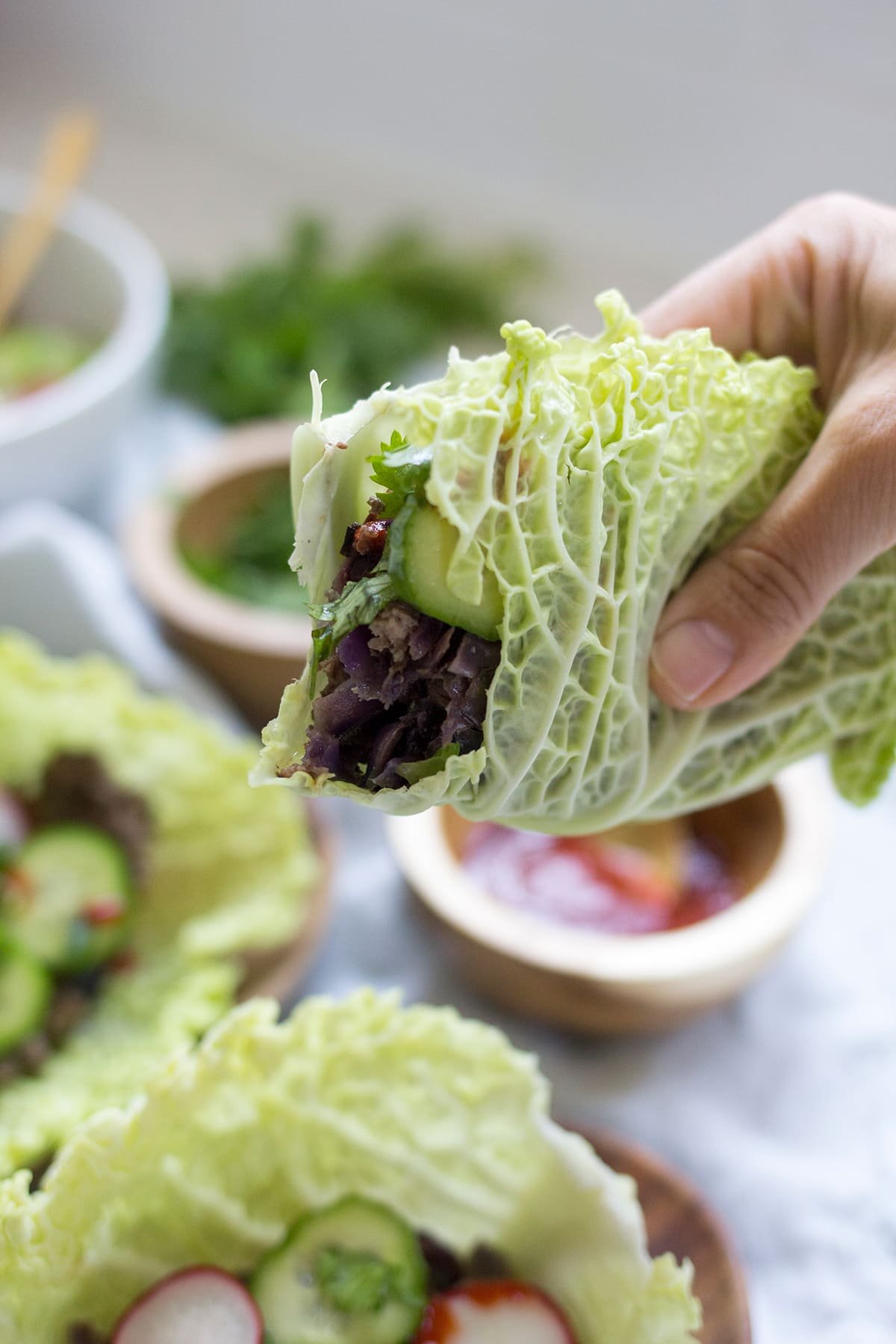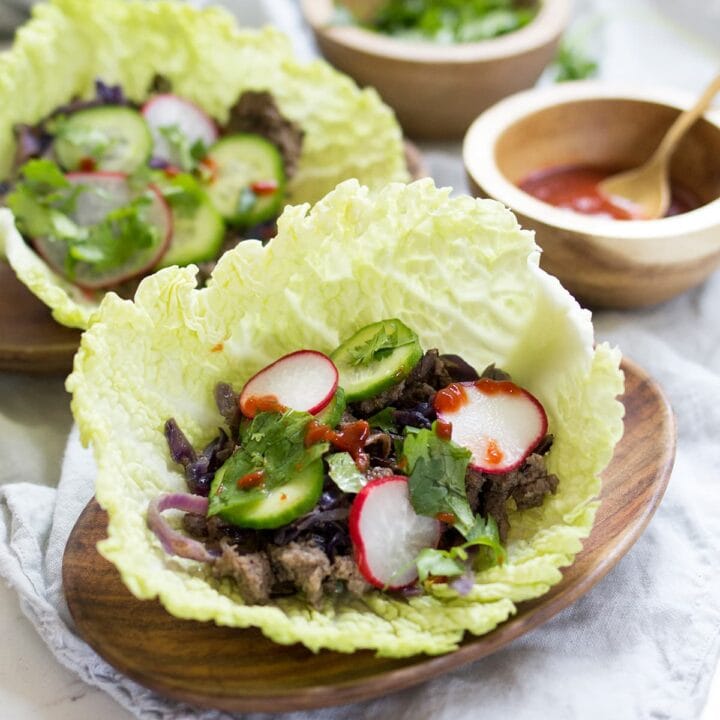 Sesame Beef Tacos
Sesame ground beef tacos with quick pickles in a cabbage wrap.
Ingredients
2 scallions
2 mini Persian cucumbers
4 radishes
1 teaspoon sugar
handful of cilantro
¼ cup rice wine vinegar
10 oz bag shredded red cabbage
1 lb ground beef
3 garlic cloves
2 teaspoons sesame oil + more for the pan
1 head of savoy cabbage
Sriracha or other chili sauce
Instructions
Start by prepping your produce. Trim and thinly slice scallions. Thinly slice cucumbers and radishes and pick cilantro leaves from the stems. Mince garlic and wash and cabbage removing leaves and setting them aside to dry.
In a small bowl, make your quick pickles by combining cucumbers, radishes, rice wine vinegar and sugar. Mix to combine and set aside in the refrigerator until ready to serve.
In a large sautee pan add a drizzle of sesame oil, scallions and cabbage. Sautee until softened about 4-5 minutes. Add beef and minced garlic and cook breaking up the beef with a wooden spoon until you have a nice crumble and the meat is fully cooked about 4-5 minutes. Season generously with salt and pepper and stir in the remaining 2 teaspoons of sesame oil. Remove from heat.
To assemble your tacos, fill cabbage leaves with ground beef mixture and top with a few pickled cucumbers and radishes, some fresh cilantro and a drizzle of chili sauce (if desired.) Eat and enjoy!