In my opinion a good cheese plate can make a party! It's fun to assemble themed cheese plates like all Spanish cheeses for example paired with sweet Spanish tortas, Marcona almonds, and quince paste. But you really don't need to have any knowledge of cheese to put together a great plate. One of the best ways to discover what cheeses you like is to visit a cheese shop and ask the cheesemonger to recommend a few...and then sample them of course!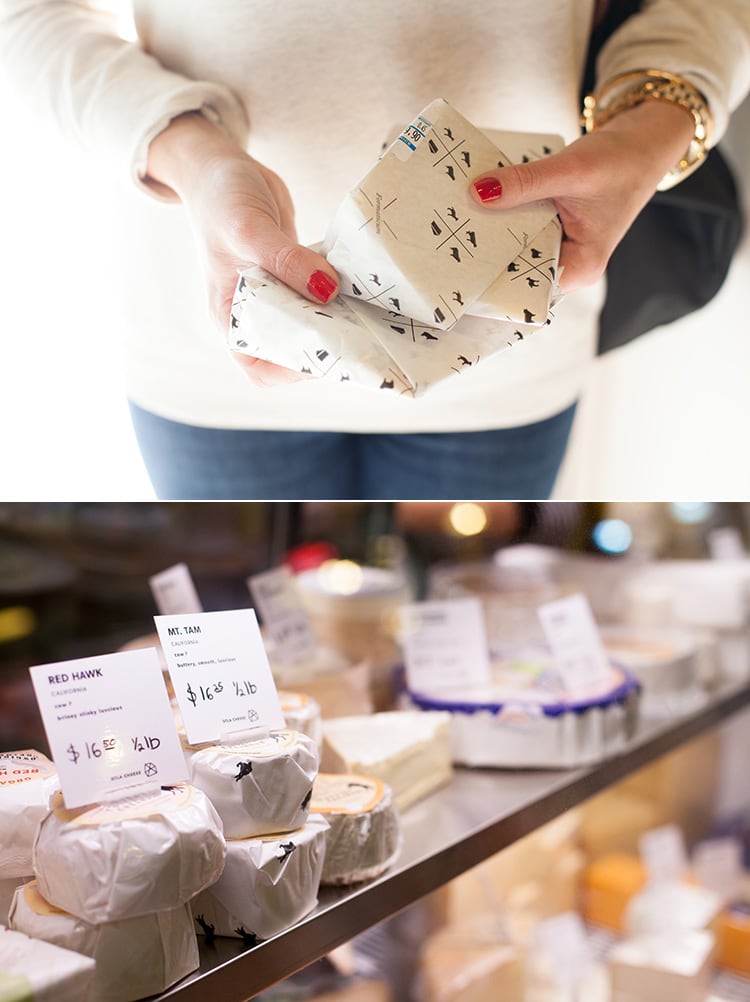 Just before Christmas I went shopping for cheese at DTLA Cheese, the new stand that recently opened in Grand Central Market. You know it's going to be a great cheese tasting experience when the cheesemonger asks you if you are more of the "sky-diving" cheese eater or the "quiet reserved graphic designer" type. (Ironic considering I am a graphic designer with a love for stinky cheese.)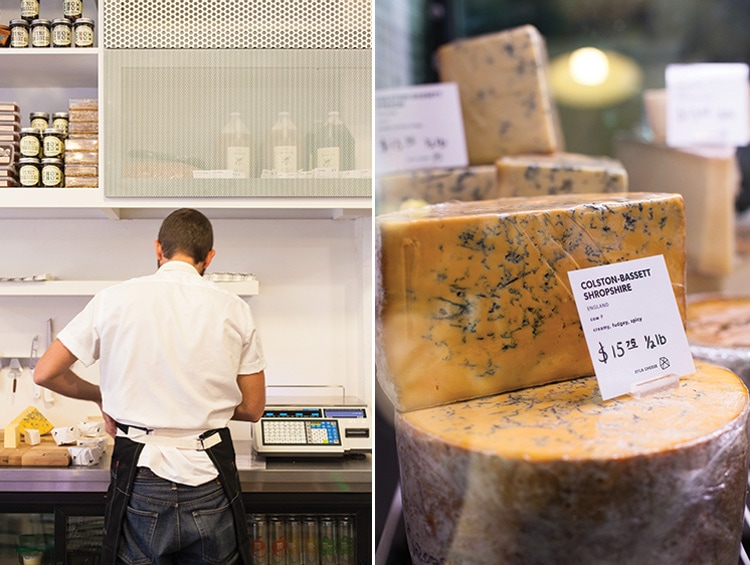 To answer his question I asked to sample a cow's milk cheese that looked like cheddar gone blue. The description read creamy, fudgey, spicy; it was all that and more. A real kick in the pants but in the best cheesy way possible!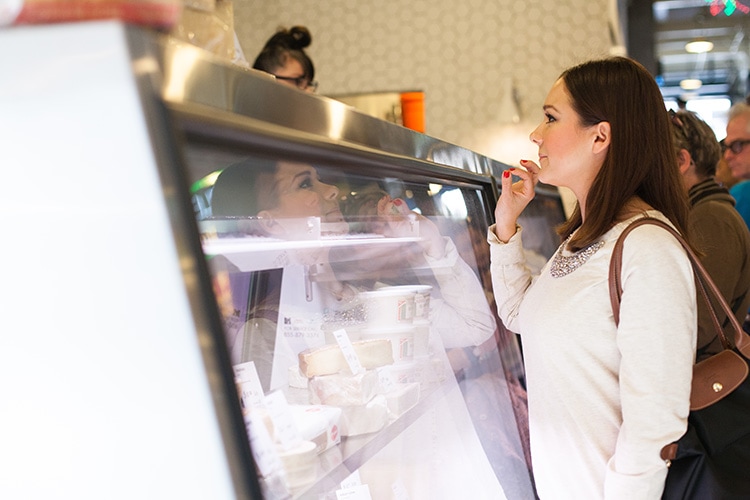 I left with three cheeses: Colston-Bassett Shropshire, that cow's milk blue cheese with a kick. Pantaleo, a citrusy light Italian goat's milk cheese. And a third hard sheep's milk cheese that reminded me of Manchego. I can't decide what was more fun, tasting and talking cheese with the guy at DTLA Cheese or eating my choices that night at the Christmas party I attended!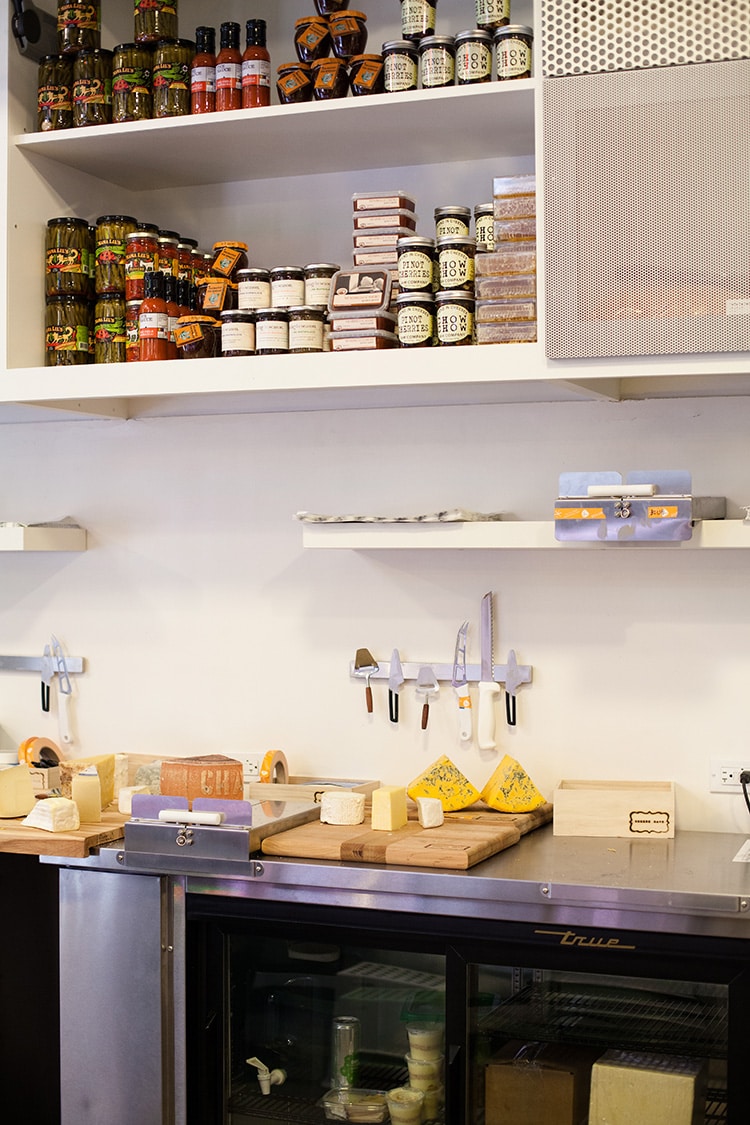 If you are going shopping for cheese plate, here are a few guidelines to follow in order to put together the perfect cheese plate:
1. Quantity: 3-4oz per person is appropriate if cheese is one of many appetizers. If it's the main appetizer you may want to increase that. Also, stick to 3-4 cheese varieties.
2. Variety: Try to give a variety of textures and flavors. One soft cheese, one hard ripened cheese, and a wild card. Also, I like to offer a variety of cow, goat, and sheep's milk cheeses when possible so that there is something for everyone.
3. Accompaniments: One of the best parts of eating a cheese plate is how interactive it is! Serve cheeses with a variety of crackers or crostini, fruits like fresh berries, slices of pear or apple, nuts, spreads like quince paste or fig jam, honey, and cured sliced meats. Guests will have fun crafting different combinations and finding the perfect bite.
4. Labels: Label your cheeses so guests know what they are trying! I have learned a lot about what types of cheeses I like by sampling at parties.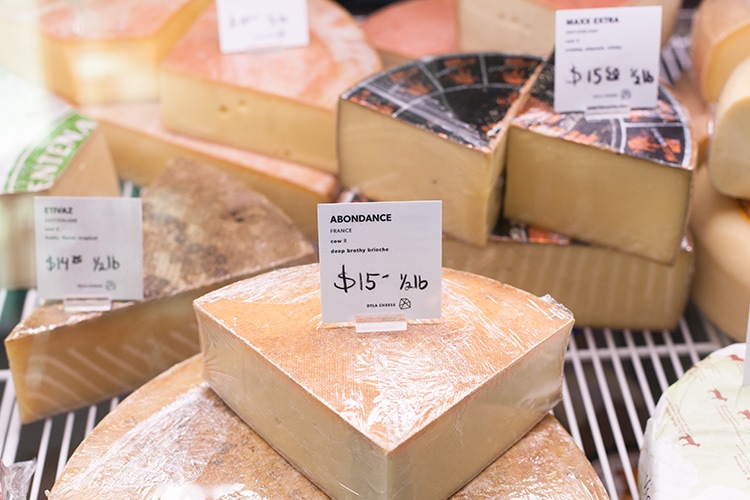 Photos by Joanne Pio
Are you an adventurous cheese eater? What are some of your favorites? I always love cheesy recommendations!
DTLA Cheese
317 S. Broadway #45
Los Angeles, CA 90013
p.s. If you are looking for a few more cheese recommendations you might what to read this article.