Creamy Coconut Ginger Beet Soup is a cold blasting health-packed lunch of dinner soup recipe for anyone who loves the earthy-sweet flavors of beets!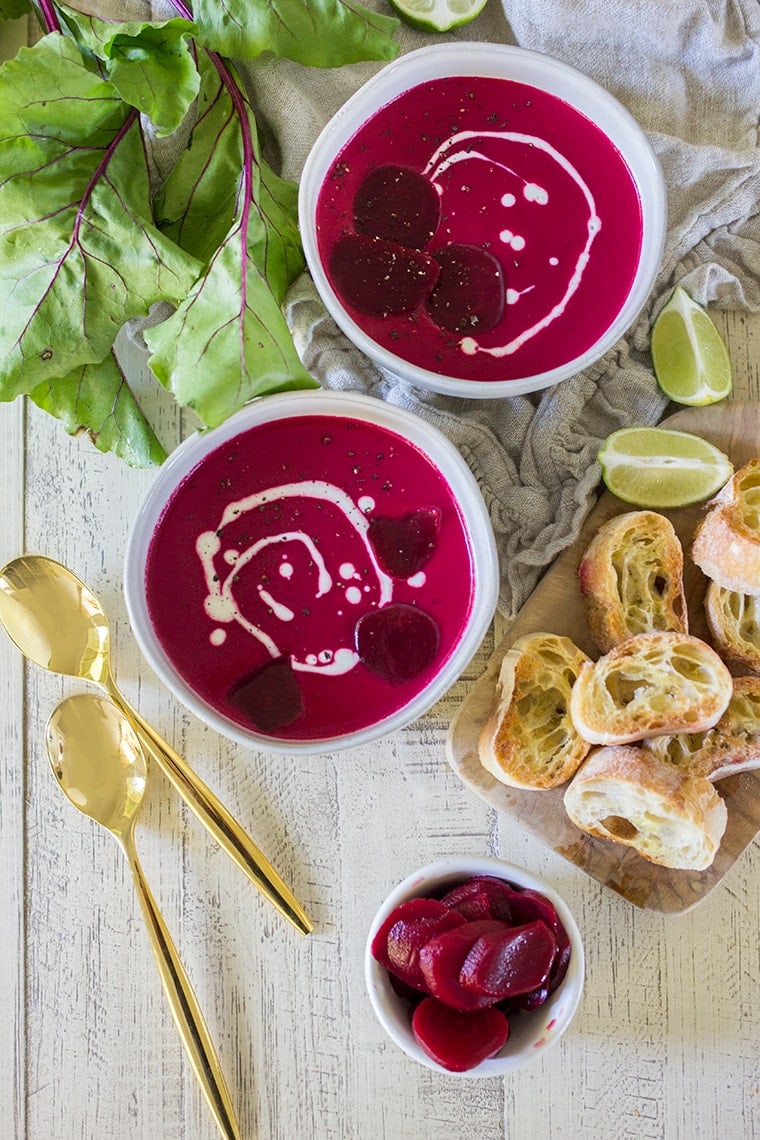 Are you a fellow beet lover? I've loved beets for so long, from classic Borscht to beet juice. In fact I just tried a beet juice kombucha the other day that blew my mind! I'm a fan of the flavor.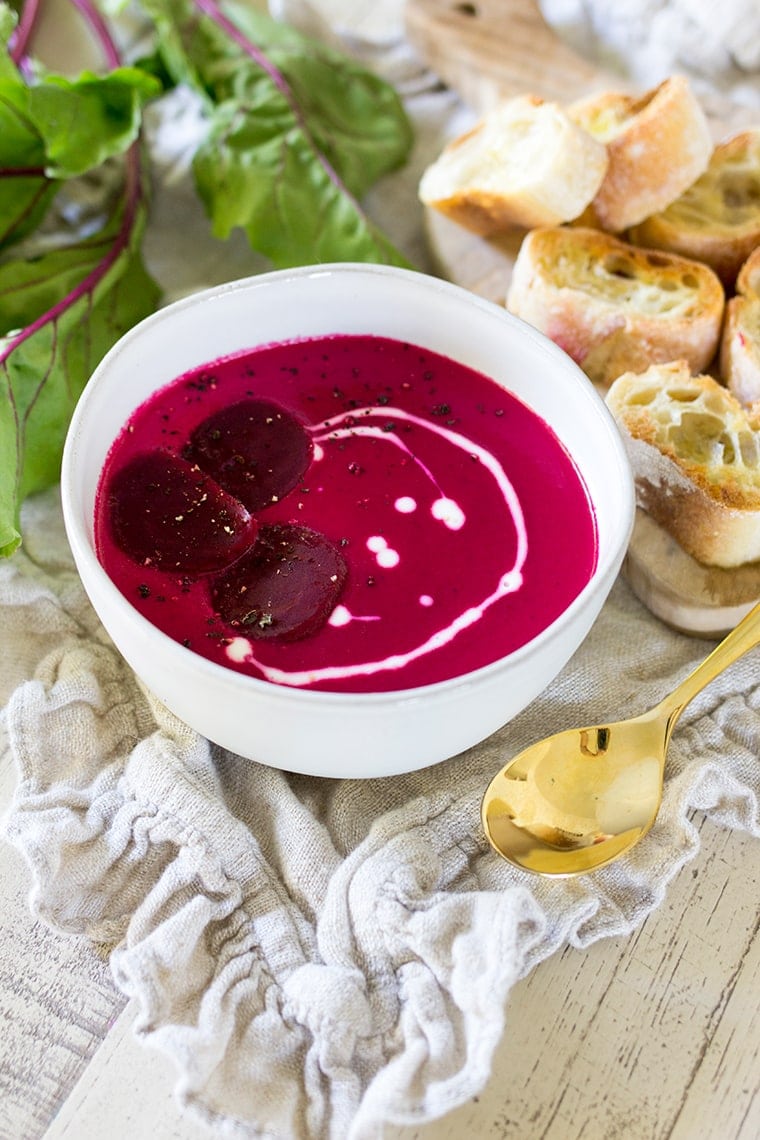 Today I'm partnering with HumanN and using their new SuperBeets Collagen to share a delicious spicy and Creamy Coconut Ginger Beet Soup, made even better with a boost of their collagen peptides.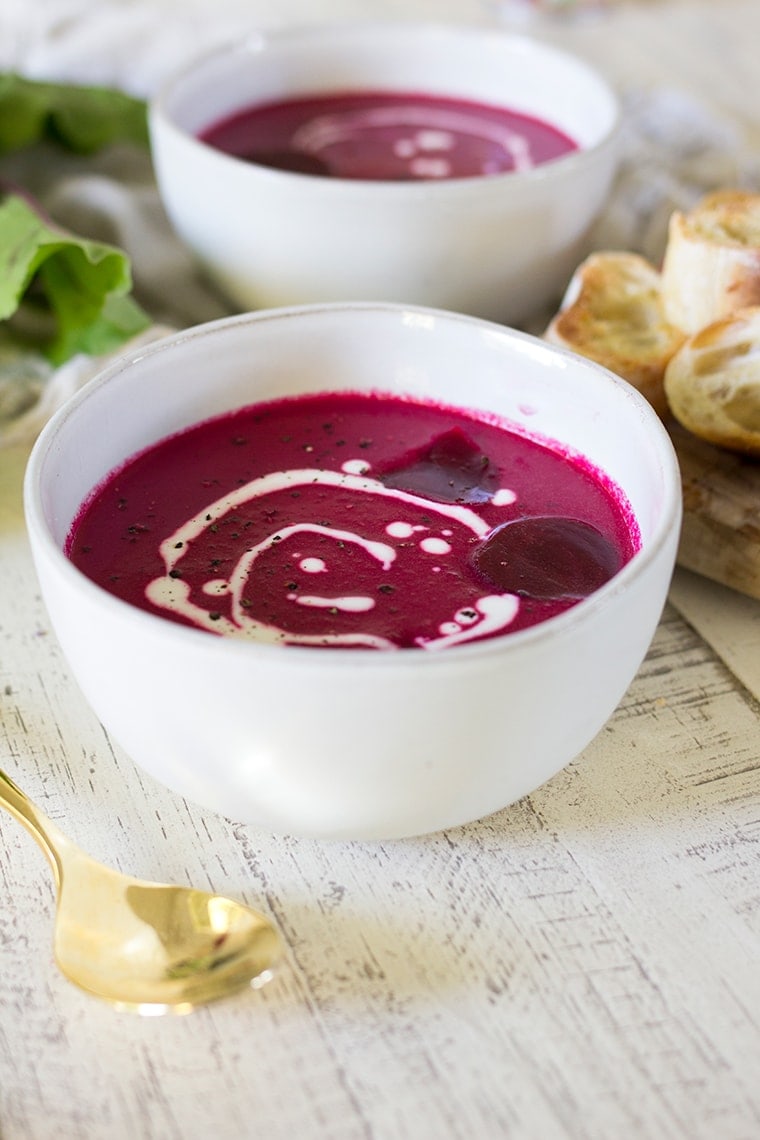 Let's Talk About Collagen
First off let's talk about collagen. Do you take it? I started slipping collagen into my smoothies and drinks about a year ago in an effort to improve and support my skin, hair, nails and joints. Who doesn't want to improve all of those areas especially as we age, am I right?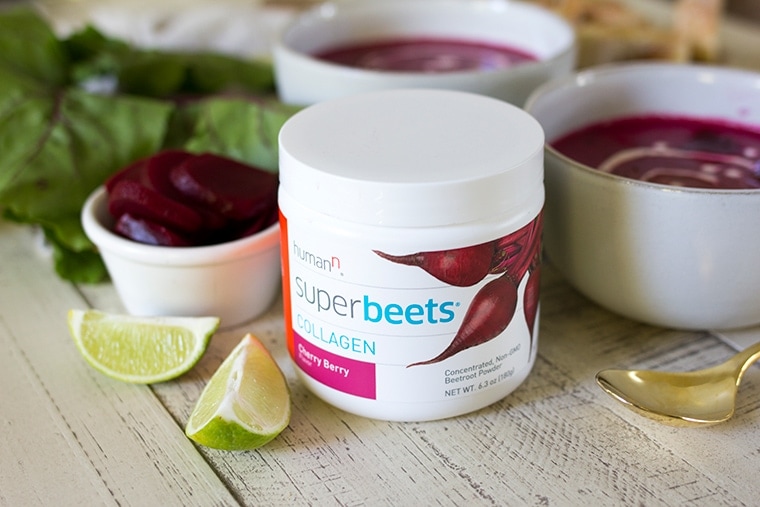 But not all collagen is created equal. HumanN's SuperBeets Collagen is formulated with the highest-grade, hydrolyzed pasture-raised and grass-fed bovine collagen peptides, to help give the body an added boost of the essential protein that makes up over 70% of our skin and cartilage in our joints. Also, SuperBeets Collagen is gluten-free, dairy-free, non-GMO and keto-friendly and doesn't contain any added sugar, artificial sweeteners or artificial flavors. It's good stuff!
How to Take Collagen
My favorite way to take take this Cherry Berry flavor collagen is to mix it into my smoothies. It's made with natural flavor from cherries and cranberries so it adds a fruity sweetness and all of those added benefits. You can also mix it into your favorite smoothie bowls or acai bowls. Here's my recipe for acai bowls at home if you want to try one!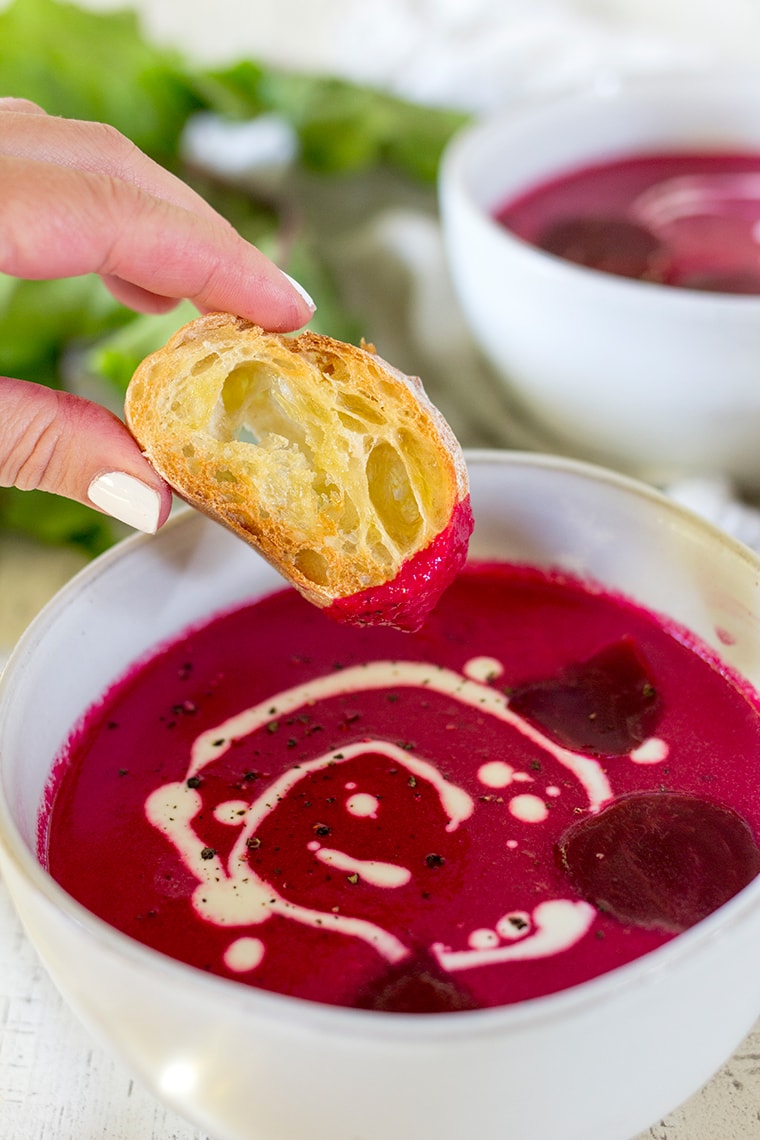 Collagen in Soup
But now that the weather is turning and we are approaching cold season, I love the idea of adding my collagen into a cold-buster like this Creamy Coconut Ginger Beet Soup. Alone this soup is incredible, it has a subtle Thai flavor thanks to the coconut, ginger and lime juice and is so warming served with a loaf of crusty bread for dipping. Add in a couple of scoops of SuperBeets Collagen and you have the added benefit of collagen peptides you would not usually find in a vegetarian soup! And to further the cold busting power, this collagen contains 50 mg of Vitamin C which is also necessary for collagen synthesis and production. I mean, this is some delicious health food.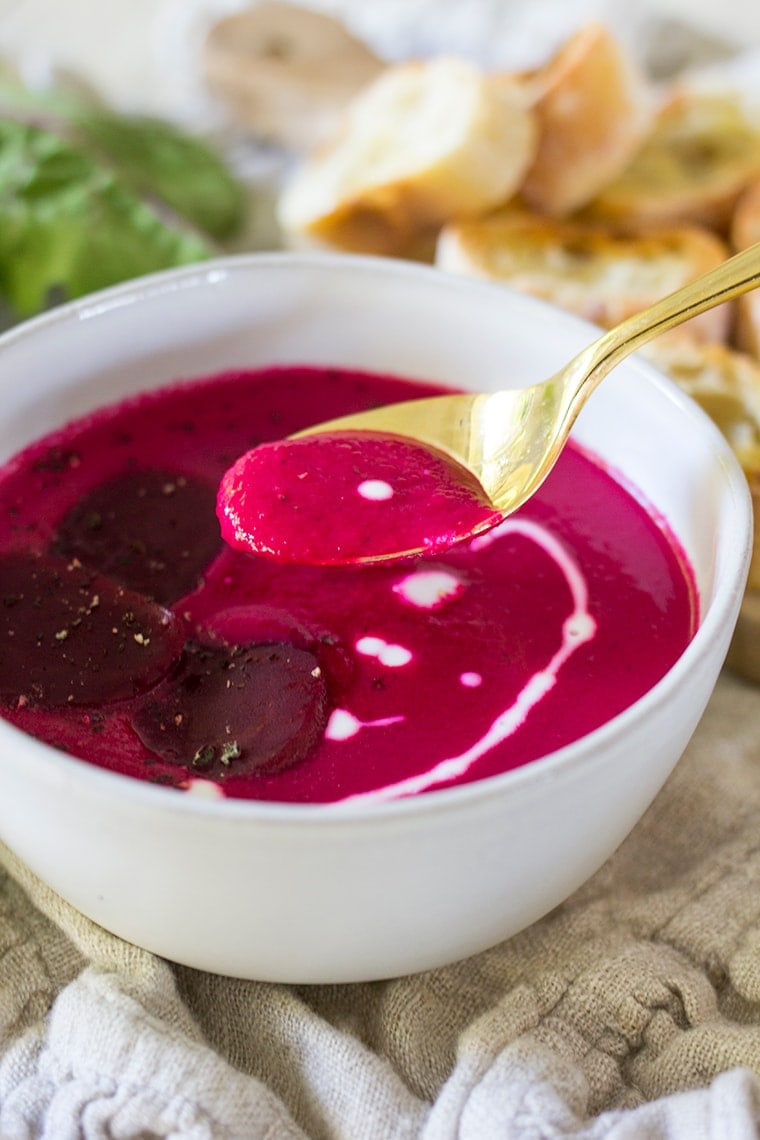 Creamy Coconut Ginger Beet Soup
Creamy Coconut Ginger Beet Soup is simple to make! Start by sauteeing onion and garlic, chopped and peeled fresh beets, and plenty of spices. Add in a good quality vegetable stock and simmer until all of the beets are fork tender. Give the soup a good puree with the addition of collagen, coconut milk and lime juice and it's time to eat.
For this recipe, I used three large organic beets, stems removed. Just a few beets make a big flavor impact. HumanN sources only non-GMO beets and uses the highest quality seeds in a nutrient rich environment to help support a healthy cardiovascular system. Talk about a health booster!
Disclosure: This post is sponsored by HumanN however the recipe is my own. Thank you for supporting my sponsors.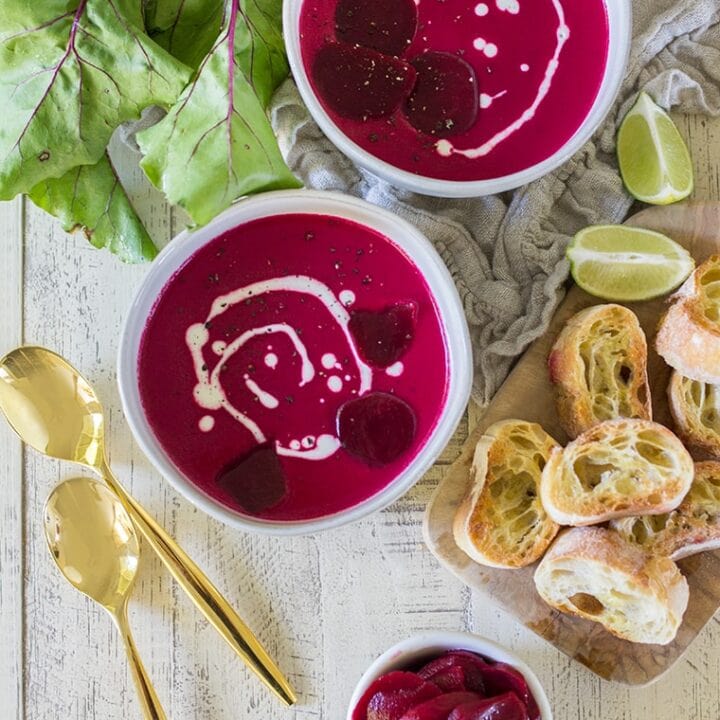 Coconut Ginger Beet Soup
Creamy Coconut Ginger Beet Soup is a cold blasting health-packed lunch of dinner soup recipe for anyone who loves the earthy-sweet flavors of beets!
Ingredients
1 tablespoon olive oil
½ large yellow onion, diced
5 cloves garlic, chopped
2 – 1 inch chunks of fresh ginger, peeled and chopped
1 ½ teaspoons cumin
pinch red pepper flakes, more or less to taste
3 large red beets, peeled and cut into chunks
5 cups vegetable stock
1 can (14.5 ounces) coconut milk (full fat)
1 teaspoon kosher salt + more to taste
½ teaspoon freshly ground black pepper + more to taste
2 scoops of HumanN's SuperBeets Collagen
Canned pickled beets for garnish
Drizzle of sour cream of coconut milk for garnish
Crusty bread for serving
Instructions
In a large pot, heat oil over medium heat. Sauté onion, 5 minutes. Add garlic and ginger and cook stirring about 30 seconds until garlic is fragrant.
Add in cumin and red pepper flakes and stir until fragrant. Just a few seconds.
Add in beets, salt and pepper and stir to combine all of the veggies.
Add in vegetable stock and bring to a boil.
Reduce and simmer over low heat until beets are cooked through and fork tender, about 20-25 minutes.
Transfer beet soup to a blender in batches and carefully blend to puree. Or use an immersion blender if you have one.
Transfer pureed soup back to pot and stir in SuperBeets Collagen and coconut milk. Note: you may want to set some coconut milk aside to drizzle on top if you are not using sour cream.
Heat soup again over low heat stirring in the coconut milk and collagen. Taste and season again with salt and pepper as needed.
Serve with a drizzle of sour cream or coconut milk, a few slices of picked beets, and crusty bread for dipping.