"What do you want for dinner tonight?" "Soup." "Again?!" I think it's safe to say that I drive my family absolutely crazy with that answer. Oh, and I'm not just a winter soup eater either! Give me a hot steamy bowl of soup any time of year and I'll devour it. So considering my endless love for pots of bubbly goodness (here's my Pinterest evidence) I have accumulated quite the collection of soup recipes and this Sausage, White Bean and Tortellini Soup is one of my favorites!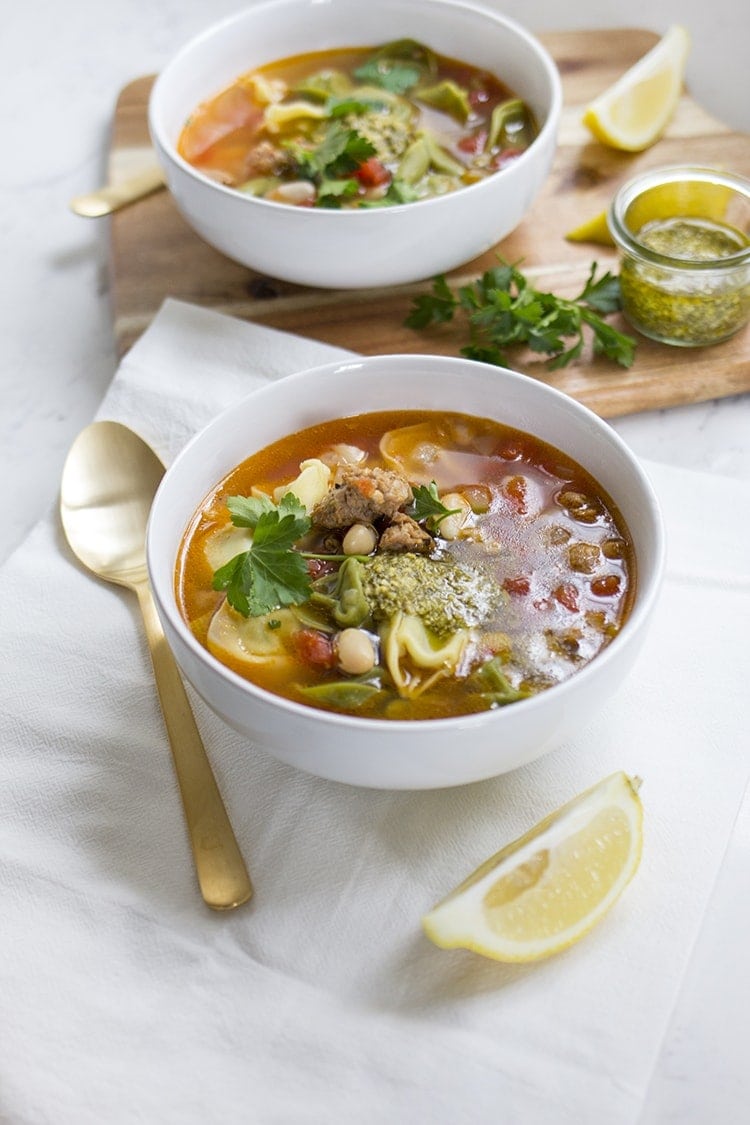 Last week when El Niño finally hit us here in Southern California and it finally felt like winter, I made a big pot of this soup. You see, it satisfies all of my soup criteria which are: be delicious, be hearty, and be easy to make.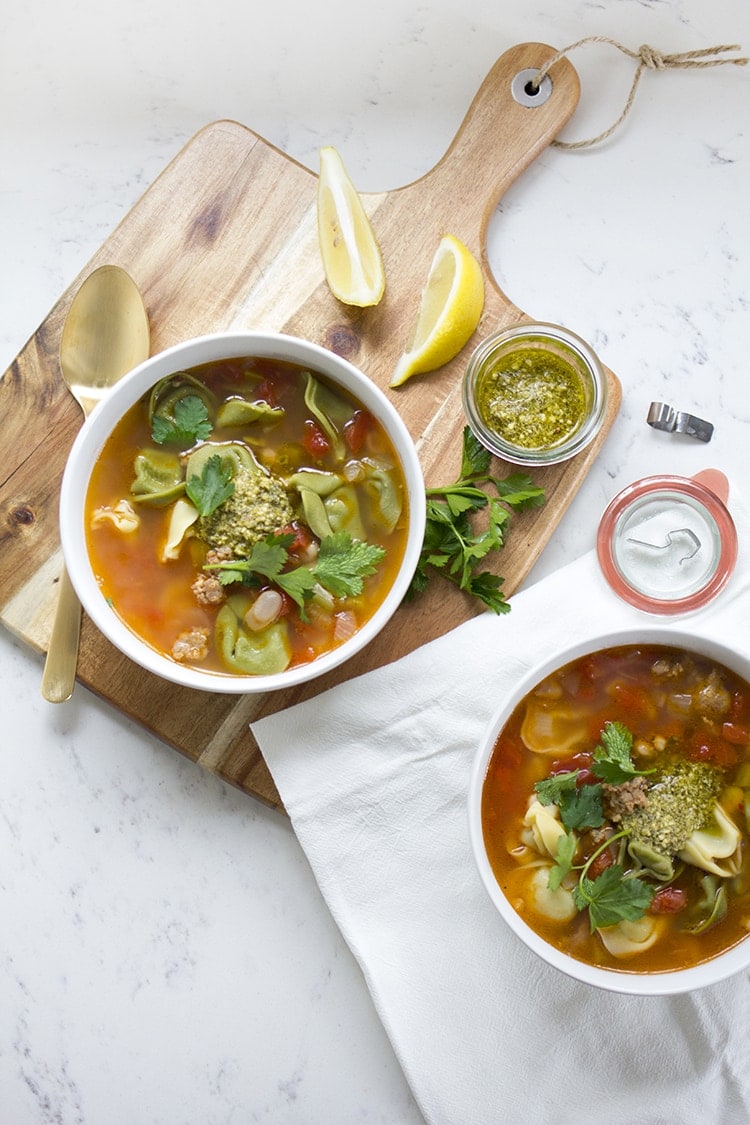 None of this boil the bone of a spring lamb for 12 hours business (ew, that's sort of gross) in my kitchen! I have no patience for low and slow unless it's in a crock pot and I'm not responsible for stirring it. Ha! I'm all for a good 30-minute soup that is full of flavor and full of hearty goodness like beans, meat, veggies, rice and noodles. Or creamy and rich with big chunks of potato served with a crusty wedge of bread and salted butter. Yes, that's my sort of soup bowl! Oh and don't get me started on bread bowls, that's for another day!
With white beans, Italian sausage and cheesy stuffed tortellini, this soup is definitely hearty! In 30 minutes (max) it will be ready and you can be digging into a bowl without any of the slow simmering wait time. Honestly, I can't stop thinking about the fact that I wrote "boil the bone of a spring lamb"...what has this blog come to?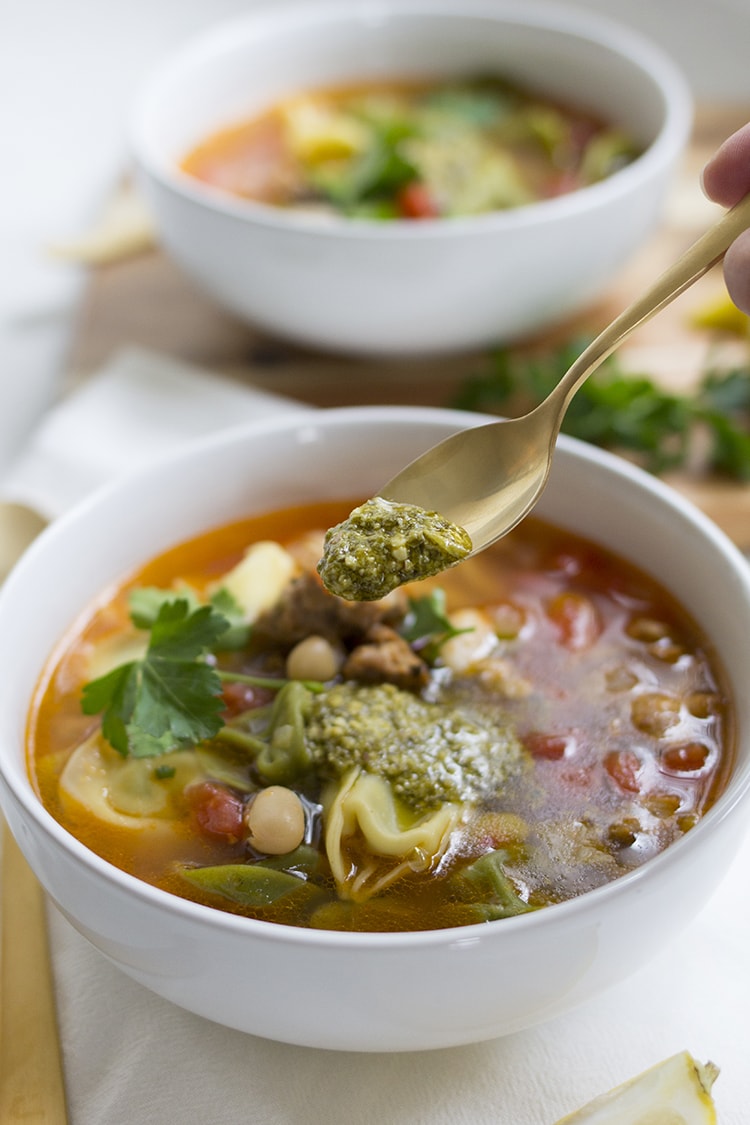 The pièce de résistance...gosh that's cheesy...is the dollop of pesto added to each bowl before serving. The oil, basil and cheese sort of melt into the broth and add even more flavor. It's just perfect!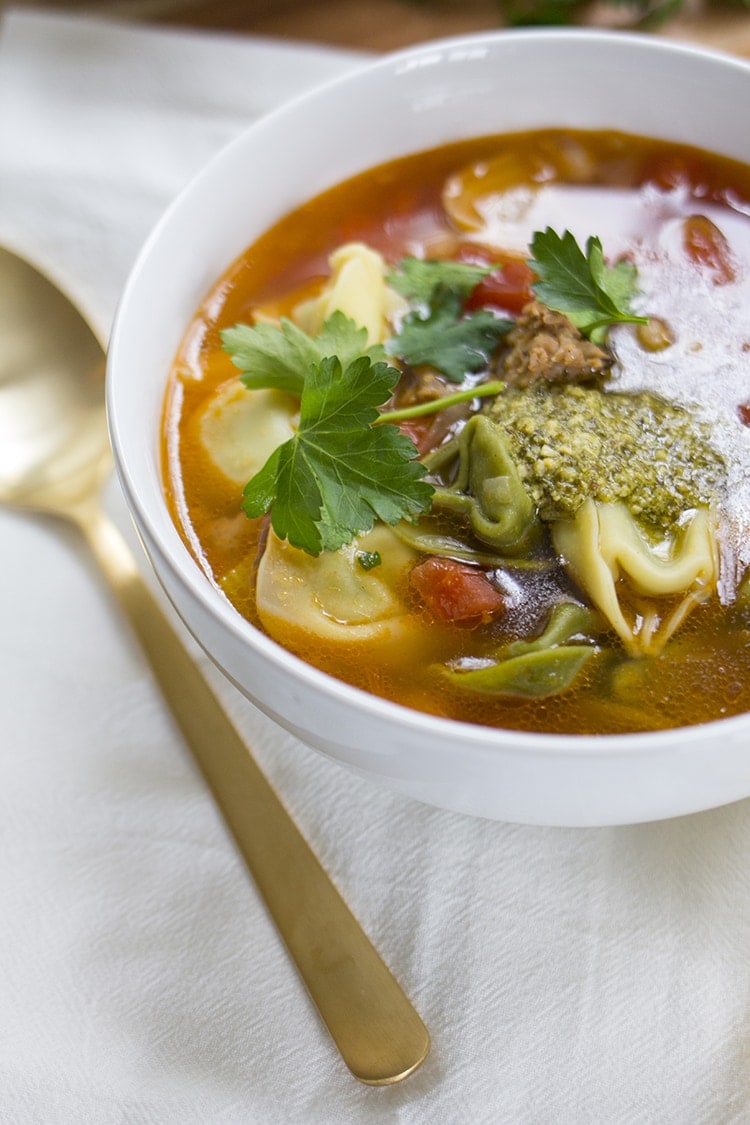 So, are you ready for the recipe now that I've gone on and on about it? I do hope you make it, love it, sing songs about it. Ok, you don't have to sing but you do have to come back and tell me what you think. Oh, and if you have a soup recipe that you love, pretty please with a dollop of pesto on top, share it with me! Leave me a comment, send me an email, just get it to me! Man I love soup.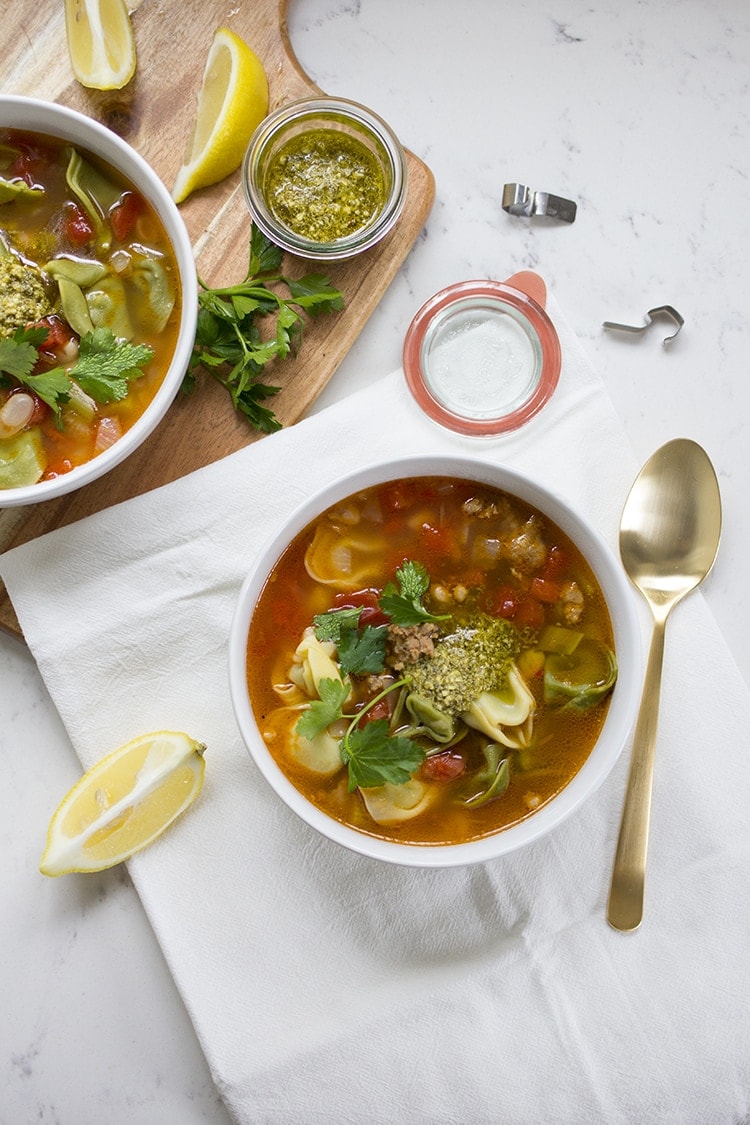 More Soup Recipes to Love!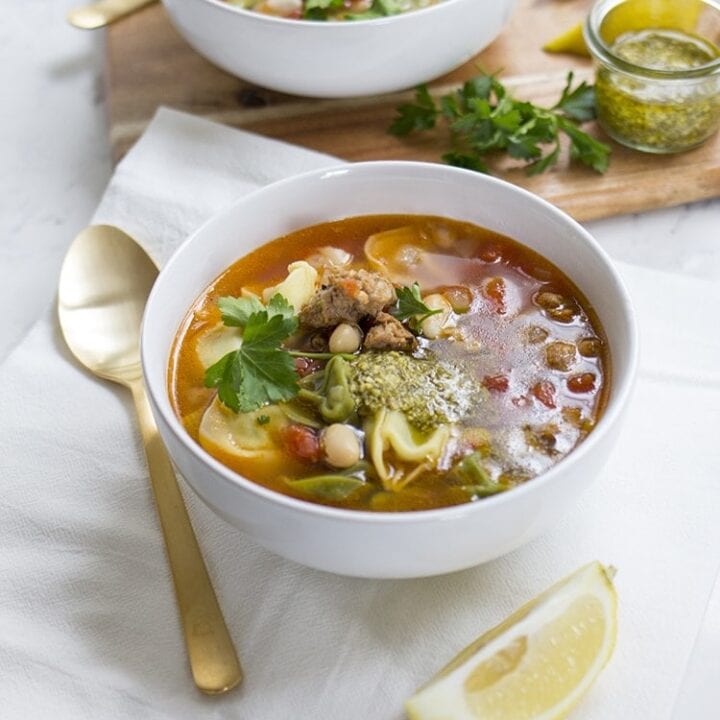 Sausage, White Bean and Tortellini Soup
Ingredients
1 tablespoon olive oil
6 ounces hot or sweet Italian sausage, removed from casings
½ large onion, chopped small
1 medium rib celery, chopped (about ⅔ cup)
One 15-ounce can white beans, such as cannellini or navy, rinsed and drained
One 15-ounce can petite diced tomatoes
4 cups low-sodium chicken broth
2 cups water
One 8- to 9-ounce package of your favorite refrigerated tortellini
Kosher salt and freshly ground black pepper
¼ cup prepared pesto
Instructions
Heat the oil in a medium pot over medium heat. Add the sausage and cook, breaking the meat up with a wooden spoon, until browned, about 4 minutes.
Add the onions and celery and continue to cook, stirring, until the vegetables are softened, about 5 minutes.
Add the beans, tomatoes, broth and 2 cups water and increase the heat to medium-high to bring to a simmer. Continue to simmer, adjusting the heat if necessary, until the vegetables are tender, about 10 minutes.
Add the tortellini and continue to cook until they are tender, about 10 minutes.
Season to taste with salt and pepper.
Serve in bowls topped with a spoonful of pesto.
*My favorite brand of fresh tortellini is Giovanni Rana. So good!