If you love the classic flavors of cheesy spinach and ricotta stuffed shells, this soup will be your new favorite! Stuffed Shells Soup turns a family favorite into the coziest bowl of soup.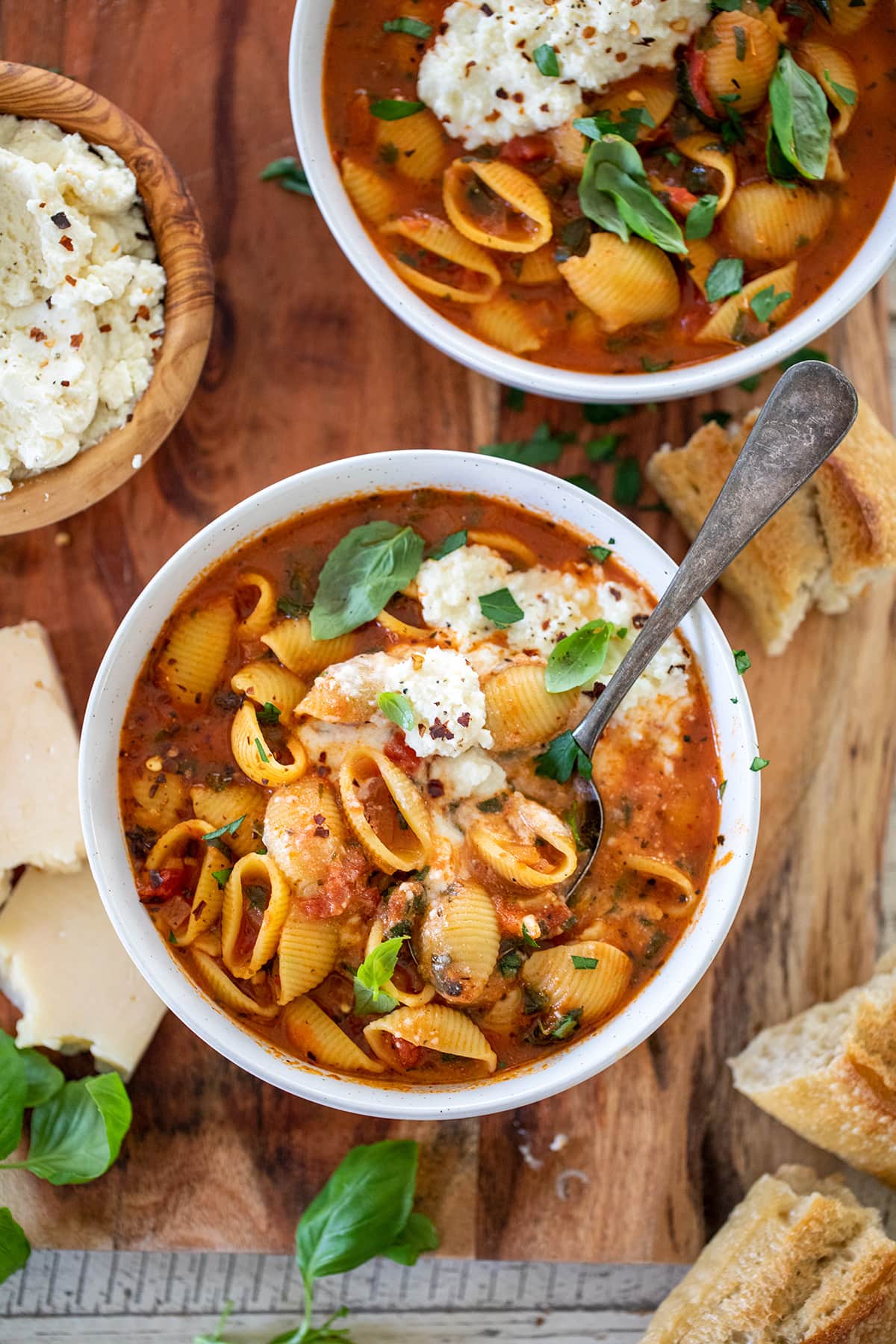 Spinach and Ricotta Stuffed Shells Soup
Stuffed Shells with ricotta cheese and spinach is one of those classic dinners that immediately makes you feel cozy just thinking about it. I love stuffed shells and all pasta for that matter, but there is one thing I love just a little bit more and that is soup!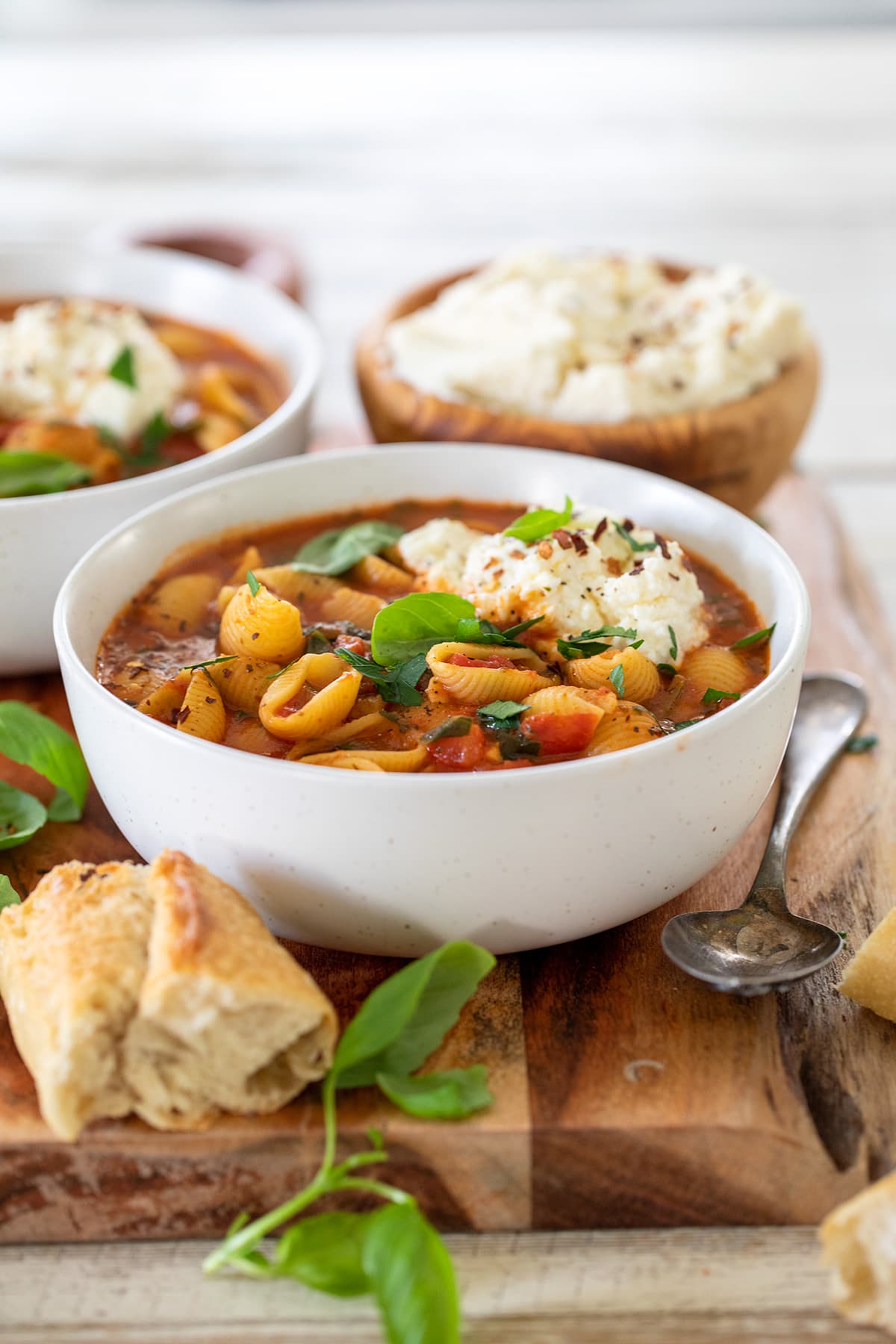 For over a month now, I've been dreaming of turning this classic pasta dish into a bowl of soup, and here it is. A flavorful tomato and herb soup with mini shells, finished with a cheese mixture of ricotta, parmesan and mozzarella that melts down into the hot broth. This combination is delightful!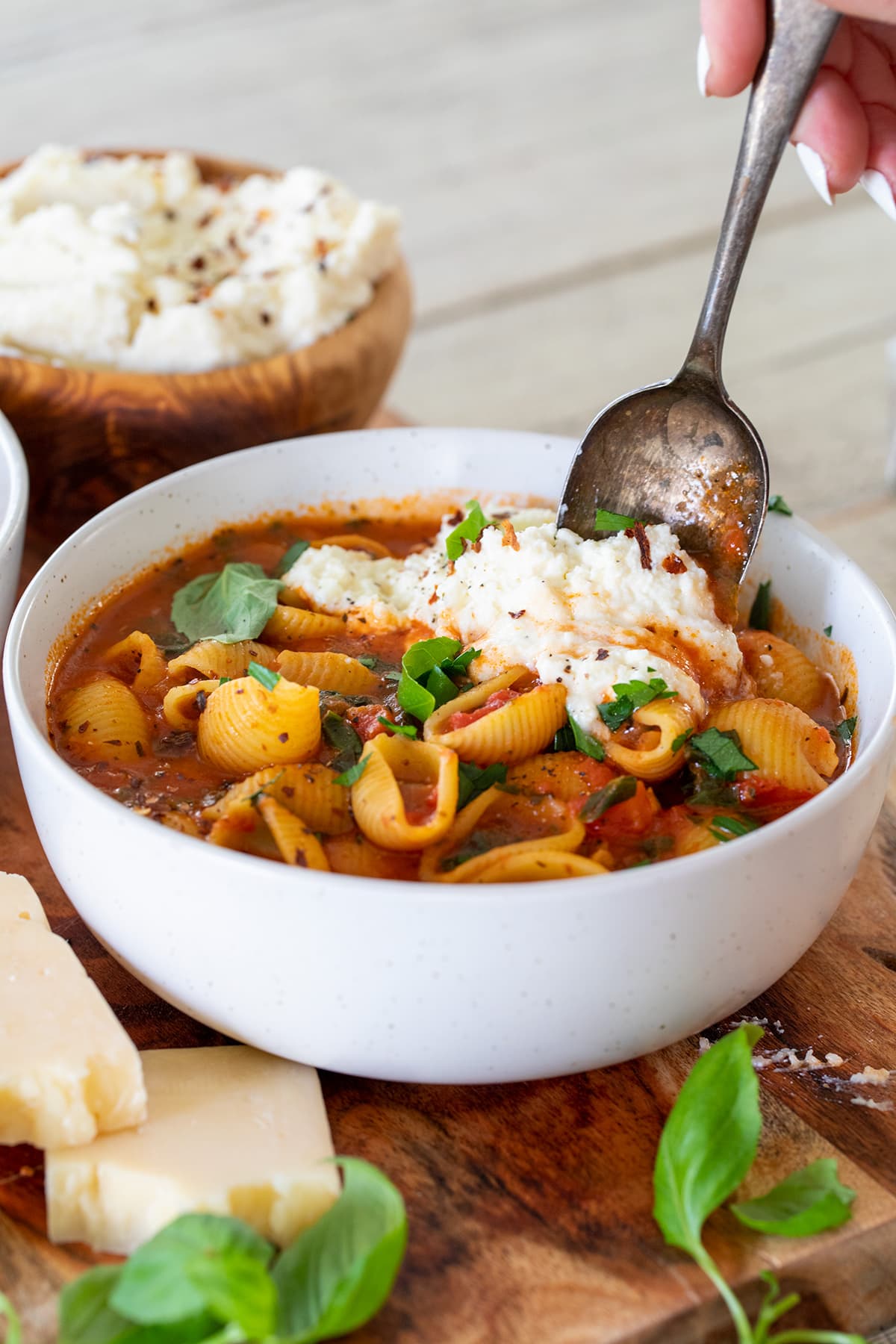 Ingredients in Stuffed Shells Soup:
Lots of Tomatoes- tomato paste, crushed tomatoes and petite diced tomatoes all go into the base of this soup.
Onion - one medium onion, diced.
Garlic - fresh garlic cloves, because it wouldn't be Italian without it!
Chicken Broth - or if you are keeping this soup vegetarian, vegetable broth will work.
Spices - Italian seasoning, dried basil, salt, pepper and red pepper flakes.
Pasta - I like to use medium shells for this soup but you can use a smaller shell if that is all you can find.
Ricotta - classic in stuffed shells, this get mixed with the parmesan and mozzarella and dolloped on top!
Parmesan - shredded parmesan gets blended into the ricotta while more goes into the soup base.
Mozzarella - usually added on top of stuffed shells before baking, I mix this into the ricotta cheese.
Basil - fresh basil for garnish!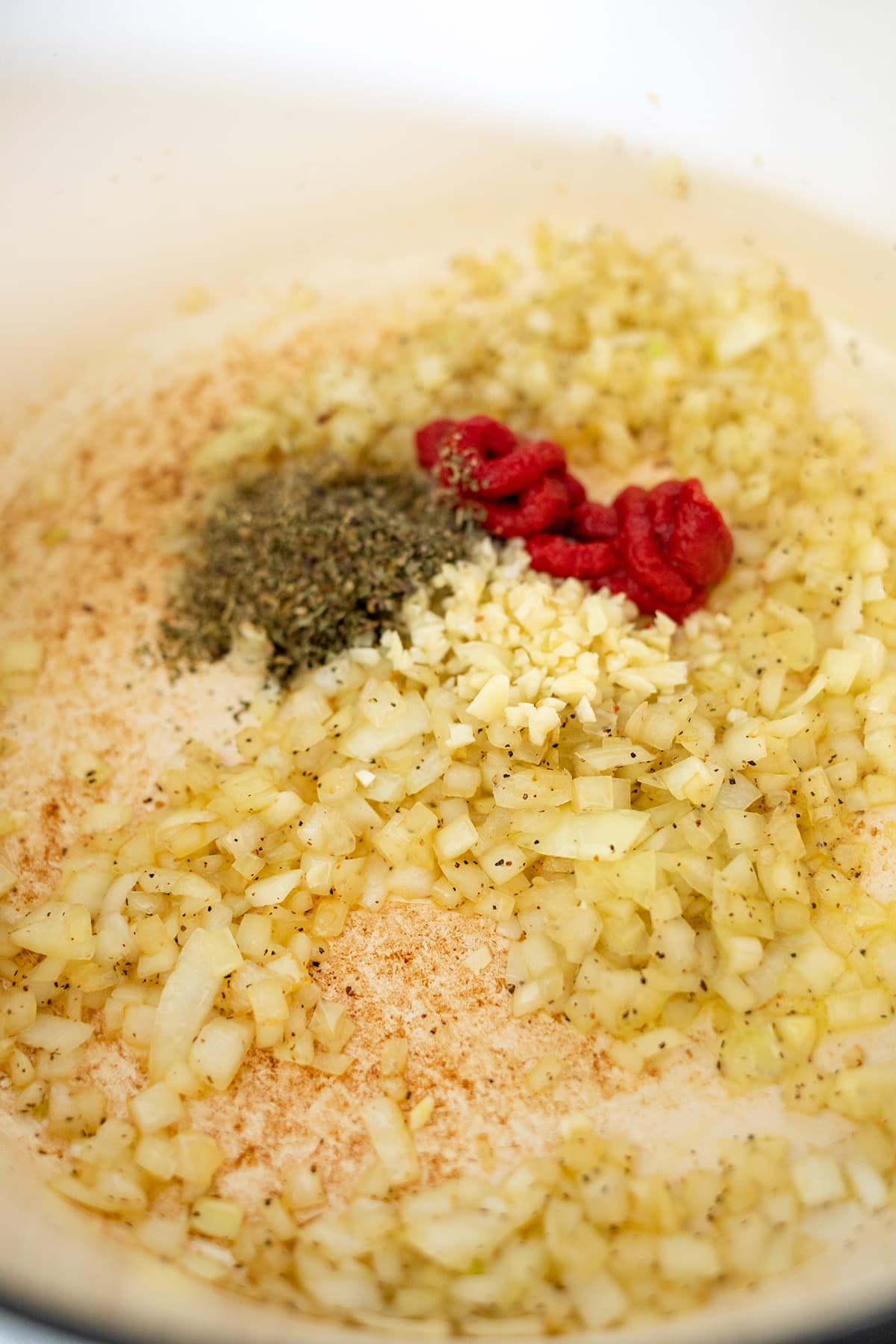 How to Make Stuffed Shells Soup
Saute onions until soft before adding garlic, herbs and tomato paste.
Add chicken broth, water and a chunk of parmesan cheese. This is the secret ingredient to a rich and flavorful broth.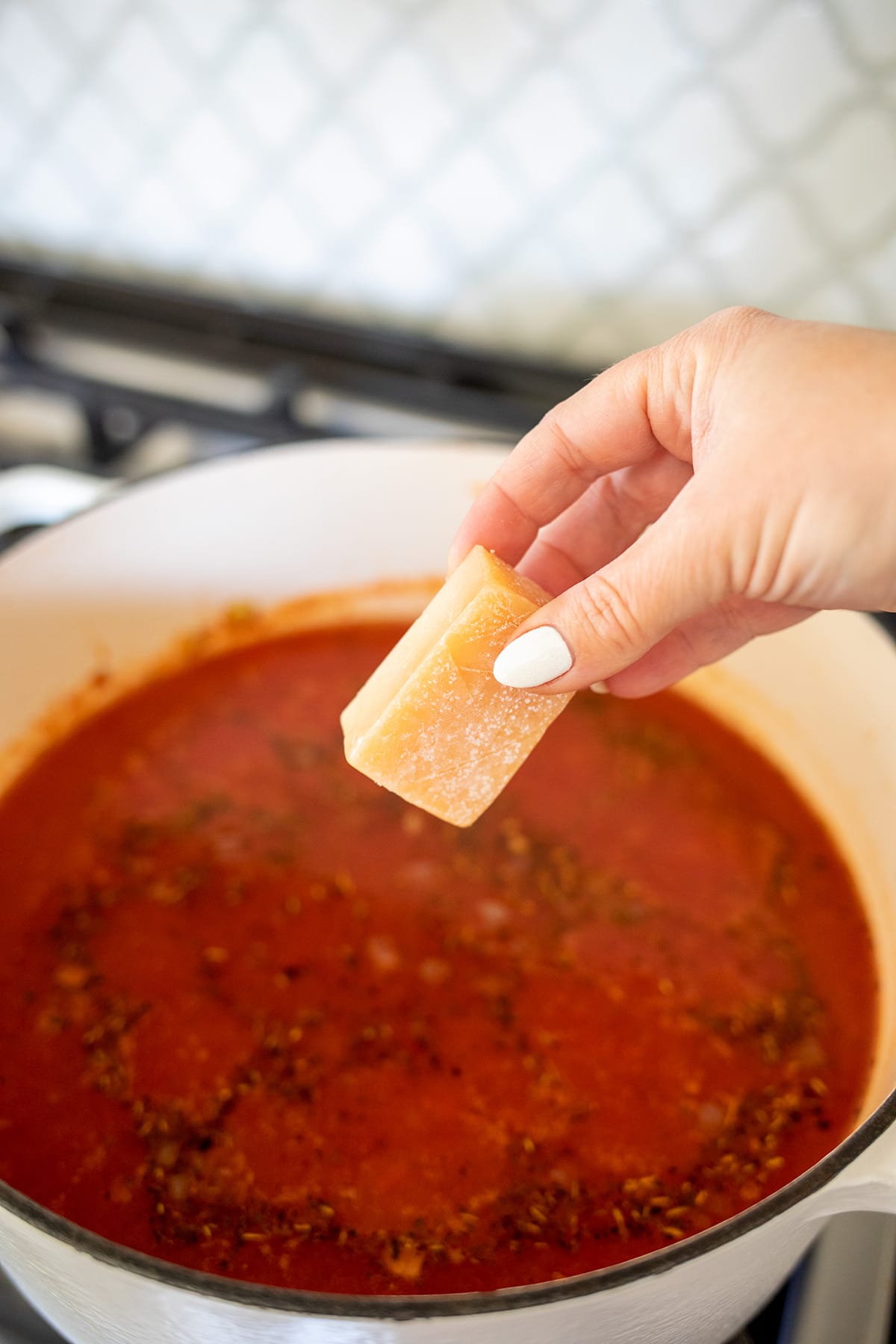 3. Bring tomato broth mixture to a boil and drop in shell pasta to cook.
4. Finish by adding in spinach and cook just until the spinach is wilted.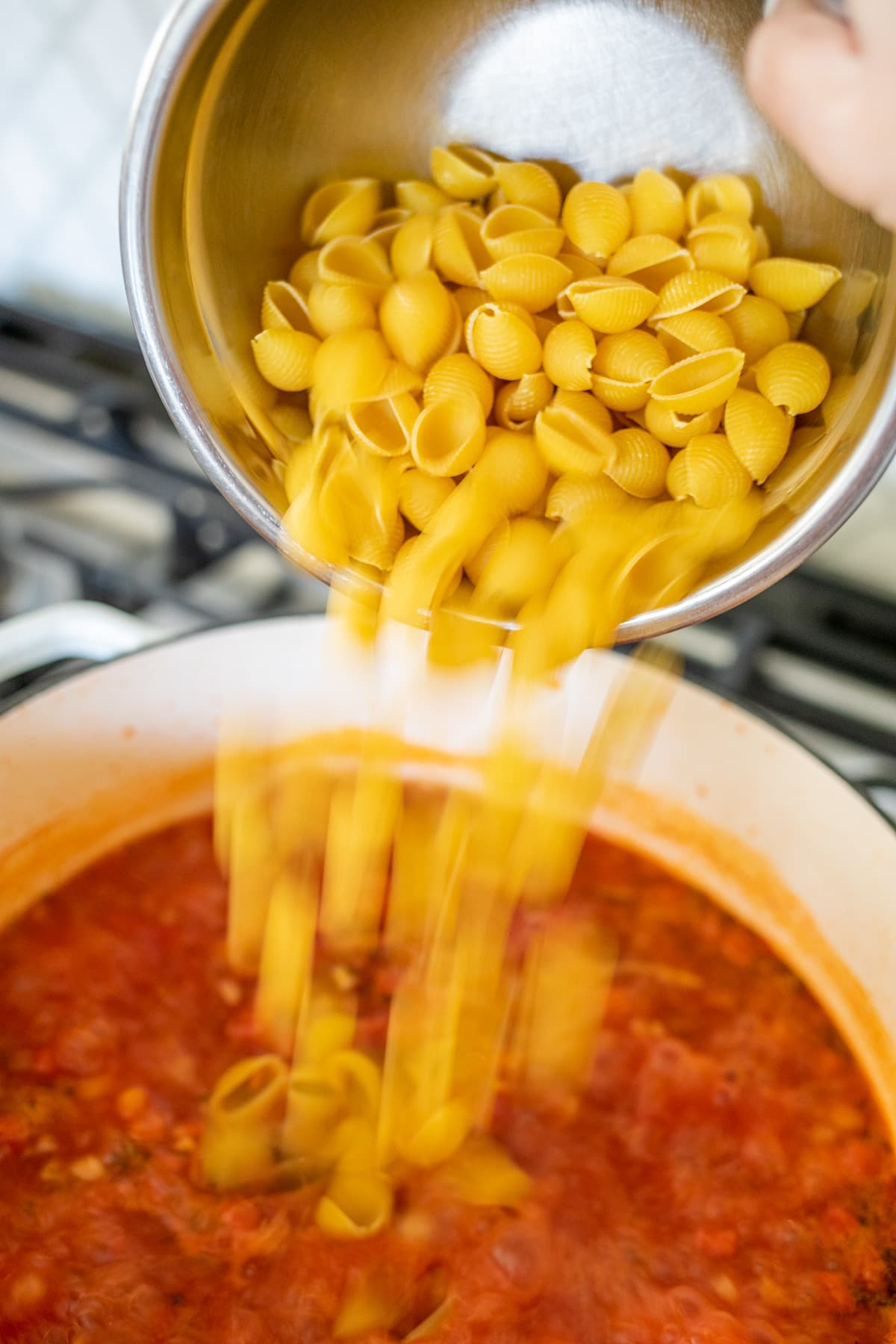 Since we are mimicking classic stuffed shells here, I like to use a medium sized shell pasta. You can use a smaller shell however I think this size is perfect for the soup and gives it a big chunky texture.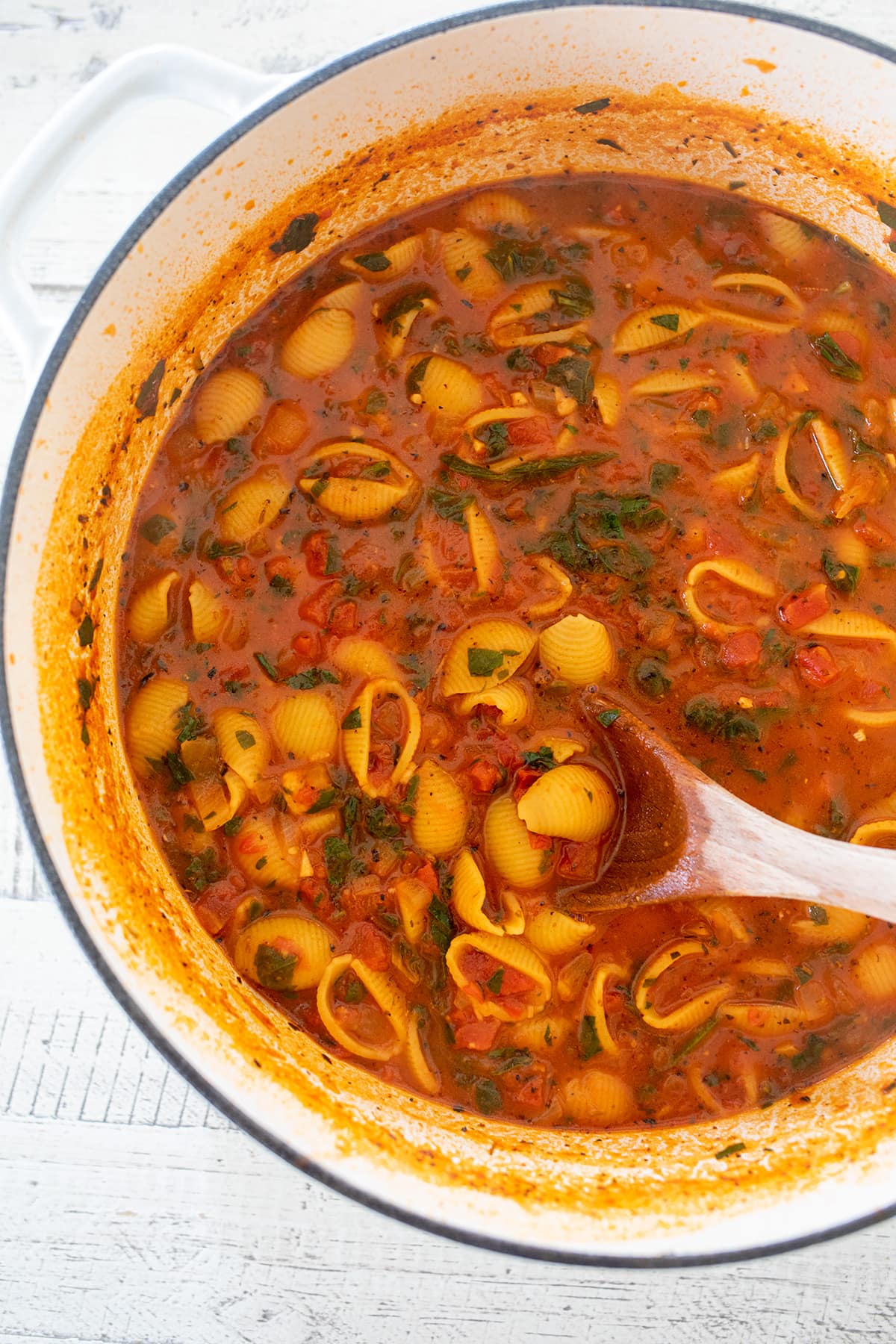 5. Make the ricotta cheese mixture! In a food processor combine ricotta cheese, parmesan, one clove of garlic, and mozzarella. Season with salt and pepper and puree until smooth. This will be dolloped on the soup just before serving.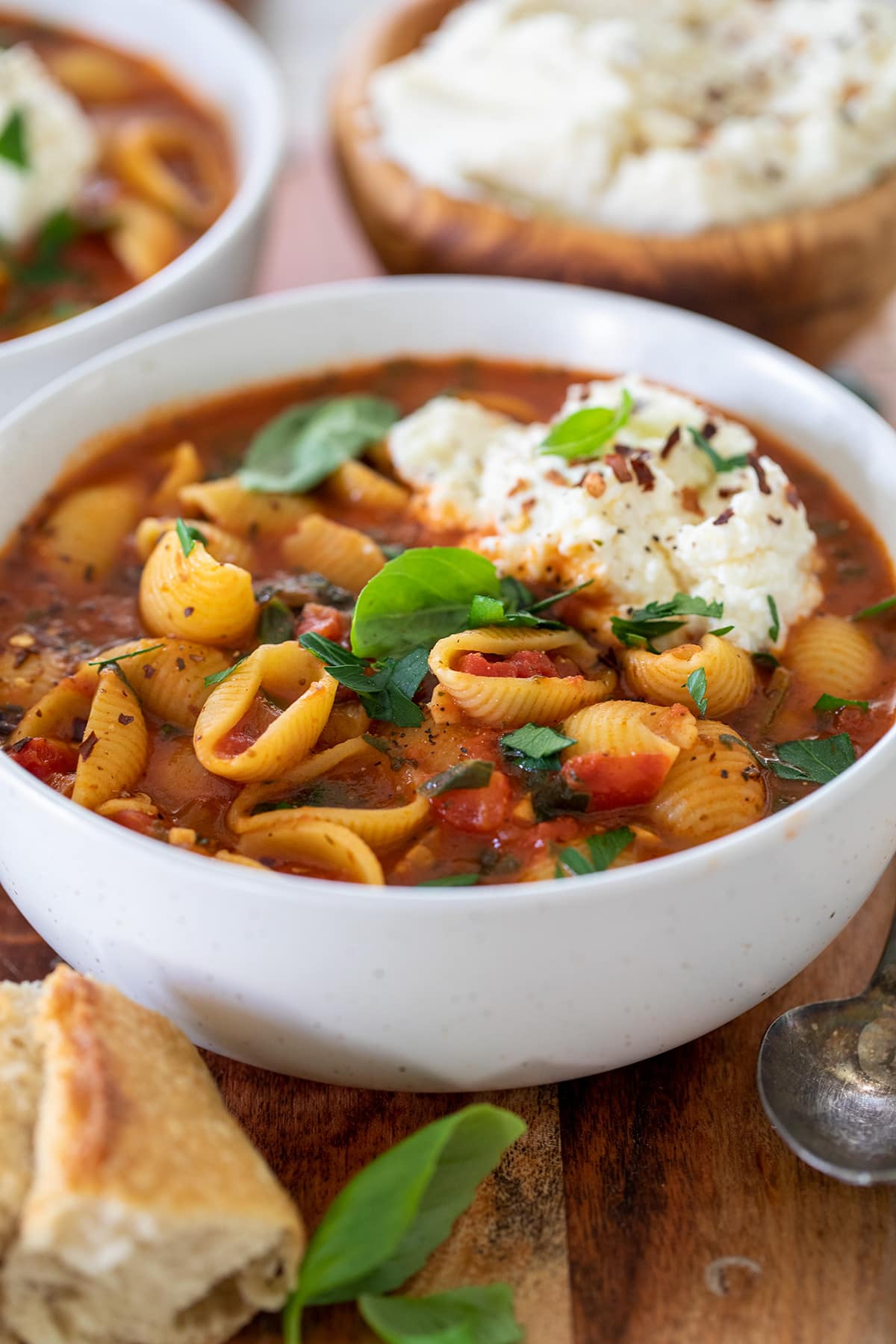 Finish the soup with a dollop of the cheesy ricotta mixture, a sprinkle of red pepper flakes and fresh basil. The ricotta cheese will melt down into the soup and add so much delicious flavor. This really is stuffed shells in soup form!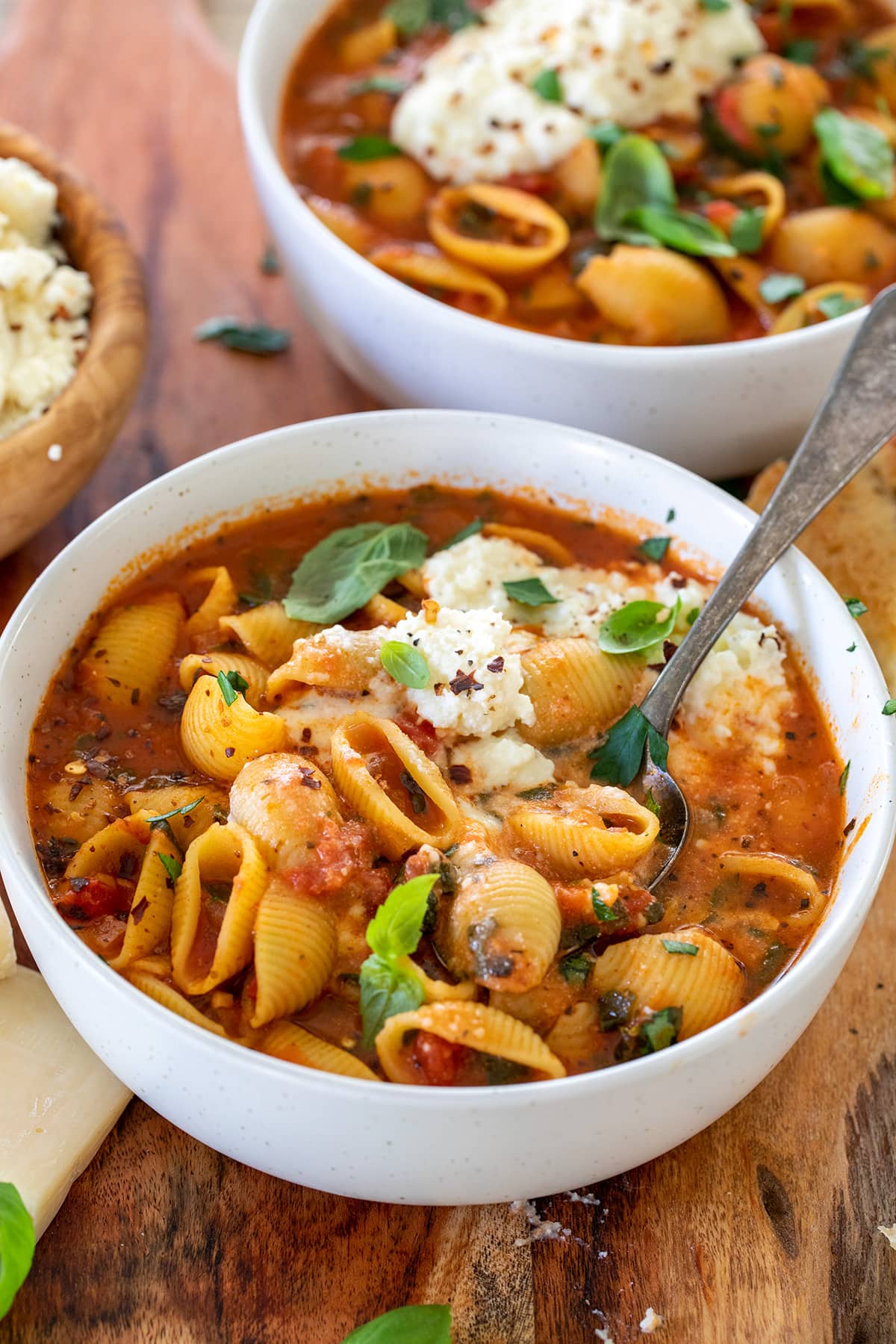 Spinach and Ricotta Stuffed Shells Soup is easy, delicious and such a fun twist on classic spinach and ricotta stuffed shells. Perfect for a cold winter night when you are craving a warm you up meal. I hope you enjoy cooking and eating this one!
More Delicious Soup Recipes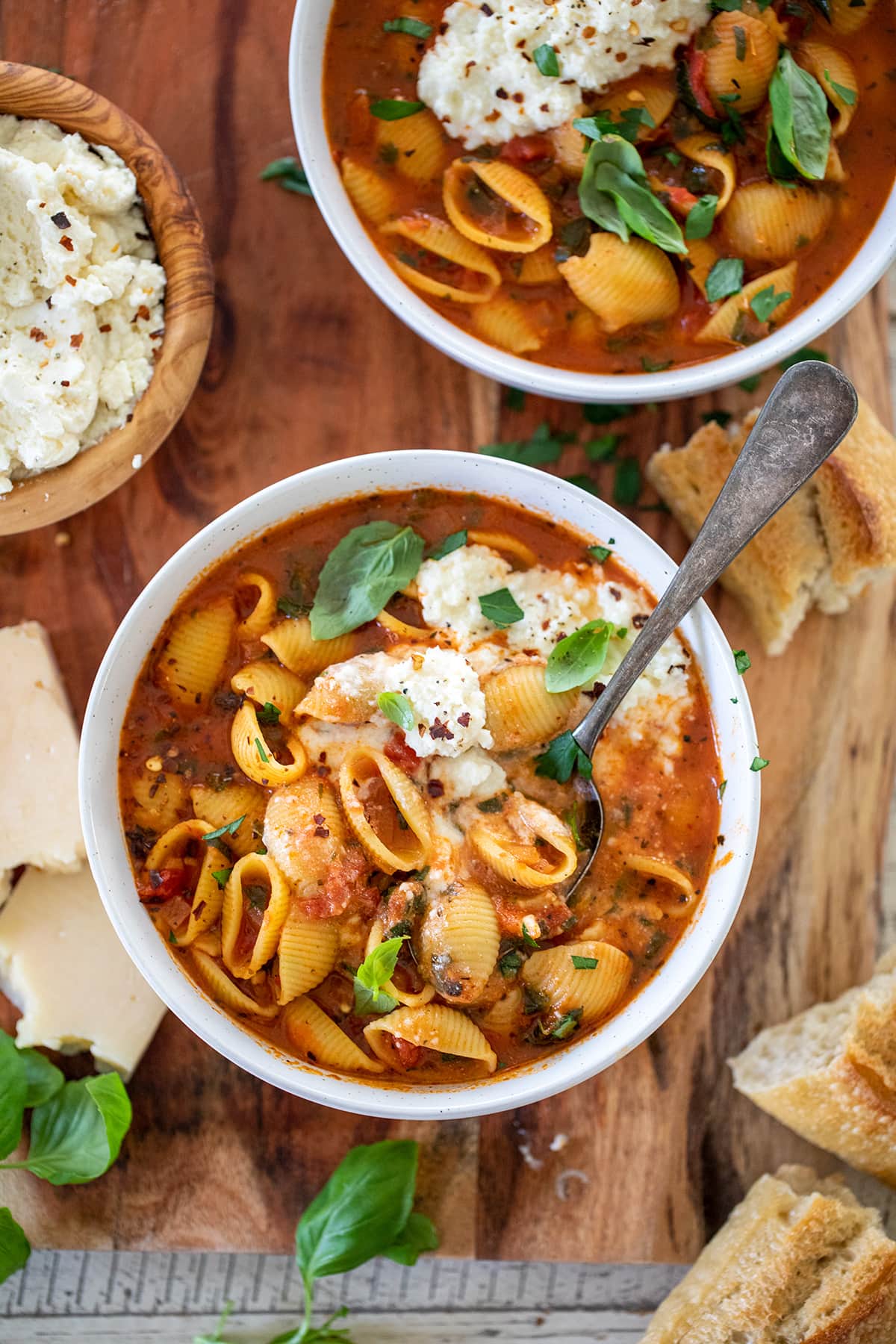 Spinach and Ricotta Stuffed Shells Soup
Classic Spinach and Ricotta Stuffed Shell reimagined as a bowl of flavorful and delicious soup!
Ingredients
2 Tablespoons olive oil
1 medium onion, diced small (1.5 cups)
5 cloves garlic (divided), minced
2 Tablespoon tomato paste
2 teaspoons Italian seasoning
1 teaspoon dried basil
32 oz chicken broth
2 cups water
parmesan cheese rind or a small piece of parmesan, about 2 inches (see notes)
1 (14.5 oz) can crushed tomatoes
1 (14.5 oz) can petite diced tomatoes
Kosher salt and ground black pepper
6-8 oz medium shell pasta
2 cups chopped fresh spinach
1 cup whole milk ricotta cheese
½ cup shredded mozzarella cheese
½ shredded parmesan cheese
red pepper flakes, for garnish
fresh basil or parsley, for garnish
Instructions
In a food processor combine 1 clove garlic, 1 cup ricotta cheese, ½ cup mozzarella and ½ cup parmesan. Season with a pinch of salt and pepper and blend until smooth. Set aside, this will be the garnish for the soup.
In a large dutch oven or soup pot add 2 Tablespoons olive oil and heat over medium-high. Add diced onion, 1 teaspoon salt and ½ teaspoon pepper. Sautee for 2-3 minutes until onions are softened.
Add tomato paste, Italian seasoning, dried basil and minced garlic and sautee for another 30 seconds, stirring until the tomato paste and garlic become fragrant.
Add crushed tomatoes, petite diced tomatoes, chicken stock and water, stir to combine and increase heat to high. Bring to a boil.
Add in pasta shells and reduce heat slightly. Cook, stirring occasionally until the shells are cooked and al dente, about 10 minutes. This time will vary based on the brand of noodle so read the box for cooking time.
Reduce heat to low and stir in spinach. Cook just until spinach wilts about 1 minute. Remove from heat.
Serve topped with a dollop of the ricotta cheese mixture, fresh basil and a sprinkle of red pepper flakes.
Notes
Adding a small chunk of parmesan adds so much flavor to the soup! Don't miss this step. Buy a hard parmesan cheese and cut off about 2 inches. Drop in soup and cook. The cheese will melt down into the broth leaving a delicious rich flavor.
Nutrition Information:
Yield:

6
Serving Size:

1
Amount Per Serving:
Calories:

543
Total Fat:

15g
Saturated Fat:

6g
Trans Fat:

0g
Unsaturated Fat:

7g
Cholesterol:

31mg
Sodium:

881mg
Carbohydrates:

80g
Fiber:

6g
Sugar:

5g
Protein:

23g