Stuffing with Sausage, Apples and Sage will satisfy everyone's taste buds at the Thanksgiving table with a mix of cornbread and French bread, country pork sausage crumbles, fresh sage, apples and tons of flavor!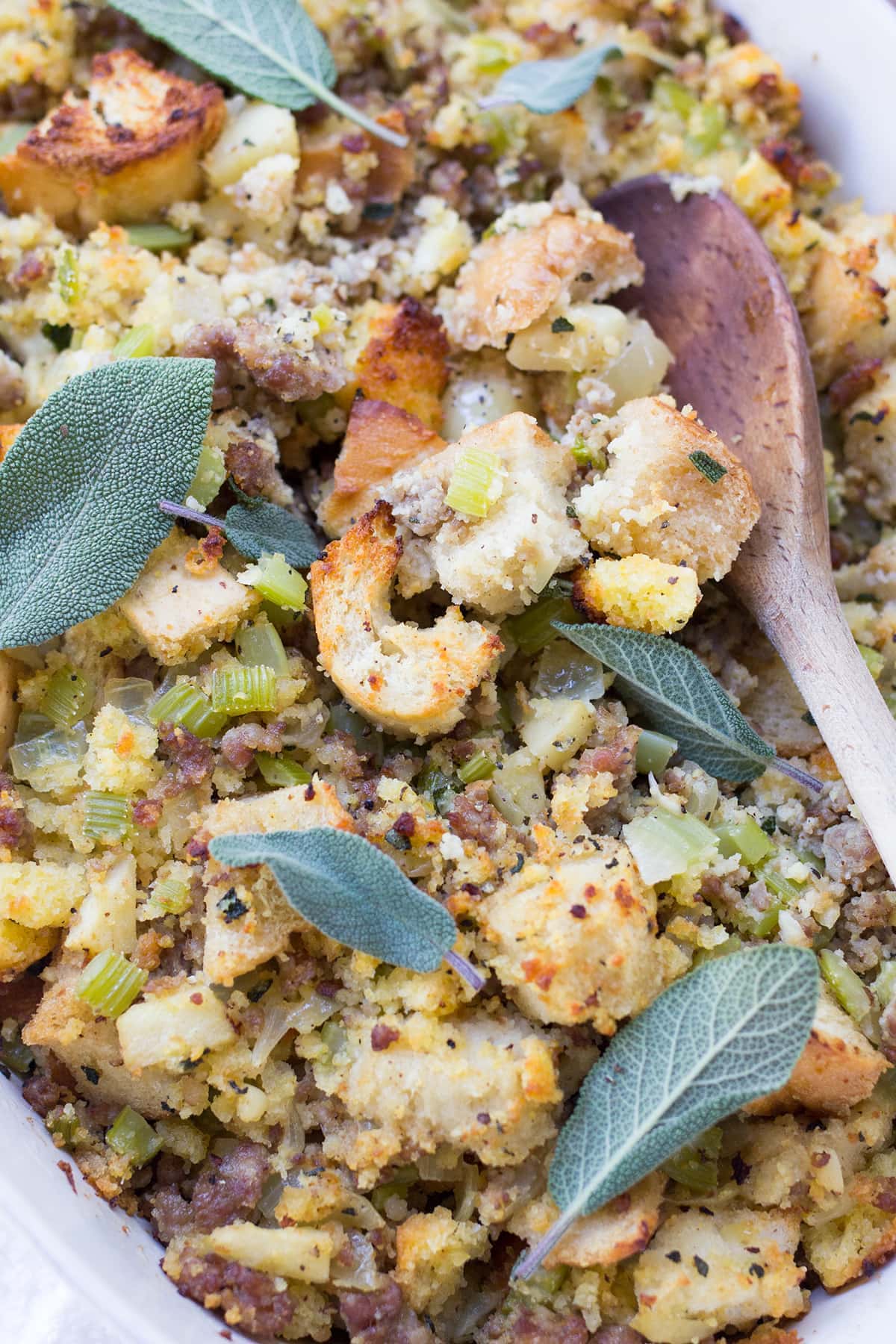 When it comes to the Thanksgiving meal, the stuffing is HANDS DOWN my favorite side dish. Alright, stuffing with cranberry sauce right next to it so that I can scoop them both up in one sweet and salty bite. So, you know I wouldn't post a stuffing recipe if it wasn't incredible and mouth-watering and all of those good things that make you look forward to the most indulgent meal of the year!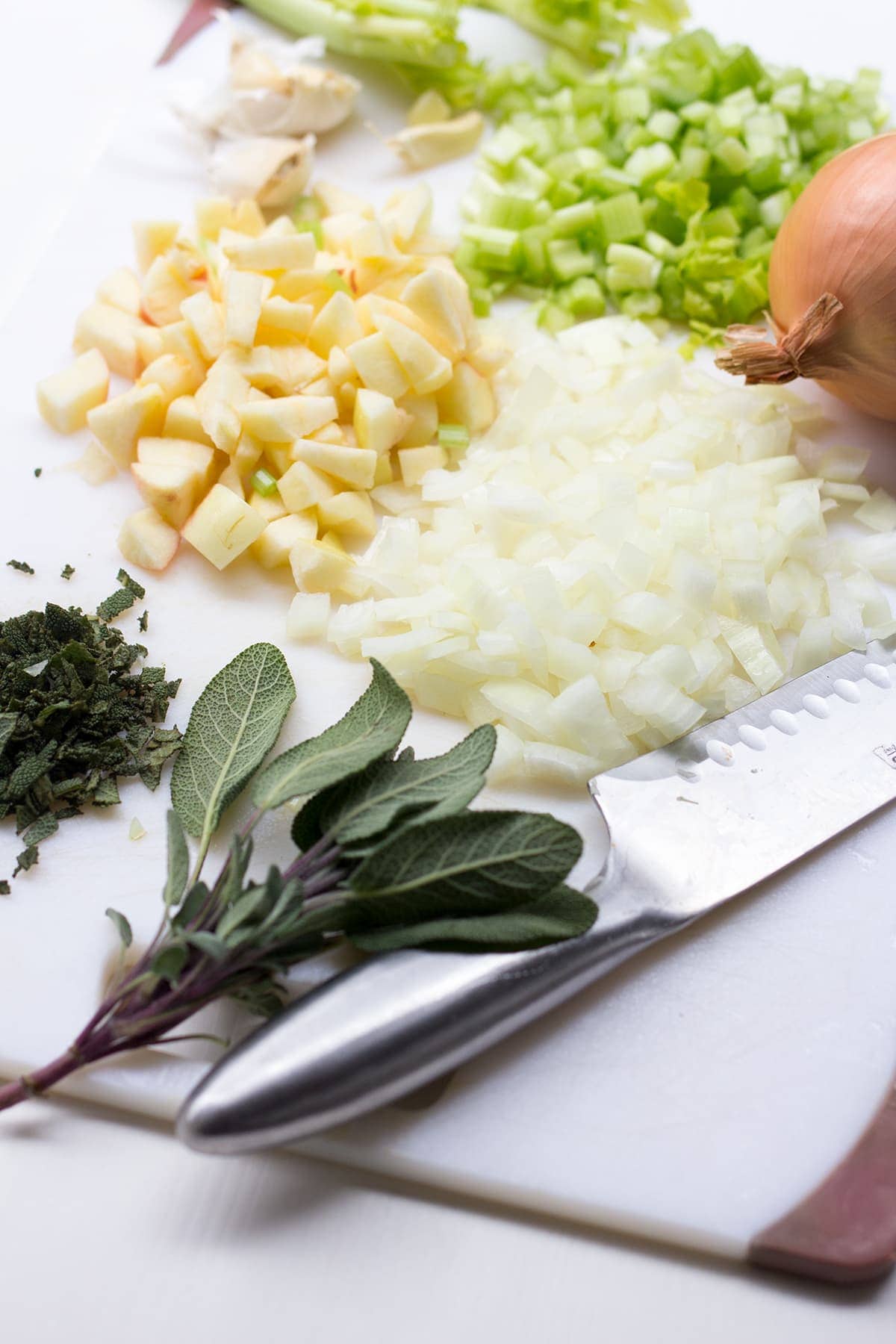 Now, let's talk about bread. Whether you prefer a sweet cornbread stuffing or a savory french bread, or sourdough stuffing base, this recipe will be speaking your language. It has a nice mix of both but you could definitely substitute your favorite bread or a combination for your own table.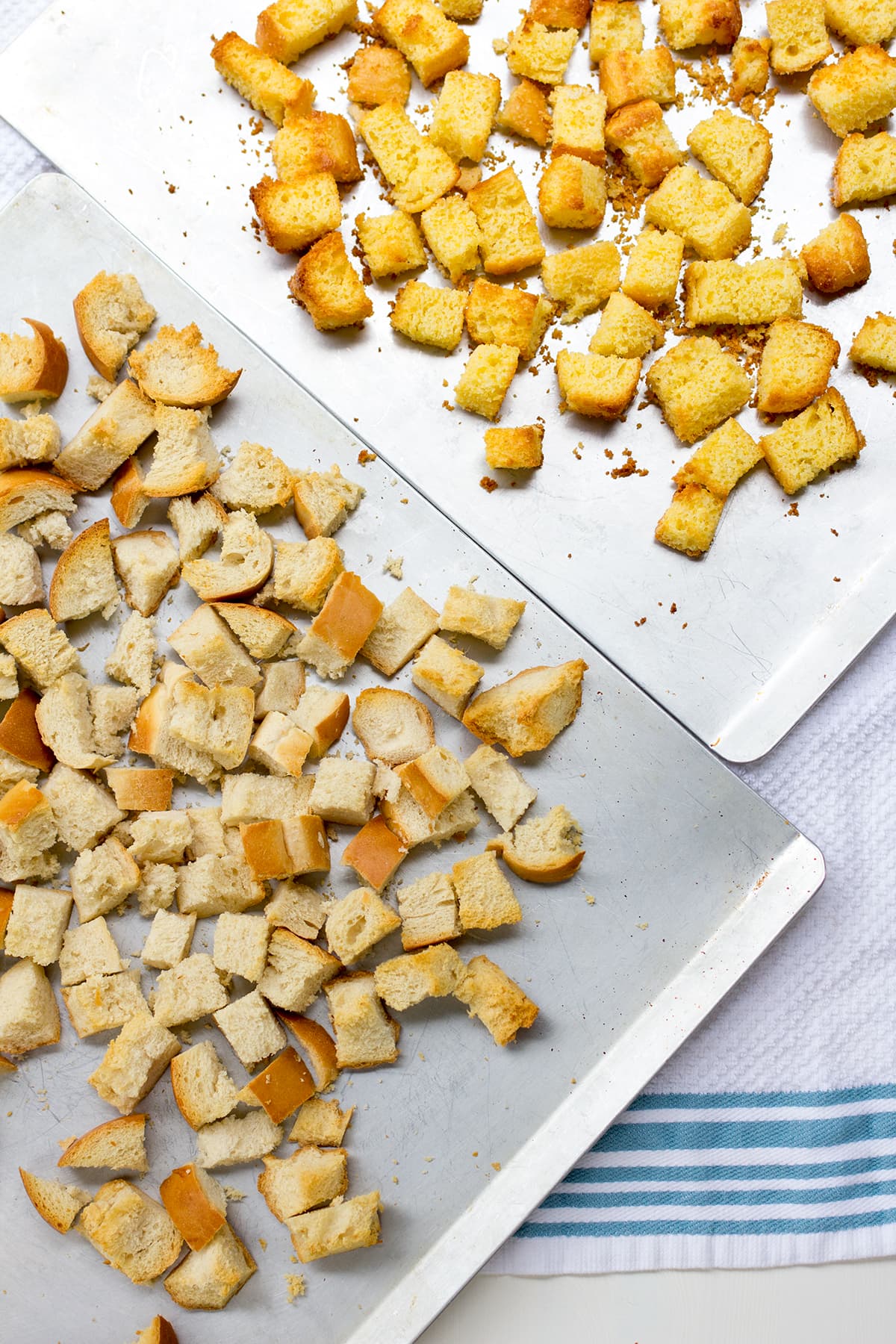 I like using just a little bit more french bread than corn bread to cut down on the sweetness. Cube bread and toast in the oven until it's nice and crispy. This will ensure your stuffing has really great texture to it.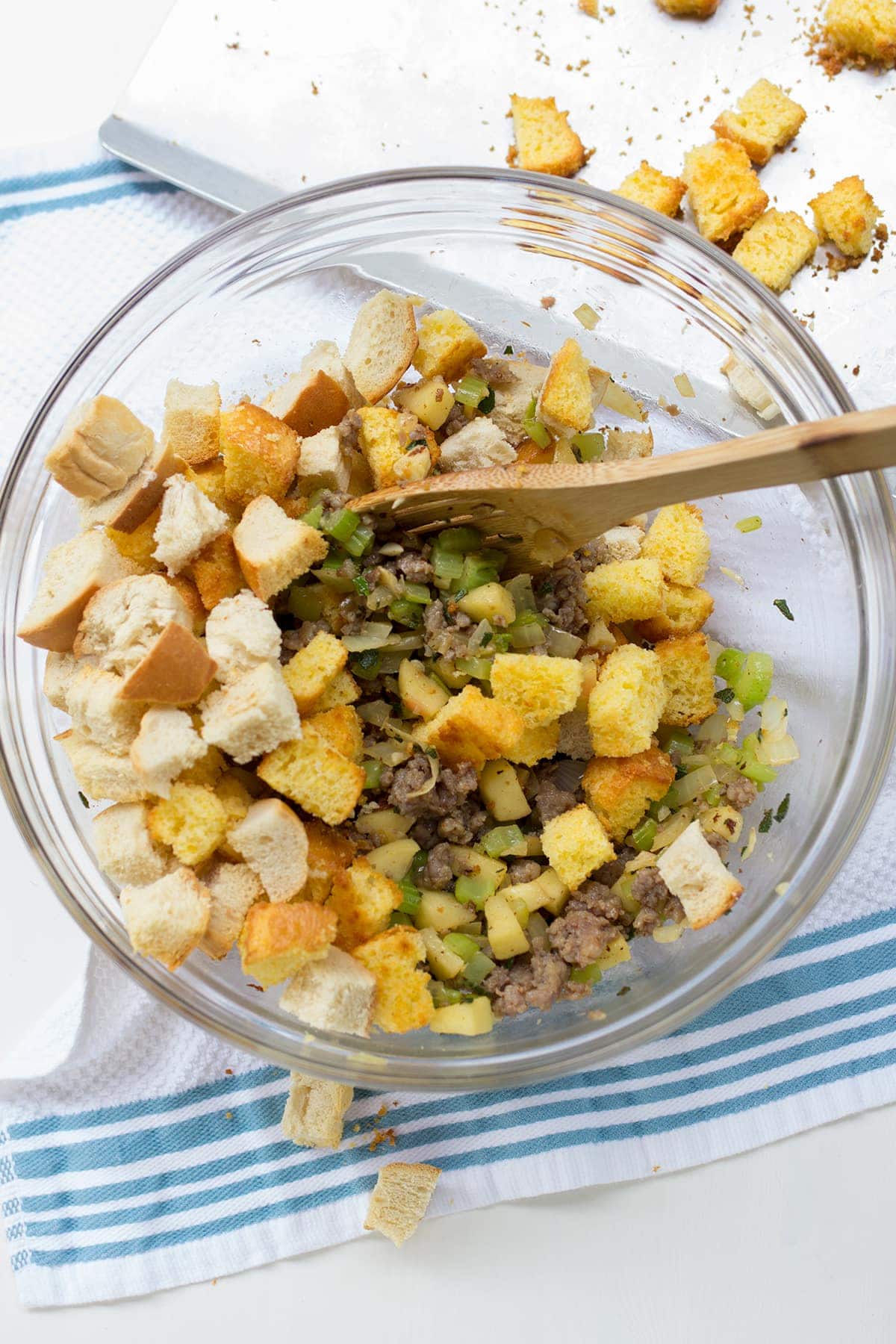 I sautéed all the usual suspects, onion and celery along with some new favorites, diced apple, country pork sausage and sage before tossing them all together with my toasted bread cubes.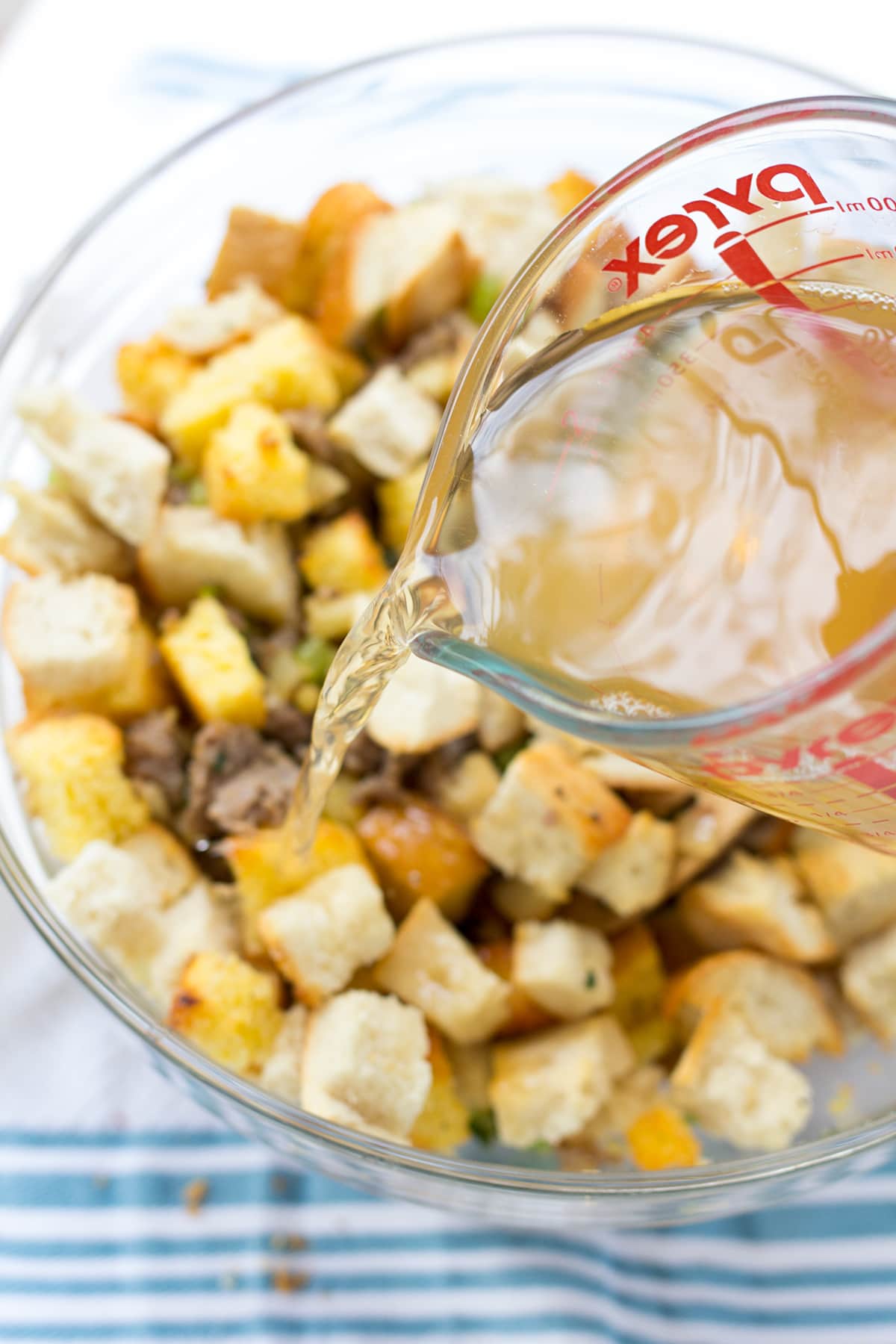 Drizzle with chicken stock, a little at a time until moist, tossing gently. Doesn't this photo make basic old chicken stock look glorious? Well, I guess it sort of is. Chicken stock gives the stuffing that fluffy moist middle we all dream about 364 days a year. Pop all of that goodness in a buttered casserole dish and you are ready to bake.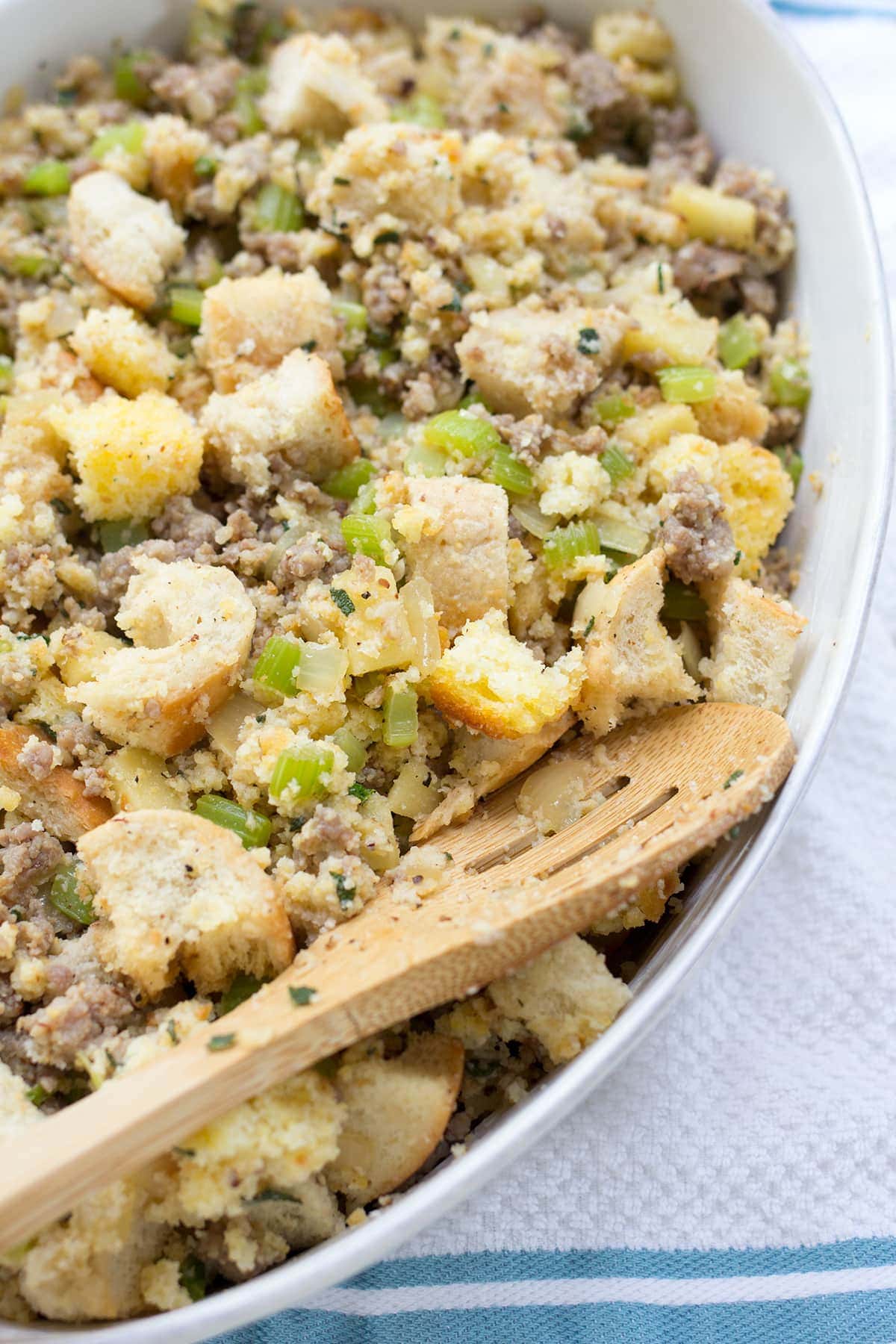 Bake until the stuffing is fluffy and heated through and the top is crisp. I give a recommended baking time in the recipe below but adjust to your own liking! I like mine on the crisper side but still moist in the middle....Look at that crusty golden deliciousness!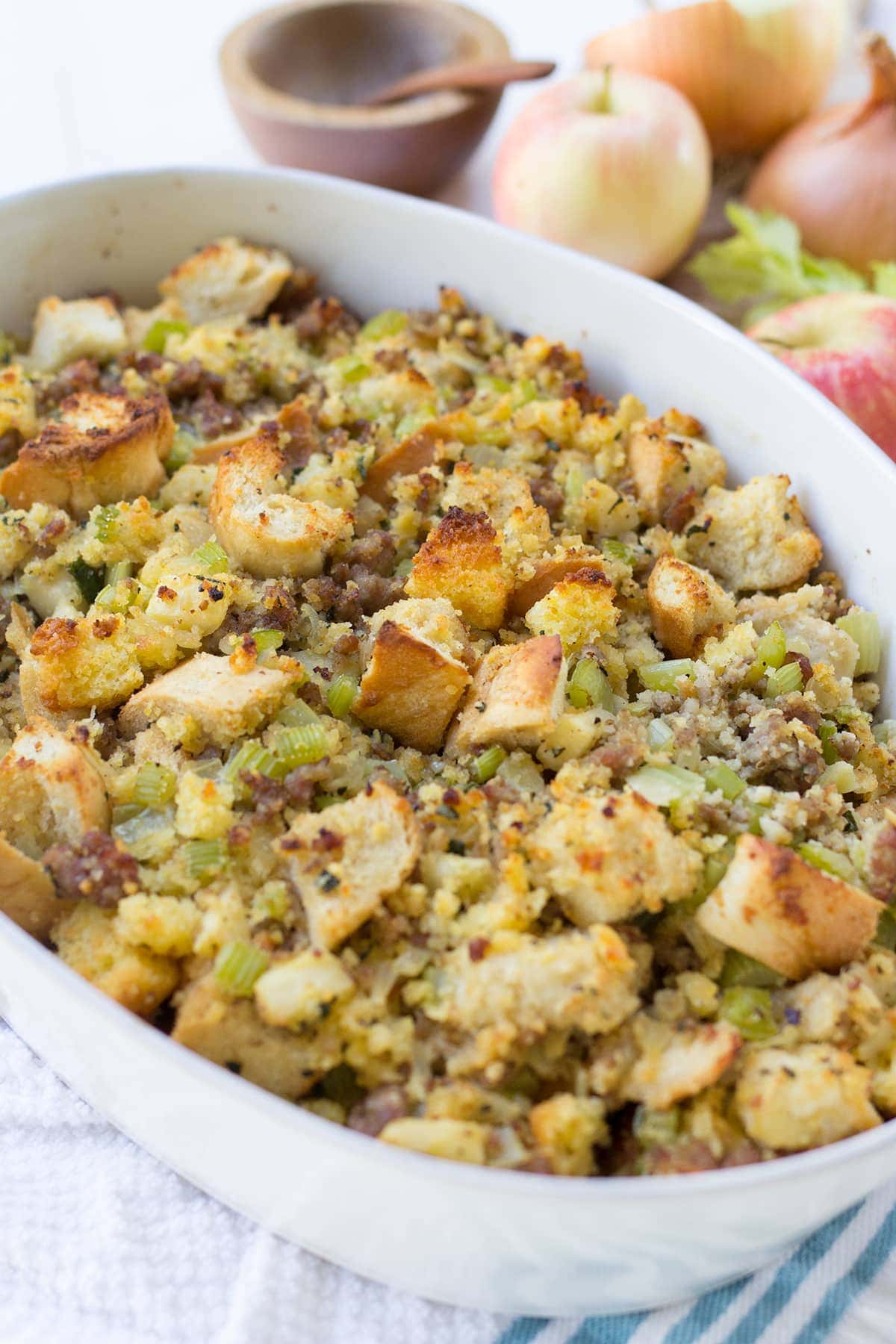 Serve by the heaping spoonful with a side of Turkey, gravy, cranberry sauce and all of the other fixings. This dish is a Thanksgiving winner!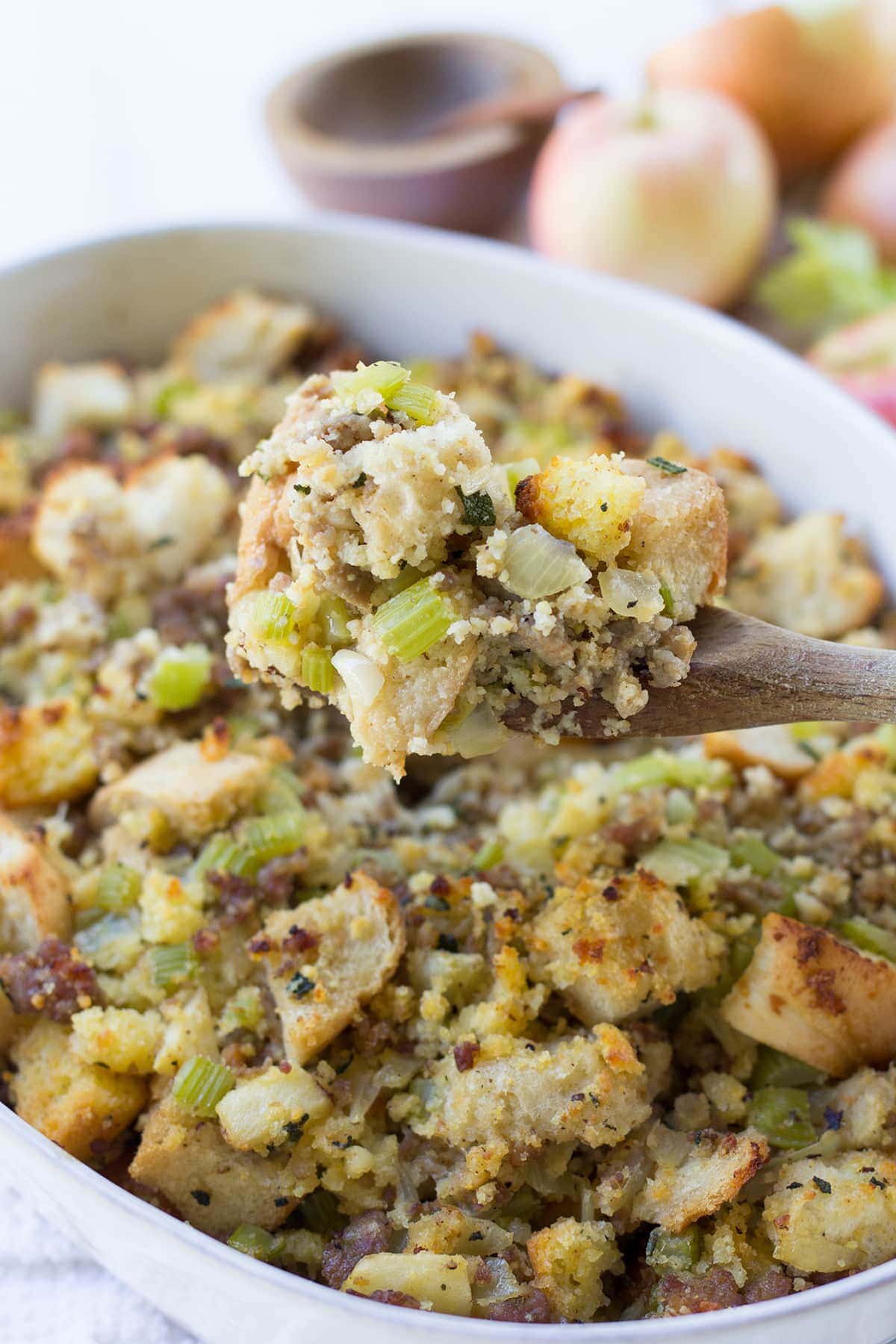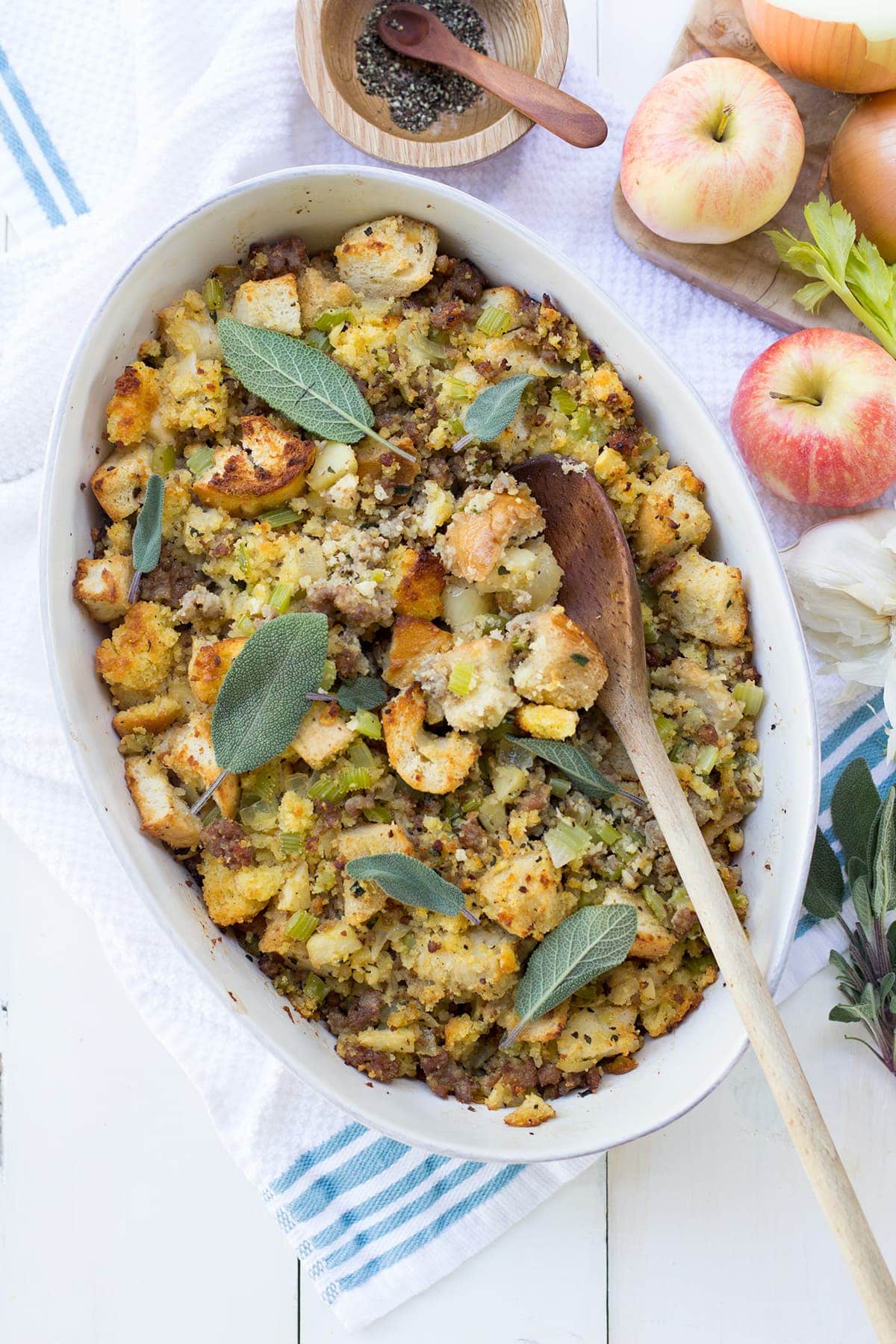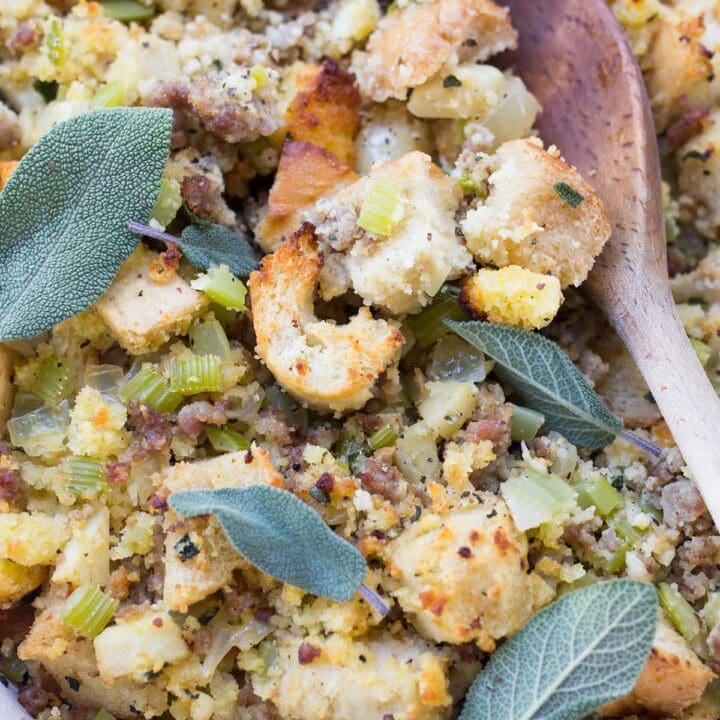 Stuffing with Sausage, Apples & Sage
Stuffing with Sausage, Apples and Sage will satisfy everyone's taste buds at the Thanksgiving table with a mix of cornbread and French bread.
Ingredients
5 cups crusty French Bread, cut into 1" pieces
3 cups corn bread, cut into 1 " pieces
1 lb country pork sausage
¼ cup salted butter
1 cup diced onion
1 ½ cups diced celery
4 cloves garlic, minced
1 cup apples, peeled and diced
2 Tablespoons, minced fresh Sage
Salt and pepper
2 cups chicken stock (you may need less if your bread is moist)
Instructions
Preheat oven to 375 and butter a large casserole dish, set aside.
Arrange bread cubes on two large baking sheets and bake in the oven, tossing until golden and crisp. Remove and set aside.
In a large pot, brown sausage breaking it up as you sautee with a wooden spoon until it is no longer pink. Remove with a slotted spoon to a large mixing bowl.
To the sausage drippings add butter, onion, celery, apple and garlic. Sautee until tender about 5-7 minutes. Stir in the sage and cook an additional 1 minute. Season with ½ teaspoon each of salt and pepper or to taste (taste first before seasoning). Transfer sauteed veggies and apples to the bowl with the sausage.
Add bread cubes to the mixture and toss gently to combine.
Slowly drizzle in the chicken stock, tossing gently until moist. You will need between 1 ½-2 cups depending on the moistness of your bread cubes.
Transfer stuffing to prepared casserole dish and cover with foil. Bake 20 minutes.
Remove foil and bake an additional 20-30 minutes or until golden and crisp.