There is no room I'd rather spend my time in during the holidays than the kitchen. The glow of twinkle lights illuminate the counter tops and a fresh wreath hung on the wall makes the entire room smell like fresh cut pine. This year I was inspired to decorate our new kitchen space with hints of green and white to compliment the grey. Come take a look inside...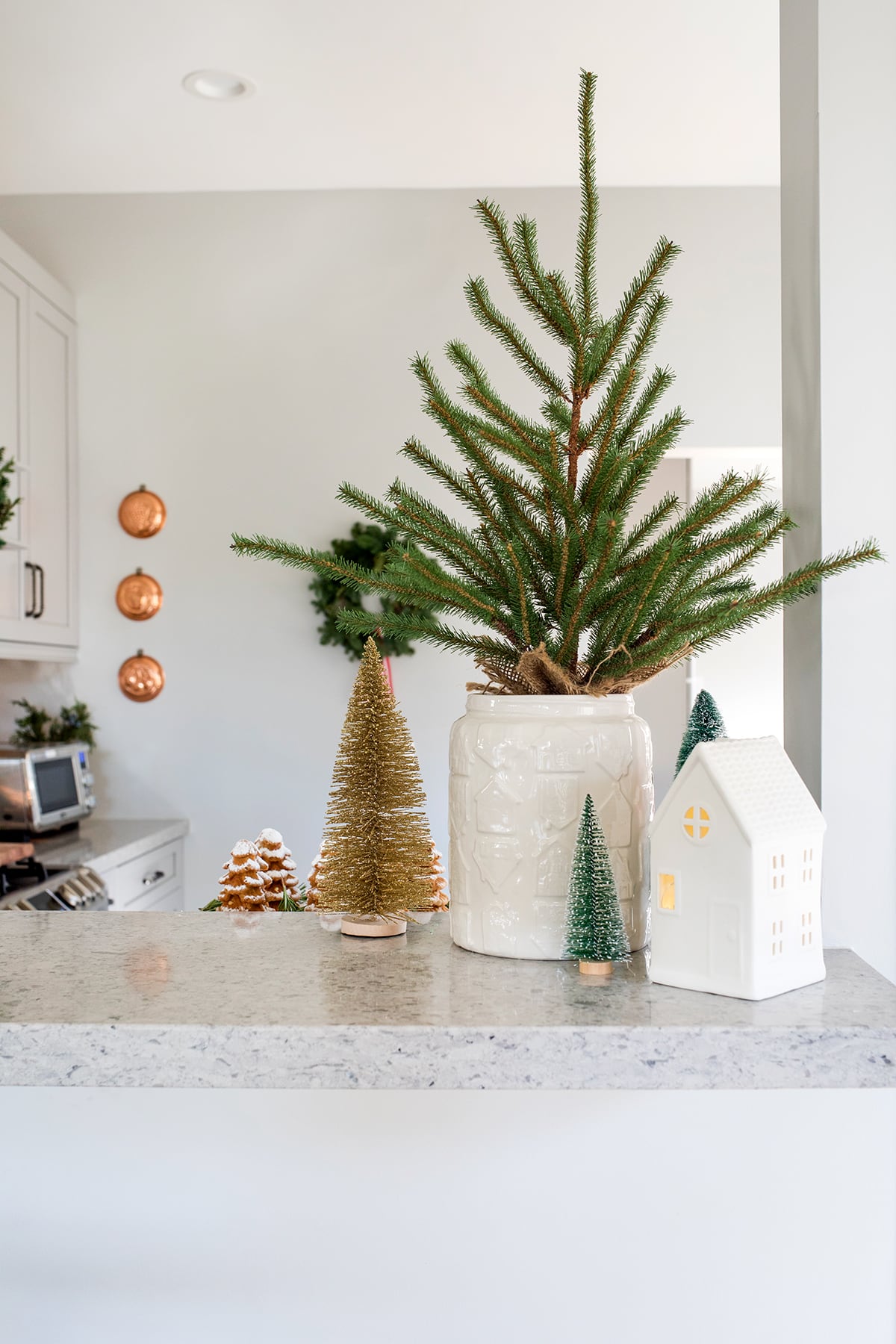 Christmas Kitchen Decor Inspiration
I've always loved adding little touches around my kitchen by this year I really had fun fully decorating the space thanks to my friend Michael at Inspired By Charm and all of his Christmas Kitchen Decor Inspiration. He really is the king of Christmas decor if you need some inspiration for your home or Christmas tree.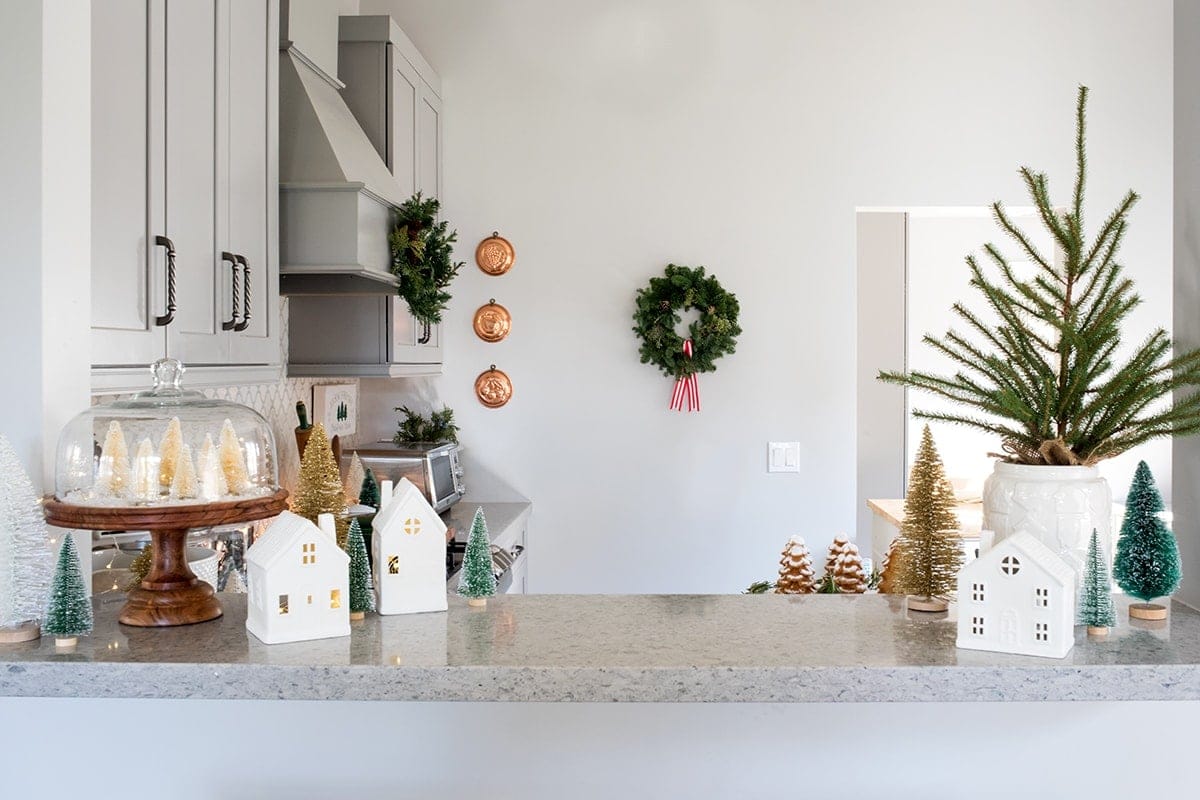 Green and White Christmas Decor
Since moving into this house over the summer, it's been fun to decorate the new space. We currently rent so the paint colors, fixtures and finishes are not of my choosing. That being said, I don't mind the cool greys and white details throughout the house. The kitchen backsplash is very similar to the tile I chose in my old house so it all feels familiar. This year, I decided to decorate our home mostly with green and white Christmas decor with touches of metalics. I love the way the deep forest green works with the light grey walls to create a woodsy but still modern feel.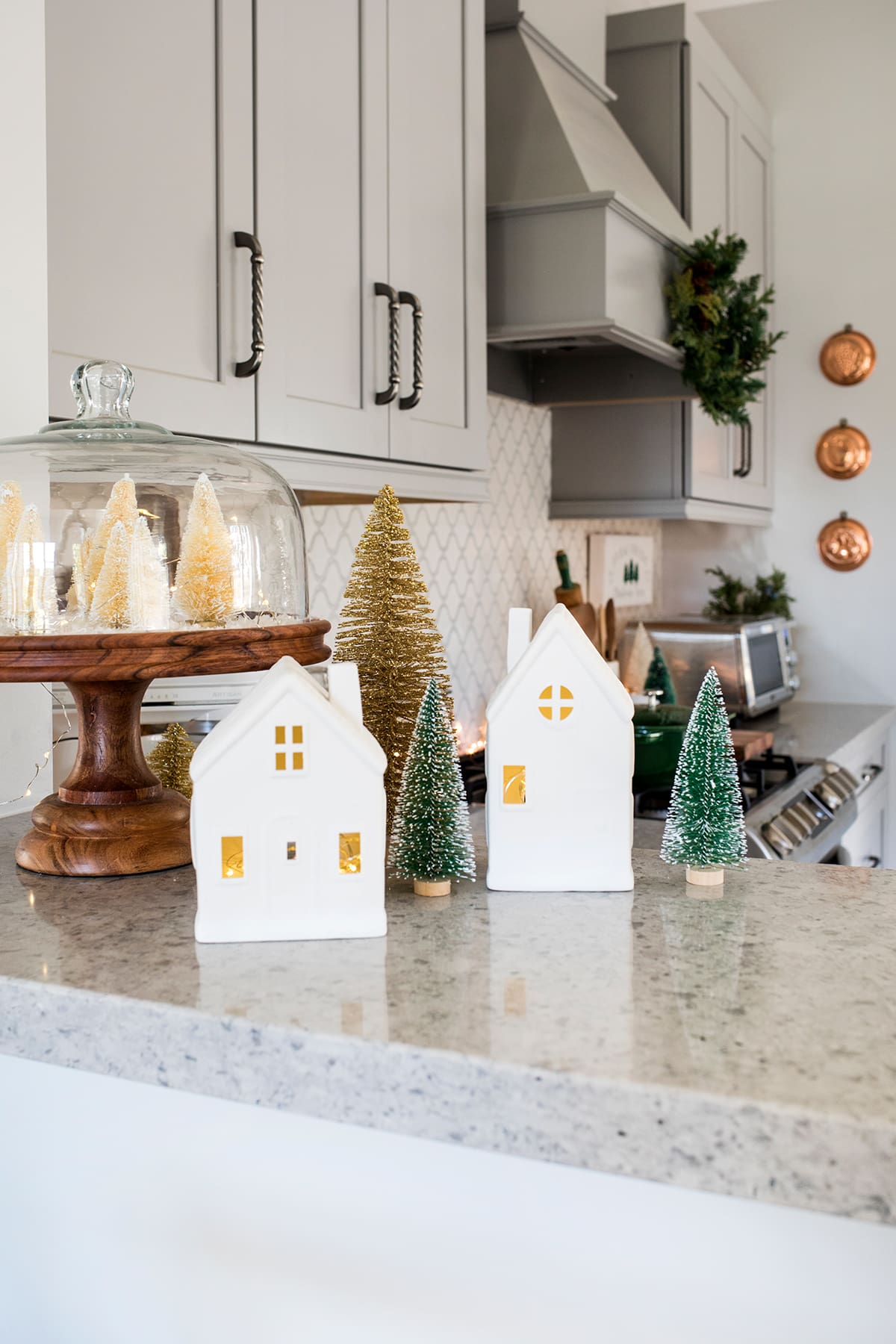 Christmas Houses & Bottle Brush Trees
One feature of our kitchen that I love is the open bar area that looks our from our kitchen to the dining room. This counter space really opens up the house and decorated it with my little white Christmas houses and bottle brush trees. I found these houses a few years ago in the Target dollar bin and I've loved them ever since! I honestly wish I had bought quite a few more. I found this set of porcelain houses and trees on Amazon that I might end up purchasing as I really wish I had a full set. I add fairy lights to the houses to make them glow and I love the cozy effect.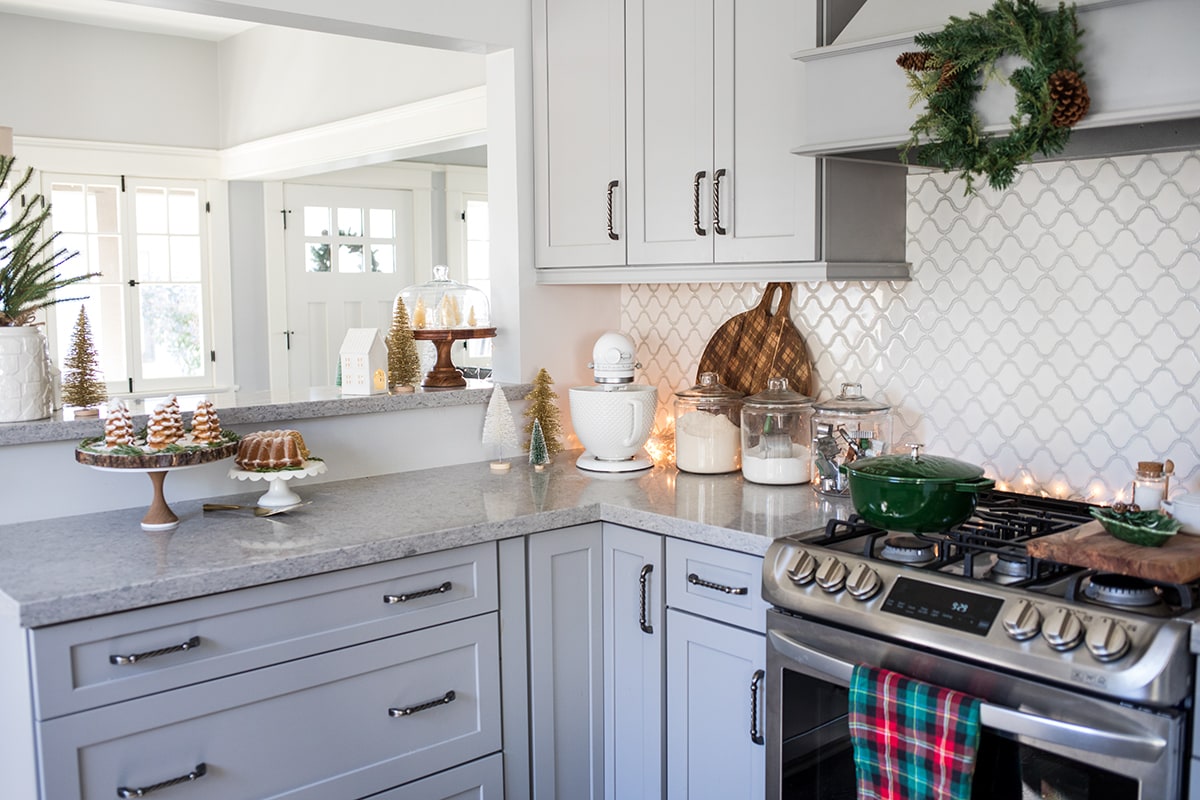 Our kitchen is relatively small but I do love the counter space to the left of the stove. This is my prep and baking area and this time of year, I really love the countertops for rolling out pie crust. My vintage cookie cutters double as decoration in a glass jar on the counter next to the sugar and flour and my favorite Kitchen Aid mixer with white hobnail mixing bowl looks beautiful with the green and white Christmas decor. It has already gotten a LOT of use this season.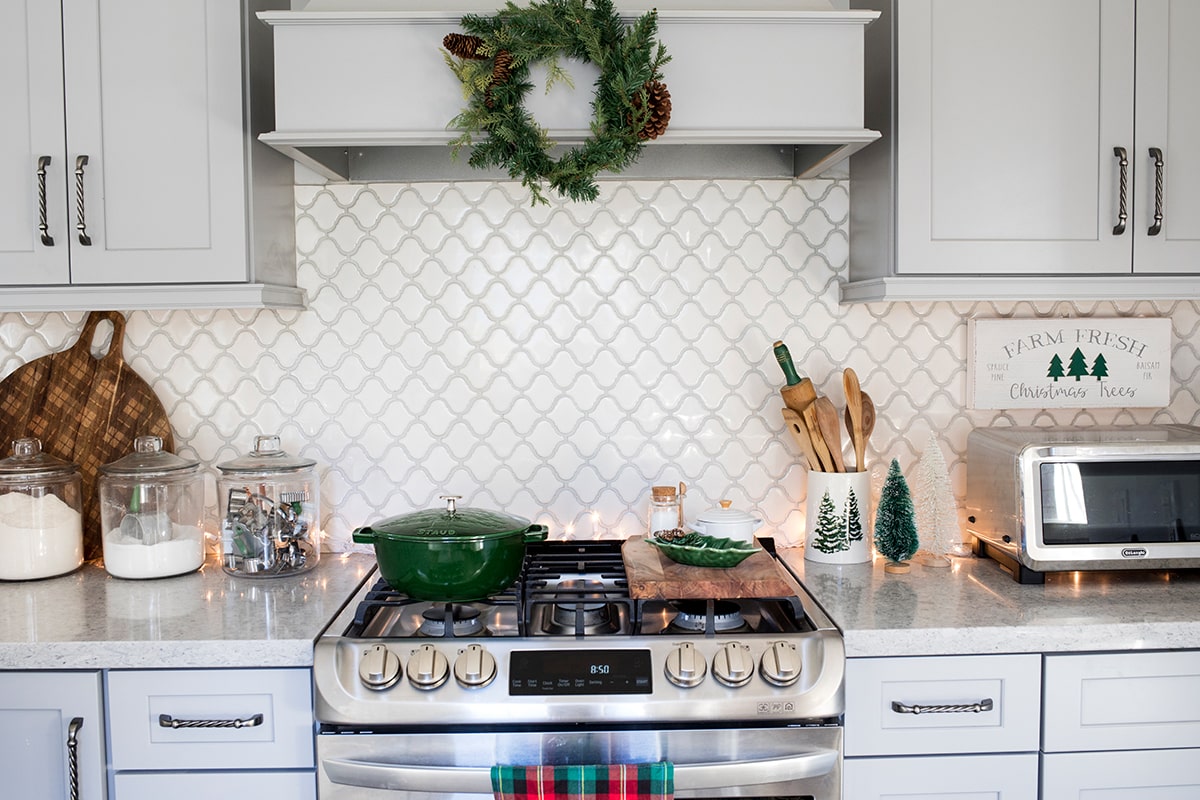 Pine Tree Inspired Christmas Kitchen Decor
Adding in touches of pine tree decor really created a theme. I already had tons of bottle brush trees in my Christmas decor but I added this Farm Fresh Christmas Tree sign, pine leaf spoon rest, and snowy pine tree canister for my wooden spoons all found at Home Goods. Does anyone else go crazy on holiday decor at that store? One of my favorite tiny details is my Great Grandmother's green wooden handled measuring cup I use in my sugar and my Staub Dutch Oven with a Pine Tree embossed on the lid.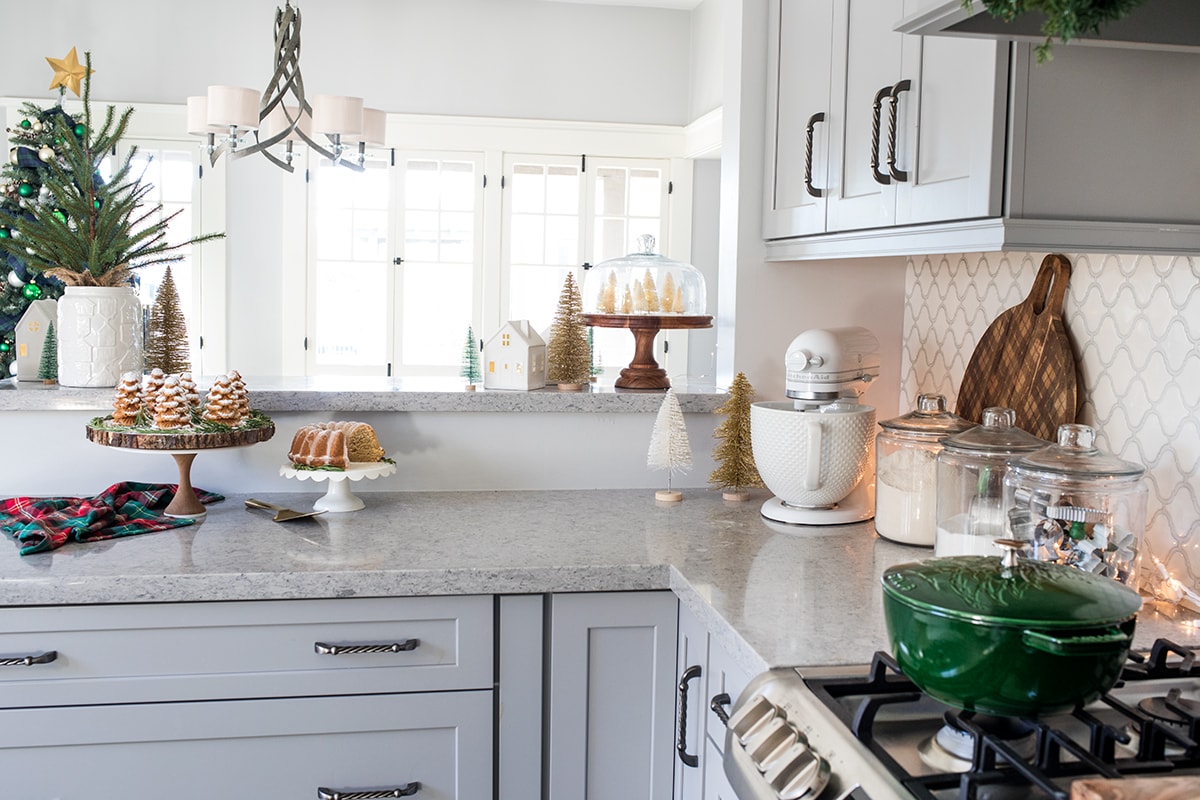 I really do love this corner of my kitchen and now I love it even more because it gives me a view of our Christmas tree. Don't mind the leaning star...it has since been replaced. I'm planning to share my tree here on the blog very soon as I just finished decorating it! I kept the forest green and white theme going on the tree as well with touches of copper...I AM OBSESSED.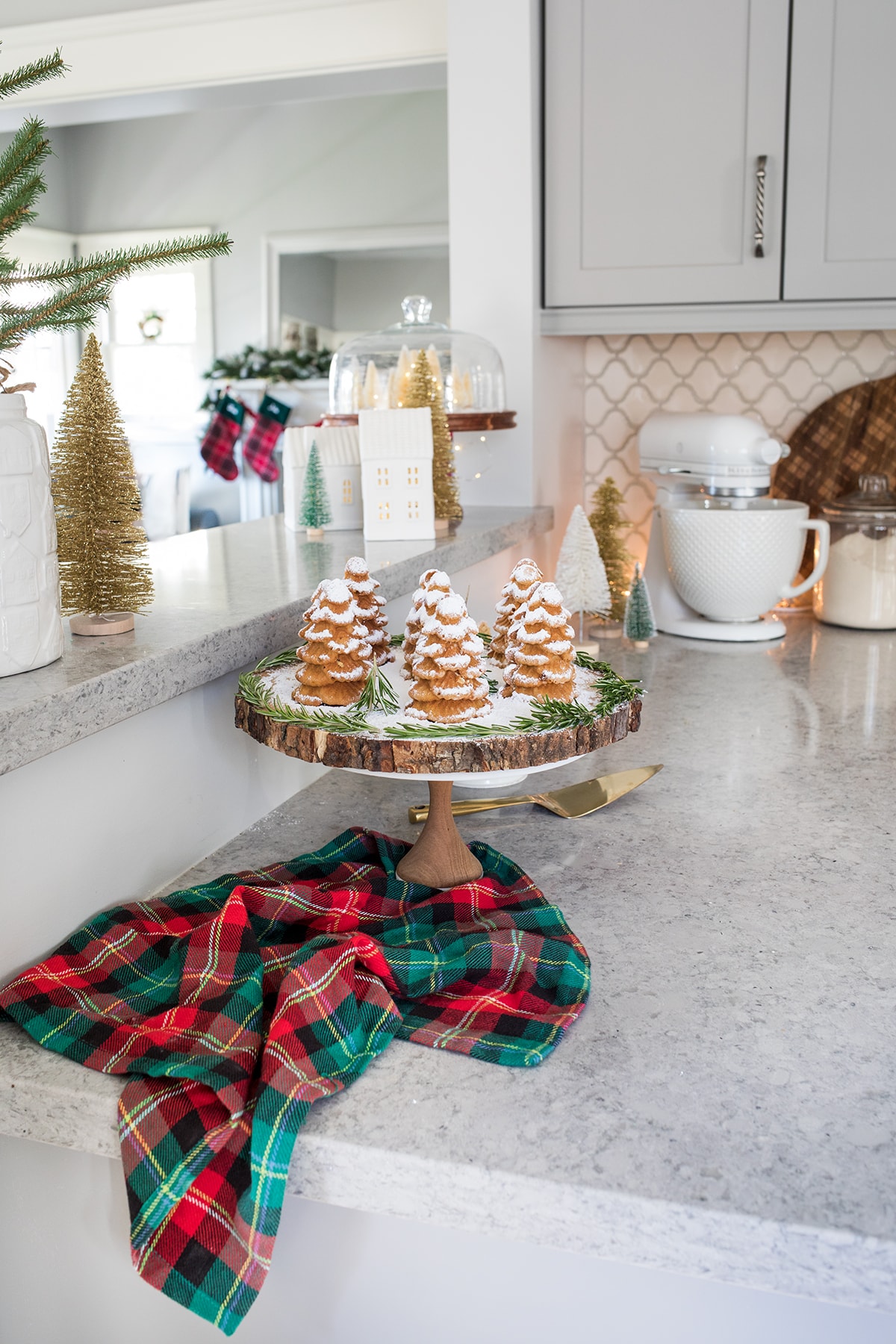 Step aside gingerbread houses! One of my NEW favorite recipes is for Bourbon Brown Sugar Bundt Cake. I'll share the recipe later this week but it's perfect for using in any of your favorite bundt pans or cake molds. This tree cakelet pan is so whimsical and fun and the cake trees dusted with powdered sugar are the prettiest edible decor.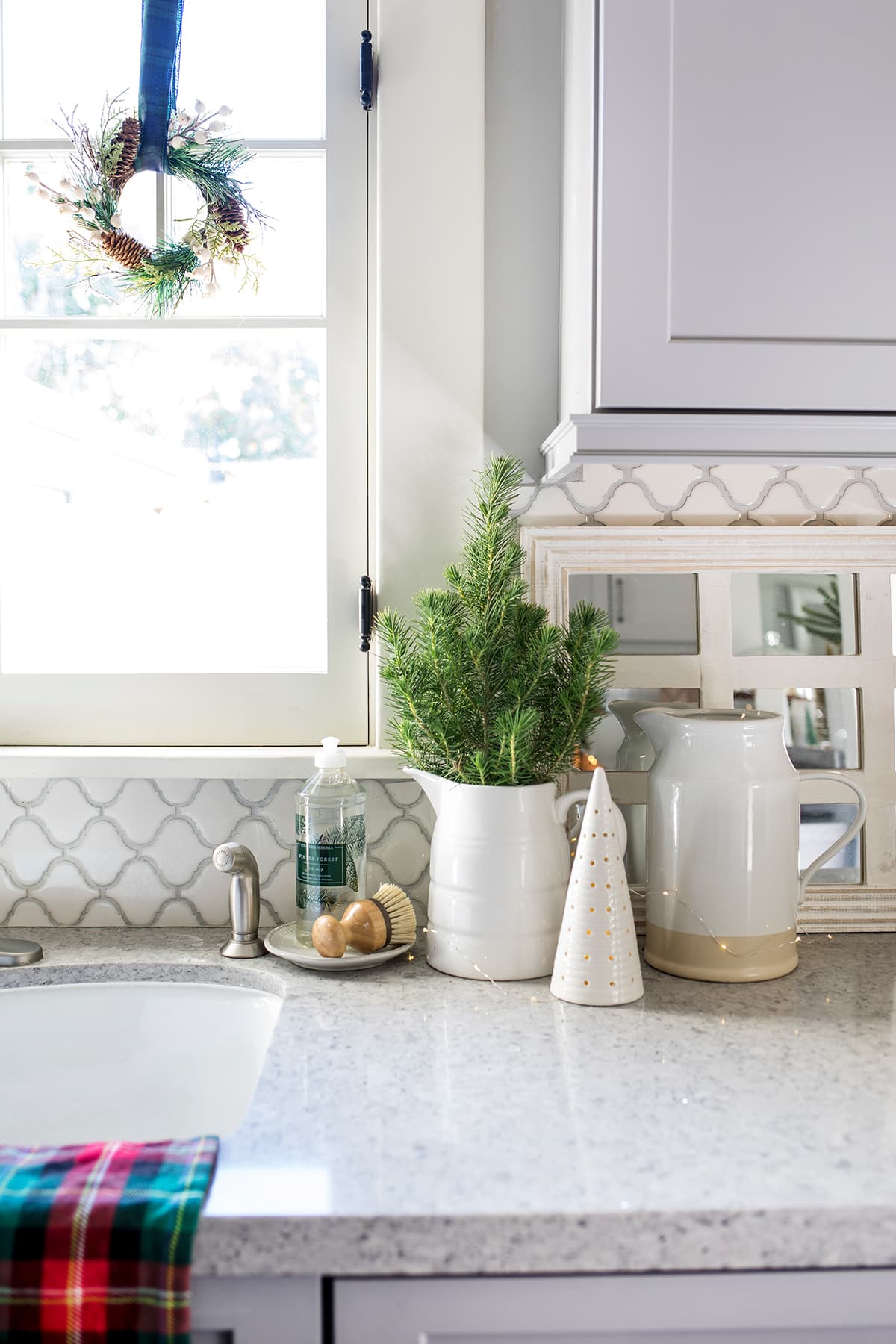 Pine scented soap and a fresh baby pine tree I picked up from Trader Joe's make my kitchen sink a much more pleasant place to spend time. A simple strand of fairy lights and a few ceramic trees are all you need to make a space festive.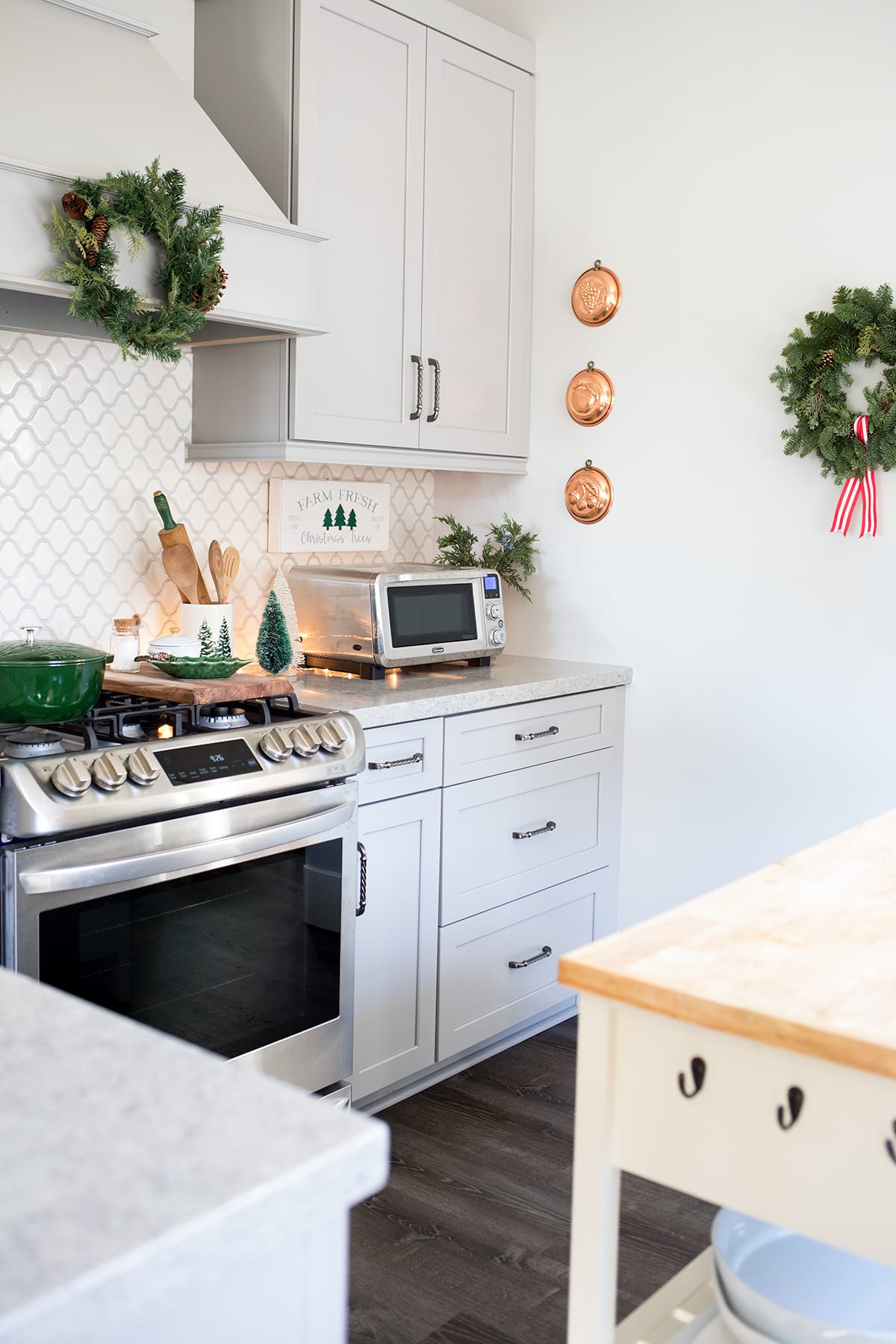 I hope you enjoyed a look into our little kitchen! I had so much fun decking it out for Christmas and it's made the space so much more magical to be in. Do you decorate your kitchen for Christmas? Let me know in the comments below. Also you can shop my kitchen here: