Moscow Mules made more festive and minty with fresh crushed mint leaves and candy cane make the perfect Christmas Cocktail.
Step aside Moscow Mules because this time of year I'm all about the Moscow Reindeer Cocktails! A minty version of everyone's favorite cocktail made with muddled mint (or fresh muddled peppermint if you can find it), crushed candy cane and of course a candy cane garnish. The combination of ginger and mint is pure holiday perfection...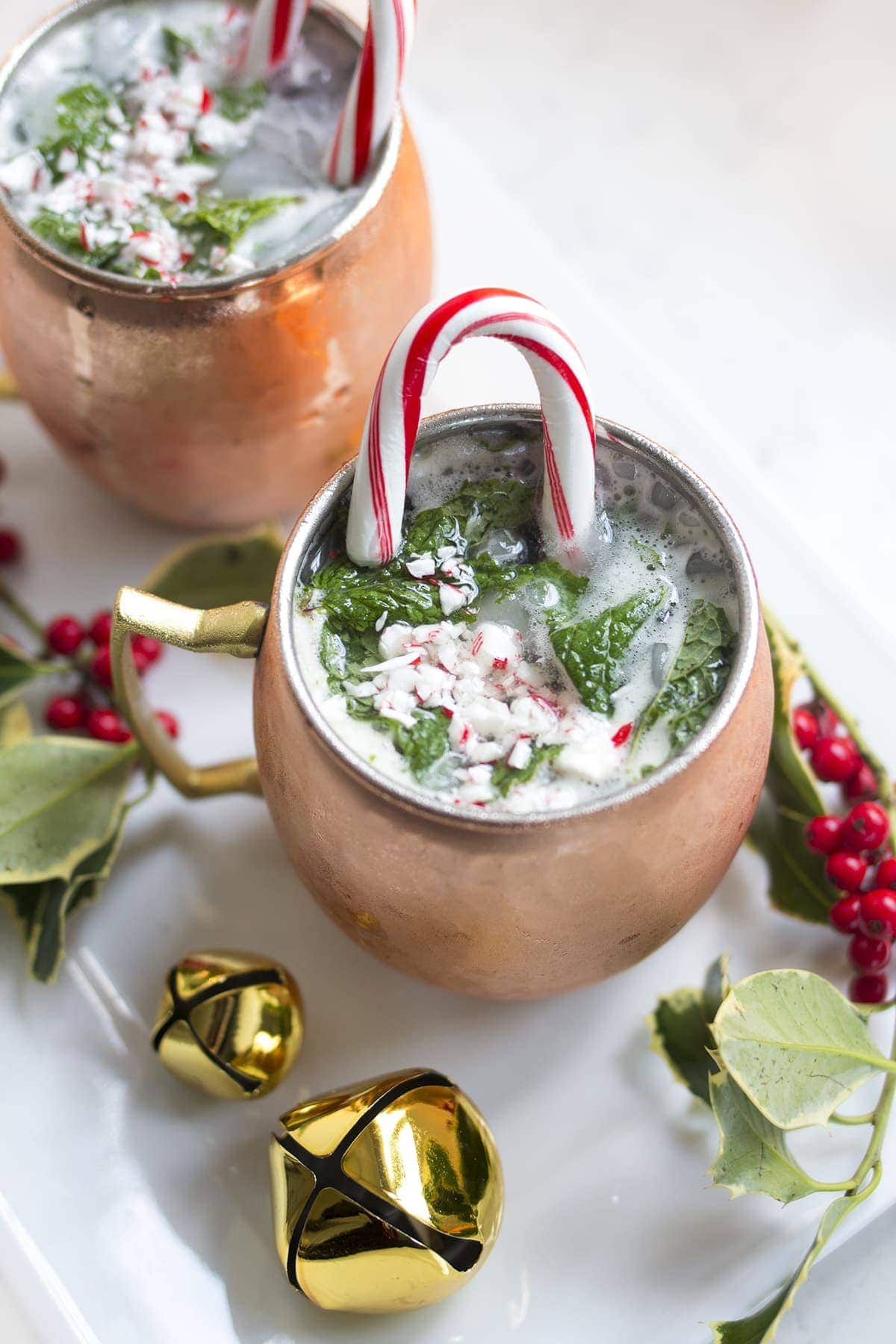 Moscow Reindeer Cocktails
I've posted a whole bunch of different variations of the Moscow Mule here on the blog from Pumpkin Spice to Cranberry, and even Melon Mules, but never thought to add mint until a recent trip to Trader Joe's. I was standing in the checkout line when I spotted a huge display of their Triple Brewed Ginger beer.
"Mmm, Moscow Mules sound so good right now!" "I wonder if I can make a Christmas version?" And so the Moscow Reindeer was born.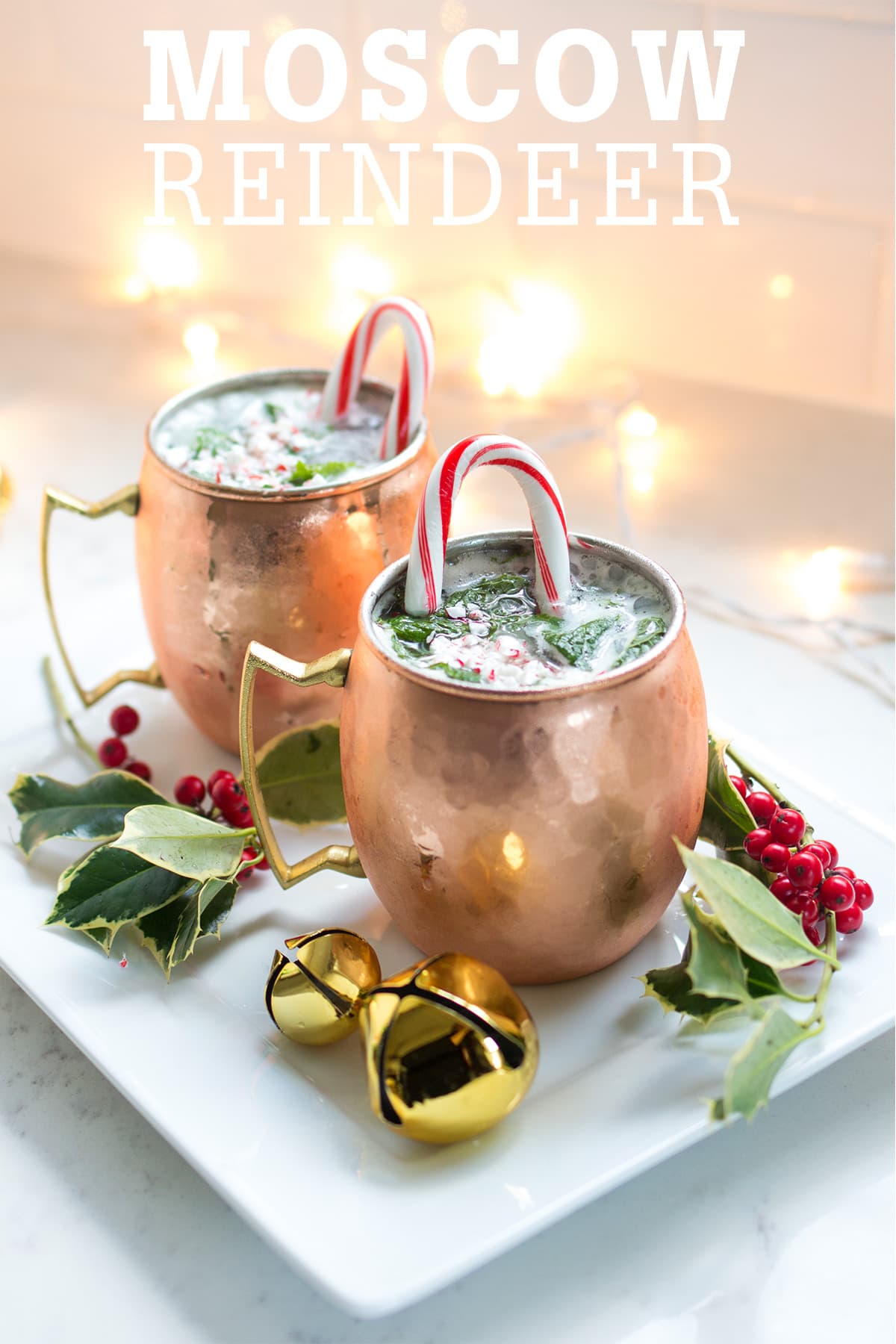 Ingredients in a Moscow Reindeer Cocktail
Fresh Mint (or fresh peppermint) - if you can find fresh peppermint it's absolutely delicious in this cocktail however fresh mint will work as well.
Vodka - use whatever brand you like best. We really enjoy Titos Vodka or Hangar 1 Vodka but you can also use peppermint flavored vodka.
Fresh Lime Juice - fresh lime juice is the only way to go with Moscow Mules!
Ginger Beer - ginger beer is a non-alcoholic ginger soda and can be found with the sodas and mixers. We like Fever Tree Ginger Beer because it's not overly sweet and has great ginger flavor!
Candy Canes - crush them up for the cocktail and the garnish!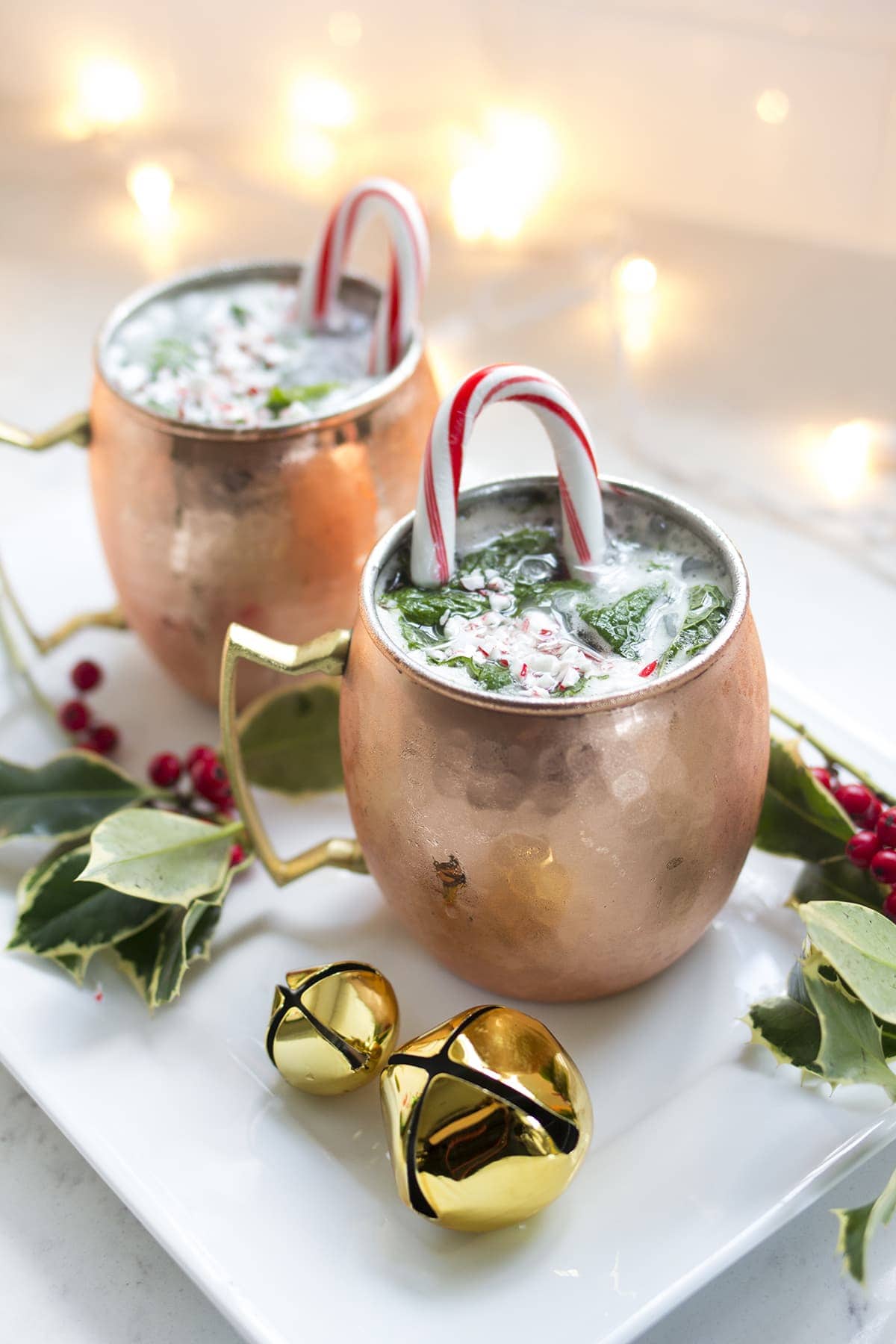 How to Make a Moscow Reindeer
Start by muddling a big handful of mint straight into the bottom of a copper mule mug with a bit of ice. If you don't own a set of Mule Mugs you can get them here. TIP: If bits of mint in your drink aren't your thing, you can always shake this cocktail up in a cocktail shaker and strain it before pouring in the ginger beer.
Fill you mug with ice and add in vodka and lime juice before giving it a stir.
Top with ginger beer.
Garnish with crushed candy canes. Sip and enjoy!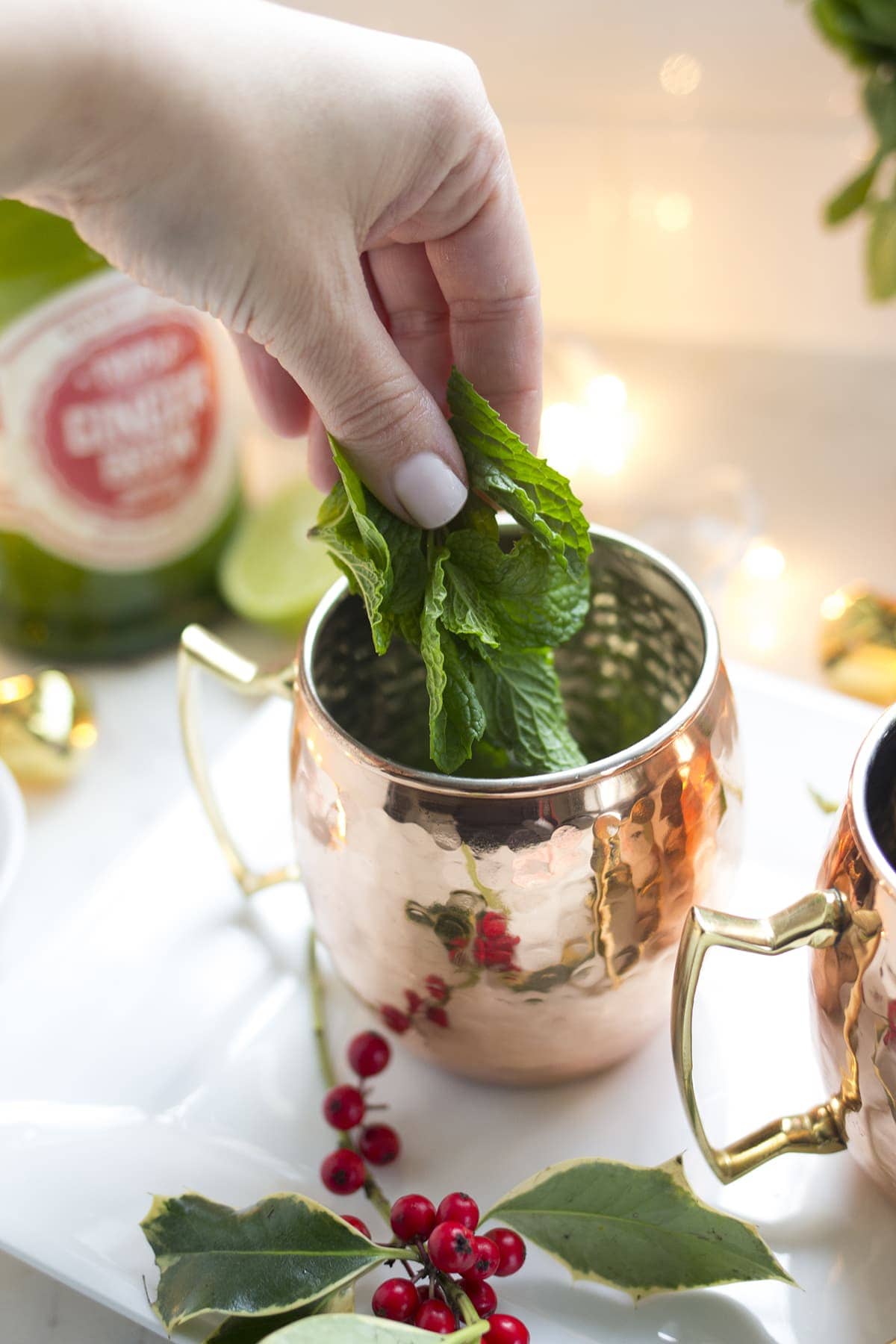 Does that not look so deliciously refreshing? This cocktail is on the menu for my family Christmas dinner. I'm hosting again this year and will obviously need something festive to serve for sipping!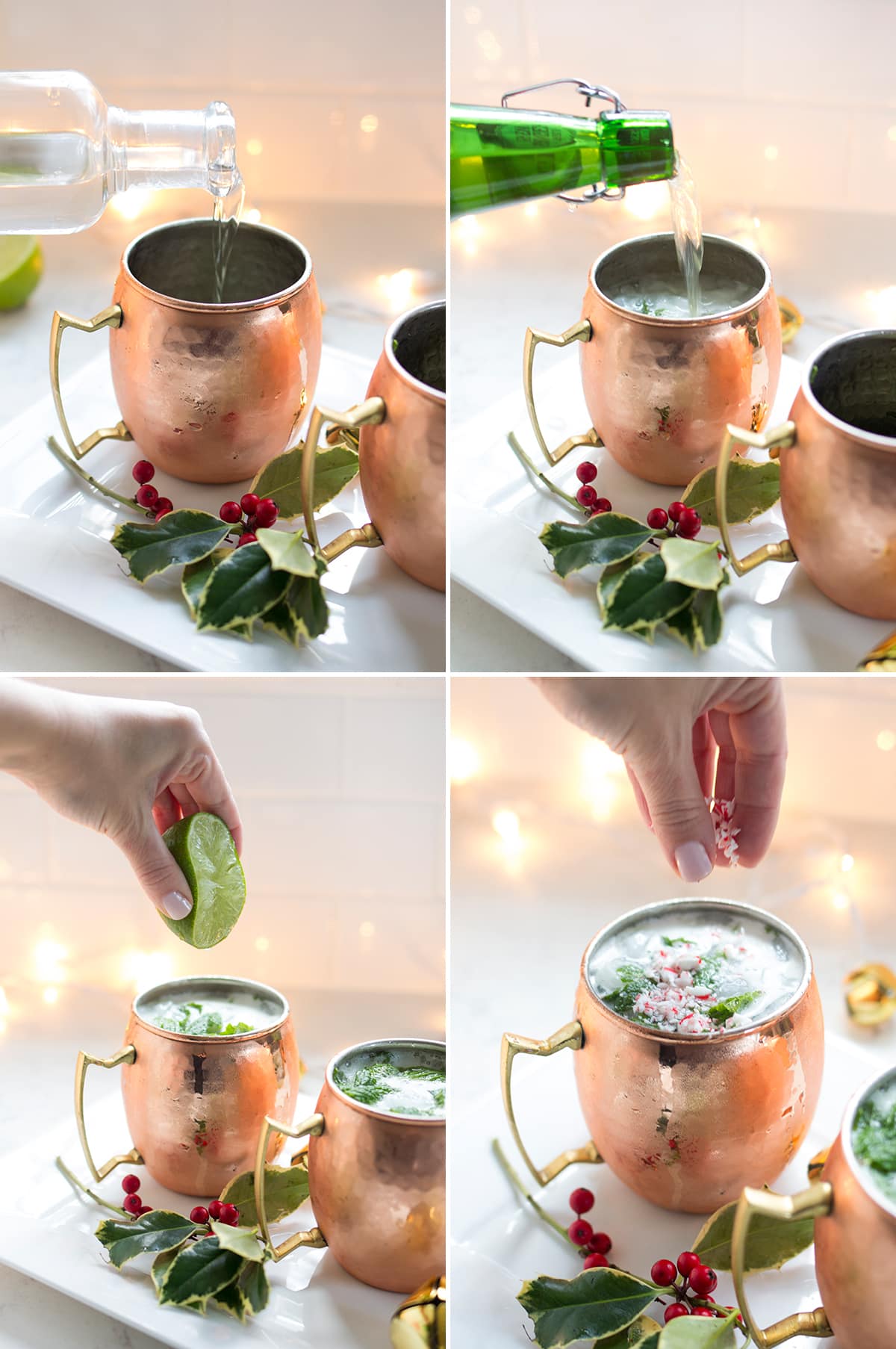 Peppermint Moscow Mules
This peppermint Moscow Mule is the perfect holiday cocktail recipe. It's festive and fun, easy to drink and very refreshing. If you want to add even more peppermint flavor, you can add a splash of peppermint schnapps!
Possible Variations
Fresh Peppermint - if you can't find actual peppermint, mint will do the trick.
Alcohol - flavored vodka such as vanilla vodka or even Peppermint Vodka is delicious is this drink.
Shaken - if you don't care for bits of mint muddled in your drink, you can always muddle in a cocktail shaker and shake with vodka, lime and ice before straining into the mule mugs and topping with ginger beer.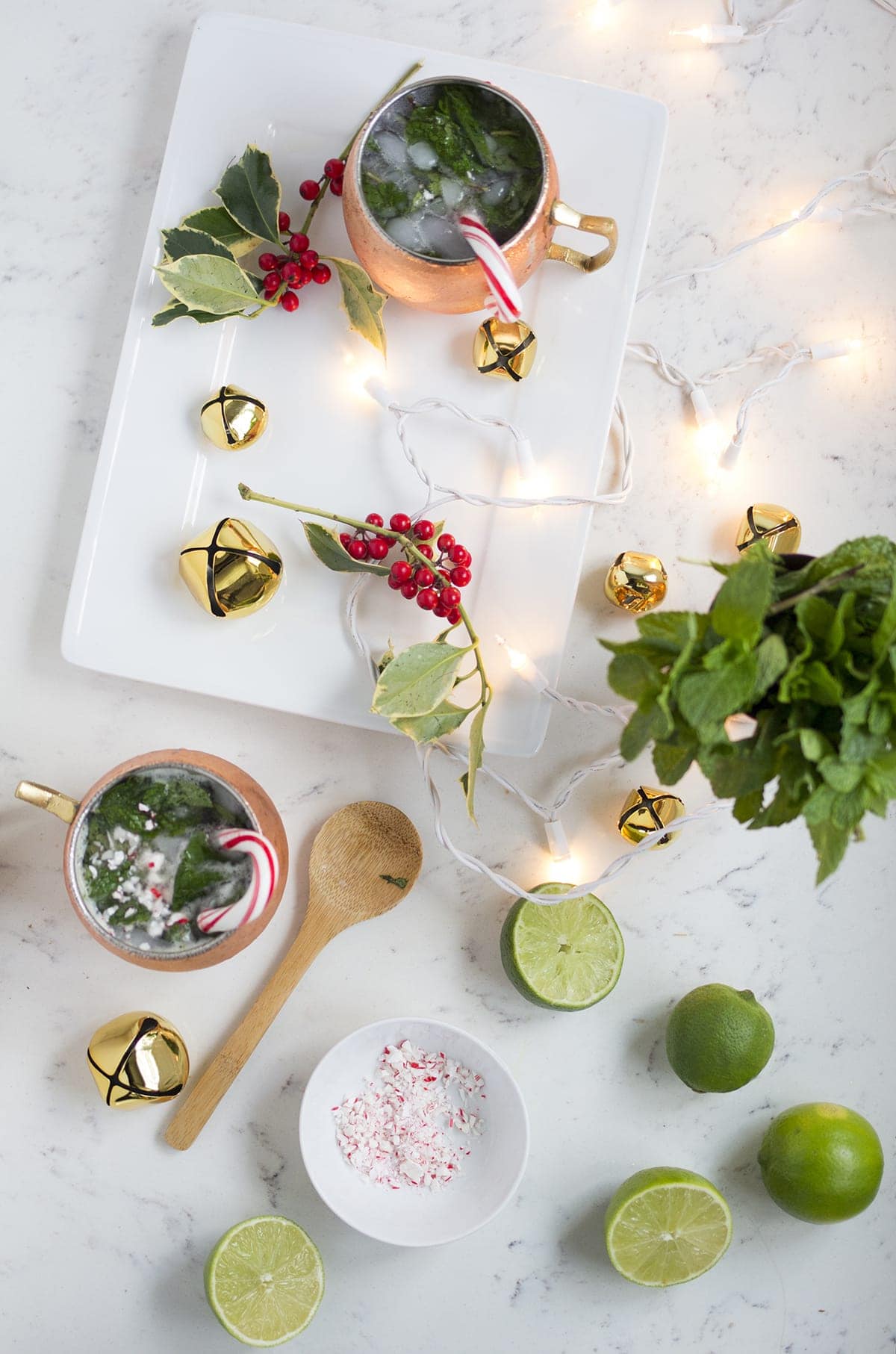 More Christmas Cocktail Recipes
While this isn't quite a traditional Christmas cocktail...it is sure to be a hit with your family. Looking for more Christmas Cocktail inspiration? You might enjoy these festive cocktails: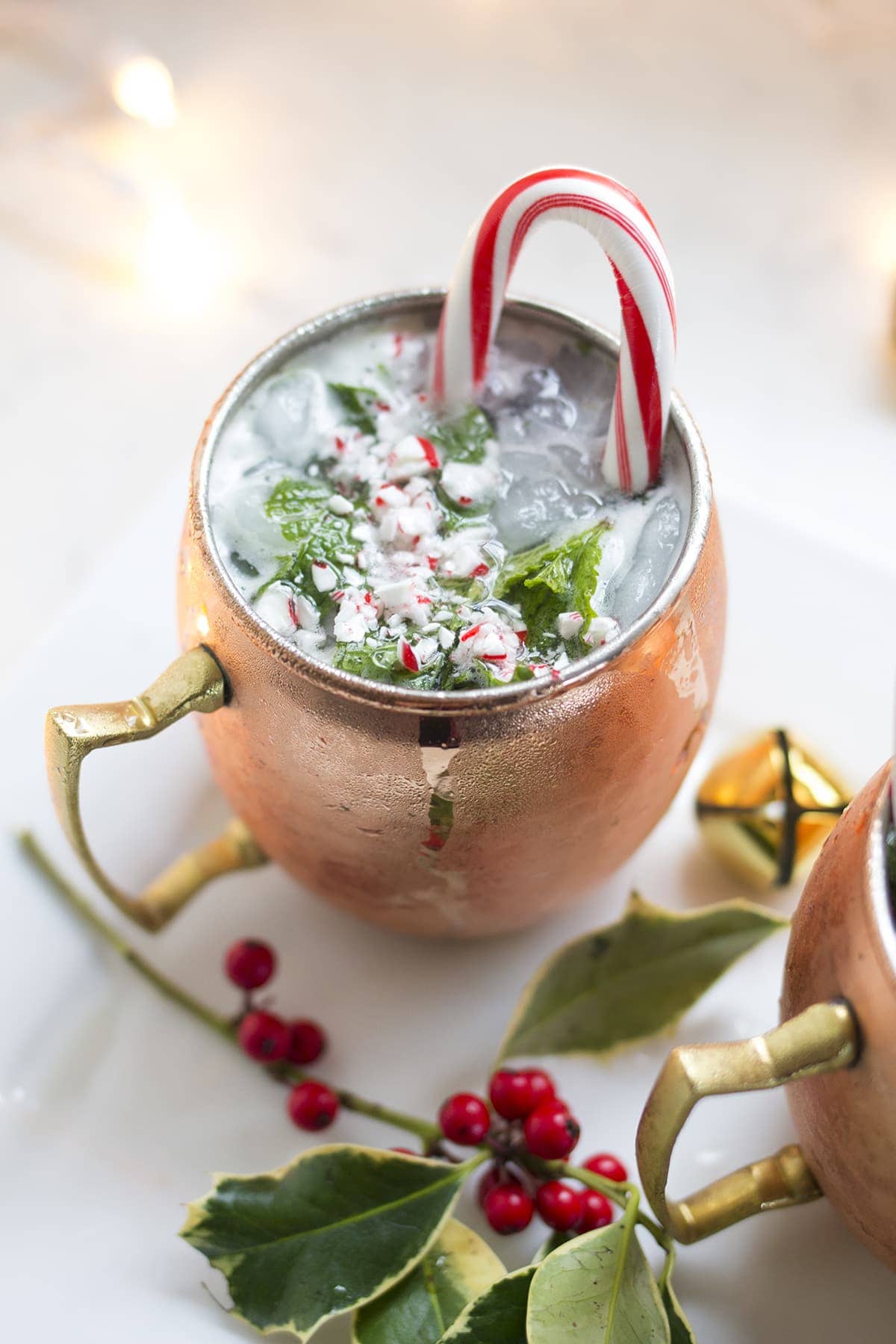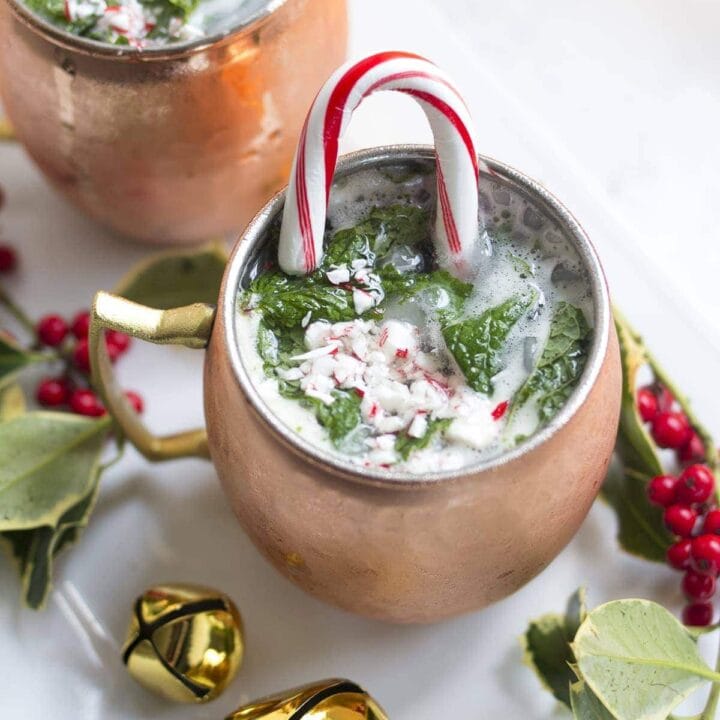 Moscow Reindeer Cocktails
A holiday version of the classic Moscow Mule made with mint and candy canes for a festive twist!
Ingredients
handful of fresh mint (or fresh peppermint)
2 oz vodka
juice of ½ a lime
6 oz ginger beer (more or less to taste)
crushed candy cane- for garnish
whole candy cane- for garnish
crushed ice
Instructions
1. Fill copper mule mug with crushed ice and handful of mint.
Muddle.

2. Stir in vodka, lime juice and top with ginger beer.

3. Sprinkle crushed candy cane on top and garnish with a whole
candy cane.