Pregnancy is hard y'all! And although I'm now in my third trimester, I'm still finding little tricks and products to make these last couple of months easier. Like my Snoogle, which is basically the best body pillow of all time. I just wish I had ordered one sooner! Here are just a few of my pregnancy favorites and the items I've loved most over the last 7 months. What are your pregnancy essentials?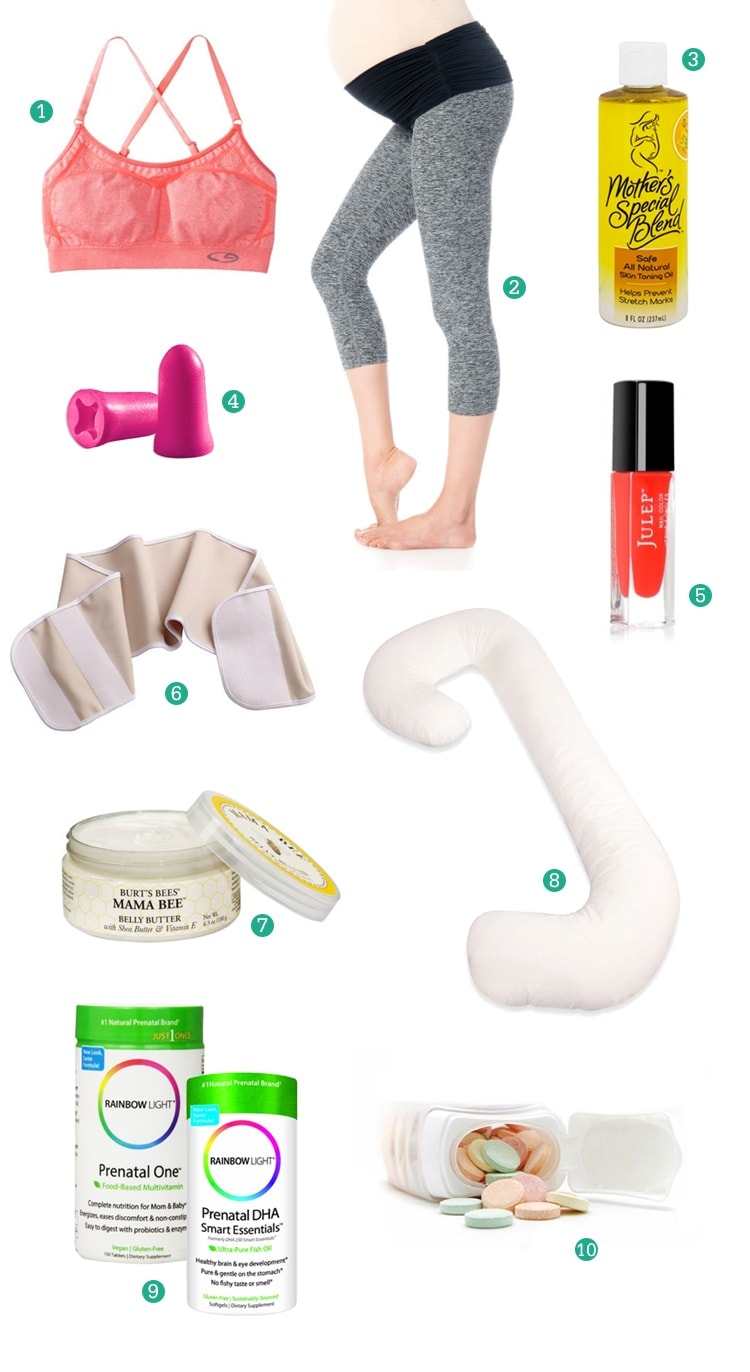 1/ Cami Sports Bras: These are basically all I wear around the house these days because they're super comfy and stretchy without the annoying wires and straps of regular bras.
2/ Maternity Yoga Pants: Gosh I love these. I basically live in stretchy maternity yoga pants because they're easy to move in but also comfy enough to relax in. And the pull-over-the-belly panel is super flattering under tank tops and t-shirts.
3/ Mother's Special Blend
: I love this belly oil and use it every night before bed! It's a blend of almond oil, coconut oil, cocoa butter and vitamin-e so it has all of the good stuff to help prevent stretch marks and tone skin.
4/ Ear Plugs: Pregnancy has made me the lightest sleeper on the planet! I found small earplugs at the grocery store and use them anytime I'm having an especially hard time sleeping.
5/ Julep Nail Polish: I love that Julep 5-free nail polish is free from 5 chemicals found in lots of other polish brands…perfect for pregnancy!
6/ Maternity Support Band
: As my belly has gotten bigger and bigger (hello, twins!) my doctor recommended I wear I support band for extra back support. I don't think it actually helps with my lower back fatigue as much as promised but it definitely takes the extra pressure off of my bladder and helps support me in the front. Hey, I'll take all the help I can get!
7/ Burt's Bees Mama Bee Belly Butter
: This is a nice non-greasy belly butter for day time.
8/ Snoogle Total Body Pillow
: The Snoogle is by far my favorite pregnancy essential! I don't actually use my Snoogle for sleeping because it's a bit too large for me and my short legs. However, it's amazing for lounge around, watching TV, reading, or even working on my laptop with support. I like to wrap it around me like a little nest, it's heavenly.
9/ Rainbow Light Prenatal One Multivitamin
& Rainbow Light Prenatal DHA
: My favorite brand of multi-vitamins before and during pregnancy! (more info here)
10/ TUMS: Oh, holy heartburn! Thank goodness for the relief of Tums. If the old wives tale is true, these twins much each have a full head of hair because my heartburn terrible. And while Tums aren't the tastiest treats, I'm partial to the tropical flavored variety. Not bad for chalky!