One of my favorite traditional Thanksgiving dishes is homemade cranberry sauce. It's sweet, tart, vibrantly red, and in my opinion often overlooked and under appreciated. Every year I buy fresh cranberries when they arrive in the store. I just can't help but feel like the holidays have arrived with a few bags of cranberries in my refrigerator. In honor of my favorite holiday berry, here are four easy ways to use this festive and fresh ingredient...no can opener required.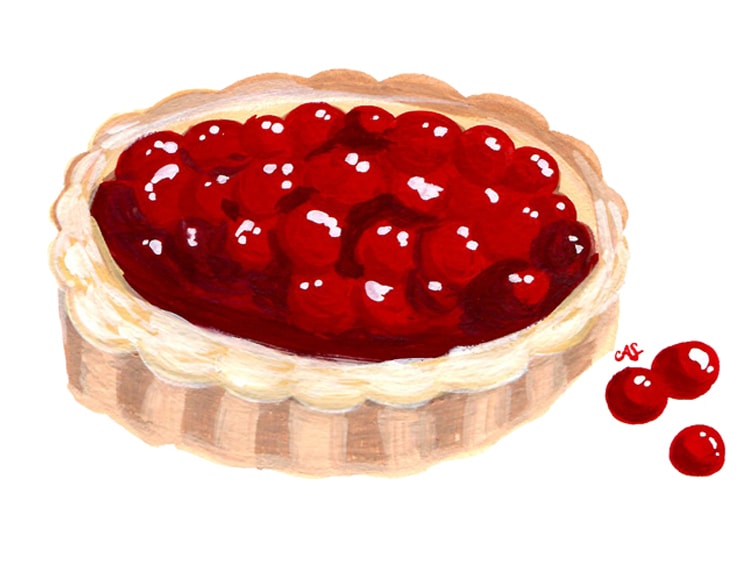 1. Easy Cranberry Sauce
In a medium saucepan, combine 2 (12 oz) bags of fresh cranberries, 1 ½ cups sugar, 4 wide strips orange zest, ½ cup water, and a pinch of salt. Bring to a boil over medium-high. Reduce to a simmer and cook until thickened, 20 to 25 minutes. Remove from heat and stir in 1 cup fresh orange juice. Serve chilled.
2. Cranberry Sorbet- Recipe via Epicurious
1 pound fresh or frozen cranberries
5 cups water
2 ½ cups sugar
¾ cup fresh lemon juice
⅓ cup fresh orange juice
1. Boil cranberries, 2 cups water, and ½ cup sugar in a 5- to 6-quart heavy pot, stirring occasionally, until cranberries have burst, about 15 minutes.
2. Purée cranberry mixture in batches in a blender until as smooth as possible (use caution when blending hot liquids). Force through a medium-mesh sieve into a bowl, discarding solids, and chill, covered with plastic wrap, until cold, about 2 hours.
3. Bring remaining 3 cups water and remaining 2 cups sugar to a boil in a 2-quart saucepan, stirring until sugar is dissolved, then remove from heat and cool syrup 30 minutes.
4. Stir together cranberry purée, sugar syrup, and citrus juices and freeze in ice cream maker. Transfer to an airtight container and freeze until hardened, at least 2 hours.
 3. Cranberry Garland
Start with a bag of fresh cranberries, a thick sewing needle and heavy nylon thread. Measure a length of thread proportionate to the area you are decorating. Thread the first cranberry, loop the bottom of the thread up and over it and tie it in a knot. (If you are having trouble pushing the needle through the cranberries, try using a push pin first.) String the rest of the cranberries onto the thread. Finish by tying the last piece on the same way you did the first cranberry. Cut away any extra thread. Decorate with your cranberry garland!
4. Cranberry White Chocolate Tarts- recipe via Pastry Affair
8 4-inch tarts
Almond Tart Dough
1 ¼ cups all-purpose flour
½ cup sliced almonds
¼ teaspoon salt
2 tablespoons sugar
8 tablespoons (1 stick) cold butter, cut into cubes
1 large egg
3 tablespoons ice water
1. In a food processor, blend together flour, sliced almonds, salt, and sugar. Add cubed butter and process until mixture resembles coarse sand. Blend in the egg and ice water and process until dough comes together. Refrigerate for 2 hours to firm up the dough (or freeze for 45 minutes to 1 hour).
2. Preheat oven to 350 degrees F.
3. Roll out the dough on a lightly floured surface until it is ⅛-inch thick. Cut out rounds of dough to fit the tartlet pans. Press the dough carefully into the pans. Stab the bottom several times with a fork so the dough will bake evenly in the oven.
4. Bake the tart shells for 15-18 minutes, or until they are lightly colored and the shell feels dry to the touch. Let cool completely before filling.
Cranberry White Chocolate Filling
¾ cup white chocolate chips
2 cups homemade cranberry sauce (see recipe above)
Orange zest, garnish
1. Melt white chocolate chips in a double boiler, stirring until smooth. Remove from heat and fill tart shells with a thin layer of white chocolate, spreading it up the sides of the tart shell.
2. Fill tart shells with cranberry sauce and garnish with orange zest.
3. Keep tarts refrigerated until ready to serve.
{Illustration by Ann Shen for Freutcake}